We speak English Hablamos Español Falamos portugues Мы говорим по-русски
7 marketing mistakes in SPA business
Get a check list of
7
marketing mistakes in SPA business
Steam Your Way to Polished Glowing Skin
Facial Steamers Explained
If you have ever used a facial steamer before, you likely understand the basics of how it works. In essence, warm steam is ejected from a machine and evenly distributes water vapor across your skin, usually on your face. Since your pores hold dirt, oils, and other debris, they are largely responsible for certain skin issues, including acne and oily skin. With a facial steamer, the pores are safely opened up and debris is able to come up to the surface of the pores to be extracted. All you need to do is fill the reservoir on your machine with water and turn it on so the liquid can be turned into warm water vapor. Many machines have the option to control the level of intensity of vapor, so you can remain in control of your treatment. There is also the option of adding essential oils or scents to the water in order to hydrate skin or relax/energize patients.
The Science of Facial Steamers
In essence, a pore is an opening on the skin of a hair follicle. Miniature sebaceous glands inside hair follicles produce sebum, or a combination of proteins, inorganic salts, fats, and cholesterol. Theoretically, sebum goes up the follicle and leaves the skin through the pore at the top of it. However, many times, the pore may be blocked with oils and other debris. As a result, sebum is unable to escape and acne forms at the site. Maintaining healthy and clean pores are essential for skin health. As oils and dirt naturally accumulate on the face, pores take in the debris and become clogged. This pile of debris eventually attracts bacteria and causes inflammation. Although large pores on your skin can never be truly shrunk forever, there are steps to take to routinely clean them out. Methods of squeezing clogged pores are ineffective because this often results in more oils and dirt from the fingers rubbing against the pores and infecting them further.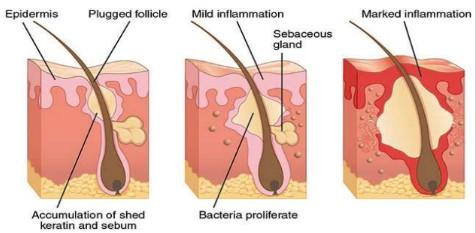 Benefits
We all know the bare minimum: steam helps clean the pores. But believe me, an electric steamer for face delivers rather sophisticated results and is highly beneficial to the skin's health and appearance.
One of the most important benefits is increased blood circulation. When hot steam is applied to the face, there is an immediate increase of blood flow to thermoregulate the process. It's a very normal reaction from your body. Increased blood flow also means there is increased oxygen and vitamin distribution throughout the skin. Good circulation is essential to maintaining a healthy complexion, so the increase in perspiration caused by a beauty facial steamer is an excellent benefit for the health of your skin.
Facial steaming keeps your pores clean by getting rid of dead skin cells, makeup, and dirt build-up. When your body starts to heat and produces sweat, it actually pushes out all of the build-up that is sitting in your pores. Poses cannot truly completely open and close (in order to achieve that you'll need to grow muscles around every single pore), but you can definitely keep them clean by sweating through them and washing out all of that debris from within. Plus, undoubtedly it is also a great way to get rid of those disgusting blackheads. Though explicitly told time and time again by our dermatologists to stay away from blackheads, we usually pick and push until we damage all the surrounding skin to the point that it swells up and becomes red and irritated. Facial steaming loosens blackheads to make it easier for your beautician to easily remove them.
You will also look younger and your skin will take on a great polished glowing look. Dry skin, decreased blood flow, dead cells and makeup build ups all make us look much older than we are as they increase the visibility of lines and wrinkles. You may have noticed that putting on foundation with dry and flaky skin is the worst, and makes the forehead look like a dried-up lake. Clean skin and increased blood flow are both great Facial Steaming perks to make both your no-makeup look and your full face of makeup look appear that much better.
Facial Steaming is sometimes referred to as being the pimple whisperer. Steam, by heating up the surface of your skin, will get pus out, and applying something cold to the surface of the skin, like an ice cube, will ease irritation and soothe the skin. Plus, hot and cold therapy has always been considered highly beneficial for the body (which is why you've been hearing so much about those hot and cold showers). Breakout reduction is one of my favorite perks of this treatment. Hot steam also kills bacteria, speeding the process of those pesky pimples fading away.
Steaming itself has a very calming influence and, when paired with aroma or herbal therapy, it takes relaxation to a whole other level. It is soothing to the body and mind, and will truly give patients that feel of rejuvenating in a world-class salon. Facial steamer reviews have consistently agreed with all of the above benefits.
The Step-by-Step Protocol
If you are shopping for the Best Facial Steamer for your business, we will definitely review Salon Facial Steamers in detail later on, but if you are using a Personal Machine, here's your step-by-step guide and some useful tips for the best results:
You need to spend a bit of time on skin preparation before the facial. Remove your makeup and using a rather gentle face scrub, exfoliate your skin. Your home steamer will be equipped with water chamber, a mask or a cone, and depending on the machine you've purchased, you may also be able to regulate steam temperature. After you have cleaned and cleansed your face, you are ready to start the relaxing at-home treatment. Fill the chamber with the necessary amount of water and feel free to add a bit of essential oils to the mix. Just a few drops of orange blossom, lavender, or vanilla oil will make the experience just that much more amazing. Herbs like lavender, borage, and rose are excellent for soothing dry skin, while those like sage, peppermint, or rosemary work well with oily skin. Pick and choose oils based on your skin type and needs.
Then, turn the electric facial steamer on and wait a bit for it to produce the steam. Again, depending on the model, there might be some light indicators or timers included. Please read the manual!
When the steam appears, place your face, if not otherwise instructed, on top of the cone and let the steam gently wash over your skin. Usually, the instructions say to place your face about 4 to 8 inches away from the steam to avoid swelling or burns. That instruction manual you've been reading all this time will give you the precise number. The length of sessions you need also depends on the model you are using as well as your personal comfort and preferences. If you'd like a quick steam, you only need to spend a few short minutes per session, but if you are looking for a deeper cleanse, you may need about 15 minutes of steaming.
After the session, carefully dab your face with a clean towel and apply your favorite facial mask and wash it off with cool water. You can also just rinse your face with cold water and moisturize it, skipping the mask altogether. Properly cleaned and steamed, your skin will just soak up all the beneficial molecules in your masks and creams; this treatment is designed to help you get the most out of your skin care products.
To recap:
Step 1 – Remove makeup and exfoliate
Step 2 – Fill water tank and wait for the steam to come out
Step 3 - Position your face near the steam and relax
Step 4 – Moisturize
If you follow these steps, you are already well on your way to beautiful glowing skin with your beauty facial steamer! But, if this seems like too much work for you, please book an appointment at a spa!
Combining Facial Steamers with other Modalities
An electric steamer for face is more effective at cleaning and hydrating your skin when it is used in combination with treatments like skin scrubbing, microdermabrasion, or vacuum extraction. Truly, any treatment that cleanses or exfoliates the skin works excellent with facial steaming. Many times, treatments that clean debris from the face are not as effective as they could be because pores are clogged and not loose enough to expel the dirt they contain. As debris is pushed to the surface of your pores with steaming, however,, treatments that extract or scrape away dirt on the skin are much more effective than they would be otherwise. This is an excellent treatment to offer your clients before they undergo other procedures, and it is best to purchase a multifunctional machine that features facial steaming and several other modalities; this way, you will save money and be able to offer a wider range of treatments.
Which Facial Steamer is for you?
Facial steamers are not complicated pieces of equipment to manufacture. With such widespread popularity and great benefits, even Professional Salon Machines are very affordable. There are some salon facial steamers that are on the more expensive side, but this is because they offer additional treatments and are considered multifunctional professional machines. I also always ask people to respect their time and money and to find a great company with good customer service. This is just as important as the quality of equipment itself, as you can find in plenty of facial steamer reviews.
A lot of Facial Steamers today use ozone along with aroma and/or herbal therapy. This means that ultraviolet light is added to the steam production process, being an additional asset to soften and moisturize the skin. Ozone has been reported to advance skin's metabolism and help loosen dead cell and dirt build-up in cells, in addition to whitening the skin. So for more supple, smoother, and brighter skin, look for that ozone function on your facial steamer.
Let's look at some great options out there today for home or salon use to help find the best facial steamer for you:
There is the great newly designed Facial Steamer Mini with ozone functions. It is a very small and very inexpensive machine that delivers great results. Its design allows you to conveniently fill the machine from the top and its arm moves 180 degrees. This is one of those machines that is great to use at home and/or in a salon. With this mini FS you can, for example, offer manicures and a Steam Facial at the same time. It rests comfortably on the top of the table and it is so compact you'll hardly notice it. It utilizes steam to moisten & whiten the skin and uses oxygen ionic vapors to sterilize and clean.
Then, there is the bestselling 3 in 1 Facial Steamer, Magnifying Lamp & High Frequency Lily machine. It doesn't have the lowest price tag, but it is still relatively inexpensive. Just over 3 $100 facials will fully return your money spent, and it is specially designed for professional work in a beauty salon or facial room.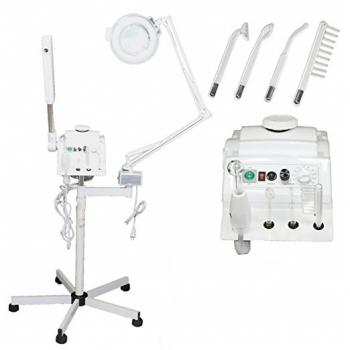 This CE Certified Herbal Aromatherapy Facial Steamer with Purifying Ozone has a fully adjustable arm that moves up and down with a pivot motion. The steamer heats distilled water to produce a high pressure steam for optimal delivery to the skin. This helps to clean out the pores and relaxes facial muscles to aid in the extraction of impurities.
Its ultraviolet ozone capabilities that purify the steam as it passes through the arm ensure a clean, safe treatment. This unit holds 5x and 8x High-Magnification Loupe for those close up pore inspections. And it includes 4 glass electores for various areas and uses!
And then there are amazing multifunctional systems such as the Herb Tower Facial Steamer & Multifunction Facial System. This mobile and flexible machine is on the slightly more expensive side, but it is very durable and effective with quick returns on investments. We all love German precision, so you'll be happy to know that this is German-designed. It takes just five minutes to heat up the water and its steam capacity is up to 45 minutes.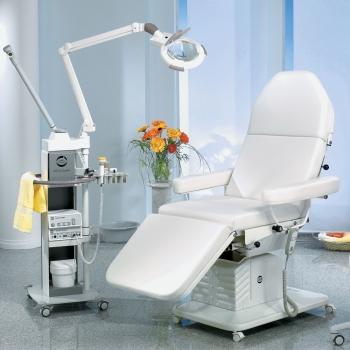 The Herb Tower Facial Steamer & Multifunction Facial System has built in sensors that determine if the water level is unsafe and it also shuts itself off, so there is no chance of overheating if the water level is too low, and no chance of spurting hot water on a client if the water level is too high. Herbal therapy and aromatherapy are incorporated into this unique machine.
The Herb Tower can be expanded into a full state-of-the-art multifunction facial system that saves valuable work space with its stackable design. The center column provides secure stacking of the Modular units for High Frequency, Brushing, Vacuum Spray, Galvanic, Ice & Heat and Skin regulating facial machines. This unit even leaves enough room to fit a waste bin below it.
Cons
The cons of facial steamers are not plentiful. This procedure is generally safe and beneficial to almost everyone, as it is amazing relaxation technique. However, as with any treatment, there are a few risks to discuss:
First of all, this process utilizes hot steam. Salon personnel is trained to provide you with the best possible service, but if you are doing this at home, you need to carefully read the manual and follow all instructions to avoid burns.
Secondly, people with highly sensitive skin should not be steaming their faces. If you have over-sensitive skin, you are probably already aware of this. For people with very sensitive skin, even mild steam (not even hot) can cause problems such as skin irritation and broken capillaries. Still, this doesn't mean that you need to all together say no to this great procedure- just find a salon that offers cold facial steaming!
The third thing to understand is that Facial Steaming is not a remedy for your breakouts. Yes, it'll definitely help clean the skin, rid it of of pus, and calm it. However, if breakouts continue and become a constant problem, you need to set your Facial Steamer aside and make an appointment with your doctor. Acne and other skin problems can indicate hormonal disbalances and be indicative of some symptoms of menstruation or linked to puberty. You need to understand the cause of your breakouts in order to get rid of them once and for all.