We speak English Мы говорим по-русски Hablamos Español
Cavitation RF Slimming Station X-Pro
Array ( [id] => 3510 [name] => Cavitation RF Slimming Station X-Pro [shortname] => Cavitation RF Slimming Station X [artikul] => 12027 [price] => 15900 [discount] => 0 [price_form] => $ 15,900.00 [prod_price] => 15900 [prod_price_form] => $ 15,900.00 [currency] => $ [url] => cavitation-rf-slimming-station-x-pro [ico] => Array ( [mini] => https://advance-esthetic.us/userdata/modules/wproducts/product/mini/12612.jpg [cart] => https://advance-esthetic.us/userdata/modules/wproducts/product/cart/12612.jpg [big] => https://advance-esthetic.us/userdata/modules/wproducts/product/big/12612.jpg [main] => https://advance-esthetic.us/userdata/modules/wproducts/product/main/12612.jpg [quick] => https://advance-esthetic.us/userdata/modules/wproducts/product/quick/12612.jpg [catalog] => https://advance-esthetic.us/userdata/modules/wproducts/product/catalog/12612.jpg [catalogIco] => https://advance-esthetic.us/userdata/modules/wproducts/product/catalogIco/12612.jpg ) [out_currency_info] => Array ( [id] => sys_currencies_usd [rate] => 1 [rndp] => 0.01 [rnds] => 0.01 [short] => $ [left] => $ [digp] => 2 [digs] => 2 ) [stock] => Available [onhand] => 5 [minqty] => 0 [stockqty] => 5 [prodtype] => wprod_prodtypes_prod [autname] => 0 [preorder] => 0 [manufacter] => Venus [rating] => 0 [comments] => 0 [photos] => 0 [category] => 370 [categoryname] => Cavitation rf machines [reviews] => 0 [features] => 0 [commentsm] => [photosm] => [photosmm] => [reviewsm] => [featuresm] => [options] => Array ( ) [meta_title] => Cavitation RF Slimming Station X-Pro 16854 [meta_description] => Cavitation RF Slimming Station X-Pro for sale in USA. Reviews, results and feedbacks. Prices from the direct importer. [meta_keywords] => [pagetitle] => Cavitation RF Slimming Station X-Pro [isfile] => [download] => [downloads] => 0 [filename] => [filesize] => 0 [updated] => [specname] => 0 [color] => 0 [vip] => [lineupid] => 0 [lineup] => Array ( ) [latitude] => 0 [longitude] => 0 [description] =>
Cavitation RF Slimming Station X-Pro is a cosmetological device designed for professional work in a beauty salon or facial room. This unit combines 4 popular and effective functions for facial care in the beauty salon.
Functions of Cavitation RF Slimming Station X-Pro:
Vacuum; 
RF;
Cavitation;
Lipo Laser.
Lipo laser: The Lipo Laser uses laser energy to safely (and painlessly) penetrate the skin and target specific adipose (or fat) cells.  This process causes transitory pores to appear in the cells releasing the adipose (fat cells) contents: water, glycerol (triglycerides), and free fatty acids into the interstitial space thus shrinking the cells and reducing inches in the areas target.  
Cavitation: The Ultrasonic Cavitation machine uses sound waves/frequencies to disrupt the fat cell walls, which causes the fat cells to "leak" their contents into the fluid spaces of your body. From there, your lymph system picks up this waste material (the loose fat) and begins circulating it through your body until it can be processed by the liver and eliminated with sweat, urine and feces. The results are visibly noticeable immediately, however the entire process can take several days, and you will continue to experience results during this time.  
Vacuum: After break up the subcutaneous fat, decrease cellulite accumulation. It helps smooth lymph and discharges the fatty acid and toxin that is decomposed through lymph system. Vacuum hads immediate effect in body shaping.  
RF:  the multi-polar radio frequency causes a thermal reaction in the tissue which stimulates the body's natural healing response causing new collagen to form, and the production of new elastin fibres making skin to look and feel firmer. Skin is heated consistently and uniformly without the risk of any burns.
Work handles: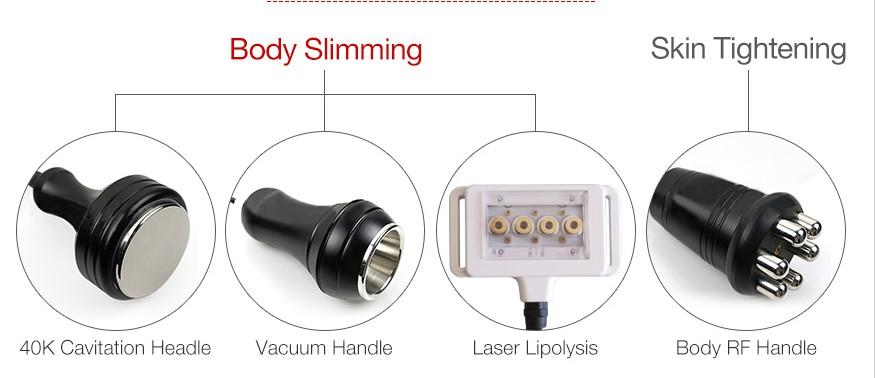 Technical features of Cavitation RF Slimming Station X-Pro:
| | |
| --- | --- |
| Input | AV220V/50HZ,AC110V/60HZ                                       |
| Laser output frequency | 1-1000 |
| Energy output | 18*40MW(Total 0.72W) |
| Laser wavelength | 650nm |
| Power | 500VA |
| Cavitation frequency                                         | 40KHZ |
| RF frequency | 5MHZ |
| Vacuum frequency | 100Kpa |
[estatetype] => 0 [baths] => 0 [beds] => 0 [adults] => 0 [children] => 0 [area] => 0 [manager] => 0 [address] => [published] => 1 [photoview] => [tags] => Array ( ) [showprotocolprocedure] => 3 [present] => Array ( ) [button] => )
One on one via FaceTime or Skype equipment training.
Equipment assembly support.
Free Delivery For Select Items

We ship our products by USPS/DHL/UPS/freight companies. Items marked "Free Delivery" are delivered by mainland with no freight charges.

We Are FDA Registered

Advance Esthetic LLC is an FDA-registered company. All products imported by Advance Esthetic are FDA registered, properly tested and approved.

Beauty Advisory Service

Advance Esthetic has been partnering with experienced beauticians and health care specialist from Europe, America and Asia for several years. During these years we have researched and inspected variety of different equipments and treatment methods. We will gladly share with you all the knowledge we gained over the years in this industry.

Huge Selection

We search across hundreds of manufacturers to offer you only the best and most innovative products and create life changing results for your customer.
Cavitation RF Slimming Station X-Pro is a cosmetological device designed for professional work in a beauty salon or facial room. This unit combines 4 popular and effective functions for facial care in the beauty salon.

Functions of Cavitation RF Slimming Station X-Pro:

Vacuum; 
RF;
Cavitation;
Lipo Laser.

Lipo laser: The Lipo Laser uses laser energy to safely (and painlessly) penetrate the skin and target specific adipose (or fat) cells.  This process causes transitory pores to appear in the cells releasing the adipose (fat cells) contents: water, glycerol (triglycerides), and free fatty acids into the interstitial space thus shrinking the cells and reducing inches in the areas target.  

Cavitation: The Ultrasonic Cavitation machine uses sound waves/frequencies to disrupt the fat cell walls, which causes the fat cells to "leak" their contents into the fluid spaces of your body. From there, your lymph system picks up this waste material (the loose fat) and begins circulating it through your body until it can be processed by the liver and eliminated with sweat, urine and feces. The results are visibly noticeable immediately, however the entire process can take several days, and you will continue to experience results during this time.  

Vacuum: After break up the subcutaneous fat, decrease cellulite accumulation. It helps smooth lymph and discharges the fatty acid and toxin that is decomposed through lymph system. Vacuum hads immediate effect in body shaping.  

RF:  the multi-polar radio frequency causes a thermal reaction in the tissue which stimulates the body's natural healing response causing new collagen to form, and the production of new elastin fibres making skin to look and feel firmer. Skin is heated consistently and uniformly without the risk of any burns.

Work handles:

Technical features of Cavitation RF Slimming Station X-Pro:

| | |
| --- | --- |
| Input | AV220V/50HZ,AC110V/60HZ                                       |
| Laser output frequency | 1-1000 |
| Energy output | 18*40MW(Total 0.72W) |
| Laser wavelength | 650nm |
| Power | 500VA |
| Cavitation frequency                                         | 40KHZ |
| RF frequency | 5MHZ |
| Vacuum frequency | 100Kpa |

Send us a message if you have any questions

Thank you for your message

Cavitation RF Slimming Station X-Pro

$ 15,900.00

Please, leave us your feedback