We speak English Мы говорим по-русски Hablamos Español
Double Towel Warmer Spring Max
Array ( [id] => 1803 [name] => Double Towel Warmer Spring Max [shortname] => Double Towel Warmer Spring Max [artikul] => 19331 [price] => 269 [discount] => 0 [price_form] => $ 269.00 [prod_price] => 269 [prod_price_form] => $ 269.00 [currency] => $ [url] => double-towel-warmer-spring-max [ico] => Array ( [mini] => https://advance-esthetic.us/userdata/modules/wproducts/product/mini/11839.jpg [cart] => https://advance-esthetic.us/userdata/modules/wproducts/product/cart/11839.jpg [big] => https://advance-esthetic.us/userdata/modules/wproducts/product/big/11839.jpg [main] => https://advance-esthetic.us/userdata/modules/wproducts/product/main/11839.jpg [quick] => https://advance-esthetic.us/userdata/modules/wproducts/product/quick/11839.jpg [catalog] => https://advance-esthetic.us/userdata/modules/wproducts/product/catalog/11839.jpg [catalogIco] => https://advance-esthetic.us/userdata/modules/wproducts/product/catalogIco/11839.jpg ) [out_currency_info] => Array ( [id] => sys_currencies_usd [rate] => 1 [rndp] => 0.01 [rnds] => 0.01 [short] => $ [left] => $ [digp] => 2 [digs] => 2 ) [stock] => Available [onhand] => 5 [minqty] => 0 [stockqty] => 5 [prodtype] => wprod_prodtypes_prod [autname] => 0 [preorder] => 0 [manufacter] => RockBeauty [rating] => 0 [comments] => 0 [photos] => 0 [category] => 971 [categoryname] => Sterilizer equipment [reviews] => 0 [features] => 0 [commentsm] => [photosm] => [photosmm] => [reviewsm] => [featuresm] => [options] => Array ( ) [meta_title] => Double Towel Warmer Spring Max for sale. Buy at the best price in USA. Advance-Esthetic.US [meta_description] => Double Towel Warmer Spring Max for sale in USA. Reviews, results and feedbacks. Prices from the direct importer. [meta_keywords] => [pagetitle] => Double Towel Warmer Spring Max [isfile] => [download] => [downloads] => 0 [filename] => [filesize] => 0 [updated] => [specname] => 0 [color] => 0 [vip] => [lineupid] => 0 [lineup] => Array ( ) [latitude] => 0 [longitude] => 0 [description] =>
Double Towel Warmer Spring Max 
This high capacity double-decker hot towel cabinet and ultraviolet sterilizer performs double duty for your salon or spa. Each super-high capacity cabinet serves dual purpose as an Ultraviolet Sterilizer and a Hot Towel Warmer. With separate function switches, you can run the Sterilizer or the Heat function individually - or both at the same time! Keep your towels at a toasty 175 degrees Fahrenheit and use powerful ultraviolet rays to sterilize your tools and implements.
CE Certified - International Compliance to Safety Standards
Each Cabinet Heats up to 175 degrees Fahrenheit
2 Individual cabinets allow for extra towel storage room
140+ disposable facial towel capacity!
64 terrycloth facial towel capacity (towels not included)
2 Removable Towel Grills/shelves
Easy-clean drip Tray Included
Separate Power Button so you don't have to run UV if not needed
Dimensions:
Internal Dimensions (for each individual cabinet): 5.5"h x 13.5"w x 10.5"d
Total External Unit Dimensions: 21"h x 18"w x 14"d
Total Internal Volume: 22L
Hot Towel Cabinet Function
Heat up your facial or manicure towels to provide a soothing comforting warm experience for your customers. This cabinet has an total capacity of 64 terrycloth facial towels, or up to 140 or more disposable facial towels. \
Extra large capacity of 64 terrycloth facial and manicure towels
Able to hold more than 140+ disposable facial and manicure towels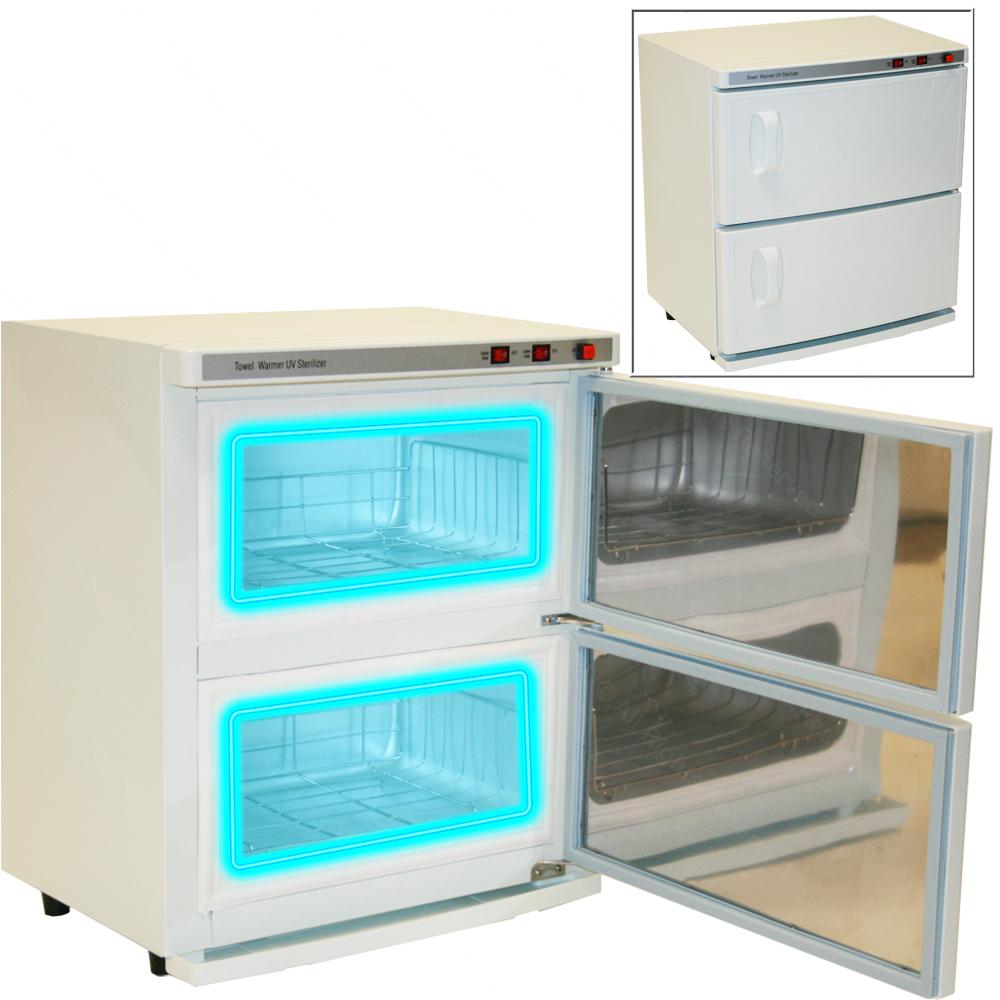 [estatetype] => 0 [baths] => 0 [beds] => 0 [adults] => 0 [children] => 0 [area] => 0 [manager] => 0 [address] => [published] => 1 [photoview] => [tags] => Array ( ) [showprotocolprocedure] => 3 [present] => Array ( ) [button] => )
Free Delivery For Select Items

We ship our products by USPS/DHL/UPS/freight companies. Items marked "Free Delivery" are delivered by mainland with no freight charges.

We Are FDA Registered

Advance Esthetic LLC is an FDA-registered company. All products imported by Advance Esthetic are FDA registered, properly tested and approved.

Beauty Advisory Service

Advance Esthetic has been partnering with experienced beauticians and health care specialist from Europe, America and Asia for several years. During these years we have researched and inspected variety of different equipments and treatment methods. We will gladly share with you all the knowledge we gained over the years in this industry.

Huge Selection

We search across hundreds of manufacturers to offer you only the best and most innovative products and create life changing results for your customer.
Double Towel Warmer Spring Max 

This high capacity double-decker hot towel cabinet and ultraviolet sterilizer performs double duty for your salon or spa. Each super-high capacity cabinet serves dual purpose as an Ultraviolet Sterilizer and a Hot Towel Warmer. With separate function switches, you can run the Sterilizer or the Heat function individually - or both at the same time! Keep your towels at a toasty 175 degrees Fahrenheit and use powerful ultraviolet rays to sterilize your tools and implements.

CE Certified - International Compliance to Safety Standards
Each Cabinet Heats up to 175 degrees Fahrenheit
2 Individual cabinets allow for extra towel storage room
140+ disposable facial towel capacity!
64 terrycloth facial towel capacity (towels not included)
2 Removable Towel Grills/shelves
Easy-clean drip Tray Included
Separate Power Button so you don't have to run UV if not needed

Dimensions:

Internal Dimensions (for each individual cabinet): 5.5"h x 13.5"w x 10.5"d
Total External Unit Dimensions: 21"h x 18"w x 14"d
Total Internal Volume: 22L

Hot Towel Cabinet Function

Heat up your facial or manicure towels to provide a soothing comforting warm experience for your customers. This cabinet has an total capacity of 64 terrycloth facial towels, or up to 140 or more disposable facial towels. \

Extra large capacity of 64 terrycloth facial and manicure towels
Able to hold more than 140+ disposable facial and manicure towels

Send us a message if you have any questions

Thank you for your message

Double Towel Warmer Spring Max

$ 269.00

Please, leave us your feedback