We speak English Мы говорим по-русски Hablamos Español
Electric Muscle Stimulator Machine Neda Tone
Free shipping
Array ( [id] => 1558 [name] => Electric Muscle Stimulator Machine Neda Tone [shortname] => Electric Muscle Stimulator Machi [artikul] => 18025 [price] => 2950 [discount] => 0 [price_form] => $ 2,950.00 [prod_price] => 2950 [prod_price_form] => $ 2,950.00 [currency] => $ [url] => electric-muscle-stimulator-machine-nd9116 [ico] => Array ( [mini] => https://advance-esthetic.us/userdata/modules/defSettingSite/avatars/def_setting/no-image-ae-jpg.jpg [cart] => https://advance-esthetic.us/userdata/modules/defSettingSite/avatars/def_setting/no-image-ae-jpg.jpg [big] => https://advance-esthetic.us/userdata/modules/defSettingSite/avatars/def_setting/no-image-ae-jpg.jpg [main] => https://advance-esthetic.us/userdata/modules/defSettingSite/avatars/def_setting/no-image-ae-jpg.jpg [quick] => https://advance-esthetic.us/userdata/modules/defSettingSite/avatars/def_setting/no-image-ae-jpg.jpg [catalog] => https://advance-esthetic.us/userdata/modules/defSettingSite/avatars/def_setting/no-image-ae-jpg.jpg [catalogIco] => https://advance-esthetic.us/userdata/modules/defSettingSite/avatars/def_setting/no-image-ae-jpg.jpg ) [out_currency_info] => Array ( [id] => sys_currencies_usd [rate] => 1 [rndp] => 0.01 [rnds] => 0.01 [short] => $ [left] => $ [digp] => 2 [digs] => 2 ) [stock] => Available [onhand] => 5 [minqty] => 0 [stockqty] => 5 [prodtype] => wprod_prodtypes_prod [autname] => 0 [preorder] => 0 [manufacter] => Zemits [rating] => 0 [comments] => 0 [photos] => 1 [category] => 88 [categoryname] => Electric muscle stimulation machines [reviews] => 0 [features] => 0 [commentsm] => [photosm] => (1) [photosmm] => [reviewsm] => [featuresm] => [options] => Array ( ) [meta_title] => Electric Muscle Stimulator Machine Neda Tone for sale. Buy at the best price in USA. Advance-Esthetic.US [meta_description] => Electric Muscle Stimulator Machine Neda Tone for sale in USA. Reviews, results and feedbacks. Prices from the direct importer. [meta_keywords] => [pagetitle] => Electric Muscle Stimulator Machine Neda Tone [isfile] => [download] => [downloads] => 0 [filename] => [filesize] => 0 [updated] => [specname] => 0 [color] => 0 [vip] => [lineupid] => 0 [lineup] => Array ( ) [latitude] => 0 [longitude] => 0 [description] =>
Electric Muscle Stimulator Machine Neda Tone
Professional muscle training machine
9 programs for body slimming and face toning
10 channels for electrodes
Accessories:
10 big round pads for body
10 medium round pads for body
2 circle pads for breast
8 bandages of different length
2 pairs of square pads for face with sticky surface
2 year warranty. FDA registered.
Product Description
Electro-Stimulation is a simple non-invasive treatment that is utilized widely for muscle stimulation and fat-burning. Electro-stimulation works on electrical impulses that cause muscles to contract – the same as if you were utilizing the muscles themselves. This method is widely used in physical therapy offices and has recently become widely popular for spa use in the burning of fat tissue and toning of musculature.
Popular uses for electro-stimulation:
Quicker post-workout recovery

Improves stamina and endurance

Low impact gain of muscle tone, strength, and responsiveness

Improve blood circulation

Fat-burning
Programs:
Using multiple functions, such as programs, individualized frequencies, and selected total machine intensities makes it easy to focus on areas of concern, and more importantly, specific body areas that may need a bit more attention.
Pads can be used for various sizes for different body areas, i.e. tummy (abdomen), thigh (quadriceps), buttock (gluteus maximus), love handles – waist (flanks – external obliques), and hamstrings (biceps femoris).
Technical Specifications
Input power: 110V;
Input Frequency: 50 - 60 Hz
Number of programs 9
Number of channels 10
Range of frequency 40-400 pulses./sec;
Polarity: monopolar, bipolar
Output Intensity: 35 W
Weight: 14,7 lb
Product Dimensions: 13.8"H x 7.9"L x 15.7"D.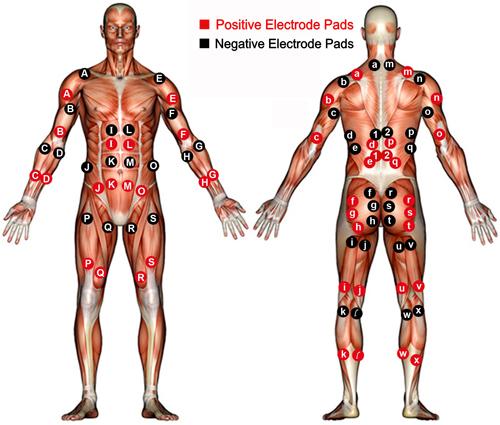 [estatetype] => 0 [baths] => 0 [beds] => 0 [adults] => 0 [children] => 0 [area] => 0 [manager] => 0 [address] => [published] => 1 [photoview] => [tags] => Array ( ) [showprotocolprocedure] => 3 [present] => Array ( ) [label] => Array ( [show] => 1 [text] => freeShipping [type] => freeShipping ) [labelFreeShipping] => Array ( [show] => 1 [text] => freeShipping [type] => freeShipping ) [additionalPlugin] => Array ( [ProductListFreeShipingLabelget] => Array ( ) ) [button] => )
One on one via FaceTime or Skype equipment training.
Equipment assembly support.
Free Delivery For Select Items

We ship our products by USPS/DHL/UPS/freight companies. Items marked "Free Delivery" are delivered by mainland with no freight charges.

We Are FDA Registered

Advance Esthetic LLC is an FDA-registered company. All products imported by Advance Esthetic are FDA registered, properly tested and approved.

Beauty Advisory Service

Advance Esthetic has been partnering with experienced beauticians and health care specialist from Europe, America and Asia for several years. During these years we have researched and inspected variety of different equipments and treatment methods. We will gladly share with you all the knowledge we gained over the years in this industry.

Huge Selection

We search across hundreds of manufacturers to offer you only the best and most innovative products and create life changing results for your customer.
Electric Muscle Stimulator Machine Neda Tone

Professional muscle training machine

9 programs for body slimming and face toning

10 channels for electrodes

Accessories:

10 big round pads for body

10 medium round pads for body

2 circle pads for breast

8 bandages of different length

2 pairs of square pads for face with sticky surface

2 year warranty. FDA registered.

Product Description

Electro-Stimulation is a simple non-invasive treatment that is utilized widely for muscle stimulation and fat-burning. Electro-stimulation works on electrical impulses that cause muscles to contract – the same as if you were utilizing the muscles themselves. This method is widely used in physical therapy offices and has recently become widely popular for spa use in the burning of fat tissue and toning of musculature.

Popular uses for electro-stimulation:

Quicker post-workout recovery

Improves stamina and endurance

Low impact gain of muscle tone, strength, and responsiveness

Improve blood circulation

Fat-burning

Programs:

Using multiple functions, such as programs, individualized frequencies, and selected total machine intensities makes it easy to focus on areas of concern, and more importantly, specific body areas that may need a bit more attention.

Pads can be used for various sizes for different body areas, i.e. tummy (abdomen), thigh (quadriceps), buttock (gluteus maximus), love handles – waist (flanks – external obliques), and hamstrings (biceps femoris).

Technical Specifications

Input power: 110V;

Input Frequency: 50 - 60 Hz

Number of programs 9

Number of channels 10

Range of frequency 40-400 pulses./sec;

Polarity: monopolar, bipolar

Output Intensity: 35 W

Weight: 14,7 lb

Product Dimensions: 13.8"H x 7.9"L x 15.7"D.

Send us a message if you have any questions

Thank you for your message

Electric Muscle Stimulator Machine Neda Tone

$ 2,950.00

Please, leave us your feedback