We speak English Мы говорим по-русски Hablamos Español
Facial Brush Forever Young
Free shipping
Array ( [id] => 3173 [name] => Facial Brush Forever Young [shortname] => Facial Brush Forever Young [artikul] => 18009 [price] => 95 [discount] => 0 [price_form] => $ 95.00 [prod_price] => 95 [prod_price_form] => $ 95.00 [currency] => $ [url] => facial-brush-forever-young [ico] => Array ( [mini] => https://advance-esthetic.us/userdata/modules/wproducts/product/mini/12036.jpg [cart] => https://advance-esthetic.us/userdata/modules/wproducts/product/cart/12036.jpg [big] => https://advance-esthetic.us/userdata/modules/wproducts/product/big/12036.jpg [main] => https://advance-esthetic.us/userdata/modules/wproducts/product/main/12036.jpg [quick] => https://advance-esthetic.us/userdata/modules/wproducts/product/quick/12036.jpg [catalog] => https://advance-esthetic.us/userdata/modules/wproducts/product/catalog/12036.jpg [catalogIco] => https://advance-esthetic.us/userdata/modules/wproducts/product/catalogIco/12036.jpg ) [out_currency_info] => Array ( [id] => sys_currencies_usd [rate] => 1 [rndp] => 0.01 [rnds] => 0.01 [short] => $ [left] => $ [digp] => 2 [digs] => 2 ) [stock] => Available [onhand] => 5 [minqty] => 0 [stockqty] => 5 [prodtype] => wprod_prodtypes_prod [autname] => 0 [preorder] => 0 [manufacter] => InnoCell [rating] => 0 [comments] => 0 [photos] => 0 [category] => 388 [categoryname] => Electric face brush [reviews] => 0 [features] => 0 [commentsm] => [photosm] => [photosmm] => [reviewsm] => [featuresm] => [options] => Array ( ) [meta_title] => Facial Brush Forever Young for sale. Buy at the best price in USA. Advance-Esthetic.US [meta_description] => Facial Brush Forever Young for sale in USA. Reviews, results and feedbacks. Prices from the direct importer. [meta_keywords] => [pagetitle] => Facial Brush Forever Young [isfile] => [download] => [downloads] => 0 [filename] => [filesize] => 0 [updated] => [specname] => 0 [color] => 0 [vip] => [lineupid] => 0 [lineup] => Array ( ) [latitude] => 0 [longitude] => 0 [description] =>
Facial Brush Forever Young
UNIQUE DESIGN for SELF-BALANCING: The pink and white face brush is equipped with three small rotary brush heads, which has the variable--rotating and self-balancing brush technology that is harmless to the skin. The brush rotates in a clockwise & anti-clockwise direction synchronously which is beneficial to any skin texture and facial part such as the hard-to-reach areas around the nose and eyes. It penetrates deeply into the skin reducing blackhead formations.
YOUTHFUL & HEALTHIER SKIN: With your sonic three-head rotary facial brush, it is easy to clear away makeup, dirt, oil and dead skin! Specifically designed to work for all skin types: normal, dry, sensitive and oily! Your skin will be glowing and looking youthful owing to the removal of face wrinkles, reduction of fine lines, relief of tired muscles and enhancement of lymphatic and blood circulation.
IP65 LEVEL WATERPROOF & 3 SPEED MODE: The brush is 100% waterproof which ensures that the device can be used under shower and washed with running water. It is also programmed with 3 cleansing modes: anti-wrinkle mode, massaging mode and cleaning mode. Time reminder function occurs every 30 seconds along with a 2-minute automatic standby mode, thus making facial cleaning more efficient and scientific.
USB RECHARGEABLE: The USB charger make charging easy and readily available! The brush is fully charged within two (2) hours and can be used for 15-20 days after one charge.
PORTABLE BASE HOLDER: Your three-head facial brush is ergonomically designed for a chic appearance and user-friendliness. There is an elegant waterproof silicone arc shape base holder where the product can be affixed so that cleansing brush can be dried naturally.
Product description
The Forever Young brush machine is a 3-speed cleansing brush with an unique and sleek design. It is travel-friendly and provides professional-quality skin care producing smooth, clean, and beautiful skin. Gentle daily cleansing, toning and exfoliation for the face and body so as to give you a youthful and natural-looking radiant skin.
6 Benefits:
- More effective deep cleansing and removal of impurities
- Can help increase collagen level in skin
- Softer, smoother, clearer looking skin tone
- Can help diminish the appearance of fine lines and wrinkles
- Noticeable increase in blood circulation to the skin
- Helps reduce appearance of visible pores
How to Use:
1. Apply an appropriate amount of facial cleanser on your face or the brush head.
2. Select the suitable mode by press the on/off button when the device is in standby mode.
3. T-zone cleansing for 30 seconds, U-zone cleansing for 30 seconds, right cheek cleansing for 30 seconds, left cheek cleansing for 30 seconds.
4. Clean face and the product with running water.
5. Fix the device to the base holder then place it in a dry and well-ventilated area.
Package Includes:
1x Face Cleansing Brush
2x Brush Heads
1x Base Holder
1x USB Charger Line
1x User Manual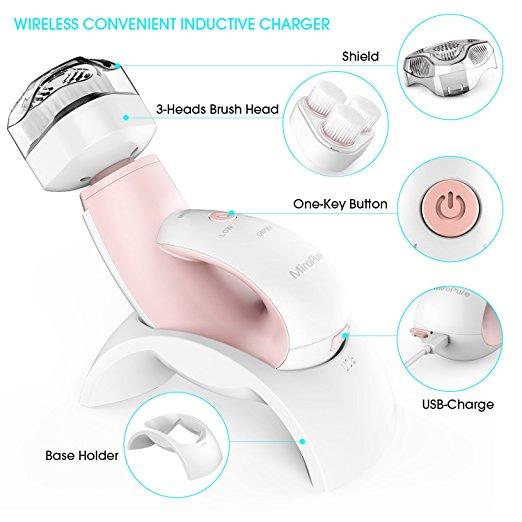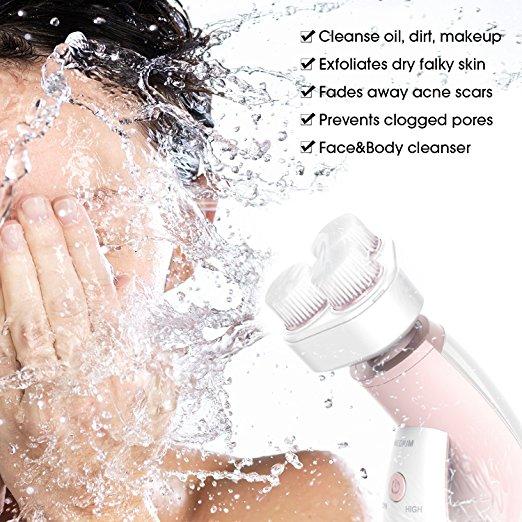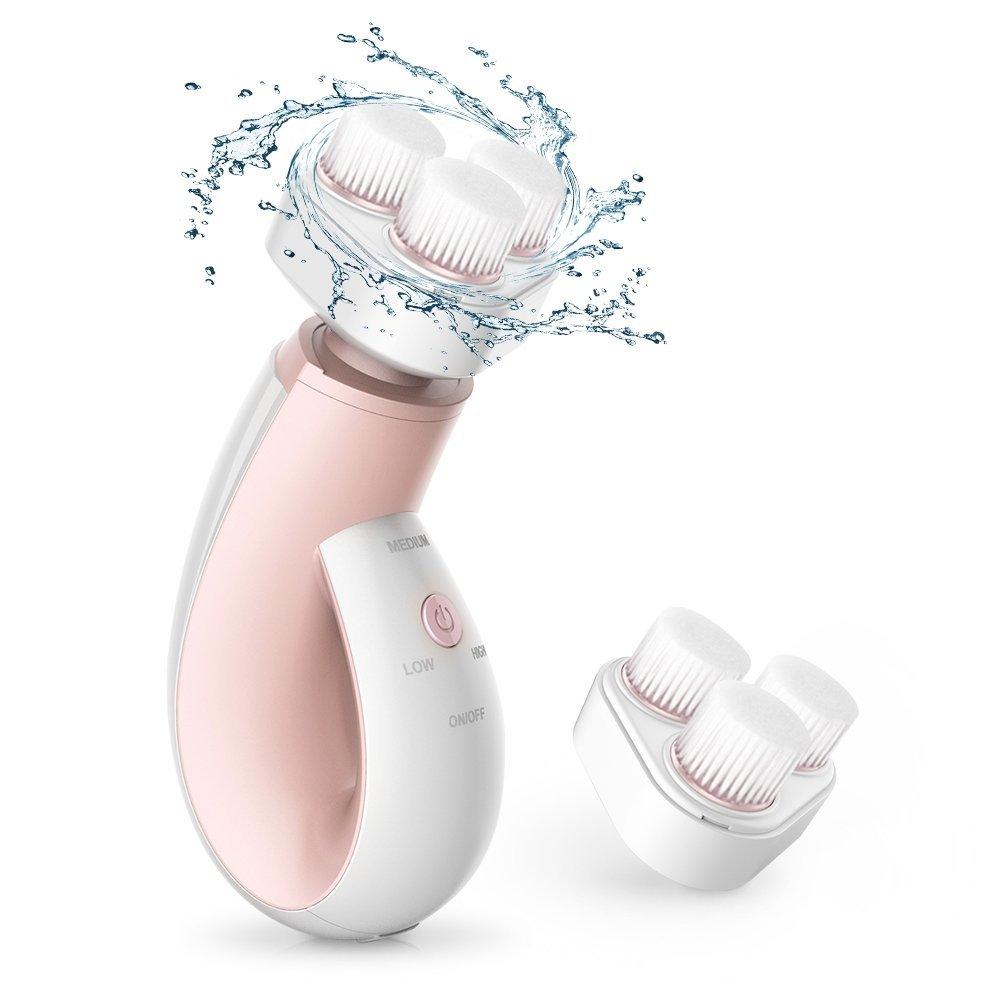 [estatetype] => 0 [baths] => 0 [beds] => 0 [adults] => 0 [children] => 0 [area] => 0 [manager] => 0 [address] => [published] => 1 [photoview] => [tags] => Array ( ) [showprotocolprocedure] => 3 [present] => Array ( ) [label] => Array ( [show] => 1 [text] => freeShipping [type] => freeShipping ) [labelFreeShipping] => Array ( [show] => 1 [text] => freeShipping [type] => freeShipping ) [additionalPlugin] => Array ( [ProductListFreeShipingLabelget] => Array ( ) ) [button] => )
One on one via FaceTime or Skype equipment training.
Equipment assembly support.
Free Delivery For Select Items

We ship our products by USPS/DHL/UPS/freight companies. Items marked "Free Delivery" are delivered by mainland with no freight charges.

We Are FDA Registered

Advance Esthetic LLC is an FDA-registered company. All products imported by Advance Esthetic are FDA registered, properly tested and approved.

Beauty Advisory Service

Advance Esthetic has been partnering with experienced beauticians and health care specialist from Europe, America and Asia for several years. During these years we have researched and inspected variety of different equipments and treatment methods. We will gladly share with you all the knowledge we gained over the years in this industry.

Huge Selection

We search across hundreds of manufacturers to offer you only the best and most innovative products and create life changing results for your customer.
Facial Brush Forever Young

UNIQUE DESIGN for SELF-BALANCING: The pink and white face brush is equipped with three small rotary brush heads, which has the variable--rotating and self-balancing brush technology that is harmless to the skin. The brush rotates in a clockwise & anti-clockwise direction synchronously which is beneficial to any skin texture and facial part such as the hard-to-reach areas around the nose and eyes. It penetrates deeply into the skin reducing blackhead formations.
YOUTHFUL & HEALTHIER SKIN: With your sonic three-head rotary facial brush, it is easy to clear away makeup, dirt, oil and dead skin! Specifically designed to work for all skin types: normal, dry, sensitive and oily! Your skin will be glowing and looking youthful owing to the removal of face wrinkles, reduction of fine lines, relief of tired muscles and enhancement of lymphatic and blood circulation.
IP65 LEVEL WATERPROOF & 3 SPEED MODE: The brush is 100% waterproof which ensures that the device can be used under shower and washed with running water. It is also programmed with 3 cleansing modes: anti-wrinkle mode, massaging mode and cleaning mode. Time reminder function occurs every 30 seconds along with a 2-minute automatic standby mode, thus making facial cleaning more efficient and scientific.
USB RECHARGEABLE: The USB charger make charging easy and readily available! The brush is fully charged within two (2) hours and can be used for 15-20 days after one charge.
PORTABLE BASE HOLDER: Your three-head facial brush is ergonomically designed for a chic appearance and user-friendliness. There is an elegant waterproof silicone arc shape base holder where the product can be affixed so that cleansing brush can be dried naturally.

Product description

The Forever Young brush machine is a 3-speed cleansing brush with an unique and sleek design. It is travel-friendly and provides professional-quality skin care producing smooth, clean, and beautiful skin. Gentle daily cleansing, toning and exfoliation for the face and body so as to give you a youthful and natural-looking radiant skin.

6 Benefits:
- More effective deep cleansing and removal of impurities
- Can help increase collagen level in skin
- Softer, smoother, clearer looking skin tone
- Can help diminish the appearance of fine lines and wrinkles
- Noticeable increase in blood circulation to the skin
- Helps reduce appearance of visible pores

How to Use:
1. Apply an appropriate amount of facial cleanser on your face or the brush head.
2. Select the suitable mode by press the on/off button when the device is in standby mode.
3. T-zone cleansing for 30 seconds, U-zone cleansing for 30 seconds, right cheek cleansing for 30 seconds, left cheek cleansing for 30 seconds.
4. Clean face and the product with running water.
5. Fix the device to the base holder then place it in a dry and well-ventilated area.

Package Includes:
1x Face Cleansing Brush
2x Brush Heads
1x Base Holder
1x USB Charger Line
1x User Manual

 

 

Send us a message if you have any questions

Thank you for your message

Facial Brush Forever Young

$ 95.00

Please, leave us your feedback