We speak English Мы говорим по-русски Hablamos Español
Radio Frequency Machine RF Jeune
30%
Array ( [id] => 1577 [name] => Radio Frequency Machine RF Jeune [shortname] => Radio Frequency Machine RF Jeune [artikul] => 12020 [price] => 1603 [discount] => 30 [price_form] => $ 1,603.00 [prod_price] => 2290 [prod_price_form] => $ 2,290.00 [currency] => $ [url] => radio-frequency-machine-rf-jeune [ico] => Array ( [mini] => https://advance-esthetic.us/userdata/modules/wproducts/product/mini/11413.png [cart] => https://advance-esthetic.us/userdata/modules/wproducts/product/cart/11413.png [big] => https://advance-esthetic.us/userdata/modules/wproducts/product/big/11413.png [main] => https://advance-esthetic.us/userdata/modules/wproducts/product/main/11413.png [quick] => https://advance-esthetic.us/userdata/modules/wproducts/product/quick/11413.png [catalog] => https://advance-esthetic.us/userdata/modules/wproducts/product/catalog/11413.png [catalogIco] => https://advance-esthetic.us/userdata/modules/wproducts/product/catalogIco/11413.png ) [out_currency_info] => Array ( [id] => sys_currencies_usd [rate] => 1 [rndp] => 0.01 [rnds] => 0.01 [short] => $ [left] => $ [digp] => 2 [digs] => 2 ) [stock] => Available [onhand] => 5 [minqty] => 0 [stockqty] => 5 [prodtype] => wprod_prodtypes_prod [autname] => 0 [preorder] => 0 [manufacter] => Venus [rating] => 0 [comments] => 0 [photos] => 0 [category] => 311 [categoryname] => Rf facial machines [reviews] => 0 [features] => 0 [commentsm] => [photosm] => [photosmm] => [reviewsm] => [featuresm] => [options] => Array ( ) [meta_title] => Radio Frequency Machine RF Jeune for sale. Buy at the best price in USA. Advance-Esthetic.US [meta_description] => Radio Frequency Machine RF Jeune for sale in USA. Reviews, results and feedbacks. Prices from the direct importer. [meta_keywords] => [pagetitle] => Radio Frequency Machine RF Jeune [isfile] => [download] => [downloads] => 0 [filename] => [filesize] => 0 [updated] => [specname] => 647 [color] => 0 [vip] => [lineupid] => 0 [lineup] => Array ( ) [latitude] => 0 [longitude] => 0 [description] =>
Radio Frequency Machine RF Jeune is a cosmetological device designed for professional work in a beauty salon or facial room.
Benefits of Radio Frequency Machine RF Jeune:
Deep safety heating - by 5MHz Frequency;
Powerful Intensity- 250W/cm2;
Easy to operate control panel;
2 types of RF handpieces - bipolar for face and tripolar for body;
Built in controleable timer;
FDA Registered Machine;
2 year warranty;
Lifetime client support.
What areas can be treated by Radio Frequency Machine RF Jeune:
Face: Eye area/ Jaw line/ Nasolabial folds/ Entire face;
Neck/ Decollete;
Body.

Results of treatment:
General facial tightening and brightening;
Lifting brows and tightening forehead skin;
Thickening the skin and tightening and lifting the upper cheek skin;
Slightly lifting and diminishing enlarged pores on cheeks;
Diminishing jowling and sagging along the jaw line;
Tightening skin and diminishing wrinkling of the neck and decollete;
Visual improvement of scars and stretch marks;
Stimulation of skin cells renewal;
Improvement of microcirculation and face color;
Improvement of skin elasticity.
Technical features of Radio Frequency Machine RF Jeune:
AC: 110V. 50Hz/60Hz;
RF frequency: 5MHz;
Polarity: bipolar&tripolar RF for facial and body treatment;
Power: 150w.
Product Dimensions: 9.8"H x 14.6"L x 14.6"W. 
N.WT: 15 lbs.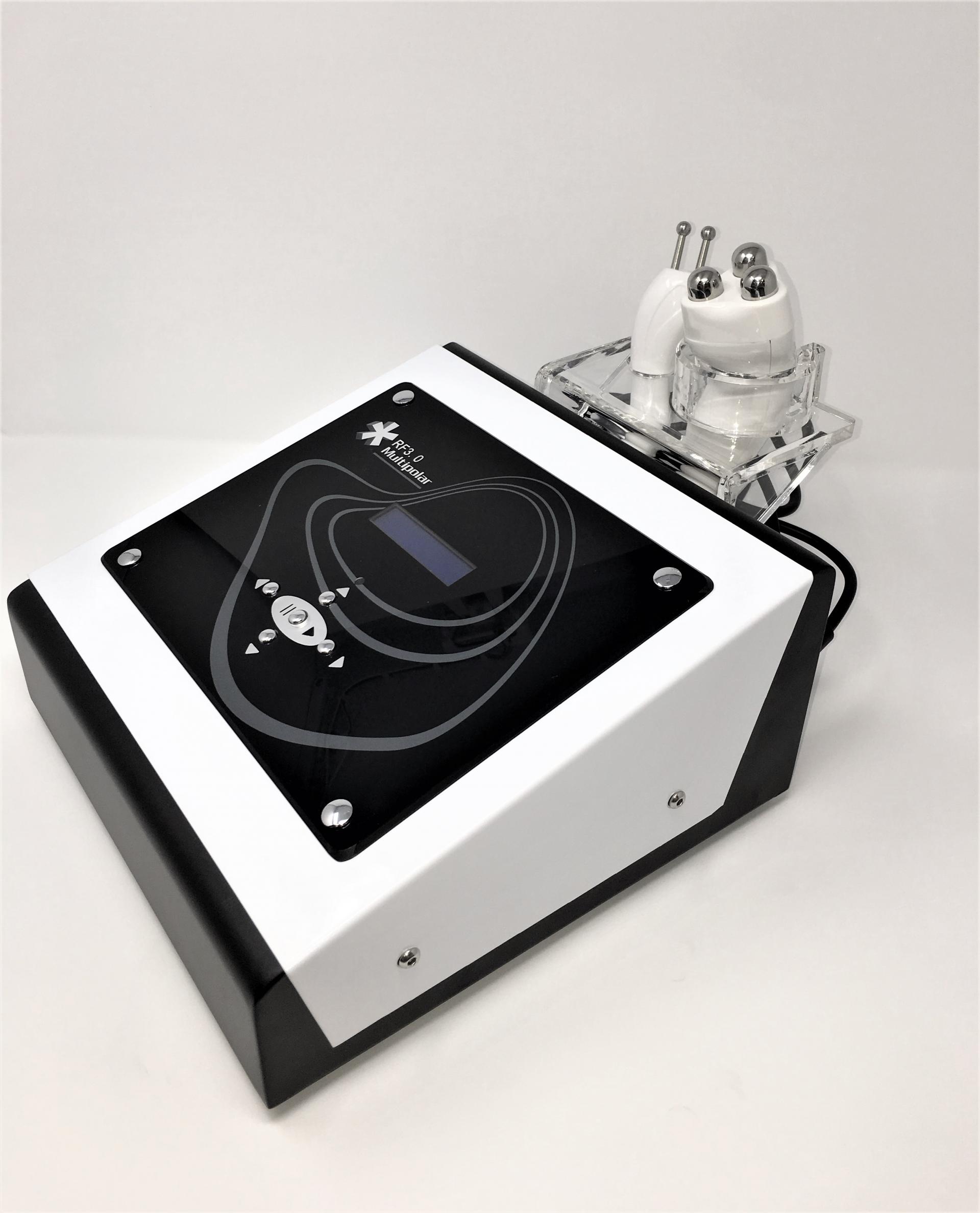 [estatetype] => 0 [baths] => 0 [beds] => 0 [adults] => 0 [children] => 0 [area] => 0 [manager] => 0 [address] => [published] => 1 [photoview] => [tags] => Array ( ) [showprotocolprocedure] => 3 [present] => Array ( ) [button] => )
One on one via FaceTime or Skype equipment training.
Equipment assembly support.
Free Delivery For Select Items

We ship our products by USPS/DHL/UPS/freight companies. Items marked "Free Delivery" are delivered by mainland with no freight charges.

We Are FDA Registered

Advance Esthetic LLC is an FDA-registered company. All products imported by Advance Esthetic are FDA registered, properly tested and approved.

Beauty Advisory Service

Advance Esthetic has been partnering with experienced beauticians and health care specialist from Europe, America and Asia for several years. During these years we have researched and inspected variety of different equipments and treatment methods. We will gladly share with you all the knowledge we gained over the years in this industry.

Huge Selection

We search across hundreds of manufacturers to offer you only the best and most innovative products and create life changing results for your customer.
Radio Frequency Machine RF Jeune is a cosmetological device designed for professional work in a beauty salon or facial room.

 

Benefits of Radio Frequency Machine RF Jeune:

Deep safety heating - by 5MHz Frequency;
Powerful Intensity- 250W/cm2;
Easy to operate control panel;
2 types of RF handpieces - bipolar for face and tripolar for body;
Built in controleable timer;
FDA Registered Machine;
2 year warranty;
Lifetime client support.

What areas can be treated by Radio Frequency Machine RF Jeune:

Face: Eye area/ Jaw line/ Nasolabial folds/ Entire face;
Neck/ Decollete;
Body.

Results of treatment:

General facial tightening and brightening;
Lifting brows and tightening forehead skin;
Thickening the skin and tightening and lifting the upper cheek skin;
Slightly lifting and diminishing enlarged pores on cheeks;
Diminishing jowling and sagging along the jaw line;
Tightening skin and diminishing wrinkling of the neck and decollete;
Visual improvement of scars and stretch marks;
Stimulation of skin cells renewal;
Improvement of microcirculation and face color;
Improvement of skin elasticity.

Technical features of Radio Frequency Machine RF Jeune:

AC: 110V. 50Hz/60Hz;
RF frequency: 5MHz;
Polarity: bipolar&tripolar RF for facial and body treatment;
Power: 150w.

Product Dimensions: 9.8"H x 14.6"L x 14.6"W. 

N.WT: 15 lbs. 

Send us a message if you have any questions

Thank you for your message

Radio Frequency Machine RF Jeune

Please, leave us your feedback