We speak English Мы говорим по-русски Hablamos Español
Stationary Facial Bed RockBeauty Tracy
Array ( [id] => 1508 [name] => Stationary Facial Bed RockBeauty Tracy [shortname] => Stationary Facial Tattoo Bed PRO [artikul] => 19326 [price] => 290 [discount] => 0 [price_form] => $ 290.00 [prod_price] => 290 [prod_price_form] => $ 290.00 [currency] => $ [url] => stationary-facial-tattoo-bed-pro-6788 [ico] => Array ( [mini] => https://advance-esthetic.us/userdata/modules/wproducts/product/mini/11983.jpg [cart] => https://advance-esthetic.us/userdata/modules/wproducts/product/cart/11983.jpg [big] => https://advance-esthetic.us/userdata/modules/wproducts/product/big/11983.jpg [main] => https://advance-esthetic.us/userdata/modules/wproducts/product/main/11983.jpg [quick] => https://advance-esthetic.us/userdata/modules/wproducts/product/quick/11983.jpg [catalog] => https://advance-esthetic.us/userdata/modules/wproducts/product/catalog/11983.jpg [catalogIco] => https://advance-esthetic.us/userdata/modules/wproducts/product/catalogIco/11983.jpg ) [out_currency_info] => Array ( [id] => sys_currencies_usd [rate] => 1 [rndp] => 0.01 [rnds] => 0.01 [short] => $ [left] => $ [digp] => 2 [digs] => 2 ) [stock] => Available [onhand] => 5 [minqty] => 0 [stockqty] => 5 [prodtype] => wprod_prodtypes_prod [autname] => 0 [preorder] => 0 [manufacter] => RockBeauty [rating] => 4 [comments] => 1 [photos] => 1 [category] => 206 [categoryname] => Facial tattoo chairs [reviews] => 0 [features] => 0 [commentsm] => (1) [photosm] => (1) [photosmm] => [reviewsm] => [featuresm] => [options] => Array ( ) [meta_title] => Stationary Facial Bed RockBeauty Tracy for sale. Buy at the best price in USA. Advance-Esthetic.US [meta_description] => Stationary Facial Bed RockBeauty Tracy for sale in USA. Reviews, results and feedbacks. Prices from the direct importer. [meta_keywords] => [pagetitle] => Stationary Facial Bed RockBeauty Tracy [isfile] => [download] => [downloads] => 0 [filename] => [filesize] => 0 [updated] => [specname] => 0 [color] => 0 [vip] => [lineupid] => 0 [lineup] => Array ( ) [latitude] => 0 [longitude] => 0 [description] =>
Rest your clients comfortably and securely on this highly adjustable Facial & Massage Table/Bed. The extendable headrest has a removable pillow to expose a face opening - perfect for back-work. The extending headrest and reclining backrest/legrest allows you to customize the unit for all your needs.
High Density Comfort Foam Padding: 4" thick high density foam for extreme comfort;
Extendable Headrest: Headrest extends an additional 6" for taller clients;
Removable Pillow for Massage Table Conversion: Quickly and easily converts into a massage table when you remove the pillow from the headrest to expose the Massage Face Opening;
Removable Arms: Arms can be quickly and easily removed (no tools required);
Welded Steel Sturdy Base: Welded Steel base construction ensures reliable service for years to come.
Package Dimensions: 52"H x 13"L x 26"D.
N.WT 87 lbs.
Available colors: white/black/cream.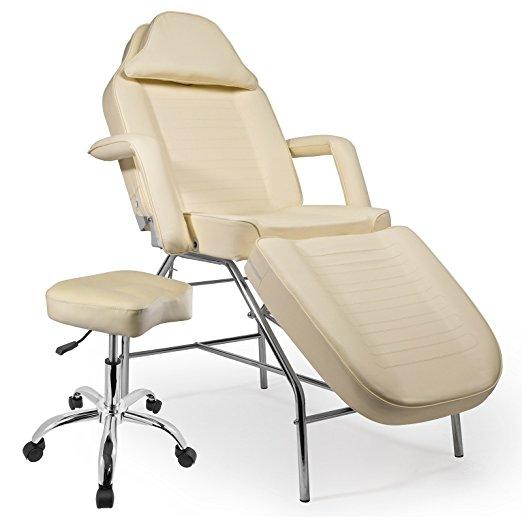 [estatetype] => 0 [baths] => 0 [beds] => 0 [adults] => 0 [children] => 0 [area] => 0 [manager] => 0 [address] => [published] => 1 [photoview] => [tags] => Array ( ) [showprotocolprocedure] => 3 [present] => Array ( ) [button] => )
| | |
| --- | --- |
| Brand: | RockBeauty |
| Rating: | |
Free Delivery For Select Items

We ship our products by USPS/DHL/UPS/freight companies. Items marked "Free Delivery" are delivered by mainland with no freight charges.

We Are FDA Registered

Advance Esthetic LLC is an FDA-registered company. All products imported by Advance Esthetic are FDA registered, properly tested and approved.

Beauty Advisory Service

Advance Esthetic has been partnering with experienced beauticians and health care specialist from Europe, America and Asia for several years. During these years we have researched and inspected variety of different equipments and treatment methods. We will gladly share with you all the knowledge we gained over the years in this industry.

Huge Selection

We search across hundreds of manufacturers to offer you only the best and most innovative products and create life changing results for your customer.
Rest your clients comfortably and securely on this highly adjustable Facial & Massage Table/Bed. The extendable headrest has a removable pillow to expose a face opening - perfect for back-work. The extending headrest and reclining backrest/legrest allows you to customize the unit for all your needs.

High Density Comfort Foam Padding: 4" thick high density foam for extreme comfort;
Extendable Headrest: Headrest extends an additional 6" for taller clients;
Removable Pillow for Massage Table Conversion: Quickly and easily converts into a massage table when you remove the pillow from the headrest to expose the Massage Face Opening;
Removable Arms: Arms can be quickly and easily removed (no tools required);
Welded Steel Sturdy Base: Welded Steel base construction ensures reliable service for years to come.

Package Dimensions: 52"H x 13"L x 26"D.

N.WT 87 lbs.

Available colors: white/black/cream. 

 

Send us a message if you have any questions

Thank you for your message

Stationary Facial Bed RockBeauty Tracy

$ 290.00

This bed is very comfortable, perfect for my tattoo salon

Please, leave us your feedback