About Us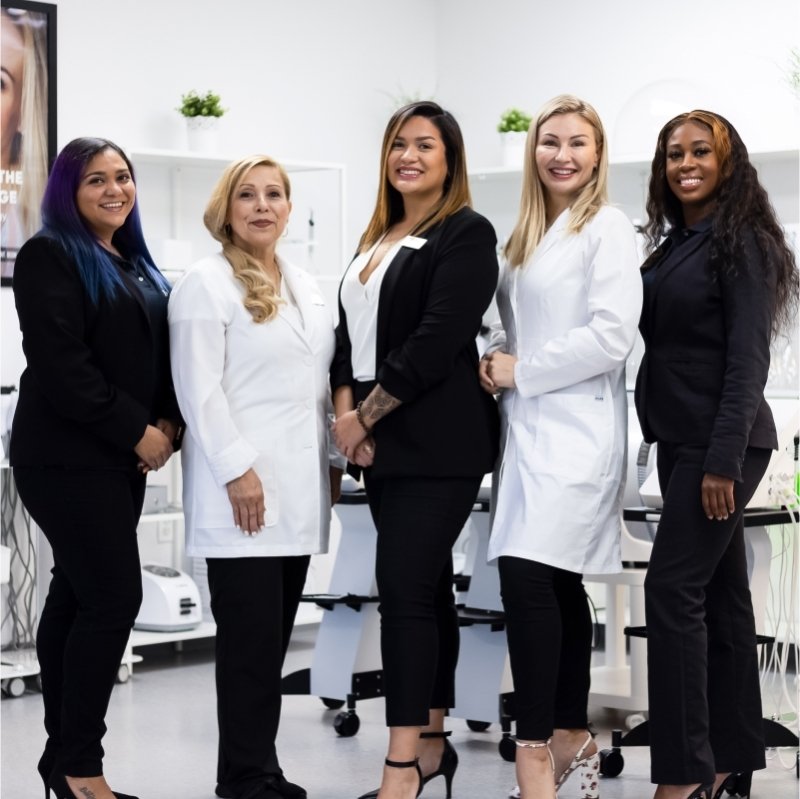 About us
Exceptional Equipment for Impressive Treatment Outcomes
Advance-Esthetic is the official US representative of the prestigious Zemits brand. Our mission is to provide you with the finest spa and salon equipment, tailored to meet a wide array of your requirements. Our extensive product selection includes professional beauty equipment such as Microdermabrasion machines, Skin Scrubbers, RadioFrequency devices, Microcurrent machines, Multifunctional units, Lasers and IPL's, and numerous other high-quality products.
Our product lineup not only exemplifies top-quality craftsmanship but also integrates the most advanced technology and up-to-date models in the market. By choosing Advance-Esthetic, you will benefit from our unparalleled customer service and competitive pricing, ensuring your satisfaction at every step. With over a decade of combined experience in the aesthetics field, our knowledgeable professionals understand the industry and are well-equipped to guide you in making the most informed decisions to suit your spa needs.

Revolutionizing the Beauty Industry
Established in 2010, Zemits began with a singular mission to empower professionals in the beauty industry. Over the years, we have gained worldwide recognition and experienced significant growth, securing a leading position in both the American and European markets.
Our success is rooted in our commitment to quality innovations, a cohesive team of driven and passionate individuals, and an unwavering determination to excel.
Together, we have cultivated a strong community of professionals who constantly strive to reach new heights in the beauty business.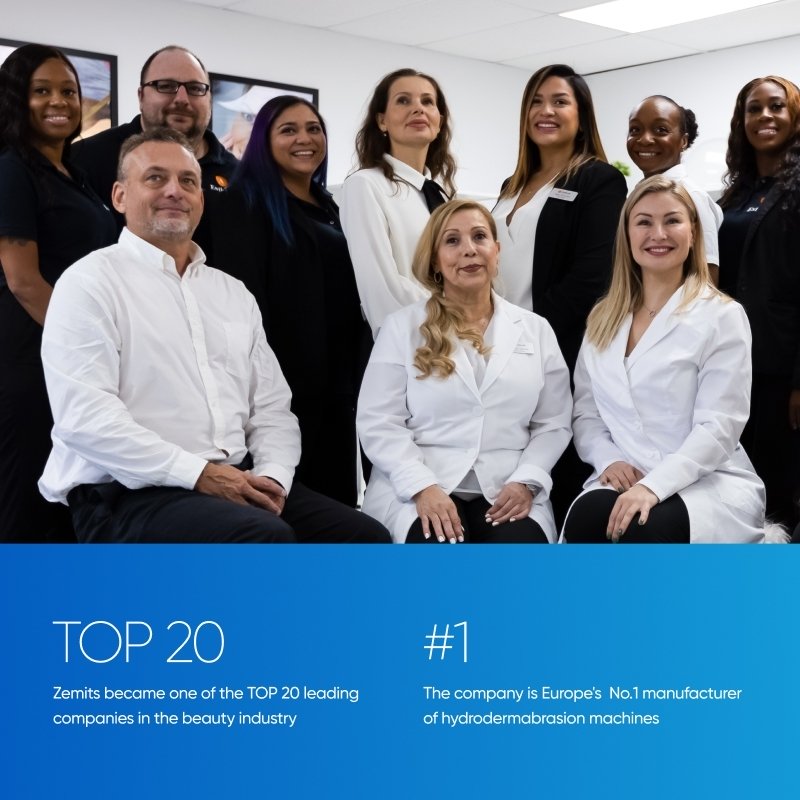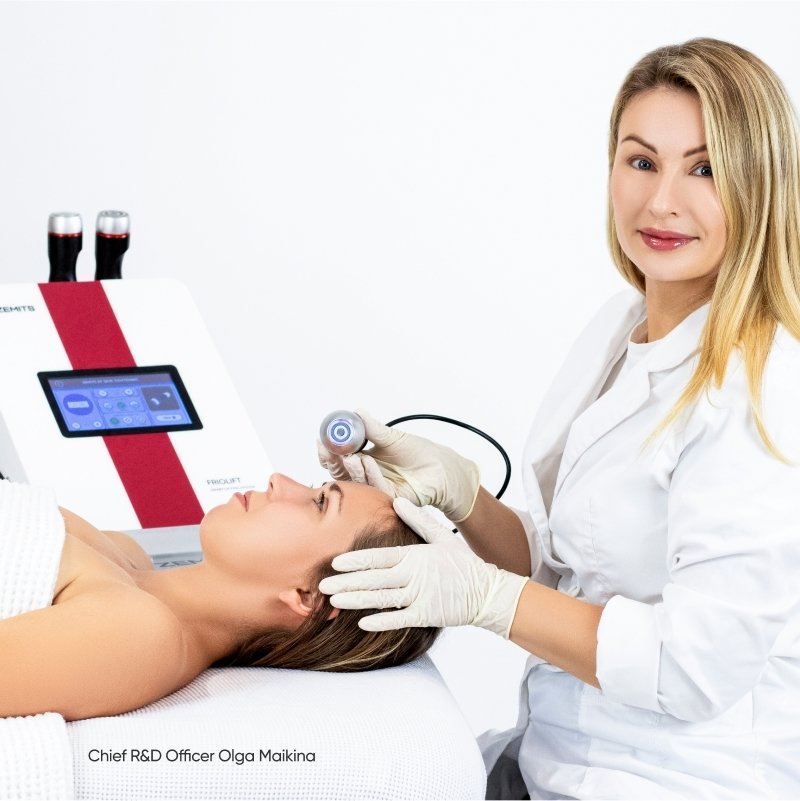 Global Brand with an Esteemed International Reputation
Our company's products are meticulously designed and developed by a team of highly skilled medical engineers hailing from California, Poland, and Ukraine. Our development team is dedicated to creating the most effective and user-friendly equipment on the market.
We offer more than just devices; we provide a comprehensive business solution that facilitates seamless integration of new services into your operations, generating profits and attracting customers. Our competitive advantages include cutting-edge technology and protocols, ergonomic design, professionally crafted marketing materials, expert guidance in business promotion, and comprehensive training with industry-leading professionals.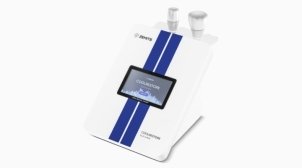 50+ Internationally Certified Devices
Zemits equipment transforms the beauty industry through innovative technology and high-performance devices. Our flagship models, such as the Zemits DermeLuxx PRO and CoolRestore Elegance, are vital to any esthetics practice. Expertly crafted with state-of-the-art technology, these models ensure outstanding results and efficiency, making them indispensable assets to your business.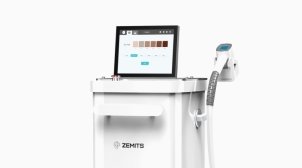 Medical Aesthetics Laser Equipment
Experience unparalleled laser technologies that redefine the beauty industry. Our cutting-edge devices will transform your beauty treatments, elevating your clients' experiences to unprecedented heights. Zemits laser equipment empowers you to provide an extensive array of treatments, encompassing laser hair removal, skin rejuvenation, acne reduction, and many other advanced procedures.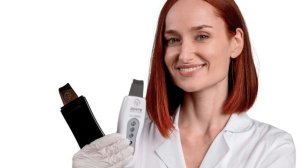 Aspiring Estheticians Line
Zemits handheld devices provide a superb foundation for esthetics practices, offering an affordable way to incorporate advanced spa treatments. Perfect for aspiring estheticians or those expanding services, these devices consistently yield exceptional results, driving client satisfaction and repeat visits. The compact, user-friendly design makes them a practical, invaluable component in any esthetician's arsenal.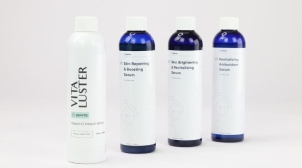 Professional Skincare Line
Discover the benefits of Zemits professional skincare, featuring unique HydroDermabrasion serums compatible with any equipment brand. Elevate your treatments with our innovative, high-quality formulas that rejuvenate skin, delivering remarkable results. Experience the difference Zemits skincare can make in enhancing your services and satisfying your clients' diverse needs.
Zemits Group:
A Worldwide Network for Unparalleled Support and Collaboration
Zemits boasts a truly global presence, with dedicated teams and offices situated across the United States and Europe. Our network spans California, Florida, and Texas in the US, while our European presence includes the United Kingdom, Poland, Ukraine, Spain, and Belgium.
This extensive international representation allows us to maintain close relationships with our clients and partners, ensuring exceptional customer service, collaboration, and support. Our strategic locations enable us to remain at the forefront of industry trends and innovations, solidifying our position as a leading player in the global beauty market.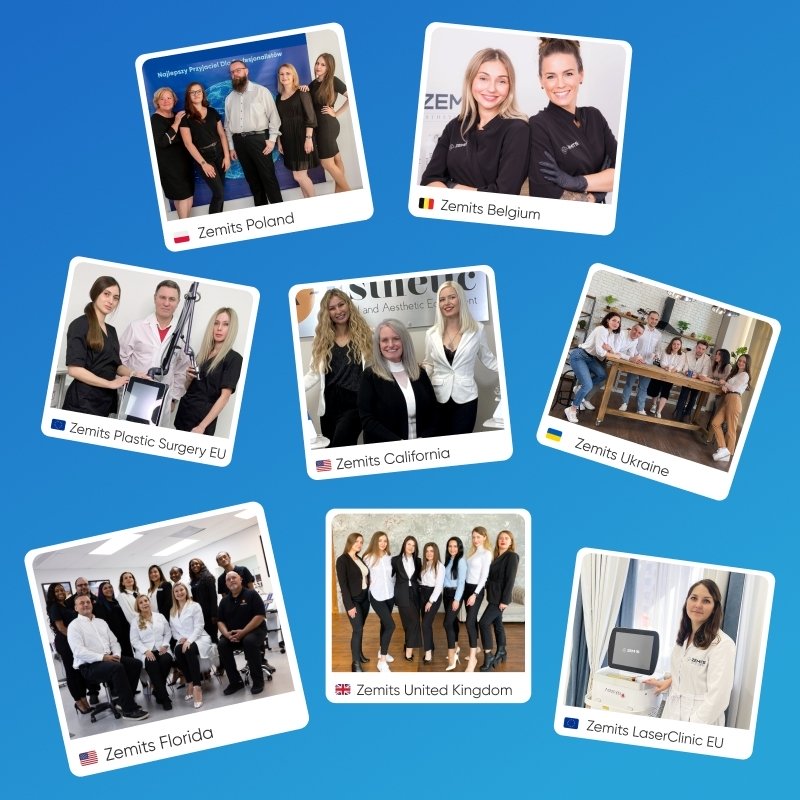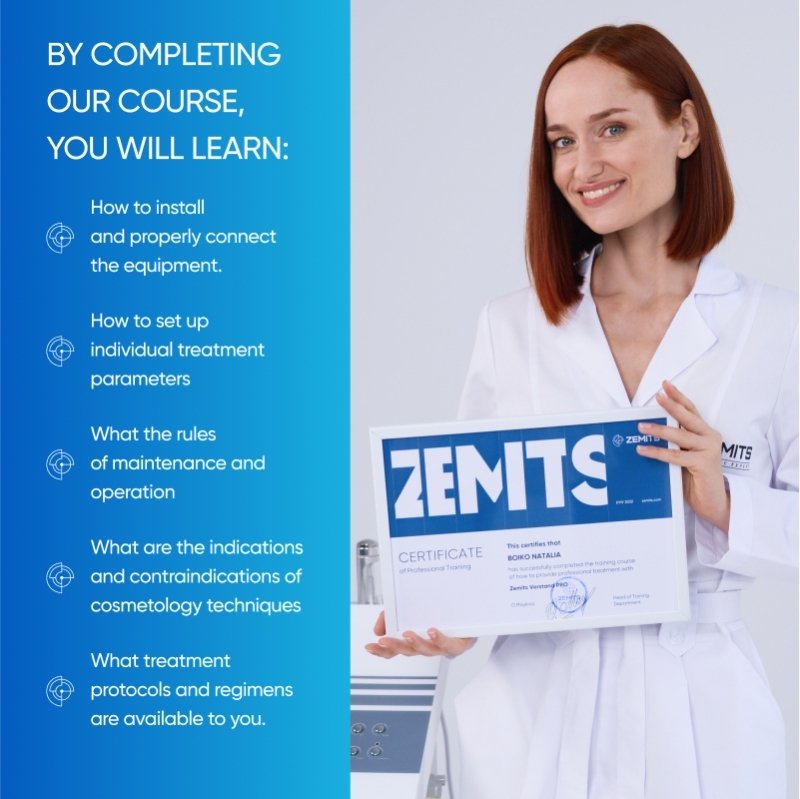 Elevate Your Skills with Our Expertise
We provide complimentary, in-depth training with every Zemits device purchase, designed specifically for estheticians by our seasoned beauty professionals.
Upon successful completion of the course, you will receive a certificate, signifying your mastery of the equipment.
Our training transcends theoretical knowledge, focusing on hands-on experience and practical skill development under the guidance of a Zemits beauty expert.
This comprehensive approach equips you with the confidence and precision to excel in your esthetics practice.
Superior Warranty Support
Purchasing Zemits equipment means more than acquiring a device; it means gaining a business partner committed to your success. Customers often select manufacturers that offer comprehensive support, and warranty services play a significant role in this decision.
Our warranty and post-warranty services are designed to ensure your peace of mind and foster confidence in your business's future. We understand that even brief downtime can result in lost profits, customers, and a competitive edge. To address this, we provide an extended 36-month warranty for every professional model, ensuring optimal performance and reliability.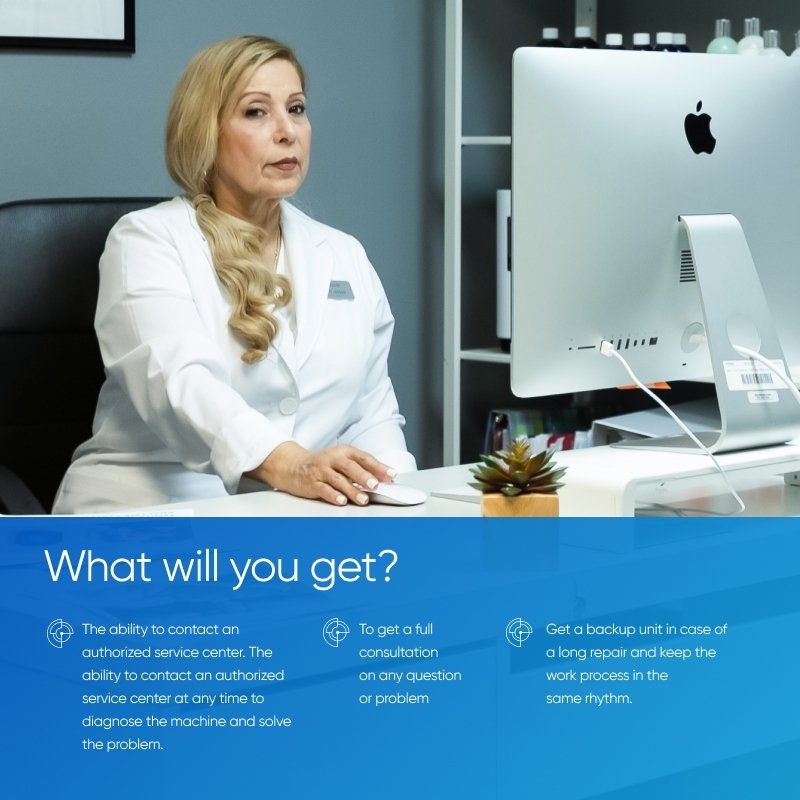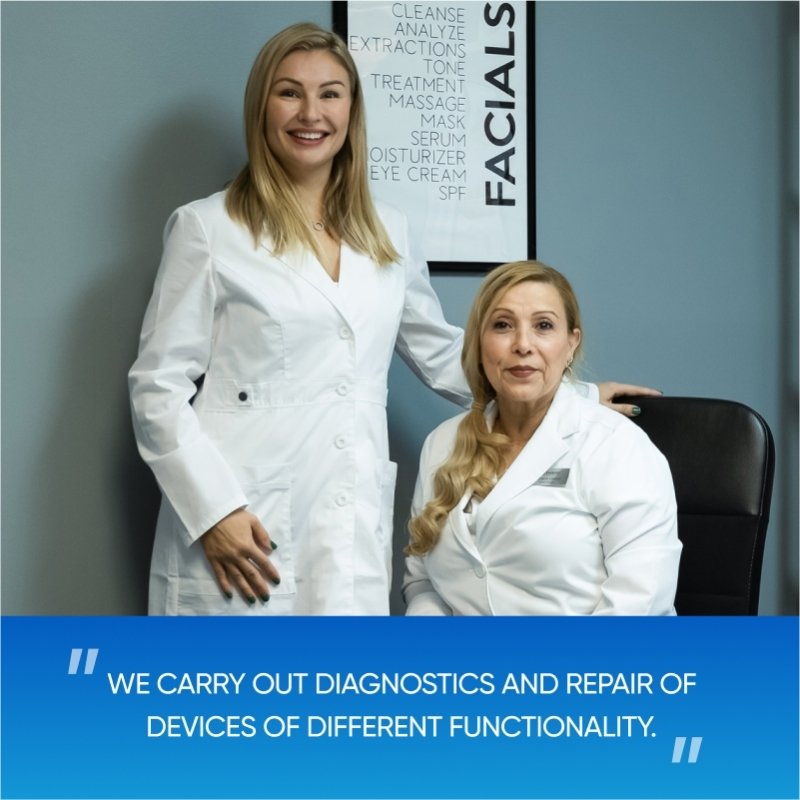 Zemits Service Center:
Official Warranty and Post-Warranty Support
Reasons our clients choose us:
Quality: Our comprehensive service cycle starts with thorough diagnostics and ends with effective problem resolution, ensuring the highest standard of care.
Speed: We recognize that every day spent on repairs results in lost customers and revenue for estheticians. Our commitment is to resolve issues as swiftly as possible to minimize downtime.
Confidence: The official Zemits service center guarantees top-tier customer support. From detailed diagnostics to the final return of your equipment, we are dedicated to providing the finest service experience possible.
Empowering Your Business: Comprehensive Marketing Support
In today's competitive landscape, the success of estheticians and spa owners relies not only on high-quality equipment but also on effectively showcasing their offerings to clients. It's essential to seamlessly integrate new services into your price list, ensuring profitability and growth.
Gone are the days when offline advertising alone sufficed for the aesthetic business. Today's target audience for beauty services predominantly resides on social media platforms. Acknowledging this shift, we equip every Zemits client with a tailored set of marketing materials, designed to bolster your business and help you thrive in the digital age.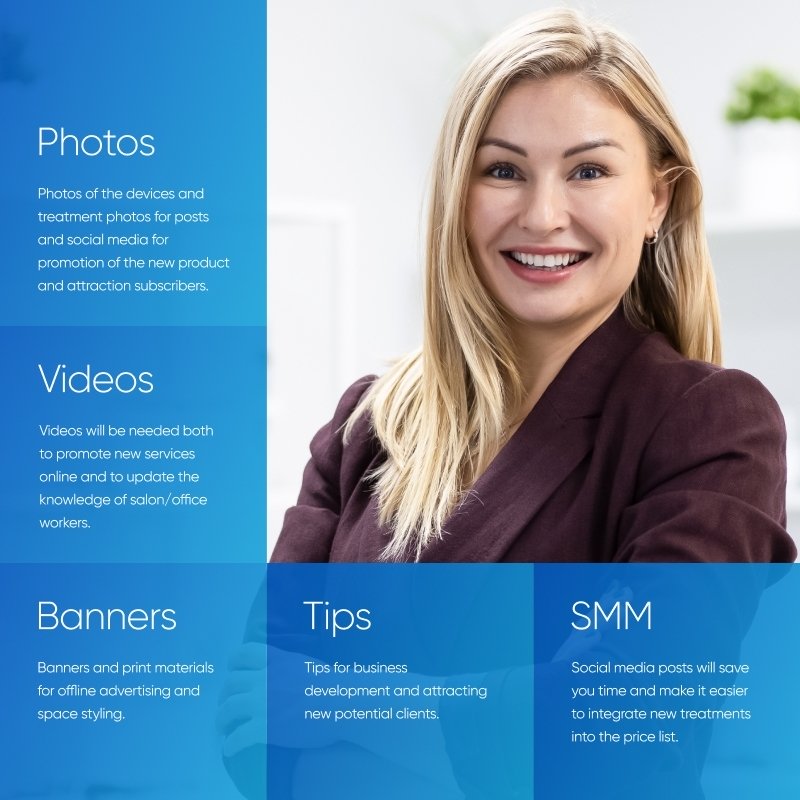 Advance-Esthetic is dedicated to providing you with the finest MedSpa Equipment to tailor a wide variety of your needs. Our mission is to support your MedSpa to boost your business with the highest quality products, outstanding customer service and a lifetime of client support.
Advance-Esthetic.us delivers to the following states: Alabama, Alaska, Arkansas, Arizona, California, Colorado, ...

Connecticut, Delaware, Florida, Georgia, Hawaii, Idaho, Illinois, Indiana, Iowa, Kansas, Kentucky, Louisiana, Maine, Maryland, Massachusetts, Michigan, Minnesota, Mississippi, Missouri, Montana, Nebraska, Nevada, New Hampshire, New Jersey, New Mexico, New York, North Carolina, North Dakota, Ohio, Oklahoma, Oregon, Pennsylvania, Rhode Island, South Carolina, South Dakota, Tennessee, Texas, Utah, Vermont, Virginia, Washington, West Virginia, Wisconsin, Wyoming
© 2021 DISCLAIMER: All information within the A-esthetic.us website and all other marketing materials are made only for informational and educational purposes. A-Esthetic products and equipment have not been tested or approved or any government entity for treatments of illnesses or diseases. Use at your own risk.
Advance-Esthetic does not accept any liability for inaccurate information on our website. It is the responsibility of the client to check the accuracy of all information provided and to confirm prior to and upon purchase of *qualifying Zemits equipment including but not limited to the conditional offer of marketing materials and other such offers for the defined brands. Zemits only. Marketing Materials are exclusively for Zemits branded machines only... Not applicable with Venus, Innocell, or other non Zemits branded equipment, ETC., Definitions: Qualified: Zemits Branded Equipment only