Warranty
Enhanced warranty support
"When you buy Zemits equipment, you're buying not just a device, but a business partner who is interested in your success." When studying the market, customers choose only those manufacturers who provide them with comprehensive support.

The warranty is the key to your peace of mind and confidence in the future of your business.

After all, even a small downtime means loss of profits, customers, and leading positions among competitors. That's why we provide an extended warranty of 36 months for every professional model.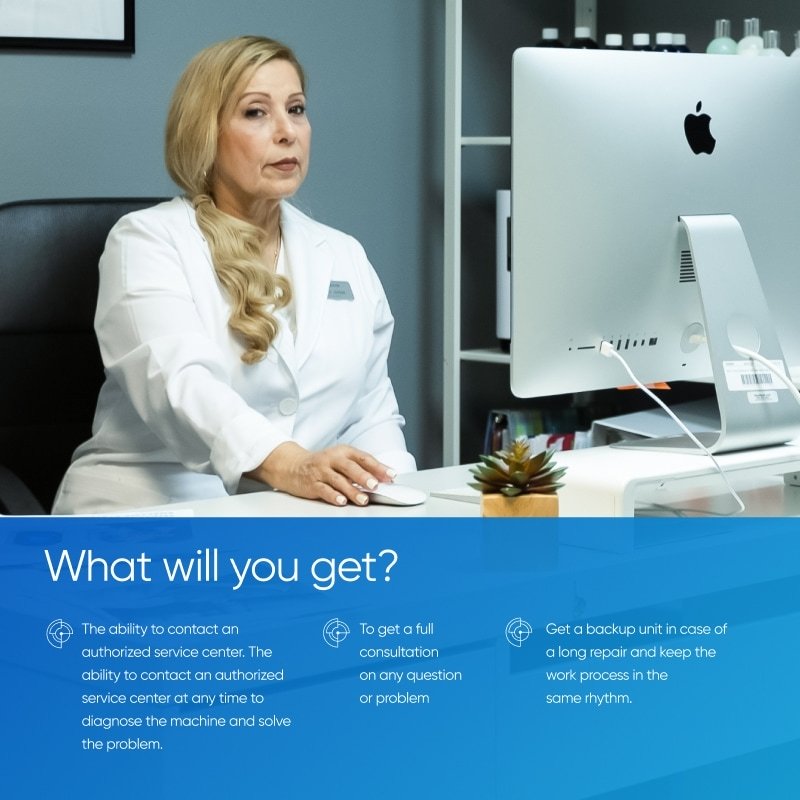 Warranty & Return Policy
All Zemits professional devices are covered by a 36 -month warranty, while Zemits handheld devices and Oomnex professional devices have a 12-month warranty. The warranty excludes normal wear and tear, accessories, and parts such as tips, handpieces, pressotherapy suit parts, and other related items.

To maintain a valid warranty, customers must complete the full online training course and online training Q&A session with a certified A-Esthetic educator on eligible equipment.
Untrained use voids the warranty.
Damage resulting from misuse or lack of maintenance also void the warranty.

Upon receiving your order, you have 7 days to report any damages, such as dents, scratches, cracks, or missing components. If your unit has any of these issues, please submit a ticket at https://advance-esthetic.us/support with the subject line "New (device name) - (condition)" and include any supporting photos and/or videos.

Advance-Esthetic LLC is not responsible for revenue loss due to downtime required for repair, replacement, or shipping time.

Damage caused by unauthorized product modifications, improper voltage supply, or usage with malfunctioning or damaged power surge/power strip/wall outlet, abuse, improper packaging, or inappropriate use/use prior to successfully completing the training course is not covered by this warranty. All incurred costs will be the responsibility of the customer.

The warranty covers necessary repair parts and labor costs for repairs, but the customer is responsible for all incurred shipping costs to and from Advance-Esthetic LLC.

If a replacement device is granted, the warranty time frame remains the same from the original purchase date.
Refund & Return Policy
Customers must notify Advance-Esthetic LLC within 30 days of equipment/parts malfunction and obtain authorization before shipping equipment back for any repair or replacement. Advance-Esthetic LLC will not accept returned units without prior written authorization from a Customer Service representative.

Items must be in brand-new, unused condition and returned in the original packaging. We strongly recommend retaining the product's packaging for 30 days after receipt. Please note that if the device is returned in an unclean condition, a cleaning fee may be assessed based on the extent of cleaning required to restore the item to its original state.

Equipment is not eligible for refunds after 30 days from the delivery date. Equipment that is outside the 30-day guarantee and/or not returned in the original packaging will not be considered for a refund.

Items returned within the first 30 days without the original packaging or in used/not sellable condition are subject to a 30% restocking fee. Advance-Esthetic LLC reserves the right to refuse any returns depending on the condition of the returned item.

Return shipping costs are the customer's responsibility and are non-refundable.

Handheld devices, accessories, furniture, and skincare products are non-refundable. If the item(s) arrives damaged, contact Advance-Esthetic LLC within 7 days.

All gifted, complimentary, or gratis items must be returned along with the main unit. If the gifted items are not returned, the full cost of the item will be deducted from the refund (if eligible).

Customers are responsible for properly packaging products for return to the Advance-Esthetic LLC facility to avoid any possible damage during shipping transit. Any damage resulting from inappropriate packaging or insufficient protection inside the shipped box is the customer's responsibility. Each accessory must be packed individually and carefully protected with bubble wrap, styrofoam, or similar material, and any screen on the unit must also be carefully covered during transportation. Items returned must be tightly secured inside the package with accessories safely protected to avoid damage due to shifting during transportation.

Custom products are final sale and are not eligible for returns, exchanges, changes, or alterations.

Refunds are contingent upon the condition of the equipment, packaging, date of purchase, and must be pre-authorized. If a refund is granted, it will be issued within 90 days.

Any order cancellation must be requested to Advance-Esthetic LLC within 24 hours of placing the order.
Refunds are only issued for the cost of the equipment/products. All shipping and handling fees are non-refundable.

Please note:
All purchases with terms of in-house financing or third party financing are not eligible for return or refund.





Disclaimer
All products on www.advance-esthetic.us website are intended for cosmetic use.

All products on www.advance-esthetic.us website are not intended to treat or diagnose any medical conditions.

In very rare cases, there may be a slight variation in appearance between equipment listed on advance-esthetic.us and equipment shipped to consumers. This is attributed to occasional minor design changes by the manufacturer and in no way compromises the function(s) or quality of the equipment.

The information on this website or any advice given by any A-Esthetic consultant or educator is not intended for the diagnosis or treatment of medical conditions and should not be used as a substitute for professional medical advice. Use at your own risk.
Advance-Esthetic is dedicated to providing you with the finest MedSpa Equipment to tailor a wide variety of your needs. Our mission is to support your MedSpa to boost your business with the highest quality products, outstanding customer service and a lifetime of client support.
Advance-Esthetic.us delivers to the following states: Alabama, Alaska, Arkansas, Arizona, California, Colorado, ...

Connecticut, Delaware, Florida, Georgia, Hawaii, Idaho, Illinois, Indiana, Iowa, Kansas, Kentucky, Louisiana, Maine, Maryland, Massachusetts, Michigan, Minnesota, Mississippi, Missouri, Montana, Nebraska, Nevada, New Hampshire, New Jersey, New Mexico, New York, North Carolina, North Dakota, Ohio, Oklahoma, Oregon, Pennsylvania, Rhode Island, South Carolina, South Dakota, Tennessee, Texas, Utah, Vermont, Virginia, Washington, West Virginia, Wisconsin, Wyoming
© 2021 DISCLAIMER: All information within the A-esthetic.us website and all other marketing materials are made only for informational and educational purposes. A-Esthetic products and equipment have not been tested or approved or any government entity for treatments of illnesses or diseases. Use at your own risk.
Advance-Esthetic does not accept any liability for inaccurate information on our website. It is the responsibility of the client to check the accuracy of all information provided and to confirm prior to and upon purchase of *qualifying Zemits equipment including but not limited to the conditional offer of marketing materials and other such offers for the defined brands. Zemits only. Marketing Materials are exclusively for Zemits branded machines only... Not applicable with Venus, Innocell, or other non Zemits branded equipment, ETC., Definitions: Qualified: Zemits Branded Equipment only