Book a Virtual Demo
Advance Esthetic's Virtual Demo
Easily and conveniently explore the latest in beauty technology
Are you interested in trying out new beauty equipment, but don't have the time or resources to attend in-person demos? Look no further than Advance Esthetic's Virtual Demo Service!
Our virtual demos allow you to try out our innovative beauty equipment from the comfort of your own home or office. Our knowledgeable team will guide you through the features and benefits of each piece of equipment, and answer any questions you may have.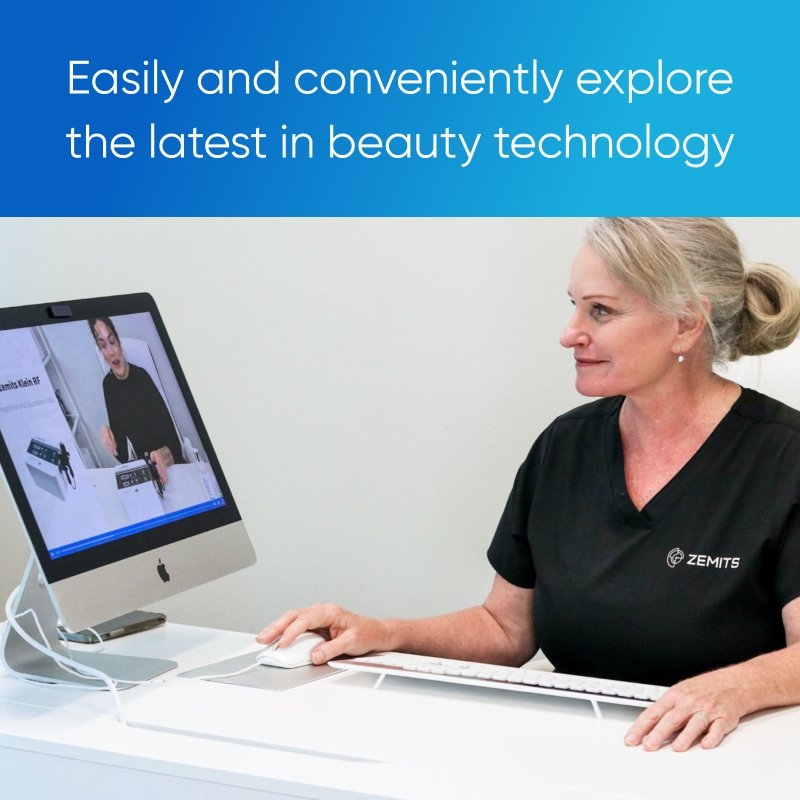 With our virtual demo service, you can easily and conveniently explore the latest in beauty technology, all without having to leave your home or office. Plus, our virtual demos are completely free, so you can try out as many pieces of equipment as you like without any commitment.
Don't miss out on the opportunity to experience the latest and greatest in beauty technology. Schedule your virtual demo with Advance Esthetic today!
Advance-Esthetic is dedicated to providing you with the finest MedSpa Equipment to tailor a wide variety of your needs. Our mission is to support your MedSpa to boost your business with the highest quality products, outstanding customer service and a lifetime of client support.
Advance-Esthetic.us delivers to the following states: Alabama, Alaska, Arkansas, Arizona, California, Colorado, ...

Connecticut, Delaware, Florida, Georgia, Hawaii, Idaho, Illinois, Indiana, Iowa, Kansas, Kentucky, Louisiana, Maine, Maryland, Massachusetts, Michigan, Minnesota, Mississippi, Missouri, Montana, Nebraska, Nevada, New Hampshire, New Jersey, New Mexico, New York, North Carolina, North Dakota, Ohio, Oklahoma, Oregon, Pennsylvania, Rhode Island, South Carolina, South Dakota, Tennessee, Texas, Utah, Vermont, Virginia, Washington, West Virginia, Wisconsin, Wyoming
© 2021 DISCLAIMER: All information within the A-esthetic.us website and all other marketing materials are made only for informational and educational purposes. A-Esthetic products and equipment have not been tested or approved or any government entity for treatments of illnesses or diseases. Use at your own risk.
Advance-Esthetic does not accept any liability for inaccurate information on our website. It is the responsibility of the client to check the accuracy of all information provided and to confirm prior to and upon purchase of *qualifying Zemits equipment including but not limited to the conditional offer of marketing materials and other such offers for the defined brands. Zemits only. Marketing Materials are exclusively for Zemits branded machines only... Not applicable with Venus, Innocell, or other non Zemits branded equipment, ETC., Definitions: Qualified: Zemits Branded Equipment only