Everything happens on the weekend. The weekend is a magical word that brings smiles and joy to the world. The late sleep-ins, long Sunday brunches with friends and family, the fun getaways and, of course, those weekends when we decide to devote a full day to just relaxing at home with a nice tall glass of wine, unwinding by binge-watching something lite, fun and romantic and, of course, pampering yourself with a great mask, or two. Facial masks, though always having been popular, have now taken a center stage. With a huge popularity boost from celebs and supermodels posting selfies wearing face masks and having fun at home, the masks are the beauty product to use for a luminous luxurious skin instantly.
Nowadays masks are used to clean the skin, to quickly rehydrate dull skin, for an active ingredient infusion, there are masks for skin detox, and those for brightening the complexion. The ones that refresh the skin before a night out and masks, that are considered a sort of unexplained sorcery as they work instantly and work wonders for the skin. So, with a weekend coming up, give your skin some well-deserved love and get ready to glow! Let's dive in!
The Power of Using Masks
Facial Masks are a very important part of a weekly skincare routine that makes taking care of the skin pleasant and simple. Mask can be used anytime you think the skin needs help with hydration, a boost of vitamins and active ingredients or just a relaxing calming experience is in order. For those who haven't paid attention to the beauty mask industry for a while we just want to say: don't underestimate the power of using a facial mask. The numerous benefits for the skin that are packed within one small mask are mind-blowing, people get hooked after having used the mask once. With a mask the results are instant; you'll be able to see them right away, unlike with other beauty products the visible difference will be evident. So, the mask is necessary before any important event. You'll see a refreshed skin, evened out skin tone, clean pores, and overall improved complexion.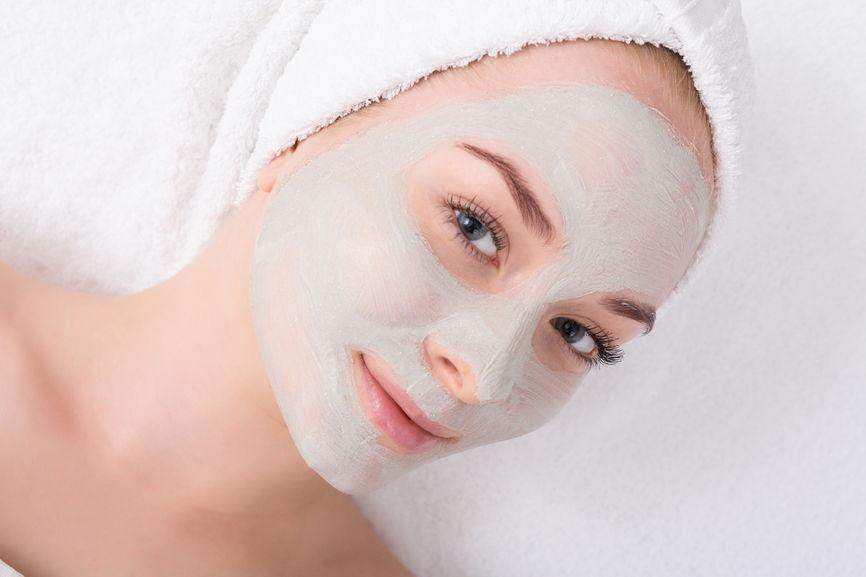 Facial Masks: the Types, the Ingredients, the Benefits
There are five main different types of face masks, and all of them serve a different purpose. You can choose a mask according to your skin type, the condition of your skin and depending on the skincare problem you need to vanish.
The types of masks are:
Clay Masks
Sheet Masks
Cream masks
Exfoliating Masks
Gel Masks
You can also find more uncommon types, like a facial hair removal mask, a very popular today California charcoal facial mask and there's a lot of accessible information for those looking for a body shop at home facial mask experience. If you are unopposed to a home-made facial mask experience and have found yourself Googling: "how to make a facial mask at home for oily skin" or "how to make easy facial masks at home" our professional recommendation would be: stop! There isn't anyone who can be held responsible for a bad recipe for a facial that you've found online. You don't know how your skin would react to the ingredients, are they appropriate for the type of your skin. If you want to make your own masks – ask your beautician to review the recipes you've found and then and only then go ahead and use them on your skin.
The Ingredients that are used in the facial mask for women are made to target any skincare problem as they are made for every type of the skin and target a vast array of skin concerns. Masks are infused with rehydrating, nourishing active ingredients, vitamins, and minerals. There are home facial masks to tighten skin, to rejuvenate and even lift and firm-up the skin. You can find anything from oats to Sodium Hyaluronate or Red Wine Polyphenols, though the most common ingredients are:
Aloe Vera, Oats, Vitamins A, E, B5, C,  Fruit, Plant and Seed extracts and various firming agents.
Facial masks are also often used to get the pores unclogged. There are masks made specifically for deep cleaning of the pores, based on the ingredients that soften the sebum part gunk and dead skin cell pile-up away from the pore walls thus making it rather simple to remove. These masks are very effective, they are not to be used very often as they strip the top layer of the skin.
The benefits of adding a weekly facial mask to your skincare routine are numerous and quite impressive white time and effort spent shouldn't even be mentioned. The main benefits of a weekend pampering with a facial mask would be: clean and clear skin with less or no impurities, the skin will be hydrated, and, even renewed, plumped-up, smoother and younger-looking when mask based on something like glycerine or sodium hyaluronate. Pretty great results for having spent 15 to 20 minutes relaxing with a book or watching Netflix, don't you think?
How to Use Facial Masks At Home
To apply a facial mask correctly we recommend carefully reading the instructions as there isn't one general formula. Plus, some masks need to be stored in the refrigerator, so the instructions are important. Usually, the masks are applied to a skin that has been washed and pat dry. People sometimes mistakenly place the mask on the skin that hasn't been cleaned, with clogged pores – that is a sure way for the mask to just sit on top of the skin without giving active ingredients the chance to penetrate deep into the skin. The application itself is usually carried out with either a brush or fingers. If you have purchased a sheet mask – just carefully place it on the top of your skin. Please note, that if you are picking up a sheet mask or applying the substance with your fingers you need to remember to wash your hands, applying the mask with unwashed fingers is hands-down most commonly made mistake.
Masks out to be applied in an even layer: spread the substance as even as you can, without going overboard with the amount. Timing should also be mentioned in the instructions, follow the timeline. After removing the mask, remember to moisturize the skin.
And finally,  multi-masking is a big thing right now – try a couple of different masks and see what's all the fuss is about.