Why Logos are Important For Aesthetic Business
A logo is an excellent way for your clients and audience to identify and know your brand. A good logo will grab attention, set you apart from the competition, be memorable, and build trust among your clients. Logos are made with specific fonts, colors, and tones. Using a distinct set of colors will surely make your logo unique and quickly ingrained in your customers' minds. Your logo elements will usually transfer to other marketing materials like merch, letterheads, etc., so they must be well-chosen and on-brand.
How to choose a great logo for your spa business
In America, the spa business has grown at a lucrative pace. Right now, this sector of the economy in the United States brings in over sixteen billion annually. This shows that the business of relaxation is not only increasing, but the competition amongst spa owners is at an all-time high.
Hence the need to be strategic about your brand and its services. This starts from the outlook of your spa business with which your logo comes to play. Your logo represents your business, and it will be sprawled across everything that relates to your business. From the products in your spa to the materials used to render services, receipts, website, app, leaflets, promotional products, stationery, uniform, etc. All these and many more will need your logo to impress on others what you represent, and wherever your logo is seen, your brand is recognized. The image of your brand is connected to your logo. How stylish and modern your logo is can influence others to think of your services as such. On the other hand, if your logo design is basic, your services will be considered the same.
To wade through the competition inherent in this sector, you need to employ a graphic designer that can design a logo that works for you. Before designing a logo, here are a few questions you need to answer:
I. What type of logo is appropriate for a spa business?
II. What should inspire it?
III. What do you want your brand to represent?
IV. When people see your logo, what do you want them to remember you for?
These are some of the things we will consider in choosing a logo for your spa business.
Firstly, what type of spa do you run or intend to run.
Secondly, choose a color you want consistently aligned with your spa.
Thirdly, keep it simple.
Fourthly, make it unique to your brand.
Also, use custom fonts.
Finally, make it versatile.
10 Examples of Top Spa Salon Logos
To further buttress the above points on choosing a great logo for your spa business, here are some of the best logos used by the best spa salons in the world.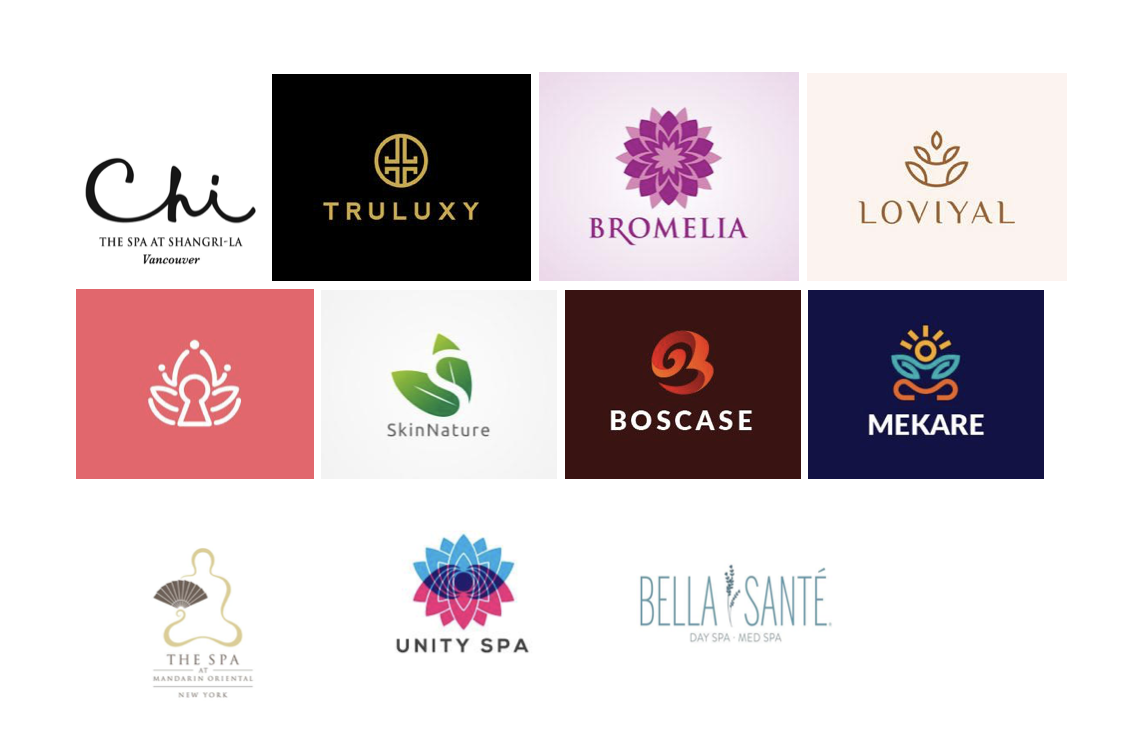 These are some of the best spa logos you will find. There is something peculiar to them if you are observant enough. You will find that they adopt a natural theme mostly. Relaxation, for the longest, has been synonymous with nature; that is why most of the logos for spa and recreation centers tend to tilt towards nature.
3 Best Online Service To Hire A Freelancer For Logo Design
 1. Upwork
Upwork is a safe and reliable platform for freelancers. If you require a logo designer, Upwork is a haven to get one. Since it was introduced to the general public, Upwork has grown to accommodate millions of freelancers from varied works of life. Here, you have the privilege to not only find someone who is skilled in the art of logo design, but you can also instruct as to what you want or, even better, get suggestions for what aligns with your brand. All you need to do after joining the platform is to search for logo designers. Afterward, you can work with one that meets your budget and needs.
 2. Dribble
Dribble is a community that was built to spur the growth and creativity of designers. At its inception, Dribble operated in an invite-only format, with an exemption of all apart from designers. In this community of creatives, designers can express themselves unashamedly. They can interact with each other, share ideas, seek each other's opinions, create portfolios, and find people they easily connect with. Later on, Dribble opened its platform to all designers. Therefore, it was not an invite-only platform anymore. Through the job board created on Dribble, you can hire a designer based on what is visible on the job board. Through this medium, you can comfortably hire the services of a designer for your spa logo.
 3. Logo Arena
Logo Arena is another platform that enables the purchase of the services of a logo designer. It also provides a money-back guarantee, especially if you are not satisfied with the job. Once you have indicated your needs for your logo design, the designer then works with the time frame provided. Unlike the other designer platforms, Logo Arena personally selects a designer for you to ensure quality control.
Three Online Graphic Design Tools
The platforms for freelancers skilled in the art of logo designs can aid in creating your spa logo. This way you are exchanging the designer's service for your money. On the flip side, if you are daring and willing to take up a new challenge, some apps or tools help you design your logo yourself. This favors those who own budding spa businesses. This way, you can cut on the cost of hiring a designer and put the money to other use. These tools are not all so easy, but some are easy for anyone without a background in design to navigate. Let us take a look at some.
Canva: Using the basic designing feature on Canva is free. You have a plethora of templates to choose from when designing a logo. On Canva, provided are online educational resources to help you get better as an amateur.
Design Wizard: This design tool is considered to be one of the best design tools there is. It is a very precise tool that offers a lot of templates for designing. It also provides good quality images to suit your designs. Its visual library never runs out of content or becomes stale due to the number of uploaded images daily.
BeFunky: This is a flexible designing tool that can be used by both newbies and experts alike. It has free graphic design software, and its tools can be used in a simple and easy-to-follow format. Through this platform, you can design your logo beautifully.
Free Online Logo Generators For Spa Business
If the tools mentioned above do not sit well with your finances, here are strictly logo design platforms to enable you to design a personal logo for free. They are:
Free Logo Design

Tailor Brands

Logo Maker

Hatchful

Free Logo Services

Graphic Springs

Designhill.com

PlaceIt

Looka.com
With any of the above, you are sure to own a logo in no time and for no cost attached. How awesome is that
Conclusion
Although the internet seems inundated with tools poised and ready to aid your spa business, you mustn't lose sight of what your brand represents. Else you may be swayed by the multitude of information available. Also, know your strength and budget. Will getting a graphic designer to save you the hassle of doing it yourself? Then, by all means, get on the freelance platforms and get one. Will doing it yourself save you money? Please use the tools mentioned above in this regard—all the best in your pursuit.