The Ultimate Guide for Awesome Estheticians Business Card
A business card is an entrepreneur's best friend. It is your pocket-sized billboard. Unfortunately, many business cards are simply like the multitude of cookie-cutter cards already on the market. Something you should avoid yourself. 
When designed right your business card can build a lasting impression and create long-term customers from strangers. Who wouldn't want that? Your business card should serve as a visual illustration and storyteller of your brand.
In this post, we'll go over what you need to know about business cards so you can do it yourself or tell your designer exactly what you want. This guide will walk you through your choices for creating a card that is uniquely YOU.
9 Tips on How to Design A Business Card
Start with the Right Logo
A logo has a huge impact on how customers perceive a brand. Naturally, you want the logo to stand out. Your logo should be on your business card, but there isn't much room for it. If your logo is too complicated or contains too many phrases, it will be unrecognizable when shrunk. If you have a confusing logo that only looks good on websites and signs, consider replacing or creating a related logo for business cards, stationery, letterhead, and promotional products like pens, uniform shirts, and advertisements.
It's up to you to decide what your business card means. Although work-from-home freelancers do not need a postal address, careers that require face-to-face consultations do. Maybe it's a strategic decision, like highlighting your impressive social media presence. The concept is that various types of text on business cards serve different people. Since business cards are tiny, just give details that the prospect or customer needs to know. Here a list of details according to importance:
Company Logo & Name

Your Name

Your Title/Position

Contact Information (phone number, email, and address)

Website URL

Social Media

Company or service slogan
For most types of businesses, basic, professional fonts work best. Designers love sans serif fonts. Avoid using more than one or two different fonts or being too adventurous with your font option. All of your text should be at least 8 points to ensure readability. A professionally crafted business card is both readable and attractive. 
Bright colors can make the business card stand out, but they can also make it look garish, which most business owners don't like. Bright, noisy colors will make your business card difficult to read if it is not properly designed. A card with a red border and gold text on a black background may be challenging to decipher. A card with a purple border, a white background, and some lines of text written in purple and others in black, on the other hand, can appear sloppy and unprofessional. Experiment with contrast and legibility. 
Be Generous on White/Blank Space
When you look at a good business card, you'll note that it has a lot of white, blank space. Because of the white space, the reader will notice other design elements. The more details you jam into your business card, the more difficult it will be to read and, as a result, the more likely it will be ignored.
Create a card that is appropriate for your service
For financial services, physicians, lawyers, and other "coat and tie" occupations, a subdued card is typically the best option. However, this isn't the case for everybody. If you work as a creative, a card that highlights your design abilities will double as a business card and a mini portfolio of your work. Consider including a picture of yourself on your business card if you are the face of your company or if prospects are more likely to remember your face than your company name.
Know that less is more. Be careful not to overdesign or have too many elements or lines of text on your card. Unless you want it to be a disaster? LOL. 
Add some graphics at the back
Even if your logo is just text, any accompanying imagery serves the same function. Additional graphics may be used to illustrate the brand's identity. You can convey your or your brand's personality through visuals, such as colors, without saying something explicitly. A cute cartoon and some bright colors, for example, can make you look casual and approachable.
Consider Special Finishes
There are various finishing techniques you can apply to your business card. Check to see if any of these "special effects" will improve your business card design.
Letterpress.

Letterpress printing, also known as Relief Printing or Typographic Printing, is a method of creating several copies of an image by pressing an inked, raised surface against sheets or a continuous roll of paper repeatedly.

Embossing.

Embossing highlights elements of your business card by raising areas of one side of the card as defined in your design.

Foil stamping.

Foil stamping is a specialized method of making patterns out of foil. The artwork is transformed into a custom die, which is then used to stamp the foil onto the cardstock. This enables the creation of designs in gleaming metallic colors such as gold and silver.

Spot UV coating.

Spot UV refers to the application of UV Coating to a specific region (or areas) of a printed item rather than coating the entire surface. Spot UV is a novel way to add depth and contrast by varying the sheen and texture.

Finalize your design
Now that all of the components are in place and you know what colors and special finishes you'll use. It's time to reevaluate your design!
Examine your visual flow first: how does your eye move when you look at a card? What comes to your mind first when you consider this? Is that the last one? A good visual flow should begin with the logo, then the name, then the secondary details, and finally, if present, any secondary images. You can still alter and improve the visual flow by resizing and repositioning components. The fewer the remaining elements, the stronger their impact will be.
Esthetician Business Card Ideas
A successful business card can leave a positive impression on the recipient. This may sound familiar but the best advice for your mini-billboard to stand out, MAKE IT UNIQUE! Think out of the box. Here are some fun business card ideas you should know:
Diversify
You can print three different business card designs for your business. One can have flowers on it, the other is minimalist, and the latter is colorful like unicorns. Then, the exciting part is you can let them pick which card they want to take.
Shape It
If you want to stand out, you can use almost any shape: bottle, brush, eyes, product outlines, or an entirely new shape. While everyone expects a rectangle, printers can now do a lot of interesting things. Make sure your cardstock is durable enough to handle the unorthodox design, whether you're rounding the edges or completely changing it. 
Use Innovative Materials
You can make awesome business cards out of a variety of materials, including metal sheets, fabrics, sandpaper, wood, plastic, and the list goes on! And it makes you look cool and different.
Interactive Business Cards
It's a good idea to have a supply of ready-made business cards on hand, as well as some blank business cards with your website and contact information. You can personalize it by drawing or putting one-of-a-kind designs on the cards. This might be a fantastic ruse!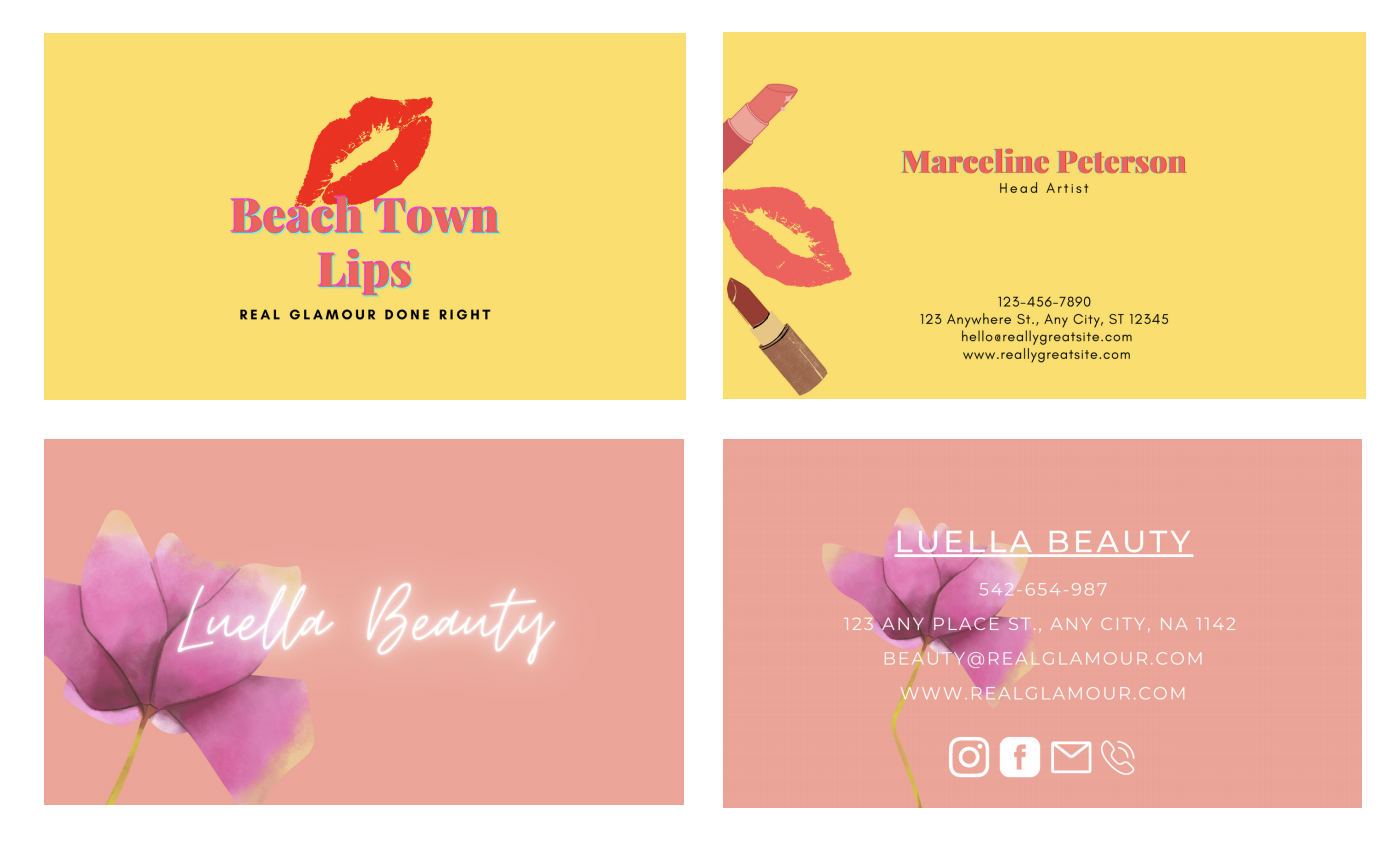 Esthetician Business Card Templates
But do you have to go through all this process especially if you're kinda in a hurry? Yes and no. You can shortcut everything by looking for esthetician business card templates online. You only need to be careful and detail-oriented in choosing what suits your business and your personality as a skin care specialist.
Though having templates might mean less personalization, it sure has its compelling benefits:
Templates offer you more options.

They are easy to use.

They are cheaper.

Reduce rework time and speed up the development process.

Reduce errors.

Are a fantastic source of inspiration!
That said, using business card templates is not a bad idea at all, right? You save some penny and some of your precious time. Plus, it gives you more ideas on how you want your business card to look if ever you desire to change it!
Where to Hire a Freelancer to Design Your Business Card?
Before answering the where let's focus on what kind of freelancer do you need for your business card. Obviously, you'll be needing a graphic designer. But what should a graphic artist promote in designing your business card? Their design must know how to inform, persuade, organize, attract, direct, entertain, and teach. If their work doesn't communicate to you better think twice about hiring them. 
Let's answer the real deal, where to hire a freelancer? Here's the top 10 freelance website you might look into:
Upwork

Freelancer

Fiverr

99designs

Toptal

Guru

PeoplePerHour

Dribble

LinkedIn Profinder

DesignHill
Best Online Graphics Editors
Here's another option to make your business card designing easier, cost-efficient, and more personalized. You better check the following online graphic editors:
Canva

Design Wizard

Befunky

Fotor

PicMonkey

Ribbet

Photopea
10 Places to Leave Business Cards
You'll leave a stack of cards somewhere, only to discover the whole stack alive and well months later. For good reason, coffee shops are often the first place that comes to mind. There are, however, a multitude of other choices. Do your cards have more dust than eyes on them? Let us make a real difference. Here are a few of the best places to drop off business cards.
Past clients.

People who are delighted with your service make excellent ambassadors for handing out business cards.

The Library.

What makes it so effective? It's a haven for well-educated, aspirational business owners and professionals seeking expertise and assistance. They could just happen to come across your card at the right time.

Waiting Rooms.

Waiting room patrons are effectively a captive audience. Besides that, few people can avoid flicking through a magazine or brochure while waiting. Make the most of this downtime by placing business cards on lobby tables and inside magazines.

Community Centers.

Consider leaving your business cards in areas where people mingle. Recognize where the neighbors gather and how they spend their time. It's a brilliant idea to leave business cards in community centers.

Malls and food courts.

It can be difficult to figure out who to reach outside of the main consumer segments. Malls attract a wide range of people, which can help you find new markets for your business. Malls also have plenty of places for people to relax, walk, and hang out. When people aren't busy shopping, they're more likely to sit and read your card.

Gyms and Yoga Studios.

Gyms, personal training centers, and yoga studios are great places for business owners, job seekers, and employees to network. With so many people milling about before and after their workout, you're guaranteed to be spotted. Be sure to check with the manager or owner before leaving your cards behind.

Banks.

People with money and well-to-do residents are attracted to banks. Drop your cards off at your nearest bank to reach out to those people. Furthermore, banks are frequently willing to assist small businesses in their communities.

Apartment and Leasing Offices.

Business cards can be left in leasing offices and apartment mailrooms. Look for bulletin boards and counters in the community (avoid putting anything in mailboxes). Before you leave your business cards, make sure you speak with the front desk agent or the property owner.

Municipal Buildings.

Government buildings, in general, are excellent locations for free publicity. They are readily accessible and attract both members of the community and professionals. Places, where your target clients are likely to go, include city halls, visitor centers, county clerks' offices, tax offices, and courthouses.

Hotels.

Hotels are frequently eager to support local entrepreneurs. Even if your cards are stolen and thrown away, it's worth the risk. If there's a big conference going on, leave a few cards by the bar or the door. Several hotels and motels have action brochures on sale. This is a perfect place to leave business cards, but please be courteous.
Effective Business Card Marketing Tips
Below is a list of quick and effective business card marketing tips. Consider how you can change it subtly if one does not suit the target demographic. Many of these ideas can be easily applied to any good or service. All you have to do is understand the business, know your target audience, and think outside the box!
Request or pay for business cards to be placed by the checkout counter at nearby restaurants.

Display some of your business cards on bulletin boards on college campuses and in public areas.

Partner with hotels to leave business cards in hotel rooms.

Employ people to distribute your cards in high-traffic areas, such as a city.

Distribute your cards to family and friends so they can pass them around as required.

Network with other local entrepreneurs by exchanging business cards.

Provide a sufficient number of business cards for your recipients to distribute as required.

Create holiday greeting cards from business cards.

Customers who receive business cards with promo codes must bring them in to receive a discount.

Request that taxi drivers and businesses place a smallholder with your business cards on their cabs' divider windows or the seats.

A business card should be included with every invoice or calculation that you send out.

CardObserver is a free online gallery where you can showcase your business card.

Advertise your business card on Craigslist.org.

Ensure that anyone who works for you has a set of business cards, whether generic or personalized. By sending customized cards, you will boost employee morale.

Include a business card for any product that you send.

Attend local get-togethers, network, and distribute business cards.

Collaboration with real estate brokers and agencies will help you get your business cards in front of potential home buyers.
Summary
Well, I guess now you understand how important your business card is and its whole character. How the design promotes not just your brand but yourself too. That they're a great way to keep track of who you met and spread the word about your brand or company, even in the digital era.
Business cards are the fastest and most secure way to exchange information, and the physical interaction of exchanging them adds significant value when establishing a bond with another person. The feel, style, weight, and overall aesthetics of a business card can convey your brand message without saying anything. 
And this is the reason why an esthetician like you should have a business card that speaks for BEAUTY!