How an Ultrasonic Facial Machine can Lift & Firm the Face
A few days ago, the internet went head-over-heels due to  the most unbelievable news: Kylie Jenner has removed her lip fillers! Imagine that: plastic is not so fantastic anymore. Even those who have strived to be as different as possible from the faces they were born with have done a 180 with surgery and changed their minds. In our opinion, Kylie's natural lip-look is absolutely gorgeous!
As the wave of new, amazing, age-erasing treatments have entered the skincare scene, we have welcomed them with opened arms. No hospitalization, no incisions, no anesthesia, and nothing painful or invasive. And the best part of all of these magical non-surgical facelift procedures:you can promise your clients that they won't change and won't have unmovable paralyzed parts or look weird. It will certainly be them in the mirror, just as a  younger, Instagram-filtered version.
When you are looking for an anti-aging treatment procedure for your practice, think of the main problems your clients will come in with and work from there to pick the perfect beauty machine. Speaking from experience, the vast majority of customers will be unhappy with sagging brows and jawlines, signs of aging on the neck,  dehydrated skin, pronounced lines and wrinkles, and the overall void of volume in the face (specifically in the cheeks). The cutting-edge device to address all of those concerns is the amazing Ultrasonic facial machine. An Ultrasonic facial device is a skin-lifting, youth-boosting, tightening, and deep wrinkle fighting machine you need on your side, so let's learn how it works.
How an Ultrasonic Facial Machine Works
Ultrasound facial equipment is designed to deliver anti-aging beauty substance to the right depths to tighten and lift the skin. Most age-defying products, like vitamin-filled creams and serums, aren't able to bypass the upper layer of the skin and are usually, just splattered on top of your client's skin; this wastes their and your time along with vast amounts of money. Unable to disrupt the skin lipid barrier, these products go to waste. This is where an Ultrasonic facial machine comes in and helps us learn a new and exciting word— sonophoresis.

Sonophoresis is a specific method in ultrasound technology for achieving maximum product bypass and absorption. High-frequency vibrations, undetectable by the human ear, actually disrupt the lipid barrier in the skin and let the age-defying creams, serums, vitamins, and other wrinkle-fighting substances sink in and engage the supporting tissue layer his is exactly what that prevents aging. This high-tech ultrasound-based facial rebuilds the skin from within. When ultrasound actually enters the body, it heats up tissues, thus forcing the body react to the treatment as it would to an injury: by boosting structural protein production. Triggering this production is crucial for achieving the main treatment goal— tightening and lifting the skin.

There are Ultrasound machines with single treatment modes and some with a range of different modes. The range starts at 1 MHz and goes up to 5 MHz.  As a rule, the operator must remember that the lowest setting will provide the deepest tissue penetration. So, for example, the 1 MHz mode is designed for the deepest penetration and 5 MHz is used to treat the most delicate areas with almost paper-thin skin, like that around the eyes.
Another very important part of the ultrasound treatment procedure is the use of conductive gel. The use of the gel is essential, and those of us who have ever undergone any ultrasound medical procedures know that. The gel works as a conductive substance and is used to penetrate waves to the right depths. Since  the gel also bypasses the upper skin layer, specially made firming and tightening gels are often used in spas and beauty salons.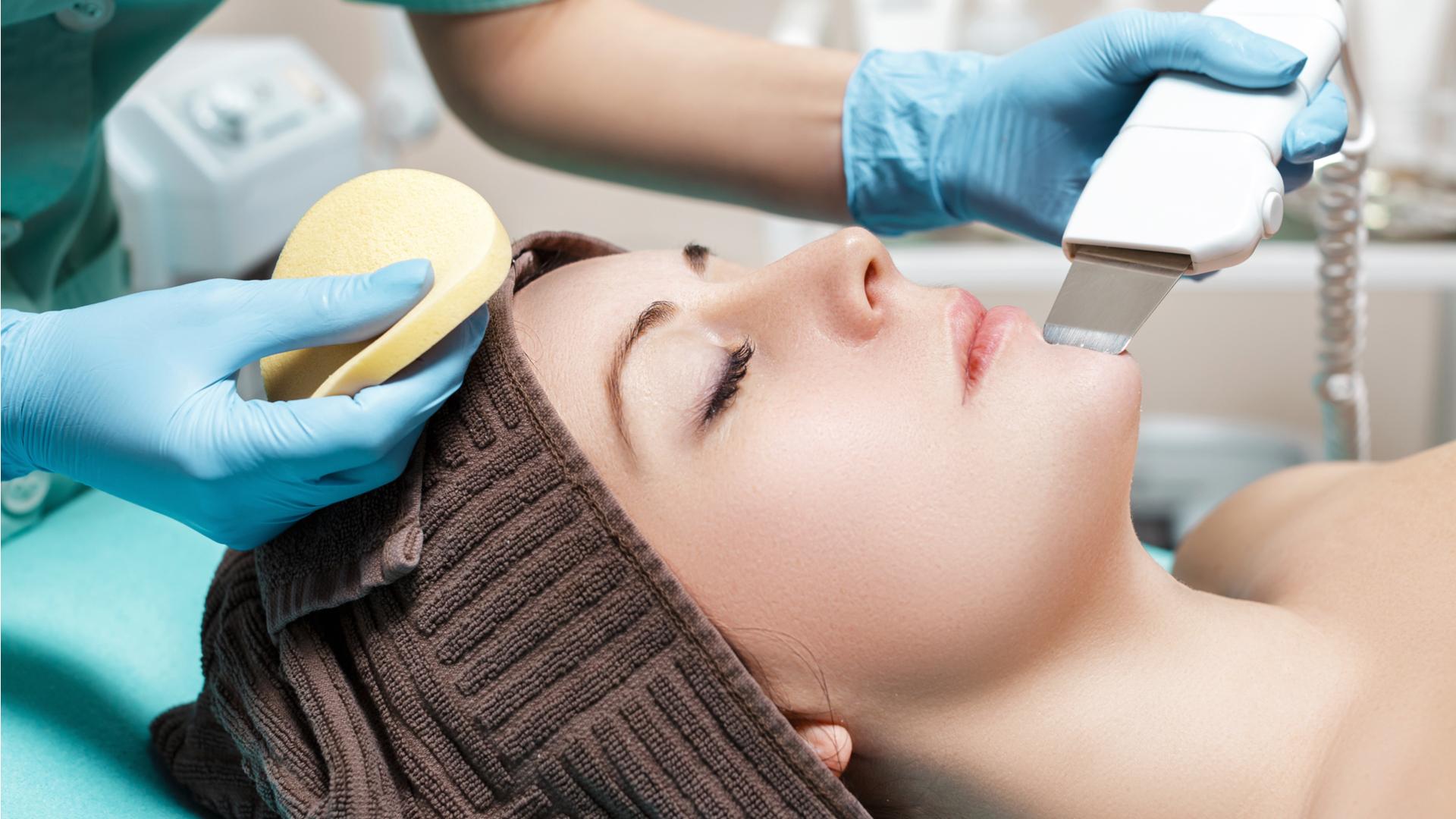 The Main Benefits of Using an Ultrasound Machine
Believe us when we say that you won't be able to communicate all of the benefits to your clients. There is too little time and you will have too many clients. An ultrasonic facial treatment is the most popular rejuvenation treatment procedure for a reason: it delivers results. A lot of them. However, you should note that the most radical tightening and lifting will be evident with time as the treatment initiates the full-on cascade of the healing process so the most dramatic results are not immediately visible. Some of the results will be dependent on the anti-aging substance you'll decide to use. So, without further adieu, here are the main benefits to be expected of the ultrasound treatment procedure:
A reduction of deep wrinkles and fine lines, and complete elimination of small ones
Skin hydration and added volume
Detox through lymphatic drainage
Stimulated blood flow
Dramatic results with tightening and lifting of the skin, especially with difficult to treat areas, such as sagging jawlines and neck areas
Oxygenation of the skin
Anti-aging product penetration and thus enhanced beauty product performance
Collagen and elastin production boost
Acne elimination
Cell repair and turnover
Elimination of puffiness and swelling
Effective treatment for scars and age spots
Safe
Painless and non-abrasive
No downtime needed
Reduction and altogether elimination of dark eye circles
Decreased visibility of pores
Improved tone and texture
Younger-looking, radiant, gloing skin

Side Effects and Absolute Contraindications
There are not a lot of side effects or, for that matter, contraindications to this treatment. Generally, trials and research show this to be a very safe and completely painless procedure, just like any other ultrasound treatment. However, some people do report experiencing pain and discomfort during therapy. To avoid such cases, recommend your customers to take a muscle relaxer or any painkillers, if not otherwise advised by their physician. And keep in mind that those who have experienced pain during ultrasound facial treatments say it was well worth it.  As for contraindications, there are a few:
Acute infections
Skin diseases
Any type of cancer
Neuralgia
Postoperative period and post-chemical peeling period
Pregnancy
Implants
Heart disease, including pacemaker users
Tuberculosis
How to Use an Ultrasonic Facial Machine
It is quite easy to learn how to operate an ultrasonic facial machine and there are a few ways you can go about it. Of course, there are many practical and online courses available, and we, of course, offer free training and professional beauticians who can answer all of  your product and therapy related questions. These are cutting-edge machines and they are specifically made to be easy to use, set up, and operate. Let's move on to the specifics and go through the treatment step-by-step:
Prepare the skin: remove any makeup, creams or substances the client may have applied to their face prior to the appointment.
Properly cleanse the skin, preferably with a facial steaming treatment. 10 to 20 minutes should be plenty of time to properly relax the skin and clear its upper layer and pores that are plagued with  dirt, dead skin cells, and other build up.
Use a properly lit magnifying glass to carefully examine the skin and recommend the best treatment substance option. The most commonly used products are anti-aging or moisturizing serums, skin brightening products, and vital vitamins (retinol, ascorbic acid, and others).
If your ultrasound offers different treatment modes, pick the one you wish to use. The lowest mode performs the  deepest level of product penetration, and the deeper you can get the product to penetrate, the better results you will see. Use the ultrasound wand to follow the curves of the face. Always make sure that you cover the entire face face and don't miss any spots. While following the facial curves, try to create upward strokes and not drag the skin down. Pay special attention to jawlines and foreheads with heavily pronounced wrinkles.
If planned, apply a restorative cream and offer a 30-minute calming and relaxing cold steam facial with herbal or aromatherapy. Though not necessary, it is a great luxurious way to finish the ultrasound facial treatment.
       
Benefits for Your Business in Making a Purchase with Advance Esthetic
If you are wondering where to buy an ultrasonic facial machine, wonder no more because, you have come to the right place. We are highly qualified to help you make the right choice because. We know everything about these amazing machines and can professionally advise you on treatment methods.
Many people don't realize that picking the right beauty equipment provider is a high priority matter; it has been proven time and time again. We at Advanced Esthetic can offer seamless customer service and you will be able to see that because we offer you the following:
A huge line of the cutting-edge ultrasound facial machines (multifunctional, personal for at-home use, stationary or portable)
High-tech quality equipment
FDA-approved equipment
Detailed, well-structured information about the machine
Fully-stocked showroom for you to visit at any time
Licensed estheticians that can help you with any questions
Free training
Individual approaches to each customer
Financial plans that can help you drive up profits
Flexible price policies
24/7 customer support
Free shipping
Easy to use customer-friendly website
Welcome to Advance Esthetic – we are here to help you grow your business!