To look great and feel healthy is a typical desire of every person. Unfortunately, we cannot stop the time that influences our attractive appearance in a natural way and leaves aging signs. However, there is an innovative method to restore and prolong youth: diamond microdermabrasion. This skin care treatment is praised both by men and women and famous for its advantages. The procedure is absolutely painless and non-invasive without using any chemicals and anesthesia. Furthermore, this therapy helps renew overall skin tone and texture and improve the appearance of wrinkles, fine lines, melasma, acne, and more.  
Diamond-tip treatments quickly gained popularity as an effective and crystal-free microdermabrasion option. However, this new technique causes lots of questions concerning the essence of the treatment, its benefits, side effects, how to use a diamond tip microdermabrasion machine, and more. We have gathered basic information about topics that matter to you, and are ready to share it with our clients.
What is a Diamond Microdermabrasion Treatment?
Our skin is the largest organ in our bodies, made up of the epidermis, dermis, and subcutaneous tissue. Each of these three layers contains its own structural components and performs definite functions. Microdermabrasion works on both the outer and the deep layers of the skin (epidermis and dermis), causing positive effects simultaneously.
There are two kinds of microdermabrasion: crystal and diamond. The second one is considered to be a safer, cleaner, more controllable, and thus more popular treatment than the crystal procedure. After diamond therapy, there are no tiny particles left on the skin, so they don't get into the eyes and mouth, nor cause discomfort.
Diamond microdermabrasion allows for the use of a professional diamond machine. This device is equipped with a special applicator, the tip of which is made up of many of small diamonds. Thanks to suction power running from the machine to the applicator, tiny particles gently exfoliate dead skin cells that, in turn, decrease the risk of different skin problems.
How does a Diamond Microdermabrasion Machine Work?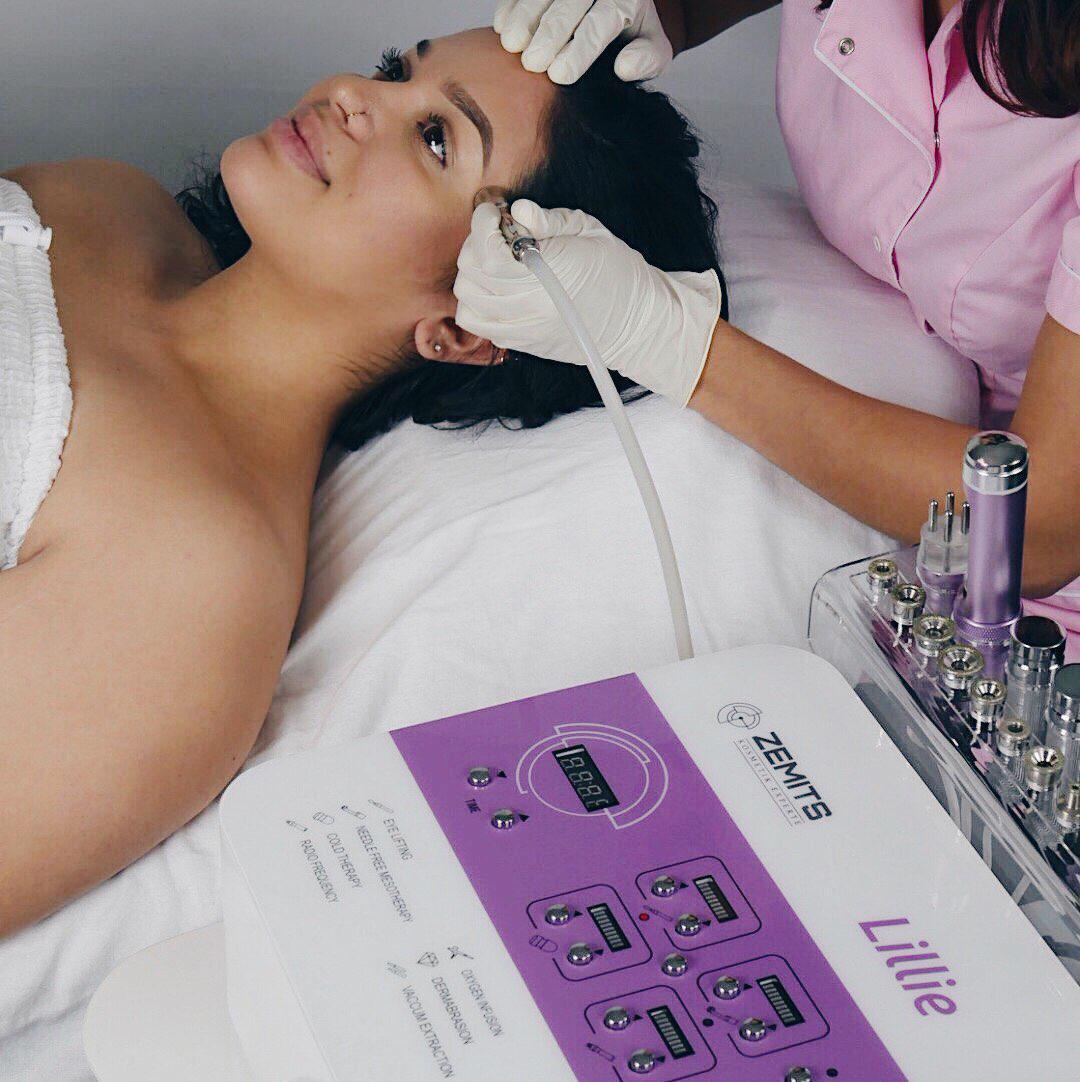 Due to a diamond-encrusted applicator, the device polishes the skin and removes dead and dying cells, which are simultaneously vacuumed back into a waste filter. Furthermore, the application of high-tech skin care products helps penetrate ingredients deep into the skin, increase blood flow, and provoke a collagen-building process. In fact, the exfoliation of several layers of the stratum corneum leaves skin radiant and healthy-looking. In addition, if a patient suffers from sun damage, deep acne scars, old stretch marks, wrinkles, fine lines, large pores, and more, this non-invasive technique will effectively rejuvenate the skin and decrease the appearance of visible skin issues.
A professional machine usually has several wands of various sizes and abrasive surfaces for different skin types, body areas and depth of resurfacing.
A standard tip of medium abrasiveness is suitable for the whole face and body.
For delicate areas like the lips, nose, around eyes (especially to target crows feet), it is a special wand with fine-grade diamond particles and a bit smaller tip to regulate the suction flow power.
The largest head of the tip with an extra abrasive surface is worth using for body treatments. Patients will enjoy softened skin on the legs, arms, etc.
There is one more handpiece specifically for sensitive skin. Its smoother surface, together with an adjustable suction, does not cause damage while it exfoliates dead skin cells.
Keep in mind that a beautician should clean and sterilize all nozzles after every procedure.
After a procedure, it is necessary to moisturize the skin. Usually, effects is visible after several sessions. The exact number of procedures depends on skin concerns, its condition, and the desired results. A specialist will determine the total number of sessions by taking into account the patient's individual characteristics, the severity of the problem, and the patient's preferences. To achieve optimal results, an individual should have anywhere from 6 to 8 procedures at approximately 4-6 week intervals. However, for problematic skin, it makes sense to shorten the intervals to 2 weeks between procedures for best effects. In general, to maintain positive results, it is recommended to have a diamond treatment at least once in two-three months.
How to Use Diamond Microdermabrasion Portable Machine at Home?
This is a common question from people who are willing to save their time and money by treating their skin with a personal device at home. In-home items are less powerful than professional machines, but they are just as safe and effective. Here are several tips everybody should know about performing the procedure independently:
Cleanse the skin
Follow the user instructions for the particular device
Pull the skin taut with one hand in each area while working with the machine
Exfoliate the skin in upward motions
Treat each area only once per procedure
After a treatment, use a quality moisturizer
Apply SPF 30 before going out
Avoid sun exposure and tanning beds for at least a week after a treatment
Start using diamond microdermabrasion every 6-7 days until you achieve desired results.
How to Clean a Diamond Microdermabrasion Machine
After the procedure, the device should be properly cleaned and filters replaced if needed. Special attention should be paid to the applicator inside of which dead cells accumulate. Do the following:
Remove the tip from the applicator
Clean the tip with warm water and detergent; make sure there are no skin debris left inside
Dry equipment with a towel
Sterilize the tip in accordance with device instructions
Dry again in open air
Keep equipment in a special container
Keep in mind: to avoid the spread of infections and fungal diseases, an esthetician should sterilize equipment. A professional sterilizer helps do this thoroughly.  
What are the Benefits of Diamond Treatment?
Most people can benefit from diamond microdermabrasion. It has been scientifically proven that this treatment is an efficient, non-invasive, painless, quick, and safe method which is widely used to:
Treat dry, flaky, and oily skin
Diminish or get rid of wrinkles, fine lines, and acne scars
Eliminate hyperpigmentation, stretch marks, and blackheads
Clean the pores
Renew skin texture and tone imperfections
Suspend the appearance of skin aging
Stimulate the formation of new skin cells
Have fresh and healthy-looking skin
Prepare the skin for mesotherapy
Moreover,  diamond microdermabrasion can be used on teenagers because it helps decrease acne breakouts and the appearance of acne scars.
Contraindications
There is no risk with diamond microdermabrasion if a patient is "healthy" and a beautician has chosen an appropriate level for a patient's skin. However, there are contraindications to this procedure:
Herpes, warts, or other infections
Inflammation, sunburn, injuries
Psoriasis, dermatitis, eczema
Cancer
Diabetes
Active rosacea or acne
Fragile capillaries
Recent laser surgery
Moreover, a beautician doesn't carry out diamond microdermabrasion if a patient:
takes aspirin, blood thinners, or acne medicine
uses care remedies with glycol acid
has recently shaved (within 24 hours)
has chemically peeled their skin (within the last 2 weeks)
Despite the safety of diamond microdermabrasion, side effects like redness, mild windburn or sunburn, a feeling of tightness and dryness of the skin may occur like. In fact, all these changes are temporary and disappear on their own in 1-2 days. Besides, the application of special hydrating remedies accelerates the healing process.
What is the Best Diamond Microdermabrasion Machine?
When it comes to choosing the right diamond microdermabrasion machine for a beauty or spa salon, facial room, wellness studio, or just for personal use at home, Advance Esthetic advises taking into consideration the following factors.
Suction Power: A professional microdermabrasion system used for professional purposes is a powerful device aimed at performing several functions. On the contrary, a unit for home use is less powerful but more convenient and simpler.  
Tools: Usually, each device comes in a kit containing everything needed to run a machine; for instance: wands, filters, instructions, and more.
Warranty: It is better to make a purchase in a well-known and reliable online store as a customer has to be sure in the quality of products.
Results: You should consider what results you want to achieve, and learn specific instructions for each product from the store in order to check if the device meets the requirements. And if there are any difficulties with choice, it is better to receive a professional help.
In our online store, you can choose a high-quality unit which will exceed your expectations; search now from a wide range of leading diamond microdermabrasion products.