With age, regeneration processes in our bodies get slower, and our skin is not an exception. Our skin loses elasticity due to its decreasing collagen and elastin content; therefore, wrinkles appear and become deeper on our face. Moreover, dead skin cells start to accumulate on the surface. As a result, skin looks coarse, grey, and tired. However, despite age-related changes, our skin's ability to regenerate remains. One of the most popular salon procedures used for skin elasticity restoration and wrinkle and fine line reduction is microdermabrasion. Discovered in the 1980's, this technique is constantly being developed and improved. Nowadays, microdermabrasion can substitute traditional chemical peels or laser treatments. A procedure is safe and painless; a beautician uses a professional microdermabrasion machine to achieve best results. Due to a special applicator with an abrasive surface, the upper layers of the epidermis are gently exfoliated to rejuvenate skin.
We have gathered information about this innovative treatment, its effects and benefits, how microdermabrasion machines work, and if it really helps improve the skin.
Why is Microdermabrasion Worth Using?
Microdermabrasion is an aesthetic procedure that can be used on patients of all ages and skin types. It will take from about 5 to 16 sessions to observe the therapy benefits. And it is definitely worth utilizing if clients suffer from the following skin concerns:
Wrinkles and lines
Acne and scars
Hyperpigmentation
Age spots and stretch marks
Blackheads and visible pores
Uneven skin tone
Sun damage
Furthermore, microdermabrasion is a non-invasive method of skin treatment. Thanks to a special device, a beautician works with the surface skin layer, gently exfoliating dead cells without leaving any injuries. In fact, a procedure is absolutely painless. In accordance with individual characteristics, some people may feel a slight vibration, mild stinging, or even light scratching. However, such effects are rare and don't cause any true discomfort. After a session, the skin may stay pink or swelling may appear, but these side effects will disappear on their own in a day.
One more benefit of microdermabrasion is that this manipulation is quick. Depending on the treatment area, it usually takes from about 20 minutes to 1 hour to achieve desired effects. Besides, a patient may need several procedures to maintain results.
It has been scientifically proven that microdermabrasion can be successfully used for aging, blemished, oily, and other types of skin. Moreover, it is possible to renew overall skin tone and texture and have a healthy and refreshed look for special occasion if a patient undergoes a session beforehand.
To sum up, microdermabrasion helps suspend the aging process, get rid of some skin problems, and prolong youth and beauty safely and efficiently if a client gets qualified, professional service. However, being familiar with how to use a microdermabrasion machine at home will help achieve optimal benefits.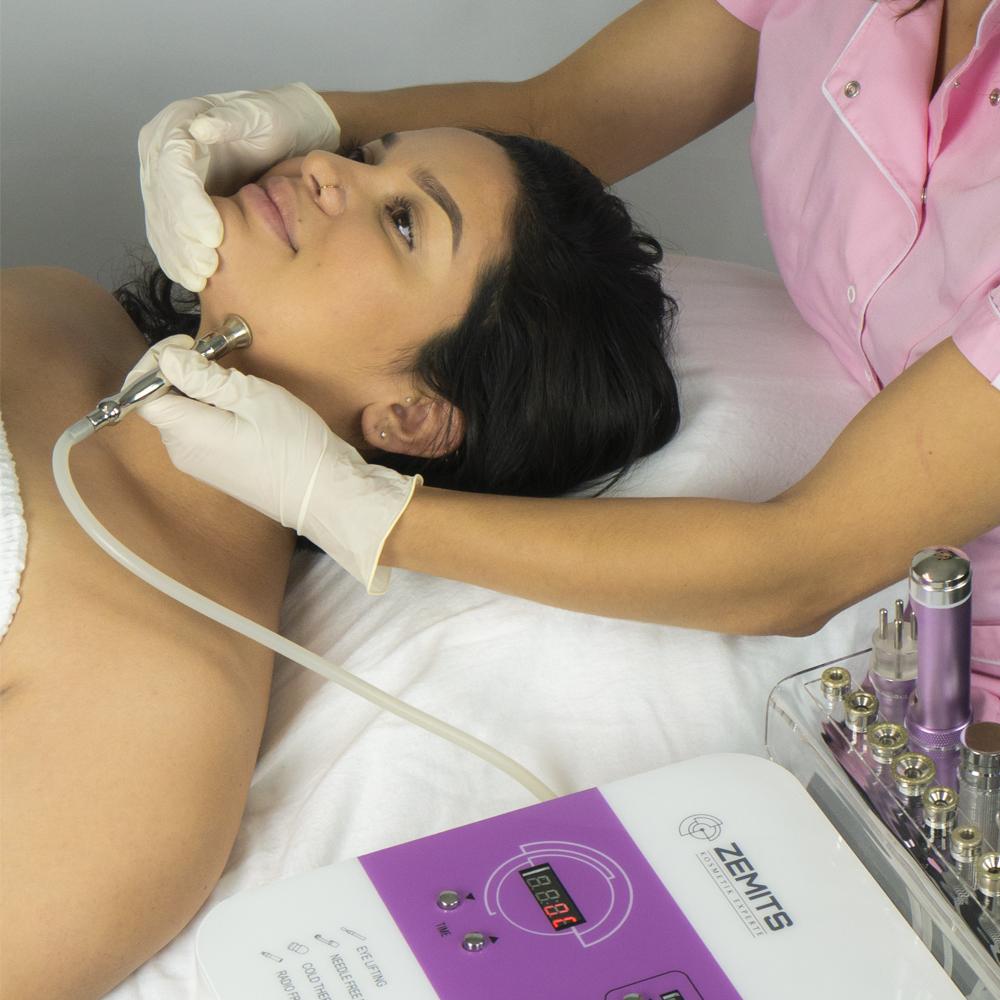 Each treatment begins with a preliminary diagnosis. And if a specialist advises you a microdermabrasion course, be ready for preparation: stop using exfoliating remedies approximately 2-3 days prior to a procedure and avoid sun exposure.
Microdermabrasion as an effective method of skin treatment is based on hardware skin resurfacing with tiny abrasive particles. Its therapeutic effect is due to its ability to easily penetrate microscopic particles into the deep layers of the epidermis, destroy the ties between epidermal scales, and facilitate the removal of the top skin layer. This mechanical exfoliation of keratinized cells starts the process of skin fibers formation, stimulates the growth of new cells, and improves blood circulation. All this, in turn, cleanses the skin of impurities, smoothes it, and normalizes the work of all structural elements of the epidermis and dermis.
A microdermabrasion machine is equipped with a special applicator that mechanically influences the skin. A flow of air under pressure, with a help of microcrystals, cleans the thin layer of dead cells, and a vacuum pump removes the wastes, including dead skin flakes. This process stimulates the growth of new cells and starts the whole chain of regenerative processes.
Depending on the kind of abrasive surface, there are different varieties  of microdermabrasion to use: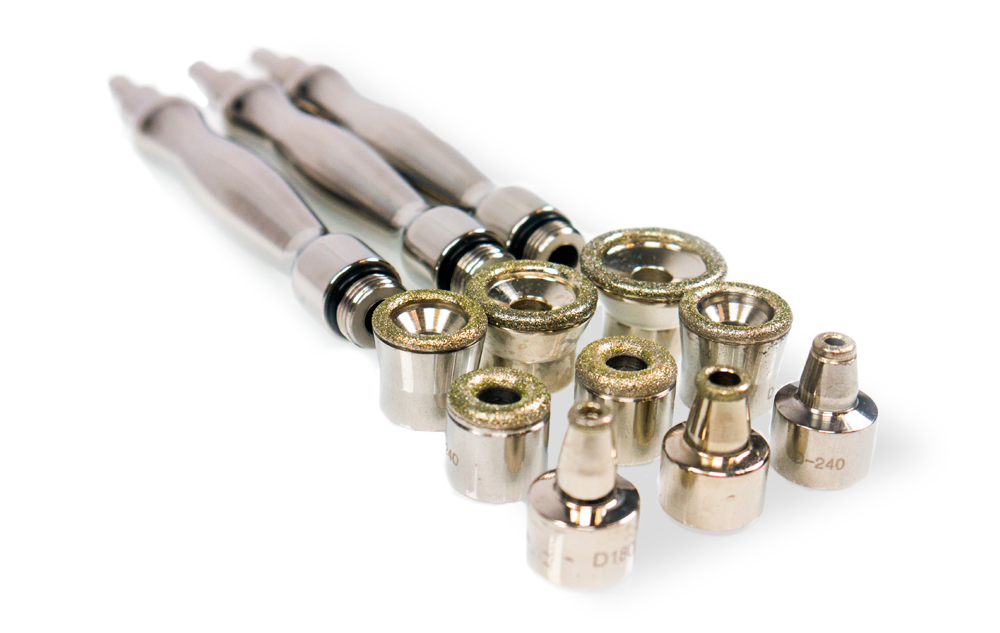 Diamond microdermabrasion is the most popular and in demand nowadays. A device is equipped with a diamond-tip handpiece that helps gently exfoliate only upper layer of epidermis without penetration into deeper skin layers. Moreover, using a special vacuum does not allow dead skin cells and flakes to stay on the skin and mucous membranes. These particles are suctioned off immediately.
This procedure is applied to the sensitive areas of the face (even close to the eyes) neck, décolleté, and arms. In fact, such skin problems, like wrinkles, lines, rough spots, visible aging signs, enlarged pores, acne, and scars can be significantly reduced.
Another type of microdermabrasion is the crystal treatment. It is based on using a crystal-emitting handpiece to get rid of dead skin cells. For medical purposes, aluminum oxide or sodium chloride crystals are utilized. After the abrasive particles impact the skin at high pressure, a vacuum pump removes the wastes along with dead skin flakes.
Hydradermabrasion is one of the latest cosmetology achievements in science and technology. It combines the dermal infusion of remedies with crystal-free exfoliation. This procedure is aimed at stimulating collagen production and improving blood circulation to the skin.
Keep in mind that during the treatment, a specialist does not use anesthesia. The manipulation is absolutely painless. A patient sits comfortably in a reclining chair, and a beautician performs the procedure.
How is the Procedure Performed?
The entire procedure of microdermabrasion consists of three stages:
Cleansing: A beautician handles the patient's skin area with antiseptic and a special lotion to soften the stratum corneum of the epidermis and facilitate the exfoliation of dead skin cells.
Microdermabrasion (diamond peeling): A specialist conducts the procedure with the help of rotating diamond-tip handpieces. In accordance with the treated skin area, a beautician chooses the abrasive surface degree, the pressure exerted on the equipment, and the treatment duration.
Hydration and skin nutrition: A dermatologist applies a special cream after a session and advises the patient on how to protect their skin.
A specialist determines the total number of procedures needed by taking into account the patient's individual characteristics, including the severity of the problem area and the patient's preferences. On average, an entire course includes 4-12 sessions. Treatment duration is 25-30 minutes depending on the treated area. The interval between sessions should be 7-10 days. People notice visible microdermabrasion effects after just one treatment. To get rid of some skin problems or minimize them, it is recommended to undergo a whole course and has supporting manipulations once every 1.5 – 2 months.  
If you get an in-home device and are wondering  "how often should I use my microdermabrasion machine", specialists advise utilizing your item once a week until you see visible skin improvement. Then, it is better to reduce the number of procedures to once every two weeks or once a month for maintaining results.
Microdermabrasion Effects
Microdermabrasion causes minor injuries to the outer skin layer, thereby forcing the skin to repair itself in a natural manner. As a result, a person exhibits young, fresh, and healthy-looking skin. After the entire course, everybody will notice great effects, like: less porous and oily skin and a reduction in the appearance of fine lines, wrinkles, acne scars, and more. Furthermore, this treatment increases the actual number of collagen and elastic fibers in the skin which, in turn, improve its rejuvenation processes.
Moreover, it is scientifically proven that this technique is the first stage in an anti-aging skin care regimen. After microdermabrasion, the application of active cosmetic products becomes more efficient. In fact, it is advisable to apply soothing and regenerative products, moisturizing professional serums, masks and more.
Contraindications
Despite the safety of this innovative technique which guarantees a lack of side effects, there are still some contraindications to conduct microdermabrasion:
Pregnancy
Injured skin (wounds, abrasions)
Infectious diseases
Herpes
Hypersensitivity of the skin
Spider nevi
A tendency to form keloid scars
Allergic reactions
Prolonged exposure to the sun
Take into account that, despite the absence of a rehabilitation period, after microdermabrasion, the skin requires special care:
Keep the skin hydrated
Apply only gentle care remedies
Protect skin with sunscreen
Conduct periodic maintenance treatments
Side Effects
After microdermabrasion, minor inflammation, swelling, or redness can appear. These side effects are a natural response to the treatment and depend on the patient's individual characteristics and the sensitivity of their skin. In fact, these skin changes are temporary and go away within a few hours.
What is the Best Medical Microdermabrasion Machine?
This is a common question that does not have a definite answer. With a great choice available on the beauty market today, the process of investing in new microdermabrasion equipment can be a daunting task. There are many factors to consider! First of all, a device has to work for clients and satisfy their expectations. Second, the equipment has to help your business prosper financially. For this reason, when making a purchase, you should pay attention to the following: functionality, power, specifications, quality, brand, and more.
Advance Esthetic offers a wide range of microdermabrasion machines for beauty and spa salons, wellness centers, massage parlors, and even homes. Learn more about high-tech multifunctional systems from leading brands and make a decision. Our equipment is the best choice for all skincare needs. Our units are versatile, original, reliable, use crystal and diamond technologies, and help fight a plethora of skin problems.
If you want to save your time and money, buying an in-home microdermabrasion device is a great investment. The biggest differences between home and professional machines are the suction power and difficulties in operating them. However, units for home use are also famous for their safety and positive results.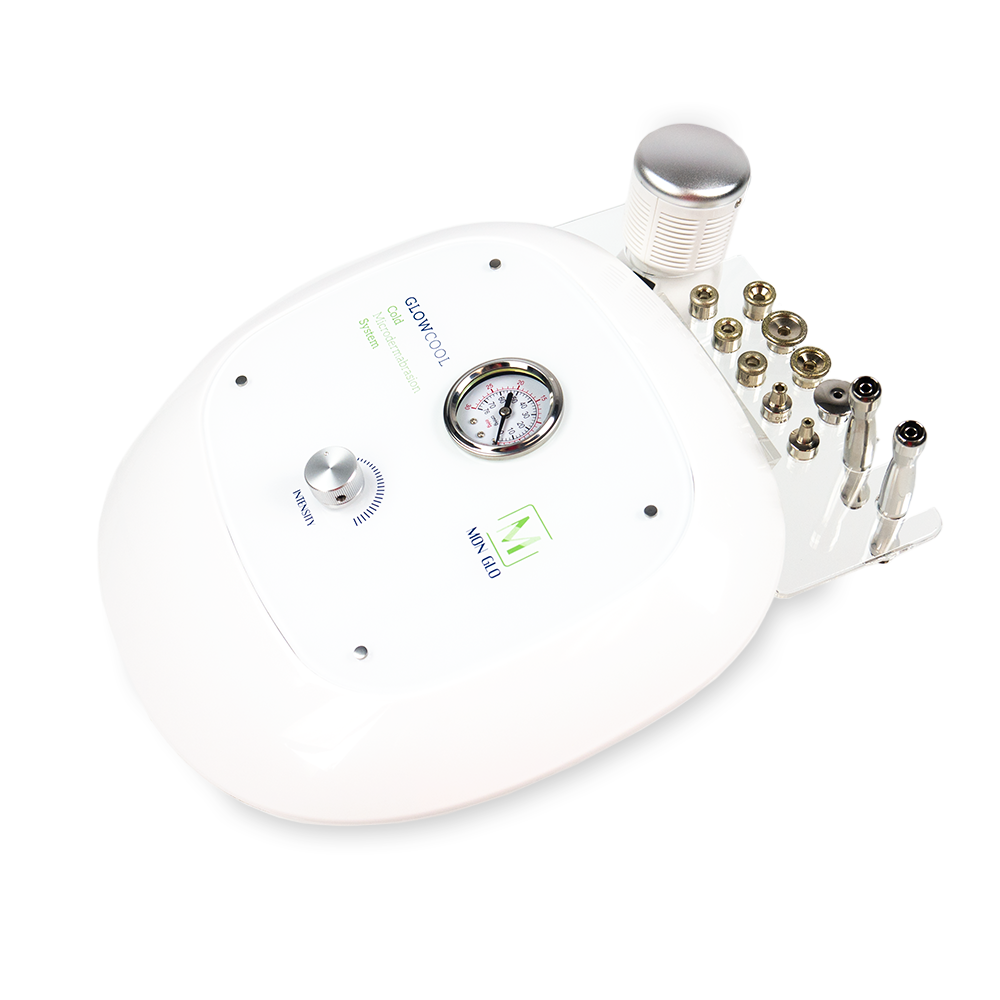 How Much is Microdermabrasion Machine?
The answer to this question depends entirely on some factors like functionality, brand, additional equipment, and more. In fact, prices on microdermabrasion devices in our online store are reasonable and vary from $300 to $8,000. Get to know our range of goods and make a right choice!
For over 10 years, Advance Esthetic, has worked in the global beauty industry and offered the highest quality equipment and service to our clients, because our aim is to make people happier and surpass their expectations.