If you are familiar with skincare steps like cleansing, exfoliating, moisturizing, skin nutrition, applying of special lotion, cream, mask, and, moreover, systematically perform these procedures, we are ready to share a good news with you. Facial steaming is an innovative method for improving skin health and increasing the effectiveness of well-known facial treatments.
It has been scientifically proven that holding your face over warm steam clears and softens skin, and simplifies the removal of blackheads and whiteheads. It is a great alternative to a spa-effect when your skin relaxes in a natural and healthy way and takes on a desirable rosy glow. Furthermore, steaming can be applied to the face, neck, and décolleté, and is suitable for all skin types.
We have gathered information about the steaming procedure, its effects and benefits, how to use a facial steamer at home, and if it really is a useful manipulation which should be added to your skincare list.
How do You Steam Your Face?
This procedure is performed using a facial steamer. The device heats water in a matter of minutes and directs warm steam onto a person's face with the aim of opening up and loosening pores. This helps get rid of oil and dirt easily, stimulate blood circulation and nerve endings, prepare skin for further treatments including the application of cosmetics, and prevent the appearance of future blackheads.

Is Steaming Good For Skin?
A professional facial steamer can do more than just produce and direct steam onto your face. This device is famous for its numerous benefits and widely used in facial rooms, spa and beauty studios, and homes:
Clean pores: Oil, toxins, and makeup tend to settle deeply into the skin. Without proper care, these remains create conditions for skin issues to develop. After the warm steam influences the skin, your face sweats and pores open. Thus, your skin is able to get rid of black clumps of dirt and dead skin cells.

Prepare for other treatments: Facial steaming can boost the effect of other skin care procedures. A clean face is more susceptible to absorbing special cosmetics, so it can take in more  nutrients that masks and creams offer.

Improve blood flow: Thermal impact on the skin leads to enhanced blood circulation. This, in turn, supplies cells with nutrients and oxygen. These positive changes are visible in the form of a healthy rosy glow on your face.

Kill bacteria: Whether or not you're currently suffering from the cold or flu, facial steaming helps kill bacteria and eliminate nasal congestion.

Relax: After using a facial steamer, patients experience a great relaxing effect in addition to feeling clean and renewed.

Get rid of pimples quickly: If you have detected a pimple on your face, a facial steamer can eliminate it in a day. Just steam the area  for five minutes to draw out the pus and use ice to soothe the sore spot.

Look younger and healthier: After the procedure, you will look more attractive and fresh due to improved blood flow and clean skin. An entire course of sessions helps rejuvenate your skin, remove or reduce aging signs, and more.
Types of Facial Steamers
There are lots of different types of modern equipment for facial steaming. Advance Esthetic offers a wide range of high-tech facial steamers from popular manufacturers. Our devices are used in beauty and spa salons, wellness centers, and in homes; they are well-known for their high quality, efficiency, reliability, and reasonable prices.
Small portable ozone steamers are perfect for in-home skincare. They are light, tabletop, easy to use, have an attractive design and are equipped with additional specs like oil containers, rotating heads, digital timers, and more. All this helps the machines perform their main functions properly at any time and place.
Multifunctional devices are mostly of larger sizes and special designs; they are made specifically for professional settings. These facial steamers provide hot and cold therapy, ozone control, herbal aromatherapy, etc. Some models come with UV lamps that helps get rid of bacteria on the skin and, in turn, remove or reduce the appearance of acne breakouts. Additionally, professional steaming machines are easy to adjust in terms of position, direction, and intensity.
How to Do a Facial at Home with a Steamer
If you have just bought this amazing device or are interested in utilizing one, these are the main steps in using a steaming machine in order to be pleased with great results.
Prepare your steamer: In-home facial steamers can vary depending on the design, model, manufacturer, and more. In this case, it is important to follow the instructions on your device. In general, these devices have special containers for distilled water. After filling up the reservoir, turn on the device and wait for the water to warm. This process can take anywhere from seconds to minutes. If your machine provides an aromatherapy option, add a few drops of essential oils or other products into the special container. Please note- if the unit is not intended for this procedure, you may risk damaging your machine. Keep in mind that all sections must be closed.

Prepare your skin: Before the procedure, it is recommended to clean your face by applying a gentle cleanser made of only natural ingredients. It helps remove makeup and dirt from your face. After washing, you should exfoliate the surface using a gentle scrub to avoid skin damage.

Steaming: Get in a comfortable position with your face placed above the machine. The distance between the face and the device applicator should be a few inches (approximately 5 to 10 inches), but you should figure out this out in accordance with the instructions. Keep in mind that holding your face too close can cause burning or swelling on the skin. On the contrary, there are no negative effects of holding the face too far from the steamer. Turn on the device, relax, and enjoy the process. Generally, the procedure lasts from 5 to 15 minutes- thus depends entirely on skin type, its individual characteristics, and its issues. For beginners, we advise starting with a two-minute procedure including intervals while paying  attention to how the skin reacts.

Aftercare: After using a facial steamer in a spa, beauty salon, and more, an esthetician can eliminate spots from open pores (if needed) using sterile equipment. When using the device at home, we recommend cleaning the skin in a natural way during sessions to avoid skin damage and bacteria. After steaming, clean your face with a warm towel and apply an appropriate mask to finish. Cosmetic remedies will also penetrate deeply into the skin and ensures extracting impurities and oil.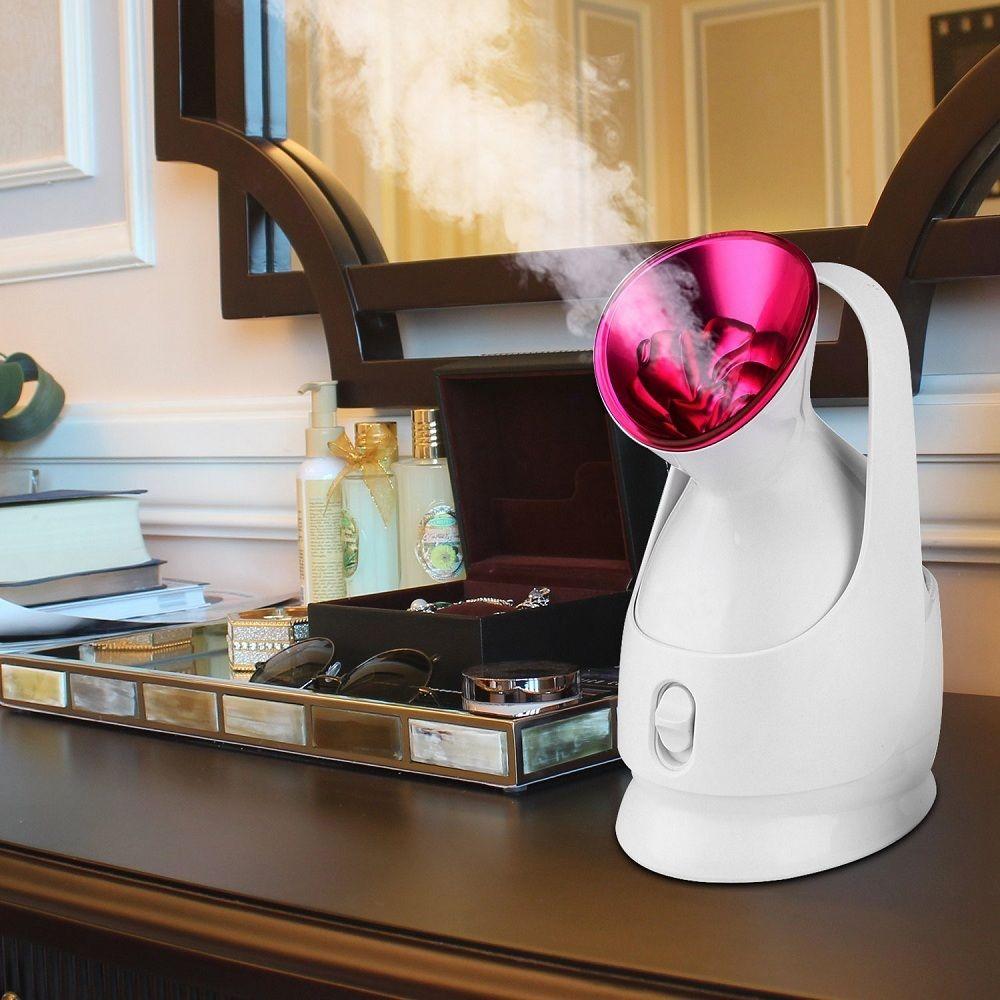 Afterward, when the mask is completely removed, splash your face with cold water to close your pores, and apply a moisturizing cream based on your skin type. If your steamer has a cold steam option, it is not necessary to wash with cold water. Direct the cold steam onto your face and wait several minutes for the pores to close. The last step is applying anti-aging, anti-acne, or sunscreen moisturizer.
Everybody can do this at-home procedure at any time, however, steaming before bed gives your skin enough time for healing and rejuvenating overnight.  
After the treatment, you should take charge of cleaning the device: unplug your electronic assistant, wait until it becomes cool, then pull out the container and wash it with soap. Also, you should disinfect the nozzles according to the manufacturer's instructions. Finally, dry the device in the open air and store it in its box.
For How Long Should You Steam Your Face Before a Face Mask?
The length of time that a facial steamer is applied for depends on the skin type and its issues. The average time for this procedure is 5 minutes, but less if a patient has mature or sensitive skin, and more if the skin is congested.
If you steam your face with a facial steamer for the first time, begin with a two-minute procedure, pausing for a minute to see how skin reacts afterward. In the absence of irritation or other visible changes, you may proceed steaming, reaching a maximum of 5 two-minute manipulations. Don't forget to take a break between procedures to give your skin a rest. You should permanently increase the length of sessions if you don't feel any discomfort.
We highly recommend people with skin concerns like rosacea, severe acne, and similar conditions to consult a specialist before undergoing facial steaming.  
How Often do You Steam Your Face?
The frequency of steaming depends primarily on a patient's skin type, its condition, and the desired effects. Estheticians advise doing this procedure at least once a week as the skin becomes vulnerable to infections and breakouts.
Furthermore, if the pores are clogged, it is recommended to use the device twice a week until the skin condition improves.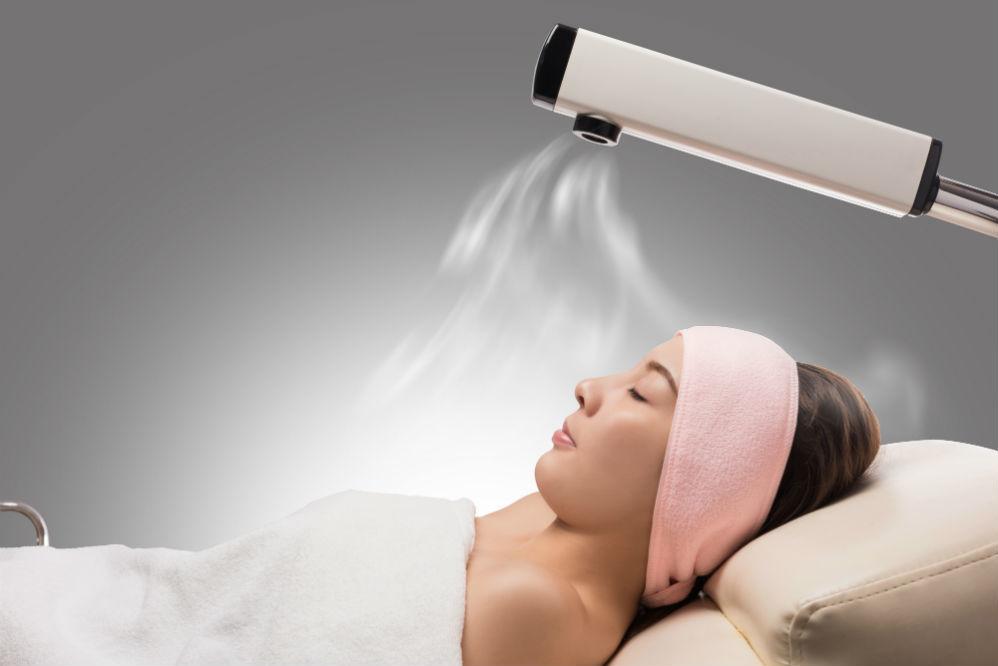 Precautions
Although the facial steamer is one of the most versatile treatments benefitting all skin types and included in most skin care routines, unfortunately, sometimes it is exactly the wrong thing to do. Here are a few skin concerns for which facial steaming is contraindicated:
Pregnancy

Dermatitis

Pustular rashes

Eczema

Psoriasis

Severe acne and rosacea

Dilated blood vessels on the face

Sunburn

Cardiovascular problems

Viruses and bacterial infections.
If you have any doubts about your suitability for facial steaming, we recommend you consult a dermatologist.
How to Choose the Best Steamer
Whether or not you know how to give yourself a steam facial at home, we are glad to help you make a purchase that will exceed your expectations and become a reliable assistant. Among various factors like design, weight, brand, price, and purpose, we will help you take into account the device's technical characteristics. Steam quality, capacity, volume, speed, and oil compatibility are just some features that long service life, quality, power depend on. You can find Facial steamers with reviews on Amazon in Facial spa equipment category.