Skinmedica Professional Skincare
Skinmedica is a well-known name in the skin care market. The firm has been developing goods with chemicals that have been scientifically shown to be excellent for your skin for over a decade.
Skin care is produced by masters of skin transformations that are scientifically based. Skinmedica set out with a goal to create products that would nourish and repair the skin while also acting as an anti-aging agent. Skinmedica has created outstanding products that are tailored to your skin's needs.
Let's start with the 
Skinmedica 
facial cleansers
Facial cleansers are a type of skincare product that removes make-up, dead skin cells, oil, dirt, and other impurities from the skin, allowing pores to remain clear and preventing skin problems like acne. Facial cleansers are frequently created with chemicals that seek to nourish, balance, and increase moisture levels in your skin.
Skinmedica offers a choice of facial cleansers that are intended to address your skin's specific needs and conditions. One of the most renowned Skinmedica products is the Skinmedica Facial Cleanser. It cleanses and moisturizes skin by eliminating excess oil and makeup while also providing a relaxing and calming effect, leaving your skin feeling rejuvenated and smooth.
Panthenol (Pro-Vitamin B5) mixed with Camellia Oleifera Leaf Extract, which has an antioxidant action that protects against free radical damage with a moisturizing effect and supports healthy skin in Skinmedica Facial Cleanser.
Skinmedica's AHA/BHA Exfoliating Cleanser, on the other hand, exfoliates, eliminates wrinkles, and enhances skin tone. Lactic acid, Glycolic acid, Citric acid, and Malic acid are important ingredients that contain alpha-hydroxy acid (AHA) sourced from natural sources. It aids in the reduction of visible wrinkles and the softening of the skin. As a skin exfoliant, beta-hydroxy acid (BHA) from salicylic acid is added. perfectly mixed with Jojoba oil's anti-irritation properties.
Skinmedica Purifying Foaming Wash is appropriate for acne-prone skin types. Salicylic Acid 2.0 percent in Skinmedica Purifying Foaming Wash, helps to clear acne blemishes. When combined with other botanical extracts, it makes the skin seem younger and more vibrant.
Skinmedica 
Moisturizers
Moisturizers are skin care products that moisturize and soften the skin. They also moisturize the skin, giving it a smoother appearance. They also serve as a barrier against water loss from the skin. Moisturizers contain unique chemicals that help to restore or protect the skin's natural oils and prevent moisture loss. It is also necessary to hydrate and soothe the skin after cleansing.
You can choose from a variety of moisturizers and serums at Skinmedica:
The Neck Correct Cream, which is specially developed to avoid noticeable evidence of neck wrinkles, is first on the list. It is clinically proven to tighten sagging skin and reduce the appearance of deep wrinkles.
Green Microalgae Extract, Shitake Mushroom Extract, Rice Protein, Lemon Balm Extract, and Peptides work together to rebuild collagen and elastin in the skin. As a result, the skin's suppleness and thickness improve. The primary component of Paracress Extract also helps to reduce the appearance of platysmal bands.
Knotgrass Extract and Dunaliella Salina Extract work together to give you glowing skin by reducing free radical damage.
The HA5® Rejuvenating Hydrator is next on the list; this product has an immediate smoothing impact on the skin and promotes the skin's natural hydration, resulting in fresh, plump skin.
The immediate and long-term advantages of HA5® Rejuvenating Hydrator include wrinkle reduction and improved skin texture.
VITISENSCE® Technology, a SkinMedica® proprietary technology, combines potent antioxidants found in Vitis Flower Stem Cell Extract Peptide Complex and Polysaccharides from French Polynesia to provide skin rejuvenation, moisture, and bright skin.
The Dermal Repair Cream is ideal for skin repair and nourishment. With the use of these potent substances: Vitamin C, Vitamin E, Sodium Hyaluronate (Hyaluronic Acid), and Algae Extract, Skinmedica produced a wonderful moisturizer that helps nourish and enhance skin texture. Each component contains significant levels of antioxidants and anti-aging characteristics, giving the skin brightness and a timeless softness.
All skin types can benefit from Dermal Repair Cream. Its powerful moisturizing effects are ideal for dry skin and are recommended for use as a nightly moisturizer or during periods of dry weather.
Skinmedica's antioxidant creams and hydrators include Rejuvenative Moisturizer, Ultra-Sheer Moisturizer, Vitamin C+E Complex, and TNS Ceramide Treatment Cream.
Skinmedica B
righteners
Skin brighteners are products that are used to lighten dark spots and scars. Skinmedica created a sophisticated serum to reduce the look of hyperpigmentation on your skin.
The Lytera® 2.0, Skinmedica's one and only holy grail, is intended to improve the clarity, evenness, and overall appearance of most skin tones and kinds. Clinical trials have shown that improvements can be seen as early as 2 weeks, with progressively substantial results at 12 weeks and beyond.
With the power of top substances like Tranexamic Acid and Phenylethyl Resorcinol and the ideal combination of Niacinamide and Tetrapeptide-30, Phytic Acid, and Marine Extract has been created. You can now have young-looking, immaculate, and beautiful skin.
Boosting products are not limited to the face. Skinmedica also provides an Instant Bright Eye Cream, which is designed to re-energize and rejuvenate the eyes, making them appear brighter and younger. It immediately improves the appearance of the eyes, including dark circles, sagging, puffiness, and wrinkles.
Skinmedica 
Sunscreens
Sunscreens are applied to the skin to protect it from the sun's harmful rays. They aid in the prevention of sunburn and premature aging (such as wrinkles and leathery skin). There are two kinds of sunscreen.
An all-physical sunscreen contains sunscreen actives, such as titanium dioxide and zinc oxide, that sit on top of the skin and deflect or filter harmful UV rays away from the skin. It is frequently recommended by doctors for those who have sensitive skin or who are undergoing a procedure that has been prescribed by their doctor.
A physical-chemical sunscreen combines sunscreen actives such as physical blocks with chemical filters to provide a more elegant and thin formulation. Chemical sunscreen actives function by absorbing UV photons and turning them into heat energy on the skin's surface. Physical sunscreens are preferable for people with heat-activated skin (such as rosacea and redness) because they deflect the sun's heat and energy. Skinmedica offers a selection of sunscreens with anti-aging and skin-repairing properties.
Skinmedica sunscreens are divided into two categories: TOTAL Defense + Repair Sunscreens and Essential Defense Sunscreens.
This product has undergone extensive research and testing in clinical settings. It has made scientific data, before-and-after images, and clinical research public. Total Defense + Repair is more than just a sunscreen; it also supports the skin's natural capacity to repair itself.
For this line, you can have products like:
Total Defense + Repair Broad Spectrum SPF 34 / PA ++++ Sunscreen Tinted

Total Defense + Repair Broad Spectrum SPF 34 / PA ++++ Sunscreen

Total Defense + Repair Broad Spectrum SPF 50+ / PA ++++ Sunscreen
Essential Defense Mineral Shield ™ Broad Spectrum SPF 32 Sunscreen Tinted, Essential Defense Mineral Shield™ Broad Spectrum SPF 35 Sunscreen and Essential Defense Everyday Clear™ Broad Spectrum SPF 47 Sunscreen contain titanium dioxide and zinc oxide, which are mineral sunscreen's primary ingredients. Mineral sunscreens are also suitable for children, those with sensitive skin, and those suffering from melasma. This Skinmedica sunscreen is lightweight and provides the greatest amount of UVA protection available, as well as UVB coverage, to shield you from harmful rays.
All sunscreens from Skinmedica are noncomedogenic, paraben-free, hypoallergenic, oil-free, and fragrance-free. Perfect for everyday use, with proven UV radiation protection.
Targeted Treatments or Post-Procedure
Because of the targeted administration of active substances, these skin care solutions are developed for increased efficacy. TNS® Advanced+ Serum and TNS Recovery Complex are well-known Skinmedica products for this type of treatment.
Skinmedica 
TNS® Advanced+ Serum
This skin-rejuvenating formula of the future enhances the look of coarse wrinkles, fine lines, skin tone, and texture. It is the only growth factor product that has been shown to improve drooping skin. In just two weeks, you'll see visible improvements. After 24 weeks of use, the results continue to improve.
This item comprises two potent ingredients:
To begin with, the TNS®-MR is an innovative product that works on numerous levels to help you achieve age-defying outcomes. Combined with a growth factor blend that promotes healthy skin functioning and a peptide complex that hydrates your skin,
Second, the Renessensce (RSC) Advanced is a highly active blend of botanicals, marine extracts, and peptides that supports repair functions, skin renewal processes, and collagen and elastin levels.
Skinmedica 
TNS Recovery Complex
Clinically proven to improve skin tone and texture while reducing the appearance of fine lines and wrinkles, it rejuvenates the skin, giving it a luminous and radiant appearance.
TNS Recovery Complex® contains 93.6 percent Tissue Nutrient Solution (TNS®), which contains over 380 recognized growth factors and cytokines, our highest concentration of a unique growth factor blend. TNS® is the active ingredient in the very effective TNS Recovery Complex® skin treatment, which is made up of naturally occurring growth factors, antioxidants, soluble collagen, cytokines, and matrix proteins.
As post-procedure products, Skinmedica offers the Procedure 360 System™ Power Duo, TNS Ceramide Treatment Cream™, and Scar Recovery Gel with Centelline®.
Skinmedica 
Procedure 360 System™ Power Duo
This active skin care combination prepares the skin for cosmetic operations and aids recuperation thereafter.
Each package includes these 2 products:
Post Procedure Repair Complex

SkinMedica® Restorative Ointment
Both products are intended to restore and encourage skin recovery through the use of antioxidant-rich plant extracts.
Skinmedica 
TNS Ceramide Treatment Cream*
TNS®, peptides, and a proprietary Ceramide technology are used in this product to moisturize and aid in the restoration of your skin's natural barrier function. This product has two primary components:
TNS® (Human Fibroblast Conditioned Media) is a physiologically balanced, naturally released, and stabilized blend of a variety of natural messenger proteins.
Hydroxypropyl Bispalmitamide MEA (Ceramide) is a skin barrier agent that promotes and maintains the skin's moisture layer while also improving skin texture.
This product, when used with peptides, gives your skin a more radiant and bright appearance.
Skinmedica 
Scar Recovery Gel with Centelline®
Skinmedica created a scar gel with a perfect combination called Centelline®, which is a synergistic complex composed of Centella asiatica, Bulbine frutescens, and Oleuropein that helps diminish the appearance of scars and has antiaging properties. Scar Recovery Gel with Centelline® not only treats scars but also softens and moisturizes the skin.
Skinmedica 
Kits & Systems
Skinmedica offers a variety of kits and systems based on your skin's need. A compilation of the most excellent formulations is available in a single bundle.
For daily use, you can try Everyday Essentials System
This professional-grade, all-inclusive package of everyday essentials promotes younger-looking skin. The system also includes the only growth factor product that has been shown to improve sagging skin.
System includes:
TNS® Advanced+ Serum

HA

⁵

® Rejuvenating Hydrator

Retinol Complex 0.25

Essential Defense Mineral Shield™ Broad Spectrum SPF 35 Sunscreen
It is ideal for enhancing the look of skin texture and roughness. It improves skin resilience with additional protection against UVA and UVB radiation.
Skinmedica 
Procedure 360 System™
Your finest operation outcomes are right here. The Procedure 360 System™ is a comprehensive pre-and post-procedure assistance system that will bring you the outcomes you want faster than you'd think.
The Post Procedure Repair Complex, a first-of-its-kind growth factor combination formulated exclusively for pre- and post-procedure skin, is included in the Operation 360 System™.
System includes one each of the following:
Facial Cleanser

Post Procedure Repair Complex

TNS Ceramide Treatment Cream™

Essential Defense Mineral Shield™ Broad Spectrum SPF 35/PA++++ Sunscreen

SkinMedica® Restorative Ointment
Enhances treatment outcome, reduces recovery time, and promotes long-term healthy-looking skin by priming the skin before a procedure and restoring the skin afterward.
Skinmedica 
LUMIVIVE® System
This two-step approach strengthens your skin's ability to withstand the effects of the environment during the day. and then recover overnight. With complete blue light and pollution protection, you might have genuinely radiant skin in as little as 14 days.
System Includes:
LUMIVIVE® Day Damage Defense Serum

LUMIVIVE® Night Revitalize Repair Complex
It improves the skin's ability to restore itself at night by recharging it overnight.
Defends all day: During the day, it protects against pollution and blue light aggressors.
Improves any skin care regimen: Supplements both new and existing skin care regimens.
Blended with SkinMedica's patented ENVAILLE™ technology.
The active ingredient in LUMIVIVE® DAY Damage Defense Serum works with the dermal bio-barrier to defend against blue light and pollution. Theobroma Cacao Seed Extract, Alteromonas Ferment Extract, and Bioflavonoids are included. 
ENVIGORATE™ technology, which is exclusive to SkinMedica®, creates a luminous appearance.
The potency of LUMIVIVE® NIGHT Revitalize Repair Complex allows the skin to recover quickly overnight, giving you that radiance. Other ingredients, such as Mirabilis Jalapa Callus Extract, are included.
SkinMedica® Minis Collection
Formulated to offer smooth, radiant skin and brimming with fan favorites. SkinMedica® Minis Collection enables you to maintain YOUR GLOW even when you're on the go.
TSA-friendly SkinMedica favorites that last 30–45 days (depending on use) are included in this collection:
System Includes the following:
2 - Facial Cleanser

1 - LUMIVIVE® Day Damage Defense Serum

1 - LUMIVIVE® Night Revitalize Repair Complex

1 - HA

⁵

® Rejuvenating Hydrator

1 - Total Defense + Repair Broad Spectrum SPF 34/PA++++ Sunscreen
A one-stop shop for hydration, repair, and sun protection.
Skinmedica Skincare Professional Login
More information and news about Skinmedica products may be found on their website, which can be accessed via the link below:
Sign up for the Skinmedica Skincare Professional Site for online orders and professional services by clicking the link below.
https://www.skinmedica.com/us/login/
Is Skinmedica Skincare Medical Grade?
SkinMedica, a leading authority in protective and corrective skin care, offers a full array of medical-grade skin care. These innovative solutions, which are backed by two decades of research, have been designed to enhance the long-term health of your skin.
Does Skinmedica Skincare Test on Animals?
Skin Medica does not test its products on animals, which is a significant point to make. Skin Medica has found a way to reach a wider audience in today's environment, when more and more individuals are gravitating toward a plant-based, cruelty-free lifestyle.
Skinmedica Skin Alternatives
*compare product types carried by each brand
Comparison Table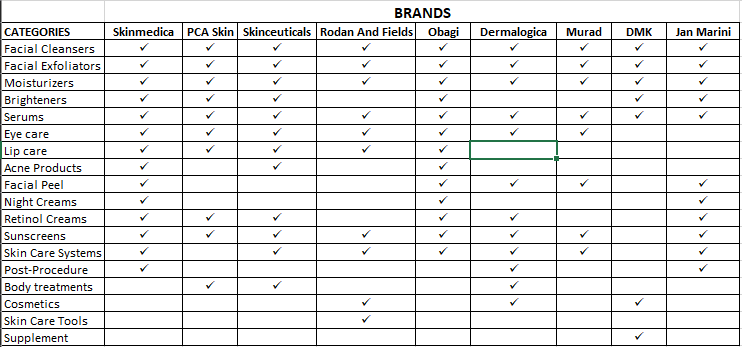 Skinmedica Vs PCA Skin
PCA SKIN was created by a dermatologist and formed by an aesthetician in 1990. The organization is built on three pillars: product innovation, educational quality, and unmatched customer service.
PCA SKIN invented and enhanced the Jessner's peel, and its line of blended chemical peels has grown over the years to offer treatment choices for various skin types, ethnicities, and disorders. Every year, over one million PCA skin peels are performed around the world.
PCA SKIN's research and development, product development, and quality assurance methods are well above industry standards. Our in-house PhD chemist conducts research, designs, and implements the formulations. They treat each skin condition holistically, with products that combine the most cutting-edge and effective ingredients with tried-and-true, tried-and-true substances to deliver unrivaled, visible results.
Categories listed in PCA skin website:
Antioxidants

Body Treatments

Broad Spectrum SPF

Cleansers/Toners

Exfoliants

Eye, Neck, Lip

Masks

Moisturizers

Retinols

Serums

 
In terms of the product types that PCA skin has, we can see that they also have a wide range of skincare regimens that depend on your skin needs.
Skinmedica Vs Skinceuticals
Their high potency compositions are concentrated in pure actives and shown to permeate ideally into the skin, thanks to decades of skin cancer research that led to significant advances in antioxidants.
Dermatologists, plastic surgeons, and medi-spas use their professional skincare, which is made in the United States, for daily homecare and to complement aesthetic operations. It is formulated to reduce the appearance of indications of aging, maintain healthy skin, and prevent further damage.
Categories listed in their website:
Antioxidants

Sunscreens

Retinol Creams

Anti-Aging Creams

Moisturizers

Facial Cleansers

Facial Masks

Facial Toners

Facial Exfoliators

Skincare Sets

Acne Products

Body Care

Lip and Eye Care

Serums
In terms of Skinceuticals' product kinds, we can see that they have a wide choice of skincare regimens to choose from, depending on your skin's demands.
Skinmedica Vs Rodan and Fields
Rodan and Fields, both Stanford-trained dermatologists, created Rodan + Fields in 2000 with a passion for providing people with the finest skin of their lives—and the confidence that comes with it.
The R+F skincare regimens were shortly acquired by the Estée Lauder Companies, who displayed them in department stores. In 2007, the doctors took the uncommon step of selling their retail locations and purchasing the corporation. They relaunched Rodan + Fields in 2008, utilizing a Consumer Connected Commerce business model, believing that word-of-mouth is an authentic way to communicate knowledge about their products.
Since 2008, the company has expanded into Canada, Australia, and Japan with its revolutionary product line. R+F, which is headquartered in San Francisco, employs over 500 employees and has over 300,000 enrolled Independent Consultants and over two million Preferred Customers.
The Multi-Med Therapy theory underpins Rodan + Fields' skincare philosophy: the right ingredients in the right formulations in the right order produce noticeable benefits. Rodan + Fields is a game-changing skincare brand with its product efficacy and unique business style.
Categories listed on their website:
Regimens

Face Serums

Eyes & Lips

Face Masks

Dermacosmetics

Hand & Body

Sun Protection

Pro Skincare Tools

Accessories

Pfc Foundation
Skinmedica Vs Obagi
Obagi was built on the belief that your skin is a doorway into your future, not just a result of your past. They create products that bring out the best in your skin, brightening, evening, revitalizing, and protecting your most valuable asset.
Obagi is the foundation for a more confident and courageous future, backed by over 30 years of clinical experience. Obagi Medical was created in 1988 by prominent skin care experts as a global speciality pharmaceutical firm. Obagi products are generally offered through dermatologists, cosmetic surgeons, medical spas, and other skin care experts, and are designed to help minimize the appearance of premature skin aging, skin damage, hyperpigmentation, acne, and sun damage.
Categories listed on their website:
Acne Products

Antioxidants

Eye Care

Eyelash Serum

Facial Cleansers

Facial Exfoliators

Facial Masks

Facial Peel

Facial Serums

Facial Toners

Moisturizers

Night Creams

Retinol Creams

Skin Aging

Sunscreens

Skin Care Systems
Skinmedica Vs Dermalogica
The ambition to provide skin therapists with the best-in-class skin care products and education led to the creation of the product line. They offer skills-based training to a global community of skin therapists that share one goal: to guarantee that everyone has healthy skin. Dermalogica is the brand of choice for skin care specialists all over the world. They are cruelty-free, gluten-free, and vegan-certified. Artificial colors and scents, mineral oil, lanolin, and S.D. are all absent from their formulations.
Categories listed in their website:
cleansers

exfoliants

moisturizers

facial oils and serums

retinol

toners

eye treatments

targeted treatments

masques

concentrated boosters

primers and tints

skin kits and sets

body

SPF
Skinmedica Vs Murad
In May of 1990, Dr. Murad spoke at the Esthetics' West Expo, launching what he called his "skincare revolution." His ambition was to bring together skincare professionals of all stripes to work as a team, utilizing scientifically proven products and technologies, to help individuals attain the healthiest, most beautiful skin possible.
Categories listed on their website:
• Cleansers & Toners
• Exfoliators
• Serums & Treatments
• Moisturizers
• Eyes
• Masks & Peels
• SPF
• Regimens & Kits
Skinmedica Vs DMK
This exquisite, limited-edition product collection, created by scientific genius Danné Montague-King, uses the most modern ingredients to treat specific skin functions. Danné Montague-King has been creating world-renowned formulas and treatment methods for professional estheticians for over 40 years. The TransGenesis™ is the personal use evolution of DMK Skin Revision™, which has been Rebuilding Skin... Rebuilding Lives™ in over 30 nations for people of all colors, genders, and ethnicities. crème, produced for Danné Montague's 70th birthday in 2012, was the beginning of DMK Limited™. That night, Stuart Milk of the Harvey Milk Foundation presented him with the first Global Ambassador rank.
Researchers at DMK take this award seriously and back it up with a financial commitment to the Harvey Milk Foundation, contributing a major amount of all DMK Limited™ product sales to the organization. While DMK has always been dedicated to "Building a World of Confidence™," we are thrilled to join the Harvey Milk Foundation in its efforts to bring diversity and inclusion to the forefront of global human rights and equality movements.
DMK's Methods Natura Pharmacology delivers tailored skin and body services to clients that require the greatest level of professional knowledge and client care. When combined with a proper diet and exercise routine, DMK's Body Treatment can help you achieve the skin tone and texture you desire.
Categories listed in their website:
Barrier Repair Protection

Body Cleansers

Corrective Creams

Enbioment™

Microbiome System / Probiotic

Restoring Eye & Neck

Fundamental Kits Masks

Exfoliants Moisturizers

Nourishing Creams

Oils Serums

Specialty Supplements
Skinmedica Vs Jan Marini
Jan Marini Skin Research was formed in 1994 in San Jose, California. JMSR is a well-known leader and inventor in the skin care industry, dedicated to growing and strengthening the professional skin care market. JMSR's two main goals are to develop innovative technology that provides demonstrable outcomes and to maintain an unshakable commitment to our customers' long-term success.
Effective product solutions may make a huge difference in people's lives, whether it's improving the skin of a long-time acne or rosacea sufferer or boosting confidence and happiness with skin by minimizing wrinkles and discoloration.
Similarly, offering ideas and resources for firms to prosper, especially in difficult circumstances, may make a difference in many people's lives. We are committed to not only transforming your skin and business, but also transforming lives through our products, tools, service, and support.
Categories listed on their website:
Systems

Cleansers

Vitamin C / Antioxidants

Exfoliators / Retinols

Hyaluronic Acid / Moisturizers

Sunscreens

Masks / Peels

Post-Procedure
Skinmedica Skin Professional Products
Scar Recovery Gel with Centelline®
Skinmedica developed Centelline®, a synergistic compound consisting of Centella asiatica, Bulbine frutescens, and Oleuropein that helps minimize the appearance of scars and has anti-aging qualities. Scar Recovery Gel with Centelline® not only heals scars, but softens and moisturizes the skin as well.
Skinmedica Chemical Peel
When applied by a skin care specialist, our comprehensive spectrum of superficial peels may make your complexion seem more uniform and refreshed, reducing the appearance of fine lines, wrinkles, and roughness.
Skinmedica Retinol
Retinol Complex 0.25, Retinol Complex 0.5, Retinol Complex 1.0
Improves skin tone, texture, and elasticity

Reduces the appearance of fine lines and wrinkles

Improves the tone and texture of the skin

Encapsulated with PhytoShield™ combination, an antioxidant complex that improves skin texture and reduces irritation.
Skinmedica Professional Chemical Peels
What Is Skinmedica Chemical Peel
When done by a skincare professional, our extensive range of superficial peels may help your complexion look more consistent and rejuvenated, decreasing the appearance of fine lines, wrinkles, and roughness.
Types Of Skinmedica Peels
Illuminize Peel®
With minimal downtime, it can help give you vivid, youthful skin
Vitalize Peel®
Reduces the visibility of fine lines and wrinkles. Addresses skin tone irregularities caused by acne scars or other pigmentary alterations.
Rejuvenize Peel™
This reduces the visibility of fine lines and wrinkles. After only one peel, you'll notice a substantial improvement, and after three to six peels, you'll see persuasive results.
All skin peels must be performed by a licensed medical practitioner (a physician, aesthetician, or nurse under the supervision of a physician).
About Skinmedica Company
What Does Skinmedica Skin Stand For?
SkinMedica® was created by forefathers of the skin rejuvenation science. Dr. Richard Fitzpatrick, our co-founder, had a vision to discover a better approach to halt the aging process and unleash the ability of the skin to heal from within; and in 1999, the pioneering scientifically based skin care brand SkinMedica® was born.
Skinmedica Social Media
For Skinmedica's social media accounts, you can click the links below:
Facebook: https://www.facebook.com/skinmedica/
Twitter: https://twitter.com/skinmedica?lang=en
Instagram: https://www.instagram.com/skinmedica/
Pinterest: https://www.pinterest.ph/skinmedica/_created/
Skinmedica Business Customer Support
Professionals
Please contact us at if you have any product queries or would like to talk with a SkinMedica® sales representative.
Contact number: 1-866-867-0110
8 am - 6 pm CST, Monday through Friday except holidays.
Consumers
Please see your skin care specialist if you have any queries about your skin or which products are best for you.
Call our consumer service line at if you have any concerns regarding SkinMedica® or the SkinMedica® website, or if you want to report an adverse event.
Contact number: 1-888-912-1596
8 am - 6 pm CST, Monday through Friday except holidays.
Email: care@skinmedica.com
Allē
Please contact member support if you have any queries regarding your account.
Contact number:  1-888-912-1572
8 am - 6 pm CST, Monday through Friday except holidays.
Skinmedica Address
5770 Armada Drive Carlsbad, CA 92008, US
Skinmedica Professional Reviews
Dr. Richard Fitzpatrick, a dermatologist, was one of the co-founders of SkinMedica, a company that has been in business since 1999. Here's an interesting tidbit about this brand: SkinMedica invented the first topical Growth Factor solution in 2001, paving the way for the whole category to be formed. Today, the brand offers a full line of products that contain growth factors to promote healthier, younger-looking skin.
SkinMedica produces solutions that are suitable for all skin types and may treat a wide range of conditions. SkinMedica has everything you need to construct a full skincare routine, including cleansers, moisturizers, serums, masks, sunscreens, and other products. We will provide some professional Skinmedica product reviews.
According to Dr. Dendy Engelman, a board-certified dermatologist and dermatologic surgeon in New York, this brand contains some of the most complex formulations that can assist with a wide range of skin conditions, including fine lines and wrinkles, hyperpigmentation, dullness, and dryness. We got down with Dr. Engelman to discuss three of SkinMedica's best-sellers, as well as the ingredients and features that set them apart from the rest of the skin care options on the market.
TNS Advanced+ for Aging
While many skin care products claim to remove fine lines, wrinkles, and spots, SkinMedica's unique TNS technology, according to Dr. Engelman, is the best. She notes that the company was the first to employ HGF (hepatocyte growth factor) in its products, which dermatologists strongly recommend. TNS-MR, a mix of next-generation growth factors and a skin-nourishing peptide complex that works on several levels to show smoother, more radiant skin with noticeable effects in only two weeks, is the most advanced version of the technology yet.
HA5 for Hydration and Plumping
Regardless of the season, many individuals suffer from itchy, dry skin. When our skin is dehydrated, it appears aged and drab, missing natural color and energy. Dr. Engelman recommends the SkinMedica HA5 line to combat this issue and replenish your skin's hydration and youthful radiance. "This product uses five distinct forms of hyaluronic acid for a sustained release of HA for 24 hours, which works well for me because I know I'll be hydrated all day," she explains. "In addition, patients who use HA5 have discovered that using some on the lip helps with moisturizing the lip, so I'm delighted we offer HA5 Lip for that; it works nicely to fill and smooth lip lines."
Lytera 2.0 for Brightening
Retinol is a popular component for eliminating dark spots and speeding healthy skin renewal, but according to Dr. Engelman, not everyone's skin can handle it. Because this substance makes you more sensitive to the sun and can be unpleasant or painful as it works, some people choose to start with something less strong. She suggests this SkinMedica line to help balance out your skin tone and reduce dark spots. "It is a pigment-correcting serum that has been shown to be clinically effective for a wide range of skin types and ethnicities, with sustained improvement over time." "The formula begins at the source to promote melanin equilibrium, which is affected by intrinsic and extrinsic variables including ethnic background, genetic composition, hormones, UV radiation, inflammation, and aging," she explains. The revolutionary recipe is devoid of retinol and hydroquinone, and it helps to strengthen the skin's capacity to resist triggers that might cause recurrent and future discoloration.
Overall, we believe that SkinMedica products are well-formulated using a blend of evidence-based and novel components.
https://thedermreview.com/skinmedica-reviews/
Links To Product Reviews
We went over to Dermstore.com, Amazon, and Lovelyskin.com for the links to product reviews.
https://www.amazon.com/skinmedica/s?k=skinmedica
https://www.lovelyskin.com/c/reviews/skinmedica