In the beauty industry, there are hundreds of skin care techniques and instruments available to rejuvenate our skin and get rid of annoying skin problems. Cavitation, microdermabrasion, LED therapy, LPG technology, and more are famous for their great effects, and therefore leave clients in confusion concerning what treatment or device to use. Furthermore, among innovative methods of skin care techniques, there is one more procedure called the Ultrasonic Facial.
It has been scientifically proven that the application of ultrasound helps eliminate or decrease a plethora of skin concerns that people deal with every day. So, let's take a closer look at the ultrasonic facial treatment and if it is really worth using to achieve people's skin goals.
Ultrasound was developed in medicine, but its positive influence on skin rejuvenation and solution of various problems in the beauty industry has been discovered recently. Due to high-speed and low-frequency, sound waves have a mechanical, physicochemical, and negligible thermal impact on the whole body. The most important and beneficial factor is considered to be the mechanical effect which is performed by acoustic pressure, and provides micro vibrations and massages to tissues at the cellular level. Thanks to slight heating, biochemical processes accelerate, microcirculation and tissue nutrition improve, and the intensity of redox processes increases. Lymph drainage activation helps to withdraw the excess fluid, toxins, and waste products.
Furthermore, sonic waves fight old scars, acne, and more, making these ailments softer and creating an even skin tone.
Besides, ultrasound therapy is famous for its anti-inflammatory, analgesic, antibacterial, and biodegradable effects. It's no surprise that the beauty industry has been interested in this phenomenon and discovered it as a new technique for skin treatments.
An ultrasonic facial is a type of skin care that is based on sonic vibration properties and designed to improve skin appearance without any undesirable side effects. When cleaning dead and dying skin cells, blood flow increases in the face and the development of new cells on the derma level enhances. All this, in turn, naturally causes skin rejuvenation and the removal of common skin issues.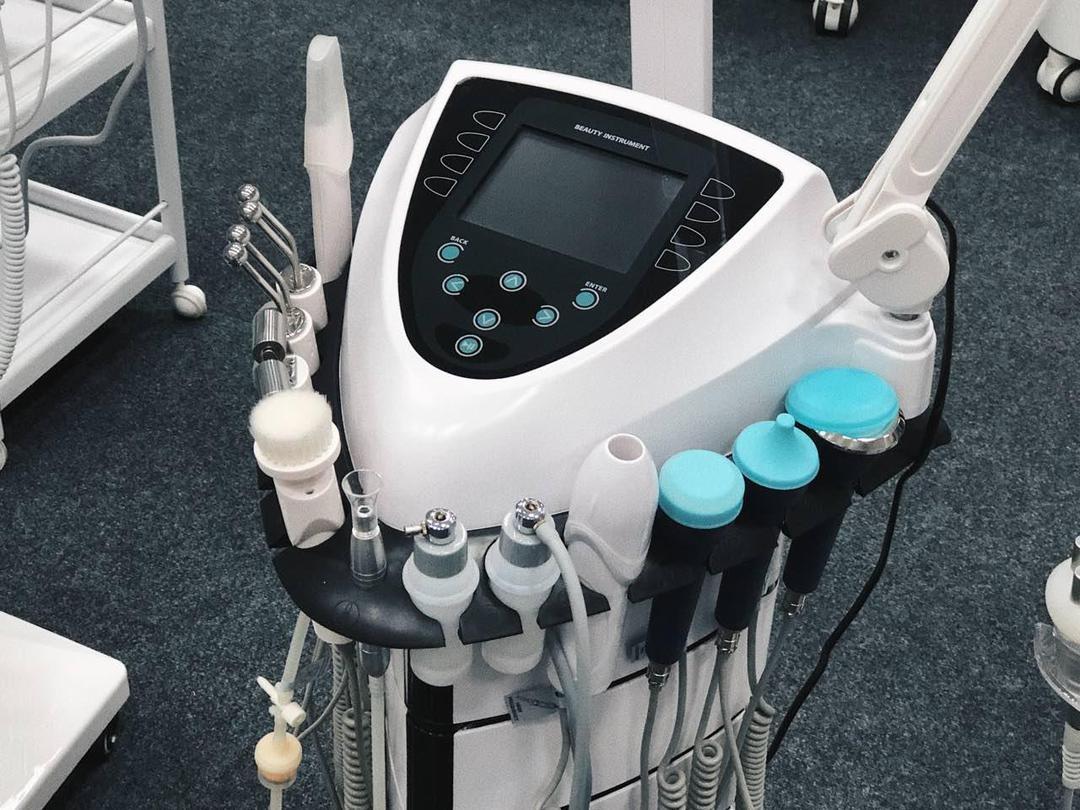 A facial treatment with ultrasound has a plenty of benefits:
It is suited well with all skin types, including sensitive skin, sun-damaged skin, and skin covered with acne or rosacea
Dark circles under eyes are easily removed
It is a great method to decrease or get rid of wrinkles, fine lines, aging signs, and renew skin tone and texture
It is a popular way to fight excess fat
The procedure is safe, painless, gentle, and non-invasive
The effects are visible after the first session, and there is no recovery period
This high-tech facial uses a special professional ultrasound machine with an applicator attached to the end which radiates a low-frequency sound wave. In fact, the lower the frequency of sonic vibration, the deeper a device can penetrate into the skin layers. Machines providing 3 to 5 MHz frequency may be applied on the face, whereas 1 MHz is the ideal sonic frequency for the treating the body, where tissues and muscles are thicker.
In our online store, you can find a wide range of ultrasonic facial devices of leading brands for your taste and budget. The most powerful and multifunctional systems are used in spas, salons, wellness studios, etc. However, professional-grade technology is available for home use nowadays. These affordable personal care alternatives aren't any less effective, and are safe and easy in utilizing.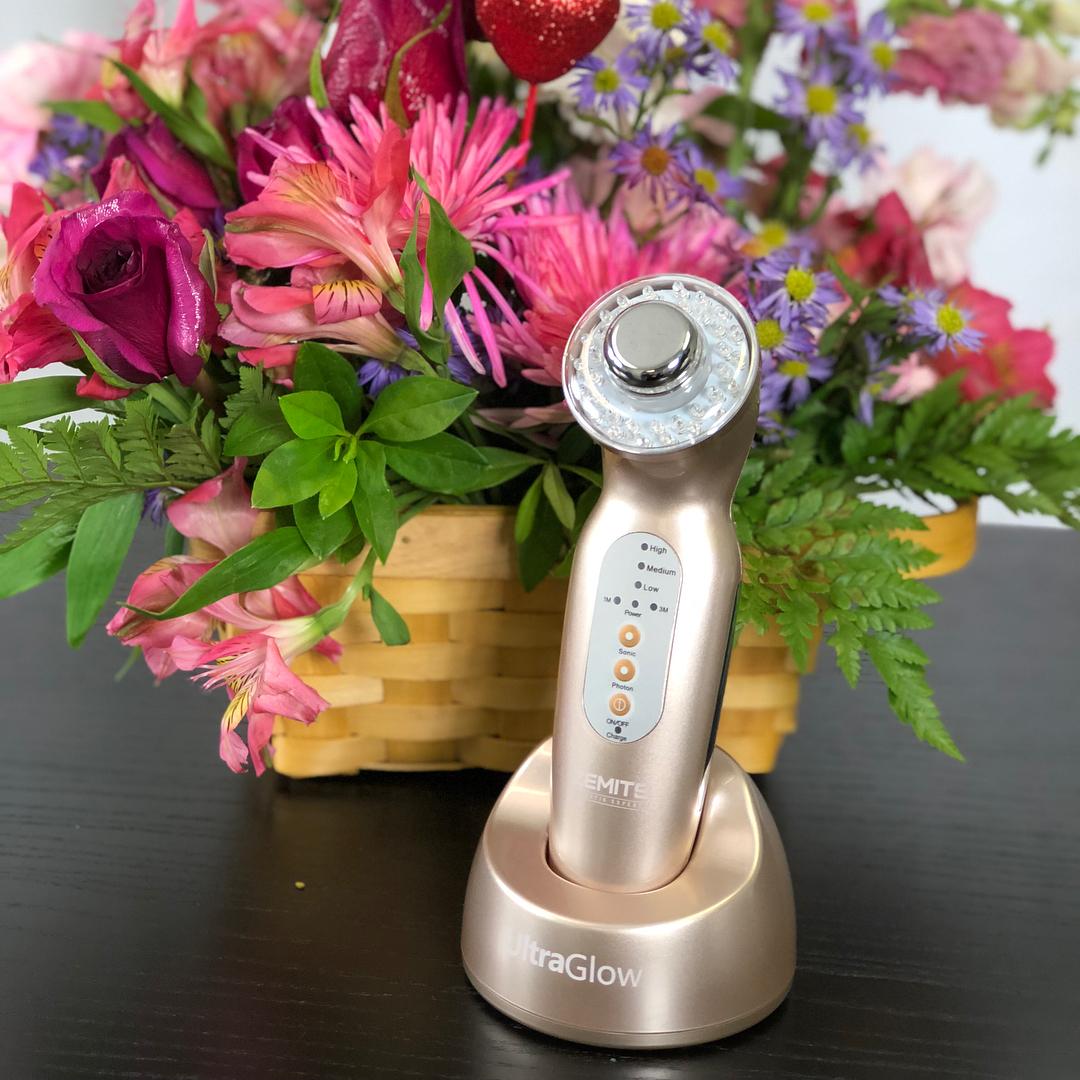 How Does it Work?
A patient should lie down on a comfortable surface before the treatment begins. The first task is to make the skin relaxed and cleaned. For this purpose, a beautician uses a machine and gently massages a certain skin area to open the pores for best results. Then, it is time to perfectly clean the surface and remove all dead and dying cells.
The next step is to get rid of dirt stuck in the pores. This device accomplishes that with quick pulses of water. After this cleaning procedure, a customer's face and body are ready to absorb cosmetic remedies and rejuvenate.
At this stage, it is recommended to place a special vitamin gel on the skin which easily reaches the deepest skin layers and nourishes them from the inside.
Utilizing the machine, the beautician's next task is to lift and tone the body and face. Simultaneously, collagen development accelerates and skin revitalization activates.
The last step in the ultrasonic treatment is a special toner and mask application to maintain the great results. In fact, this product depends on the skin issue and can be anti-aging, cooling, etc.
These are the main steps of how to use ultrasonic facial machine for those who are still unfamiliar with the principles of operation in this device. As a rule, a specialist selects a set of procedures in accordance with the severity of the problem area, the person's individual characteristics, and their desires. Also, it is necessary to highlight that the procedure doesn't cause any discomfort or post-care.
Keep in mind that it doesn't matter how wonderful the effect is if a patient doesn't follow a beautician's advice concerning a necessary course of sessions, nutrition, skincare at home, etc.
Indications and Contraindications
It is scientifically proven that the ultrasound facial therapy successfully relieves the following problems:
Wrinkles and fine lines
Loose skin
Enlarged pores
Swelling (including puffy eyes)
Scars
Hyper pigmentation
Age-related changes of the skin
Rehabilitation after plastic surgery
Resorption of post-acne spots (in the absence of inflammation)
Despite its safety and effectiveness for all skin types, there are still some contraindications for an ultrasound therapy:
Pregnancy
Cancer
Skin diseases, infectious diseases, or injuries in the impacted zone
Heart diseases
Metal implants
Each patient should consult a doctor before an ultrasound treatment.
Side Effects
Ultrasonic Therapy is a painless and non-invasive procedure, and it doesn't cause any damage. However, patients may notice slight redness, swelling, or feel tingling during a session. These changes mostly depend on the client's individual characteristics and disappear on their own in an hour or so.
Will You See the Results Right Away?
It typically takes clients 2-6 months to see great effects from an ultrasonic facial treatment, as the therapy works to stimulate new cell generation in the body. All this depends on how the body reacts to the ultrasound and the collagen-building process itself. However, patients may enjoy some initial effects.
How Many Procedures do I Need?
Ultrasound Therapy is famous for its cumulative effects. Usually, a course consists of 10-12 procedures. The number of sessions depends on the severity of skin concerns, the patient's individual characteristics, and their personal goals. The treatment is performed once or twice a week, and it usually takes from 45 to 60 minutes, including a 10-minute consultation after the procedure. Besides, one ultrasound facial per a month helps maintain the results.
How Long Do Results Last?
This common question doesn't have an exact answer, as it depends on lots of factors like following the schedule, continuing treatments to maintain great effects, and following healthy lifestyle habits. In fact, you should repeat the procedure at least once every 1-2 years or when aging signs or other skin imperfections appear again.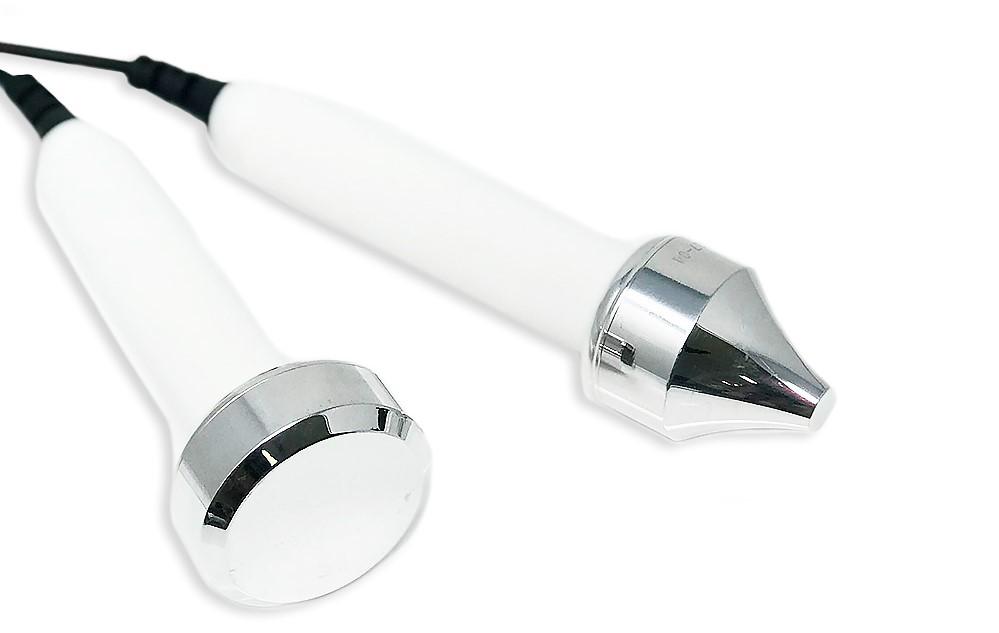 In order to avoid skin damage, a water-soluble remedy should be used during ultrasound therapy. Keep in mind that oil-based cosmetic creams and gels are not compatible with this popular treatment as they do not provide perfect sound vibration conductivity. On the contrary, well-chosen cosmetics designed especially for this procedure enable both better gliding and acceleration of the improvement in skin appearance. As a rule, a remedy should contain many organic components and be free of chemicals that dry the skin or affect it negatively.
Advantages of Making a Purchase with Advance Esthetic
Are you willing to get to know about modern equipment in the beauty and esthetic sphere, add ultrasonic skincare therapy to your list of services, or just buy a quality item for personal use at home? You have definitely come to the right place!
Our online store appreciates every customer and offers the following:
A wide variety of products
Only professional, high quality certified equipment
Detailed information about each unit
24/7 service to our clients
Individual approaches to each customer
Best prices and flexible price policies
One-click orders
Great financing plans
Moreover, we provide training sessions concerning how an ultrasonic facial machine works, its advantages and disadvantages, the positive results and possible side effects, and more about all the equipment sold by us.
Welcome to Advance Esthetic - enjoy shopping and work wonders for yourself and your clients!