People have always been in love with tattoos. Always. Really, tattooing has been around for a very long time, about 10,200 BC long. Tattooing has been practiced everywhere in the world and now is even more popular than ever. People are either raving about the very popular finger statement tattoos or there is a wave of articles on Kendall Jenner and Hailey Baldwin (or Rihanna and Drake, or Jourdan Dunn and Cara Delevingne) getting matching tattoos, or Angelina Jolie tattooing three more parts of her body, or James Franco tattooing Emma Watson's face somewhere on his body, and even Canadian Prime minister Justin Trudeau showing off his arm tattoo. There are "we're in love" tattoos and there are the breakup ones. There are even very popular reality shows that follow the lives of tattoo artists and unbelievably popular Instagram pages dedicated to tattooing with millions of followers.
Tattooing is always in. It is a beautiful way to express yourself, to make your body a piece of art or, lately, a great way to enhance your facial features. Facial makeup tattooing has made a very strong comeback.
So, what this means for you, a tattooing salon owner, is that you really won't have to advertise much; if you provide good service, you won't have a problem with customer flow. And that is why this blog won't be about the importance of properly marketing your business, as we strongly feel that marketing and advertising for this trend are already covered by every news and entertainment outlet in the world. Instead, we will focus on the tattooing equipment, tools, and supplies.

A Few Things to Know
Remember to check your state laws. Legal statuses of tattooing differ from state to state. For a professional tattoo business, proper certification is a must. And since requirements are different everywhere, it is always important to check your certification, especially if you relocate. There are even some state laws that require you to go through CPR, first aid, and professional training on all of the bloodborne pathogens. Of course, at some point you will be dealing with the health department, so your affairs should be in order and, it goes without saying, you should work as the health inspector is checking your business every single day.

Hire talented artists. Or, if you are thinking of working on your own, enroll in a tattoo artist programs. They are time-consuming (range anywhere from 12 to 24 months) and are quite costly but are well worth the time and money. This kind of education provides you with all necessary tools to successfully run your business, ensure you are properly educated and trained, and give you the chance to practice, which is crucial in this business.


Follow the trends. Yes, tattooing is an art and we might like to think that art is always relevant and eternal. But we promise staying on top of things and constantly updating your portfolio and offering your customers "tattoos of the day" will bring up profits.

Offer versatility. Any tattoo salon should also offer piercing services. They go hand-in-hand so there is no need to lose business. Take a course on body piercing and drive your profits up. And, we cannot stress this enough, permanent makeup tattooing is back in a big way. This is the artistry to learn and to offer in your salon. This is something that can literally be offered to every single person. It is a fantastic way to dramatically and instantly grow your business. Become a pro in eyebrow microblading, take a course on scalp micropigmentation, and learn lip tint or lash enhancement tattooing.

What Equipment Do You Need to Start Tattooing?
A tattoo machine and a tattoo chair are the two most important pieces of equipment, and you need to research and pay extra attention when shopping for them. This is the equipment that will build your business. We are not including autoclaves in this very important list of two, as we will touch on how to sterilize tattoo equipment separately.

The Tattoo Machine (Gun)
There are literally a thousand choices available, and, of course, you have to get informed and choose the right one for you. You don't have to understand all the engineering innovations, but you have to always remember: a good machine equals good work and a bad machine equals horrific results. Carefully look at the brands and models. Weigh all your options when deciding between a coil and rotary machine – those are the two most common options. They both are great pieces of equipment; just learn their pros and cons and make an informed decision.

The rotary machine is very quiet, much more gentle than coil, and is less damaging to the skin. It is very easy to use even for a beginner. The machine provides a sufficient filling and smooth consistent needle movement. But, with this machine, it is much harder to achieve proper shading, and the lines are more difficult to make. Thus, as the needle moves very fast, you can easily get those "stitched" lines that all tattoo artists despise and dread.
If you go with the coil machine, you are sure to have better tattoo shading and much smoother lines. It works way better with large needles. With coil machines, you have much greater control and they are much easily modified. However, note that they are definitely not the quiet type and you have to be relatively advanced to be able to work with one.
So, assess your or your tattoo artist's skill level, think of your customers' needs, research machine companies, pick one with a reputable name that works for you, and you'll have yourself a great piece of tattooing equipment.

The Chair
In the tattooing business, as with anything else in the beauty industry, commitment and persistence matter. Here's an example: Mathew Whelan, a British gentleman, has spent altogether 300 hours and a cool 27,000 thousand dollars on tattooing 80% on his body. Just think about that. Yes, it is an extreme example, but you will have a lot of clients that would literally spend days in your chair paying you tons of money. So, invest in a great chair. This is also something in the line of "make it or break it" kind of things. Plus, a good chair for tattooing is a must for the artist as well. There is no way anyone can deliver results with back and neck problems that are inevitable if you are deprived of quality equipment that is easily adjustable and is designed to fit your needs.

Modern chair models are everything and more. New generation chairs have memory foam, are covered with fantastic silky leather that is pleasant to touch, and is also very easy to clean and disinfect. The seats in all of these new tattooing chairs are all orthopedic.
They are not intrusive and are usually compact. Most of these new electric chairs are made with your client and your comfort in mind. With the new motors, you can regulate the height, recline, and footrest without bringing any discomfort to your customer. The movements are very settled and quiet.
All the new chair models have a large soft hole for the face, which brings much comfort as you are tattooing a client's back; a soft backrest pillow may also be included or sold separately.
There are a lot of benefits that come with this one very important investment. Invest in a great chair, respect your own health, the health of your employees, and commit to providing the best level of comfort to your clients.


Basic supply and instrument list:
Sterilization Equipment list and basic first aid and medical supplies list
Autoclave Tattoo Sterilizer
Autoclave trays and cassettes for the instruments
A disinfecting liquid for surface sterilization
Sterile ointment
Cover sheets (plastic) for the chair and headrest
Cover for the machine
A special container for waste disposal
Trays to hold and store needles
Tubes and tips cleaning set
Latex gloves
Vaseline
The most important chemical to have in a place where there is a chance of blood contamination is an effective disinfectant, and you need to find one that is specially made for proper disinfection. The best disinfectant solutions are expensive, but this is not where you should try to save money. Safety first, savings later. As a rule, you should be covering your surfaces in plastic when tattooing, then removing and disposing of the plastic and disinfecting your surfaces.
Purchase all of the necessary soaps, effective cleaning solutions, and alcohols for proper preparation and clean-up.
You must always carry enough bandages and hospital tape to cover a fresh tattoo. Have some numbing creams available for those with very sensitive skin.
Instruments you might need are:
Disposable razors
Tongue depressors
Very sharp medical scissors
Needles and all the accompanying supplies
Tweezers


The Necessary Tattoo Salon Furniture
Hydraulic chair for the artist

A tattoo artist works long hours, and a comfortable chair makes everything better. There are hydraulic chairs designed especially for such professionals. Invest in a great chair; you can find ones with proper back support, comfortable as well as beautifully designed. These beautiful swivel chairs allow you to easily move and adjust the height with just one touch.
Organization trolley
There are a lot of instruments, bottle inks, and sterilizing substances involved in the tattooing. Buy a good trolley so you can properly organize your work. It is necessary to have everything you might need at hand because customers don't really feel safe when tattoo artists spend a lot of time looking for things, leaving the room, or trying to find something in the salon. The procedure needs to be sterile and trolleys are specifically made to help you with that.
Magnifying lamp with lights
Magnifying lamp with lights is a staple. It provides amazing magnification for greater work, especially with a very detailed tattoo or something like microblading. The new generation of magnifiers provides exceptional shadowless lighting that is crucial for a large part of artists' work.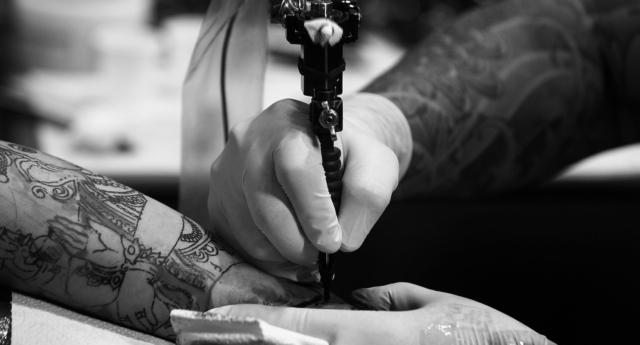 How To Clean And Sterilize Tattoo Equipment
Your commitment to providing 100% safe tattooing treatments is the most important part of it all. There are no compromises; there is only your unquestionable commitment to safety. Period. It could mean a matter of life and death and should be treated accordingly. There is a lot your clients are afraid of: HIV, hepatitis, or staph infections; just don't give them any reasons to worry.
Customers say that any relaxing and exciting moment during a tattooing treatment can immediately turn into a beauty nightmare if there is even a feeling of a neglect in safety precautions.
Contaminated instruments are actually the number one cause of the beauty salon infections. Inform your clients that they must use the autoclave and not just liquid sterilization. Unclutter your work space because tattooing rooms should never be cluttered, as too much clutter always attract fungus and bacteria and accumulates dirt. And make sure you dispose of any disposable tools right away.
The most important part of tattooing is instrument sterilization, and an autoclave is the most important piece of equipment in any tattoo studio. You should know by heart how to use an autoclave for tattoo equipment.
If you ask yourself a question along the lines of: "how can I sterilize tattoo equipment at home without an autoclave?" there is no way you can provide good service to your clients, and you should stop and re-evaluate your priorities.
Your goal is 100% sterilization on all equipment. You need to invest in a great autoclave because it is the only way your clients will be 100% protected from potentially terminal diseases.
Autoclaves use heated steam and pressure to complete the destruction of all microbes, including spores, which are at times impossible to destroy. Absolute sterility can be declared only with very high temperatures. The sterilization procedure itself is rather simple: you need to put in the instruments and tattoo machine parts that need to be sterilized, like handpieces, into the autoclave and turn it on. Steam will then fill the autoclave while pressure and temperature rise at the same time. An autoclave is designed to steadily maintain hot temperatures for a specific amount of time. Since there are a lot of spores and germs that are resistant to high temperatures, high pressure is used in combination with high temperatures and time to achieve 100% elimination of all fungi, viruses, bacteria and spores.