With all the stress of everyday life, it is absolutely crucial that we treat ourselves to a massage once in a while. Massage therapy has always been one of the most popular treatments and it is understandable why – it is a relaxing and highly pleasurable treatment with numerous health benefits: physical and psychological. Massages are used to treat after-workout soreness, are linked to pain reduction, increase blood flow, provide lymphatic drainage, and stimulate the immune system. There are a lot of researches that show massage therapy is effective in fighting depression; there was also another research study showing a significant drop in stress hormones and a boost in serotonin and dopamine, the so-called feel-good hormones, after a massage. People just love a good massage and are ready to pay for it! Now let's talk about how you or your salon/spa can be better equipped so you can profit from this all-consuming love for massage therapy.
Did you know that there are spas and resorts famous worldwide just for their massages? The massage experience they offer has put them on the map. For example, there is the famous luxury Nâga Massage in the amazing Miraval Resort in Arizona that has earned international acclaim. The reviews for this $300 massage, or rather holistic treatment, are high and people are crazy about it. It is an almost theatrical performance where the customer is a star. A masseuse uses her feet to massage the body's muscles as she hangs on a silk cloth suspended from the ceiling. Another five-star review massage worth mentioning is the $130 Native Desert Sage Massage in the Palm Springs Riviera SpaTerre. People rave about the utter relaxation of this amazing body treatment with the use of locally grown desert sage massage oil applied after an exfoliating rubdown. And then there is the Maui Spa Grande Rainbow Rain Massage and the famous Watsu Massage in the Bellagio Vegas. The list goes on and on.
A great massage can put your spa on the map! But, first things first, let's start with what a massage therapist need to start this journey to fame and profit. We will learn all about the equipment, tools, and different supplies professional massage therapists might need, will start with a very important question: what is a perfect massage from a customer's point of view and what steps you can take to make the therapy better?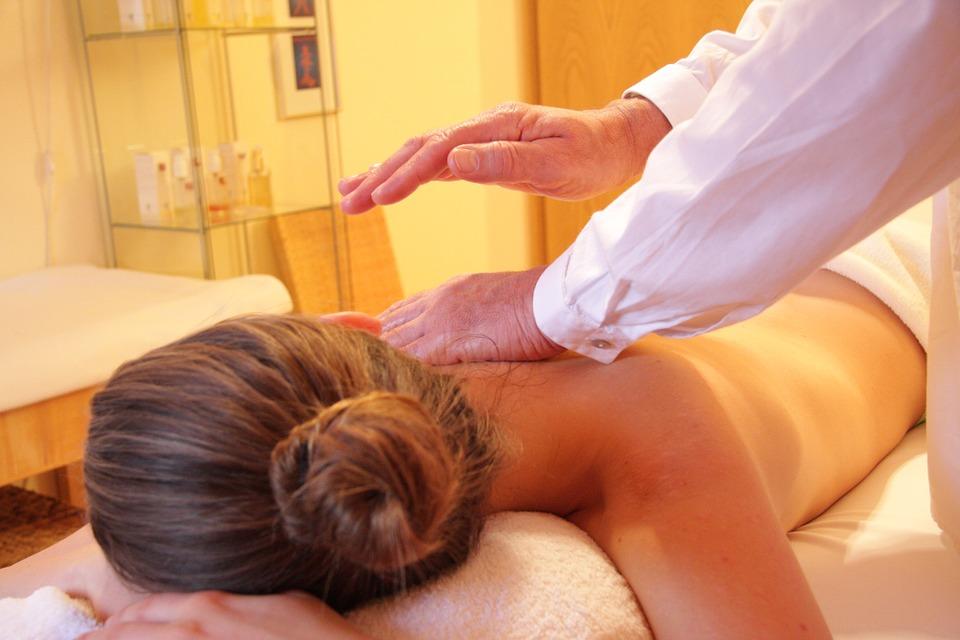 A Perfect Massage from a Customer's Perspective
We've already established that people are able and willing to pay vast amounts of money for a special one-of-a-kind massage experience. But, what about a good old spa professional or a masseuse with a folding massage table? Actually, the same applies. If you are able to provide good service, you won't have any problems with customer flow.
The national average for a standard relaxing massage is approximately $60 per hour. Of course, this number significantly changes from state to state or even within one city. We doubt it that you'll be able to find a masseuse for sixty dollars in midtown Manhattan, so, if you're a spa owner – check the average pricing in your region, and if you are a masseuse-on-the-go – check local listings to know what you should be charging. People do appreciate a discount rate for monthly visits and if you are just starting, we encourage you to try different rates and package deals to attract new clients and get return visits.

So, what do people expect? Note, that we are not talking about massage benefits – that is a given. If you are a trained licensed masseuse you should be able to provide a good effective massage. It goes without saying that knowledgeable masseuse is appreciated, the more techniques and practices you know, the more post-graduate courses you attend the more successful you will be.
People expect a relaxing and calming experience. And this is impossible to achieve without a good massage chair or table. Invest in great, comfortable equipment! A fairly large percentage of your success will directly depend on the quality of your professional equipment. There are ways to save money when you are starting your business by cutting down on certain equipment; this is not one of them.
As for the experience, when asked to describe a relaxing massage, people emphasized on a clean and welcoming room, quiet pleasant music, use of aromatherapy oils, clean sheets, towels, and water at hand. People don't like to be rushed, so give people time to process the luxurious calming massage. The environment in which you offer your massage services is as important as the massage itself. People come to you to get pampered, so pamper them.
Write a sample confirmation letter for every appointment. Include tips and suggestions to make the massage more pleasurable, list total and local contraindications, list the medical conditions that should be disclosed to you, and ask clients to report any allergies. There are some medical conditions that absolutely prohibit getting a massage, so respect each other's time and inform your clients so that you won't have to cancel the appointment when the person is already laying on your massage table. We have put together a list of contraindications for you:
Total Contraindications
Cold, high fever
Any contagious phase of a disease
Any skin disease
Neuritis
Recent operation
Acute injuries
People under drug or alcohol influence should never come in for a massage.
You should ask for a doctor's note clearing the client for a massage if they have heart problems, any type of cancer, skin conditions (psoriasis, eczema), thrombosis, Epilepsy, a nervous system disease, diabetes, or osteoporosis.
Local Contraindications include:
Undiagnosed lumps or bumps
Pregnancy
Varicose veins
Cuts and bruising
Sunburned skin
Undiagnosed pain
Any skin or body inflammation
With local contraindications, you can still make an appointment; just avoid the injured areas.

Here's a few more tips to get a client for life: be attentive and sensitive; for example, if your client prefers wearing a t-shirt and you know for sure that the treatment is better done on naked skin, you can do it your way and lose a client for sure, or just politely explain that the treatment might be a bit less effective and proceed.
Explain your techniques to clients. This is a calming, relaxing experience, so the fewer surprises the better.
Ask for feedback. Have a short conversation after the massage by asking how it went, how it made them feel, and if they liked some techniques more than others.
People love gifts. This is a fact. Give a long-time client a free massage, offer some discounts for couples or families, or include a free skin steaming or aromatherapy during a massage.
What Equipment, Tools, and Massage Supplies Does a Massage Therapist Need?
Massage therapy is one of the few professions where more professionals are self-employed. But within this profession, it doesn't matter if you are a masseuse in a salon or spa or if you are a self-employed licensed professional, because the list of needed equipment and additional supplies doesn't change either way. Well, except for the table; you either need stationary or mobile. That being said, let's start our list with one of the most important things, the crème de la crème:
This is the most important piece of equipment for a massage therapist, so it deserves a lot of your attention. Of course, we have come a very long way from a simple folding massage tables; today's folding tables look amazing and are equipped with a line of different options. When you are choosing your table, first and foremost, find a table that'll fit your needs. If you are providing massage sessions in your apartment or an office, you can invest in a large folding table, but if you are constantly on the move and changing locations, look for a smaller and lighter table, and make sure you buy a table with rubber plugs on the legs to protect your client's wooden floors. The chair should fold easily and become ready to be transported within a few minutes.
All of the new generation massage tables and chairs are soft and very comfortable. Most tables are cushioned with special foam that echoes the customer's body and provides substantial support, making the whole experience extremely comfortable. All of the chairs are easily adjustable, which is very important for the masseuse. When you physically work by standing over a massage table, it is crucial to have the correct height. If a table is too high, there is no way you will be able to properly massage your client and apply pressure when needed, and if it is too low, that is just a one way street to serious back and neck problems.
There are so many chairs to choose from nowadays, so we are pretty sure there is a massage table to fit your wildest dreams. There are adjustable tables, chiropractic massage tables, folding tables, and tables with chairs made specifically for the home: both light ones and heavy ones, the amazing water massage table and the top-of-the-line electric tables. If you are lucky enough to be picking out one of those, the possibilities and benefits for you and your patients are endless.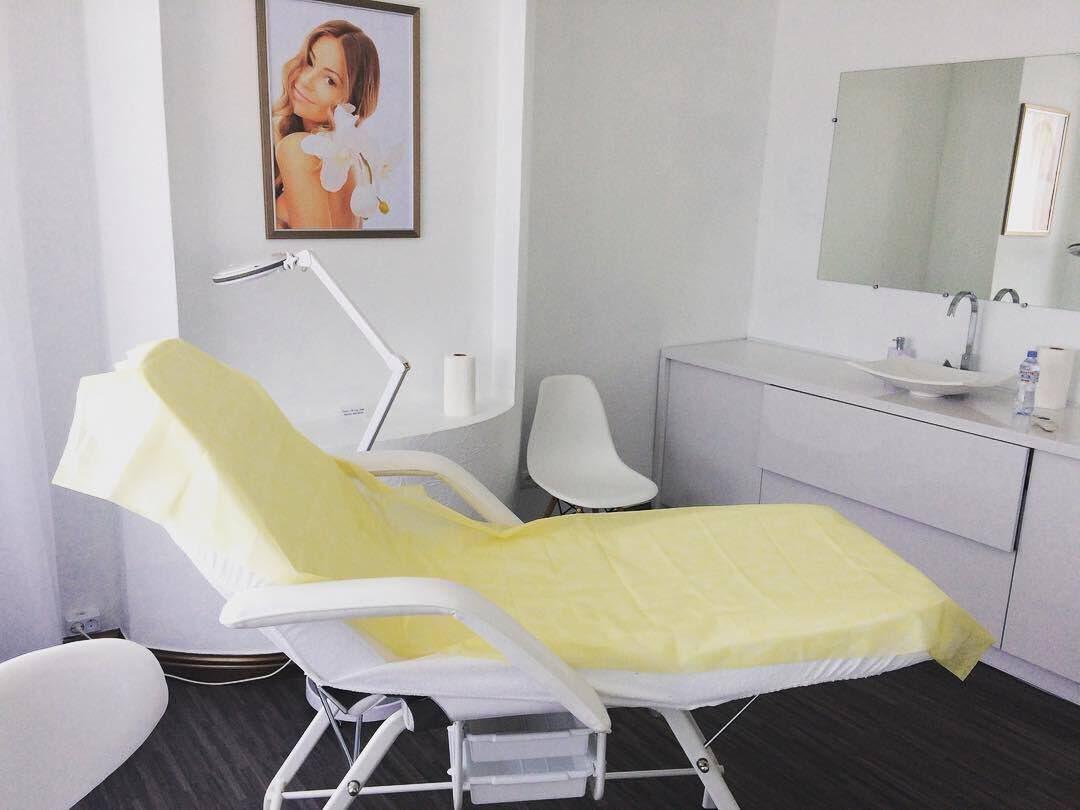 Here what you should look for within a few categories:
Electric massage chairs and tables usually offer an allure of expensive furniture. The newest designs are truly elegant; they are fully motorized and easily adjustable with the push of a button or pedal. The adjustment is also smooth and quiet so as not to disturb the client during the treatment. You can easily control the height and the headrest, plus almost all of the electric chairs and tables have central module adjustments and movements. The designs are very advanced, modern, unique, and versatile. Most of the models can be equipped with additional massage accessories like face cradles or headrests and pads or mats.

Check out:
Multi-Comfort Electric Chair by Equipro
Venetian Face & Body Spa Table by Touch America
Electric Massage and Facial Bed Crown by Velour Spa
Folding massage tables are usually extremely easy to set up and fold, as you can assemble and secure the legs with a lock. The new generation of Folding tables have reinforced corners and are very sturdy and stable due to the much wider leg base. The covers are soft, easy to clean and disinfect; stain resistant materials are used. Manufacturers offer great lines of colors and materials. Look for tables with comfortable carrying cases. Nowadays, you can find amazing tables with all accessories and beautiful designs, like wooden bases and legs that add a lot of class to the experience.
Check out:
Portable Massage Bed with Carrying Case in Black WB-006
Deluxe Portable Massage Table in White by Win Style H-3729W
Alva Portable Massage Bed Chair
Usually, modern tables and chairs for massage come with a comfortable face cradle headrest. If not, you can buy adjustable headrests to make your clients more comfortable. You can also look for neck bolsters and arm and foot rests. You can also buy flat wet sheets, paper roll table covers, floor paper holders, and a lot of other cool things. You can start with the essentials and grow as you go forward.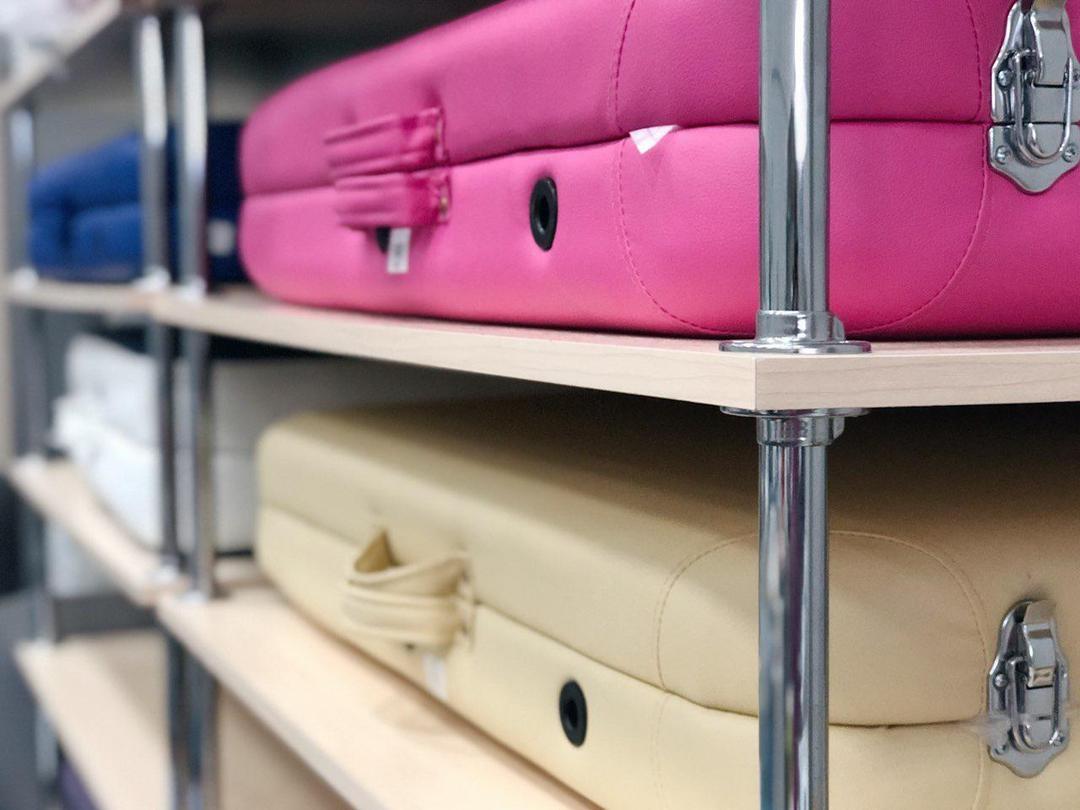 Massage Oils, Essential Oil Blends, Aromatherapy Oils, Lotions, and Creams
Oils and lotions are crucial for a good massage. You will for sure need a lot of creams and lotions for your massage therapy business. It is always smart to research the most popular ones, have a few rarely requested, and purchase a few organic and hypoallergenic oils. Nowadays, you can buy massage creams with vitamins and minerals. We carry a fantastic line of creams with the coenzyme Q10, which energizes and oxygenates as well as boosts collagen production, which effectively prevents the skin aging process. These creams effectively hydrate the skin, improve elasticity, and increase firmness. This cream protects cells from the destructive effects of free radicals, leaving skin relaxed with increased circulation. Great creams and oils will make the experience much more enjoyable for your customers and a lot easier on your hands.
Towels
Some massage tables include storage units for oils and the clean towels. If not, invest in a carrier with a towel heater; and if you work in a salon, there are great inexpensive UV towel heaters and sterilization units you can buy for this purpose. In this profession, you will use a lot of towels, so it'll be helpful to invest in a towel heater that kills bacteria and warms towels in 20 minutes or less.
Equipment and Supplies for Different Massage Techniques
There are a lot of different techniques you can offer your clients, and we urge you to add more choices and massage options for your clients to try over time. You can invest in stones and heating devices for hot stone massages, a hydrokinetic Vichy Shower for hydrotherapy, foot warmers, foot baths, fantastic digital pulse massagers for treating neck, paraffin treatment products, supplies for hot and cold massages, and much more.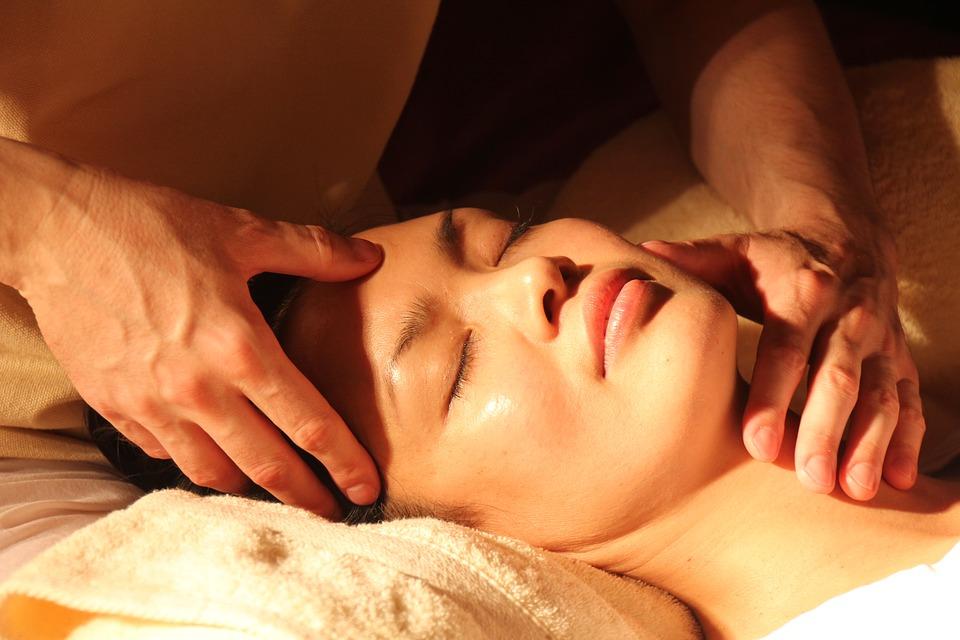 Equipment and Supplies for Relaxing Experience
A great relaxing massage is a full experience. People appreciate quiet, gentle calming melodies that quickly put them at ease. Soothing music that you can play on your phone is a very inexpensive but necessary purchase. And scented candles set the mood perfectly since lit candles help provide a sensory experience for your clients. Music and candles will help you instantly transform any room into an amazing spa.

We hope we've managed to answer the question "what equipment do you need to be a massage therapist?" And if you are now asking yourself where can you buy massage equipment, we are also here to help! Please check out the vast amazing lines of massage therapy equipment on our website, or just come by our showroom and we will help you design your future!