Proper care routine for the skin is one of those make it or break it kind of things. Confidence high that we all get from a younger-looking flawless skin is exactly why skincare products make for a multi-billion dollar industry. Though, sorry to say, a large portion of that money go to waste as people tend to react to a great marketing ad, a beauty campaign, or just take someone's advice and, of course, are often dismissive of the type of their skin, environment, their age, skin condition, etc. Impulse shopping on the Net or walking into a drugstore or a beauty shop to buy products for skin care without knowing the ins and outs of the products, not to mention knowing next to nothing about the needs of their skin is, undoubtedly, pretty much the worst way to approach skincare. Uninformed decisions in this particular case are what'll surely sabotage the skin: wrong products can dry out the skin, bring out execs oil, clog the pores, promote breakouts and even accelerate skin aging process. Now, without further ado, let's look at common mistakes of a bad daily skin care routine and find ways to avoid them.
The Biggest Mistake: Bad Scrubbing Routine
As it turns out over-exfoliating the skin is one of those problems dermatologists have been warning against for a while now. At the very least, people should pay attention to the way their skin reacts after exfoliation. For some people, it's better to just splash some water on their faces every night and call it a day then to give them a jar of exfoliating cream. Honestly, too much of a good thing is a bad thing. The goal of skin exfoliation is to remove dead skin cells and keep those pores unclogged in-between visits to the beauty salon for a steaming, microdermabrasion or an ultrasonic scrubber cleansing. Dermatologist insists that exfoliating should be done twice a week, and, even then, without proper consultation with a beautician, people experience redness, itchiness, unpleasant tightness, irritation, breakouts, and even inflammation. Too much exfoliation strips skin of moisture, dehydrates it thus accelerating the aging process and making lines and wrinkles more visible. Nowadays, over-exfoliation is a huge headache for a lot of skin care professionals and on our list, it is a Mistake #1.
We strongly recommend a consultation with a beautician before adding any kind of exfoliation products to the scrubbing routine. There are numerous terrific options available out there, people just need to know (and not guess)which one won't sabotage their skin.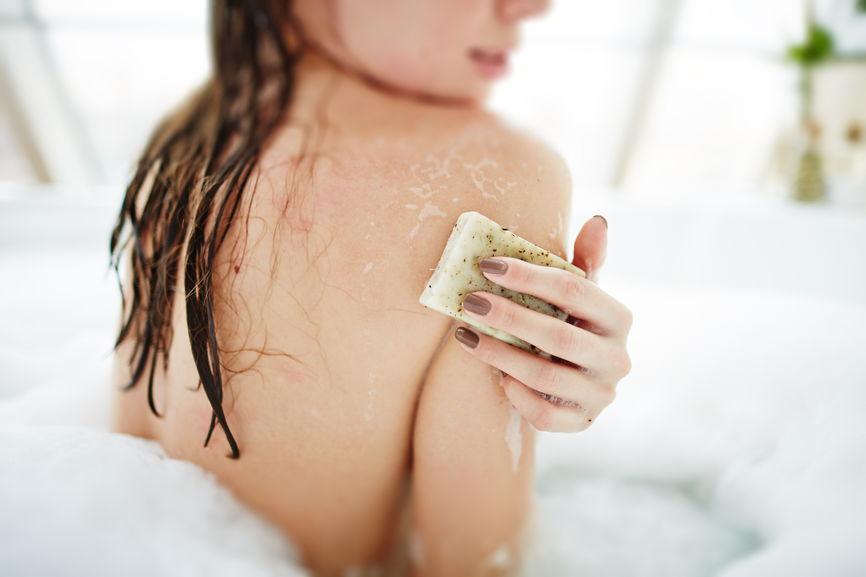 Don't Follow These Latest Beauty Tips!
Mistake #2 is reading beauty tips for women or men online without proper consultation with a beautician. That is unacceptable. There are so many ways to get great professional advice these days that it is mind boggling why someone would decide against seeking professional advice. If you aren't a fan of beauty salons, there are literally hundreds of beauticians working from home in your area, professionals who know how to start a skincare line from home and can advise you every single product you use on your skin. Nowadays, there are even home DNA skincare kits available online. The kit includes instructions on how to properly collect your DNA sample and send it in for analysis. In the end, people are promised professional personalized recommendations for skin care, and recommendation for the ingredients based on their genes to use in their daily skin care routine. In any case, always seek professional advice about your skin!
Another thing that ambushes the skin and Mistake #3 on our list is the horrible advice to skip moisturizer for those with oily skin. Truly backward advise as if the skin is dehydrated it actually produces a lot of excess oil to compensate for the lack of moisture! So, depriving the skin of proper care that includes a very necessary moisturizer actually makes the skin even more oily and shiny, thus clogging pores and rolling out the red carpet for blackheads and acne-prone skin. To keep that oil production in check – moisturize regularly.
Mistake #4 is also up there with the worst of them: a product with an active ingredient are all that is needed. Please note that every mistake inevitably brings us back to that absolutely necessary beautician consultation. Now, any professional would tell you that Retinol, Vitamin C and D, Hyaluronic Acid proudly mentioned on a product in a fairly large font are great, though, it's important to bear in mind that more often than not the labels are misleading. No, they probably do contain the active ingredient mentioned, though usually, the concentration is so insufficient that it shouldn't have been mentioned at all. Talk to a professional in skin care and ask what amount of active ingredients should be in the formula to achieve a wanted result.
Our final Mistake or Mistakes on the list, the #5, are the "natural beauty tips". Using lemons for skin brightening, tea-bags to rid of eye puffiness, melting sugar to rid of facial hair and many more tips are all gathered in the Big Book of Very Bad Ideas. To examine just these three mentioned: lemon acid can severely damage and dry out sensitive skin, the chemicals in the tea-bags are a bad idea for the very sensitive skin around eyes and there have been numerous reports of people badly burning themselves with melted hot sugar. These are all very inappropriate tips for skin care and should be ignored.
Skincare At Home: Beauty Tips and Tricks
Now, there are a lot of professional tips and tricks for proper skin care at home (underline "professional" twice). You can find great guidance for aging skin, skincare for dry skin at home, the home care for oily skin, skincare for women and skincare for men at home. You can find anything you need. Here are a few great ones from the best beauticians in the biz that we can get behind:
Multi-masking is great for the skin. After exfoliation, the skin is often stripped of oils and a protective layer that is often formed out of dead skin cells. Use a mask to clean the pores and then use another one to rehydrate and replenish the skin.
Have a table-top steamer in the house. It is one of the best skincare tools ever. Steaming cleans and clears the skin, making it instantly rehydrated, looking polished and glowing. Regular steaming is an amazing way to keep the pores clear and skin properly hydrated. Steaming plumps up the skin, so void of volume will also disappear from that list of skin problems with a good old regular steaming.
The most important tip:religious skin care routine is the key to healthy, younger-looking skin. Stick to it!