Modern cosmetology develops rapidly. Nowadays, beauty salons don't cease to surprise their customers with a great number of face care procedures. In addition to the huge and diverse choice, innovations in spa sphere provide great visual results in a short time and help people get rid or minimize skin issues.
LED Light Therapy is one of the most interesting novelties allowing beauticians to solve many aesthetic problems. Furthermore, there is a great opportunity to select the LED treatment personally for a client in accordance with a patient's problem. For instance, it may be a rejuvenation, bringing the skin into tone, getting rid of acne and post-acne, or just fighting with a stressful influence of environmental factors. In addition, it is scientifically proven this method of skin care is absolutely safe because it excludes tissue warming and harmful UV exposure. Light therapy visibly revives tired and dull skin after a short session (15-20 min). The prolonged results become visible after the whole course. For this reason, this treatment has been used in cosmetology for more than ten years.
Some time ago, LED technology was considered an auxiliary treatment of pain syndrome and used for wound healing. But later, it was scientifically proved that infrared LED light therapy possesses wonderful properties and its influence on human organism is really amazing. With a professional led light therapy machine, it becomes possible to suspend the aging process of the skin, control visible aging signs, and help people look years younger without surgery. Moreover, such skin problems, such as tightness, wrinkles, lines, rough spots, and redness can be significantly reduced.
So, let's find out what the LED-treatment method is, whether it really works, its pros and cons, and who it helps to preserve beauty and skin freshness.
How does it work?
Just as plants absorb and transform sunlight into energy at the cellular level, human skin absorbs therapeutic light as a source of energy. All this is necessary to stimulate cell regeneration, mobilizing skin for collagen and elastin production. Thus, the regeneration of new tissues is sped up, and healing processes are optimized. Besides, a light emitting diode increases the production of nitric oxide in the treatment areas and improves blood circulation there. Furthermore, such kind of therapy influences the mitochondria in the skin cells, an organelle that provides the cell with energy-producing adenosine triphosphate. While penetrating through the tissue, light particles (photons) stimulate mitochondria in the epidermis to produce more ATF acid. This, in turn, improves local metabolism with all the ensuing favorable benefits.
The LED therapy procedure takes between 20-30 minutes to complete, and there is minimum discomfort throughout the experience. This is enough time for the remedy (hydrogel mask or serum) to improve skin color, make skin tighter, reduce wrinkles. To get optimal results, a patient needs to have no less than 8 sessions in intervals of 2 times per week. During treatment, the device is placed a few inches from the treated area and affects pre-cleansed skin. Session duration, intensity, and color of light depend on an owner's protocol and desired results.
The main reason why LED light therapy is so effective and can complete a wide range of functions is because it uses different lengths of light waves. In other words, it has different colors. Moreover, the choice of color is of decisive importance in skin treatment. Let's consider them in more detail.
Red Light
A wavelength of this sort of light is from 620 nm to 700 nm. The color changes from a light to deep, dark tone. An LED facial machine with red light is predominately used to get rid of rosacea and redness which appears on sensitive skin with weak or broken capillaries. Furthermore, the procedure helps the derma to keep moisture better, the main advantage of red therapy is its anti-aging effect. The light stream penetrates deeply and stimulates collagen and elastin production. Fine wrinkles are smoothed and the density of the tissue increases. As a result, skin becomes strengthened and looks fresh. In addition, if clients suffer from inflammations, blemishes, or sun damage, this is definitely an excellent way to treat and improve the skin tone.
There is also an infrared light with a wavelength between 700 nm and 1,400 nm. It is closely connected with red waves and has the same characteristics, however, it has unique features. The infrared light is invisible to the naked eye and able to penetrate deeply into the skin. Thus it promotes healing of the deepest wounds and relieves muscular and joint pain.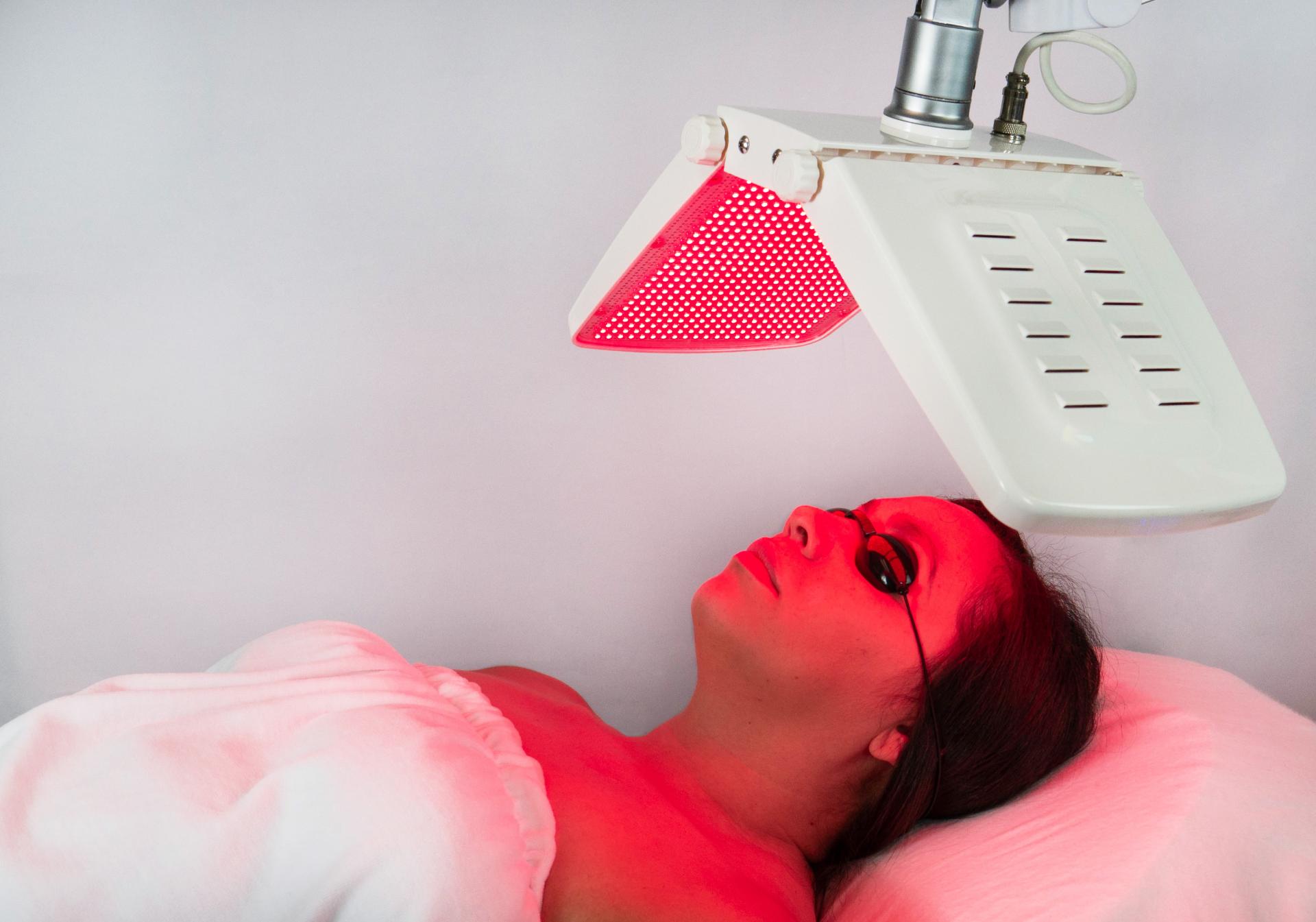 Blue Light
Blue light therapy is often used to treat acne. The light between 405 nm and 420 nm is appreciated for its antibacterial effects. Such length allows rays to penetrate into the derma where they are absorbed by porphyrin molecules. These particles are mostly contained in acne-causing bacteria. As a result of blue light and porphyrin interaction, singlet oxygen appears, easily gets into the bacteria, and kills it. The procedure renews the skin and heals wounds, preventing the appearance of scars.
Together with red light therapy, the blue rays provide anti-inflammatory relief.
Amber and Green Lights
Amber and green lights are famous for their restorative action. They help flush waste from the skin, improve lymphatic flow, and stimulate the growth of cells. Having the length of between 570 nm and 620 nm, these waves are hardly used separately. They effectively interact with red and blue lights, and perform a function of skin "resurfacing". This means that after a treatment, the face becomes softer and smoother. In combination with a light chemical peel, the amber and green lights can help get rid of dark spots.
This light therapy is perfect for sensitive skin due to its calming effect.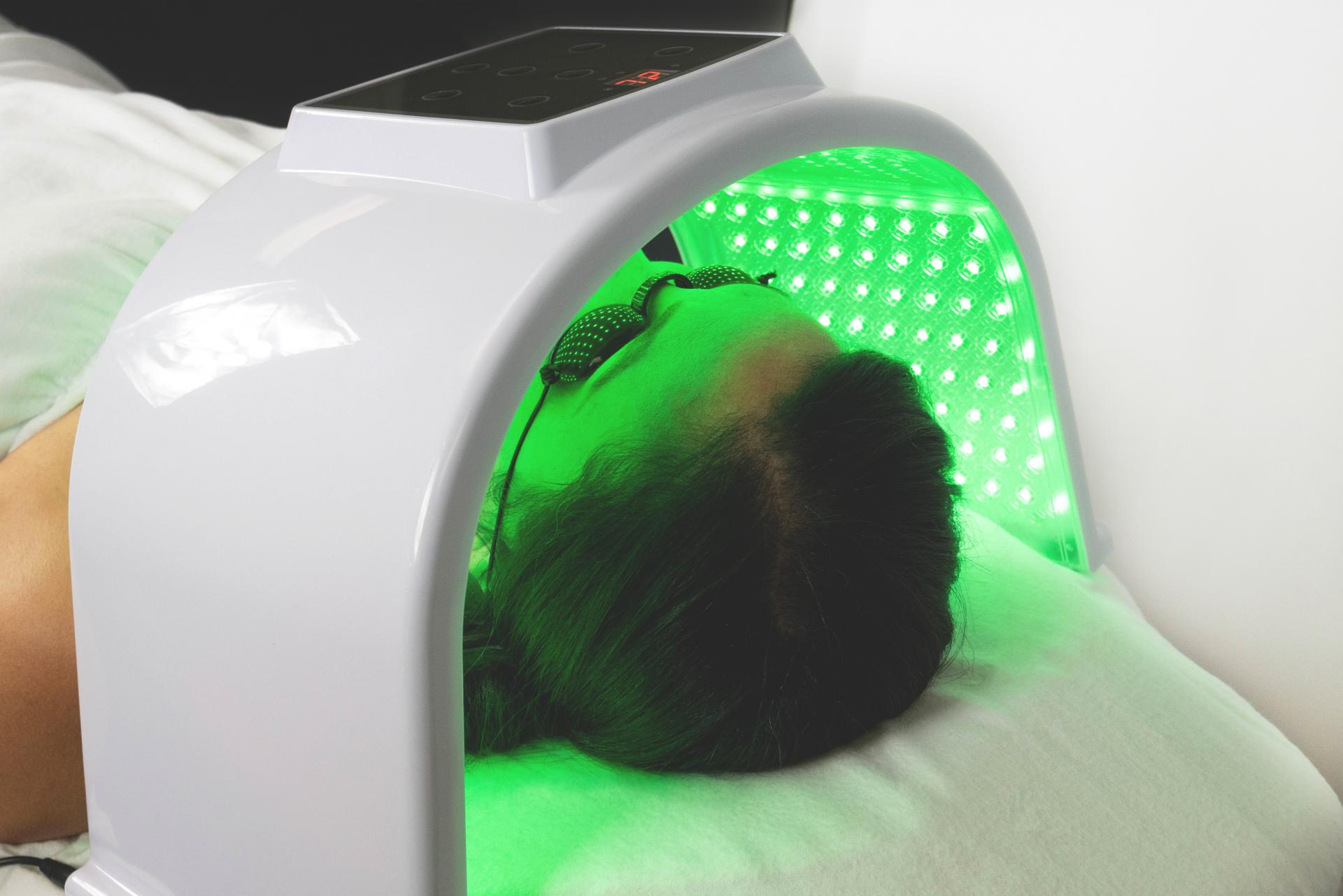 White Light
This kind of LED therapy is often called "anti-stress light". It is considered that the white waves are particularly useful for the treatment of low moods, but, they also have a relaxing and calming effect on the human body during any cosmetic procedure.
Indications for LED Light Therapy
LED-therapy sessions help to reduce the inflammatory process, normalize metabolism in the skin, improve blood circulation, and enhance local immunity. Furthermore, due to such treatment cosmetologists manage to reduce either the Propionibacterium reproduction on the skin or microorganisms, which take place in the acne disease development.
To sum up, Professional Led Light Therapy Equipment is widely used for:
preventing visible aging
fighting wrinkles
treating acne (from the light to the moderate stage)
reducing the severity of pain from injuries and diseases of the joints
healing damages to the skin
eliminating redness and inflammation
caring for skin after strong procedures like microdermabrasion, peels, and laser therapy
relaxing and reducing stress: the heat from the light-emitting diode has a relaxing effect.
And the color chosen according to the situation helps to tune in the right way.
The benefits of using LED therapy are quite obvious: it gives the skin a natural glow, promotes more active absorption of serums and creams, and enhances the effect of other cosmetic procedures.
Contraindications for LED Light Therapy
Over 200 medical and university research in the LED therapy sphere have confirmed that there is no risk of developing negative side effects. This procedure is absolutely painless, and a patient can feel warmth surround the treated area during the process.
However, there are some contraindications for using an LED Light Therapy machine:
Increased thyroid function
Malignant neoplasms
Active form of tuberculosis
Violation of pigment metabolism (porphyria)
Taking medicine which increases sensitivity to light
Cardiovascular diseases
Epilepsy
Autoimmune skin diseases
Pregnancy
Heart pacemaker.
For the complete safety of the clients, it is important to use patented technologies that have been tested.
Special machines in LED Therapy
Nowadays, leading global producers of equipment for the beauty industry project and manufacture a variety of LED light therapy machines. Multifunctional high-tech products are designed for professional use mostly in beauty salons, facial rooms, etc. However, in our online store, customers can buy more compact and simple in-home devices which can solve minor problems on small skin areas. Among different light therapy solutions in the market, we advise our clients to be precise on what to choose to work with. For this reason, we'd like to guide customers through the decision-making process by giving them some information about the most popular devices these days.
For professional work in a beauty salon or facial room, it is better to choose a multifunctional system because they perform duties more effectively. Depending on the model, an appliance can accomplish different tasks, like LED light therapy, radiofrequency energy treatment, ultrasound cavitation, etc. Light therapy can provide either treatment or preventive influences on the human body. Thanks to a wide range of light emitting diode colors (wavelengths), the procedure can improve the structure and texture of skin, and slow the aging process. Furthermore, multifunctional machines are designed both for face and body. They are safe and easy to use, non-invasive, and effective. On our website, everybody can get acquainted with devices of well-known brands like Zemits, Korea Beauty, and more.
If you are looking for a remedy to create clear flawless skin, and reducing aging signs, an LED Light Therapy machine is the perfect solution. The unit will not only help treat the face and neck, but also the entire body. It's no a secret that collagen is a vital ingredient for healthy-looking skin. The device works by stimulating collagen production, and as a result, treated skin adopts a smooth and clear appearance. In addition, it helps reduce scars, marks, and age spots.
Those who want to experience spa-like facial results without leaving their homes will definitely be pleased to work with the LED light machine for face with its compact design. This little device allows clients to look always younger since its activity is mainly aimed at preventing age-related changes, fighting against fine lines, reduction of acne symptoms. The principle of operation is quite simple. The light waves penetrate into the deep tissue layers and stimulate skin rejuvenation. It is important that a person can care for the face from anywhere by ensuring the skin remains youthful and fresh.
A special facial LED mask is designed to solve lots of cosmetic problems. With the help of nine different settings cosmetologists can get great results, for instance, anti-age prevention, the severity of wrinkles reduction, acne treatment, the balance of skin metabolism, redness elimination, skin cleansing, cell regeneration, healthy look, etc.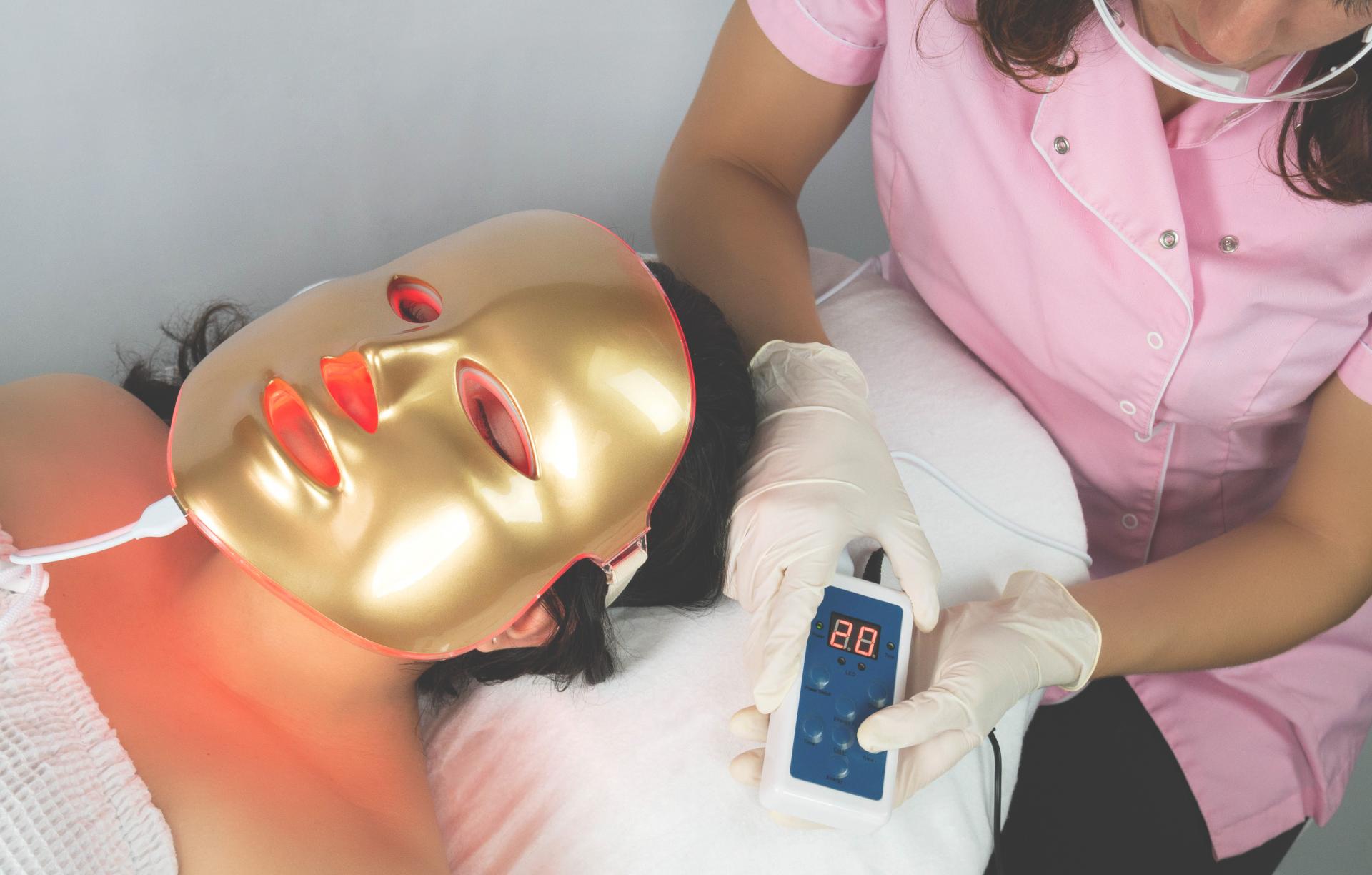 5 reasons to make a purchase in our store
Advance-Esthetic is a company with a decade of experience providing beauty salons, studios, facial rooms and individual buyers with up-to-date professional equipment. Aiming at satisfying customers' desires, we do all the best:
On our website, customers can get to know the largest range of the LED Light Therapy equipment and find out all the details.
Our products are of the highest quality. This is confirmed by the certificate. We work with popular brands which are known all over the world and don't need advertising.
We provide the best service to our clients. It means a person can buy goods at any time making a few clicks. If there is a problem or a client feels difficulties in making choice, our professional consultants are always ready to help.
We offer low shipping costs and fast delivery on favorable terms.
All interested in modern pieces of technology and how they work have a great opportunity to visit our training sessions.
Advance-Esthetic Сompany appreciates its customers and is happy to fulfill their desires. Our LED light equipment has different capabilities and depending on needs and preferences, every client will be able to identify one that will meet expectations.