To tell you the truth, beauty salons were rolling in profits even during the recession. Remember 2008 when all hell broke loose, the stock market crashed, and the government was bailing out huge businesses? Beauty salons were just fine. Just as they are today. Spa equipment was in demand. Just as it is today. Nowadays, with the chic modern equipment and the advanced innovations for non-invasive skin and body care treatments, beauty salons are competing on the same level as gyms and operating rooms, which is pretty unbelievable, right? Very true, but hard to believe.

But we digress... We've begun with telling you that opening a salon is always a great idea.
The yearly spa business revenues are up in the billions, and we are pretty sure that with the right approach, innovative advanced treatments, and spa machines, a lot of that money might just become yours.

Within this blog, we're not going to identify special features of every single piece of equipment but rather discuss basic equipment in general and answer the question: "What equipment do you need to start a spa salon?" We'll discuss the equipment de jour of the beauty industry and give you tips on how to maintain tools and equipment in a beauty salon.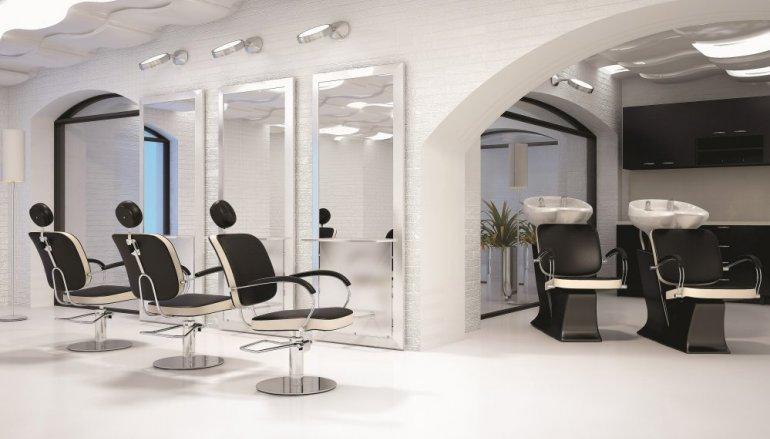 We'll structure our recommendations on the necessary equipment in the following categories:
Sterilization equipment

Spa/hair salon/tattooing salon/massage salon equipment and furniture

Esthetic machines

Chairs

Main Salon Stations

Spa Furniture

Equipment maintenance
Let's get started!


Sterilization equipment

Sterilization is truly the backbone of any good beauty salon, spa, nail place, massage parlor, hair salon, or anything, really. You can clean, scrub and disinfect with bleach and chemicals until the cows come home — but if you're looking for 100% safety assurance for your clients, an autoclave should be installed somewhere in your salon. There are a lot of different sterilizer boxes and chemicals that are created specifically and are all legally approved for salon disinfection and instrument sterilization, but the only 100% sure thing is the amazing autoclave. Using an autoclave means complete destruction of all microbial life, fungi, viruses, bacteria, and spores with the combination of very high temperatures, steam, and pressure all held steady for a period of time.
We urge you to research this subject and you will see the endless line of articles telling salon-goers to specifically avoid all beauty businesses that don't offer autoclave sterilization. So, without an autoclave, you might just start losing customers right after opening your doors. Invest in safety; it's the most important investment you can make.
There are also UV sterilizer units that are great germicidal machines and are often used for disinfecting tools and instruments. UV light effectively kills bacteria, viruses, and other pathogens.

Another piece of equipment that is definitely worth mentioning is a towel heater. New advancements have made life easy for everyone: you can load the machine and in 20 minutes, fresh sterilized towels are ready to go! These towels are used everywhere and for everything. Towel heaters are essential for spas, hair salons, or massage cabinets to run like a well-oiled machine.



Spa/Hair Salon/Tattooing Salon Equipment

The amount of work that goes into opening a new salon or spa is truly astonishing. There are a million things in need of your attention. You should properly research locations, cost, size, and layout; you need to deal with staffing issues, marketing, permits, certifications, and licenses. You have to decide on a million different things. But you need to set aside enough time to find the perfect equipment for your business, as this is what your customers will see and judge you on. The care you put into salon equipment, furniture, machines, and supplies is generally going to build your successful business.
We've prepared a short check-list of the basic equipment you might need when opening a salon. You should know your basics so you can carefully determine which services you can afford to offer. It's important to intelligently evaluate all of the equipment costs while keeping profitability in mind. For example, hydrotherapy requires a larger investment and much longer list of equipment, than, let's say, a massage salon. So, you can start a bit smaller and grow your business from there. Plus, with the new generation of multifunctional machines, you'll be able to offer a lot of different treatments to your clients for a very little investment; in just a short while, you will be able to come back to the hydrotherapy idea.
Spa + Manicure

Hair Salon

Tattoo salon

Massage salon




BASIC EQUIPMENT

Autoclave

Autoclave

Autoclave

Autoclave

UV Sanitizer

Towel heater

Towel heater

Towel heater

Towel heater

Electric facial chair

Barber chair/Styling chair

Tattoo chair

Massage chair

Massage table

Shampooing station

Massage table/Hydrotherapy table

Hydraulic chairs for beauticians

Hydraulic chair for hairstylists

Hydraulic chair for tattoo artists

Hydraulic chair for masseuse

Magnifying lamp

Magnifying lamp

Magnifying lamp

Facial steamer

Facial and body steamer

Trolley carts

Hair salon trolley carts

Trolley carts

Trolley carts




BASIC EQUIPMENT

Styling station / mounted , freestanding, or double-sided

Shelving for the products and equipment sold in your salon

Shelving for the products and equipment sold in your salon

Shelving for the products and equipment sold in your salon
And most profitable part is aesthetic services. Our list of the most popular technologies:
FACIAL EQUIPMENT
Microcurrent Facial
Oxygen Infusion
IPL Photofacial
LED Facial
Cryo Facial
Microdermabrasion
SLIMMING EQUIPMENT
LASERS

On a massive scale, you will not be able to pick all the equipment, machines, furniture, tools, supplies, materials, sterilizing substances, and so on without your head spinning. Ask a professional for help. Good customer service when looking for a partner to fully equip and furnish your salon is as essential as the quality of the equipment itself. We are sure that our equipment and salon furniture experts will be able to understand your needs and budget, estimate the available space and layout, and put together a perfect full-functioning salon for you. But if you insist on tackling the problem by yourself, just divide the selection process into small sections and try to fill it with relevant furniture and equipment section by section.


The Chairs
Chairs are very important, so large part of your funds should cover them. While purchasing a tattoo chair, barbers/styling chair, or an electric chair for facials, remember that people are going to spend long hours in those chairs. Facial steaming, ultrasound cleansing and microcurrent therapy can take up to two hours, coloring long hair with newest techniques can take up to five hours and let's not even start adding numbers on tattooing – it can take months. So, if that chair of yours is awful and painful to lounge in you are likely not seeing that customer ever again. They'll give their money to someone who cares about their comfort. The same goes for your staff. It is essential for them to have chairs that are comfortable, easily adjustable, and offer good back support.
It goes without saying – you simply won't have a business without chairs. Pay attention to the comfort, adjustability, and durability of materials. They should properly function and be very easy to clean and disinfect. Always pick chairs for your specific needs. Nowadays we have so many amazing options that address every single smallest concern and need.
Find your chair-style and stick to it while furnishing the salon. If you want your space to have a high-tech look, invest in chairs with clear lines, light or silver colors, and a lot of metal. If you are building your business around being a men's barber shop, invest in masculine, massive chairs. These are the various types of salon chairs available on the market today:
Barber chairs

Styling chairs

Tattooing chairs

Beauty Facial chairs

Massage chairs

Dryer chairs

Shampoo unit chairs

Salon professional chairs

Reception chairs

Welcome area chairs and couches with integrated storage units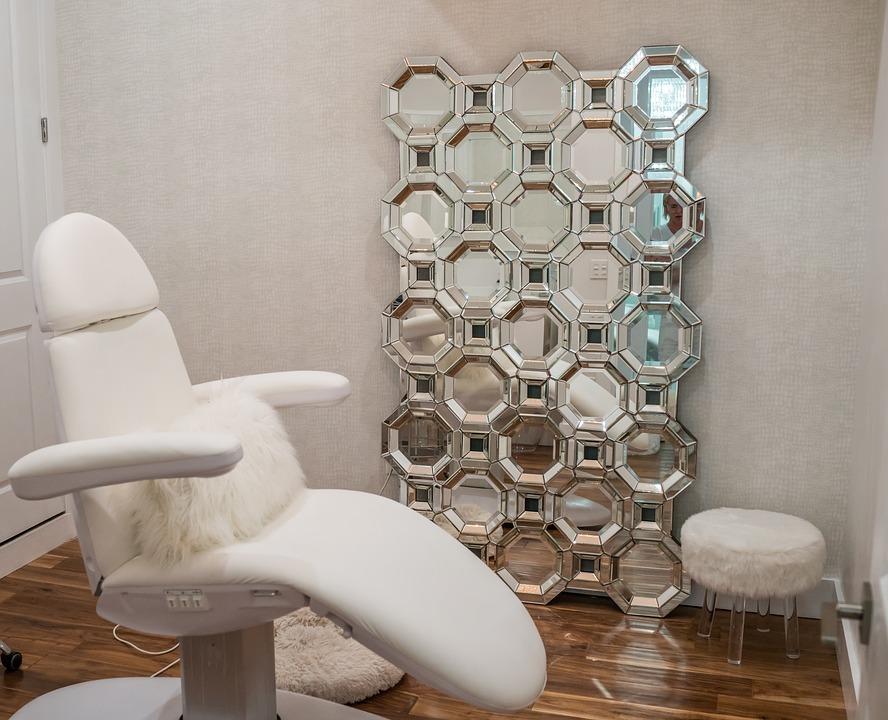 Salon Stations
Salons are always carefully separated into sections. This is done to properly organize work. The demarcation is usually done with furniture and equipment. Proper stationing also means that stations that are near each other are complementary to each other. These are the stations and the equipment they should include:

Wet Stations: shampooing unit, shelving, or a trolley with shelving to hold shampoos and conditioners.
Single Stations are used in smaller salons and are usually placed against the wall. These are styling stations, so they should include a proper chair (hairstyling, tattoo, or styling), hydraulic chair for the staff, trolley, mirror, and styling furniture
Back-to-Back Stations: double sided stations for a large salon. Proper chairs (hairstyling, tattoo, or styling), hydraulic chairs for the staff, trolley, mirror, and double-sided styling section furniture
Drying Station: drying chairs and drying equipment
Welcoming Section: couches and chairs for the sitting area
Product Storing Section: storage of furniture
Manicure/Pedicure Stations: manicure/pedicure chair, manicure table, magnifying lamp, hydraulic chair for staff, shelving, or a trolley with shelving to hold the products.


Spa Furniture
There are a lot of different options of equipment available for a great day spa.
There are so many treatments that can be offered. The most popular, of course, is the always popular and very profitable massage. You have to decide on the kind of massages you are going to provide in order to buy all of the correct equipment and furniture. There are staples and basic additional equipment:
Massage table, hydraulic chair for the masseuse, trolley

Massage chairs, hydraulic chair, trolley

Waxing bed, hydraulic chair, trolley, IPL hair removal equipment / SHR super hair removal Equipment / Diode laser hair removal machine or a Wax heater
Equipment and Supplies for Different Massage Techniques: different massage techniques are hard to count and most of them are really popular. You can purchase stones and a heating device for the hot stone massage, hydrokinetic shower for hydrotherapy, foot warmers, foot baths, the fantastic digital pulse massagers for treating neck, paraffin treatment products, supplies for the hot and cold massage, and many more.

We think this covers the basics on what equipment you need for a beauty salon. So, if you are asking yourself where can you buy beauty salon equipment - just give us a call. We have been around for a long time and can easily tutor you on running any type of salon you are planning to open. Our experts are fully qualified and have enough experience to help you equip and furnish your dream salon. We also have everything to offer for those who are thinking about starting a beauty business. We can deliver ideal customer service, and provide top quality salon products. Pick up the phone and call us today to discuss your options. We are here to help!


How To Maintain Tools And Equipment In A Hair Salon

A lot of hard work goes into properly maintaining tools and equipment in any beauty salon. If there is a need, you can enroll in some available courses or just watch some tutorials online.
Good spa maintenance involves regularly cleaning the equipment with proper washing liquids and disinfection substances. Regular beauty equipment maintenance is your key to ensuring steady performance and the longevity of your equipment, so it'll serve you long years and still be in a condition good enough to resell. Proper equipment maintenance means daily, weekly, and monthly check-ups and tasks.

Always read the instruction manual; it holds all the information about the maintenance. Learning how to properly care for your equipment can save you a lot of money. There is a big market for used beauty salon equipment and furniture, so, if properly taken cared for, can bring back a large portion of your initial investment if you decide to sell something later on. Besides performing regular maintenance tasks, it also doesn't hurt to perform regular inspections of your equipment and furniture to catch any small problems before they become big ones. Basically, since you know how the equipment should be working, if its performance shifts even in the slightest way, it's better to address the problem right away.

And last, but not least, find a great supplier of cleaning and disinfecting products, as you are going to need a lot of them going into the beauty business. These companies are already experts on all your cleaning needs and will be able to offer cleaning and disinfecting supplies that won't damage your equipment and furniture. If you are keen on doing everything yourself, however, then please carefully read the labels; there are very different cleaners for vinyl and leather, for wood and plastic, and for metal and glass.