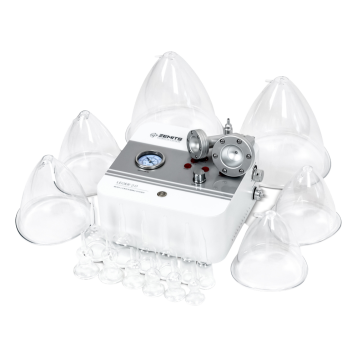 Facial Vacuum Equipment
What is vacuum therapy facial equipment?
A vacuum suction facial machine is used for lymphatic drainage that launches positive natural processes. This treatment removes puffiness in the face. Facial lymphatic stimulation pushes down lymph in the face to the neck and clavicle through the lymphatic nodes. This results in fresh, relaxed skin and a more contoured, slimmer face. Find the best suction machine for your beauty salon to offer one of the most effective facial procedures and increase your success.
What is vacuum facial treatment?
The primary use of this treatment is to stimulate the lymphatic and circulatory systems, thus aiding the flow of waste products and tissue fluids from the area to the nearest lymph nodes. This mechanical treatment uses external suction to lift the body tissues via moving or static cups. The treatment is similar to a massage; however, suction is applied instead of pressure.
What are the other names for Vacuum Facial?
Vacuum Facial is also known as Cupping, Vacuum Therapy, Lymphatic Drainage Therapy, Vacuum Massage, Vacuum Massage Therapy, and more!
How does it work?
Lymphatic drainage forces a body to clear skin naturally and has a detoxing effect. Vacuum suction clears lymph from waste products, increases blood circulation, removes dead cells, stimulates metabolism, eliminates fine lines, improves dry skin. An increased circulation causes better skin nourishment and oxygenating. As the blackheads are successfully removed, it results in healthy skin color.
Vacuum suction is highly recommended for oily skin. It stimulates sebaceous glands to perform secreting of oil to keep facial moisturized.
A vacuum suction device is easy to use. However, an esthetician needs to have special knowledge of human anatomy and be specially trained. Advance Esthetic provides free training to make your work even more effective.


What types of facial vacuum therapy are there?
Vacuum therapy will be a single unit or an add-on to some multifunctional devices. There are units with vacuum cups or vacuum rollers for skin tightening and aiding lymphatic drainage.
BENEFITS OF FACIAL VACUUM THERAPY
Improves blood and lymphatic circulation

Reduces non-medical swelling (fluid retention) noticeable in puffy eyes

Improves skin elasticity, texture, tightness, and vitality

Softens and hydrates skin

Increases water flow throughout the body

Enhances the immune system

Supports healing (pre and post surgeries recommended)

Boosts energy

Relieves symptoms of depression and chronic fatigue

Increases collagen synthesis

Stimulates microcirculation

Expels toxins

Activates collagen production

Improves tissue oxygenation
Vacuum roller benefits for the face
Tightens (pronounced lifting effect) and restores firmness and elasticity of the skin. The impact on collagen and elastin fibers is manifested by improved skin texture, tone, and elasticity.
It has a draining effect on the lymphatic system, which promotes the drainage of waste products from the tissues and reduces tissue swelling.
Eliminates fine wrinkles, nourishes, and tones. Strengthening the exfoliation of the upper layers of the epidermis contributes to the renewal and restoration of the skin's natural radiance(stimulating fresh oxygenation of the tissue).
Assists improve scar tissue and stretch marks by working individually on an individual scar; the massage improves microcirculation and tissue oxygenation. The process of scar maturation is accelerated.
Mechanical lymphatic drainage
A slow-moving lymphatic drainage system often leads to the build-up of toxins, swelling, and medical edema. Large protein molecules and waste products are transported through the lymphatic system back into the bloodstream, filtered and removed from the body.
Lymphatic capillaries begin as blind-end tubes and form a network throughout the tissue spaces. These walls are thin and allow particles of large molecules to pass through them. Lymph capillaries join together to form larger vessels. These vessels are similar to small veins in structure and have semi-lunar valves lining their walls to prevent any backflow of lymph.
All lymph vessels drain into lymph nodes, small kidney-shaped structures strategically placed in groups through each node; damaged cells and microbes are filtered through the lymph nodes and destroyed.
The speed at which lymph drains through the system depends on:
Contraction and relaxation of the muscle. Negative pressure and movement of the chest for respiration
How does the device work?
An esthetician removes makeup and puts in special oil or serum for effective moving off the cups. The whole procedure is focused on moving the cups near lymph nodes. The treatment can be compared to a massage, where suction is used instead of pressure. The machine controls the level of pressure exerted on a tissue—the small moving cups powered by an electric motor. A pump creates a vacuum, and skin lifts into a cup. It improves our natural ability to remove wastes and toxins from the body.
The machine may have different glasses tubes for various purposes, such as glasses for massage, wrinkles elimination, and blackhead removal.
Does the treatment really work?
Yes, it takes high-quality equipment to have the right tools to get results from Vacuum facial.
How many procedures are needed?
Four procedures per week are recommended in achieving the best result. The result is noticeable after the entire treatment course.
What are the results of the procedure?
Skin texture improved

Clear lymph nodes

Dead cells removed

Clear and glowing facial

Reduced puffiness

Clear pores

Enhanced product absorption
How often to get vacuum therapy for the face?
We recommend starting with just one time a week until the face gets used to the vacuum suction. From there 2-3 times a week.
Are there any side effects?
Someone with very sensitive skin can get bruising if the treatment is not provided correctly. Slight redness can occur as well, but that is entirely normal, which shows that the blood flow is activated.
How many treatments are needed?
Depending on your client's desired goals, they will need about two to twelve treatment sessions.
How long after the results appear?
Results can be seen right after just the treatment, and typically just two to four sessions will remarkable results when done in one to two-week timespan.
Is Facial Vacuum Therapy suitable for skin tightening?
Yes! Vacuum therapy is such an excellent way to tighten and tone the skin naturally.
Can you have Vacuum Facial after Botox therapy?
We recommend waiting two weeks between treatments.
Recovery time
There is no recovery time or downtime with vacuum therapy.
Is Vacuum Facial painful?
No, there is no pain with vacuum therapy.
Vacuum therapy pros and cons
Pros:
It helps eliminate toxins from the tissues

It helps tighten the skin and improve the elasticity

It helps improve the blood flow

Reduces puffiness under the eyes

Eliminated fine wrinkles

Clears pores and blackheads
Cons:
Can cause bruising if not used correctly

May cause mild discomfort
Vacuum Facial Before and After 1 treatment
How much is vacuum therapy facial?
Many providers start from $75 and go as high as $150 per facial. It depends on the location and spa.
How long is the Vacuum Facial?
Vacuum Facial lasts about 15-30 minutes.
What to expect after the treatment?
After Vacuum Facial, the face will be tighter, less puffy, youthful-looking, and healthy.
Are Vacuum Facial results permanent?
The results are not permanent with Vacuum facial; continuous treatment sessions are needed for longer-lasting results.
Facial Vacuum Therapy Alternatives
Vacuum Facial vs. RF Lifting
Vacuum therapy uses vacuum suction to tone the skin, but RF uses radio waves to boost collagen production, which leads to firmer skin over time. There are many devices where these technologies are combined in one handpiece, which gives an extra boost for skin tightening treatments.
Vacuum Facial vs. Hydrodermabrasion
The similarity with these technologies is the effect of vacuum suction. Hydrodermabrasion uses vacuum suction for unclogging the pores and sucking away dirt just as vacuum therapy. The only difference is that Hydrodermabrasion is a more hydrating treatment than Vacuum facial.
Vacuum Facial vs. Microdermabrasion
The similarity with these technologies is the effect of vacuum suction. Microdermabrasion uses vacuum suction for unclogging the pores and sucking away dirt just as vacuum therapy. The only difference is that Microdermabrasion uses micro-crystal tips to cure skin impurities; vacuum therapy is a more holistic and gentle approach.
Vacuum Facial vs. Microcurrent
These technologies are entirely different. Microcurrent works with facial muscles using a current to re-educate them. Vacuum therapy uses vacuum suction to bring back the skin elasticity and aid lymphatic drainage and blood flow.
Vacuum Facial vs. LED Therapy
As again, these technologies are very different from each other. LED therapy uses wavelengths to treat various skin impurities.


Who can perform Vacuum Facial?
This treatment is considered safe and holistic, so almost any esthetician can perform this treatment. We do always recommend checking with your state board to be accurate.
How to operate your machine
Plug power cord into the wall

Press the Left power button at the top of the unit to turn the system on

System ON indicator will turn red

Adjust vacuum suction intensity to the required level

always start with low intensity to avoid tissue damage

adjust the vacuum power during the treatment to the required level

Press the Mode Button (right ) at the top of the unit to turn on pulsing modes

Select one of the six available modes

Apply massage oil onto the treated area, start treatment.




Vacuum therapy treatment techniques for face
Gliding vacuum suction
This is the most frequently used method of vacuum suction whereby the therapist moves the
vacuum suction cup over the skin towards the nearest lymph nodes.
The suction is continuous as opposed to a treatment using pulsating suction.
When using this technique, the therapist must constantly stay with the client to apply the
treatment.
This technique is used to increase the dispersal of accumulated fluid and to soften skin tissues, therefore improving the general functioning and appearance of the tissues.
Vacuum Facial Treatment Protocol
Remove makeup and provide a deep, thorough skin cleansing

Tone (to balance skin's pH)

Applying a thin layer of massage oil

Perform a classic manual facial massage
Vacuum face massage:
Select small glass cups and place them on the selected area

Adjust the suction as the client feels (usually 10-20% of maximum power).

Work the massage lines.

The procedure lasts 10 minutes, for the first 5min work in a constant vacuum (the non-dominant hand must hold the skin for the most minor stretching); for the additional 5min – work in a pulsed vacuum, mode 1-2.

Re-cleanse the client's skin to thoroughly remove any residual oil

Apply a finishing cream.

The recommended course of procedures is between 6-10, with a frequency of 2 times a week.
IMPORTANT: When you have finished with your treatment(s), you must clean the cups in hot soapy water and disinfect them afterward to safeguard your cross-contamination protocols.
Vacuum machine maintenance
Turn the machine off, unplug the power cord from the wall

After each treatment, cleanse the handpieces from the rest of the remaining oil

Clean it with wet tissue

Dry it thoroughly

Spray the handpieces with an alcohol solution, wash them thoroughly

Place the handpieces into the UV cabinet

Cleanse the screen from oil and dust with alcohol wipes

Change the cotton filter to the new clean one

Keep your machine clean.
Can vacuum cavitation be combined with other treatments?
Yes, it can be done together with other procedures to achieve the best results. Check our website to learn more about combined machines.
Indications
The procedure is effective for individuals with:
dull skin;

dry skin;

blackheads;

puffiness.
And it is suitable for everyone who wants to detoxicate facial skin. It suits both women and men. A procedure does not require downtime.
Contraindications
If you have any concerns about your client's health and the use of the device, consult with a doctor.

The device can be used on all healthy external parts of the body, except for the eyes, ears, glottis, and genitals.

The device should not be used on suspicious moles, mucus membranes, nipples, and the spinal column without any medical advice

If pregnant - please consult your doctor.

Some illnesses may require you to seek medical advice from your doctor.
Do not use the device on individuals with:
Epilepsy problems

A blood clotting disorder

Heart problems

Pain or redness

Tingling in the limbs

Open wounds, recent scars, any severe illness, fever, inflammation, infection

For patients with prolonged use of medications (anti-inflammatories, anticoagulants, antibiotics), please ask your client to consult with a doctor before using this device.
Vacuum Therapy Training
In A-Esthetic, you will get free vacuum therapy training and a certificate with equipment purchase. Our educational team has over 30 years of experience in the aesthetic field. The training will be held online or in person, whichever works for you. If you are not sure which equipment to purchase, we also provide a free online demo to go through the devices and answer any questions you may have for us. You can book your free demo here:

https://advance-esthetic.as.me/schedule.php?appointmentType=18164403
Vacuum therapy consumables
In A-Esthetic, we offer our skincare line that can be used to perform vacuum therapy. Visit our website to learn more.
Vacuum therapy consent form
Here you can find our vacuum therapy consent form:
https://docs.google.com/document/d/1rhoFf3fTG9z151vRDb2aiA4iJ1vWyho5P5SMWuogvrI/edit
Vacuum Facial Therapy Instagram hashtags for marketing
#vacuumfacial #vacuumtherapy #vacuumbenefits #vacuumlift #tonedskin #skintoning #lymphaticdrainage #lymphflow #medicalspa #spabusiness
The Price
Here at A-Esthetic, we firmly believe that quality, safety, and advanced technology are not mutually exclusive. Our equipment is of the highest quality while being very affordable. We often have special offers and money-saving discounts; we offer free demos and training for you to get to know our systems thoroughly. We have a wide range of prices for everyone, though a professional vacuum body slimming machine price will surely surprise you. The ROI on the machines within this category is rapid, if not immediate.
The Service
It all starts here with our service! Apart from the product quality and affordability, we are well-known for our exclusive free training, and our on-site licensed estheticians are always ready to help! We are on a mission to help you and your business grow.
We are not only an online shop and are always ready to welcome you to our showroom. If you are local to Fort Lauderdale, Florida, or just in from out of town, we will offer you a great shopping experience!
In this category, you can find Vacuum therapy machines. To recover the cost of your equipment, all you need is to provide 10-15 procedures. If you are looking for high quality and great prices for Vacuum therapy machines, you have come to the right place.
We aim to offer the highest quality of products, the most extensive range of equipment, and the best service to our customers. We also proudly provide training sessions for instruction on how to utilize all the equipment we sell.
Please call us now if you need any assistance selecting your equipment.
+1.888.999.3996
Advance-Esthetic is dedicated to providing you with the finest MedSpa Equipment to tailor a wide variety of your needs. Our mission is to support your MedSpa to boost your business with the highest quality products, outstanding customer service and a lifetime of client support.
Advance-Esthetic.us delivers to the following states: Alabama, Alaska, Arkansas, Arizona, California, Colorado, ...

Connecticut, Delaware, Florida, Georgia, Hawaii, Idaho, Illinois, Indiana, Iowa, Kansas, Kentucky, Louisiana, Maine, Maryland, Massachusetts, Michigan, Minnesota, Mississippi, Missouri, Montana, Nebraska, Nevada, New Hampshire, New Jersey, New Mexico, New York, North Carolina, North Dakota, Ohio, Oklahoma, Oregon, Pennsylvania, Rhode Island, South Carolina, South Dakota, Tennessee, Texas, Utah, Vermont, Virginia, Washington, West Virginia, Wisconsin, Wyoming
© 2021 DISCLAIMER: All information within the A-esthetic.us website and all other marketing materials are made only for informational and educational purposes. A-Esthetic products and equipment have not been tested or approved or any government entity for treatments of illnesses or diseases. Use at your own risk.
Advance-Esthetic does not accept any liability for inaccurate information on our website. It is the responsibility of the client to check the accuracy of all information provided and to confirm prior to and upon purchase of *qualifying Zemits equipment including but not limited to the conditional offer of marketing materials and other such offers for the defined brands. Zemits only. Marketing Materials are exclusively for Zemits branded machines only... Not applicable with Venus, Innocell, or other non Zemits branded equipment, ETC., Definitions: Qualified: Zemits Branded Equipment only