We speak English Hablamos Español Falamos portugues Мы говорим по-русски
7 marketing mistakes in SPA business
Get a check list of
7
marketing mistakes in SPA business
No Showroom Appointments During Pandemic
Zemits Bionexis Comprehensive Body Sculpting Machine
6%
6%
FREE TRAINING
Our licensed estheticians are available to provide you with FREE personalized training on any equipment purchased from us! This can be done both in-person, where you can try out the equipment yourself, and over video chat—just tell us what's more convenient for you! We are committed to ensuring you are 100% confident when providing great treatments.
More info
ZEMITS BIONEXIS
is unique system that destroys fat cells, activates lymph flow, helps to eliminate bodily toxins, and eliminates puffiness.

Real results after 8 sessions
Vacuum Slimming Machine
Bionexis combines:
Radiofrequency Energy
Anti-cellulite Roller Massage
Radiofrequency Skin Tightening
LED Light Therapy
Infrared Therapy
video review
What are the Benefits?
Absolutely unique combination of treatment modalities, when all 7 techniques work simultaneously to remodel the body silhouette
4 separate applicators for entire face lifting and body shaping sessions
extremely powerful vacuum compressor for exclusive instant results
intelligent operational system allows customize each treatment for every particular client need
We will train you how to achieve the best result using this equipment
1-Year warranty
Lifetime clients support
Slim-B
Large body remodeling applicator
Reduces cellulite appearance
Reduces inches
Burns fat
Perfect for: thighs, buttocks, abdomen.
Fit-B
Medium sculpting applicator
Contour the body silhouette
Tighten skin
Improve elasticity of sagging skin
Perfect for: Perfect for: the lower abdomen, waist, flanks, inner thighs, under knees.
Tight-B
Gentle decollete and neck applicator
Firms and lifts the skin on chest and neck
Tightens loose skin on arms and under bra wrinkles.
Lift-B
Facial skin rejuvenation applicator
Tightens the skin on entire face
Reduces cross feet wrinkles
Eliminates nasolabial folds
Contour the jaw line
Shrinks pores
Synergy of treatment technologies in 1 applicator

| Technology | Slim B | Fit B | Tight B | lift B |
| --- | --- | --- | --- | --- |
| Adjustable direction of roller massage | Inside/Outside/Up/Down | Inside/Outside/Up/Down | - | - |
| RadioFrequency Skin Tightening | 1-50 W | 1-50 W | 1-50 W | 1-50 W |
| Vacuum Suction Intensity | 1-10 level | 1-10 level | 1-10 level | 1-10 level |
| Vacuum Pattern Regulation | 25 v.v. patterns | 25 v.v. patterns | 25 v.v. patterns | 25 v.v. patterns |
| LED Light Therapy - 640 nm | 1-10 level | 1-10 level | 1-10 level | - |
| Infrared Light Therapy 850 nm | 1-10 level | Inside/Outside/Up/Down | - | - |
| Vacuum massage | 1-10 level | 1-10 level | 1-10 level | 1-10 level |
Vacuum Lipolytic Deep Tissue Massage
Vacuum massage can promote lymph drainage and decrease volume of fat cells. The purpose of this is to detoxify the body by removing toxins and waste products from various kinds of tissues throughout the body. When lymphatic drainage in the body improves, so does overall health. This can be seen with more lively looking skin and a brighter complexion.
video review
Radiofrequency
Radiofrequency stimulates blood microcirculation, strengthen lymph system, promotes fat Metabolism. Stimulation of thermal energy can reach to 0-15mm of skin, cause blood relax, increase body metabolism speed, enhance ligament and muscle flexible. RF Treatment is very effective to combat loose skin and wrinkles, achieving a rejuvenating result on the skin. Its role as a conductor increases the tissue-oxygen supply, accelerating cell metabolism, and stimulating collagen regeneration, elastin, and hyaluronic acid-one of the largest components of the extracellular matrix. This naturally lifts skin and creates a tighter, stronger, and more appealing look.
video review
Anti-cellulite Roller Massage
Roller massage of four modes, break up adipose connective tissue. The areas that can be treated include the top of the arms and legs, hips and stomach, and buttocks. "Orange peel" appears because of fat layers and bad liquid circulation—oxygen cannot reach the cells so connective fibers begin to form, and cellulite "holes" form as a result. Anti-cellulite Roller Massage helps normalize blood and lymph circulation, which subsequently reduces problematic cellulite on all areas of the body.
video review
LED light Therapy
690 nm infrared light can stimulate the tissue, infrared can stimulate tissue under the dermis, avoid cutis laxa after slimming
video review
INFRARED LIGHT- 850 nm
Increase oxygen levels of body, make inert water transformed independent water molecules.
Increases circulation and the formation of new capillaries. This brings an immediate healthy glow to the skin, and paves the way for you to maintain a more youthful and healthier appearance, as new capillaries mean more oxygen and nutrients to each skin cell every day.
Increases lymph system activity. This reduces swelling and puffiness. These results would also be noticed after the first and each subsequent treatment. Again, this paves the way for less puffiness in the future as the lymph system is actually made more efficient over time, resulting in healthier skin overall.
Stimulates the production of collagen and fibroblasts. Collagen is what is responsible for the elasticity, firmness, and fullness of your skin. The increased production of collagen and fibroblasts is what will smooth out your fine lines and wrinkles, smooth the texture of the skin, and reduce pore size over time. Collagen cells grow slowly, so be patient, and expect to see "before and after" results at about three months of consistent treatment.
Causes the release of ATP, or raw cellular energy. This provides energy to the cells to make the most of the additional blood, oxygen, nutrients, detoxification, growth, and repair already initiated by your red light therapy treatments.
video review
Results of treatment
Lifts and tightens the skin Strengthens loose connective tissues
Improves collagen production and health
Eliminates cellulite
Enhances metabolism
Lifts skin
Slims and shapes the body
Decreases fat cell volume
Stimulates blood microcirculation
Breaks up fat connective tissue
Infrared light stimulates tissue and increases oxygen levels
Get an Offer
EDUCATION AND MANUALS
In addition to a basic user manual, we send you treatment protocols, recommendations to enhance your experience with our equipment!
The licensed estheticians on site for one-on-one and video training.
Here, in Zemits we believe in the idea that small details make a big difference.
That's why we guide you step-by-step through treatment protocols and equipment details, answering all the questions you may have.
We want you to be confident in your equipment and knowledge.
Let us help you improve your skills and expand your beauty business.
Technical Specifications
Principle Vacuum + Roller + RF + LED + IR
Handpiece: 4 handpieces
RF power: 50W/10MHz
Vacuum: 1-10 level
Roller Speed: 1-10 level
Deflate tine range: 1-10 level(200-2000ms)
LED range: 1-10 level
Display 8.4' True Color Touch Screen
Voltage: 100-240VAC,20A max.50/60Hz
Dimensions: 59.8"H x 27.6"L x 23.6"D.
Net Weight: 282 lbs.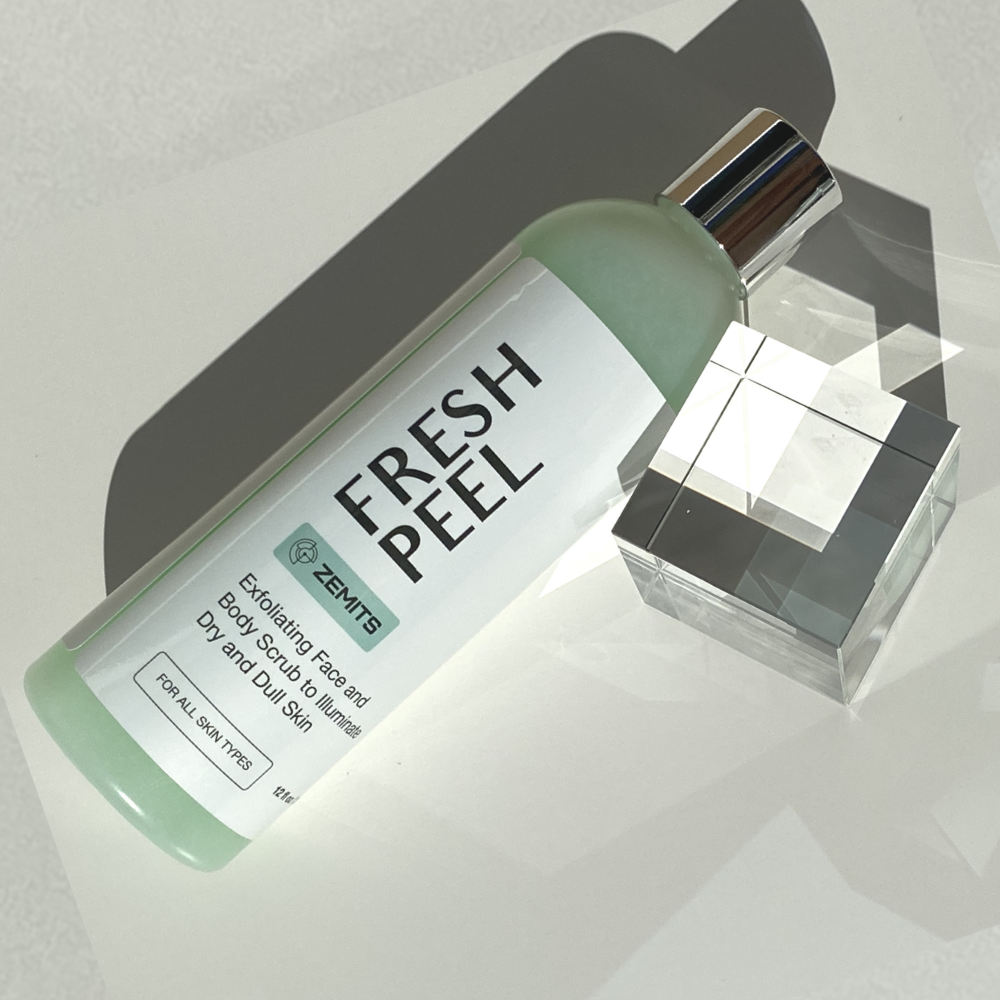 Zemits FreshPeel was created with the vision in mind to transform your treatments into a wellness routine and achieve great results while creating an unforgettable experience during your services. The natural body scrub helps to restore skin's natural glow with a refreshing blend of Jojoba Oil, Aloe Vera Gel, and Cucumber Extract. Clean and simple formula for amazing results.
2. Zemits DazzleSkin Pure Plant-Based Nourishing Massage Oil, 8 fl oz
This lightweight, deeply hydrating, youth-enhancing blend of natural oils includes cold pressed grapeseed oil, sweet almond oil, avocado oil and other pure oils providing powerful antioxidant protection.
Intensely moisturizing, the DazzleSkin Body Oil absorbs instantly and leaves skin deeply hydrated, silky, and luminous. This silky soft, pure plant-based luxurious body oil was created for all skin types. It can be used as a day and night body hydrating oil or as a professional massage oil. We also recommend to use it with various Vacuum and Roller Massagers.
One of a kind lightweight and deeply nourishing body lotion with light notes of ginger scent. The Zemits Silk Euphoria is a masterpiece for spa body services. It contains 8 essential oils, that help to soothe and soften the skin during or after body treatments. The Zemits Silk Euphoria was created for luxurious spa services and spa-like at-home use.
Recommended price-list
Facials
Bionexis Facial 35 mins- starting from $200
Neck and décolletage
Bionexis Neck and décolletage 35 mins- starting from $200
Body
Bionexis body treatment problematic area 35 mins- starting from $250
Bionexis full-body treatment 60 mins- starting from $350
Number of treatments in session: 5/10/15
1-2 times/week
Financing
We offer two kinds of financing: one through Advance Esthetic and one through Quickspark. Advance Esthetic's financing has NO interest and NO need to fill out an application to check your credit. Quickspark's financing offers a low interest plan with a very easy online application. For more information, check out our "financing" tab or call us today
Low consumable and maintenance cos
Designed for Professional Effective Treatments
One-year warranty
The Zemits Bionexis comes with a 30-Day Return Policy
Zemits Bionexis Comprehensive Body Sculpting Machine
6%
6%
   

Zemits Bionexis Comprehensive Body Sculpting Machine combines:

Vacuum Lipolytic Deep Tissue Massage
Anti-cellulite Roller Massage
Radiofrequency Skin Tightening
LED Light Therapy
Infrared Therapy

The synergy of these treatments creates incredible, long-lasting results that will please both estheticians and patients. Perform body sculpting, fat reduction, breast lifting, and facial rejuvenation all with just one machine. The Vacuum Slimming machine Zemits Bionexis activates lymph flow helps to eliminate bodily toxins and eliminates puffiness. It is an effective system for circumferential and cellulite reduction, with significant success in uses following childbirth or liposuction.

How Does it Work?

This technology's efficacy is based on its use of the synergy of four main treatments:

Radiofrequency

Vacuum roller Lipolytic Deep Tissue Massage

LED Light Therapy

Infrared Therapy

The bipolar RF and Light energy delivered to the dermis/hypodermis zones. The vacuum deposits energy into specific regions of the skin. The hypodermis absorbs thermal stress whereas the dermis absorbs optical energy.

Collagen contraction and the triggering of neocollagenesis in the dermis begins immediately upon energy absorption.

Neocollaganesis occurs when simultaneous physical responses occur within collagen-producing cells (fibroblasts).

The thermal stress induces increased dermal vascularity to further the effects.

Mechanical stress created by the vacuum then strengthens neocollagenesis

This effect, along with collagen contraction, helps strengthen and improve the health of connective tissues.

Bipolar Radiofrequency together with Light energy causes changes in electrical charges within cells of the skin, creating heat and treating imperfections.

Two symmetrical electrodes carefully direct energy onto the area designated for treatment and the small current travels down one electrode into the tissue and then up through the second electrodes.

What are the Benefits?

Strengthens loose connective tissues
Improves collagen production and health
Eliminates cellulite
Enhances metabolism
Lifts skin
Slims and shapes the body
Decreases fat cell volume
Stimulates blood microcirculation
Beaks up fat connective tissue
Infrared light stimulates tissue and increases oxygen levels

What Products are Needed to Perform This Treatment?

Glycerin-based Gel should be applied topically to the skin prior to treatment.

Handpieces and Accessories

Zemits Bionexis system has four applicators.

1. Slim-B is a large handpiece, that is used for cellulite treatment and circumference reduction in large areas such as the thighs buttocks or abdomen.

2. Fit-B is a medium handpiece, that is used for contouring small areas such as the lower abdomen, waist, flanks, inner tights, under knees, and upper arms, or for curved areas and localized fatty deposits.

3. Tight- B is a small handpiece, that is used for arms, neck and decollete.

4. Lift- B is a small face handpiece, that is used for face tightening and is perfect for around eye area and entire face. 

Treatment Modes:

7 treatment parameters are available to regulate due to treated body area and skin condition:

LED and Infrared Light ( 640 nm- 850 nm)

Intensity can be adjusted on a scale of 0 to 10.

Maximum Light Intensity: 20W.

RadioFrequency

Intensity can be adjusted on a scale of 0 to 50.

Maximum RF Intensity: 50W.

Rolling Speed

Speed can be adjusted on a scale of 0 to 10.

Vacuum Suction Intensity

Intensity can be adjusted on a scale of 0 to 10.

Maximum Intensity of Negative Pressure: 70 Bar.

Inhale and Deflate

These parameters are used to adjust the pulsive rate of the vacuum suction.

INDICATIONS 

Excess weight
Local fat depots
Cellulite
Body contour changes after pregnancy
Puffiness
Need for waste excretion
Degenerative spine diseases

CONTRAINDICATIONS

Pregnancy

Chronic diseases in exacerbation phases

Oncological diseases

Menstruation

Thrombophlebitis

What Areas Can be Treated by this Machine?

Thighs
Buttocks
Abdomen
Back
Flanks
Upper and lower arms
Around eyes
Entire face
Neck
Decollete
Localized fatty deposits

Who can Offer this Treatment?

Licensed Esthethians may perform this treatment. Check your state laws as this may vary by region.

Price Range of Treatment

Prices depend on where in the country (or world) treatments are being performed, but the average session with a Bionexis machine is around $300.

Profitability- Return on Your Investment

By charging $300 per session and having patients undergo an average of 5 treatments (recommended 5-10), you'll only need about 12 clients to return your investments.

One-Year Warranty

 

Before and After Photos 

 

Other clients results after 6 treatments:

  

 

Technical features of Vacuum Slimming machine Zemits Bionexis: 

Dimensions: 59.8"H x 27.6"L x 23.6"D.

Net Weight: 282 lbs.

User Manual

We ship all equipment with our unique, special user manuals in addition to basic equipment instructions because we are committed to giving you the best recommendations and tips to enhance your experience with our products.

We provide you with:

Original treatment protocols for each therapy method


Detailed user manuals

Recommendations and tips on how to maximize results 

Videos on how to install and operate your machines

Most importantly, we offer our customers free in-person training with our estheticians in Ft. Lauderdale, FL.

Not in the area? We still offer personal online training via Video call or FaceTime at a time that is convenient for you.

We believe in the idea that small details make a big difference.

That's why we guide you step-by-step through treatment protocols and equipment details, answering all the questions you may have.  

We want you to be confident in your equipment and knowledge. 

Let us help you improve your skills and expand your beauty business. 

Financing

We offer two kinds of financing: one through Advance Esthetic and one through Quickspark. Advance Esthetic's financing has NO interest and NO need to fill out an application to check your credit. Quickspark's financing offers a low-interest plan with a very easy online application. For more information, check out our "financing" tab or call us today

Call us today and get more information on this incredible device!

 

This product is intended only for aesthetic purposes. This product is not intended to diagnose, treat, cure or prevent any medical conditions.

All products at www.advance-esthetic.us website are intended for cosmetic use.

All products at www.advance-esthetic.us website are not intended to treat or diagnose any medical conditions.

Please, leave us your feedback

Amazing vacuum slimming system! It has a great combination of functions for body treatments. I am very pleased with its work and my clients are satisfied with its results. Thank you!

I'm using this machine in my spa for a month now and I like it. It gives noticeable slimming results, my clients are very fond of it because there is no need for them to go to the gym or to be on a diet for a better body shape.

Truly high-quality professional vacuum slimming machine. It works perfectly! It effectively burns extra lbs, tightens skin and improves its elasticity. I can recommend

Excellent device, it gives incredible results! I was attracted by the variety of handpieces and the fact that they are suitable for different areas of the body and there is even one for the face. After the purchase, I got free training. Thank you for nice customer service!

Very nice machine! Vacuum is extremely powerful!

Love this slimming machine! It works amazing. My clients like the effects of vacuum+RF treatments the most. Highly recommend!

I used Vellashape at my previous spa, last year I've opened my own office and get Bionexis with financing program from Advance company. I am definitely satisfied with this purchase. My slimming system works great, my clients and I love the results! I can strongly recommend this machine!

We have been very happy with this machine and It was easy to learn and functions well. We will be purchasing another one for the second location.

Loved customer service and product works really well, easy to move around