We speak English Hablamos Español Falamos portugues Мы говорим по-русски
Showroom Visits by Appointment Only
---

Zemits CoolRestore Elegance Skin Tightening Cryo Slimming System
33%
---
The Zemits CoolRestore Elegance is one of the latest advanced and unique Cryo systems on the market, created by a team of doctors and engineers. The sleek and absolutely unique design of the system along with the two handpieces for face and body make this system a staple in any med spa and treatment room.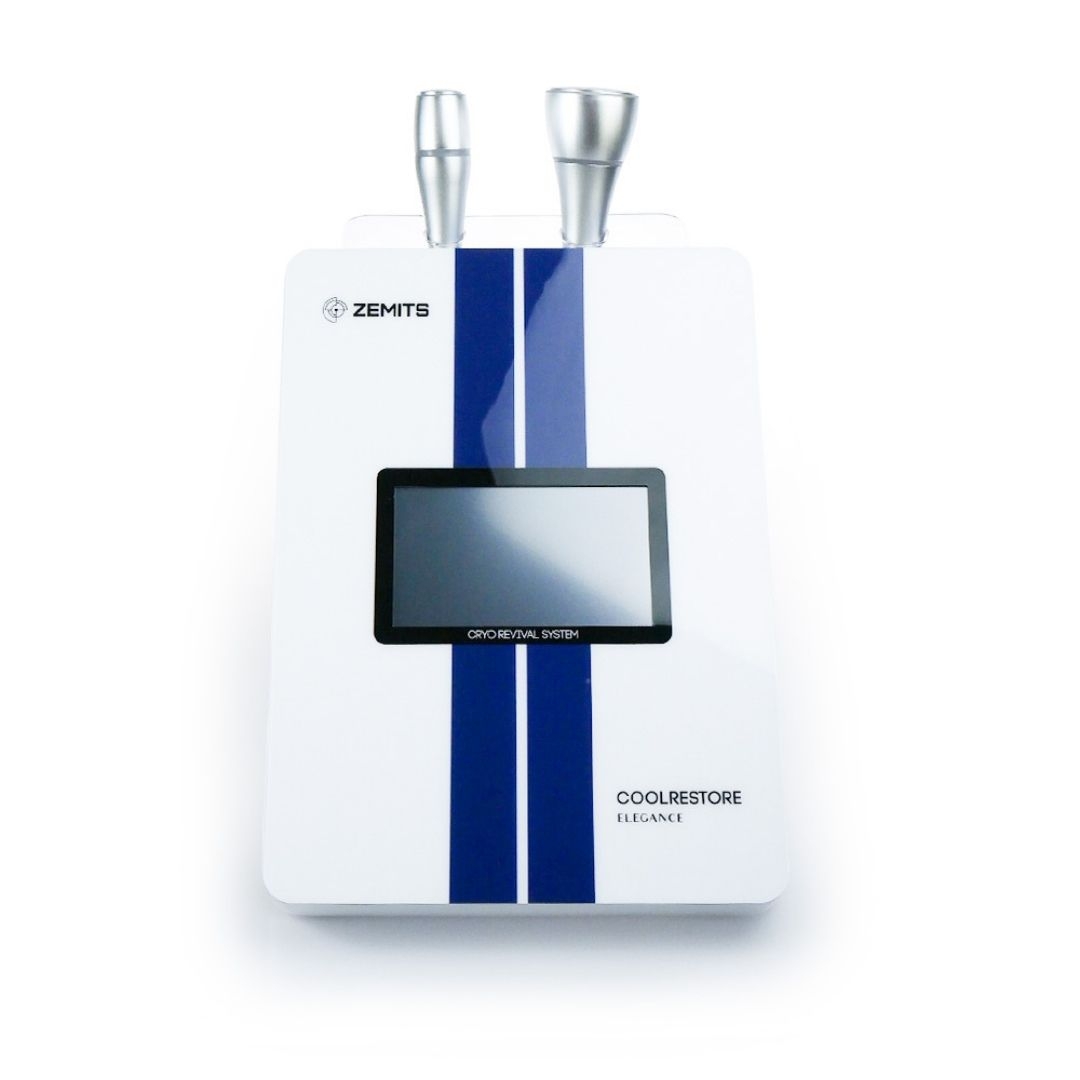 About Zemits CoolRestore Elegance
The all new and unique Zemits CoolRestore Elegance introduces cold or Cryo Therapy to targeted areas of the most concern with several positive effects: 
Slimming
Body contouring
Anti cellulite 
Local fat "freezing"
Skin firming and lifting
Boosting of the Collagen production 
Reduction of puffiness and lymphatic oedema 
Improving of skin tone and elasticity 
Healthy skin glow
Reduction of inflammations
Drastically improving healthy blood circulation
---
Why Choose CoolRestore Elegance?
Cryo Facial and Cryo Slimming are the most popular treatments on the market in 2020. With high demand and the very affordable cost of the Zemits CoolRestore, this device has incredibly fast ROI. This is a great booster for your spa.
Very low consumable cost. All you need is gel. No costly serums or coolant to run the system are needing.
We have designed this device with love, beauty and beauty experts' time in mind. That is why CoolRestore Elegance has multiple precise preset treatment protocols for each of your cooling goals. Whether it is a slimming or facial lifting treatment your device will guide you with all  recommended settings.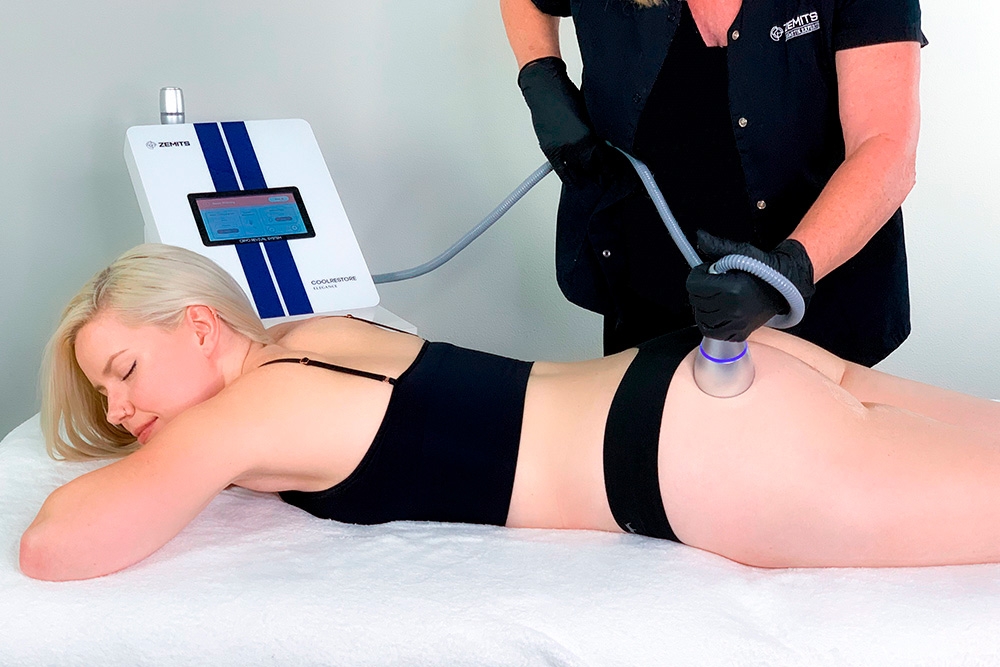 ---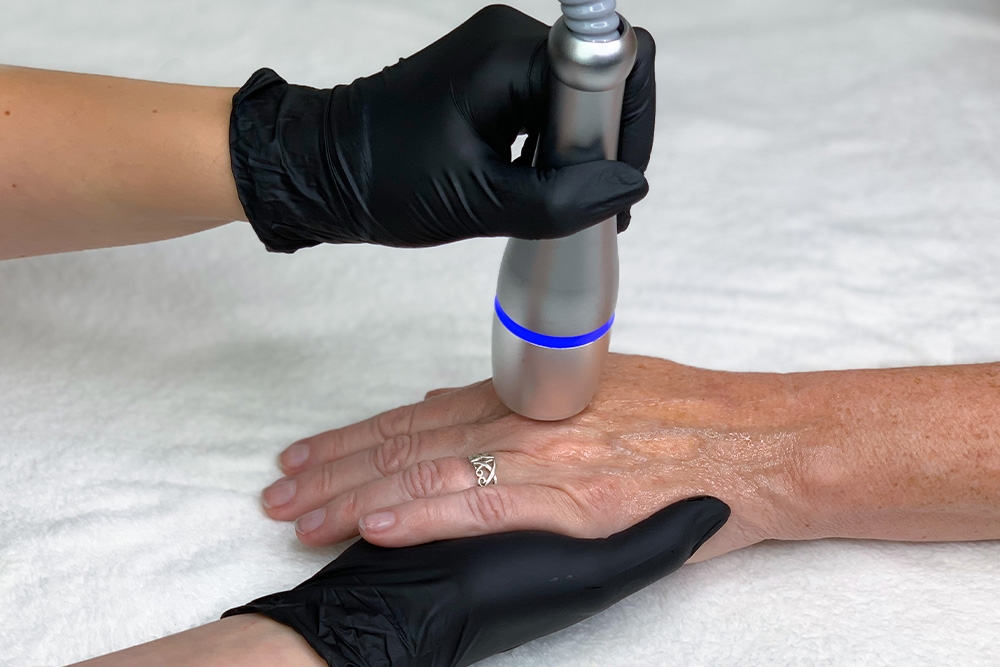 High demand treatment driving a lot of clientele. This new service can be easily offered to all your existing clients, as it has almost no contraindications, and everyone can benefit from Cryo Therapy.
The Zemits CoolRestore is equipped with advanced and elegant lightweight handpieces that are specifically designed  for targeted facial treatments (even specific eye lifting therapy) with a solid and robust body slimming applicator.
Affordable cost and no contract means your business makes profit immediately. There is no rental fees - you can simply purchase the device and manage your business with ease.
---
Features of Zemits CoolRestore Elegance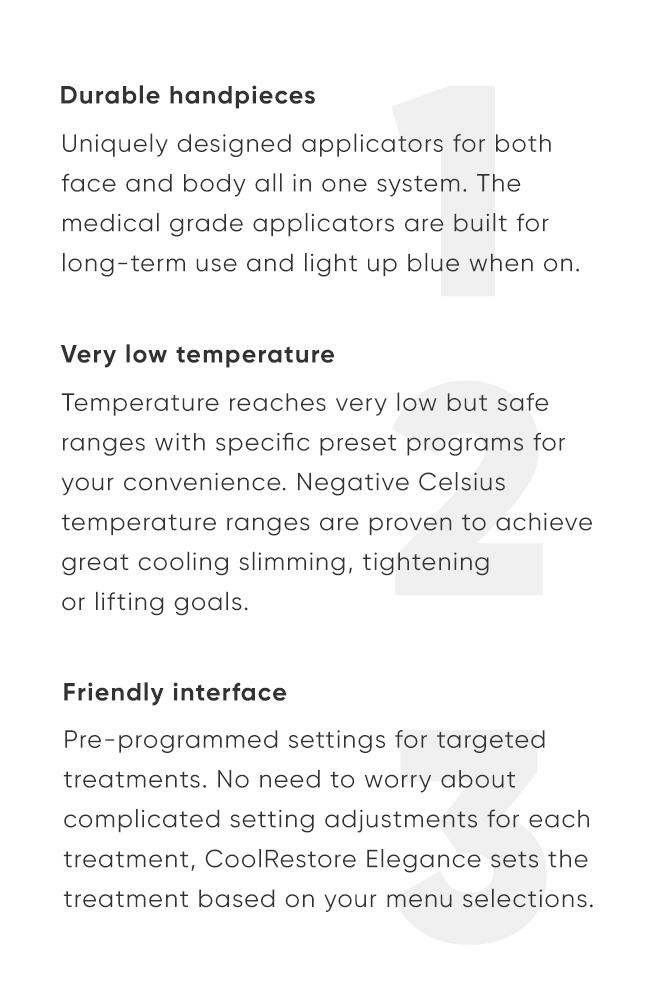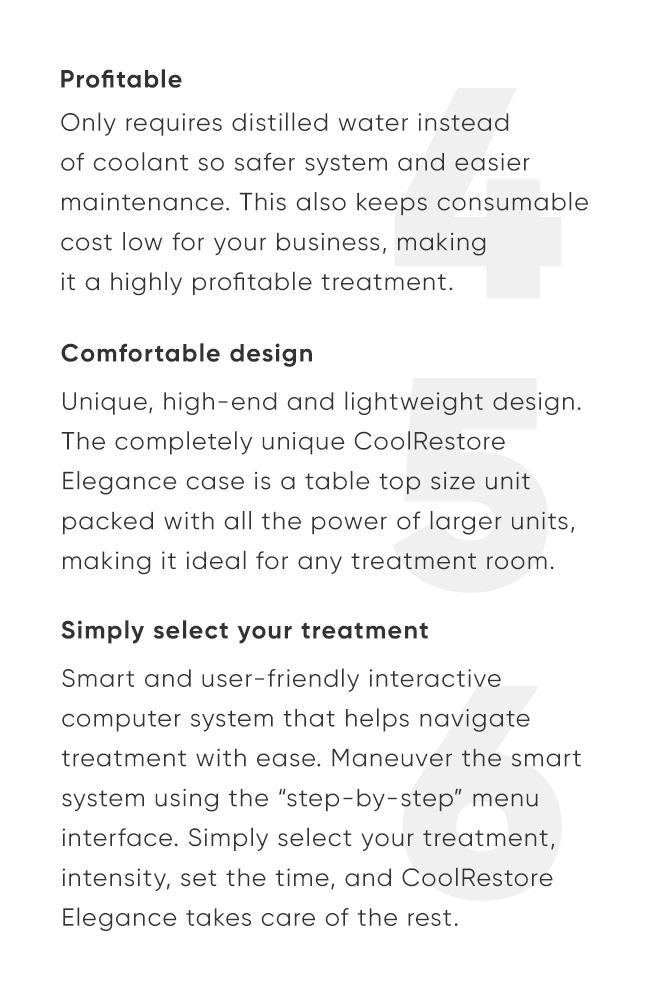 What problems can it solve?
Due to the Holistic nature of CoolRestore Elegance, virtually everyone is an excellent candidate for this treatment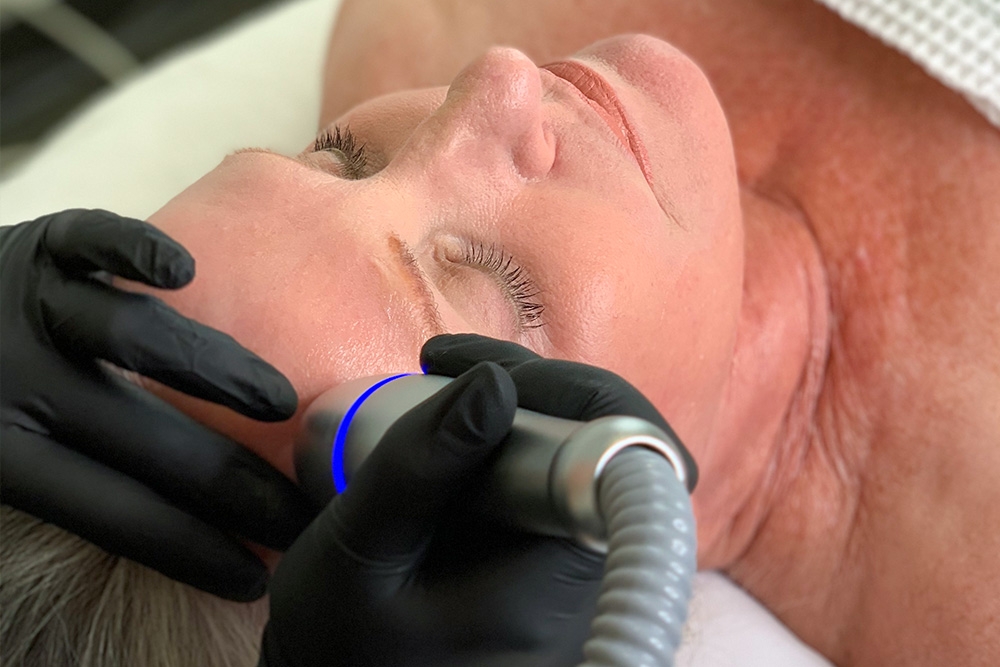 Face
Fine lines and wrinkles
Sagging skin on neck and decollete
Decreased skin elasticity
Post acne and aging pigmentation
Dark circles and puffiness around eyes
Hooded Brows
Loose jaw line area
---
Results After CoolRestore Facial Treatment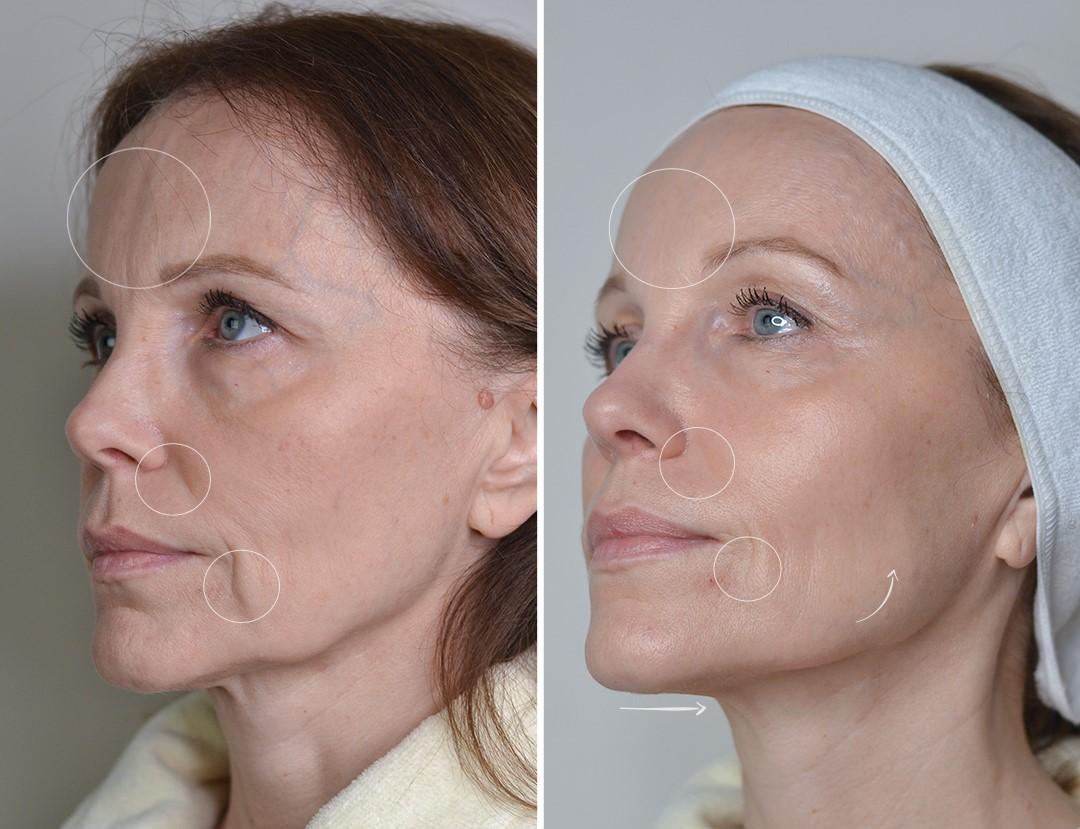 Body:
Stubborn fat deposits
Cellulite
Loose skin
Low skin tone
Poor blood and lymphatic circulation
Edema and puffiness
Uneven fat deposits after surgical liposuction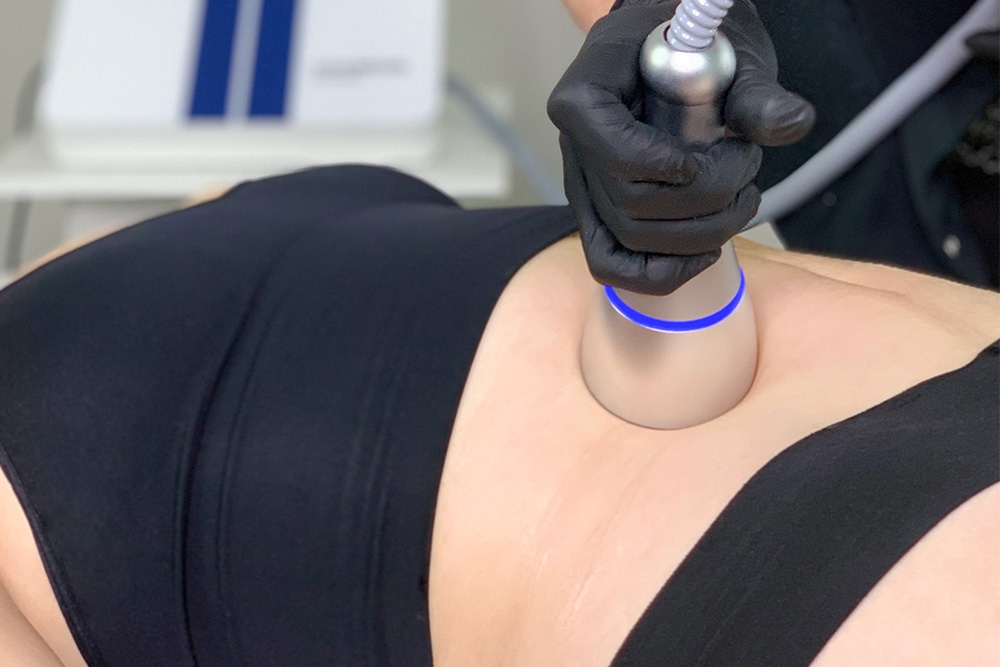 ---
Results After CoolRestore Body Treatment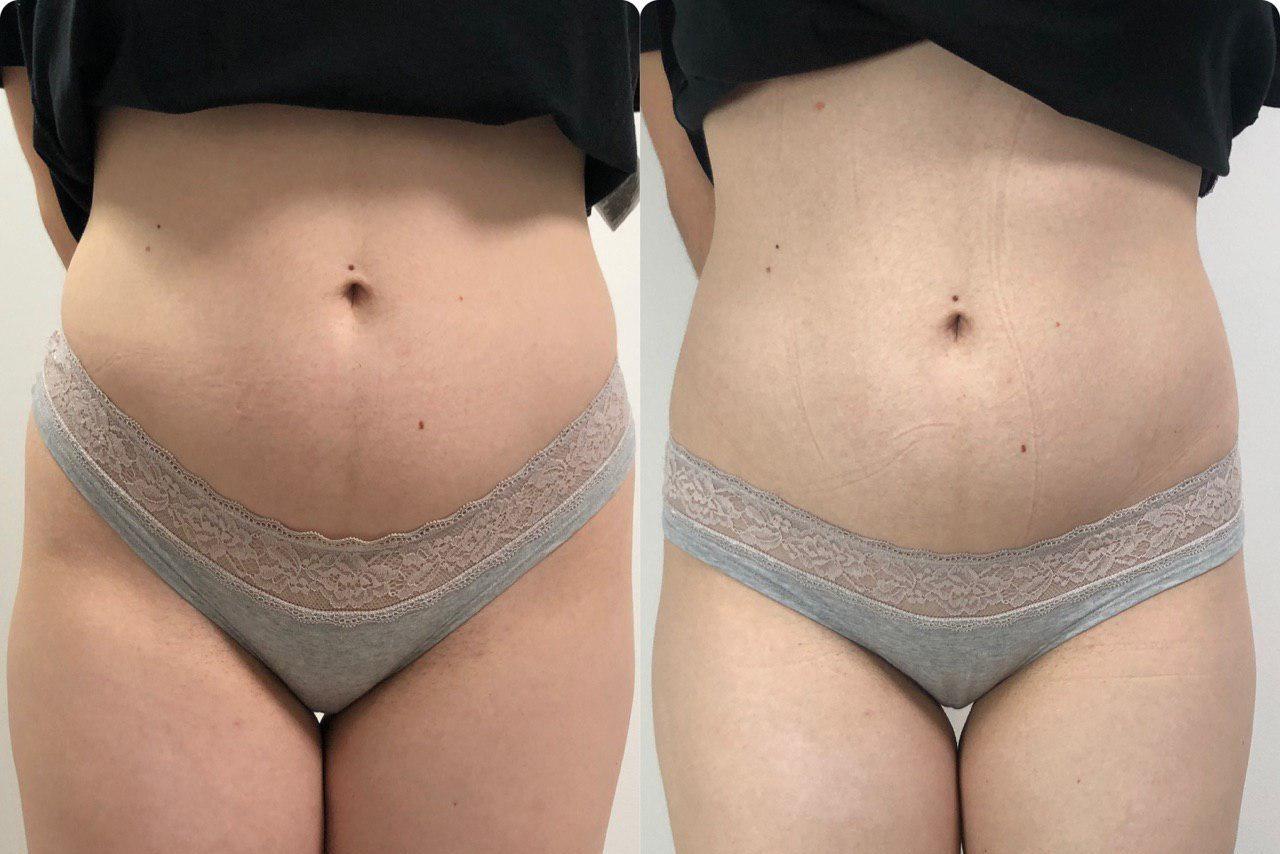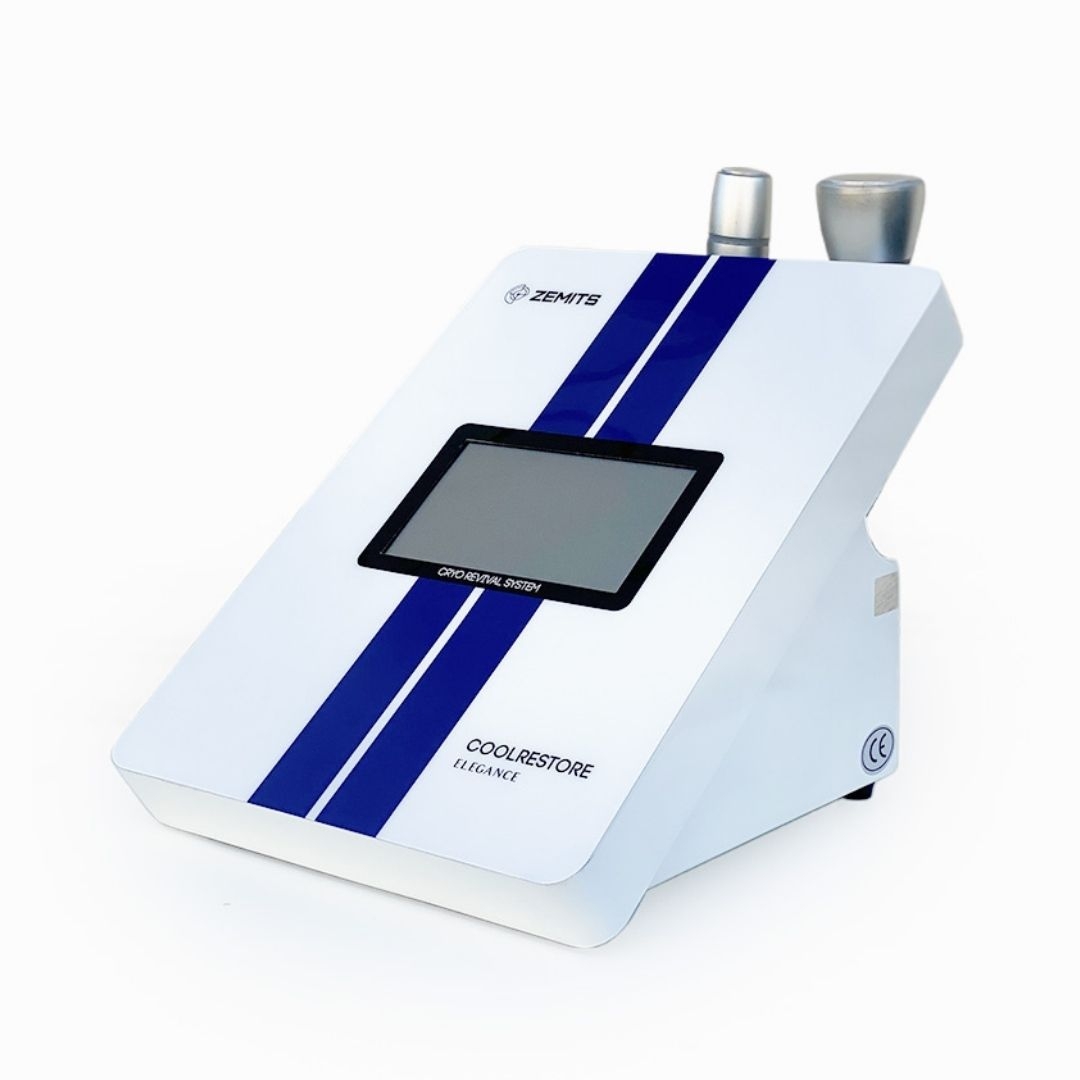 CoolRestore Elegance Design
The carefully sculpted CoolRestore Elegance was designed by skincare specialists, for skincare specialist. It's angled, compact build and long applicator cords allows for comfortable placement anywhere in the treatment room. The smart LED touch screen also makes maneuvering the treatment very simple for the operator.
CoolRestore Elegance comes with two unique medical grade applicators for cryo treatment of the face and body. The small handpiece is for facial and more targeted area treatments and the large handpiece is for body treatments. Both applicators have a blue light indicator that lights up when the applicator is active.
---
Smart Treatment Menu
Each treatment menu has the same easy-to-understand working menu to help the operator easily set the system to the appropriate parameters.

The operator sets the treatment timer and selects one of three Cooling Intensities:
• Gentle
• Moderate
• Strong

The Working Probe will automatically set to the small or large hand piece based on the treatment selected from the main menu. Current Temperature will indicate the live temperature of the working probe, allowing for a more controlled treatment.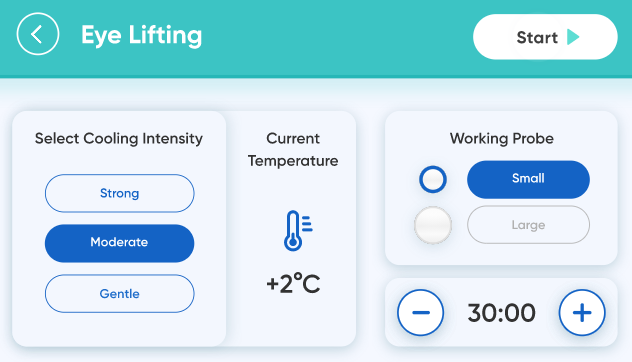 ---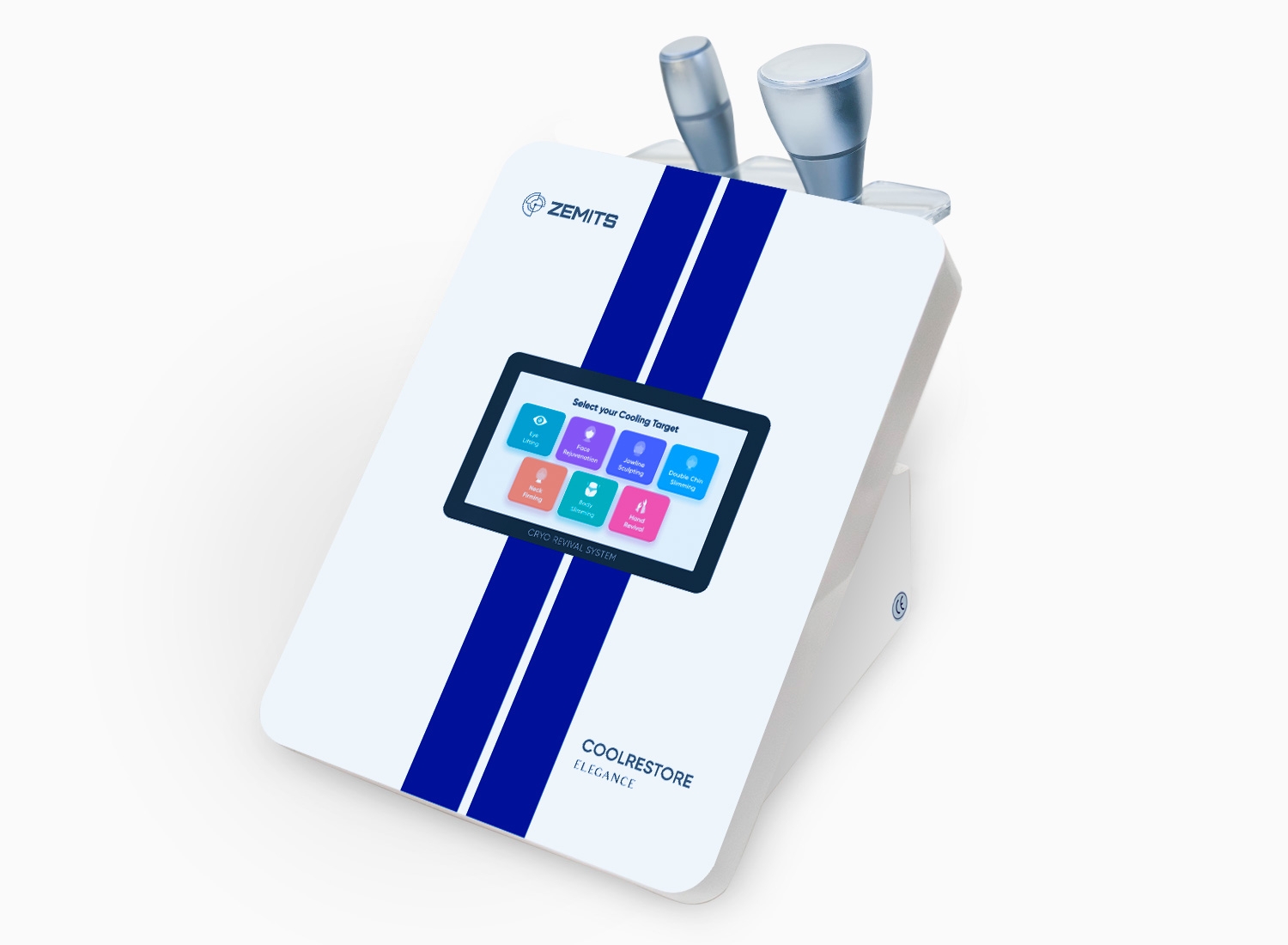 The smart operation system has 7 working modes to select from:
Eye Lifting
Face Rejuvenation
Jawline Sculpting
Double Chin Slimming
Neck Firming
Hand Revival
Body Slimming
---
Zemits Technology
Treatment with the Zemits CoolRestore Elegance can be customized for each individual client that comes in depending on what their goal is.
The system can reach as low as negative 15 Degrees Celsius. Each mode is preset to the ideal temperature to achieve the desired result.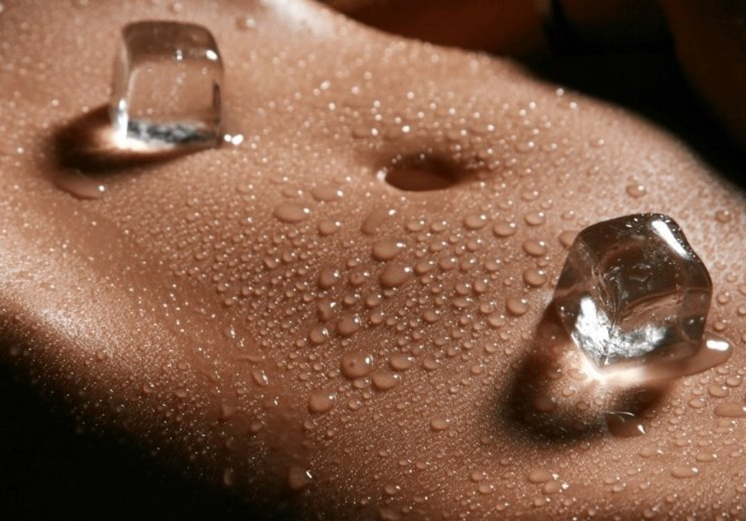 ---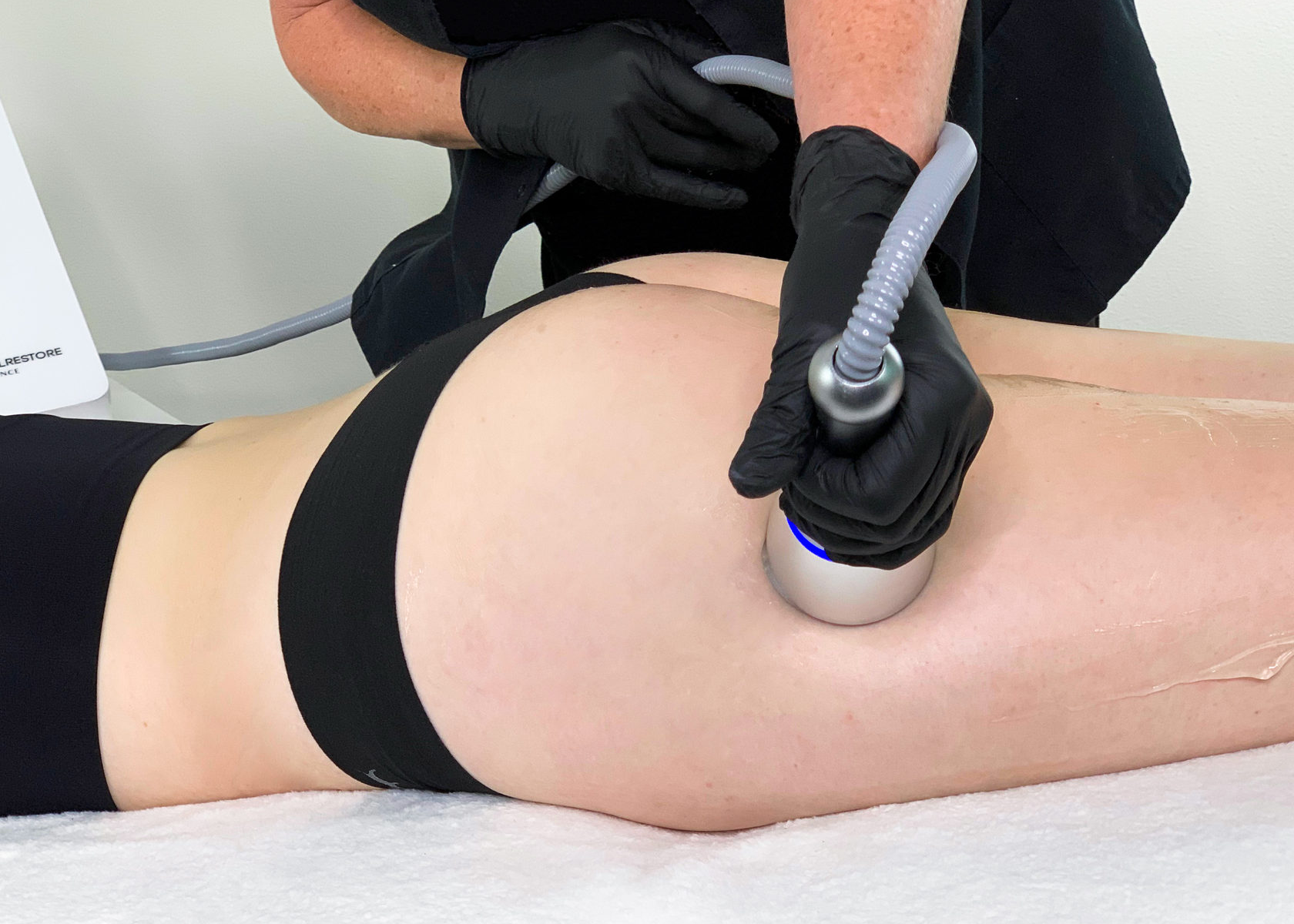 Slimming
The temperature range of +4 to -4 Degrees Celcius can dramatically impact the local fat deposits. This low range affects the local blood circulation and shrinks blood vessels. This leads to a "numbing" sensation during the treatment. Eventually this stressful freezing condition initiates the cascade of intracellular reactions and stimulates apoptosis - a natural death of fatty cells. As a result - reduced local fat deposits.
Following up this treatment with lymphatic drainage is ideal to help move the eliminated fatty cells out of the body naturally.
Zemits CoolRestore Elegance performs an advanced treatment which involves exposing the targeted area to extremely low temperatures which shock the adipocytes and leads to a sped up and more effective adipocyte elimination process. Studies have shown that exposing the skin to freezing temperatures accelerates cell apoptosis which is a natural and controlled cell death. Cells will gradually eliminate within months after the treatment and be transferred out through the lymphatic system.
---
Skin Tightening:
The extremely cold temperatures in facial cryotherapy dramatically improve local skin metabolism that results in:
Drastically increased blood and lymph circulation,
Instant reduction of puffiness and visible face lifting
Decreasing of pigmentation
Effectively boosted of collagen and elastin production
CoolRestore Elegance Cryo Facial also helps to enhance exfoliation of dry dead cells on the skin surface and strengthen the skin improving its overall condition.
The low temperatures enhance shedding of dead cells on the top skin layer, and bring arterial blood (full of oxygen to the skin from inside) to expose healthy and radiant skin beneath.
Zemits CoolRestore Elegance Facial treatments result in instantly tighter, firmer, and glowing skin.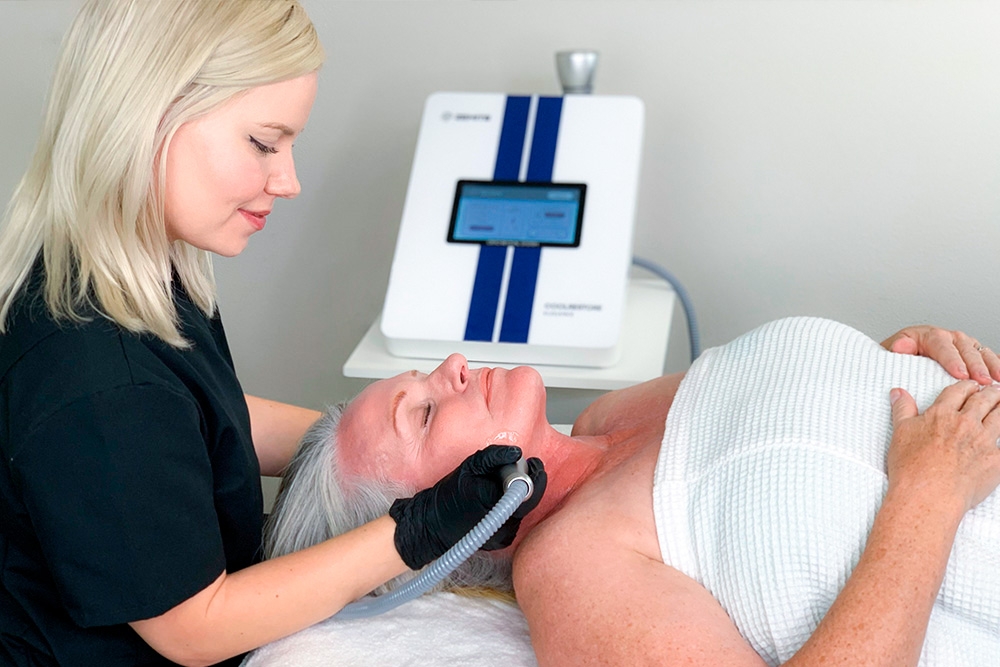 ---
What You Need to Know about Zemits CoolRestore Elegance
What's the difference between Zemits CoolRestore Elegance and other brands?
CoolRestore Elegance is a table top Cryo System with both precise Facial and effective Body treatment capabilities in one system. Aside from its unique design, CoolRestore Elegance is an affordable system that grants you a quicker ROI.
What consumables are needed?
The only consumable needed to perform CoolRestore Elegance is Zemits Firming Genius - Collagen Boosting Peptide Conductive Gel, formulated specifically to enhance skin tightening results of the Cryo Session.
How does it compare to Cavitation?
CoolRestore Elegance is a completely holistic therapy that uses doesn't conduct any electrical current or ultrasound like other technologies. For most clients, cryo is a much more comfortable treatment experience overall. Cavitation technologies use low-frequency ultrasound, that has a list of contraindications.
How long is the treatment?
One treatment session should only take between 15-30 minutes depending on the targeted treatment.
Is there a small handpiece for the face?
Yes, there is a professional handpiece for precise cryo facial treatments.
Can it cause nerve damage when not properly used?
Although possible, it is not likely with CoolRestore Elegance as the operator can always see the exact temperature of the working probe.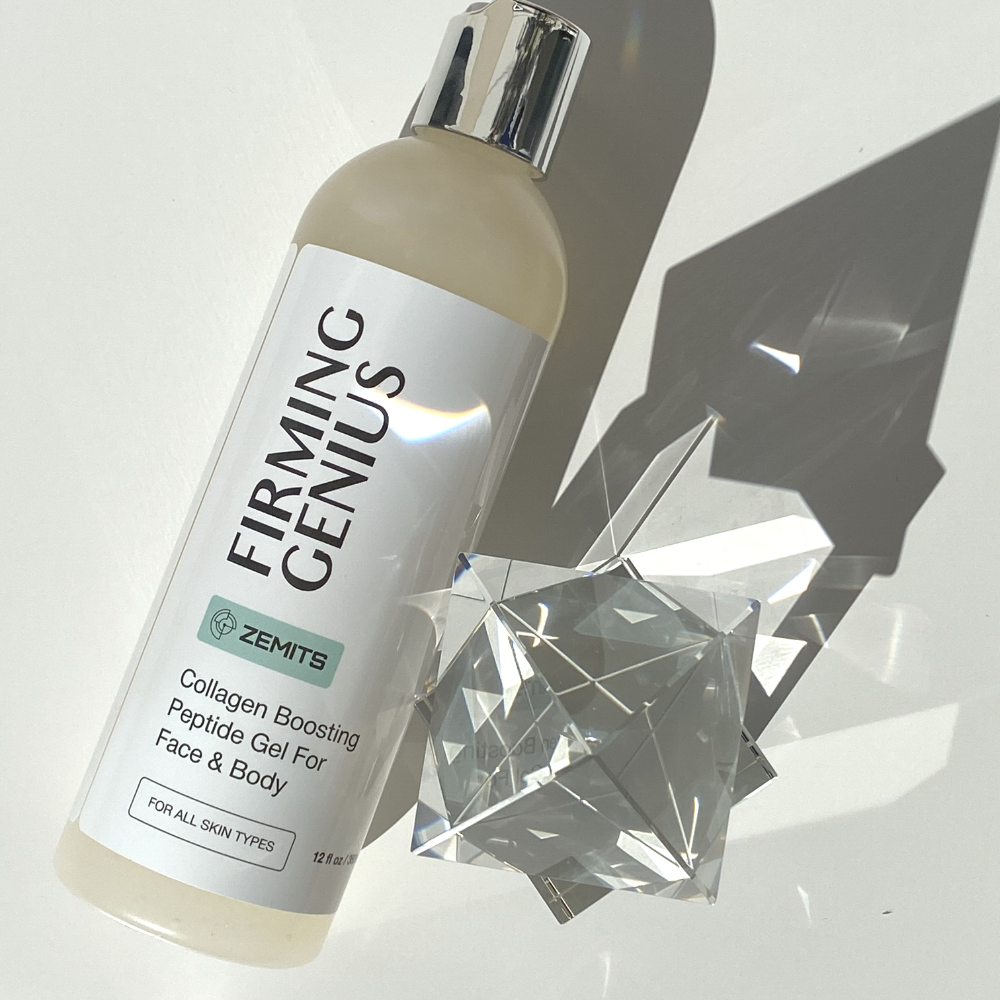 Product to Use with
The Zemits Firming Genius is a powerful combination of conductive and skin rejuvenating properties. The natural active ingredients make this gel a "Must Have" in every treatment room, as it is suitable for a majority of the most popular treatments and also has incredible collagen-boosting features.
The Zemits Firming Genius gel is hypoallergenic, non-irritating, and non-greasy.
Key Ingredients
Hazelnut Oil, Sunflower Oil, Vitamin E, Hyaluronic Acid, Ylang Ylang Oil, Green Tea Extract
---

All products at www.advance-esthetic.us website are intended for cosmetic use.
All products at www.advance-esthetic.us website are not intended to treat or diagnose any medical conditions.
Fast shipping
Guaranteed quality of aesthetic equipment
Service
Wide range of products
---
Zemits CoolRestore Elegance Skin Tightening Cryo Slimming System
33%
---
Callback
Write your details and our managers in the near future will contact you