Awaken Inner Perfection of Your Clients' Splendid Skin and Body Goals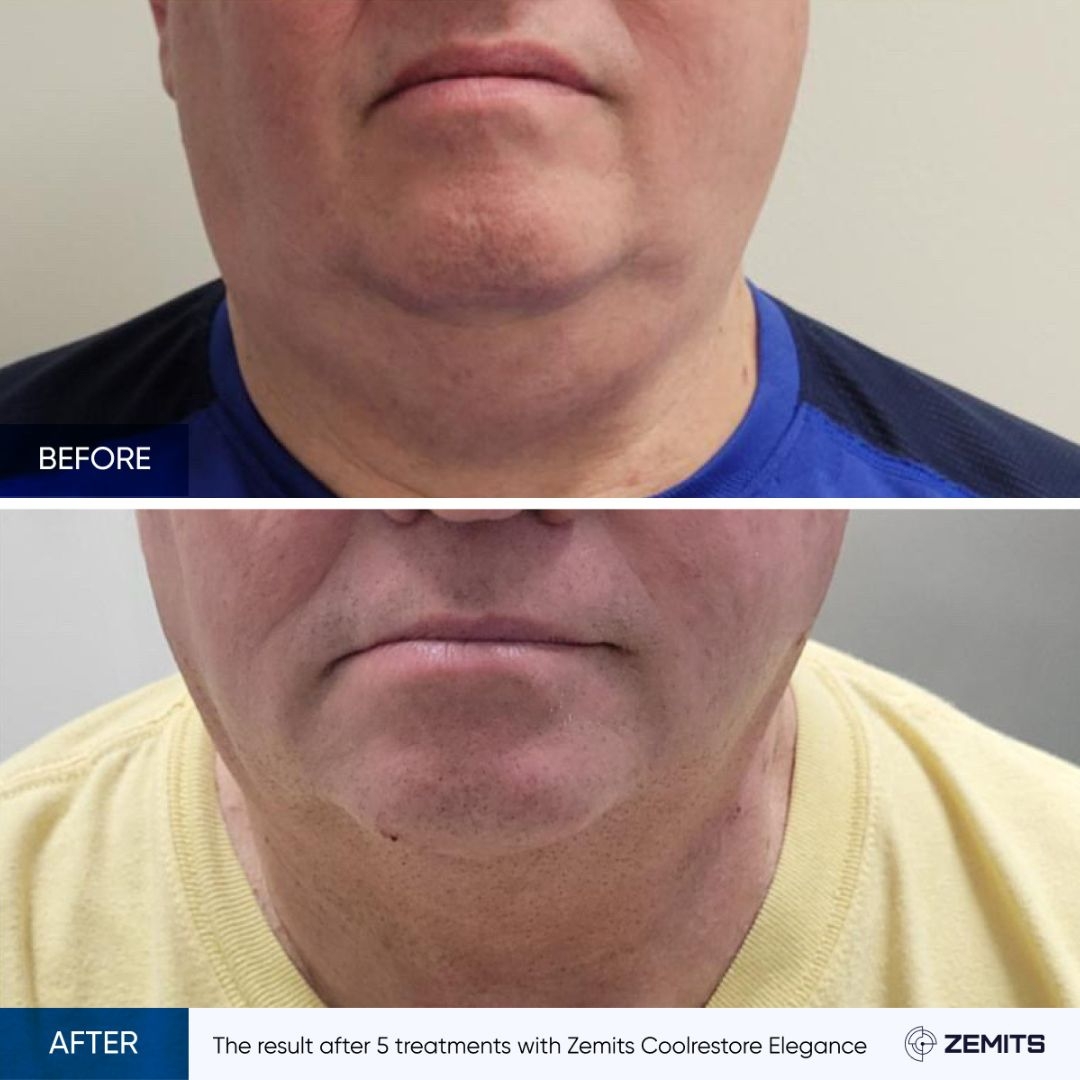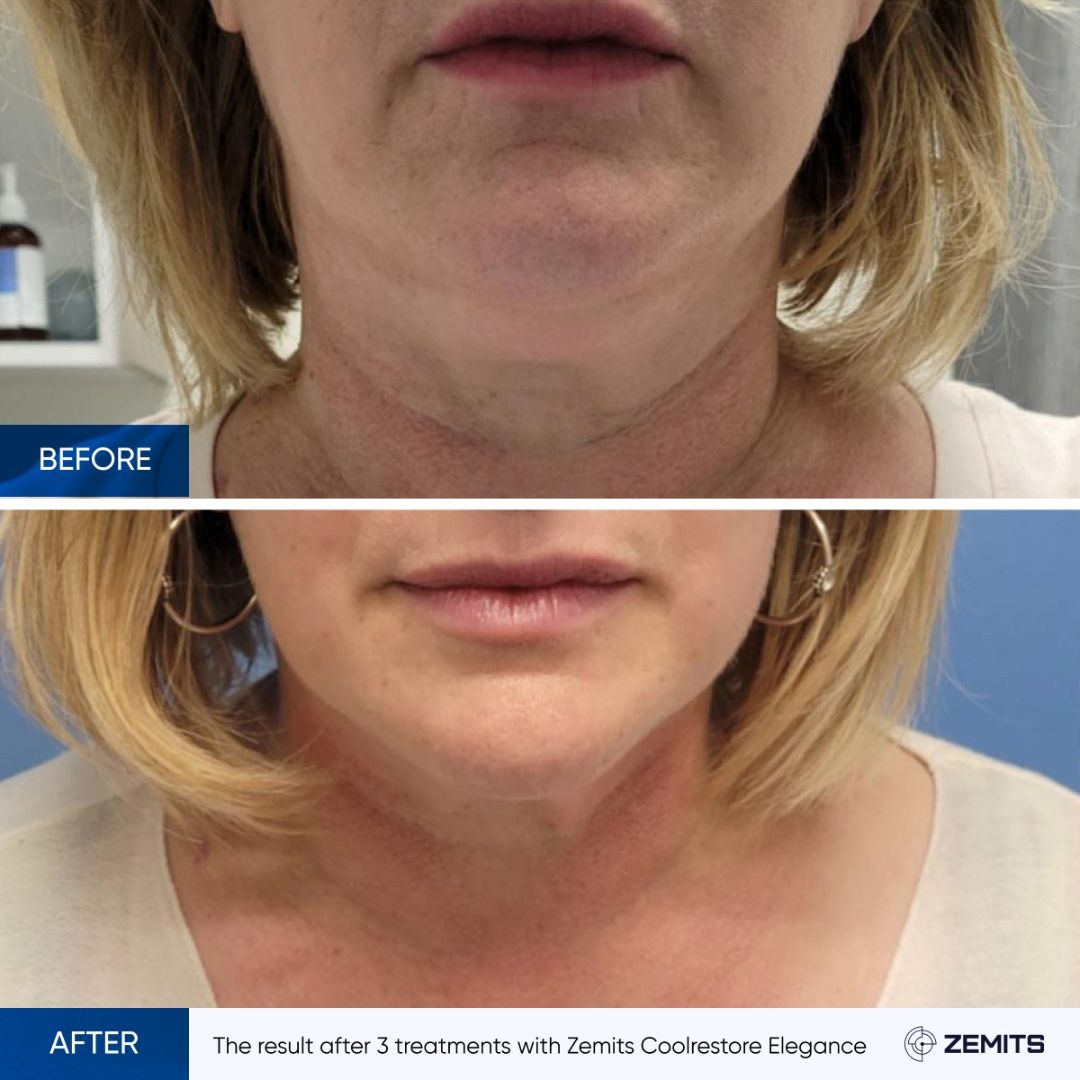 Results may vary. Outcomes are achieved in conjunction with a healthy lifestyle and regular exercises.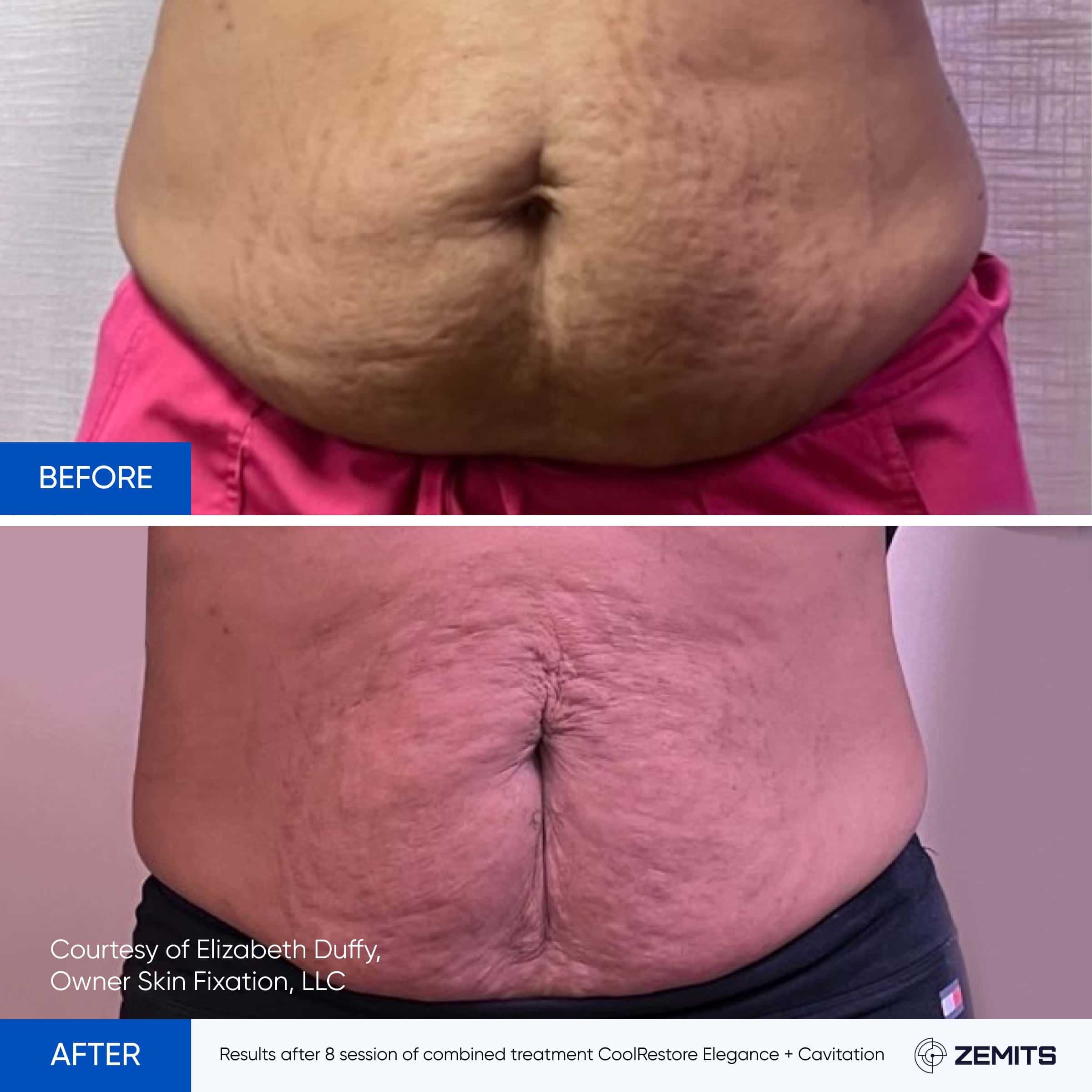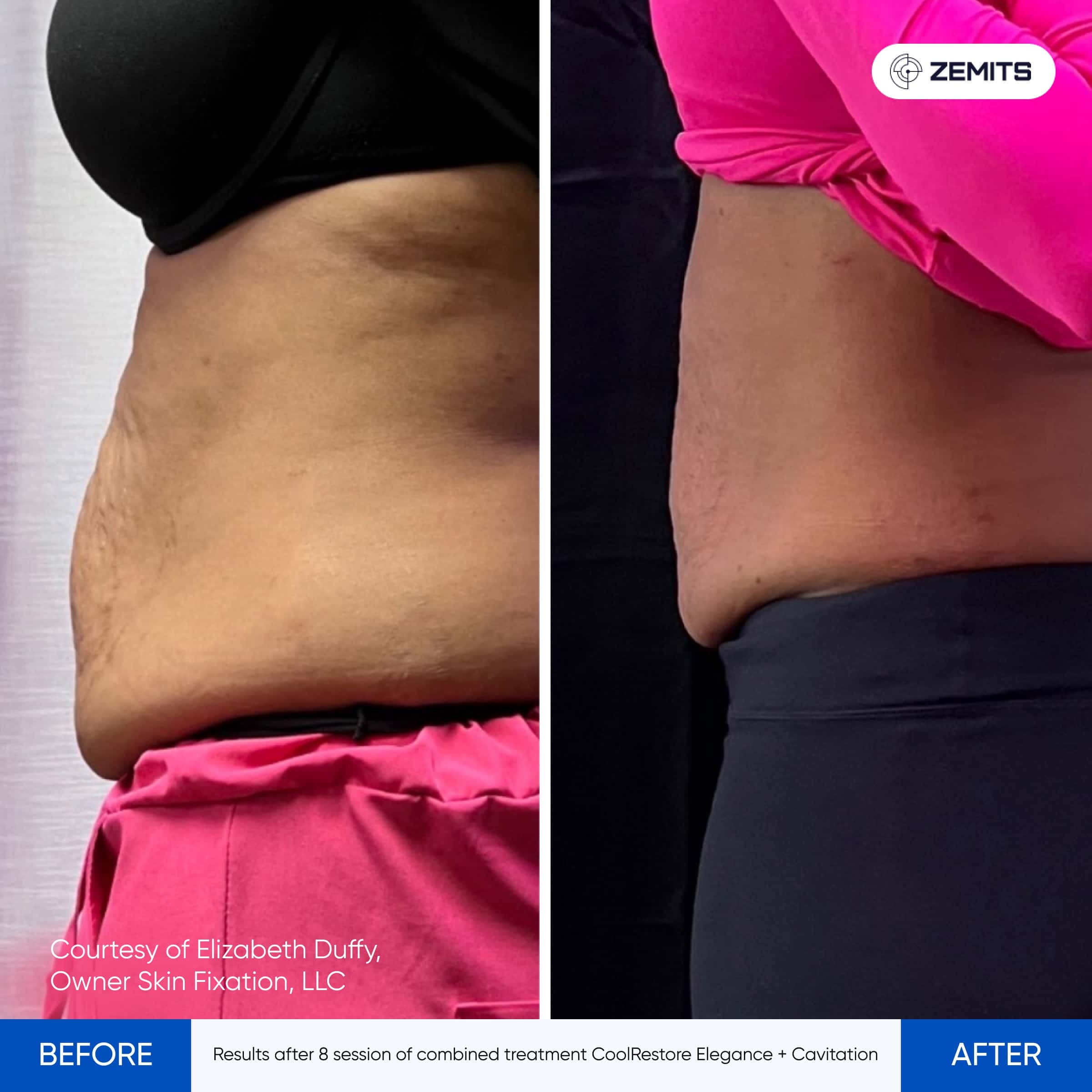 Results may vary. Outcomes are achieved in conjunction with a healthy lifestyle and regular exercises.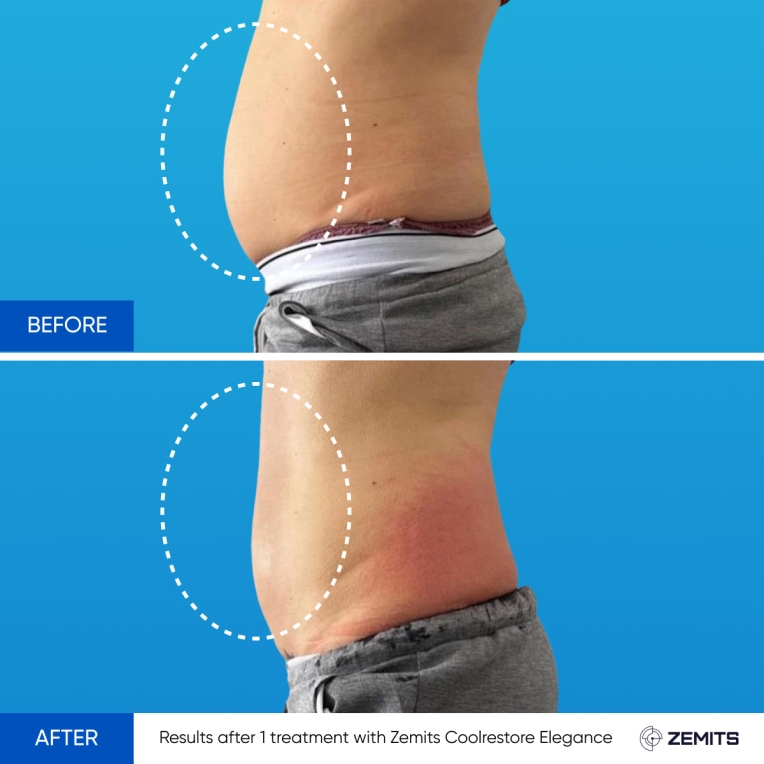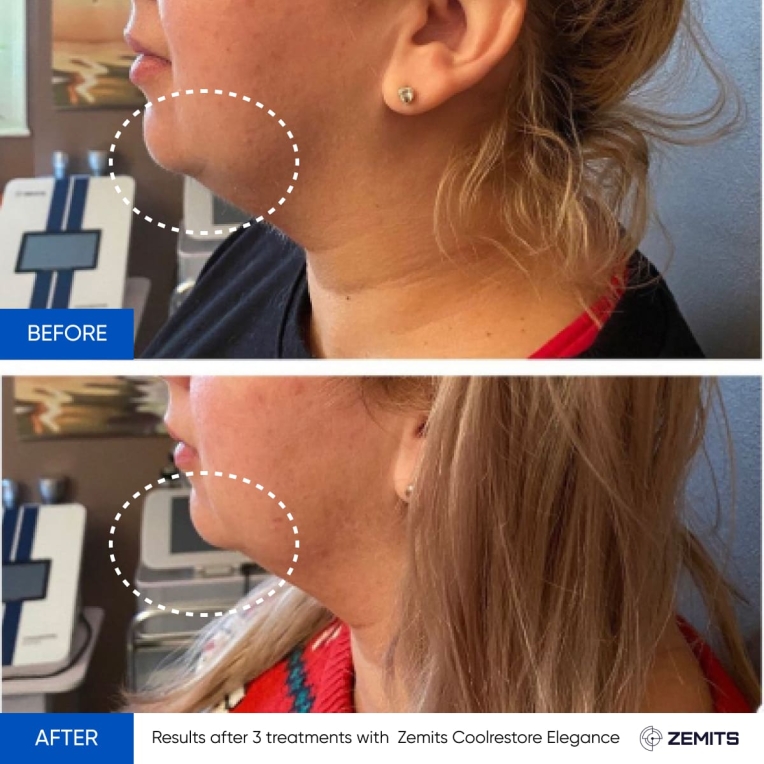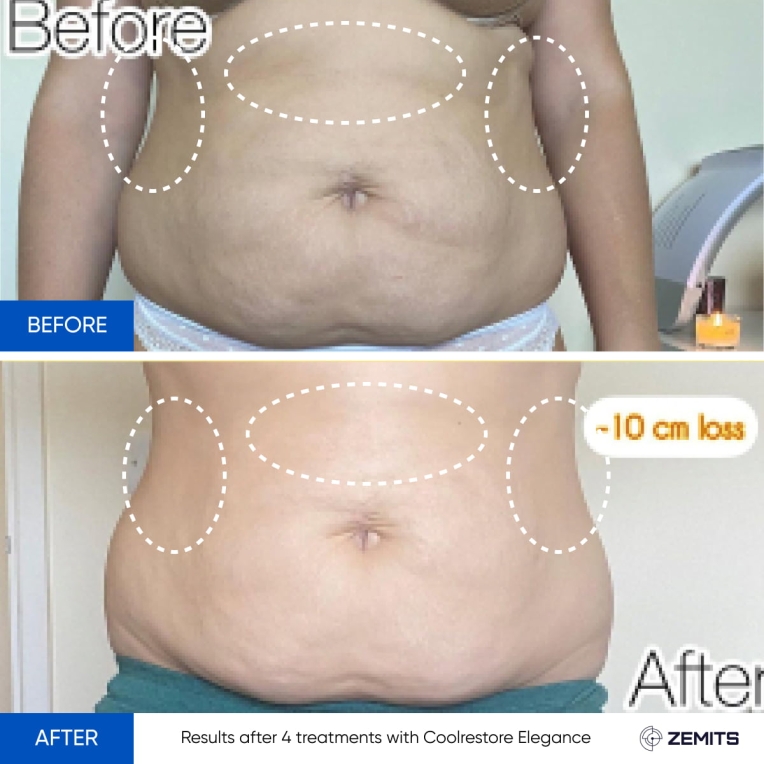 Results may vary. Outcomes are achieved in conjunction with a healthy lifestyle and regular exercises.
Introducing the Zemits CoolRestore Elegance
The Ultimate Cooling Experience for Your Spa
Discover a new level of sophistication and cutting-edge technology with the Zemits CoolRestore Elegance Device. The CoolRestore Elegance will elevate your spa's offerings and captivate your clients.
The cutting-edge CoolRestore Elegance System provides a completely non-invasive, holistic, and safe cooling treatment. By targeting specific skin areas, it helps your clients to advance their slimming pursuits when paired with a balanced lifestyle and regular exercise.
With its advanced temperature control system and customizable treatment protocols, the CoolRestore Elegance caters to individual client needs, ensuring an unparalleled and personalized treatment experience.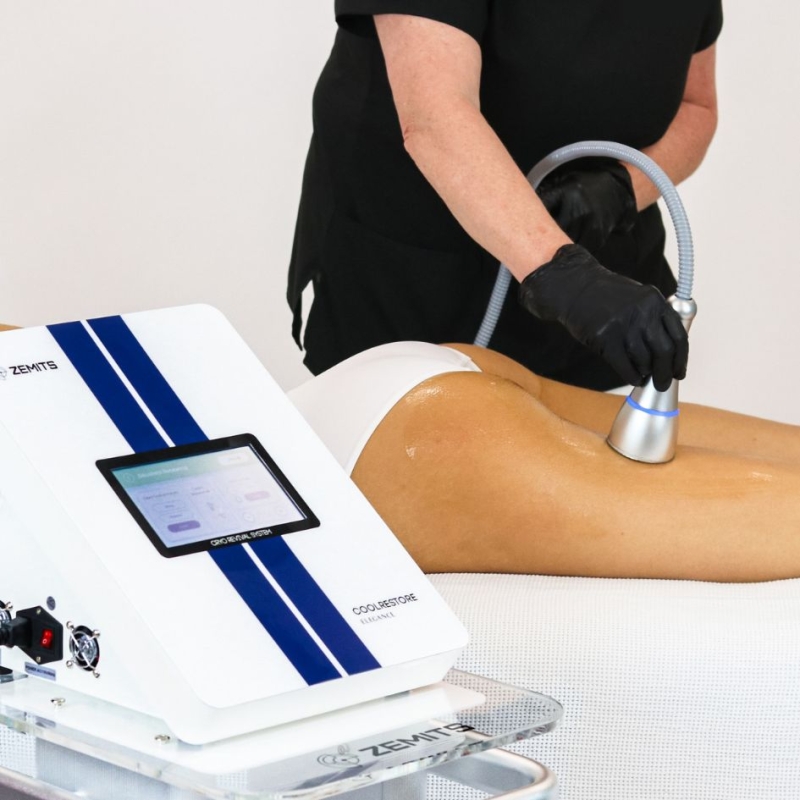 Maximizing Profits with CoolRestore Elegance Cooling Treatment
Cooling treatments have carved a notable niche within the wellness and aesthetic industry, generating impressive returns for beauty spas and aesthetic clinics.
Data from 2023 indicates that the average price for a 30-minute cooling treatment session is $250 per treated area.
Considering that most customers typically undergo 4 to 6 sessions to obtain optimal results, their total investment often surpasses $1,500 for the entire treatment sequence.
By introducing and promoting the CoolRestore Elegance Cooling Treatment, your spa can potentially generate a monthly income of $15,000, assuming an average of 3 treatments per day over a 5-day workweek. This offers you a lucrative addition to your suite of services and a swift breakeven point.

Discover the Multifaceted Benefits
The Zemits CoolRestore Elegance System is a marvel of aesthetic technology, offering an extensive array of benefits tailored to address a multitude of client concerns with a holistic approach.
Harnessing the power of innovative cold-assisted wellness technology, the CoolRestore Elegance is versatile for a range of areas: from the face and neck to the upper arms, bra and back fat zones, banana rolls, thighs, abdomen, and flanks, extending even to the submental and submandibular regions.
The Zemits CoolRestore Elegance System ensures that each client experiences a bespoke treatment, personalized to their unique needs. Beyond the aesthetic and wellness benefits, the system also fosters relaxation, leaving your clients with an elevated sense of well-being.
Experience the Magic in Action:
View the Captivating Zemits CoolRestore Elegance Video
CoolRestore Elegance: Where Wellness Meets Aesthetics
Revolutionary CoolRestore Technology
Experience the transformational capabilities of the Zemits CoolRestore Elegance.
Help your clients unlock newfound confidence. The CoolRestore Elegance not only rejuvenates the skin but also enhances body tone. While it's a well-known fact that contrasting temperature applications have an awakening and refreshing effect on the human body, the CoolRestore Elegance takes it a step further with targeted cold application. Ensure your clients leave your spa feeling revitalized and radiating confidence in their appearance.
The Zemits CoolRestore Elegance is incredibly versatile, capable of treating a wide range of body areas, customized to each client's specific needs. The most popular treatment areas include the abdomen, flanks, thighs, buttocks, upper arms, and the submental region.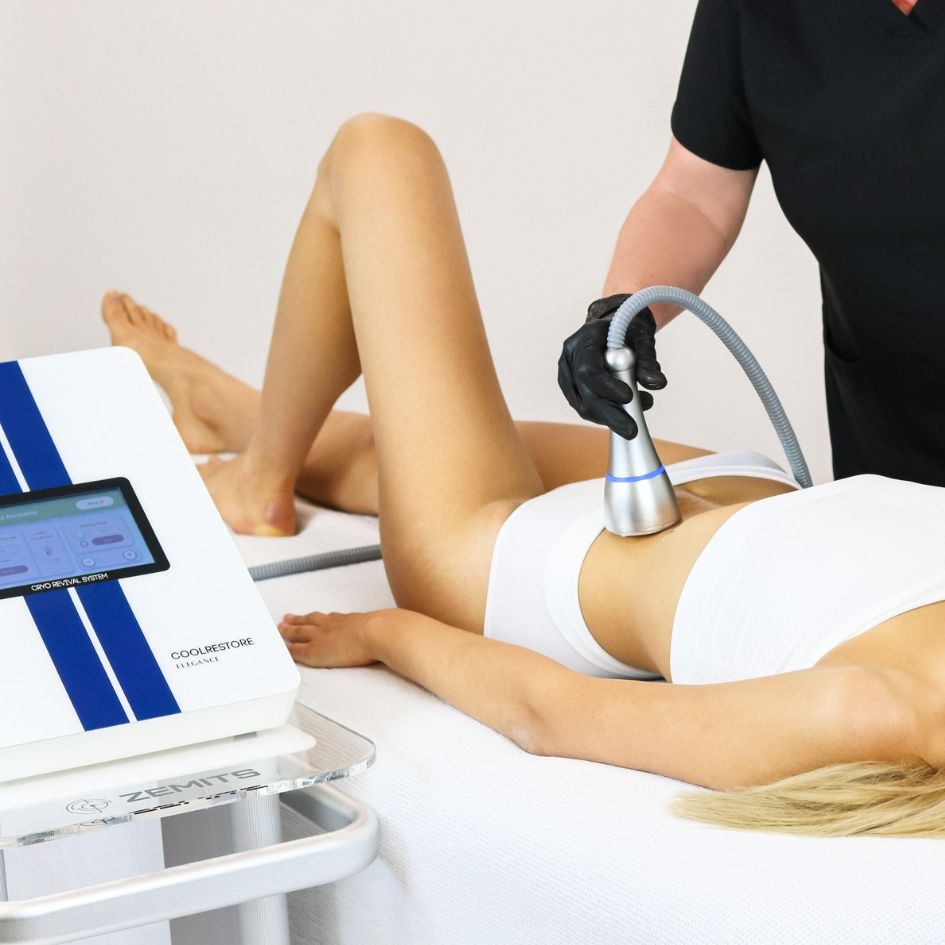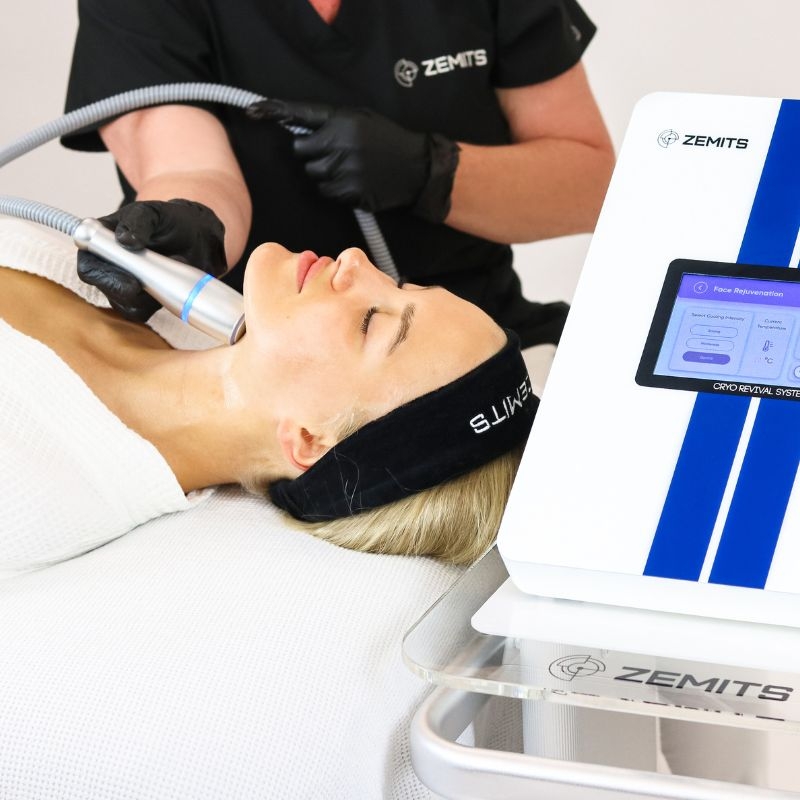 CoolRestore Elegance Facial Experience
Experience Unparalleled Comfort
The gentle controlled cooling massage with Zemits CoolRestore Elegance Facial Handpiece ise used to massage face and neck and deliver gentle cooling application.
CoolRestore Elegance Facial Treatment is a 100% Non-Invasive Holistic Treatment. There is no coolant or nitrogen, the device runs solely on distillled water. The precisely controlled temperature ensures optimal safety, while the refreshing coolness envelops your skin, leaving you feeling refreshed, revitalized, and relaxed.
The treatment is performed using a conductive gel and a multi-use handpiece. This treatment does not penetrate the skin and remains above the stratum corneum. With the Zemits CoolRestore Elegance, your clients can truly unwind and enjoy a luxurious, comfortable treatment that delivers exceptional results.
The Science Behind the Procedure
The CoolRestore Elegance stands out as our uniquely developed wellness cooling system, offering both safety and comfort in its cooling applications.
This multi-functional platform harnesses the science of precision cooling to assist your clients in achieving their body goals, when paired with a healthy lifestyle and regular exercise. Beyond body aesthetics and wellness, it helps rejuvenate and harmonize skin tone. All these benefits come with the assurance of a completely pain-free session and zero adverse effects.
This advanced and efficacious solution would make a valuable addition to any spa or esthetician's suite of offerings, enhancing both their service effectiveness and customer comfort levels.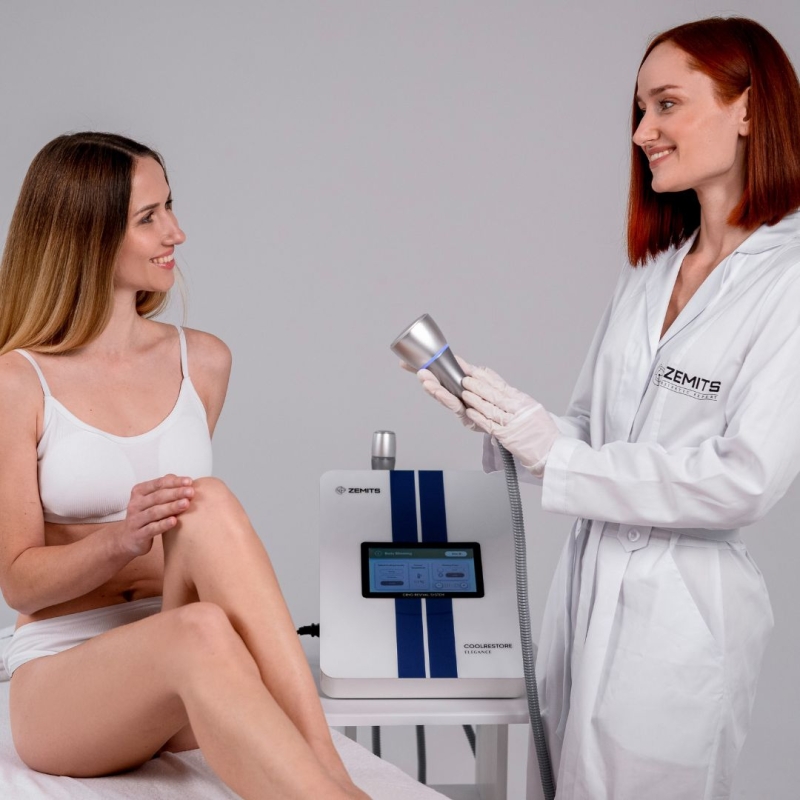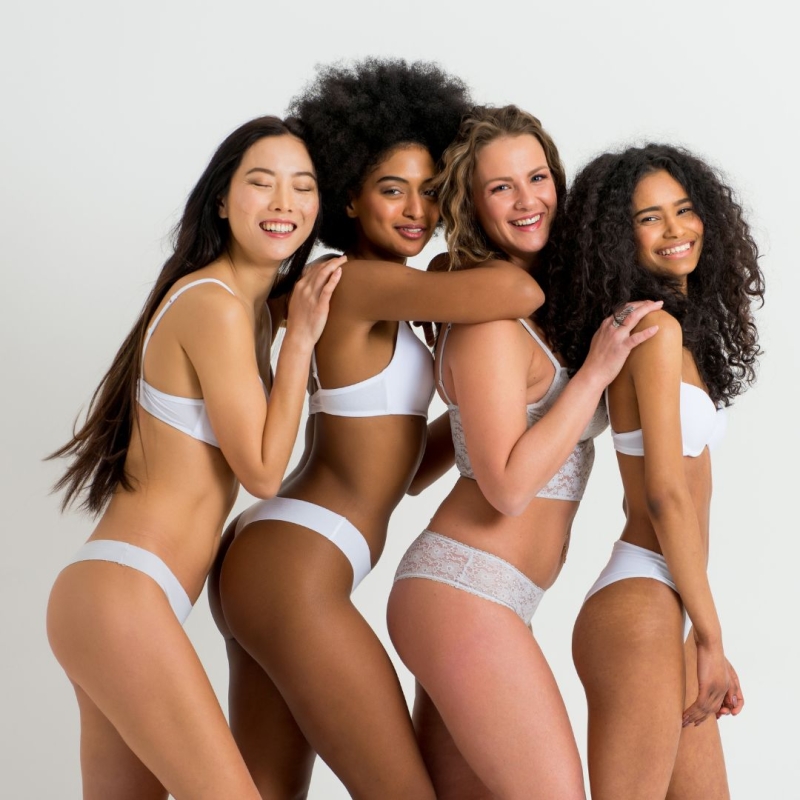 Holistic Cooling Application:
A Perfect Fit for All
The Zemits CoolRestore Elegance leads the way in holistic cooling treatments, offering a comprehensive solution tailored to diverse client needs. It seamlessly marries wellness with aesthetics. Whether supplementing fitness routines or rejuvenating skin, it caters to a wide array of objectives, promoting both external beauty and internal well-being.
Its non-invasive nature ensures that everyone, regardless of skin type or sensitivity, can benefit from the treatment. This dual action for face and body application is the key to its universal appeal.
Zemits Handpieces: Efficiency & Convenience Combined
The Zemits CoolRestore Elegance boasts ergonomically constructed handpieces, meticulously designed for secure and accurate treatments on both face and body. This assures lasting performance and enhances client comfort throughout the procedures.
The device operates solely on distilled water, eliminating the need for coolant and reducing overall maintenance costs.
With no additional consumables required apart from conductive gel, the CoolRestore Elegance handpieces offer unparalleled ease of use and cost-effectiveness, making them the ideal choice for professionals seeking efficiency and convenience in their cooling facial and body treatments.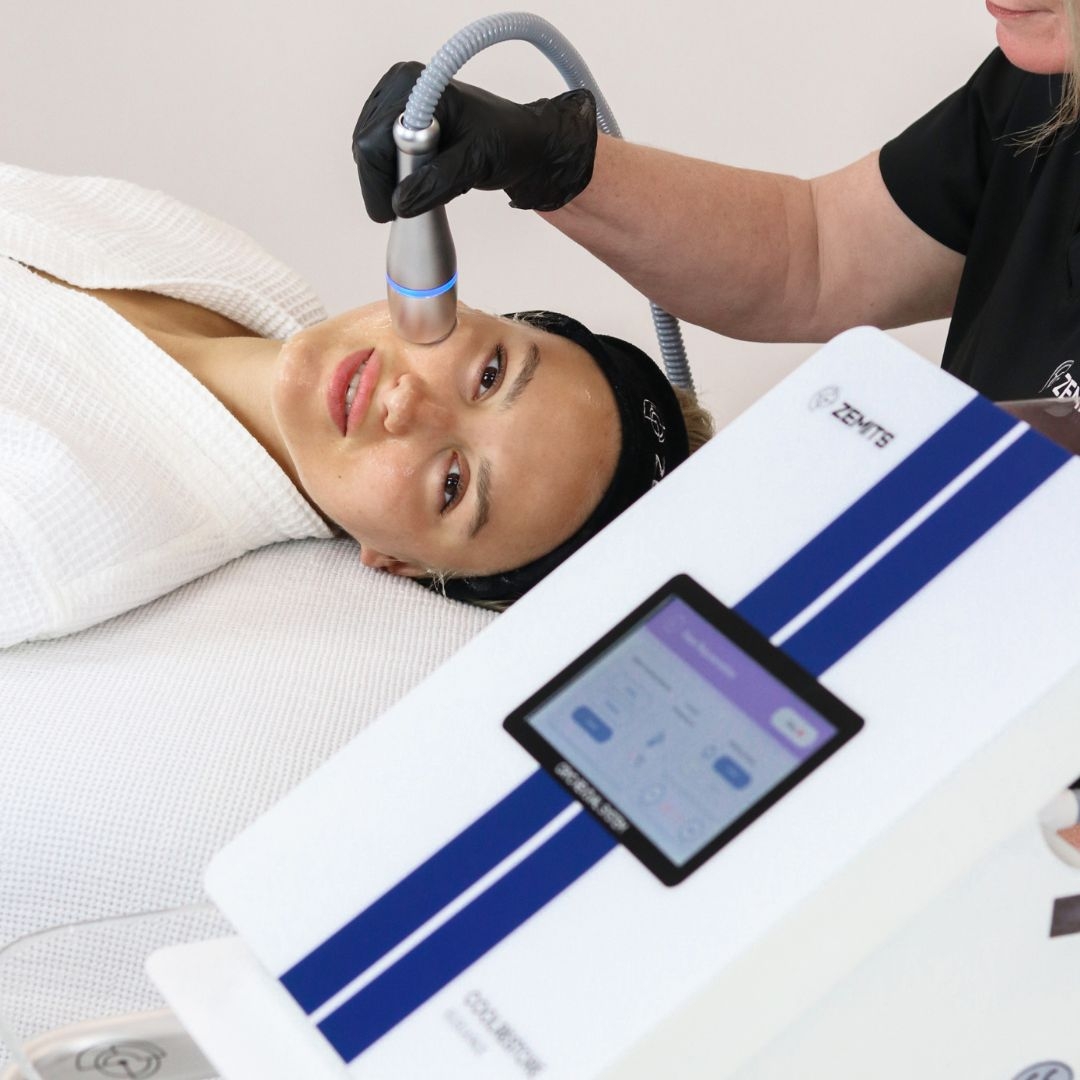 Why Choose CoolRestore Elegance?
The results from our clients speak louder than any words.
Contact us to discover how CoolRestore Elegance can elevate your spa business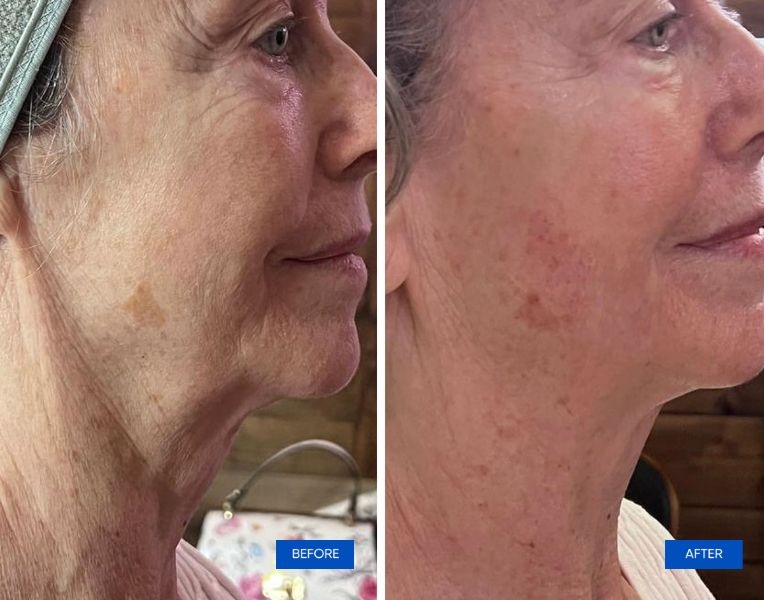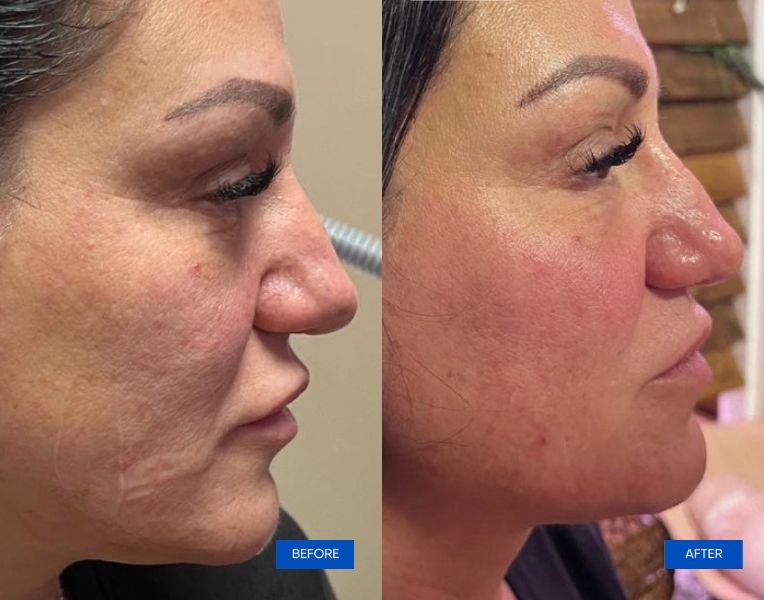 Results may vary. Outcomes are achieved in conjunction with a healthy lifestyle and regular exercises.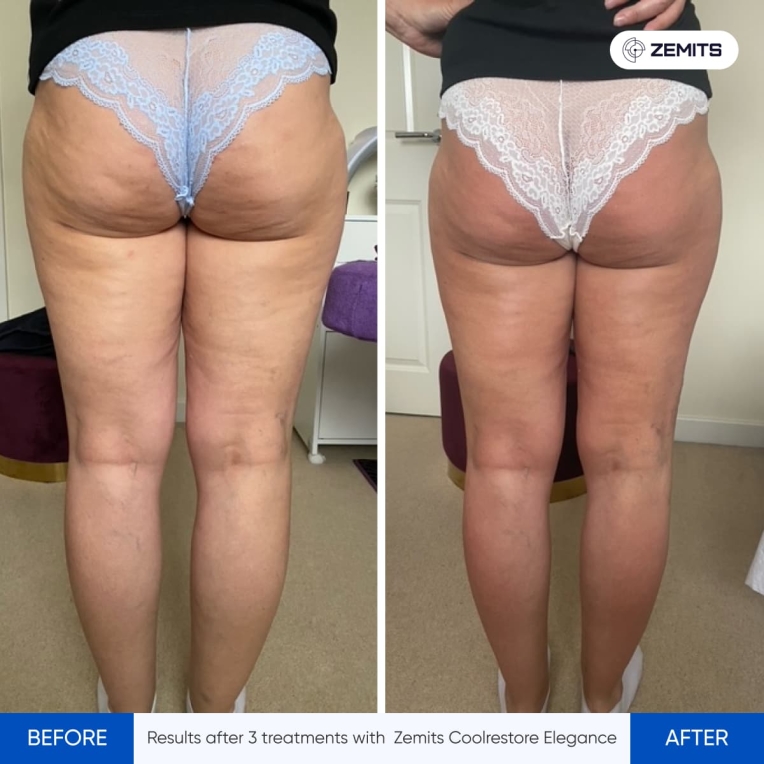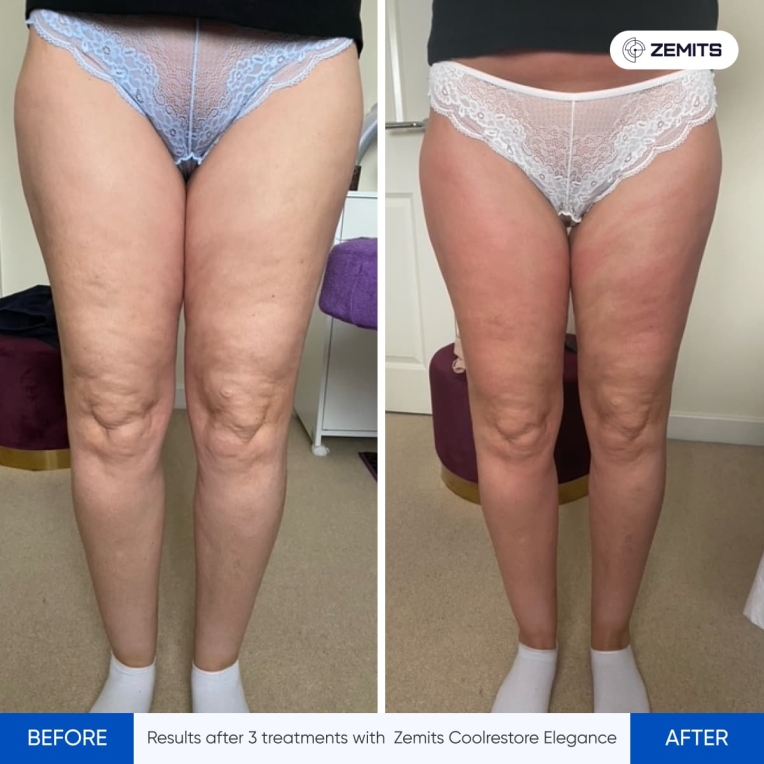 Results may vary. Outcomes are achieved in conjunction with a healthy lifestyle and regular exercises.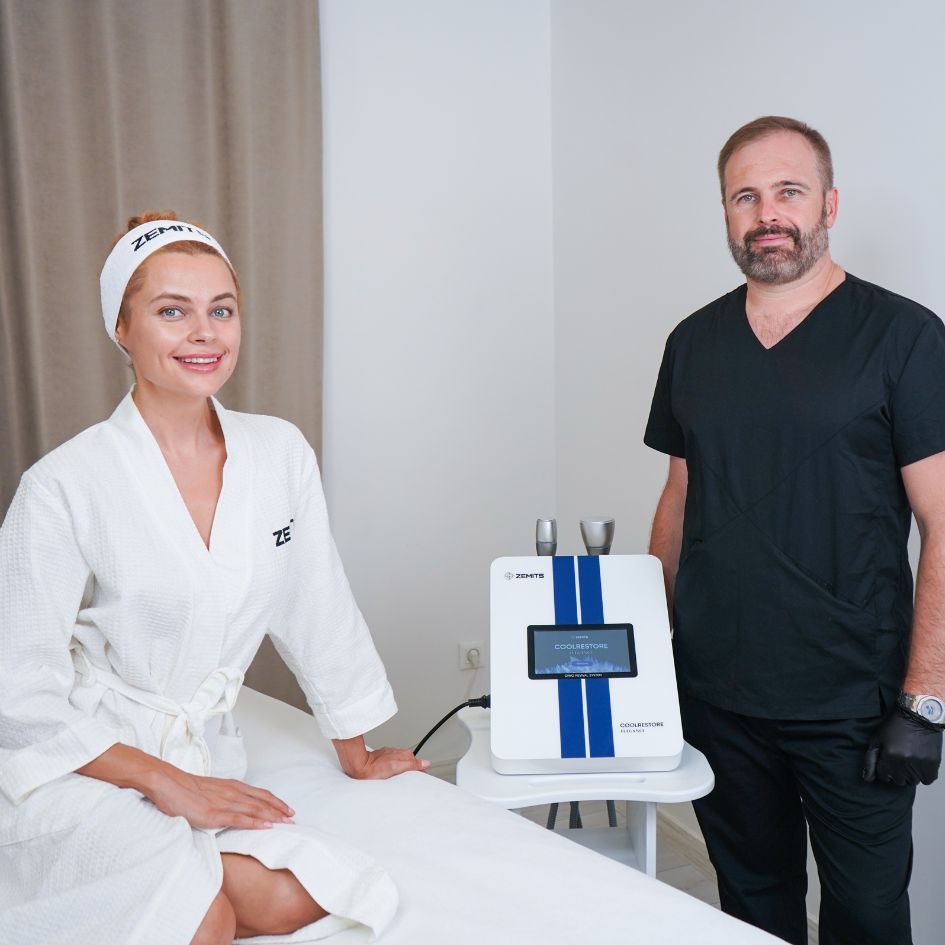 Partnering with a World-Renowned Brand for Success
Choose the Zemits CoolRestore Elegance and enjoy the benefits of partnering with a world-recognized brand, renowned for its commitment to excellence, innovation, and customer satisfaction. By investing in the CoolRestore Elegance, you are not only obtaining a cutting-edge device but also aligning yourself with a company dedicated to your success.
Here's what you can expect when you join the Zemits family:
Comprehensive Advanced Training
Exceptional Customer Support
Trusted Reputation
Growth Opportunities
This is a Real Booster And Source of Profit For Your Spa
Attract a diverse clientele with the high-demand Zemits CoolRestore Elegance treatment. This innovative service, featuring minimal contraindications, can be effortlessly introduced to your existing clients, as everyone can benefit from CoolRestore treatment.
The Zemits CoolRestore Elegance boasts advanced, lightweight handpieces meticulously designed for targeted facial treatments, and a sturdy body applicator for more extensive areas. With an affordable price point and no contractual obligations, your business can enjoy immediate profits.
Say goodbye to rental fees; with the Zemits CoolRestore Elegance device you can simplify your spa operations while maximizing your earning potential.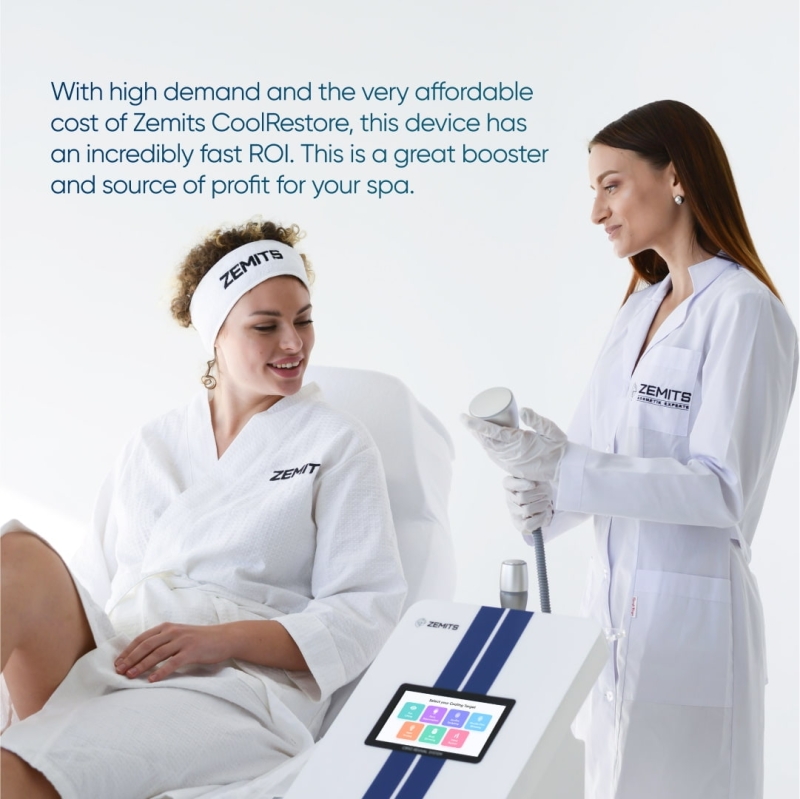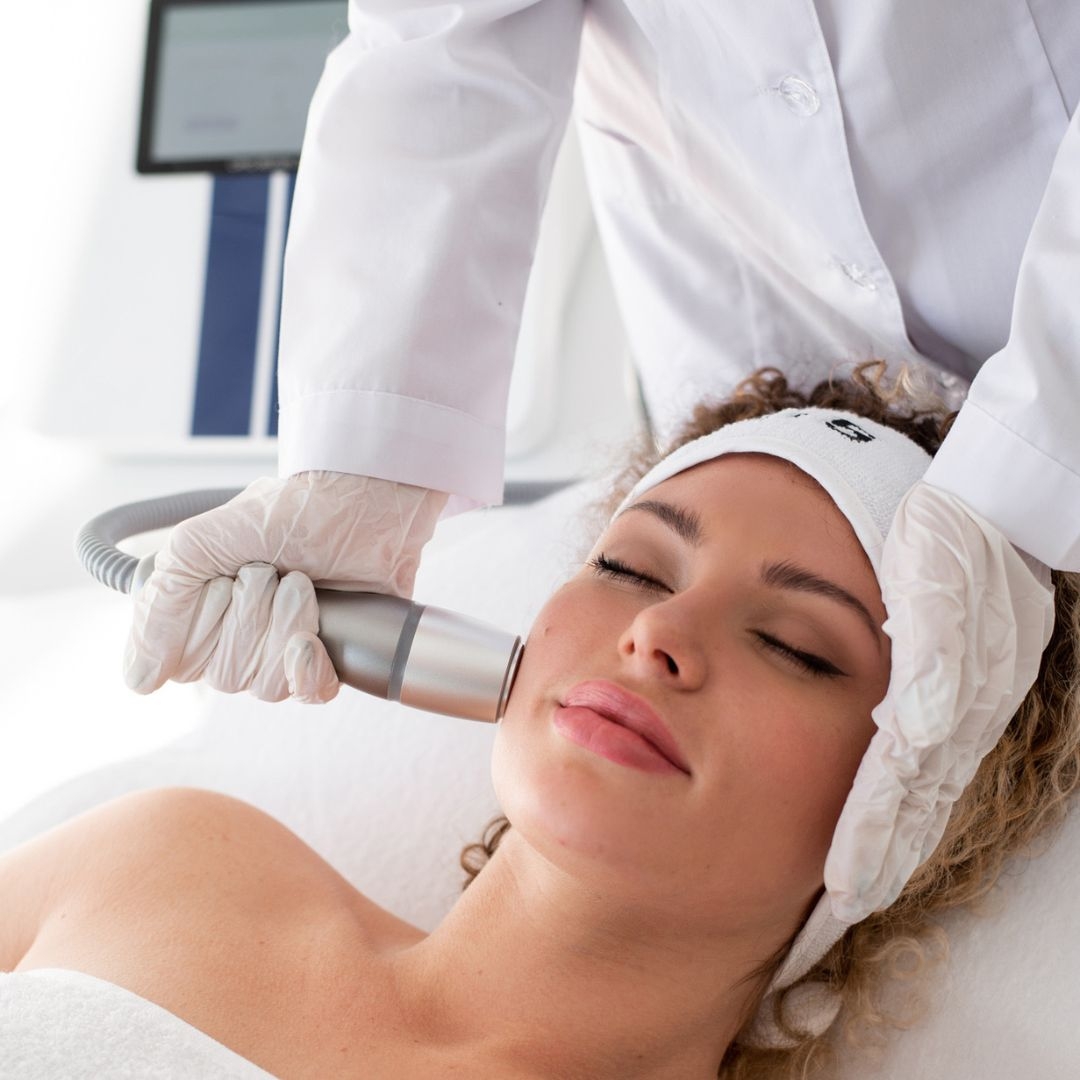 Unleash the Complete Power of CoolRestore
Environmentally friendly: Utilizes distilled water without the need for nitrogen.
100% holistic treatment: No ultrasound or electrical current; only controlled low temperatures.
Dual-action technology: Designed for both: face and body.
Effortless application: The elegant treatment technique makes the procedure simple to perform.
A versatile solution that delivers remarkable results for both clients and practitioners.
Complementary SkinCare Set
At Zemits, we understand that success in the spa industry requires more than just a high-quality device. That's why we offer a comprehensive treatment solution, providing everything you need to start enhancing your business immediately.
With every Zemits device purchase, we include a corresponding to your device complimentary set of premium skincare products, allowing you to offer exceptional services to your clients right away. We are committed to your success and believe in empowering you with the knowledge and skills to maximize treatment results.
To support you in achieving the best outcomes, we provide thorough training and detailed treatment protocols, ensuring you have the confidence and expertise to deliver outstanding services.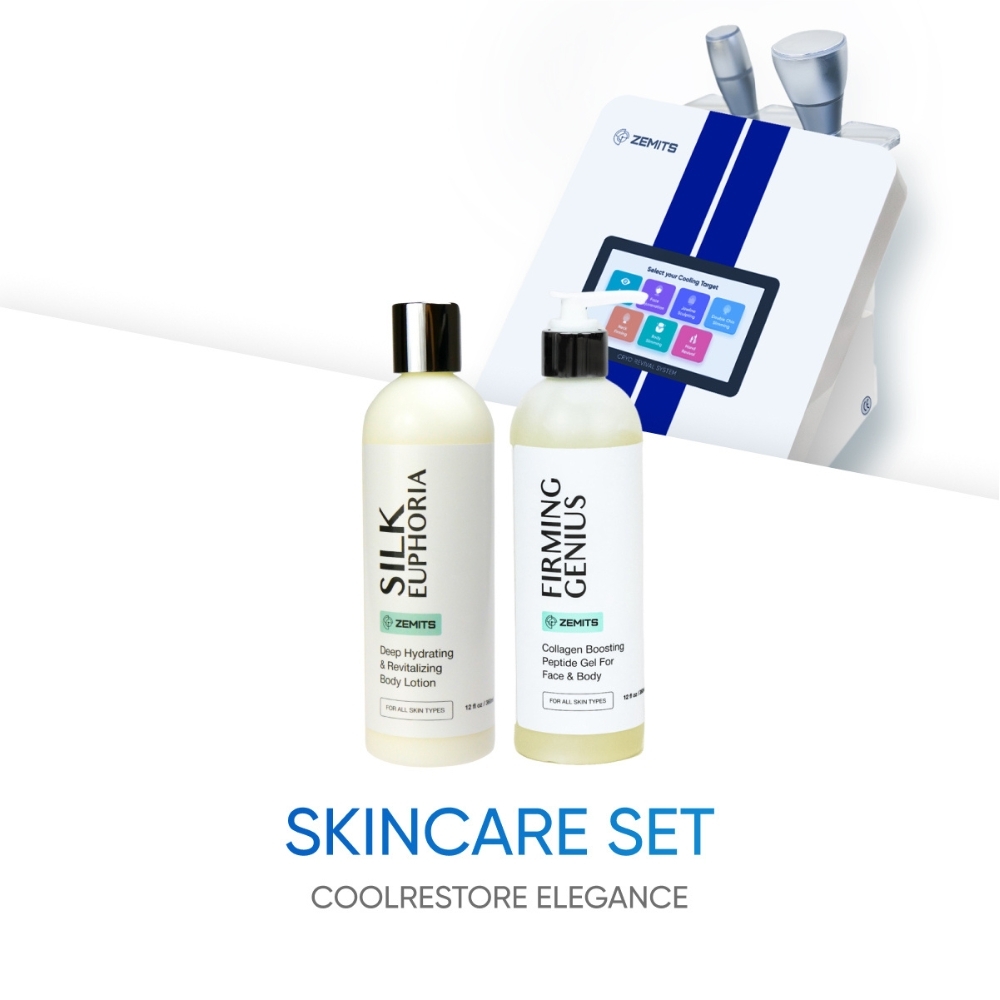 CoolRestore Elegance Success Stories Revealed
On-of-a-Kind Training Program
Zemits is committed to providing you with the knowledge and skills necessary to maximize the potential of the CoolRestore Elegance. Our advanced training program ensures that you and your staff are well-equipped to deliver safe and effective treatments, resulting in outstanding outcomes for your clients.
A-Esthetic's certified educators have 30+ years of experience.
With our combined experience, we have created the most complete and advanced online training course for Zemits DermeLuxx.
You will have completely FREE access to the customized online training course and Q&A session with our educators.
We will provide you with the Certificate of Completion after you successfully complete your training course.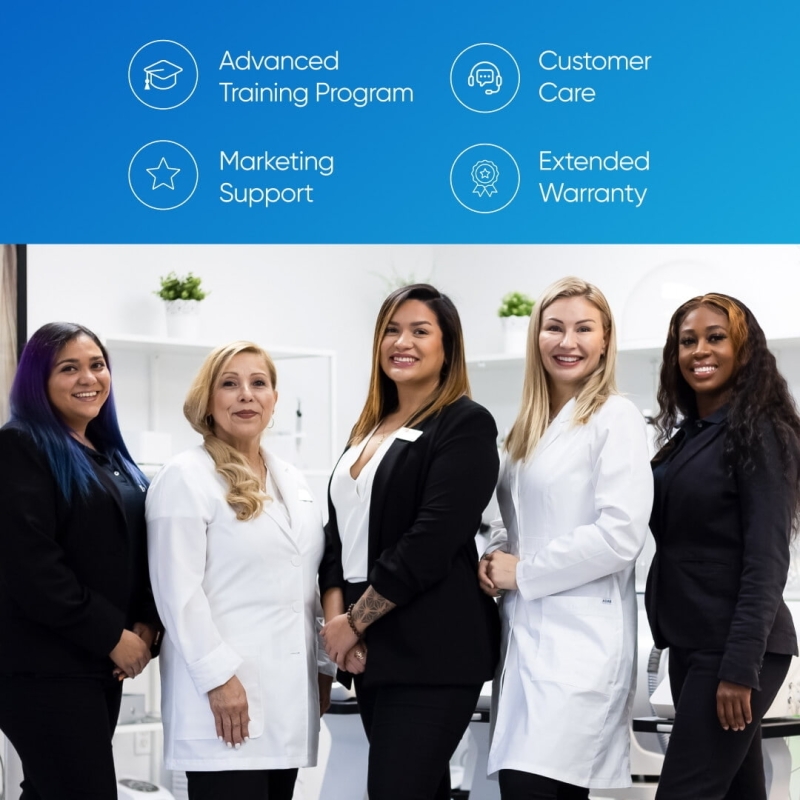 This esthetic device is intended for cosmetic use only. This esthetic device is not intended to be used to treat or diagnose any medical condition.
This esthetic device is intended to be used by estheticians and skincare providers. This esthetic device is not intended to be used by doctors or healthcare providers.
This esthetic device is not intended to be used in medical nor surgical purposes. This esthetic device does not affect the structure of deep skin tissues.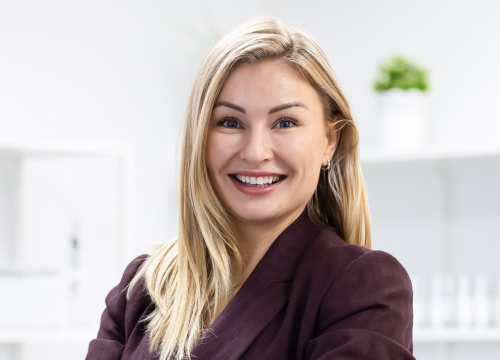 Financing Programs - More opportunities for your business
Interest-Free Financing and Flexible Payment Options. No credit, no problem!
Financing Programs

Learn More

Advanced Training Program
A-Esthetic offers the most advanced and comprehensive complimentary Advanced Online Training Course with every purchase of Zemits and Oomnex equipment..
Training Program

Learn More
Our clients Worldwide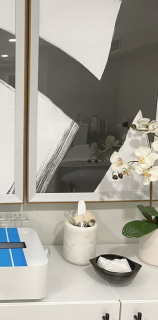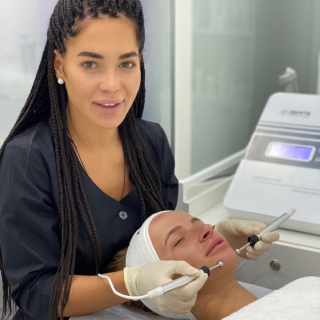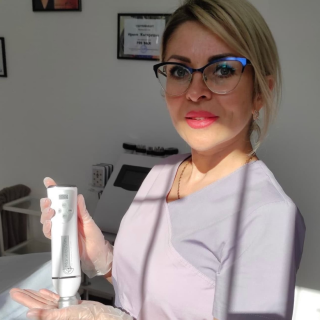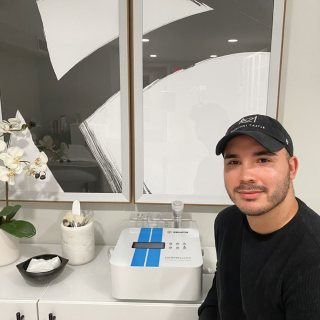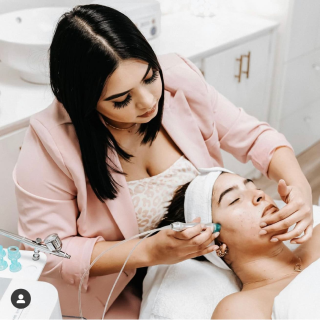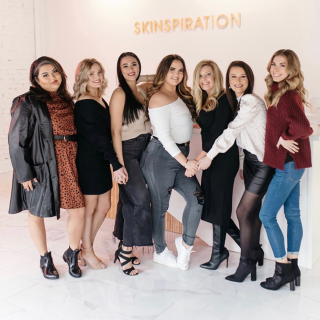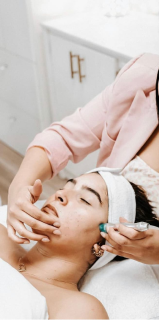 Advance-Esthetic is dedicated to providing you with the finest MedSpa Equipment to tailor a wide variety of your needs. Our mission is to support your MedSpa to boost your business with the highest quality products, outstanding customer service and a lifetime of client support.
Advance-Esthetic.us delivers to the following states: Alabama, Alaska, Arkansas, Arizona, California, Colorado, ...

Connecticut, Delaware, Florida, Georgia, Hawaii, Idaho, Illinois, Indiana, Iowa, Kansas, Kentucky, Louisiana, Maine, Maryland, Massachusetts, Michigan, Minnesota, Mississippi, Missouri, Montana, Nebraska, Nevada, New Hampshire, New Jersey, New Mexico, New York, North Carolina, North Dakota, Ohio, Oklahoma, Oregon, Pennsylvania, Rhode Island, South Carolina, South Dakota, Tennessee, Texas, Utah, Vermont, Virginia, Washington, West Virginia, Wisconsin, Wyoming
© 2021 DISCLAIMER: All information within the A-esthetic.us website and all other marketing materials are made only for informational and educational purposes. A-Esthetic products and equipment have not been tested or approved or any government entity for treatments of illnesses or diseases. Use at your own risk.
Advance-Esthetic does not accept any liability for inaccurate information on our website. It is the responsibility of the client to check the accuracy of all information provided and to confirm prior to and upon purchase of *qualifying Zemits equipment including but not limited to the conditional offer of marketing materials and other such offers for the defined brands. Zemits only. Marketing Materials are exclusively for Zemits branded machines only... Not applicable with Venus, Innocell, or other non Zemits branded equipment, ETC., Definitions: Qualified: Zemits Branded Equipment only