We speak English Hablamos Español Falamos portugues
Showroom Visits by Appointment Only
Exclusive distributor of Zemits in the US
Worldwide Shipping
---
Zemits FrioLift CRYO RF Contrast Skin Rejuvenation System
Watch the video with Zemits FrioLift
3-step CRYO-RF Contrast Skin Rejuvenation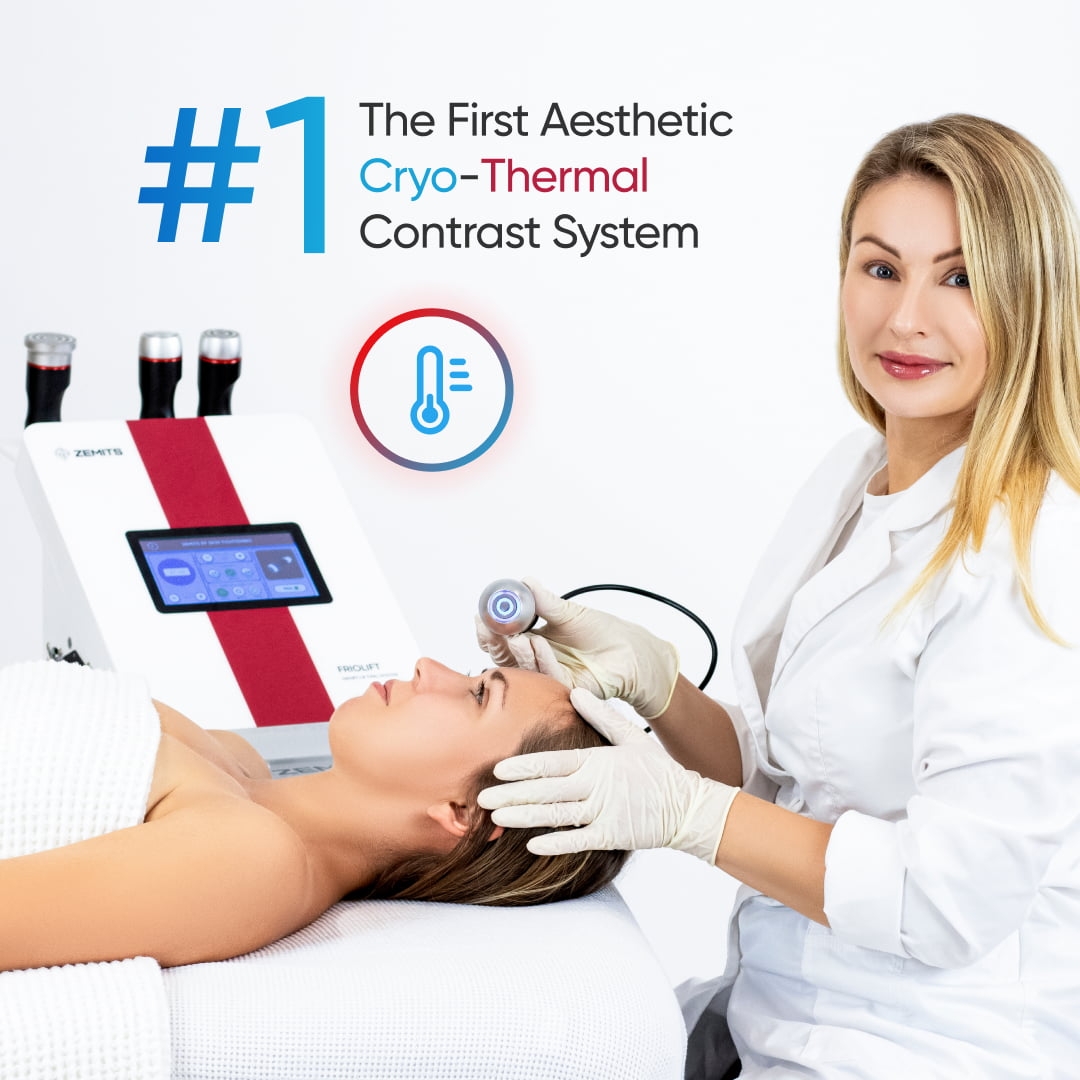 The First Aesthetic Cryo-Thermal Contrast System is designed to:
- Tighten and rejuvenate the skin
- Contour facial features
- Slim and firm double chin
- Improve skin texture



Zemits FrioLift Technology
Friolift is a unique innovative technology on the market, created at the request of leading experts in the beauty industry. A technology that has no equivalent in terms of absolute safety and efficiency!
Zemits FrioLift Technology enables to achieve two main objectives of the modern aesthetics:
Skin Tightening WITHOUT fat reduction and volume loss

Localized fat reduction WITH simultaneous skin rejuvenation
Two goals so important, yet so different, can be achieved with a single smart device, using specific treatment protocols.
Let's review how it works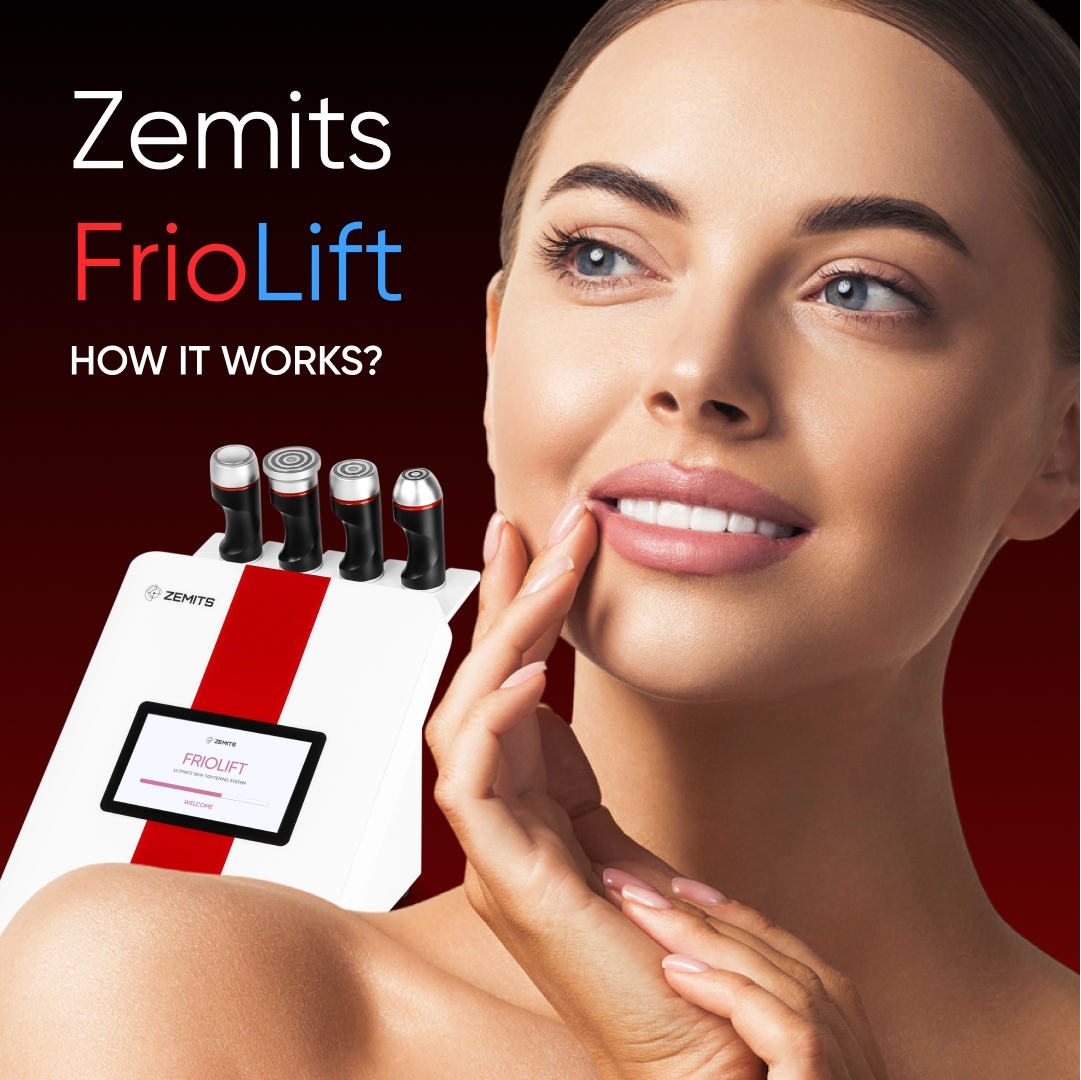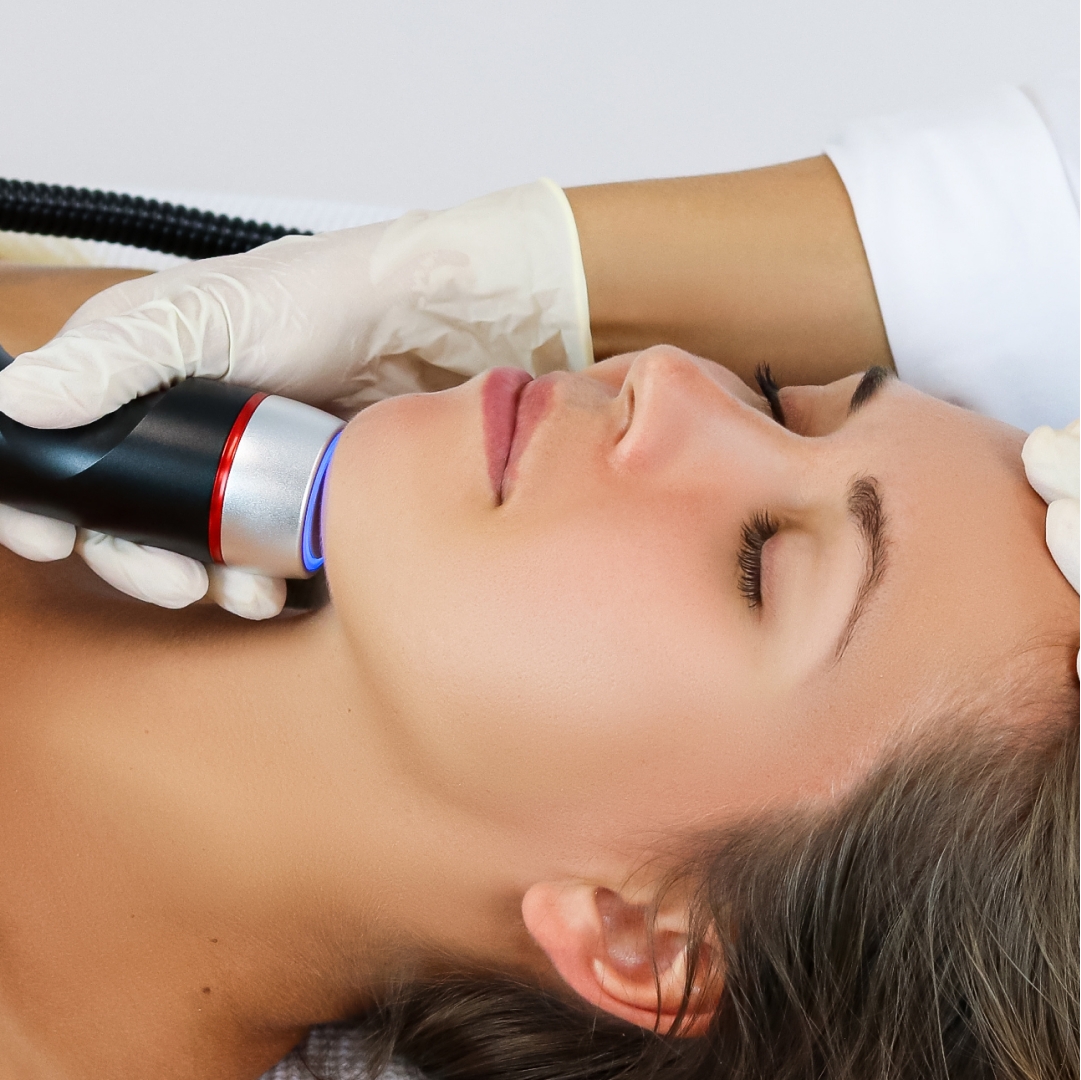 The FrioLift technology combines two non-invasive rejuvenation techniques - deep heating by
Radiofrequency
and cold treatment by Cryotherapy. The contrasting temperature difference causes the skin to undergo a shock which creates neocollagenesis of the deep layers of the dermis. This natural regeneration process stimulates the production of new collagen and elastin fibers.
Based on the CryoTherapy step temperature range, practitioners can achieve:
Skin Tightening only

Fat Reduction and Skin Tightening
Simply following the Zemits Protocols, Cryotherapy can be isolated in the dermal layer and not interact with the fatty deposits, thus leaving the facial volume intact (face, hands, around the eyes treatment) while drastically boosting the collagen synthesis.
And by applying the recommended lower Cryo temperature range, the practitioner can work with the hypodermal (fatty) layer and achieve amazing holistic "fat freezing" goals
with
simultaneous skin tightening. This is a perfect treatment for double chin and jawline facial areas.
In the case of fat reduction treatment, RF boosts fat dissolving, as it uses oscillating electrical current forcing collisions between charged molecules and ions, which are then transformed into heat. Since the biophysical characteristics of fat behave like an insulator, capable of polarization, it absorbs the high RF-related heat release from the RF applicator, driving specific fat apoptosis and consequent lipolysis. When the Cryo step is not used to target the fatty deposits, RF remains focused only on the skin tightening, thus keeping the facial volume intact.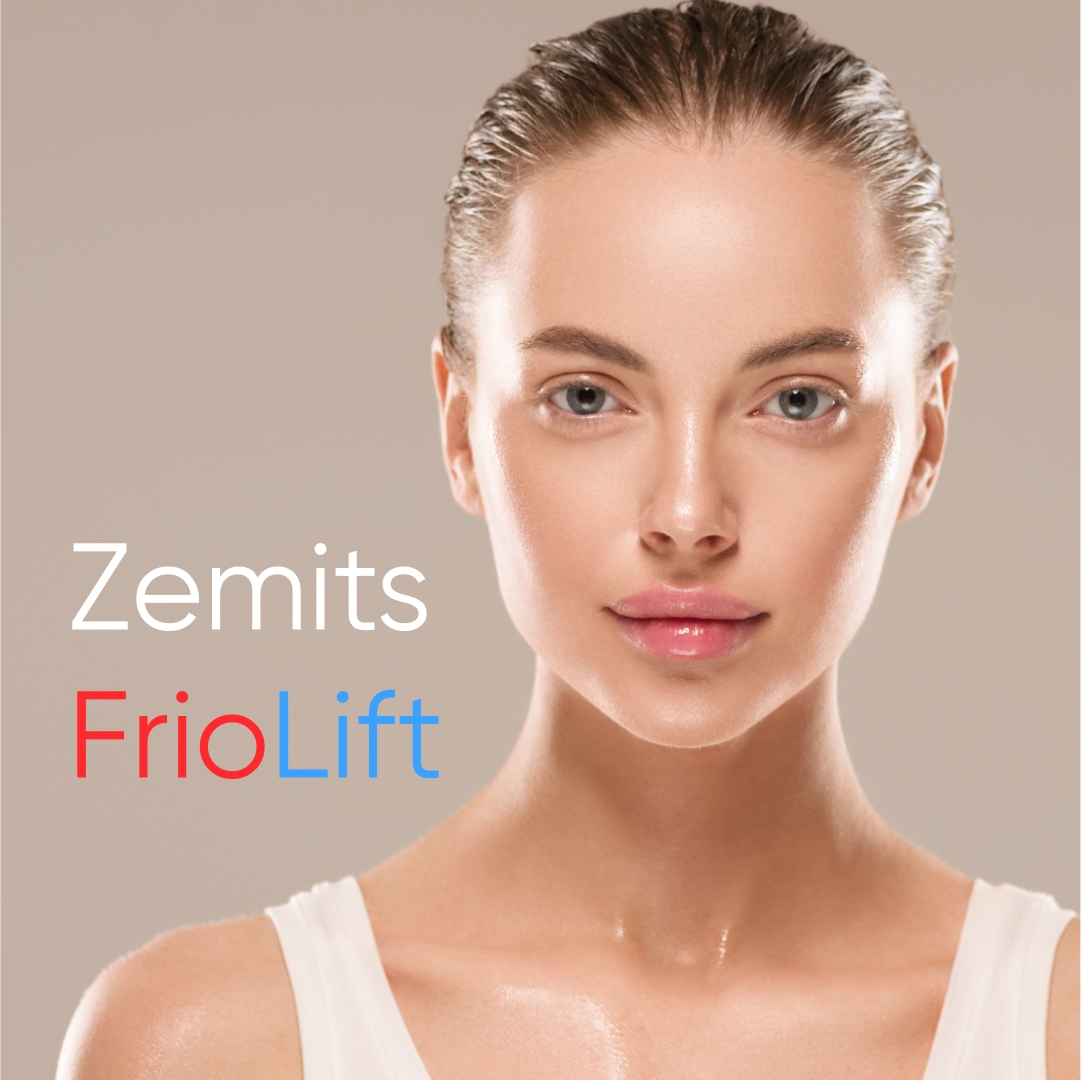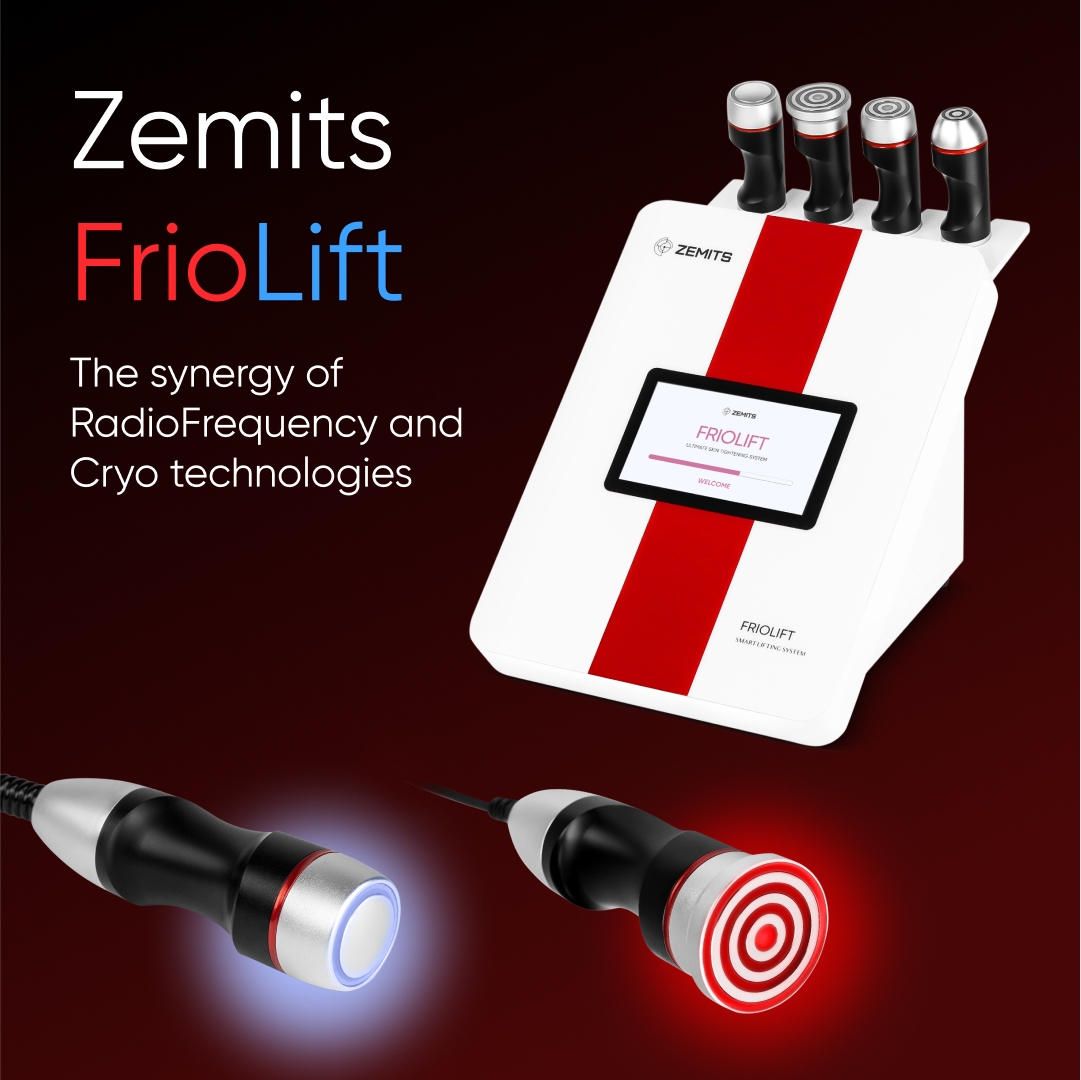 This principle makes the FrioLift Technology one of the most effective tools for estheticians who aim to achieve various, specific skin goals.
Based on the actual experience of applying the best rejuvenation practices, Zemits experts have developed the Contrast Skin Rejuvenation protocol. This is the only absolutely holistic rejuvenation protocol which does not involve any injections or surgery. As a result, clients can see visible rejuvenation and facial contouring after the first FrioLift treatment. A series of procedures provides long-term effects and significant improvement in the overall condition of the skin.
FrioLift is the most anticipated innovation in the aesthetic industry!

The Unique Contrast Skin Rejuvenation Protocol
A team of TOP medical practitioners at Zemits has developed the unique Contrast Skin Rejuvenation skin tightening protocol based on the synergy of RF and Cryo technologies.
Step 1 Initial Collagen Stimulation with RadioFrequency
Intense thermal heating with RF initiates the chain of neo-collagenesis and starts the skin rejuvenating process.
Step 2 Cryo Thermal Shock
After the dermal skin layer has been heated, cryotherapy is applied to create the thermal "shock" effect. The extremely low temperature of the cryo wand delivers 100% holistic and safe skin cooling into the skin. This step creates a drastic, dramatic contrast from deeply-hot to extra-cold conditions. It helps to achieve 3X greater skin tightening results
Step 3 Intense Skin Rejuvenation with RadioFrequency
The final thermal contrast step triggers drastic collagen boosting and elastin production. For outstanding and long-lasting facial contouring results.
What to expect after FrioLift treatment course:
Slim and Contoured double chin area

Firmer and tighter skin

Improved skin texture and elasticity

Reduced puffiness and skin discoloration

Smoothed-out fine lines and wrinkles around eyes and mouth

Sculpted jawline and slimmer neck

Rejuvenated décolleté and neck area

Rejuvenated skin on hands

Reduced skin gloss and diminished skin pores

Overall improved skin quality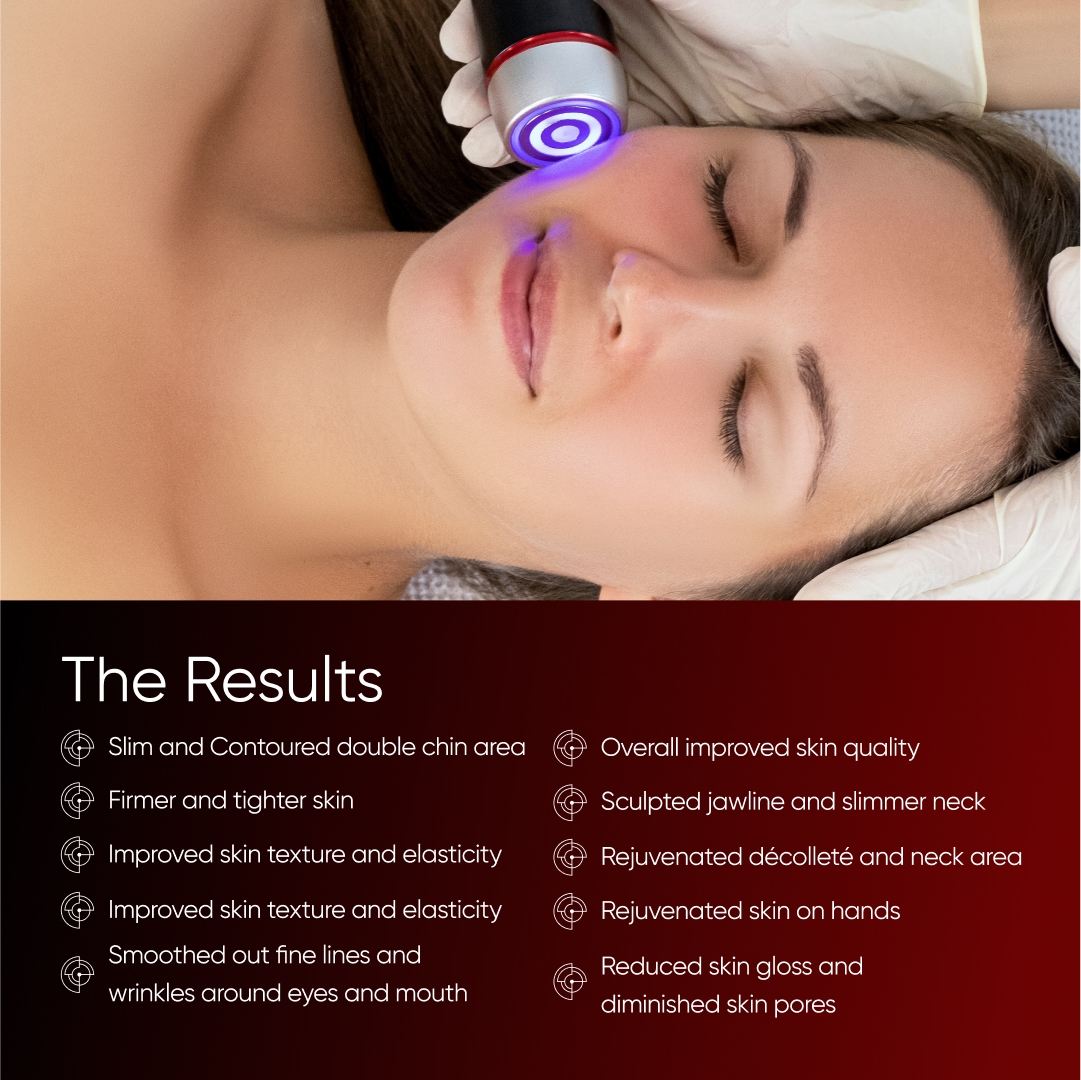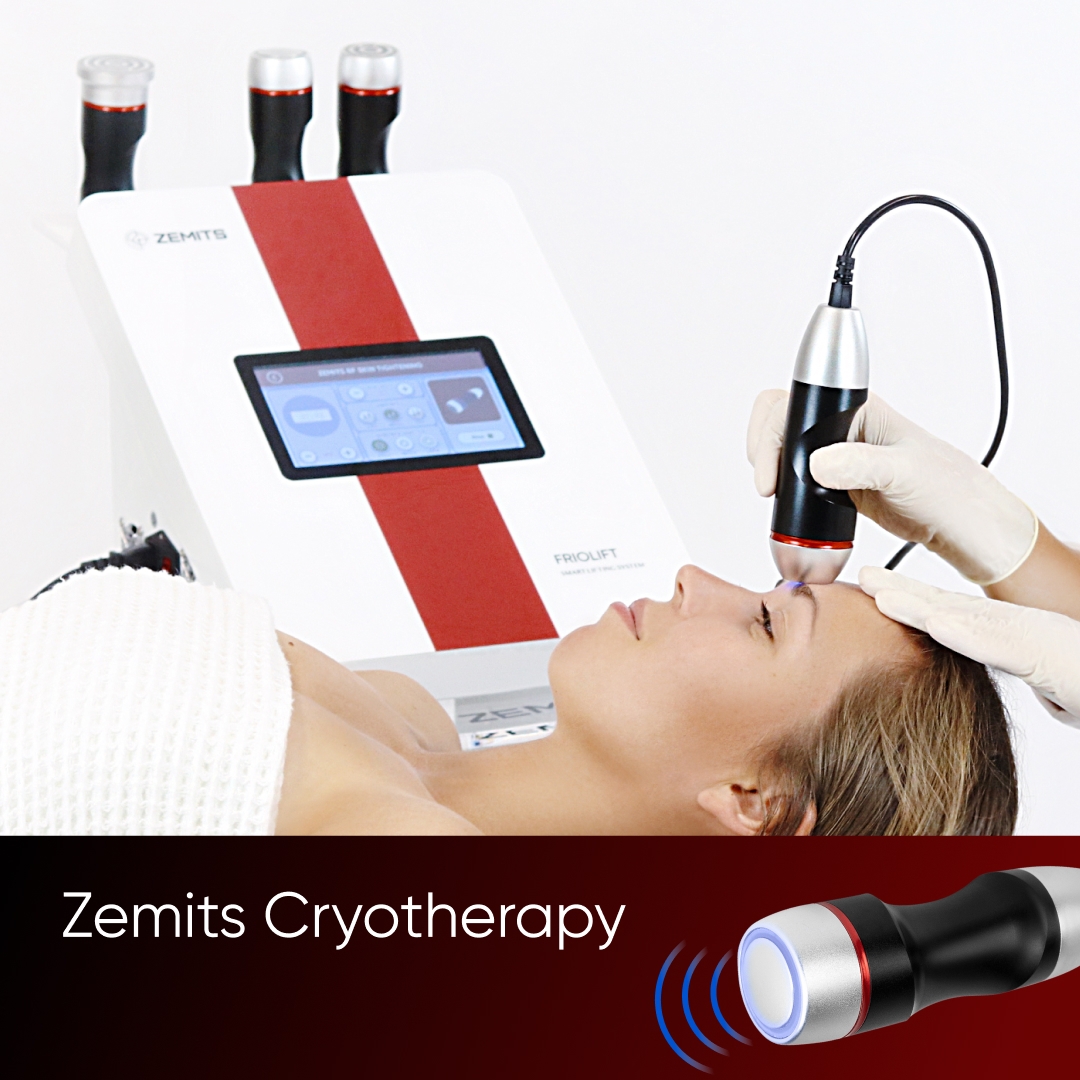 Let's go deeper into the FrioLift Technology
So what happens inside the skin during FrioLift treatment and what causes the visual skin improvements after even a single treatment?
Why is contrast stimulation so effective?
Radiofrequency and cryotherapy, as separate techniques, have a similar rejuvenating effect on the skin - both of them trigger the processes of collagen synthesis. Both have their unique advantages:
Radiofrequency
is a technique aimed at stimulating collagen production. Radiofrequency energy heats the dermis to a temperature of 100-110F, thus stimulating the production of new collagen fibers and eventually increasing skin elasticity and tone. RF increases the metabolism of fibroblasts, and causes the production of new collagen fibers.
The production of new collagen fibers in the deep layers of the skin thickens the dermis with no harm to the upper layers of the skin. As a result, in about 28 days after the initial treatment, deep wrinkles are reduced and skin elasticity is improved.
The normal reaction of the skin to RF is a slight redness due to the high-thermal stimulation. Radiofrequency is an effective method of skin rejuvenation, but there are some skin conditions that cannot be addressed by RF effectively, such as: local fatty deposits, puffiness, or skin pigmentation. To solve those aesthetic issues, the cryotherapy technique is utilized.
Cryotherapy is a technique that is based on holistic skin cooling. 
Zemits FrioLift allows "skin-shocking"  extra-low cooling with up to -9 degrees Celsius. The FrioLift Preset Protocols are extremely effective and absolutely safe for facial treatments. This treatment is a perfect choice for instant, visible contouring and rejuvenative results.
The application of low temperature improves local skin metabolism, increases blood and lymph circulation, instantly reduces puffiness and skin discoloration, accelerates collagen and elastin production, accelerates the exfoliation of dry, dead cells on the skin surface, and strengthens the skin, improving its overall condition.
One of the most amazing features of Zemits CryoTherapy is its slimming effects. With extra low temperatures, Zemits providers are able to achieve 100% natural fat elimination on the double chin area without any injections. Zemits Cryo application stimulates fatty cells to die off naturally without the use of current or ultrasound.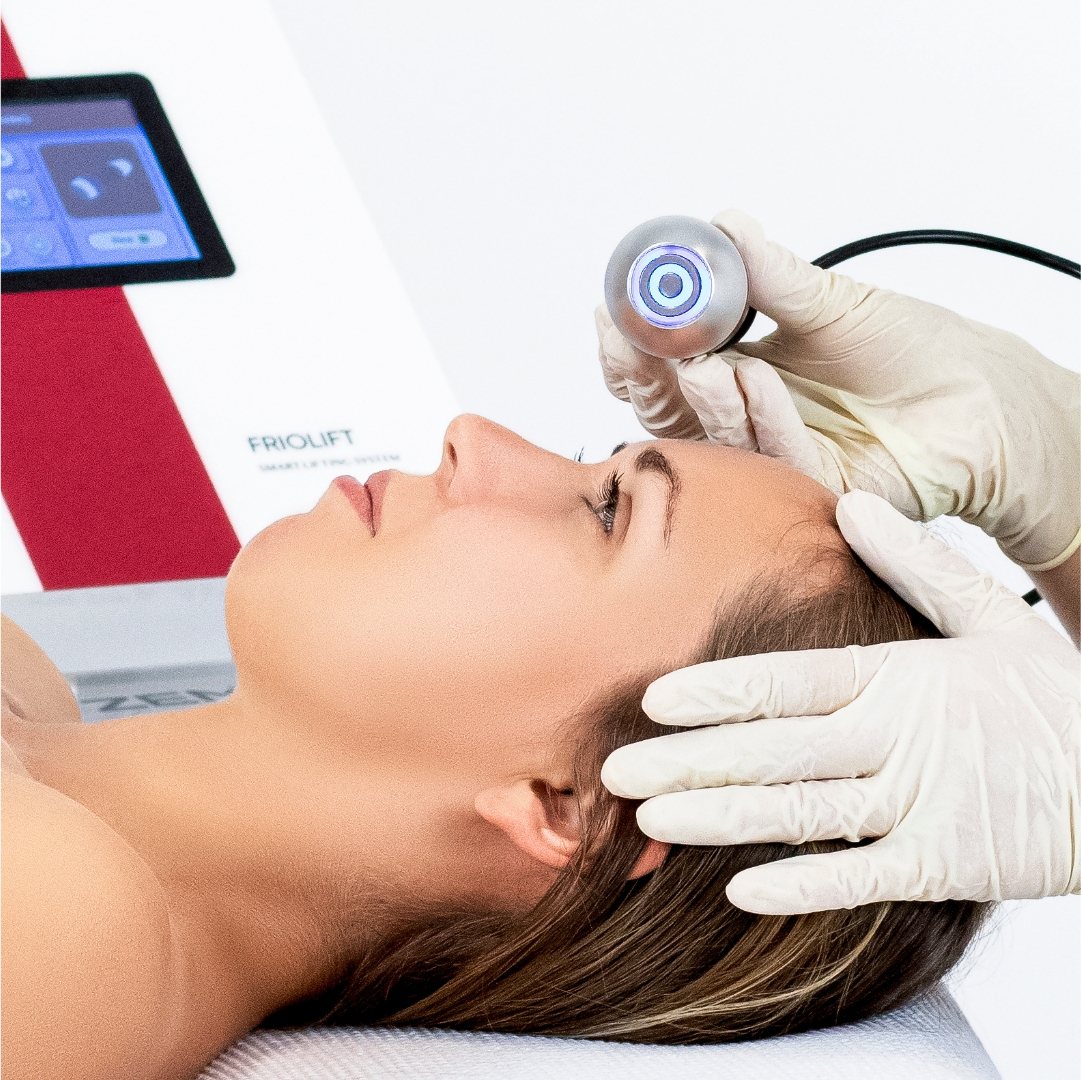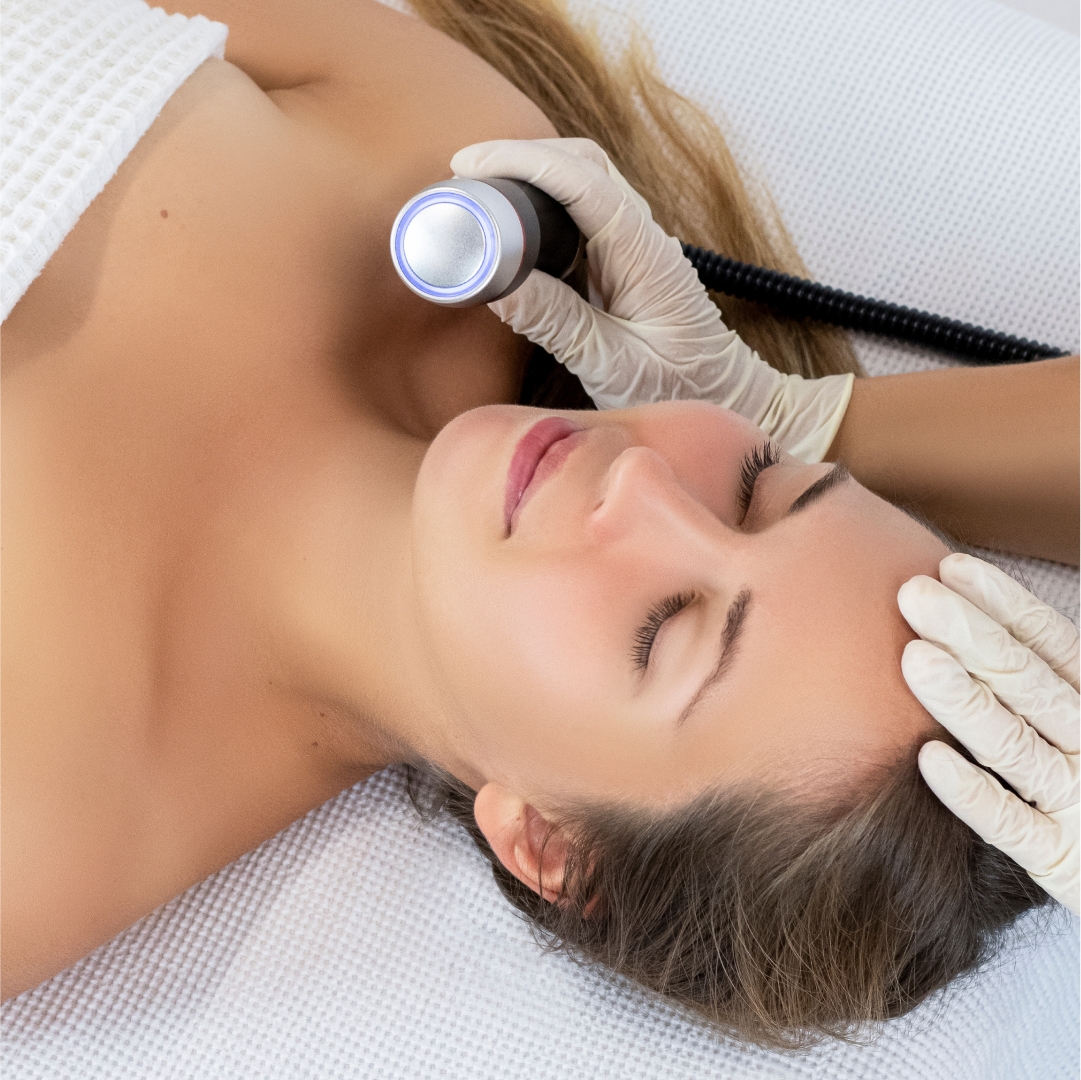 FrioLift technology combines these two unique techniques into one effective rejuvenation protocol. The alternating application of deep dermal heating and intense natural cooling creates an instant thermal shock for the skin, which reinforces the effect of the separate application of each technique.
This unique treatment protocol is nothing like other treatment methods. Clients experience deep comfortable heat with the first RF step, then numbing sensations after a couple minutes of the Cryo step, followed by repeated deep warmth from the final RF step. All the treatment is focused into the dermal skin layer to enable effective skin tightening, and rejuvenation.
The Zemits FrioLift technology simultaneously solves a wide range of aesthetic problems - from effective skin rejuvenation to toning and reducing localized fatty deposits. The application of rapid skin cooling of cryotherapy eliminates the skin stress after deep RF heating, reducing the recovery time and signs of hyperemia after the procedure. Skin contouring is visual after the first treatment and prolonged effects are observed during the next 4 weeks after the course. The Zemits Contrast Skin Rejuvenation is quickly becoming one of the most popular procedures for the advanced spa business!
How to increase your income with Zemits FrioLift
Increase your business profits with the most popular novelty of the year -  Zemits Friolift!
Be the first to use Contrast Skin Rejuvenation for comprehensive skin rejuvenation. 
Give your clients absolutely safe holistic rejuvenation with prolonged facial contouring effects.
Recommended cost per treatment - $250-300 per 45-minute facial. 
Positive Impact of Zemits Frio to your business: according to our Zemits clients' feedback, when performing on average 2 treatments per day, 4 times per week, they are able to increase their income by $2,200 per week, or $8,800 per month.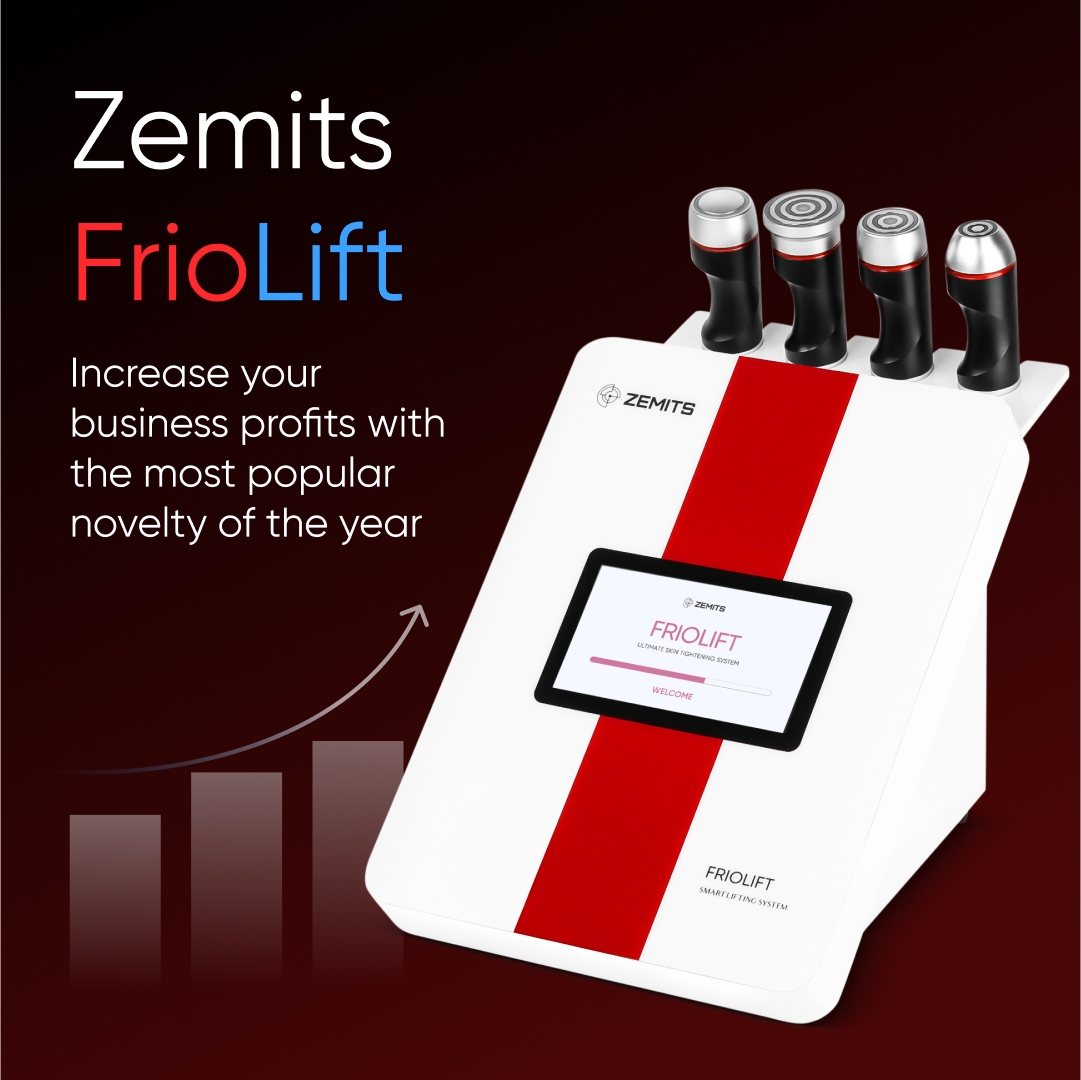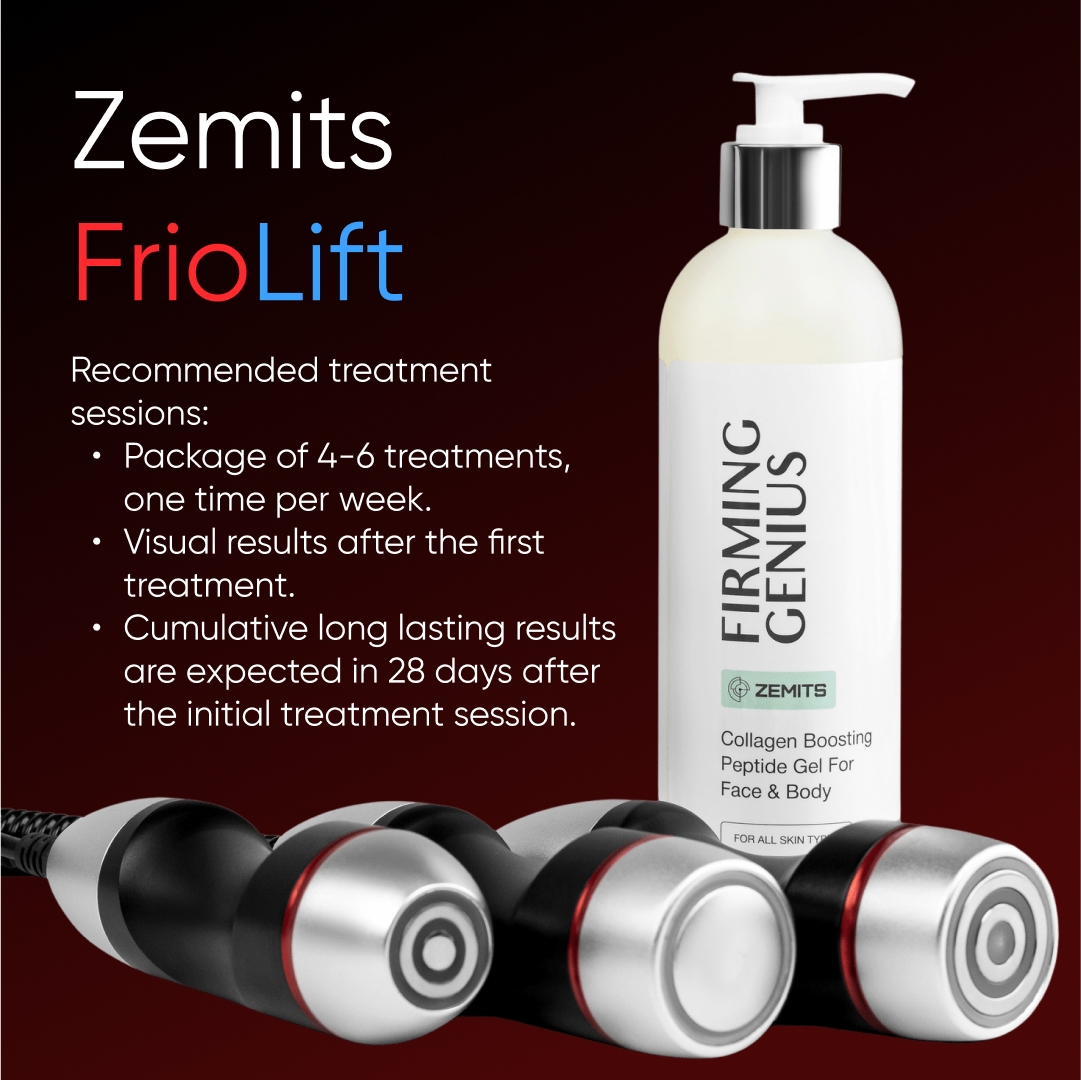 Recommended treatment sessions
Package of 4-6 treatments, one time per week.
Visual results after the first treatment. Cumulative long lasting results are expected in 28 days after the initial treatment session.

How to improve the results of the FrioLift treatment 
To increase rejuvenating results, use your Zemits FrioLift with special professional skincare products. 
Zemits FirmingGenius Collagen Boosting Conductive Gel with Peptides
-
a powerful combination of conductive and skin rejuvenative properties. The natural active ingredients make this gel a "Must Have" in every treatment room, as it is suitable for a majority of the most popular treatments and also has incredible collagen boosting features. It is a lightweight silky gel that deeply hydrates the skin, conducts the treatment energy and protects skin against dehydration.
Zemits HydroWonder Superior Plumping & Hydrating Hyaluronic Acid Serum -
helps instantly smooth the skin's surface,  improving skin texture and restoring elasticity. Great for all skin types. This serum contains an industry leading 1% of pure hyaluronic acid.
Zemits WrinkleGone Super-Charged Peptide Rejuvenating Anti-Aging Serum -
helps promote skin reparation and dramatically stimulates antioxidant production giving skin deep,  intensive hydration. We recommend using the Zemits WrinkleGone as part of a facial treatment after skin exfoliation for deeper infusion. It can also be used as an everyday regimen for AM and PM.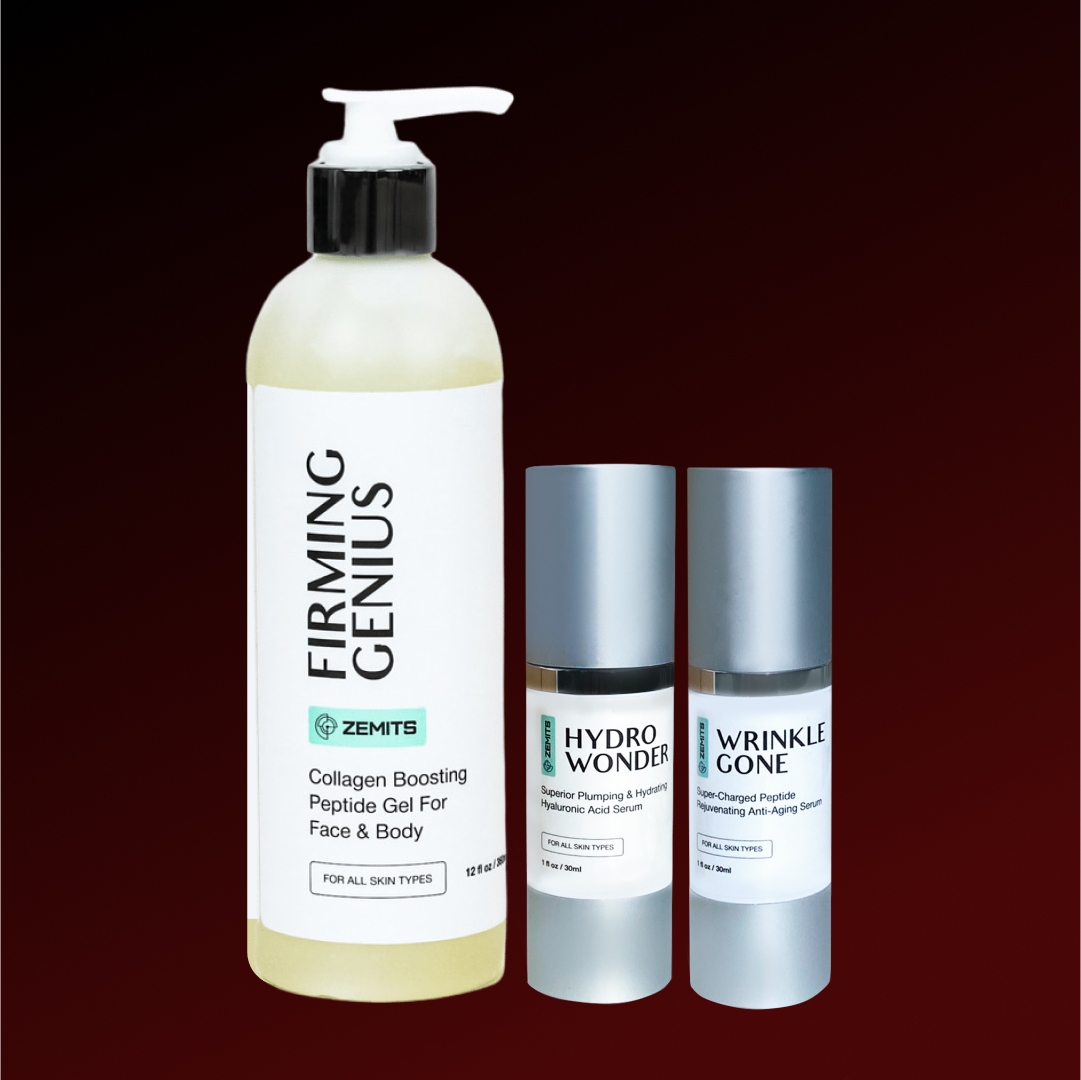 Zemits Clients
More info ›
All products at www.advance-esthetic.us website are intended for cosmetic use.
All products at www.advance-esthetic.us website are not intended to treat or diagnose any medical conditions.
Fast shipping
Guaranteed quality of aesthetic equipment
Service
Wide range of products
Zemits FrioLift CRYO RF Contrast Skin Rejuvenation System
Callback
Write your details and our managers in the near future will contact you