We speak English Hablamos Español Falamos portugues Мы говорим по-русски
Showroom Visits by Appointment Only
Exclusive distributor of Zemits in the US
Worldwide Shipping
---
Zemits OcuRelax Relaxing Eye Massage
15%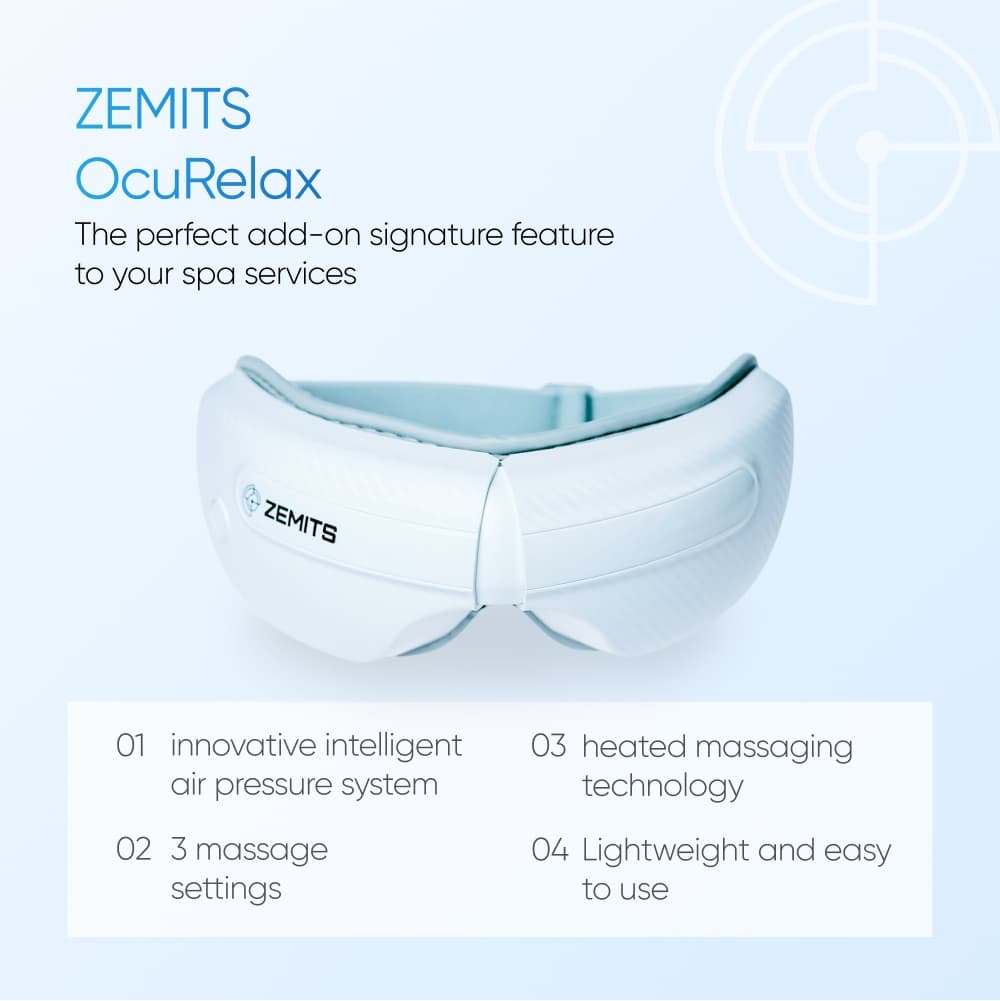 Zemits OcuRelax 
Relaxing Eye Massage
The Zemits OcuRelax Eye Massager is the perfect add-on signature feature to your spa services.
Add it to any of the body treatments, and while your clients receive their massage, cavitation, cryo or any other body contouring treatment, let them relax and enjoy the amazing eye massage. Simple, yet highly effective.
Zemits OcuRelax can help you stand out from your competitors and increase client retention.
The Zemits OcuRelax Eye Massager comes standard with 3 message settings to help relieve tired and strained eyes; decrease dark circles and edema; drastically improve blood and lymph circulation, and bring that healthy glow and fresh look.
This device was built with portability in mind; therefore it features a rechargeable battery and a foldable design. The heated massaging technology, together with the innovative intelligent air pressure system, provides a pleasant and therapeutic experience.
Eye Massage Benefits
The eye massager relieves headaches, sinus pressure, and strain around the eyes from daily life by directly targeting acupuncture points around the eyes. Users mention a very relaxing sensation during the treatment, as well as fresh, and younger looking skin appearance after the treatment.
Simultaneous experience of the body treatment and eye massage leave an unforgettable high-end spa experience.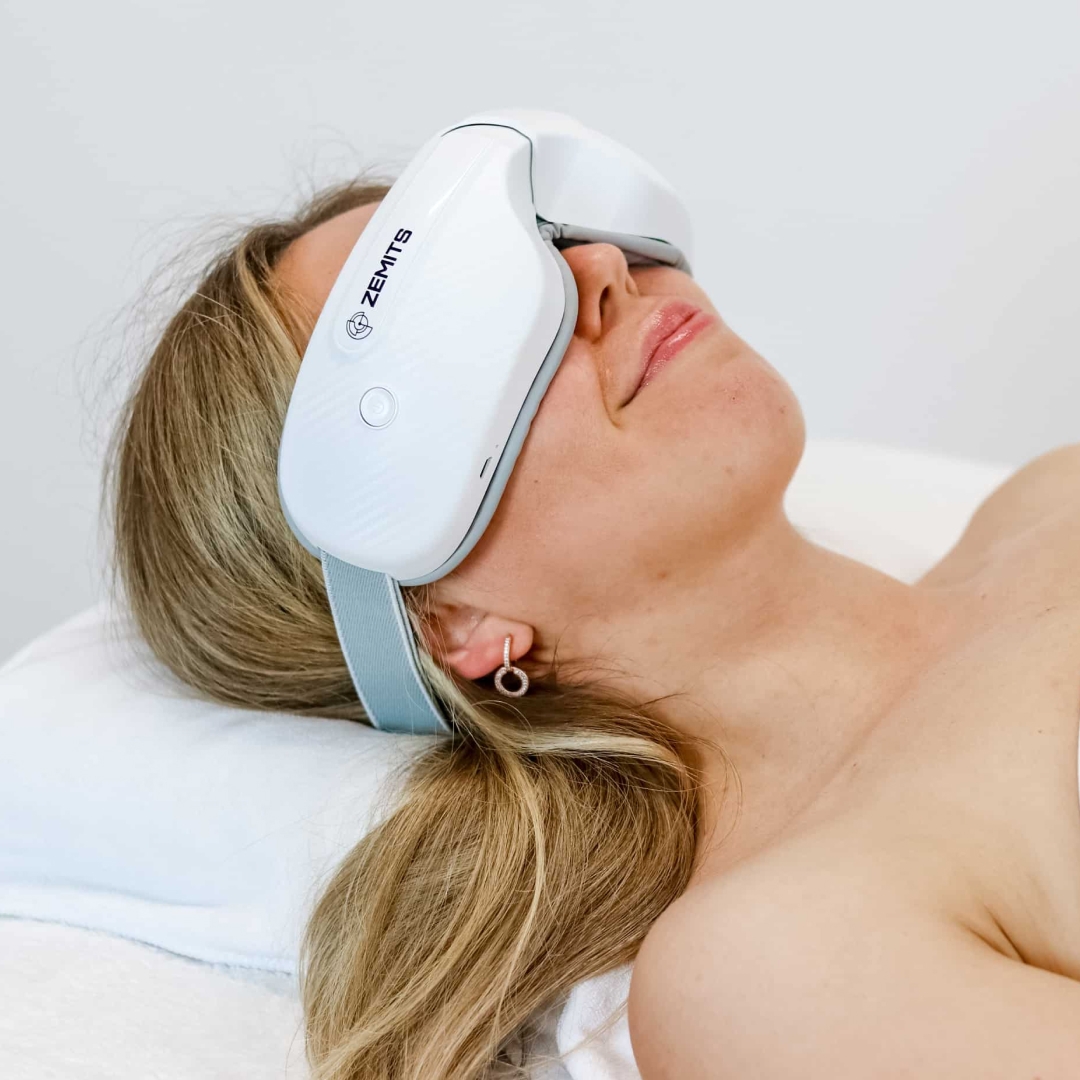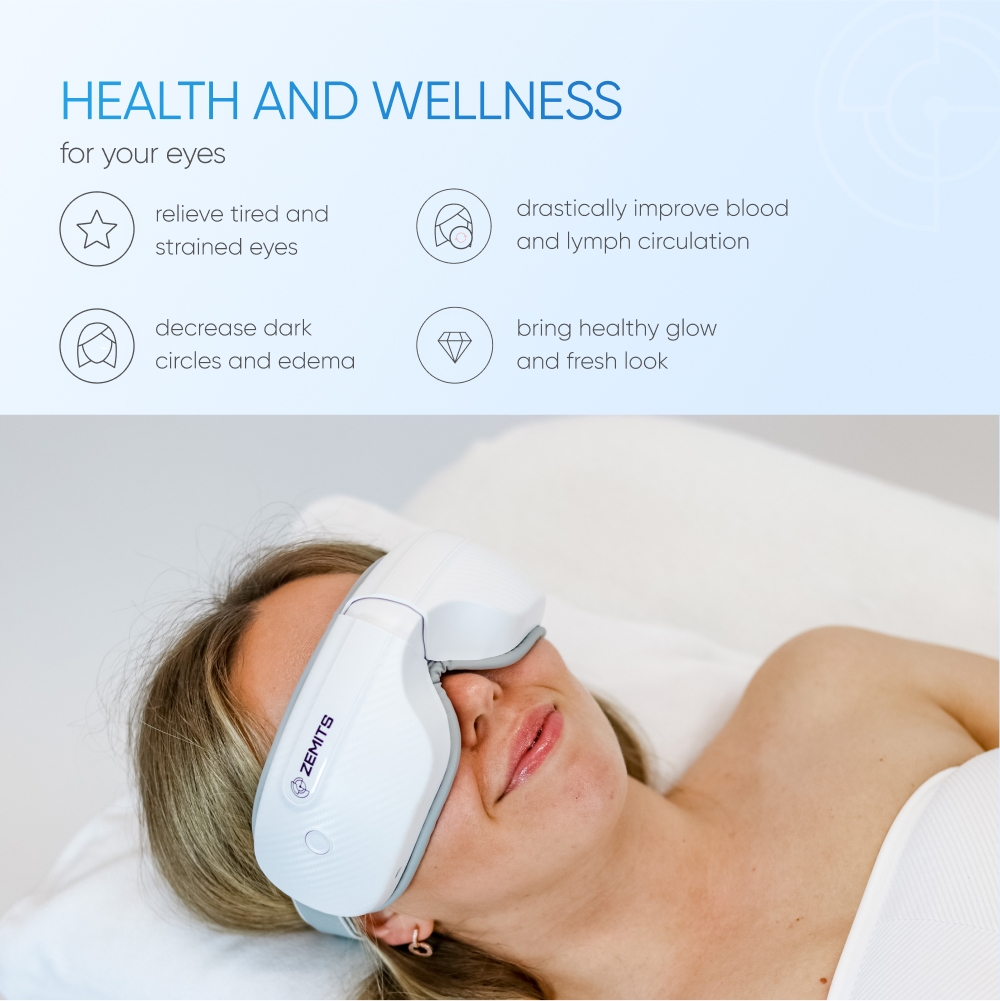 Heated soft compression
The Zemits OcuRelax Eye Massager helps to increase local blood flow and circulation around the eyes by gently increasing heat during each massage. Heat has been used for generations to improve blood and lymphatic circulation, and decrease eye strain and puffiness.
High - Quality Materials
The Zemits OcuRelax is made with safe and high-quality materials to deliver the best experience possible.
Stand out from your competitors.
When everyone else offers classical services, be different. Let your clients fall in love with this unique product.
Use OcuRelax with:
Cavitation

Vacuum Massage

Pressotherapy

CryoTherapy

LaserLipo

Non-Invasive BBL

EMS Muscle Sculpting

Manicures / Pedicures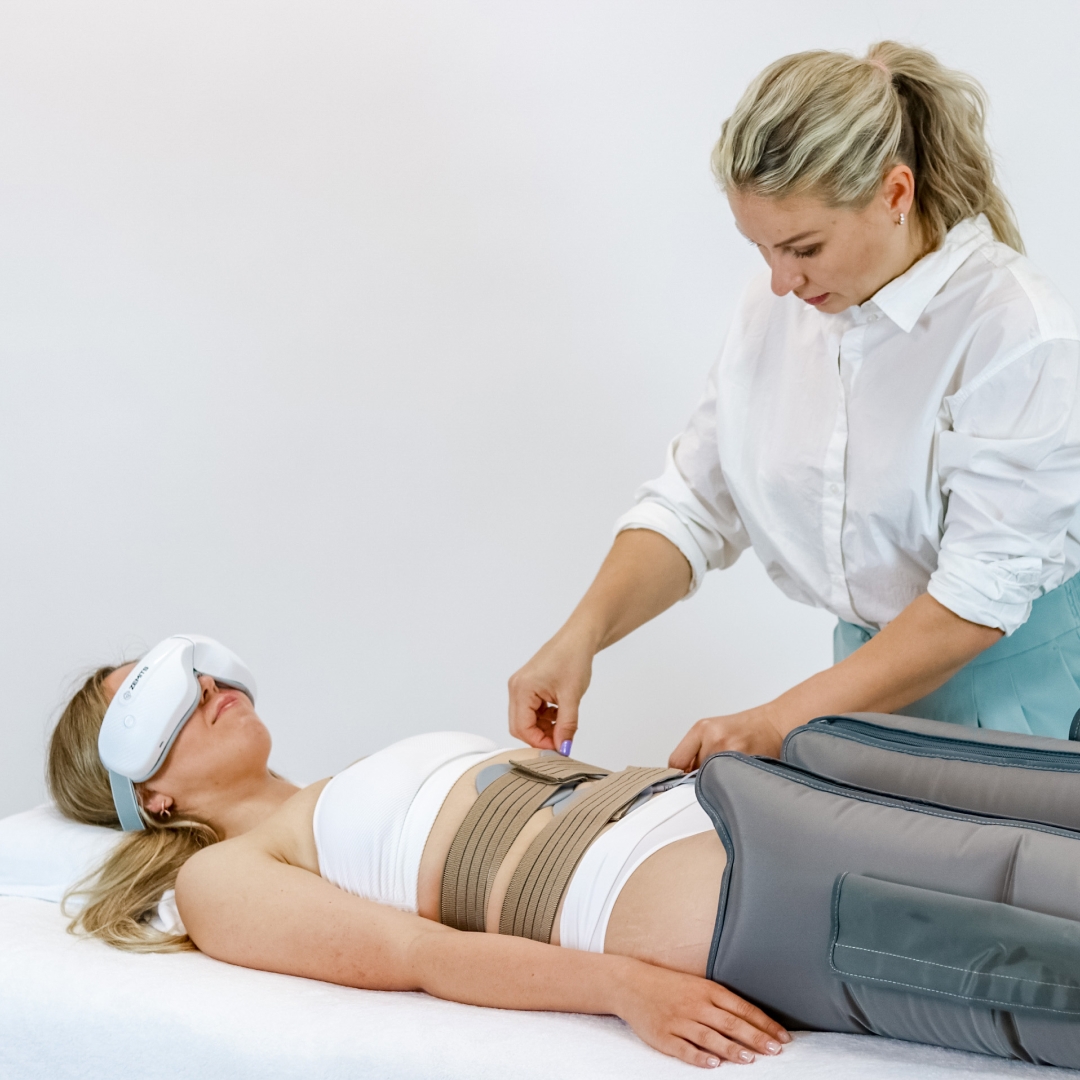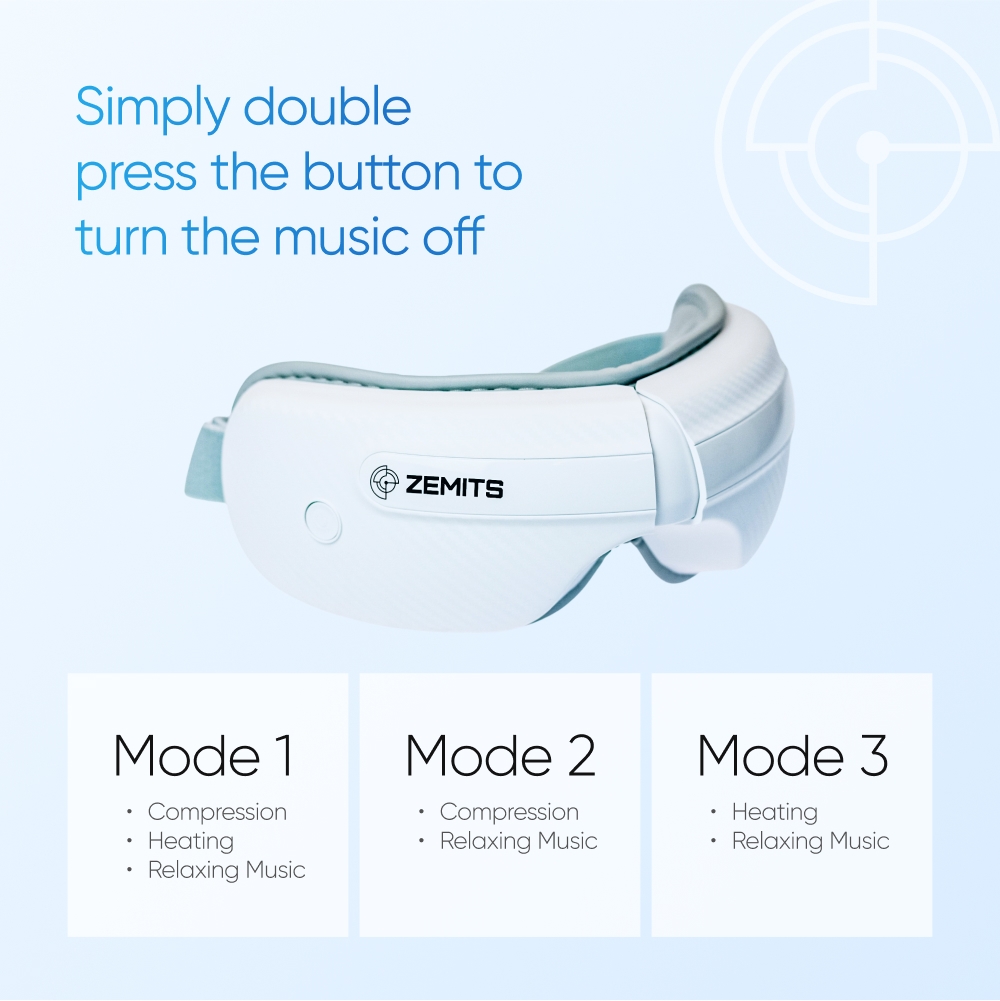 Preset Modes
The device is very easy to use

Press and hold the button to turn it on. The first mode will start, which includes:

Compression

Heating

Relaxing Music

Simply double press the button to turn the music off
Press again to switch modes to the next mode:
Compression

Relaxing Music
Press again to switch modes to the next mode:



Tech Specs:
Charging voltage: DC5V

Rated power: 4.5W

Charging current: <2A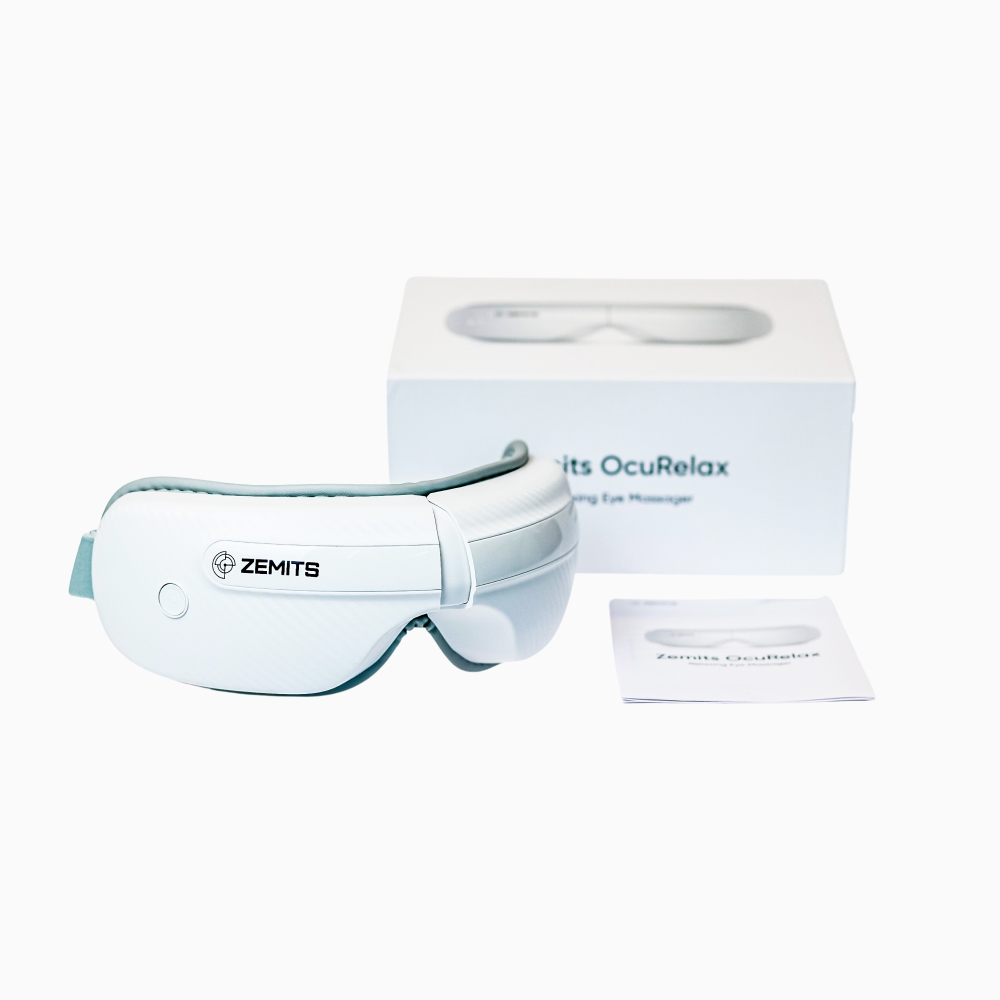 Zemits Clients
More info ›
All products at www.advance-esthetic.us website are intended for cosmetic use.
All products at www.advance-esthetic.us website are not intended to treat or diagnose any medical conditions.
Fast shipping
Guaranteed quality of aesthetic equipment
Service
Wide range of products
Zemits OcuRelax Relaxing Eye Massage
15%
Callback
Write your details and our managers in the near future will contact you