We speak English Hablamos Español Falamos portugues Мы говорим по-русски
7 marketing mistakes in SPA business
Get a check list of
7
marketing mistakes in SPA business
No Showroom Appointments During Pandemic
ZEMITS UltraGlow Ultrasound LED System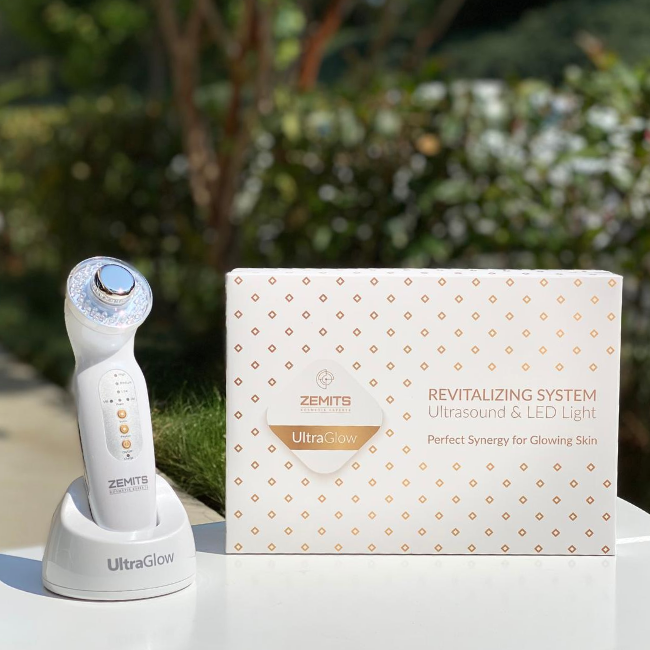 About Zemits UltraGlow Revitalizing System
The Zemits UltraGlow UltraSound & LED System is a great combination of technologies for every esthetician to provide advanced treatments for their clients at home

Functions of Zemits UltraGlow Revitalizing System Ultrasound & LED Light:
Ultrasound facial nutrition and rejuvenation
LED Light Therapy for skin tightening and rejuvenation
This redesigned portable facial system uses ultrasound therapy and LED light to treat a wide range of skin concerns such as:
acne
rosacea
signs of aging
dry and sensitive skin
wrinkles
pigmentations
Wireless and handheld, the Zemits UltraGlow is a wonderful addition to any treatment room.

Gentle ultrasound vibrations help to infuse targeted products into the skin while LED light works to repair, leaving skin fresh and smooth.

The Powerful Combination of Ultrasound and LED
LED Light Technology
Red Light - 640 nm - penetrates human tissue more superficially. Red light stimulation has a great effect on mitochondrial stimulation which increases metabolic activity and stimulates superficial circulation for overall healthier skin. Great for reparative and anti-aging treatments.
Green Light - 550 nm - is the calming wavelength of light. This therapy promotes balance and a calming effect on the skin while reducing redness. Anti-aging therapies often include green light therapy. In addition to reducing redness, the calming effect of this wavelength has been known to have anti-inflammatory properties that can work to reduce hyperpigmentation. Its calming nature can be used in combination with other light therapy to further rejuvenate the skin. Great for sensitive skin and anti-aging treatments.
Blue Light - 430 nm - kills most acne bacteria with it's specific wavelength. Inflammatory acne benefits greatly from blue light skin treatment. The light energy also stimulates the tightening of pores and reduces the oiliness of the skin. Altogether it has a rejuvenation effect on the skin. Great for oily and acne skin treatments.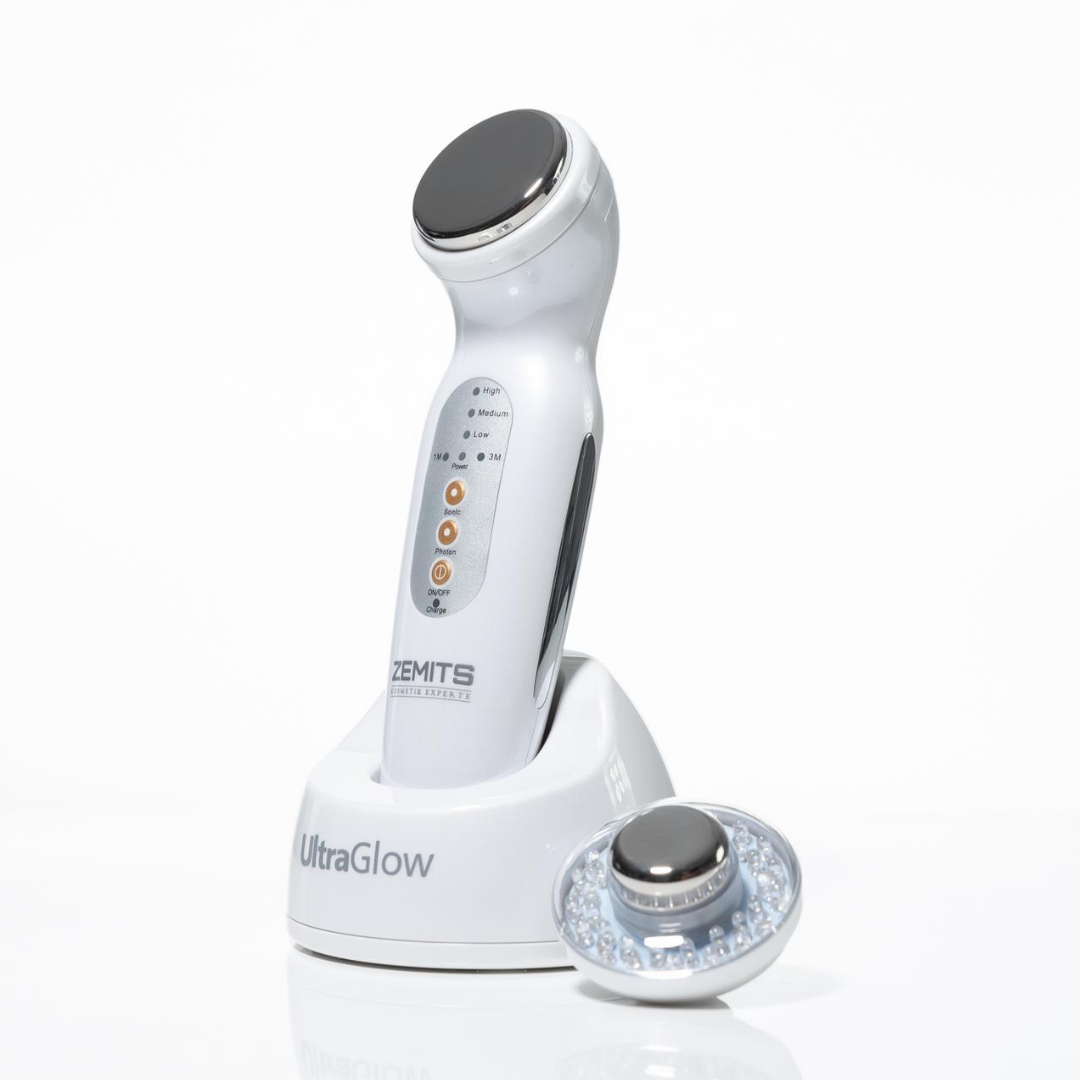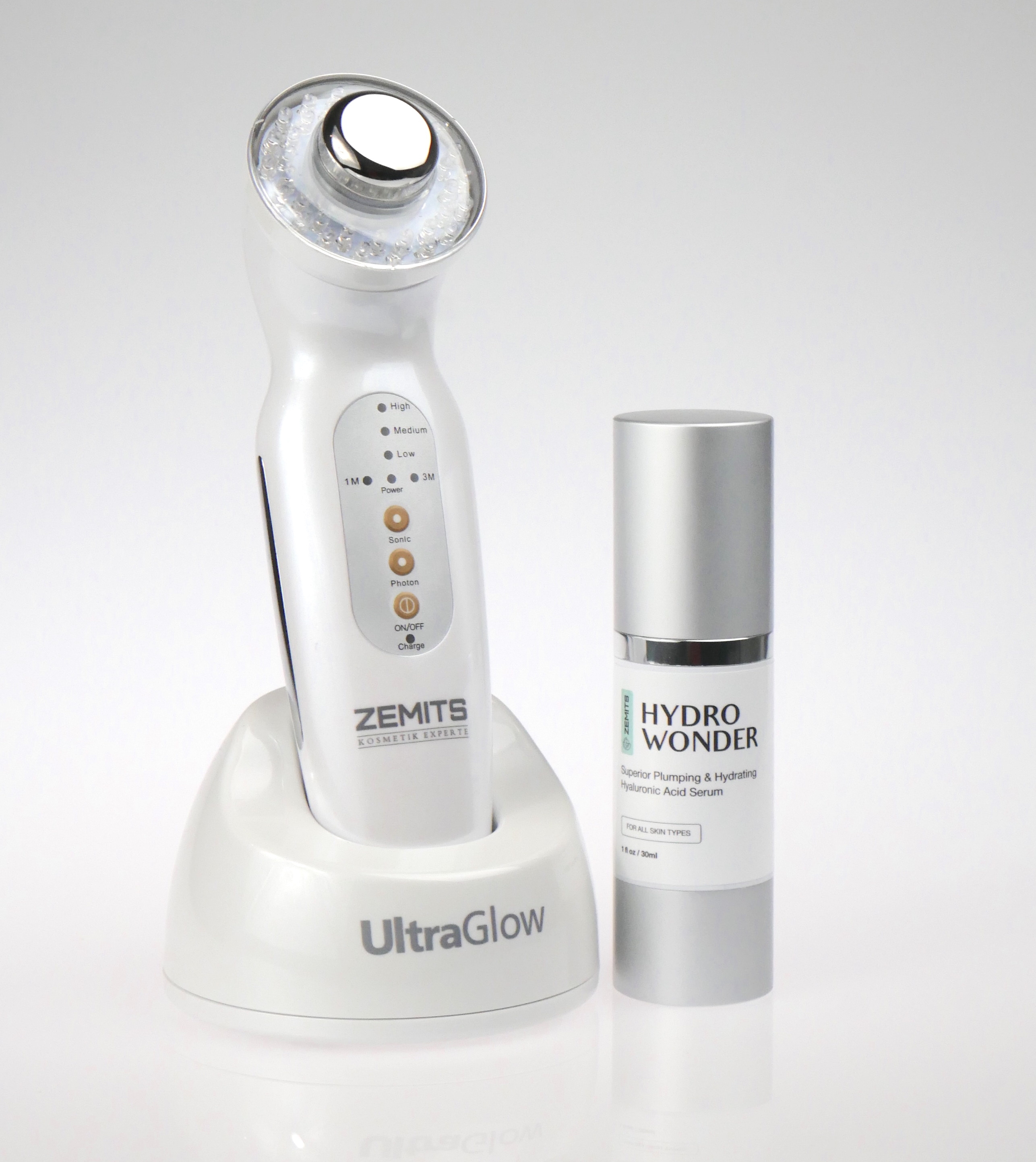 Ultrasound Technology
Ultrasound frequency increases cellular turnover, plumps and smooths out fine lines and wrinkles, tightens sagging skin, relieves puffy eyes, reduces the appearance of cellulite, improves acne, tightens enlarged pores, fades dark eye circles, freckles, old age spots, and even repairs scar damage. The process is safe, painless, and gentle and can even be used by sensitive skin types such as those with Rosacea.
Ultrasound can effectively infuse Hyaluronic Acid Serum. Thais why the combination of Zemits Ultraglow and Zemits HydroWonder brings skin instant plumping results.
The Zemits HydroWonder is full of densely concentrated hyaluronic acid to provide a deep and intensive hydrating feel. The HydroWonder is excellent for hydrating as well as for its anti-aging properties. The serum combats signs of aging such as fine lines, wrinkles, texture, and overall tone as it boosts the production of collagen. This serum can be used as a finishing serum during a facial or for even better results, it can be used daily as part of your skincare regimen for visible improvement in overall skin health. This serum is an incredible tool for deep hydration, anti-aging, and overall healthy complexion of the skin.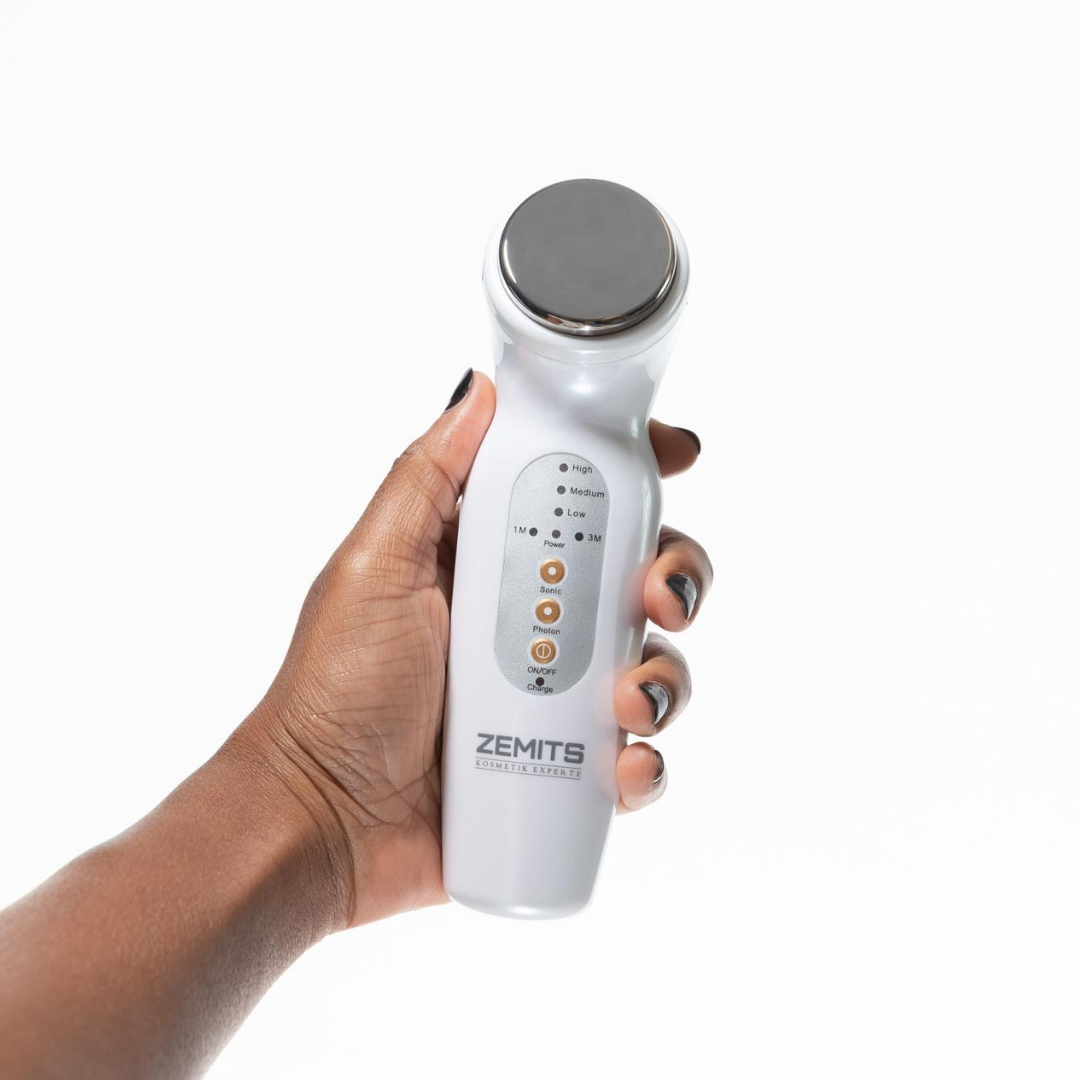 What are the benefits of the Zemits UltraGlow?
Three available LED modes for all skin types: Red, Blue, Green
Custom base to hold and charge the device
Comfortable silicone protective goggles with adjustable strap
Can even be used by sensitive skin types
Wireless technology for maximum comfort of operation
The battery runs up to 8 hours from a single charge
Designed in California
One-Year Warranty
What Results can I expect from Zemits UltraGlow?
More even skin tone
Plumped up and smoothed out fine lines and wrinkles
Tightened sagging skin
Less puffiness around eyes
Improved skin texture
Diminished signs of acne and pigmentations
Tightened and refined pores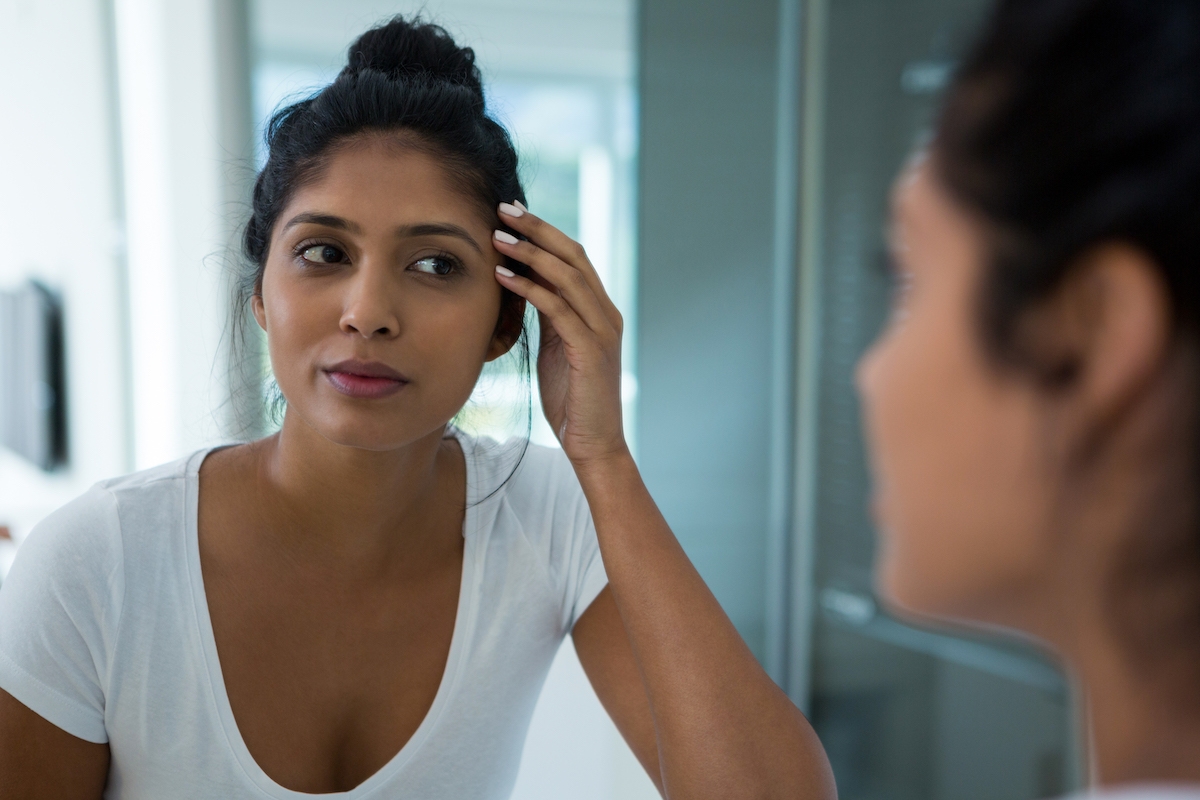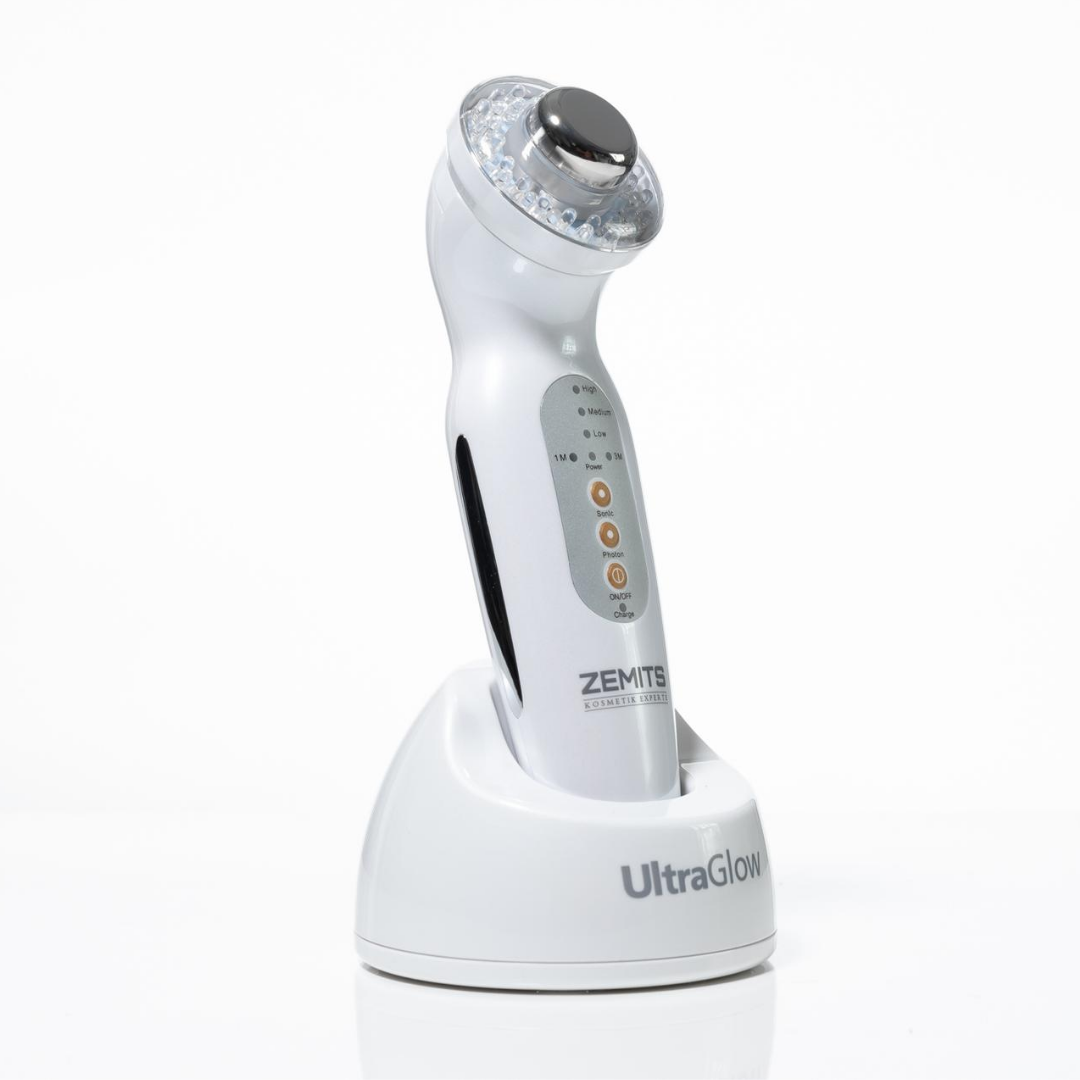 TECHNICAL SPECIFICATIONS
1 MHz Pure UltraSound Body Head
3 MHz UltraSound + LED Facial Head
Ultrasound intensity: 4W/cm
Up to 2 W/cm2 Power
Red Light: 640 nm
Green Light: 550 nm
Blue Light: 430 nm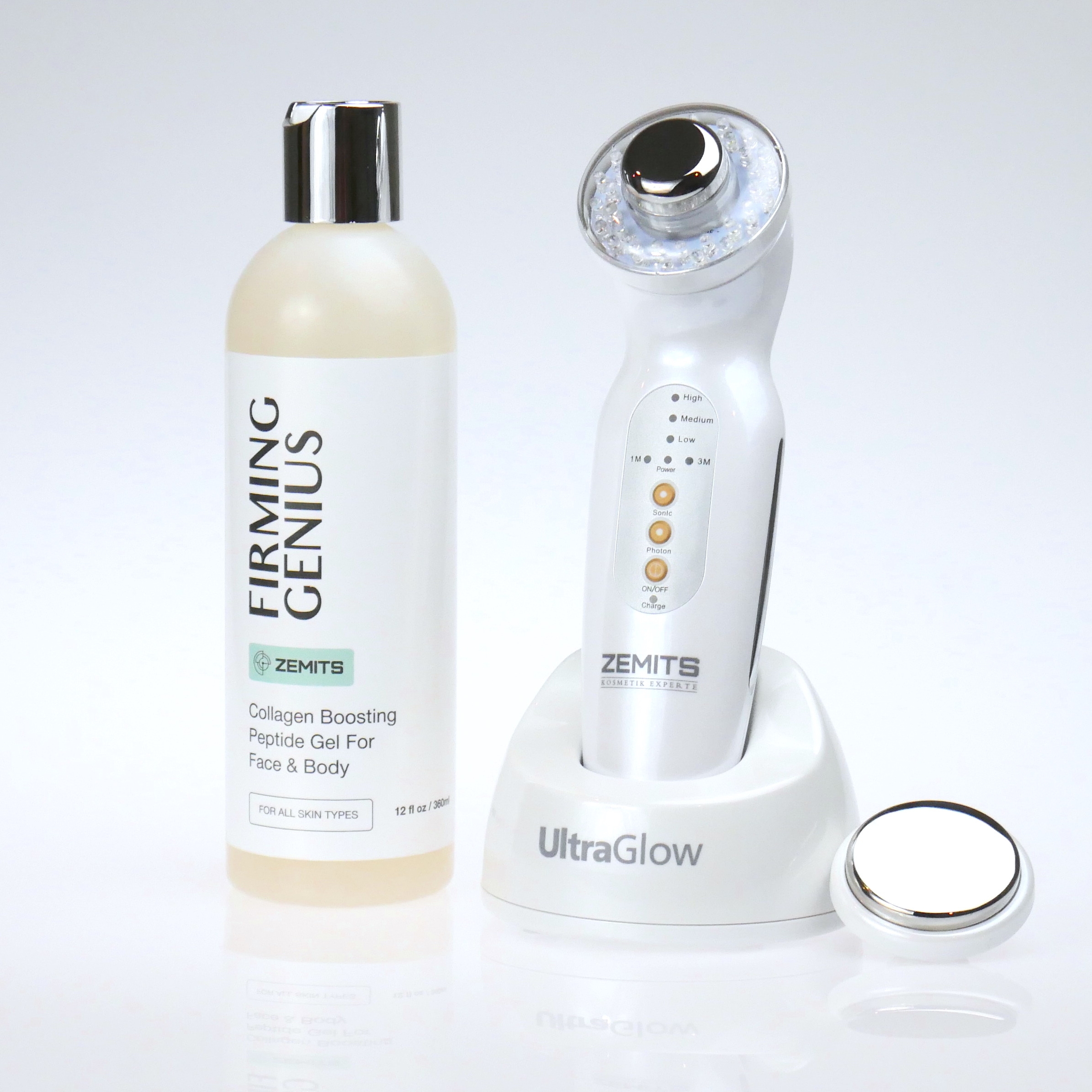 We recommend using Zemits Firming Genius Collagen Boosting Conductive Gel for better results.
Key Ingredients
Hazelnut Oil, Sunflower Oil, Vitamin E, Hyaluronic Acid, Ylang Ylang Oil, Green Tea Extract
Visibly hydrates the skin with Vitamin E. Also improves skin elasticity, bringing glow and tightness back to the skin.
It helps to protect the skin from environmental free radicals and from premature aging caused by sun damage such as fine lines, wrinkles, and pigmentation.
Helps restore several kinds of skin damage such as sun damage, scars, and reduces the appearance of acne scarring and pigmentation.
Boosts the skin's natural hyaluronic acid levels by approximately 30%
Reduces aging signs such as the look of crow's feet, nasolabial folds, and marionette lines for smoother, firmer skin
Ideal for all skin types
Deeply hydrates the skin
Boosts the skin for a natural glow
Products to Use with
The perfect products to use the Zemits Ultraglow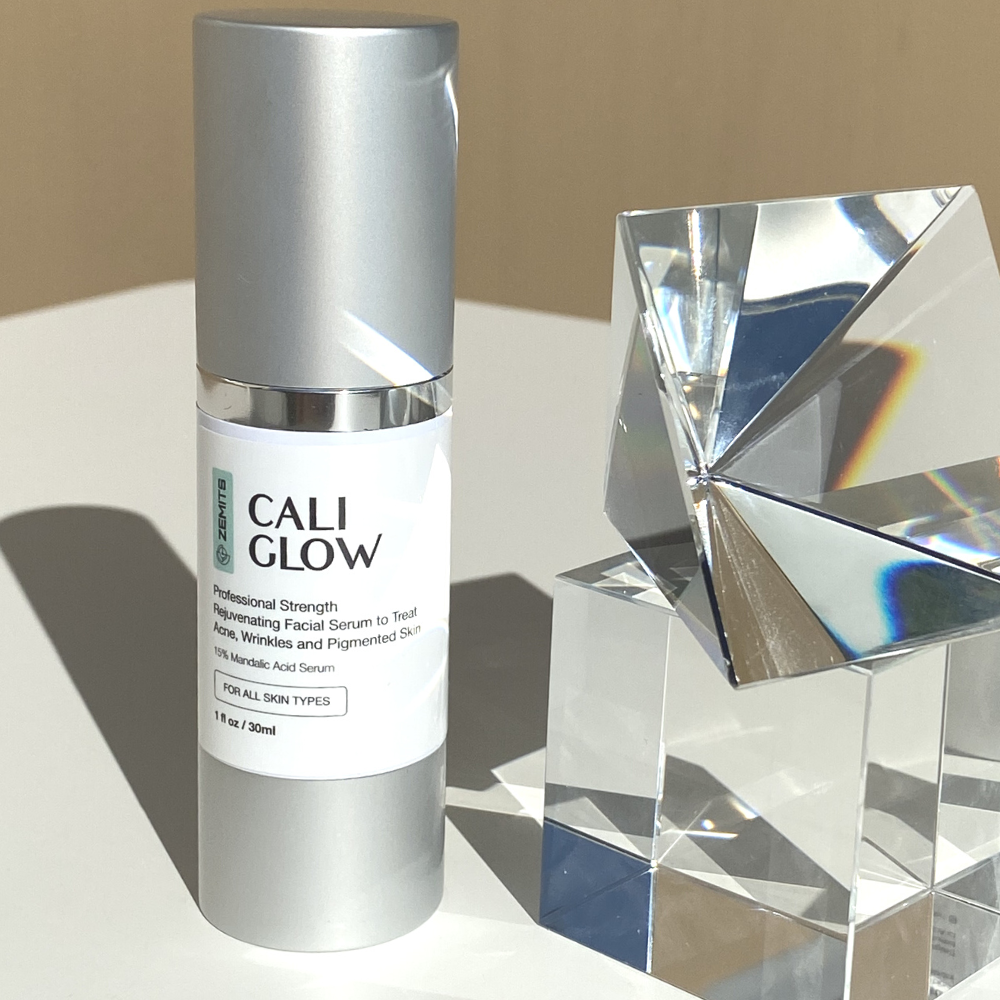 1. Zemits HydroWonder Superior Plumping & Hydrating Hyaluronic Acid Serum
The Zemits HydroWonder is full of densely concentrated hyaluronic acid to provide a deep and intensive hydrating feel. The HydroWonder is excellent for hydrating as well as for its anti-aging properties. The serum combats signs of aging such as fine lines, wrinkles, texture, and overall tone as it boosts the production of collagen.
2. Zemits CaliGlow Professional Strength Rejuvenating Facial Serum
A beautiful Mandelic Acid Serum for safe skin peeling. Mandelic Acid is an AHA (alpha hydroxy acid) that is found naturally in bitter almonds. Mandelic acid has a much larger molecular structure which causes significantly less irritation.
3. Zemits FirmingGenius Collagen Boosting Peptide Gel
The Zemits Firming Genius is a powerful combination of conductive and skin rejuvenative properties. The natural active ingredients make this gel a "Must Have" in every treatment room, as it is suitable for a majority of the most popular treatments and also has incredible collagen boosting features. The Zemits Firming Genius gel is hypoallergenic, non irritating and non greasy. It is a lightweight silky gel that deeply hydrates the skin, conducts the treatment energy and protects skin against dehydration.
4. Zemits WrinkleGone Super-Charged Peptide Rejuvenating Anti-Aging Serum
The Zemits WrinkleGone does not work like products such as Botox in paralyzing the muscles. Instead, it works effectively in targeting wrinkles caused by muscle activity, such as around the corners of eyes and mouth area.
5. Zemits InstaRevival Deep Hydrating Conductive Gel
This deeply hydrating mask instantly helps to hydrate and refresh the skin. Due to its strong calming properties, it is wonderful for post-treatment of microdermabrasion and peels to calm and renourish the skin. It also helps immediately hydrate the skin.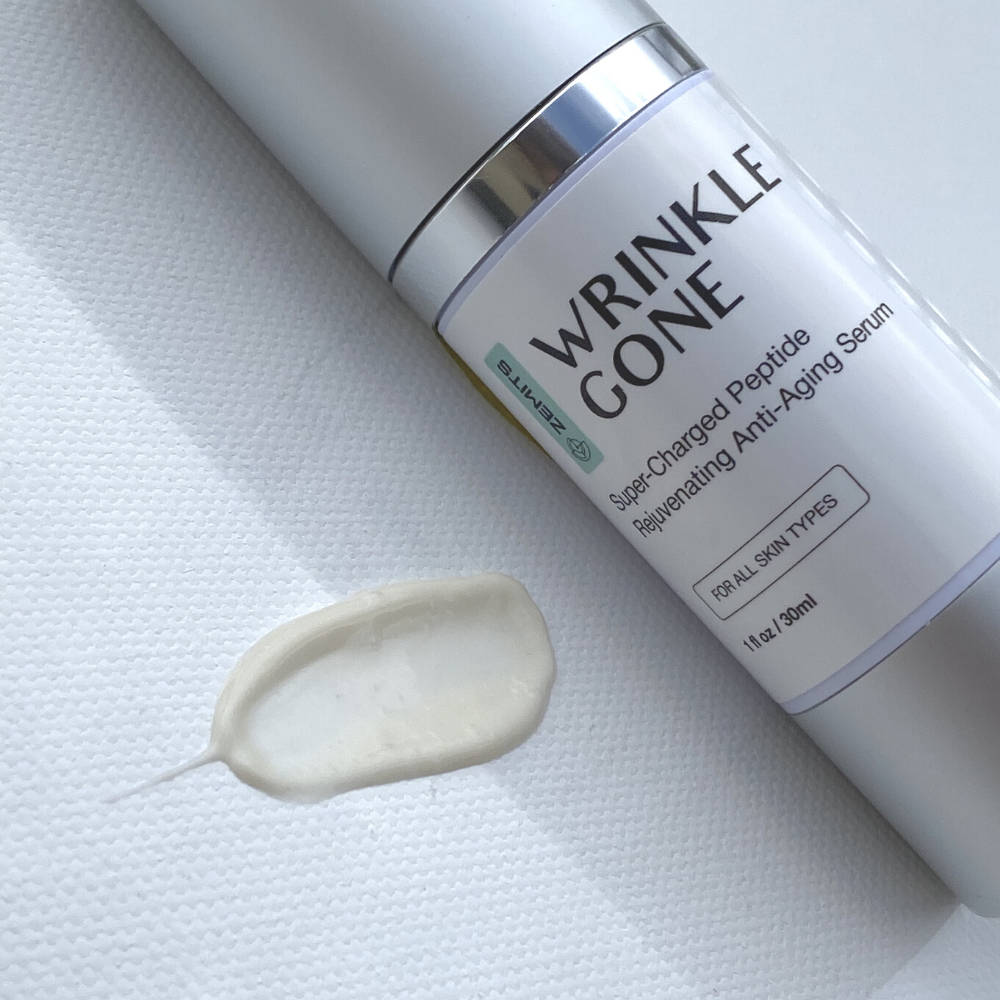 Fast shipping
Guaranteed quality of aesthetic equipment
Service
Wide range of products
ZEMITS UltraGlow Ultrasound LED System