It's incredible but true – it is possible to tighten the face without surgical interference.
It's difficult to find a woman in this world not interested in skin tightening. Women of any age want to look in the mirror and enjoy what they see in the reflection.
Facial skin is very sensitive to external factors and, unfortunately, fades with aging. Thanks to celebrities, we know all about plastic surgery. However, ask yourself: are you ready to go under the knife, pay a huge amount of money for surgical services, and undergo a long rehabilitation course?
The good news is that modern cosmetology offers a non-invasive method of controlling the process of skin aging. Nowadays, it is possible to tighten skin without any pain at a reasonable price. All this can be done with the help of a skin tightening machine.
What is a skin Tightening Machine?
Skin tightening machines use special techniques to achieve skin tightening and rejuvenation. These techniques are of a safe and painless nature. Here, we will break down these techniques in a simpler form.
What are the Types of Skin Tightening Machines?
Let's divide skin tightening machines into two types: machines designed for beauty professionals and machines designed for home use.
Skin Tightening Machines for Home Use
It is impossible to hurt yourself when using a home skin tightening machine. Usually, these devices are constructed in such a manner to make damage to the skin impossible.
Skin tightening machines for home use are less powerful compared to professional skin tightening machines used in spa and beauty salons. Nevertheless, they still are effective, reliable, and safe for your facial skin.
The main advantage of home skin tightening machines is that they are portable, so it is easy to carry this device in a bag or a case. If you are traveling a lot, this option is for you.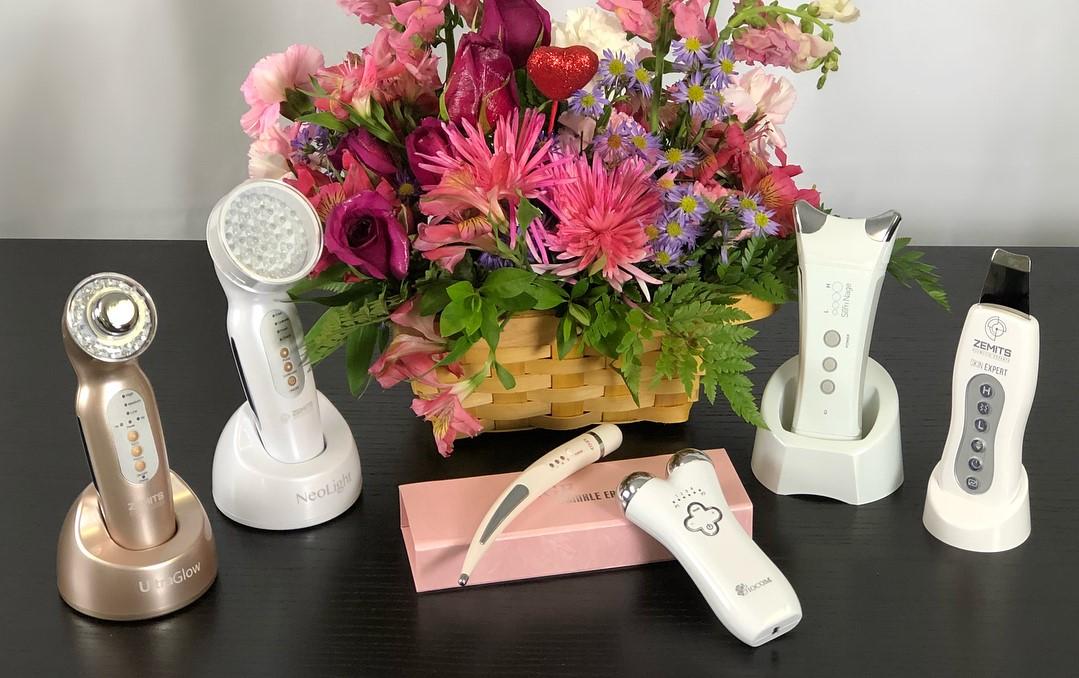 Professional Skin Tightening Machines
Professional skin tightening machines are made for professional use in the spa and beauty industry.
These machines are becoming more and more popular every year. It is predictable. Your face looks younger as your skin becoming tighter, wrinkles disappear, and skin tone improves. Plus, getting all these benefits cost much less than plastic surgery.
How to Choose a Skin Tightening Machine
If you are interested in purchasing a skin tightening machine for home use, you should search for small portable devices.
If you need equipment for a beauty salon, however, then there is some good news for you.
The professional skin tightening machines combine several popular beauty procedures.
For example, one machine performs the following: cavitation, bipolar RF for face lifting, and multipolar RF for body treatments.
Another machine has ultrasonic skin scrubbing, ultrasound therapy, diamond microdermabrasion, LED light therapy, microcurrent, cold therapy, and oxygen infusion.
And the best part is that professional skin tightening machines are used both for face and body treatments.
In order to choose the best skin tightening machine, it is crucial to know the functions you need.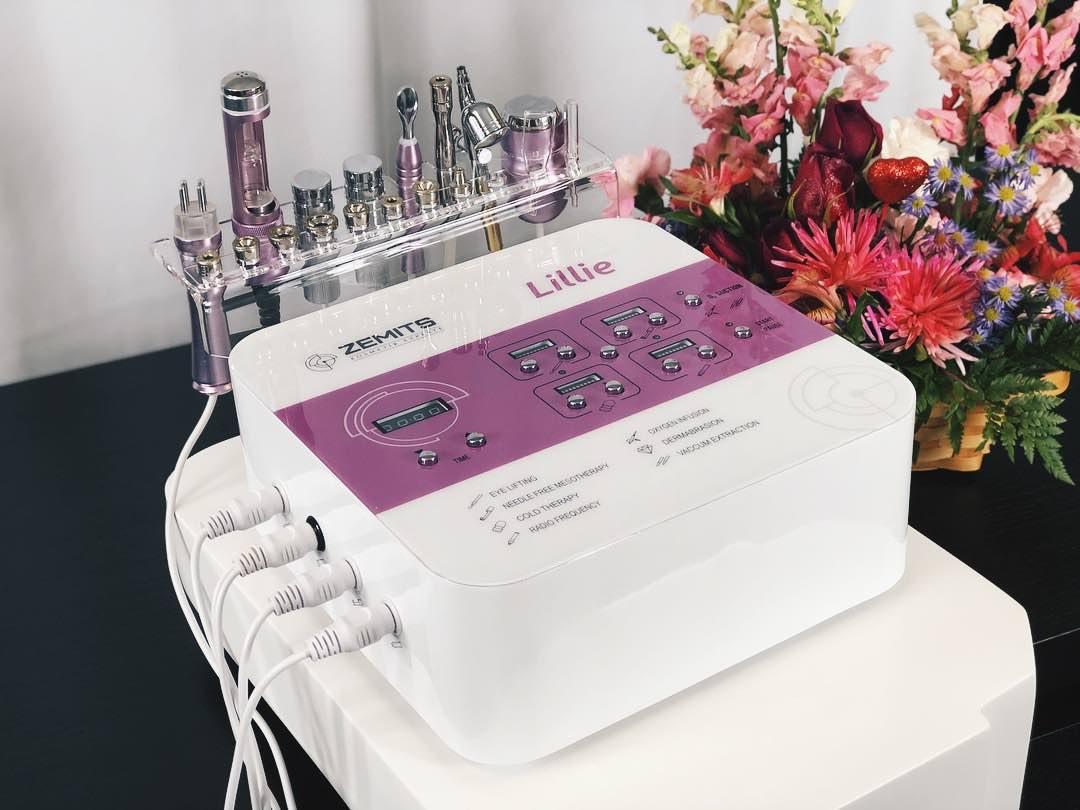 What are the Main advance techniques are used for skin tightening?
Modern facial equipment provides several popular beauty procedures for facial skin tightening. These include radiofrequency, ultrasound therapy or phonophoresis, and electroporation.
The advantages of the above-mentioned procedures are that they are non-invasive painless, and do not require a rehabilitation period. The most pleasant advantage is that your clients will see results after the very first procedure, and see growing results during the next six months.
Radiofrequency, the Magical Procedure
All people will show signs of aging sooner or later. This shows up through the appearance of nasolabial folds, brow and eyelid ptosis, eyelid hernias, and double chins.
Skin lifting methods are based on the heat effect at the surface layer of the skin, where channeling energy towards necessary tissue depth is almost impossible. The emitted energy is lost, and desirable effects are not achieved.
This problem, luckily, was solved thanks to radiofrequency therapy. Radiofrequency facial therapy allows for the channeling of useful energy into deep tissue layers.
What is SMAS?
Superficial muscular aponeurotic system (SMAS) is a layer of thick tissues that lie between the facial skin and deep muscles and consists of elastin and collagen fibers. In other words, the superficial muscular aponeurotic system is a facial frame that ensures distinct contours. As the human face ages, SMAS functions worse and worse, and as a result, collagen fibres stretch out and the face frame drifts.
Radiofrequency and its Types
Radiofrequency is a non-ionizing electromagnetic emission from vibration diapason, having a high penetration level into biological tissues. The quickly vibrating electromagnetic fields affect the skin and cause the movement of polarized particles inside the tissues. This leads to heat generation proportional to the electrical resistance of the tissues.
The increasing heat in the targeted zone stimulates collagen production, improves blood circulation, and reduces inflammation manifestation.
Radiofrequency has been used in various medical spheres and recently grown in the beauty industry.
There are different types of radiofrequency machines in the market: monopolar, bipolar, tripolar, and multipolar radiofrequency machines. The difference between the four is based on the number of active electrodes in their operational handpieces.
Monopolar Radiofrequency
Monopolar radiofrequency machines are the pioneers of RF machines. These type of machines are characterized by their high capacities and impact depths. Monopolar RF machines have active and passive electrodes, and electromagnetic emission goes through the comparatively large area between those electrodes.
Monopolar RF machines are considered to be more effective for cellulite treatment.
Tripolar Radiofrequency
A tripolar handpiece has three electrodes. It uses more concentrated energy to deliver heat to a targeted zone, unlike monopolar and bipolar radiofrequency, which are not as focused.
Multipolar Radiofrequency
One multipolar handpiece may consist of 3 or 5 or more electrodes, but only two of them work simultaneously. The energy penetrates deep into the skin.
How does Radiofrequency Therapy Work?
Plastic surgeons used to be the only ones who were able to reach SMAS. Having that in mind, it is easy to understand that radiofrequency therapy is a massive achievement in a modern aesthetics.
Radiofrequency technology directly influences the SMAS. The penetration depth of radiofrequency impulses is 5 mm.
How does it work? The vibrations penetrate deep skin layers and stimulate collagen and elastin production.
Indications for Radiofrequency
Ultrasound lifting is aimed at the removal of facial age-related changes:
Loose facial skin
Drifting of facial contour
Deep wrinkles around the eyes, nasolabial triangle, and forehead
Loss of facial symmetry
Gravitational face ptosis: eyelid and cheeks ptosis, double chin manifestation, fat deposits on a neck
Thinning of the upper lip
Contraindications for Radiofrequency
If a client has one or more of these conditions, they should not undergo radiofrequency therapy:
Pregnancy and breastfeeding
Oncological diseases
Nervous diseases
Emerging or present chronic infections
Suppurative skin inflammation
Diseases of the endocrine system (diabetes, etc.)
Systemic diseases of the connective tissues
Presence of a heart rhythm generator (cardiac pacemaker)
Presence of metal implants in the targeted zone
When will a client see the first results?
Radiofrequency has a cumulative effect. The first result is seen after the first procedure. But the results will increase during 6 months after the procedure.
Ultrasound Therapy or Sonophoresis
Ultrasound therapy is one of the most popular and effective procedures for facial care.
Mechanical energy penetrating through the tissues transforms into heat energy. This accelerates biochemical reactions and stimulates regeneration processes.
The sound wave frequency used for face tightening is 3 MHz.
This procedure encourages cell renewal, pore widening, scar effacement, blood circulation, cellulite and couperosis reduction It also makes skin more elastic and smooths out wrinkles. The cells then start to take in oxygen much better. 10-15 procedures are needed to see best results.
What does a procedure look like? During the procedure, an esthetician spreads a special jelly with active materials onto the skin, hen switches on the machine. As a result, the ingredients in the gel penetrate the skin (up to 6 cm) while the skin layer stays undamaged.
Indications for Ultrasound Therapy
Problem skin with acne
Toneless face color
Loose skin
Dry, lifeless skin
Edema and dark under-eye circles
Skin with couperosis
Contraindications for Ultrasound Therapy
Skin diseases
Facial palsy
Hard inflammatory diseases
Tumors
Pregnancy
Electroporation Facial
Electroporation is a non-invasive procedure, also known as needle-free mesotherapy.
During the procedure of electroporation, beauty products penetrate into the skin under the influence of low-frequency electric currents. This is possible because the pores open for a short period of time thanks to microcurrent, allowing beauty products to go into deeper skin layers. The main plus of electroporation is that the skin stays undamaged through it all.
No needles, no surgical knife, and no rehabilitation. Only young, tightened, rejuvenated, and shining skin.