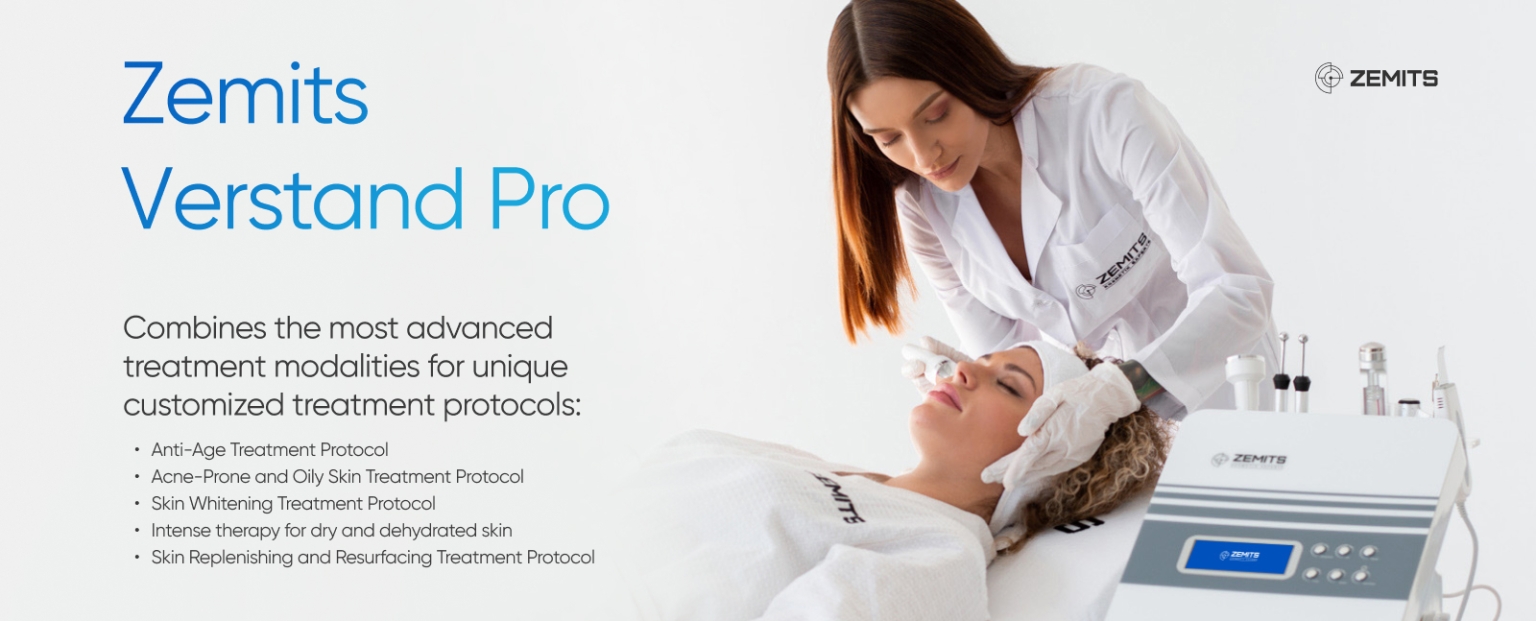 The Zemits Verstand Pro combines the most advanced treatment modalities for unique customized treatment protocols:
Anti-Age Treatment Protocol

Acne-Prone and Oily Skin Treatment Protocol
Skin Whitening Treatment Protocol
Intense therapy for dry and dehydrated skin
Skin Replenishing and Exfoliating Treatment Protocol
Results after Zemits Verstand Pro Facial: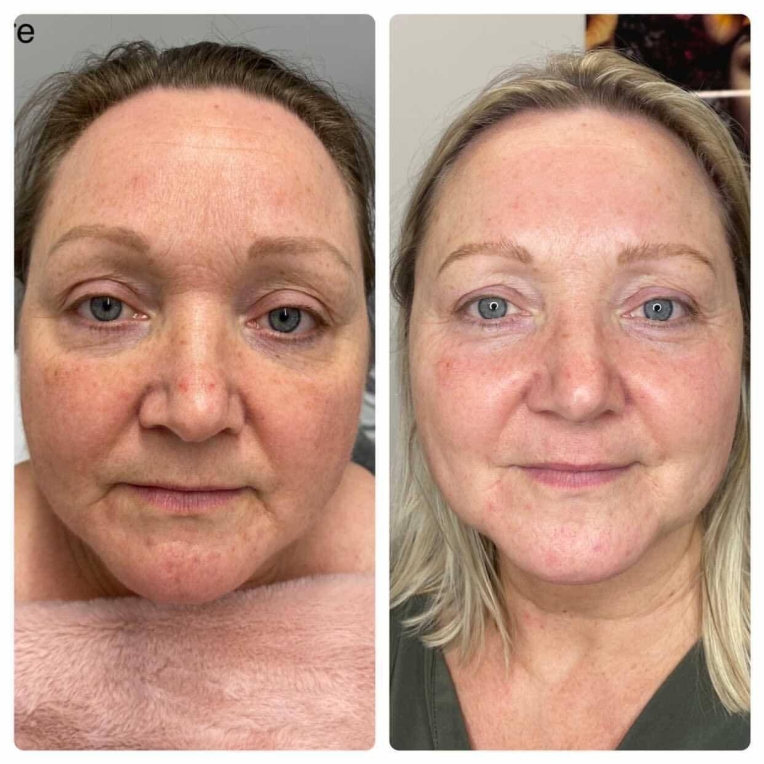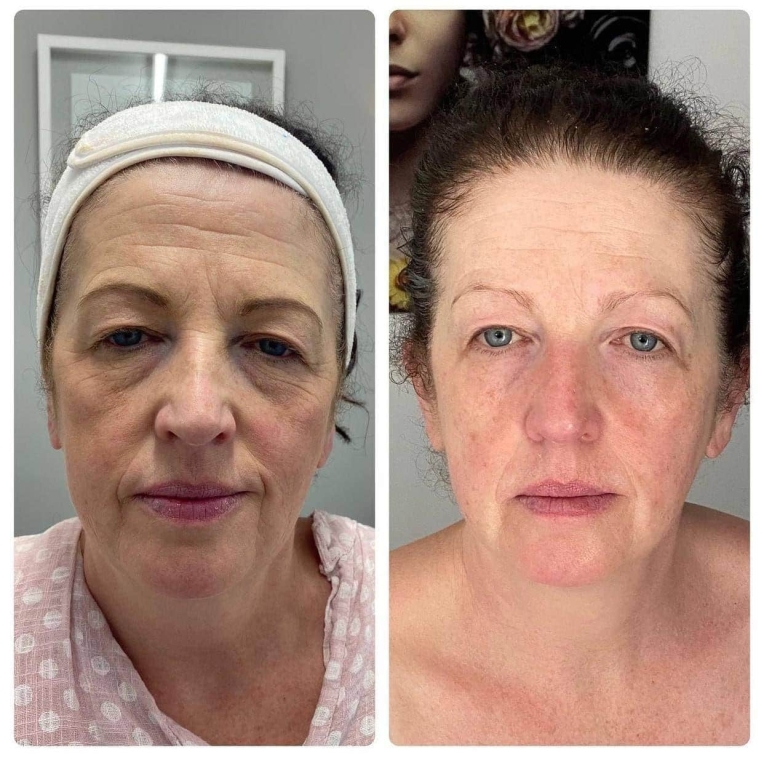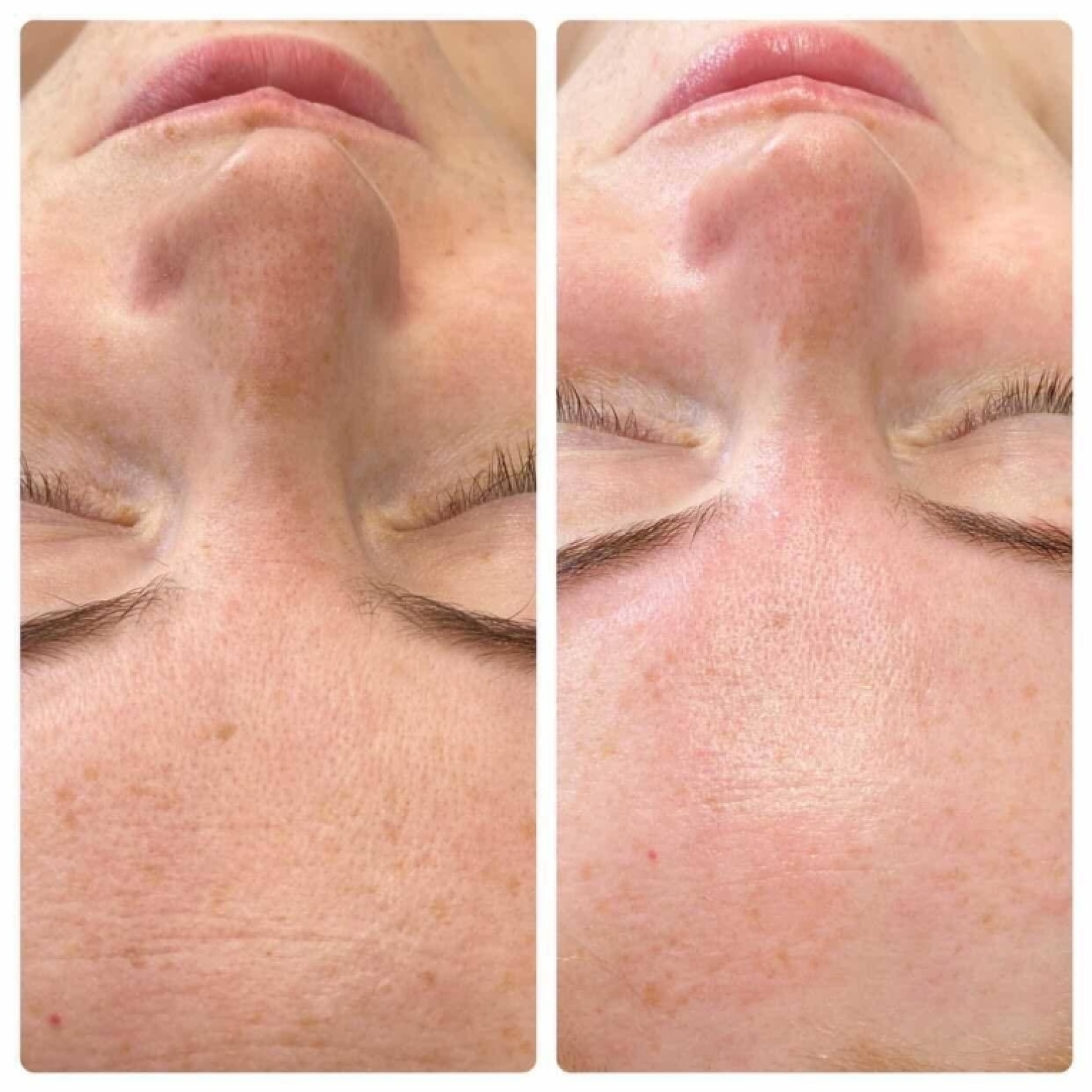 Introducing Zemits Verstand PRO:
Zemits Verstand PRO is a groundbreaking, full-featured aesthetic system that exemplifies the perfect fusion of cutting-edge technology and unparalleled expertise in skincare and beauty. As part of the legendary Full-Feature Aesthetic Systems line, it boasts ten of the most sought-after modalities for highly effective skincare treatments.
This state-of-the-art system provides unparalleled customization, allowing skincare professionals to tailor treatment protocols to each individual's needs. With advanced complementary training, practitioners can elevate their skills and deliver transformative results for clients with all skin types.
Not only does the Zemits Verstand PRO offer exceptional performance, but it also comes with the added assurance of in-house financing and a comprehensive two-year warranty. Experience the ultimate synergy of technology, passion, and beauty with the Zemits Verstand PRO – the future of skincare treatments.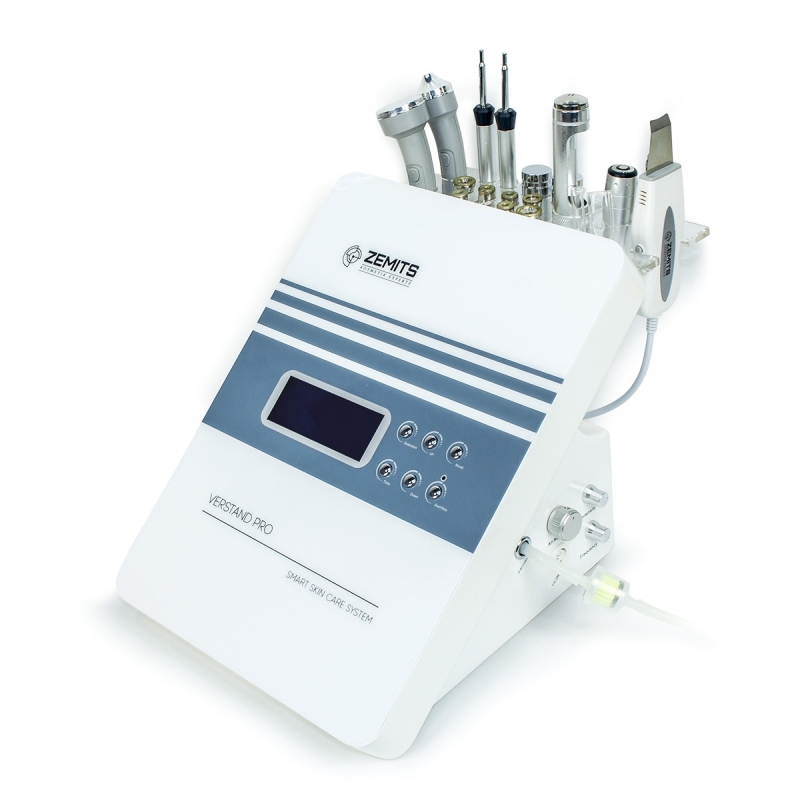 The Zemits Verstand Pro combines the most advanced aesthetic technologies:
BiPolar RF

Diamond Microdermabrasion
Ultrasonic Skin Scrubber
Ultrasound Facial and Body Therapy
Microcurrent for Eyes and Lips Therapy
Microcurrent Face and Neck Therapy
Microcurrent Body Therapy
Microcurrent Gloves Massage
No-Needle Electroporation
Vacuum Extraction and Massage
Zemits Verstand PRO Advantage:
Elevate your skincare practice with the Zemits Verstand PRO, an exceptional aesthetic system designed to deliver outstanding results. Equipped with a modern, user-friendly LED screen, this cutting-edge device simplifies operation and ensures precision in every treatment.
The Zemits Verstand PRO offers ten of the most sought-after features for effective anti-aging and comprehensive skincare programs, along with three modes of microcurrent therapy to cater to a variety of treatment protocols. This flexibility allows professionals to provide tailored solutions for each client's unique needs.
Invest in the future of your practice with confidence, as the Zemits Verstand PRO offers accessible in-house financing options and a reassuring 36-month warranty. Transform your clients' skin and enhance their beauty with the remarkable capabilities of the Zemits Verstand PRO.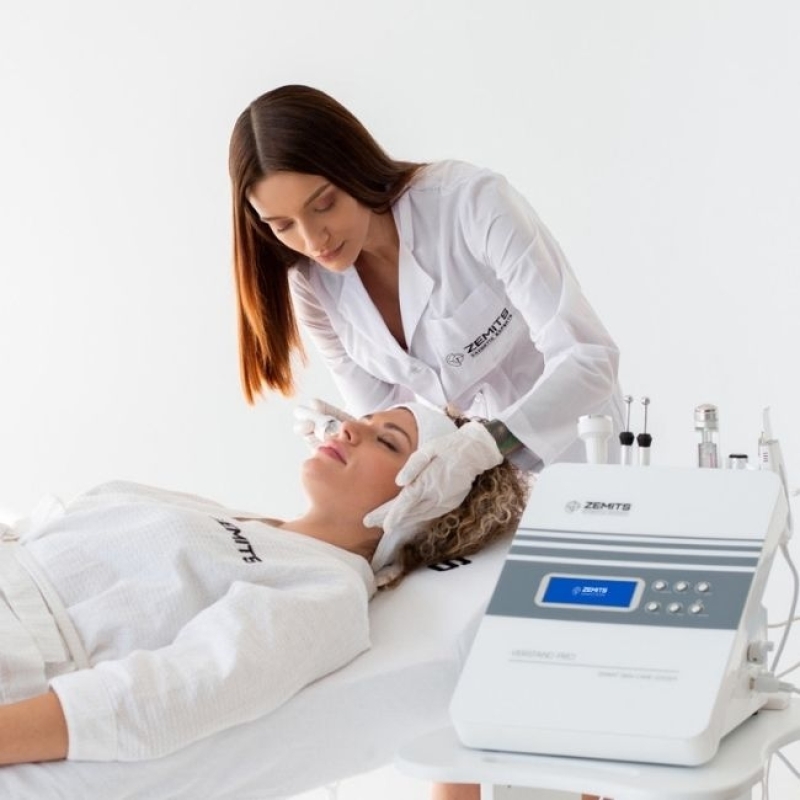 Watch the video with Zemits Verstand Pro
Diamond Microdermabrasion
Zemits diamond microdermabrasion uses a reusable diamond tips to exfoliate the surface of the skin.With the large variety of sizes and grids of abrasive diamond tips allows the estheticians to get closer to the mouth and the eye area, and perform precise treatments. The adjustable vacuum suction allows to treat different skin types and control the depths of treatment. It also allows for a cleaner treatment as there is no crystal spray meaning the machine requires less maintenance.
Zemits Diamond Microdermabrasion helps to:
1. Increase levels of collagen and elastin production
2. Plump and resurface the skin
3. Improve absorption of skincare products
4. Reveal smoother and healthier skin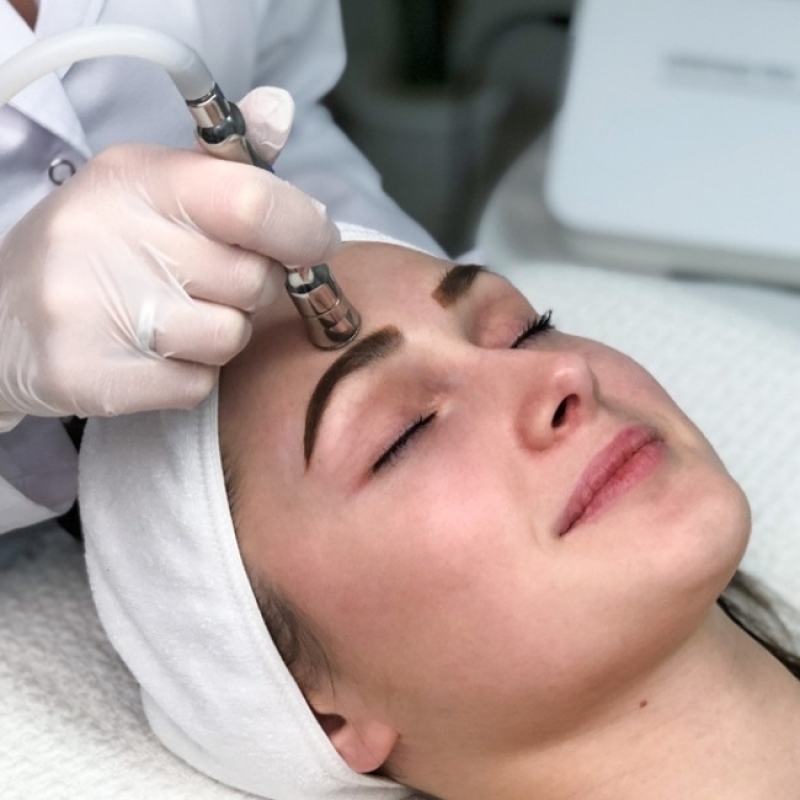 Zemits BiPolar RF
Zemits RF harnesses the power of gentle electrical currents to boost skin tone and elasticity. By temporarily increasing local blood circulation, it promotes improved cellular metabolism and stimulates the production of new collagen, resulting in firmer, rejuvenated skin.
This advanced system utilizes a safe, superficial current that does not alter the structure of the skin tissues, while still supporting the skin's natural regeneration process. Zemits RF is entirely non-invasive and non-aggressive, making it a gentle yet effective option for enhancing your clients' complexion.
Please note that Zemits RF is not intended for the treatment of skin diseases. Designed exclusively for cosmetic purposes, it is intended for use by estheticians to help clients achieve their desired skin improvement goals.
Ultrasonic Skin Scrubber Spatula
The Zemits Verstand Pro Ultrasound Skin Scrubber offers a distinctive skin cleansing and gentle exfoliation experience. Ultrasonic skin scrubbing is a popular facial technique that operates with vibrations up to 28,000 times per second, which help to remove the superficial layer of dead skin and sebum gently.
This process reveals refreshed, healthier-looking skin while maintaining the integrity of the skin's structure. The Zemits Ultrasound Skin Scrubber provides a comfortable, non-invasive alternative for clients seeking a mild approach to improving the appearance of their skin, without the discomfort associated with traditional blackhead reduction methods.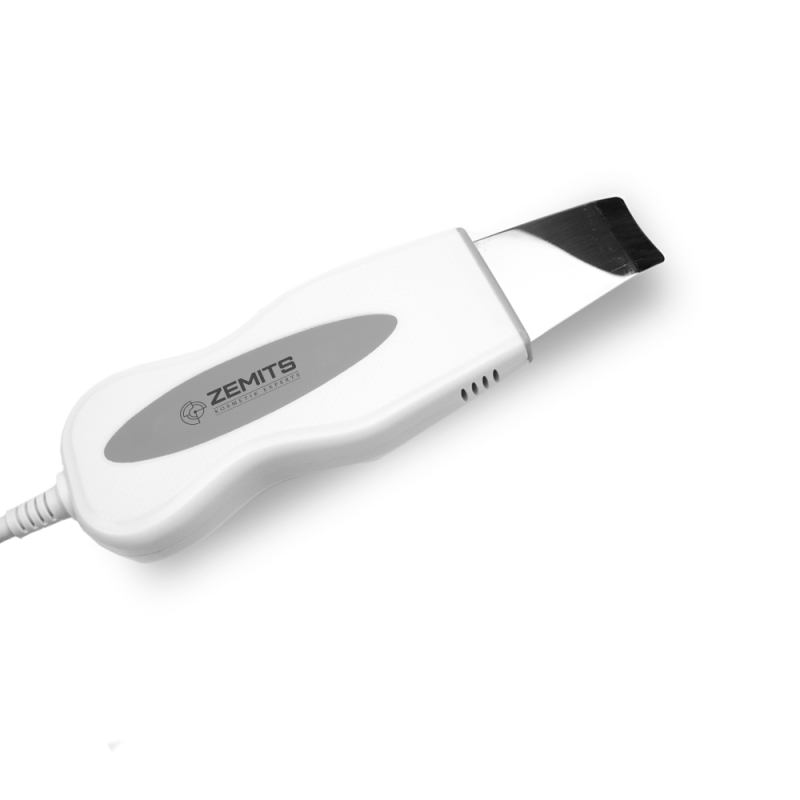 By incorporating the Zemits Skin Scrubber into a various comprehensive treatment protocols, clients can attain impressive outcomes, including:
Refined pores and fewer blackheads

Hydrated and firmed skin

Deep skin hydration

Natural glowy finish post-treatment

Improved skin elasticity

Improved overall skin tone

Unclogged pores and reduced blackheads


Improved scars and stretch marks
Ultrasound Exfoliation is performed with one of the two Z-Hydro Serums to deliver deeper exfoliation and more effective extractions of the soften sebum.
Vacuum Extractions and Massage
The Zemits Verstand Pro offers exceptional vacuum extractions, combining deep pore cleansing and a relaxing facial massage experience. With adjustable vacuum suction delivered through a transparent glass tube, the Zemits Verstand Pro effectively removes sebum from pores and extracts blackheads, revealing visibly cleaner skin.
Tailoring the vacuum suction intensity to a gentle level allows for a comfortable and efficacious facial massage. This comprehensive treatment not only enhances skin's appearance but also provides a soothing experience for clients.
Discover the remarkable benefits of vacuum extractions and massage, expertly delivered by the Zemits Verstand Pro aesthetic system.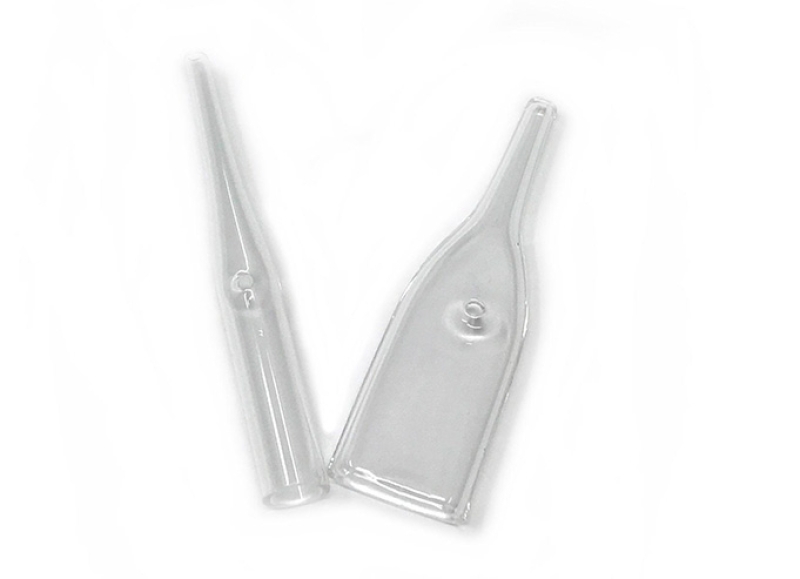 Benefits of Vacuum Therapy:
Cleaner pores: Achieve a refreshed and purified complexion as the vacuum therapy effectively removes impurities from deep within the pores.
Fewer blackheads: Notice a visible reduction in blackheads as the vacuum extraction process efficiently clears congested pores.

Reduced puffiness and edema: Alleviate facial puffiness and edema with targeted vacuum therapy, resulting in a more rejuvenated appearance.
Toned jawline area: Enjoy a more defined and contoured jawline through the firming effects of vacuum therapy.
Reduced dark circles around eyes: Diminish the appearance of dark circles as improved circulation helps alleviate discoloration around the eye area.

Microcurrent Therapy
Zemits Verstand Pro has a full set of professional Microcurrent applicators:
Disk Probes for face and neck
Globe Probes for face and eye area
Q-Tips for sensitive skin
Dynamic Gloves for advanced combined manual and microcurrent massage
Experience Gentle Skin Toning with Microcurrent Technology on the Zemits Verstand Pro:
The Zemits Verstand Pro utilizes gentle and safe microcurrent technology designed to help improve the appearance of the skin. The system emits delicate microcurrent waves that work in harmony with the skin's natural properties.
Zemits Microcurrent features a unique combination of specific waveforms and low-frequency electrical impulses that gently interact with the skin. This non-invasive method is designed to provide a more refreshed appearance for clients seeking a mild approach to enhance their skin's look.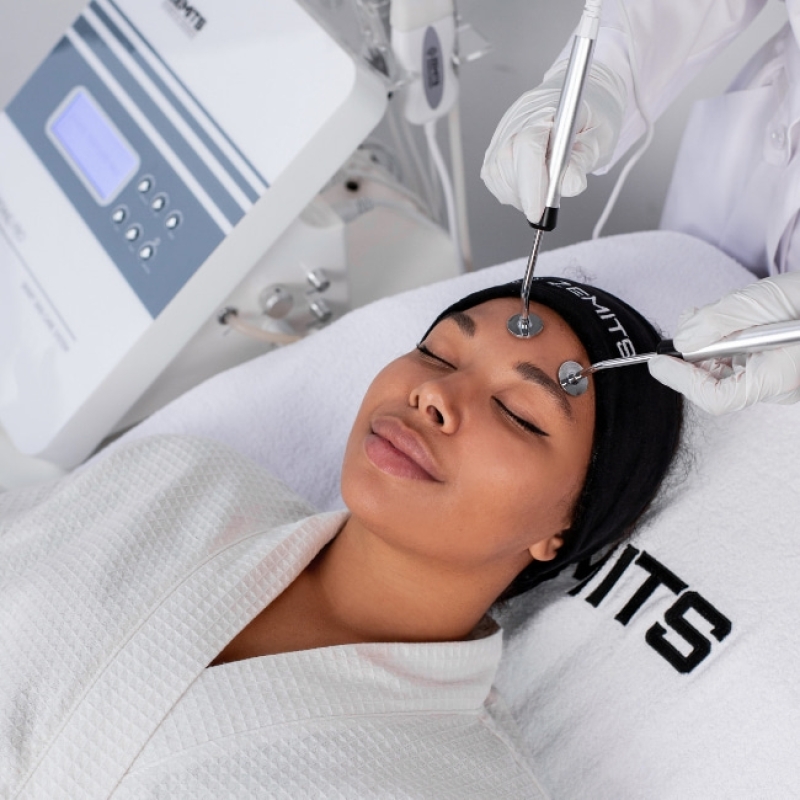 Combined Treatment Protocols
Incorporating microcurrent applications into personalized treatment protocols can provide a range of advantages for clients seeking to improve their skin's appearance:
Enhanced skin tone and reduced signs of sagging
Improved hydration and more even skin tone
Diminished appearance of fine lines and wrinkles
Reduced puffiness and signs of edema
Invest in your skin's health and beauty by incorporating customized microcurrent treatment protocols, designed to address your unique needs and deliver transformative results.
Microcurrent Gloves
Utilizing microcurrent gloves offers a range of benefits for both estheticians and their clients, elevating the overall skincare experience:
Enhanced precision and control: Microcurrent gloves allow estheticians to deliver targeted treatments with greater accuracy, ensuring optimal results for clients.
Increased comfort for clients: The gentle and even application of microcurrent through the gloves ensures a more comfortable and relaxing experience for clients.
Personalized treatments: Estheticians can tailor microcurrent treatments to the specific needs of each client by adjusting the intensity and focus of the microcurrent gloves.
Time efficiency: Microcurrent gloves enable estheticians to perform treatments more efficiently, reducing the overall duration without compromising on results.
Versatility: The gloves are suitable for use on various areas of the face and neck, offering a comprehensive treatment solution for clients seeking to address multiple concerns.
Zemits Verstand Pro Microcurrent Therapy is performed with: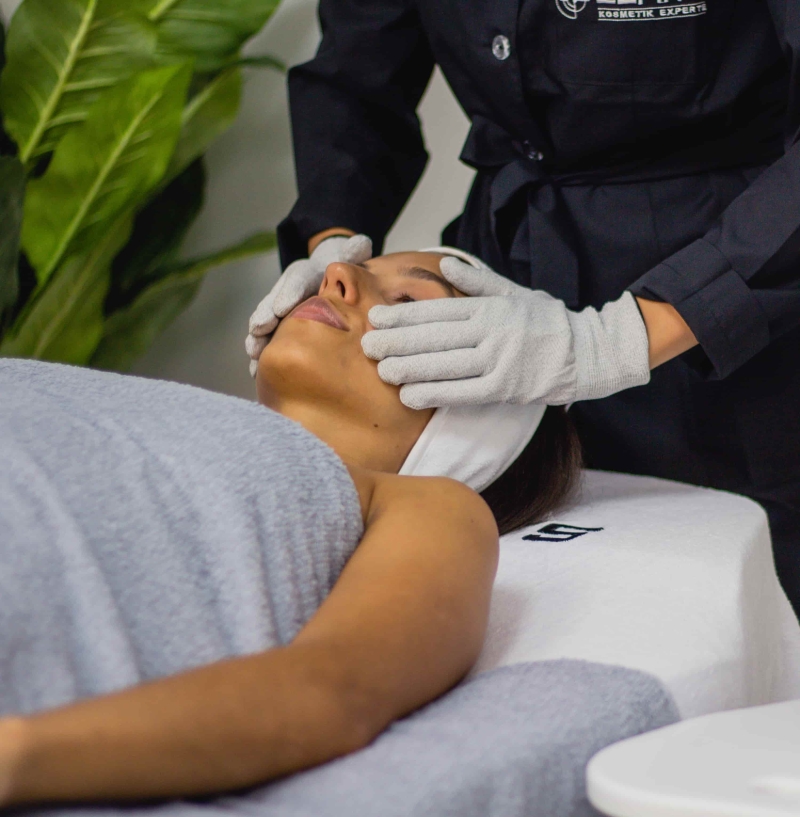 No-Needle Electroporation
Experience the benefits of this advanced, results-driven infusion therapy that promotes optimal product absorption into the skin. Zemits Electroporation helps to effectively hydrate the skin.
The comfortable procedure can be performed as a complete facial, taking approximately 15-20 minutes per facial area, or as part of a customized facial protocol targeting specific skin concerns, lasting about 10-15 minutes.
For estheticians, incorporating electroporation into their services provides numerous advantages, such as:
Enhanced treatment offerings: Broaden the scope of services available to clients, meeting the demand for innovative, needle-free treatments.
Increased client satisfaction: Deliver visible results with a comfortable and non-invasive procedure that clients will appreciate.
Improved efficiency: The ability to customize treatment duration and focus allows for efficient use of time, enhancing overall productivity.
Versatility: Electroporation can be integrated into various facial protocols, providing tailored solutions for diverse client needs.


Ultrasound Facial
Ultrasound gentle vibrations enable the infusion of the serums and intense improvement of local blood and lymphatic circulation. This comfortable treatment delivers targeted energizing and stimulating effects to the skin, helping to reduce dark circles around eyes, diminish depth of fine lines and wrinkles, reduce puffiness and dullness of the skin.

It results in:
Increased blood and lymph circulation
Reduction of puffiness and visible face lifting
Skin whitening
Skin nourishing and hydration
Naturally stimulated collagen and elastin recovery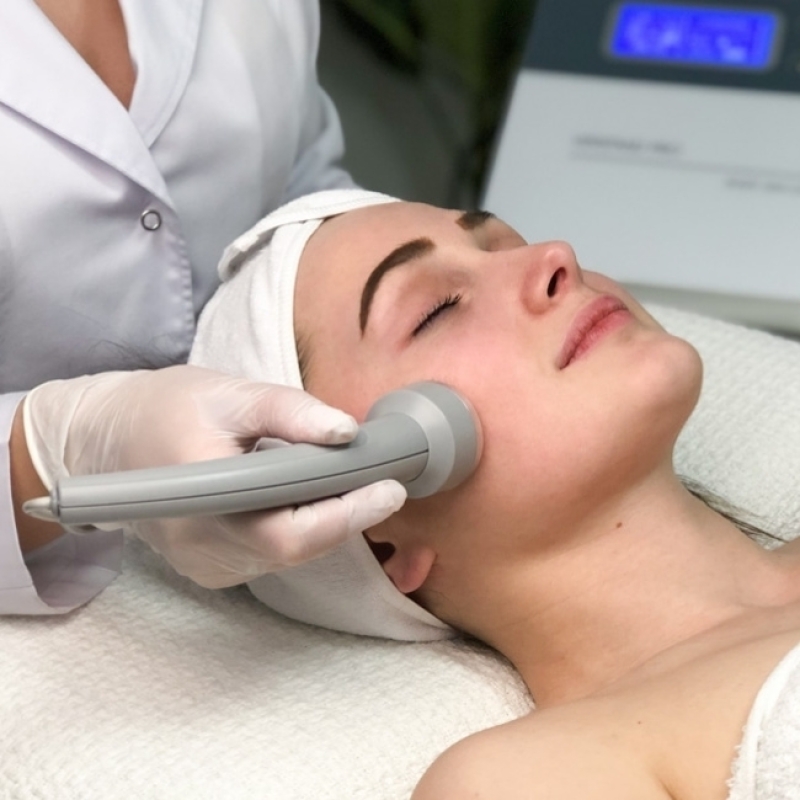 Watch the review on Zemits Verstand Pro
Advanced Training Program
A-Esthetic's certified educators have 30+ years of experience.
With our combined experience, we have created the most complete and advanced online training course.
You will have completely FREE access to the customized online training course and Q&A session with our educators.
We will provide you with the Certificate of Completion after you successfully complete your training course.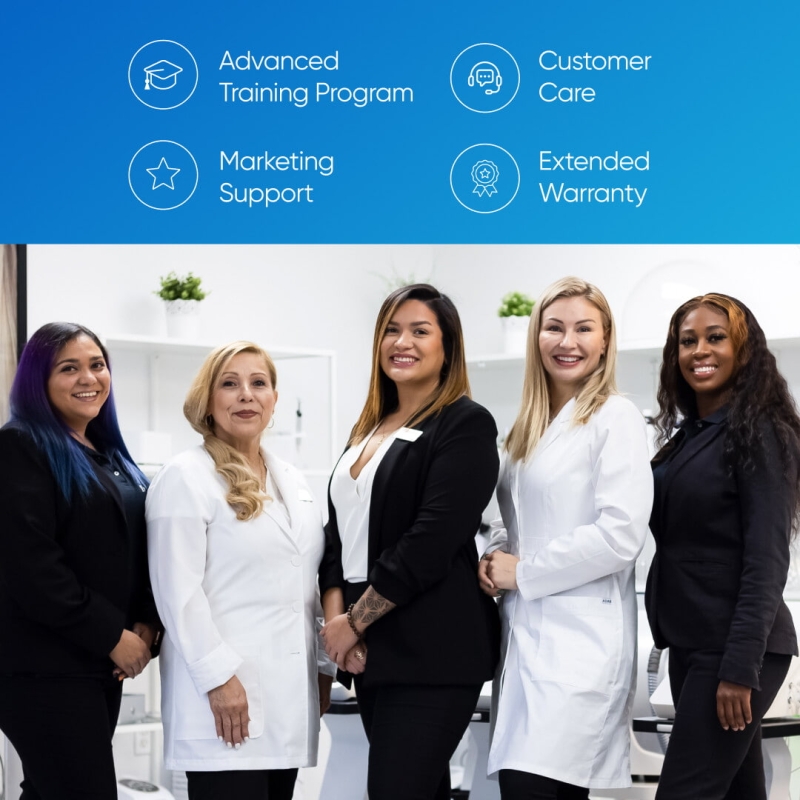 This esthetic device is intended for cosmetic use only. This esthetic device is not intended to be used to treat or diagnose any medical condition.
This esthetic device is intended to be used by estheticians and skincare providers. This esthetic device is not intended to be used by doctors or healthcare providers.
This esthetic device is not intended to be used in medical nor surgical purposes. This esthetic device does not affect the structure of deep skin tissues.
SKU: 23733
Zemits Verstand Pro
Full-Feature Facial System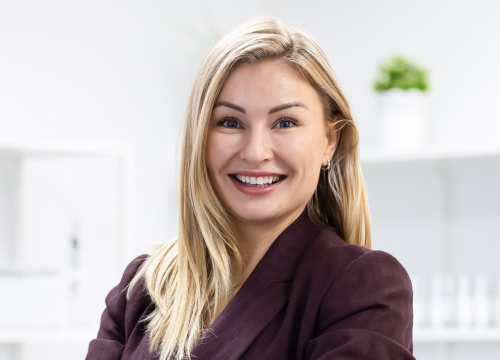 Financing Programs - More opportunities for your business
Interest-Free Financing and Flexible Payment Options. No credit, no problem!
Financing Programs

Learn More

Advanced Training Program
A-Esthetic offers the most advanced and comprehensive complimentary Advanced Online Training Course with every purchase of Zemits and Oomnex equipment..
Training Program

Learn More
Our clients Worldwide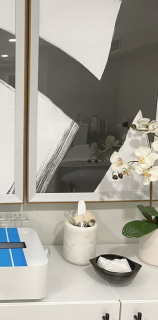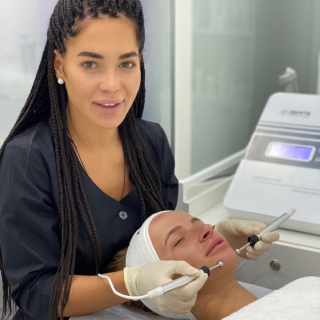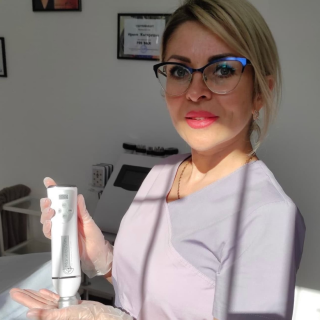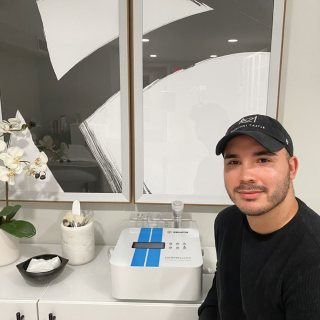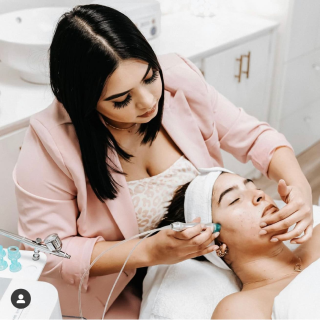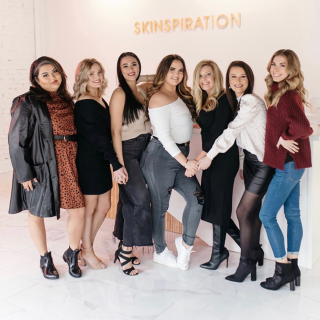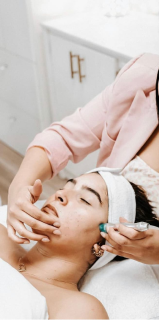 Advance-Esthetic is dedicated to providing you with the finest MedSpa Equipment to tailor a wide variety of your needs. Our mission is to support your MedSpa to boost your business with the highest quality products, outstanding customer service and a lifetime of client support.
Advance-Esthetic.us delivers to the following states: Alabama, Alaska, Arkansas, Arizona, California, Colorado, ...

Connecticut, Delaware, Florida, Georgia, Hawaii, Idaho, Illinois, Indiana, Iowa, Kansas, Kentucky, Louisiana, Maine, Maryland, Massachusetts, Michigan, Minnesota, Mississippi, Missouri, Montana, Nebraska, Nevada, New Hampshire, New Jersey, New Mexico, New York, North Carolina, North Dakota, Ohio, Oklahoma, Oregon, Pennsylvania, Rhode Island, South Carolina, South Dakota, Tennessee, Texas, Utah, Vermont, Virginia, Washington, West Virginia, Wisconsin, Wyoming
© 2021 DISCLAIMER: All information within the A-esthetic.us website and all other marketing materials are made only for informational and educational purposes. A-Esthetic products and equipment have not been tested or approved or any government entity for treatments of illnesses or diseases. Use at your own risk.
Advance-Esthetic does not accept any liability for inaccurate information on our website. It is the responsibility of the client to check the accuracy of all information provided and to confirm prior to and upon purchase of *qualifying Zemits equipment including but not limited to the conditional offer of marketing materials and other such offers for the defined brands. Zemits only. Marketing Materials are exclusively for Zemits branded machines only... Not applicable with Venus, Innocell, or other non Zemits branded equipment, ETC., Definitions: Qualified: Zemits Branded Equipment only