We speak English Мы говорим по-русски Hablamos Español
Nue Fusion 600 "Face And Body" Standard
Array ( [id] => 1810 [name] => Nue Fusion 600 "Face And Body" Standard [shortname] => Nue Fusion 600 "Face And Body" S [artikul] => 28003 [price] => 4995 [discount] => 0 [price_form] => $ 4,995.00 [prod_price] => 4995 [prod_price_form] => $ 4,995.00 [currency] => $ [url] => nue-fusion-600-face-and-body-standard [ico] => Array ( [mini] => https://advance-esthetic.us/userdata/modules/wproducts/product/mini/11912.png [cart] => https://advance-esthetic.us/userdata/modules/wproducts/product/cart/11912.png [big] => https://advance-esthetic.us/userdata/modules/wproducts/product/big/11912.png [main] => https://advance-esthetic.us/userdata/modules/wproducts/product/main/11912.png [quick] => https://advance-esthetic.us/userdata/modules/wproducts/product/quick/11912.png [catalog] => https://advance-esthetic.us/userdata/modules/wproducts/product/catalog/11912.png [catalogIco] => https://advance-esthetic.us/userdata/modules/wproducts/product/catalogIco/11912.png ) [out_currency_info] => Array ( [id] => sys_currencies_usd [rate] => 1 [rndp] => 0.01 [rnds] => 0.01 [short] => $ [left] => $ [digp] => 2 [digs] => 2 ) [stock] => Available [onhand] => 5 [minqty] => 0 [stockqty] => 5 [prodtype] => wprod_prodtypes_prod [autname] => 0 [preorder] => 0 [manufacter] => Skin for life [rating] => 0 [comments] => 0 [photos] => 0 [category] => 336 [categoryname] => Microcurrent machines [reviews] => 0 [features] => 0 [commentsm] => [photosm] => [photosmm] => [reviewsm] => [featuresm] => [options] => Array ( ) [meta_title] => Nue Fusion 600 "Face And Body" Standard for sale. Buy at the best price in USA. Advance-Esthetic.US [meta_description] => Nue Fusion 600 "Face And Body" Standard for sale in USA. Reviews, results and feedbacks. Prices from the direct importer. [meta_keywords] => [pagetitle] => Nue Fusion 600 "Face And Body" Standard [isfile] => [download] => [downloads] => 0 [filename] => [filesize] => 0 [updated] => [specname] => 0 [color] => 0 [vip] => [lineupid] => 0 [lineup] => Array ( ) [latitude] => 0 [longitude] => 0 [description] =>
Nue Fusion 600 "Face And Body" Standard is the ideal machine for delivering the best overall results for face and body. Estheticians, massage therapists, and medical professionals may give more advanced therapies to obtain cumulative results for their clients/patients goals.
The fascination of the perfect body. Nue Fusion 600 Microcurrent Machine assists with focusing on areas that may be difficult to smooth and sculpt for an ideal body appearance.
Using multiple functions, such as programs, individualized frequencies, and selected total machine intensities makes it easy to focus on areas of concern, and more importantly, specific body areas that may need a bit more attention.
The dual machine applications are important when building a body menu and face menu of services. Nue Fusion 600 Microcurrent Machine is the perfect way to perform face microcurrent therapies and then transition to body microcurrent therapies. This excellent machine makes it easy to obtain serious results.
Licensed professionals have the advantages of using pads of various sizes for different body areas, i.e. tummy (abdomen), thigh (quadriceps), buttock (gluteus maximus), love handles – waist (flanks – external obliques), and hamstrings (biceps femoris).
The ideal treatment for facial wrinkles, fine lines, and slacking skins.
Features of Nue Fusion 600 "Face And Body" Standard:
Pre-programmed i/c (integrated circuit);
2,000 variations of pre-set programmes;
Microprocessor controlled digital systems;
Effective pulsed microcurrents with no polarization effect;
Non-invasive;
Progressive not aggressive treatment;
Antiiaging benefits without down time;
Cumulative results;
Performed in a series for optimal results;
Power: 1 15 volts, 50/60 Hz.
Micro Current Supply Kit of Nue Fusion 600 "Face And Body" Standard includes:
(1 pair) Double Sphere Wands- NF 003 hand held double ball wands;
(1 pair) Straight BarWands- NF- 004 hand held bar wands;
(1 Set) Banana Plug Adapters (Red & Black);
(6 Sets) NF- 30R Facial Pads 1 5' In., small round micro current electrode pad;
(6 Sets) NF- 485 Facial 81 Body Pads- 2x2 In, square micro- -current electrode;
(6 Sets) NF- 7SR Body Pads- 3' In. medium round micro current electrode;
(1 )Conductivity Gel: #70010 conducting agent (8 oz. /260 ml);
(1 2) White wires for body pads and hand tools (NF 008);
(1 pack of 50) MicroCurrent Tri Fold Brochures;
(1)0peratlon Manual, Warranty Policies & Warranty Card.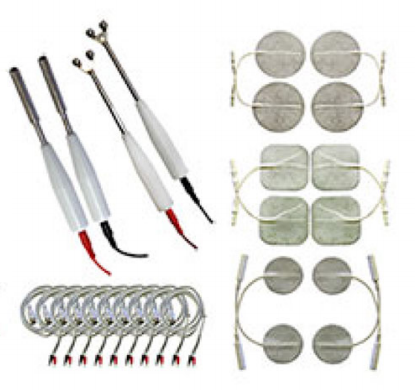 Product dimensions: 7"H x 16"L x 14"D.
N. W - 12 lbs.
[estatetype] => 0 [baths] => 0 [beds] => 0 [adults] => 0 [children] => 0 [area] => 0 [manager] => 0 [address] => [published] => 1 [photoview] => [tags] => Array ( ) [showprotocolprocedure] => 3 [present] => Array ( ) [button] => )
Free Delivery For Select Items

We ship our products by USPS/DHL/UPS/freight companies. Items marked "Free Delivery" are delivered by mainland with no freight charges.

We Are FDA Registered

Advance Esthetic LLC is an FDA-registered company. All products imported by Advance Esthetic are FDA registered, properly tested and approved.

Beauty Advisory Service

Advance Esthetic has been partnering with experienced beauticians and health care specialist from Europe, America and Asia for several years. During these years we have researched and inspected variety of different equipments and treatment methods. We will gladly share with you all the knowledge we gained over the years in this industry.

Huge Selection

We search across hundreds of manufacturers to offer you only the best and most innovative products and create life changing results for your customer.
Nue Fusion 600 "Face And Body" Standard is the ideal machine for delivering the best overall results for face and body. Estheticians, massage therapists, and medical professionals may give more advanced therapies to obtain cumulative results for their clients/patients goals.

The fascination of the perfect body. Nue Fusion 600 Microcurrent Machine assists with focusing on areas that may be difficult to smooth and sculpt for an ideal body appearance.

Using multiple functions, such as programs, individualized frequencies, and selected total machine intensities makes it easy to focus on areas of concern, and more importantly, specific body areas that may need a bit more attention.

The dual machine applications are important when building a body menu and face menu of services. Nue Fusion 600 Microcurrent Machine is the perfect way to perform face microcurrent therapies and then transition to body microcurrent therapies. This excellent machine makes it easy to obtain serious results.

Licensed professionals have the advantages of using pads of various sizes for different body areas, i.e. tummy (abdomen), thigh (quadriceps), buttock (gluteus maximus), love handles – waist (flanks – external obliques), and hamstrings (biceps femoris).

The ideal treatment for facial wrinkles, fine lines, and slacking skins.

Features of Nue Fusion 600 "Face And Body" Standard:

Pre-programmed i/c (integrated circuit);
2,000 variations of pre-set programmes;
Microprocessor controlled digital systems;
Effective pulsed microcurrents with no polarization effect;
Non-invasive;
Progressive not aggressive treatment;
Antiiaging benefits without down time;
Cumulative results;
Performed in a series for optimal results;
Power: 1 15 volts, 50/60 Hz.

Micro Current Supply Kit of Nue Fusion 600 "Face And Body" Standard includes:

(1 pair) Double Sphere Wands- NF 003 hand held double ball wands;
(1 pair) Straight BarWands- NF- 004 hand held bar wands;
(1 Set) Banana Plug Adapters (Red & Black);
(6 Sets) NF- 30R Facial Pads 1 5' In., small round micro current electrode pad;
(6 Sets) NF- 485 Facial 81 Body Pads- 2x2 In, square micro- -current electrode;
(6 Sets) NF- 7SR Body Pads- 3' In. medium round micro current electrode;
(1 )Conductivity Gel: #70010 conducting agent (8 oz. /260 ml);
(1 2) White wires for body pads and hand tools (NF 008);
(1 pack of 50) MicroCurrent Tri Fold Brochures;
(1)0peratlon Manual, Warranty Policies & Warranty Card.

Product dimensions: 7"H x 16"L x 14"D.

N. W - 12 lbs.

Send us a message if you have any questions

Thank you for your message

Nue Fusion 600 "Face And Body" Standard

$ 4,995.00

Please, leave us your feedback