We speak English Hablamos Español Falamos portugues Мы говорим по-русски
7 marketing mistakes in SPA business
Get a check list of
7
marketing mistakes in SPA business
No Showroom Appointments During Pandemic
OOMNEX TightLite Microcurrent LED Light System
51%
51%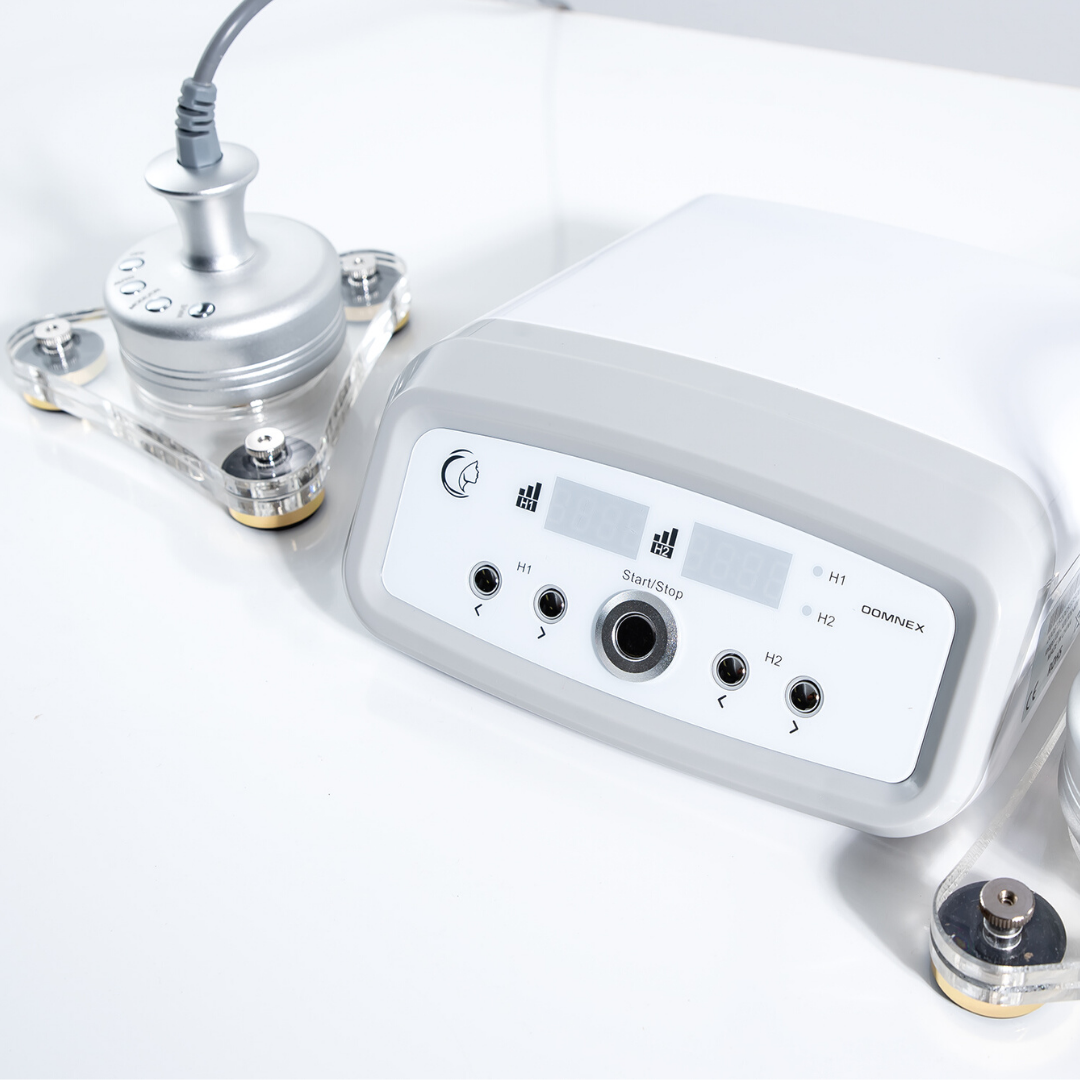 About OOMNEX TightLite Microcurrent LED Light System
The all new Oomnex TightLite is a unique system combining the synergetic capabilities of microcurrent and LED light to give you the perfect working tool to combat a wide range of skin issues. 
Some benefits of Oomnex TightLite treatments:
Improves acne scarring

Reduces acne inflammation 

Refines pores

Reverses the effects of aging 

Improves sun damage 
This specially designed compact unit offers professional grade LED and microcurrent. Oomnex TightLite has seven different wavelengths (colors) to choose from when treating different skin conditions. This compact device also has a very user-friendly system making it a must have for any treatment room.
The Power of MicroCurrent LED Treatment
Microcurrent therapy stimulates a small electric pulsation, imitating natural electric currents in the body.
The gentle electric waves help to:
significantly improve skin condition

boost the production of collagen and elastin

help mitochondria to generate more ATP- natural cells energy

stimulate lymphatic drainage

tighten and firm the skin

increase blood circulation.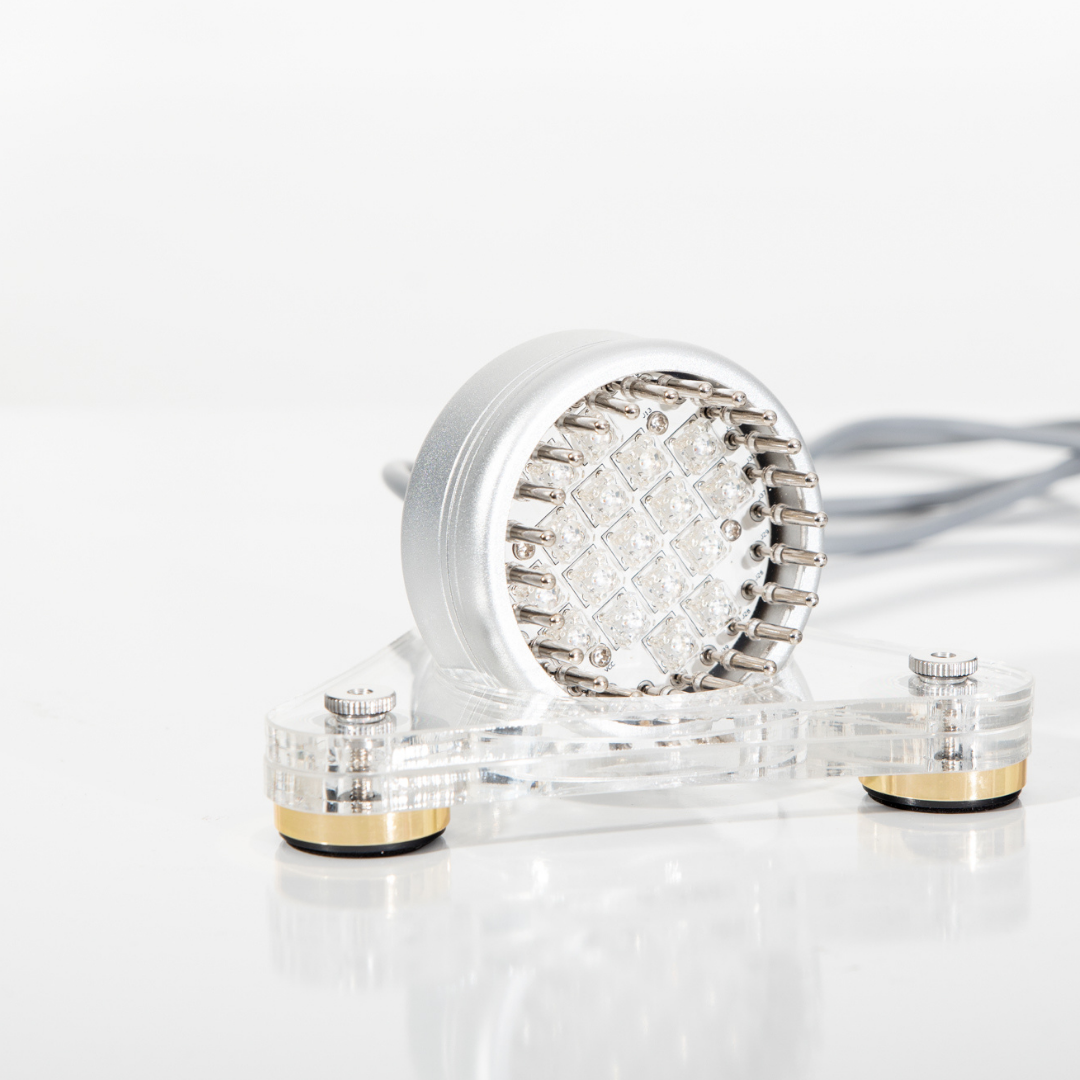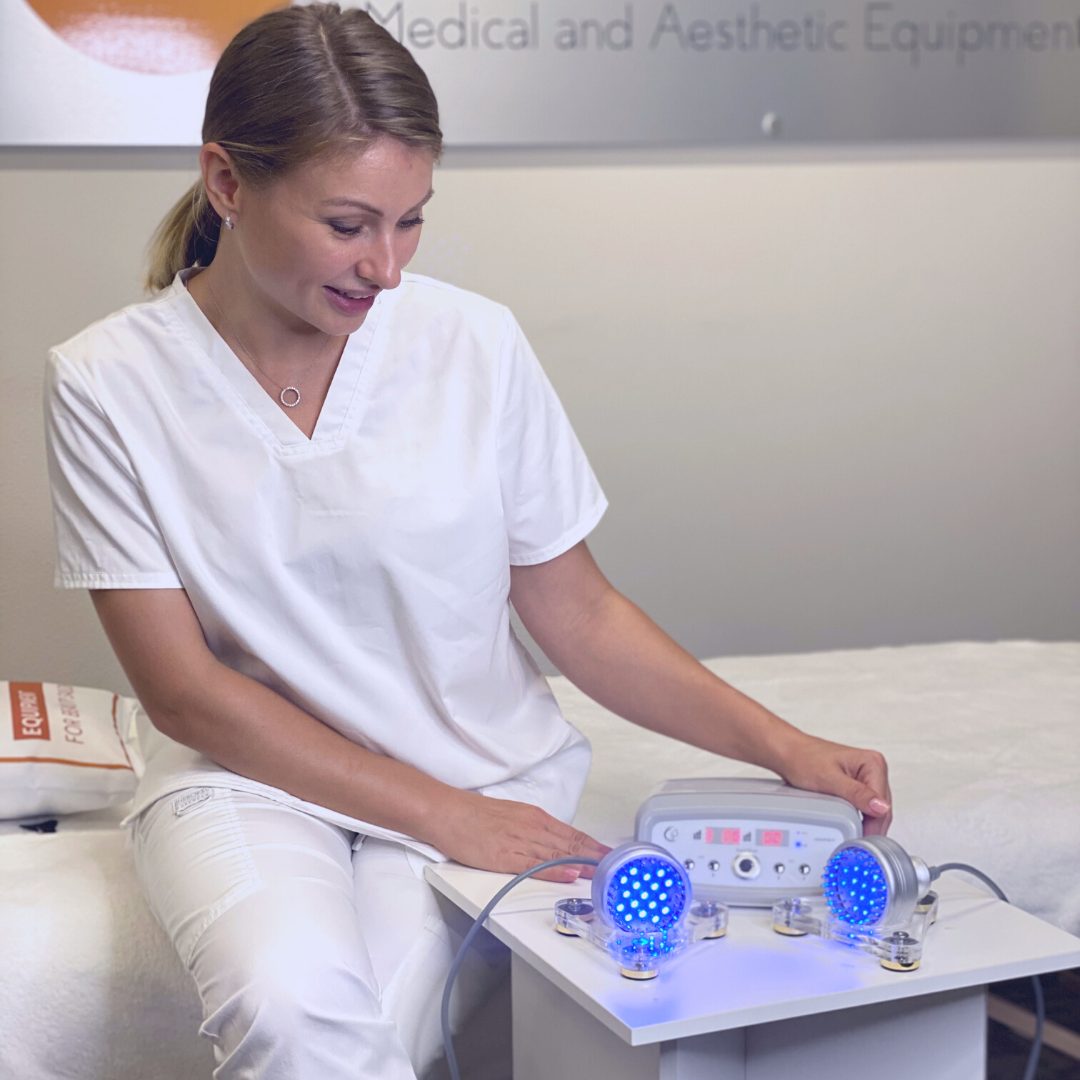 Benefits of LED Light Therapy
Red 640nm- Helps eliminate wrinkles and stimulates the production of collagen to lift up the skin
Yellow 590nm- Stimulates lymph activity
Green 495nm- Repair sensitive skin and vessels
Light Blue 510nm- Helps reduce inflammation
Blue 430nm- Kills the bacteria known to cause acne and other blemishes
Purple 420nm- Stimulates oxygenation of the epidermis
Laser Light is a combination of all wavelengths in 1 mode. Offers soothing relief from inflammation caused by allergies or breakouts
Oomnex TightLite Design
The carefully designed Oomnex TightLite is built into a compact case making it easy for the stationary or traveling esthetician.
The two handpieces are identical microcurrent LED applicators for treatment on both sides of the face at once.
Each applicator has 17 individual LED bulbs for powerful and effective LED treatment.
The system also comes with two acrylic holders for each microcurrent LED applicator to keep the applicators stationary when not in use. You can use it in the following modifications:
Only Microcurrent
Only LED Light
Combined application of LED Light and Microcurrent
You also have the freedom to choose either you prefer working with one handpiece or both of them simultaneously.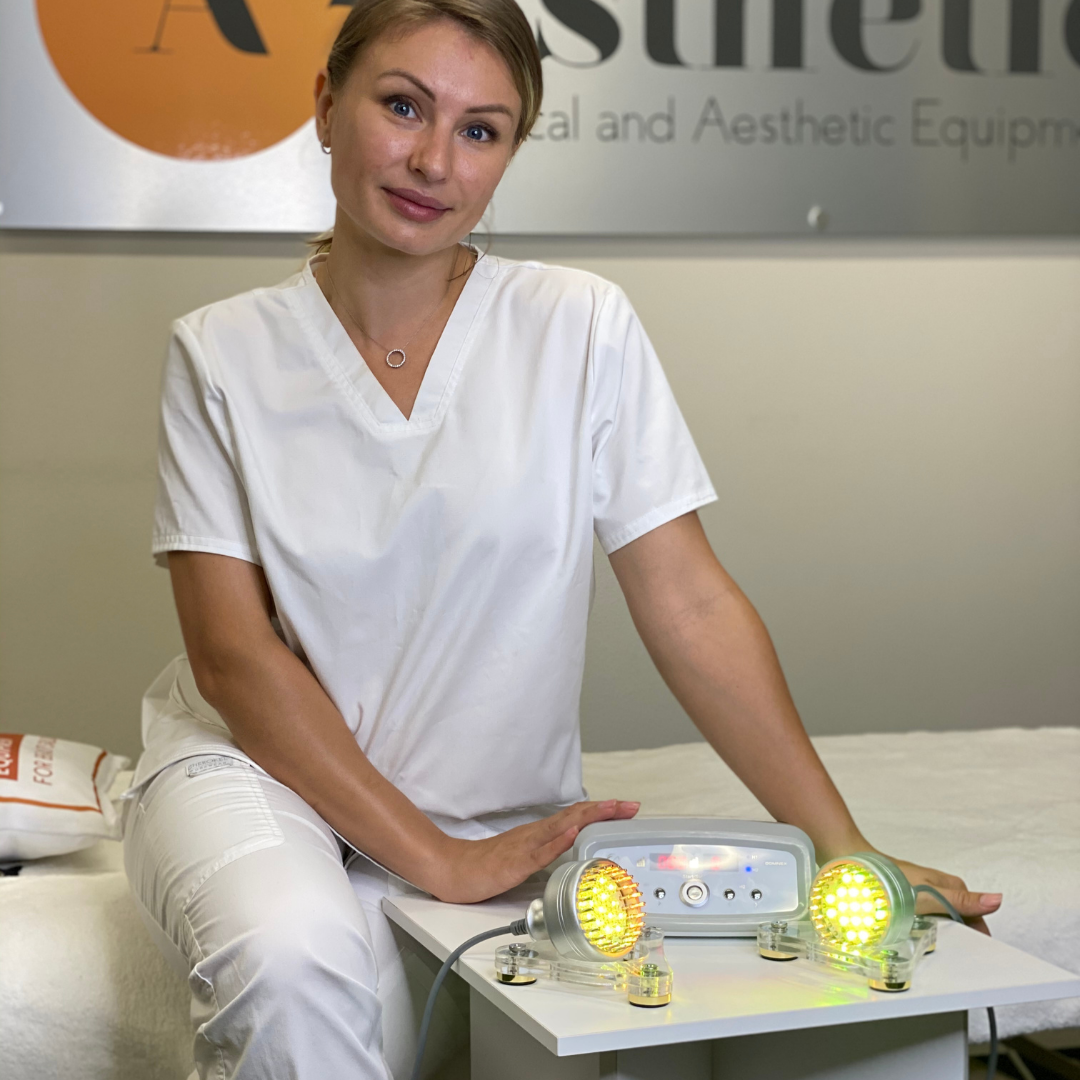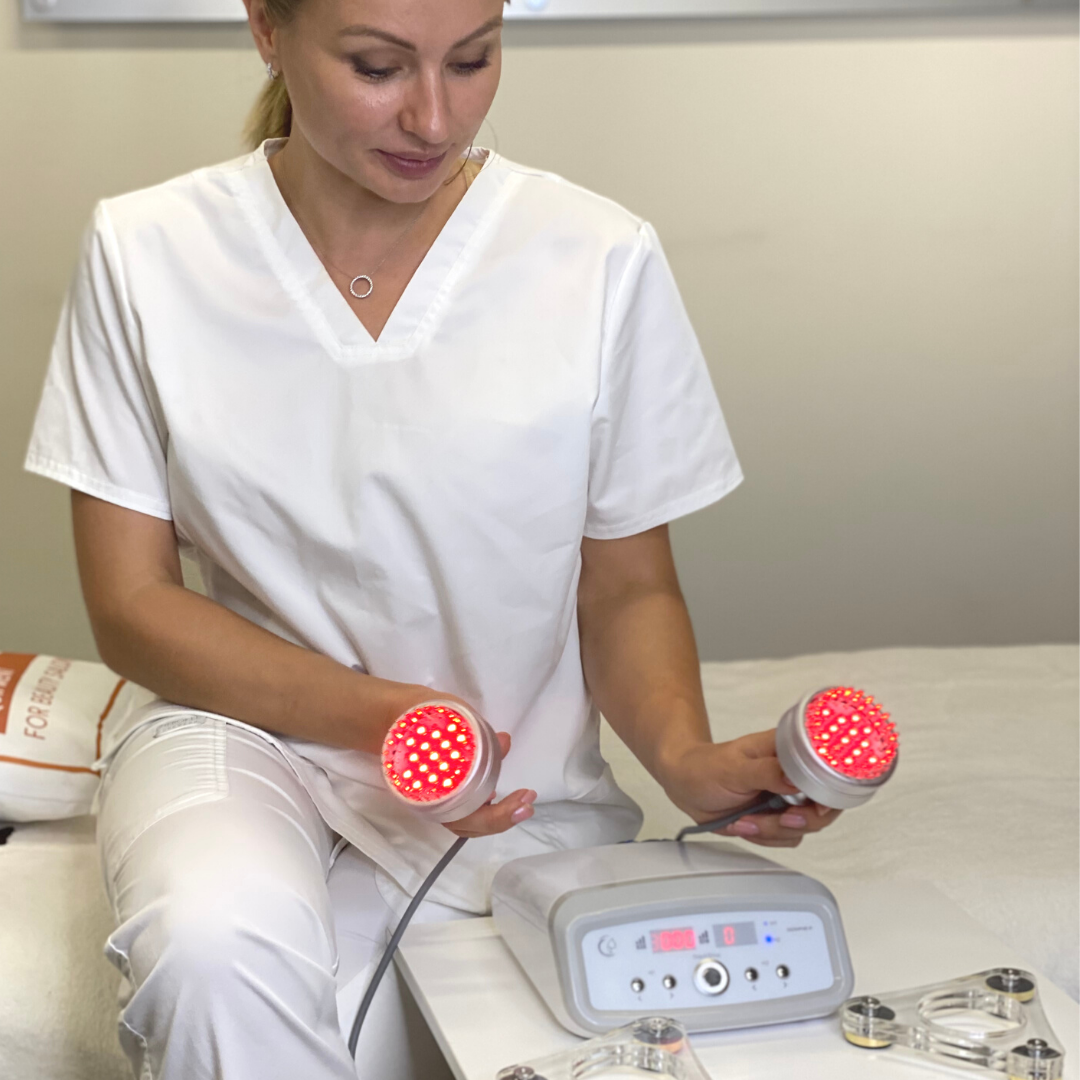 The Power of LED & Microcurrent Synergy
The amazing synergy of microcurrent with different wavelengths of LED Light, doubles the positive effects on the skin.
OOMNEX TightLite helps to:
lighten and remove dark eye circles
activate energy generation
stimulate metabolism in tissues
Microcurrent LED treatment with OOMNEX TightLite creates a real lifting effect by increasing collagen production and improving facial contour.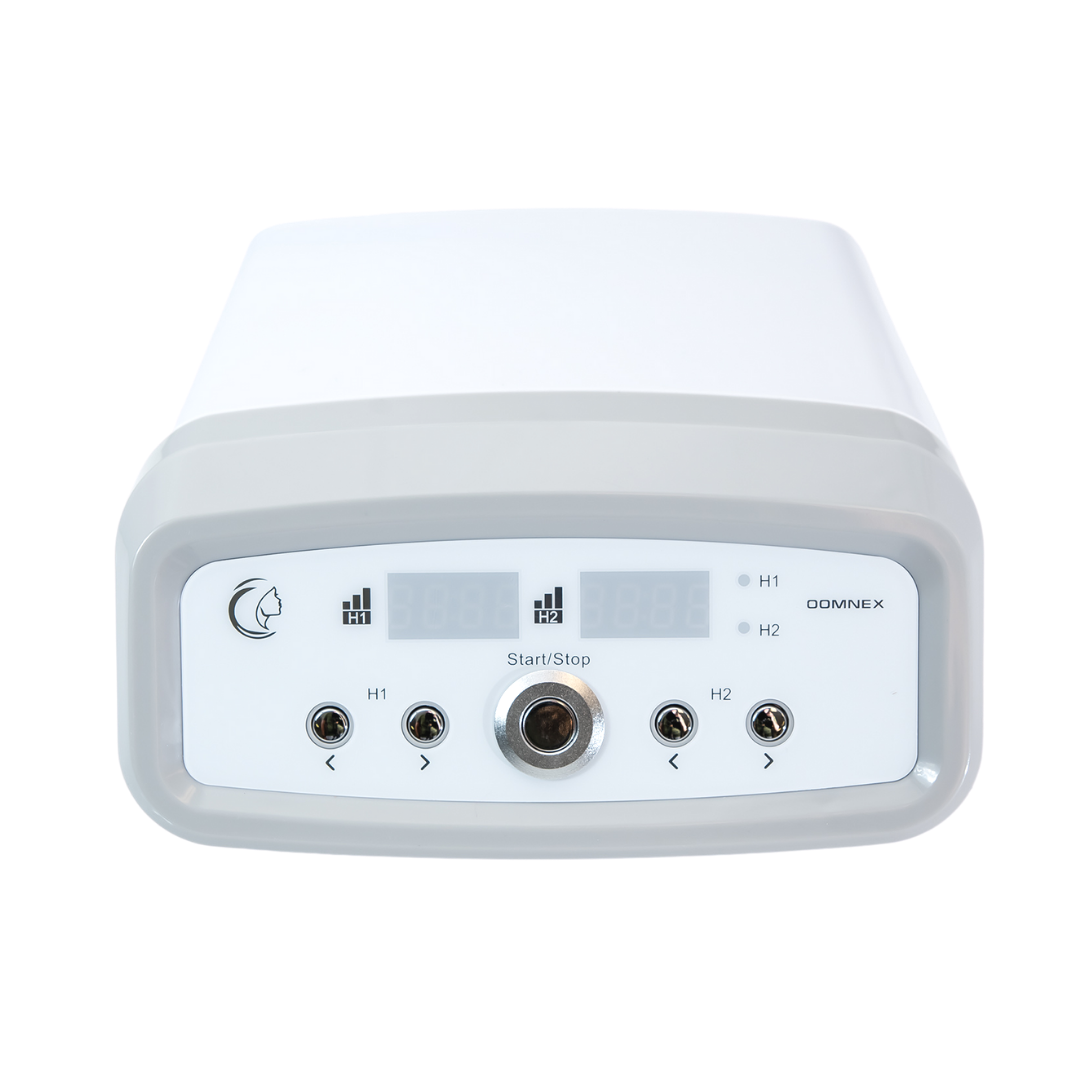 Technical Specifications
Voltage: 100 V / 110 V - 220 V / 240 V
Frequency: 50 Hz - 60 Hz
Power consumption: 15 watts
Pulse frequency: 2.5-5 kHz
Microcurrent voltage: 36 V
Microcurrent therapy power: 5-15 W
LED Light Power: 60 mW
Weight: 1,5 Ibs
Fast shipping
Guaranteed quality of aesthetic equipment
Service
Wide range of products
OOMNEX TightLite Microcurrent LED Light System
51%
51%