Zemits RevitaOx HydroDermabrasion Infusion Serum, 8 fl oz
Revitalizing Infusion Serum with Antioxidants , 8 fl oz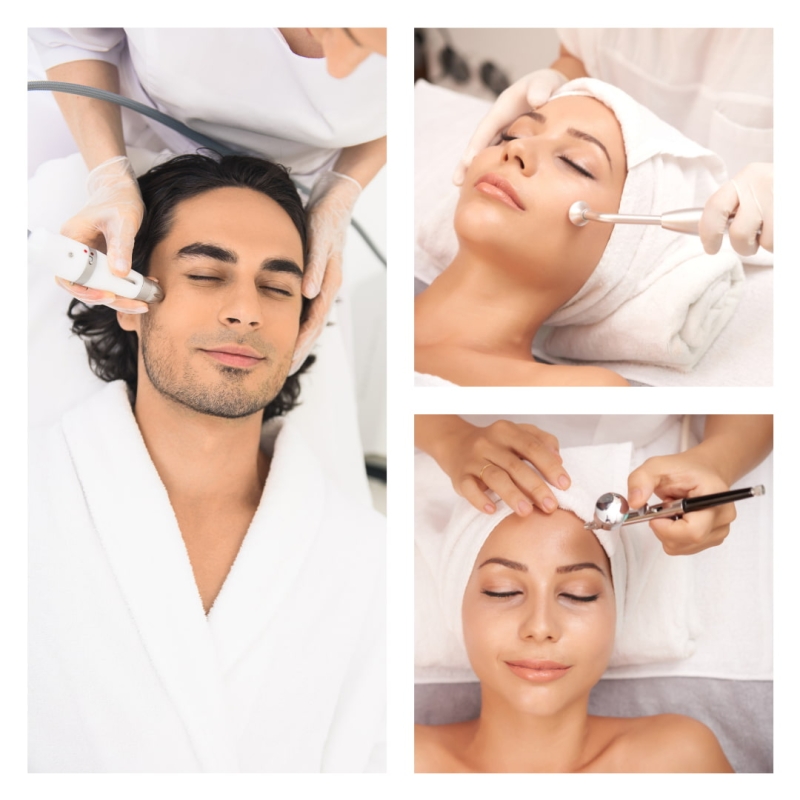 Zemits Infusion Serums are loved by estheticians and successfully used in Europe and USA.
FIT ALL INFUSION DEVICES
REVITAOX INFUSION SERUM
with Hyaluronic Acids and Antioxidants
Created to be used with
ANY BRAND or TYPE
of Oxygen, HydroDermabrasion, Mesotherapy Devices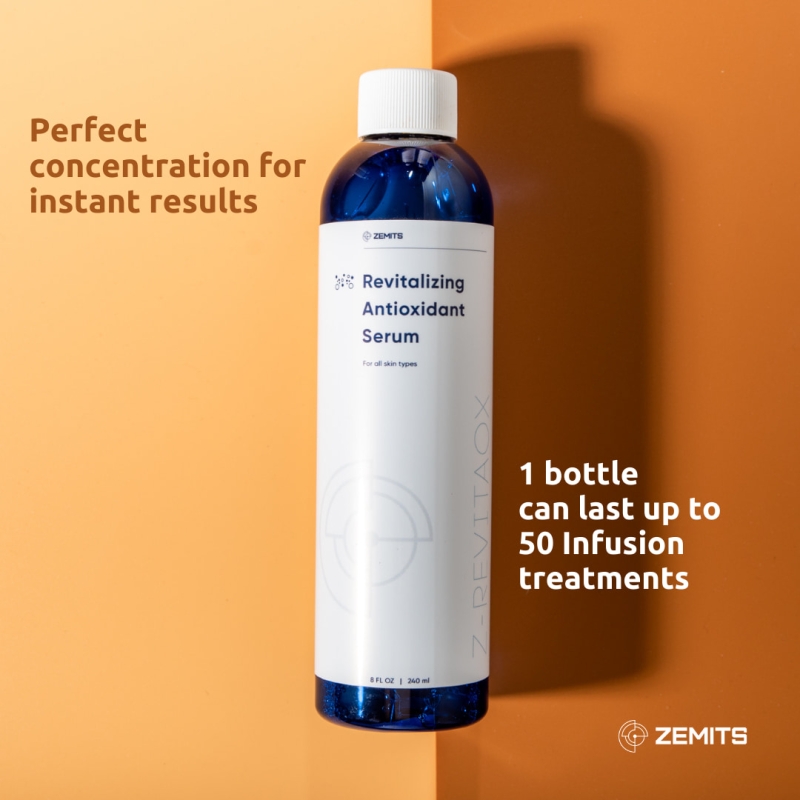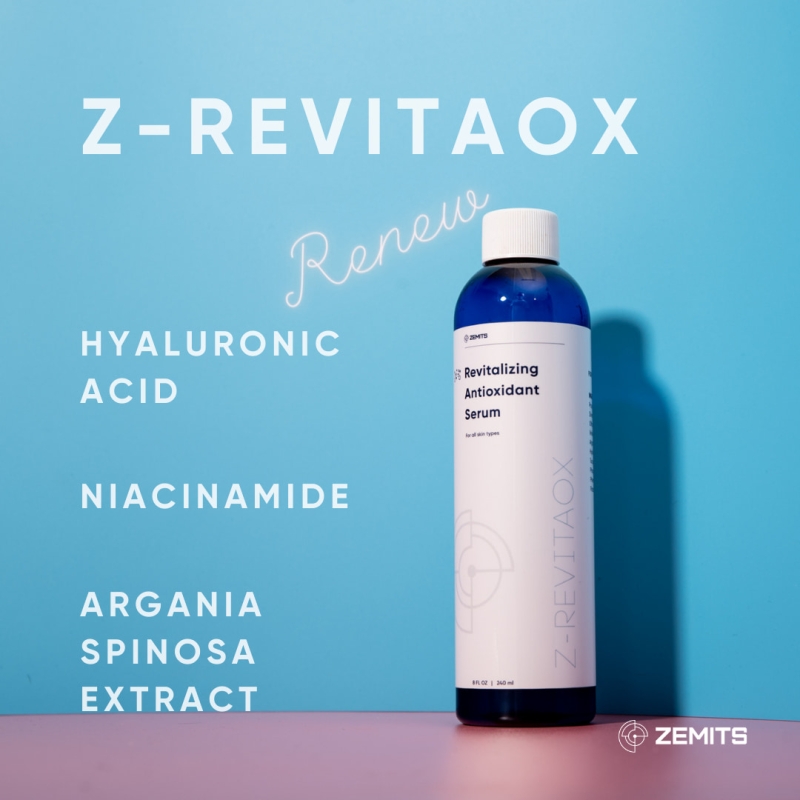 The RevitaOx serum is a combination of naturally moisturizing Hyaluronic Acid and antioxidants for perfectly balanced Oxygen facials and other skincare protocols.
This advanced formula helps to detox the skin and protect it from environmental elements that may pollute the skin.
Afterward, the skin feels hydrated and firm. Z-RevitaOx is ideal for all skin types.
Z-RevitaOx serum combines powerful antioxidants that penetrate the skin deeply and help to detoxify and protect skin from environmental damage, that might cause skin aging.
Hyaluronic acid and grapefruit cell extract provide incredible hydration and stimulate collagen formation.
Contains 0% Alcohol

Z-RevitaOx serum is rich with antioxidant ingredients that nourish the skin, while visibly reducing the appearance of irritation and fine lines.
Z-RevitaOx is a powerful revitalizing serum that helps to improve skin texture with instantly noticeable glowing results on the skin matrix.
KEY INGREDIENTS:
LMW Hyaluronic Acid - Moisturizer

Palmitoyl camellia Extract - Calms
Argania Spinosa Extract - Antioxidant
Rosemary Extract - Soothes
Vinifera (Grape) Fruit Extract - Brightening and stimulates collagen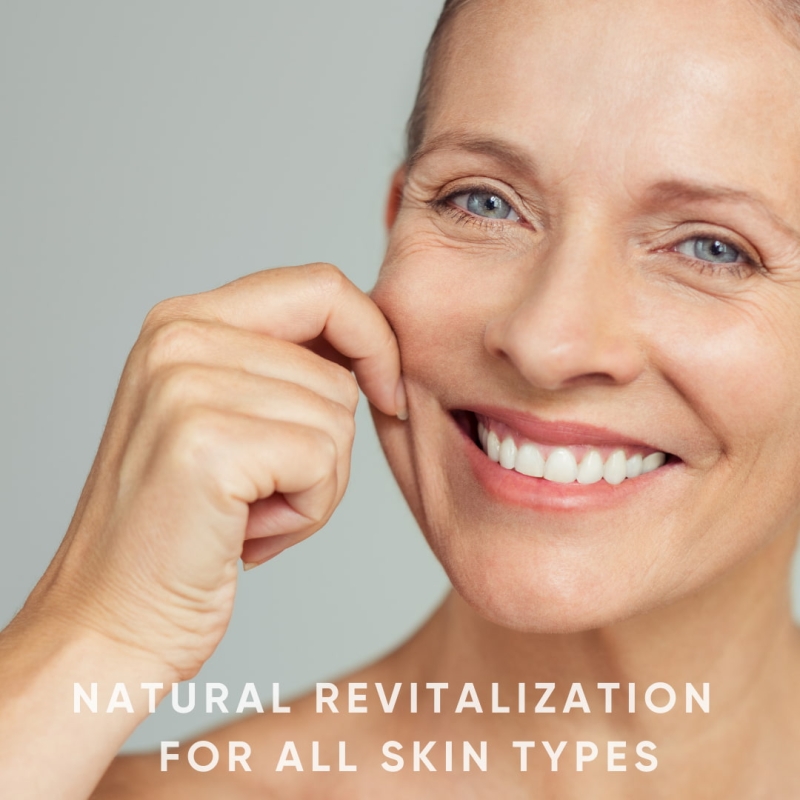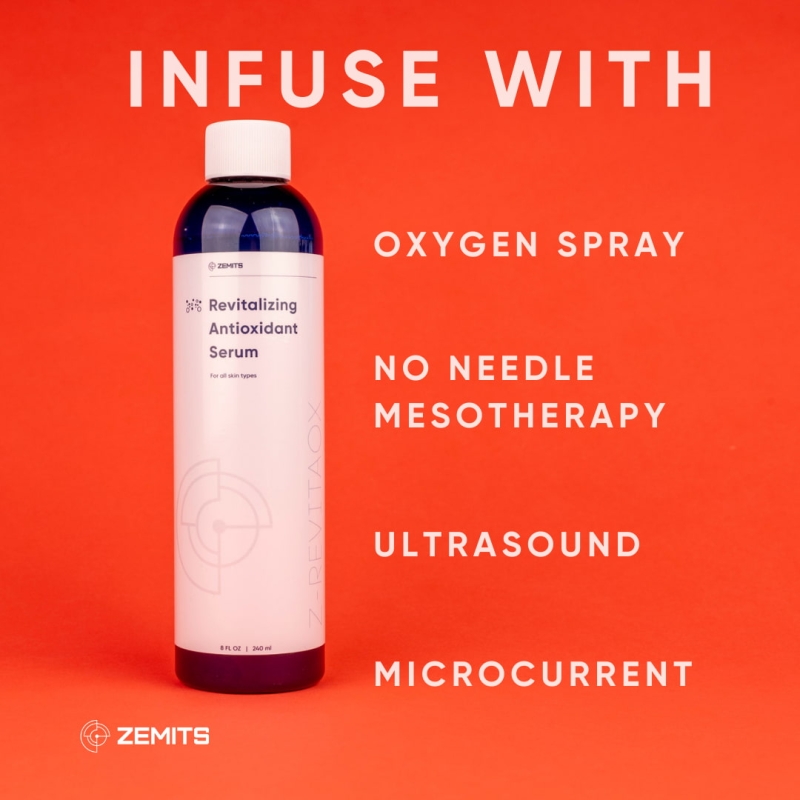 Suitable with all brands of Oxygen Infusion, HydroDermabrasion, Mesotherapy Devices and other Protocols
The Z-RevitaOx Oxygen Serum is very popular among estheticians because of its super-hydrating features.
This serum provides instant hydration and helps to diminish signs of skin aging.
Ideal for All Skin Types
Z
-RevitaOx was created for deep infusion with Oxygen, Hydro, Mesotherapy and other Infusion devices, suitable for all brands of equipment.
1 bottle contains 8 fl oz of this revitalizing serum, and it can last up to 50 Oxygen treatments due to the rich and concentrated consistency.
Only 3-5 ml of the Z-RevitaOx is needed for the entire infusion therapy facial.
Estheticians also use this serum as a hydrating essence with their facial protocols.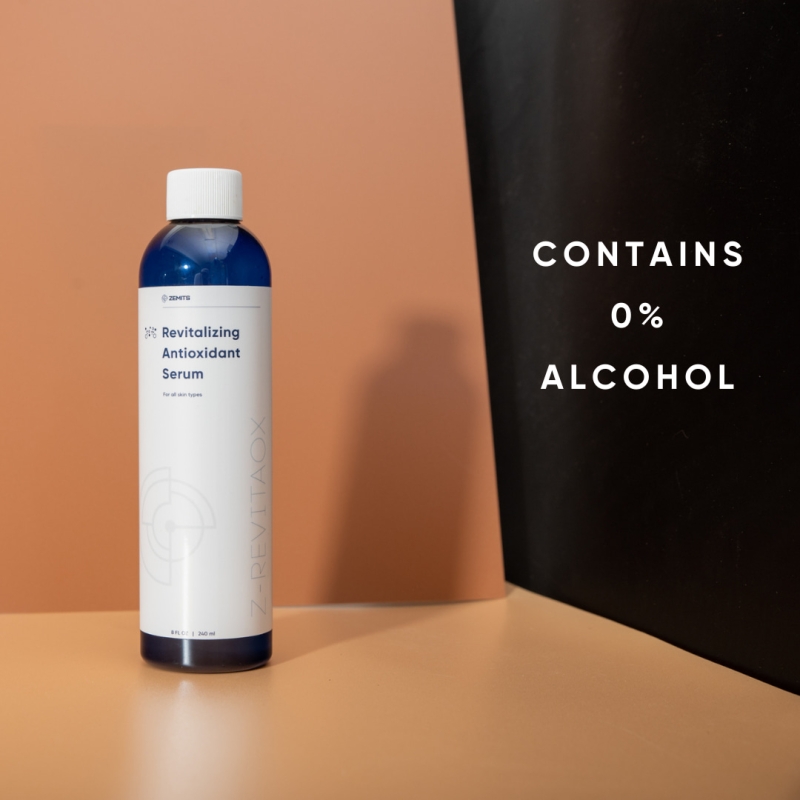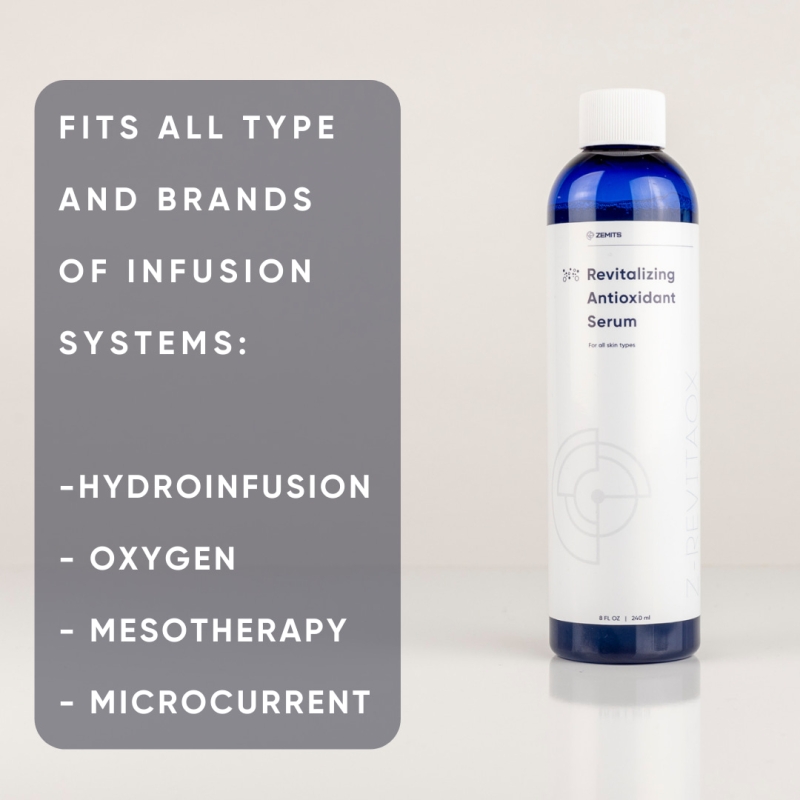 Rich and Thick Consistency
This Oxygen Serum is thick in consistency and perfectly balanced with active ingredients for deep skin hydration and nourishing.
Here are some benefits of the systematic use of the Z-RevitaOx
Z-RevitaOx helps to achieve:
smoother skin
eliminate dryness


and minimize the appearance of fine lines and wrinkles
Strong antioxidants help to protect the skin against environmental aggressors.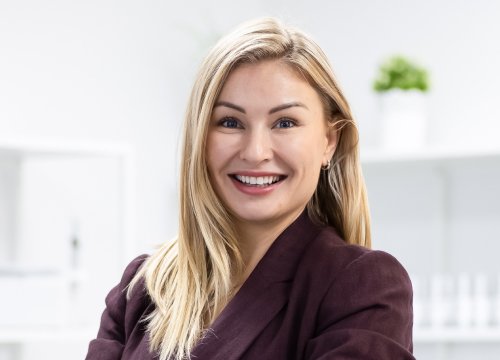 Financing Programs - More opportunities for your business
Interest-Free Financing and Flexible Payment Options. No credit, no problem!
Financing Programs

Learn More

Advanced Training Program
A-Esthetic offers the most advanced and comprehensive complimentary Advanced Online Training Course with every purchase of Zemits and Oomnex equipment..
Training Program

Learn More
Our clients Worldwide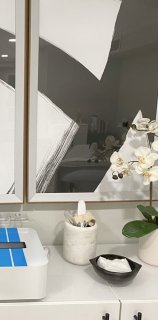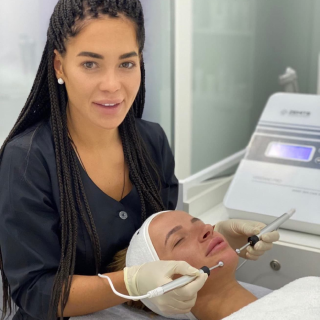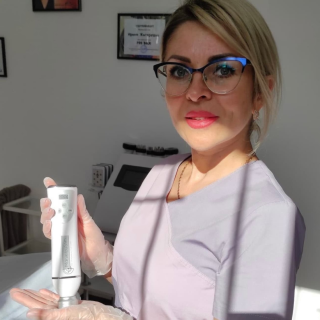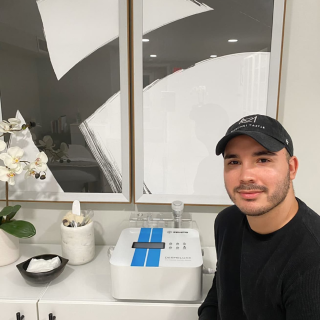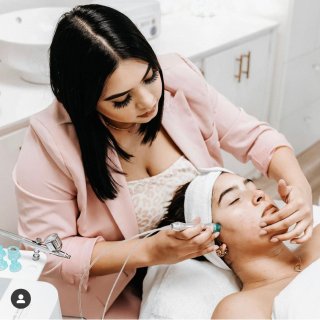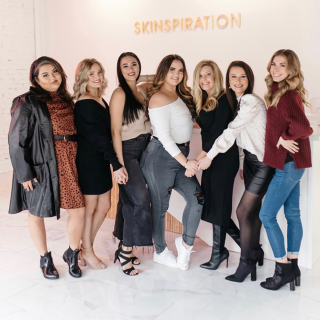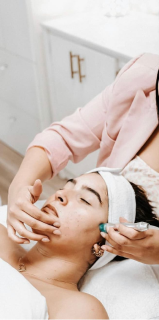 Advance-Esthetic is dedicated to providing you with the finest MedSpa Equipment to tailor a wide variety of your needs. Our mission is to support your MedSpa to boost your business with the highest quality products, outstanding customer service and a lifetime of client support.
Advance-Esthetic.us delivers to the following states: Alabama, Alaska, Arkansas, Arizona, California, Colorado, ...

Connecticut, Delaware, Florida, Georgia, Hawaii, Idaho, Illinois, Indiana, Iowa, Kansas, Kentucky, Louisiana, Maine, Maryland, Massachusetts, Michigan, Minnesota, Mississippi, Missouri, Montana, Nebraska, Nevada, New Hampshire, New Jersey, New Mexico, New York, North Carolina, North Dakota, Ohio, Oklahoma, Oregon, Pennsylvania, Rhode Island, South Carolina, South Dakota, Tennessee, Texas, Utah, Vermont, Virginia, Washington, West Virginia, Wisconsin, Wyoming
© 2021 DISCLAIMER: All information within the A-esthetic.us website and all other marketing materials are made only for informational and educational purposes. A-Esthetic products and equipment have not been tested or approved or any government entity for treatments of illnesses or diseases. Use at your own risk.
Advance-Esthetic does not accept any liability for inaccurate information on our website. It is the responsibility of the client to check the accuracy of all information provided and to confirm prior to and upon purchase of *qualifying Zemits equipment including but not limited to the conditional offer of marketing materials and other such offers for the defined brands. Zemits only. Marketing Materials are exclusively for Zemits branded machines only... Not applicable with Venus, Innocell, or other non Zemits branded equipment, ETC., Definitions: Qualified: Zemits Branded Equipment only