We speak English Hablamos Español Falamos portugues Мы говорим по-русски
Showroom Visits by Appointment Only
Exclusive distributor of Zemits in the US
Worldwide Shipping
---
Zemits ElastiStrom Microcurrent Gloves
21%
The one of a kind Portable Microcurrent Skin Toning Gloves Device
Zemits ElastiStrom is the Synergy of Microcurrent Face Lift Technology and Manual Sculpting Massage, crafted for aestheticians and massage therapists advanced face and body practice.
THE NEWEST APPROACH TO SKIN TIGHTENING TREATMENTS
Zemits engineers have invented ElastiStrom inspired with idea to combine the power of science and healing energy of hands in one unbelievable treatment.
Zemits ElastiStrom is the first fully portable microcurrent gloves device on market. There is no machine, no probes nor multiple cords.
You wear the entire system on your hands, that gives endless freedom to your customized massage techniques empowered by the smart electrical current from the Zemits Gloves.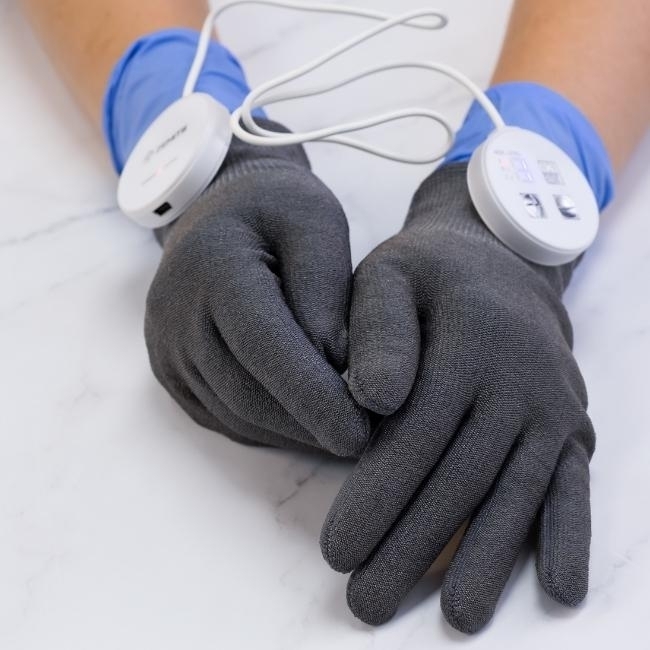 HOW MICROCURRENT GLOVES WORK
Microcurrent electrical current sends out tiny electrical impulses through the skin that are similar to the body's natural bioelectric field.
Because of the significant lifting impact that microcurrent produces on facial muscles and facial features, it is usually referred to as "facial toning" or "non surgical face lifting" in aesthetics.
THE SCIENCE OF MICROCURRENT GLOVES
Zemits microcurrent gloves are made with silver thread for even conductivity, that allows a low resistance, making them simple to slide over the skin. A microcurrent session delivers low-level electrical stimulation to the skin, allowing microcurrent to penetrate deep into the tissue and effectively reduce fine lines and wrinkles.
Microcurrent Gloves Muscle Re-Education Technology
The effects of microcurrent glove therapy is similar to a deep tissue massage for the face, neck, and body, but it also helps to tighten facial muscles and skin while boosting tone, clarity, and boost ATP production. It is one of the best non-invasive skin rejuvenation technique with instant effects. The microcurrent gloves massage enhances the production of intracellular energy to help muscles and skin cells to increase its functionality.
THE BENEFITS OF MICROCURRENT TREATMENT
Significantly reduced fine lines and wrinkles

Increased product penetration through circulatory advantages

Improved lymphatic drainage

Increased generation of collagen and elastin by microcurrent impulses

The facial architecture is visibly smoothed and elevated

Diminished cellulite appearance
The advantages of utilizing conductive microcurrent gloves instead of standard metal probes include greater massage method variety and strong antibacterial qualities due to the silver lining. Traditional metal ball tip probes are not as effective as conductive microcurrent gloves in treating acne.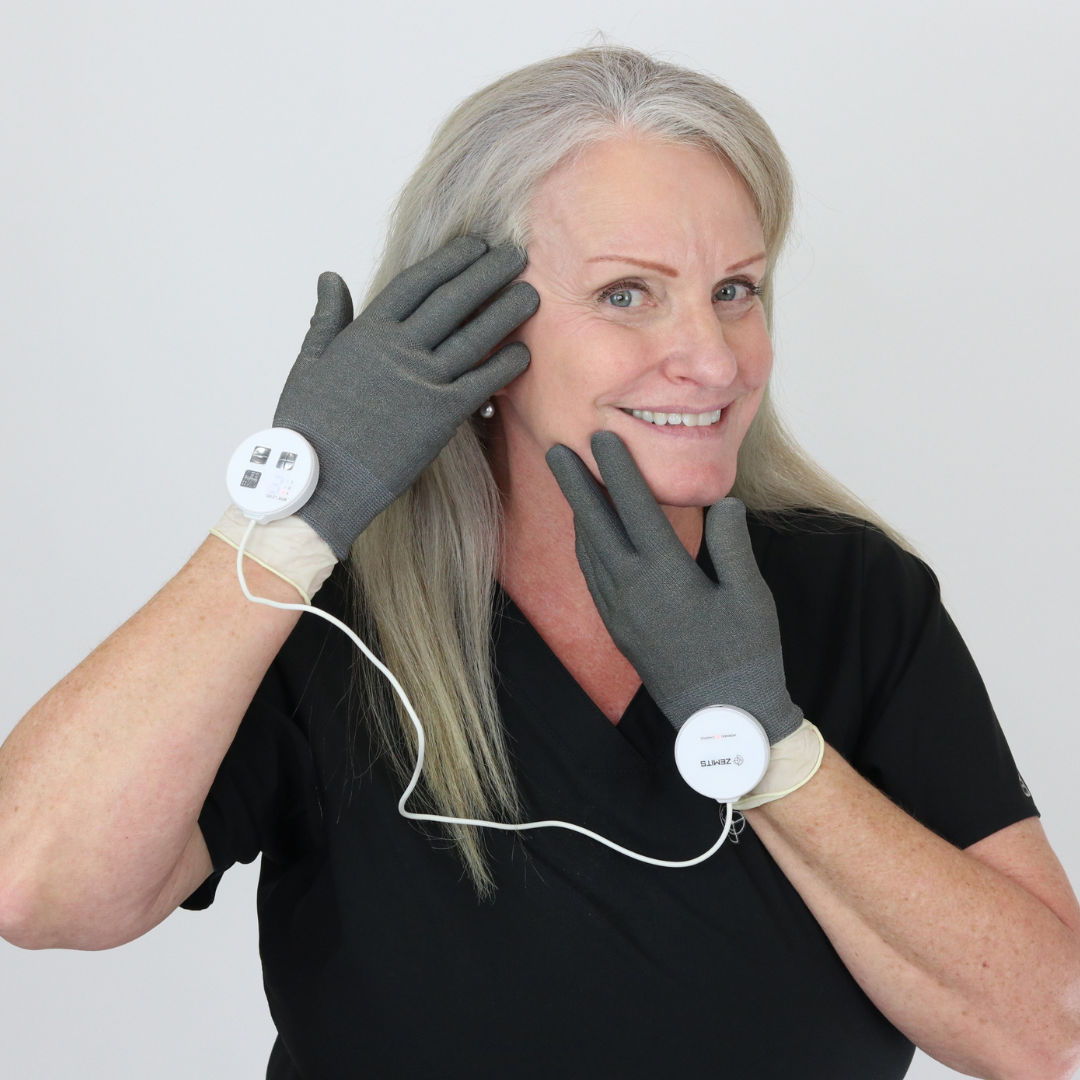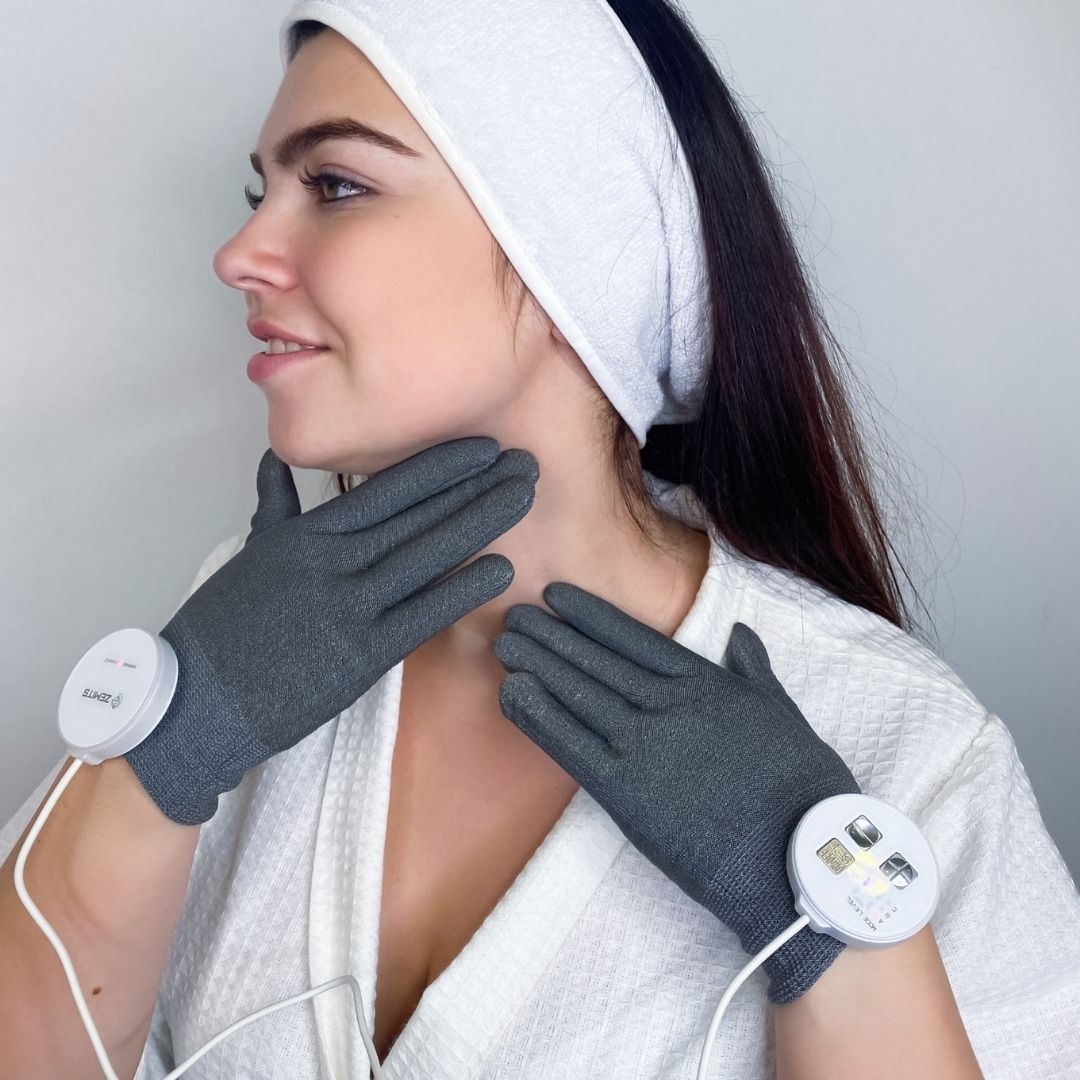 HOW TO USE CONDUCTIVE MICROCURRENT GLOVES
First, put on the protective under-gloves: latex, vinyl, or nitrile gloves, then your Conductive Microcurrent Gloves. This is a crucial step! If you don't wear protective gloves underneath your Conductive Microcurrent Gloves, the current will be expended on your hands and won't be delivered or transmitted to the clients' face once contact is made.

Attach the gloves to the control device.

Soak your conductive microcurrent gloves in water (mainly only fingertips). To conduct the current, the gloves must be soaking wet. It's critical to maintain the metal connectors and control device elements dry at all times.

Keep a small bowl of water available so you may dip your fingertips in to help with conductivity when needed.

Turn on the light and set the intensity and working mode.
WHAT AREAS CAN BE TREATED
Around eyes

Around lips

Entire facial area

Neck and Decollete

Arms and hands

Abdomen and Waist

Back and Lower Back

Legs and Buttocks
TOP THREE TREATMENT PROTOCOLS
Anti- aging Facial Protocol
Diamond Microdermabrasion: effectively exfoliates dead skin cells and prepare skin for the next treatment steps.
Microcurrent Gloves Face Lifting Massage with Firming Genius: tones and tightens skin, re-educates muscles.
Red Light LED Therapy: helps to enhance collagen and elastin production.
Anti-Acne Clarifying Protocol
Ultrasound Skin Exfoliation with Spatula with HydroClear: gently exfoliates skin and removes extra skin sebum from clogged pores.
Microcurrent Gloves Massage with InstaRevival: Boosts local blood and lymph circulation, performs anti-acne treatment.
Oxygen Infusion with RevitaOx: deeply hydrates skin and improves local immunity.
Blue LED Light Therapy: helps to fight acne and has strong anti-inflammatory effects.
Lymph Drainage Body Massage:
Gentle exfoliation with Zemits FreshPeel Body Scrub: removes dry skin cells
Microcurrent Gloves Massage with Firming Genius: boost lymphatic flow and increases skin oxygenation through arterial circulation
Wood therapy massage with Maderotherapy set OOMNEX BelagiWood and Dazzle Skin massage oil: provides deep tissue massage.
Luxury hydrating body lotion Zemits SilkEuphoria to complete the spa experience: deeply hydrates skin.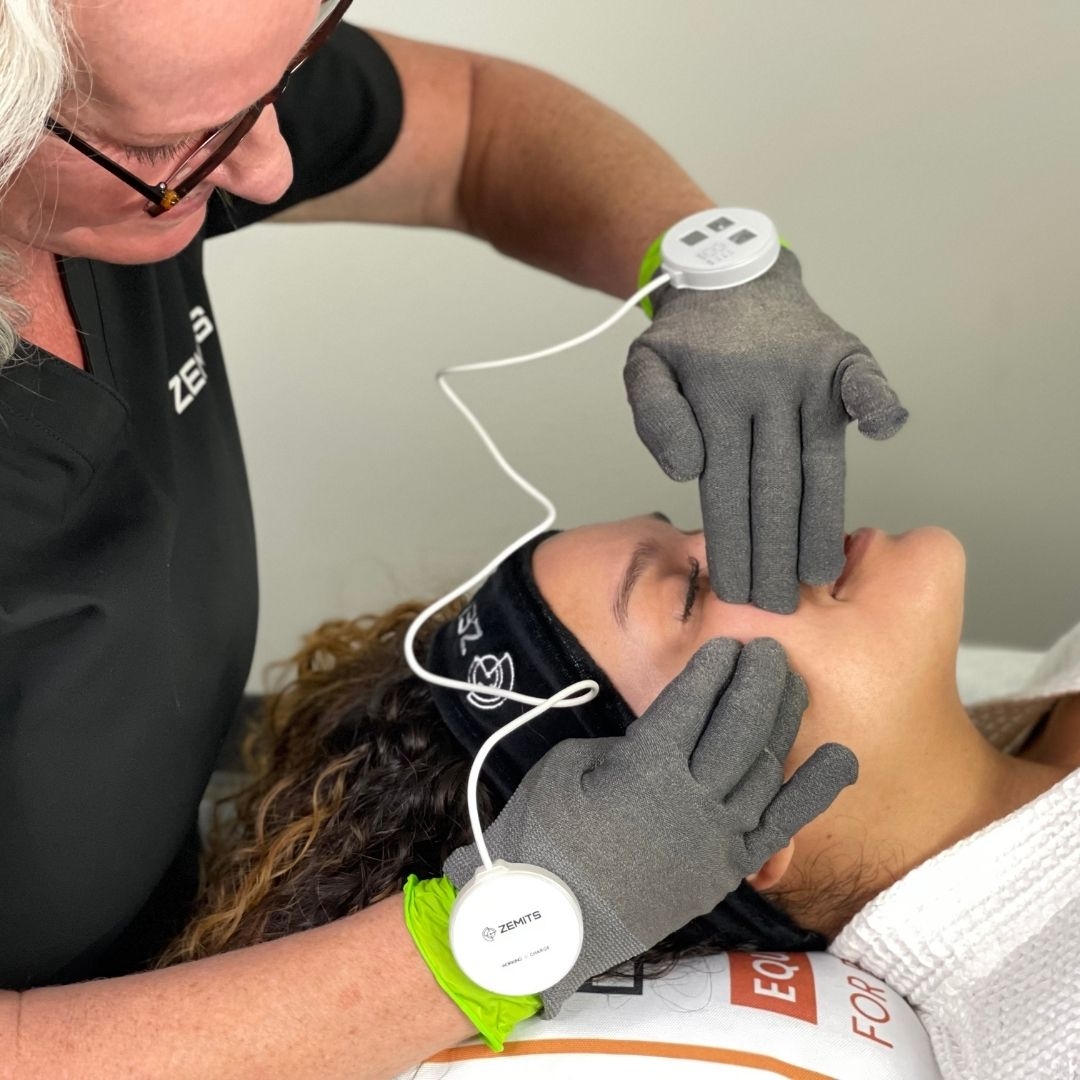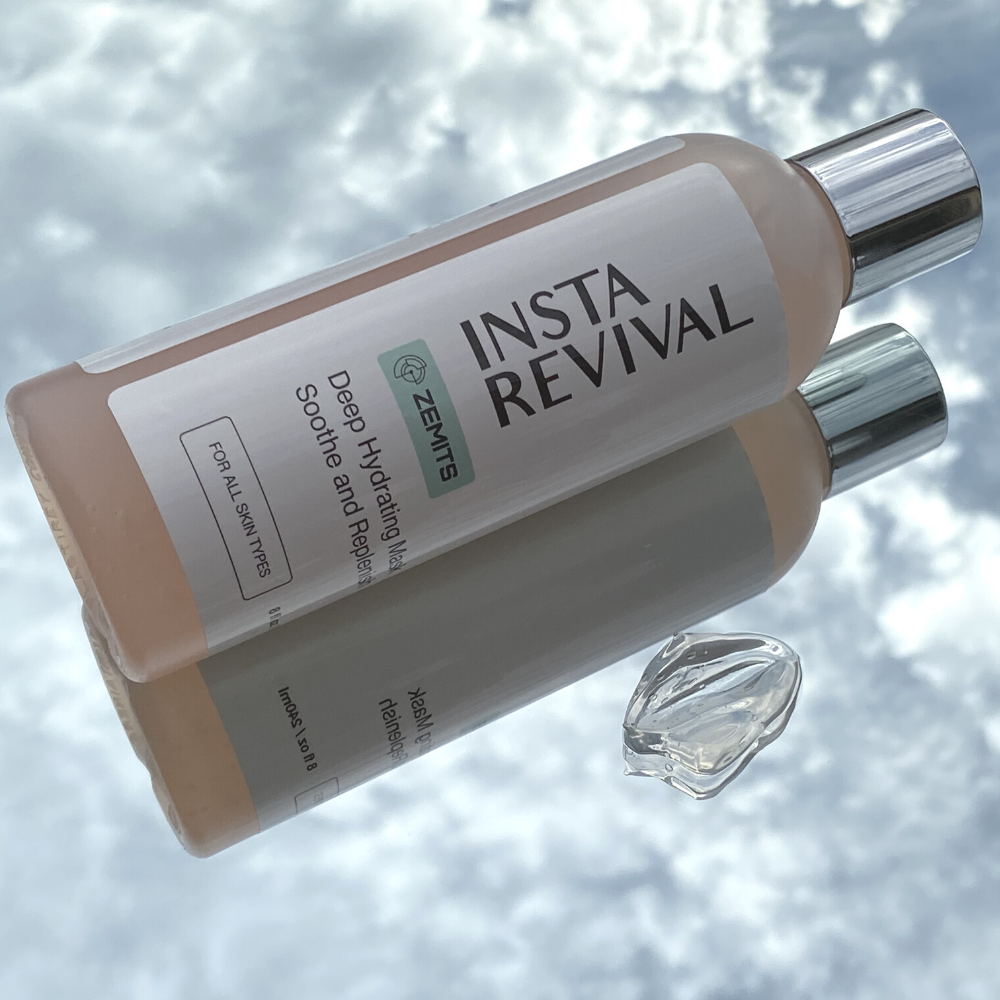 CONDUCTIVE MICROCURRENT GLOVES: CLEANING AND MAINTENANCE
When cleaning your conductive gloves, make sure to only use a neutral detergent or a mild antibacterial soap. To extend the life of your gloves, avoid using any detergent or soap that contains high acid and/or strong alkali components. After washing, do not twist the gloves to drain out extra water. To extend the life of the conductive microcurrent gloves, keep the metal connectors dry at all times. Remember that the gloves include silver fiber, which is antimicrobial and aids in the removal of bacteria (which is ideal for acne sufferers).
Although conductive microcurrent gloves are reusable, they may need to be replaced every few months.
Working voltage: 3.7V
Rated power: 2W
Intensity range: 150-600 μA
Charger: 5 V
Size: 610 * 50 * 11mm
Gross weight: 189g
Net weight: 709g
Packing size: 127 * 112 * 35mm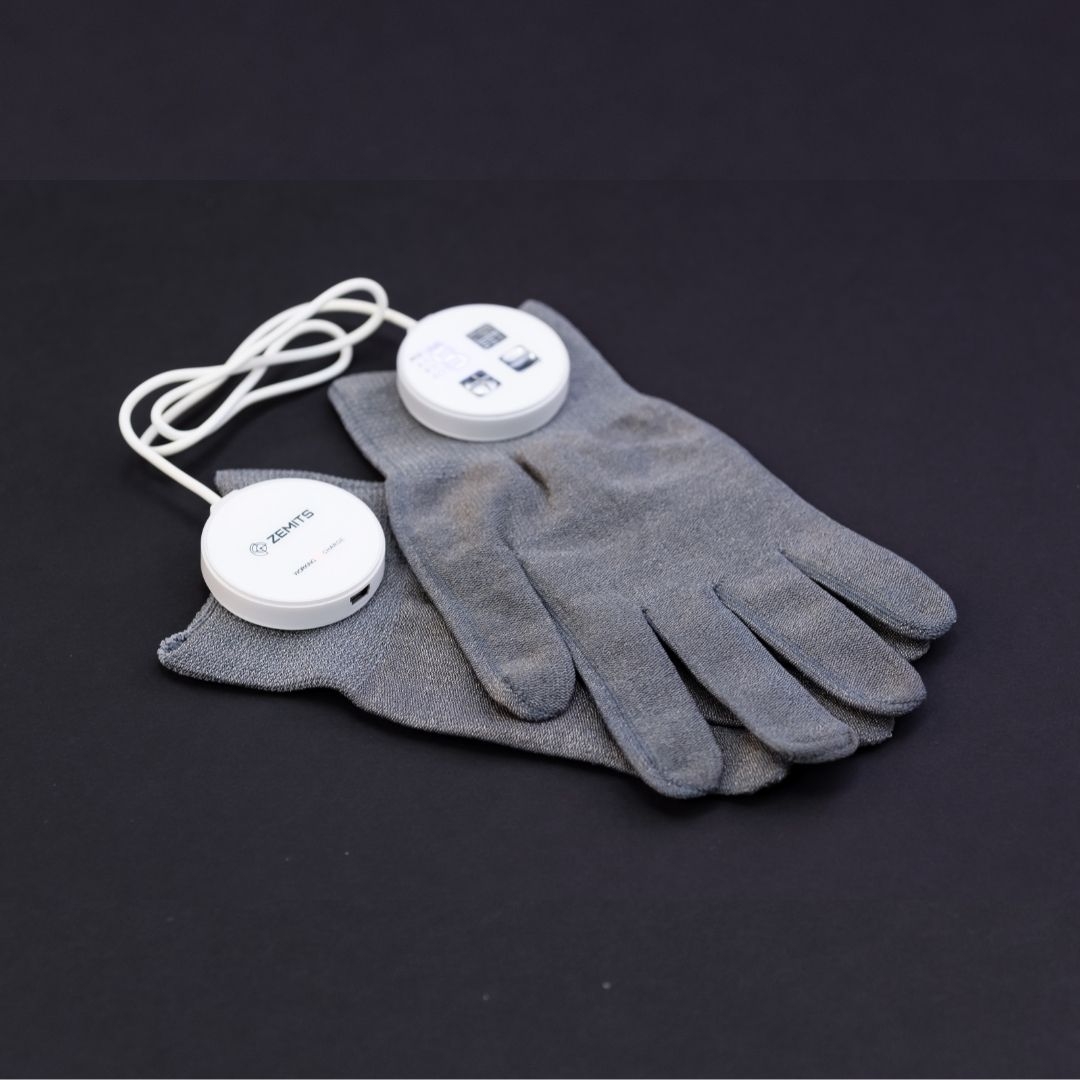 TRAINING:
A-Esthetic's certified educators have 30+ years of experience. With each purchase you will receive completely FREE access to the customized online training course.
We will provide you with the Certificate of Completion after you successfully complete your online training course.
In the training course you will receive:
Detailed user manuals

Assembly and maintenance guidelines

Video treatment tutorials

Customized treatment protocols

Clients forms and recommendations

Marketing materials to promote your new service

Social media kit for your Instagram and FaceBook pages.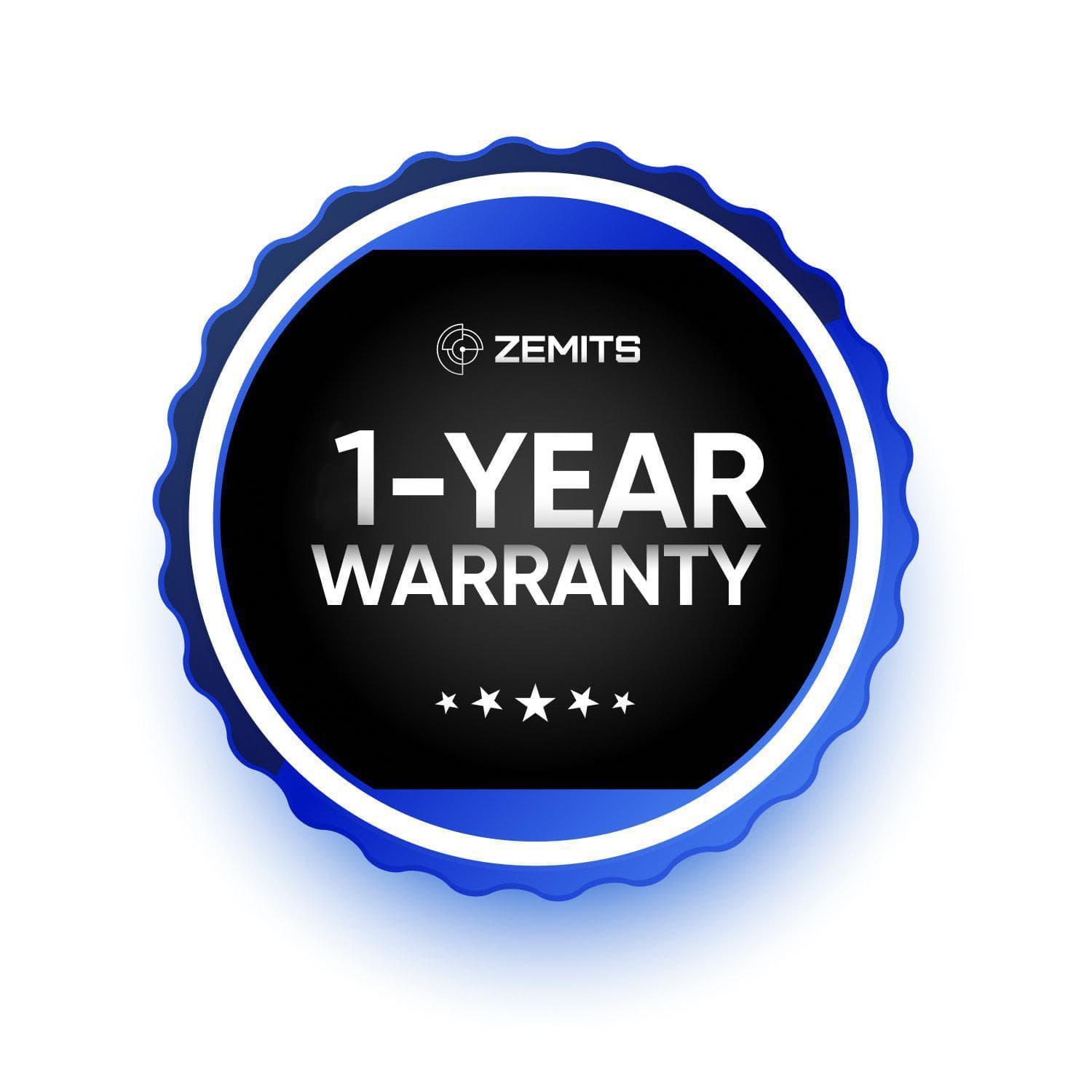 Disclaimer
This esthetic device is intended for cosmetic use only. This esthetic device is not intended to be used to treat or diagnose any medical condition.
This esthetic device is intended to be used by estheticians and skincare providers. This esthetic device is not intended to be used by doctors or healthcare providers.
This esthetic device is not intended to be used in medical nor surgical purposes. This esthetic device does not affect the structure of deep skin tissues.
Zemits Clients
More info ›
All products at www.advance-esthetic.us website are intended for cosmetic use.
All products at www.advance-esthetic.us website are not intended to treat or diagnose any medical conditions.
Fast shipping
Guaranteed quality of aesthetic equipment
Service
Wide range of products
Zemits ElastiStrom Microcurrent Gloves
21%
Callback
Write your details and our managers in the near future will contact you