We speak English Hablamos Español Falamos portugues Мы говорим по-русски
Showroom Visits by Appointment Only
---
Zemits Sisley Body Contouring Lymphatic Drainage Pressotherapy Machine
17%
---
Zemits Sisley Pressotherapy Machine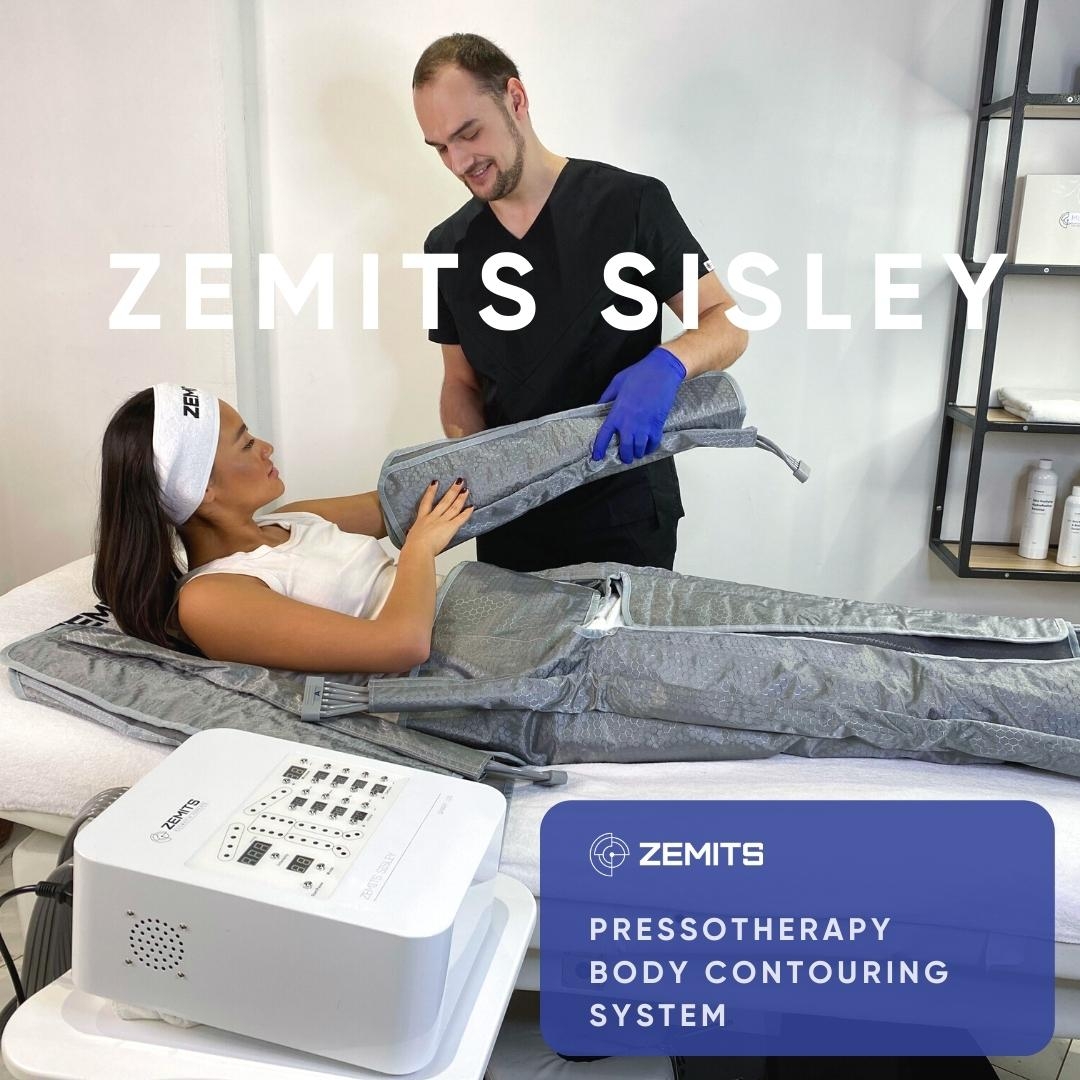 Dynamic Air Compression Suit
Zemits Sisley Body Contouring System is a professional Pressotherapy Machine for carrying out lymphatic drainage and dynamic air compression treatment protocols. 
This ultimate presotherapy device has an advanced compression suit with 24 air channels.
The Sisley device is made of a metal body and durable elastic air tubing.
The system has adjustable settings and 4 levels of Compression Power for effective and tailored protocols to address of all areas of the body, namely: legs, buttocks, waist and arms.
The one-size-fits-all suit is made of a high-strength fabric with durable velcro to tight the suit.
This advanced design of the Zemits Sisley will complement any massage practice, clinic or spa room. 
---
Hands-Free Holistic Treatment with amazing results!
Pressotherapy or Dynamic Air Compression Treatment is a proven technology that positively affects the entire body with instant results. This treatment is versatile and it works great when paired with other body sculpting techniques.
Pressotherpay is 100% effective lymphatic drainage treatment after more aggressive body contouring technologies, such as cavitation, lipo-laser, or cryolipolysis.
Post cavitation or cryolipolysis it is necessary to provide a lymph drainage massage as to support the removal of fluids and toxins from the treated body areas. Pressotherapy after cavitation or lipo-laser helps to induce the collapsed fat cells to be expelled into the lymphatic system. As well compression therapy helps to release the oedema with unwanted toxic substances that remain post treatment.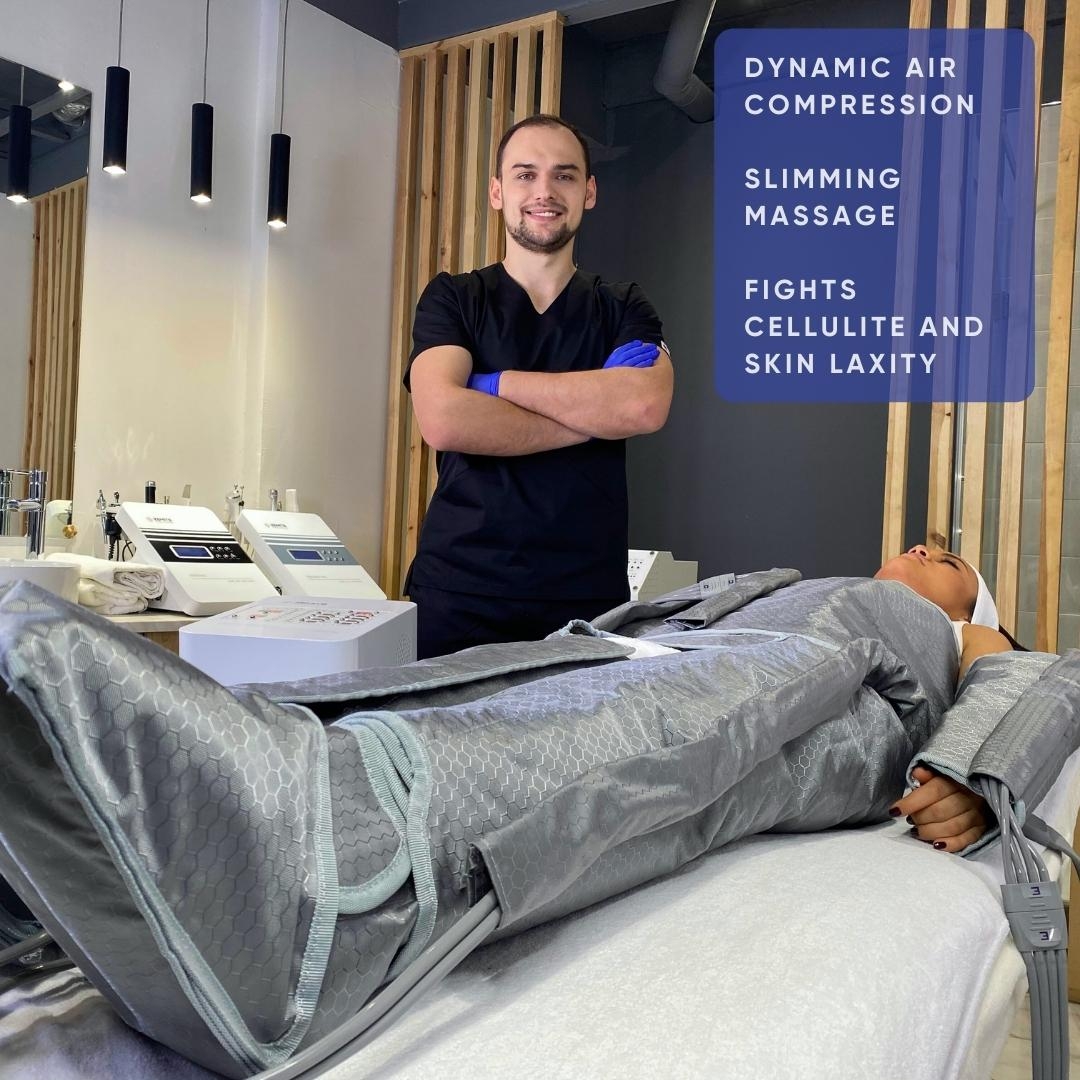 ---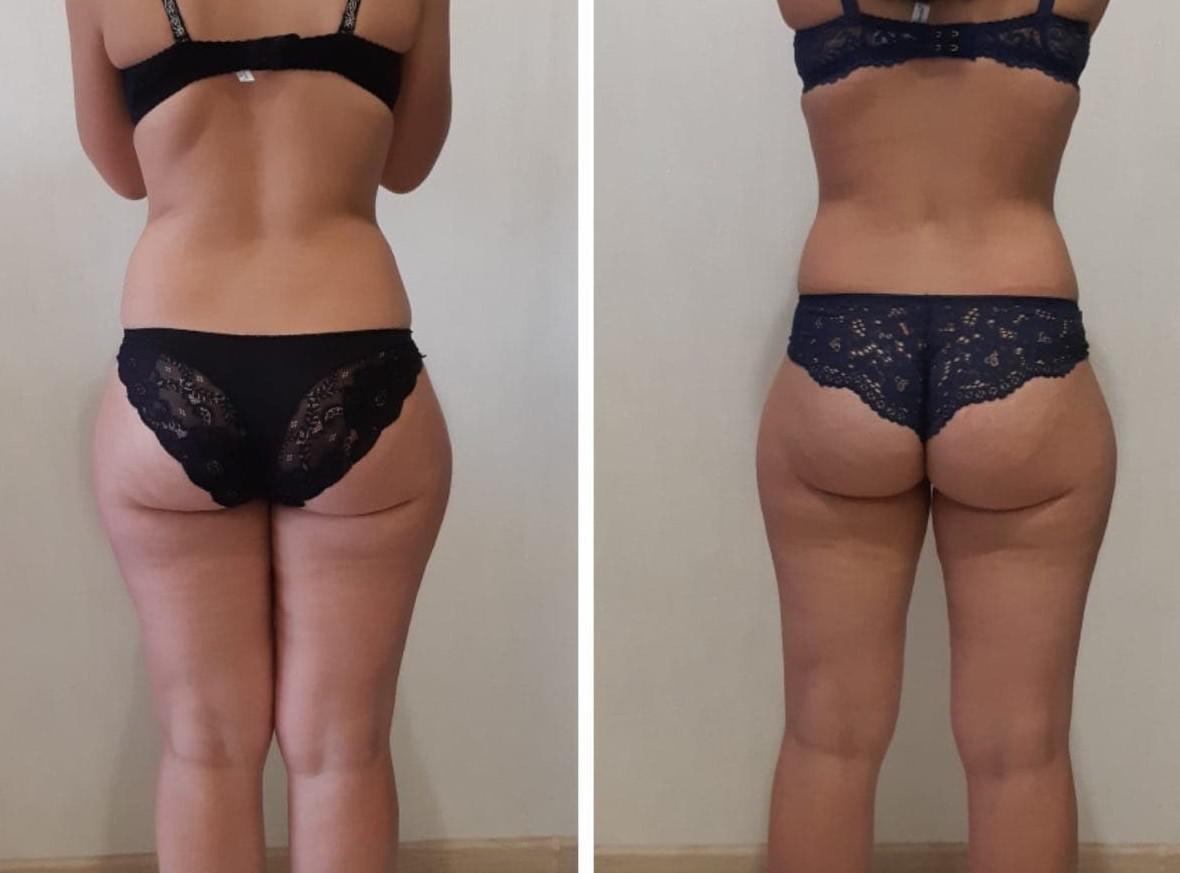 Safe and Effective Lymphatic Drainage with Pressotherapy Machine
Zemits Sisley Pressotherapy Machine provides safe and effective lymphatic drainage, thus bringing a positive effect on the skin's relief and texture.
The course of pressotherapy normalizes healthy blood and lymphatic flow, that helps to restore skin elasticity and firmness. Systematic use helps to reduce stagnant intercellular oedema in the lymph and reduces cellulite also known as "orange peel".
---
How does Pressotherapy Work?
Zemits Sisley Pressotherapy Machine is a computer controlled dynamic air compression system, that operates using the compression suit with inflating air chambers. The compression suit has seven separate chambers, that are positioned around the treated areas of the body. Zemits Sisley has individual chambers for feet, legs, waist, arms. 
The compression suit allows precise presso-massage according to the settings at the main controller device. All technical; details can be adjusted: time, compression intensity, and patterns of the compression.
This targeted compression allows to perform precise tissue massage and increase blood and lymphatic circulation.
The Zemits Sisley Pressotherapy Machine was designed to mimic the lymphatic system starting from the feet, ankles all the way to the upper body areas.
Pressotherapy treatments enhance extra-cellular fluid clearance, thus reducing bloating, and oedema, and drastically improves oxygen flow throughout the entire body.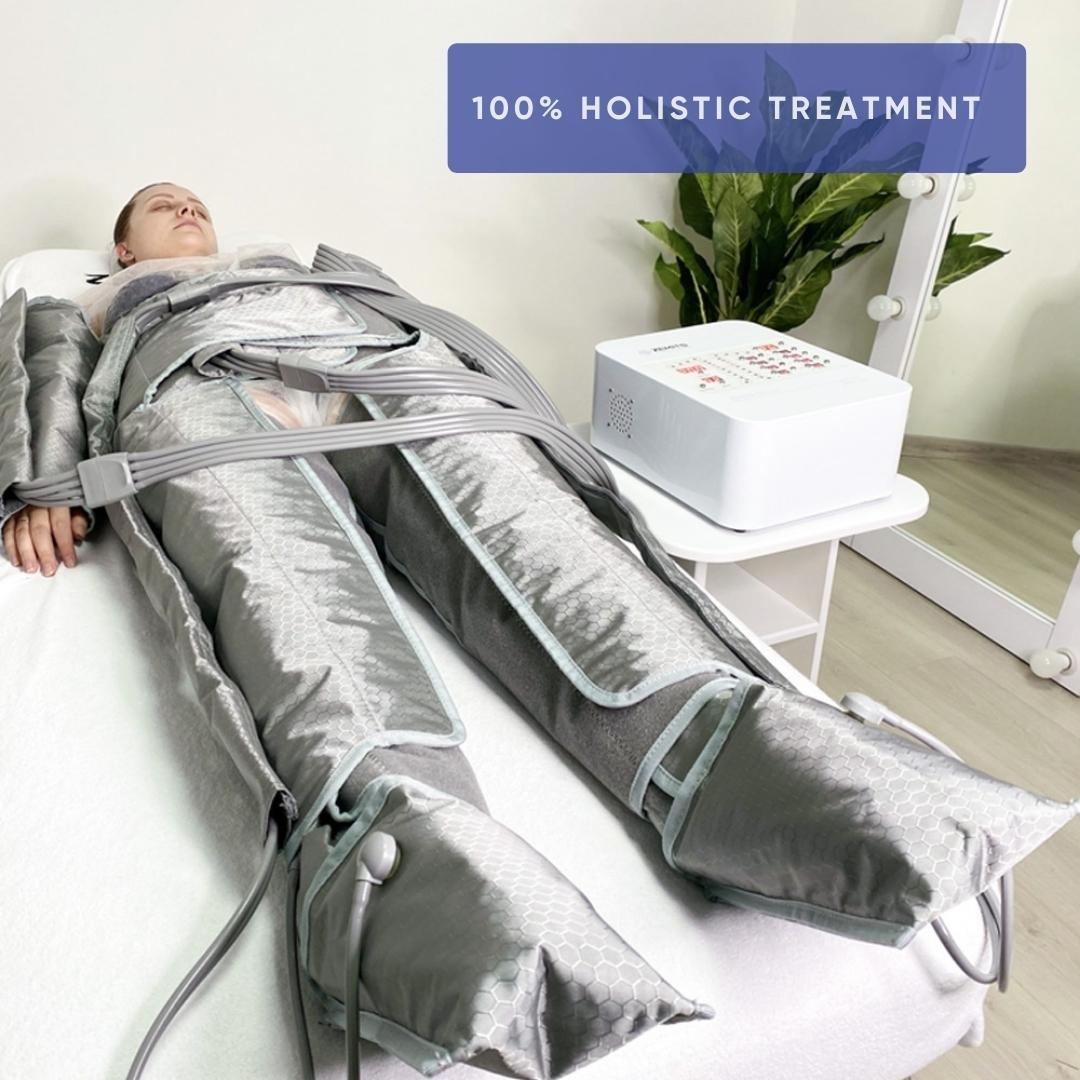 ---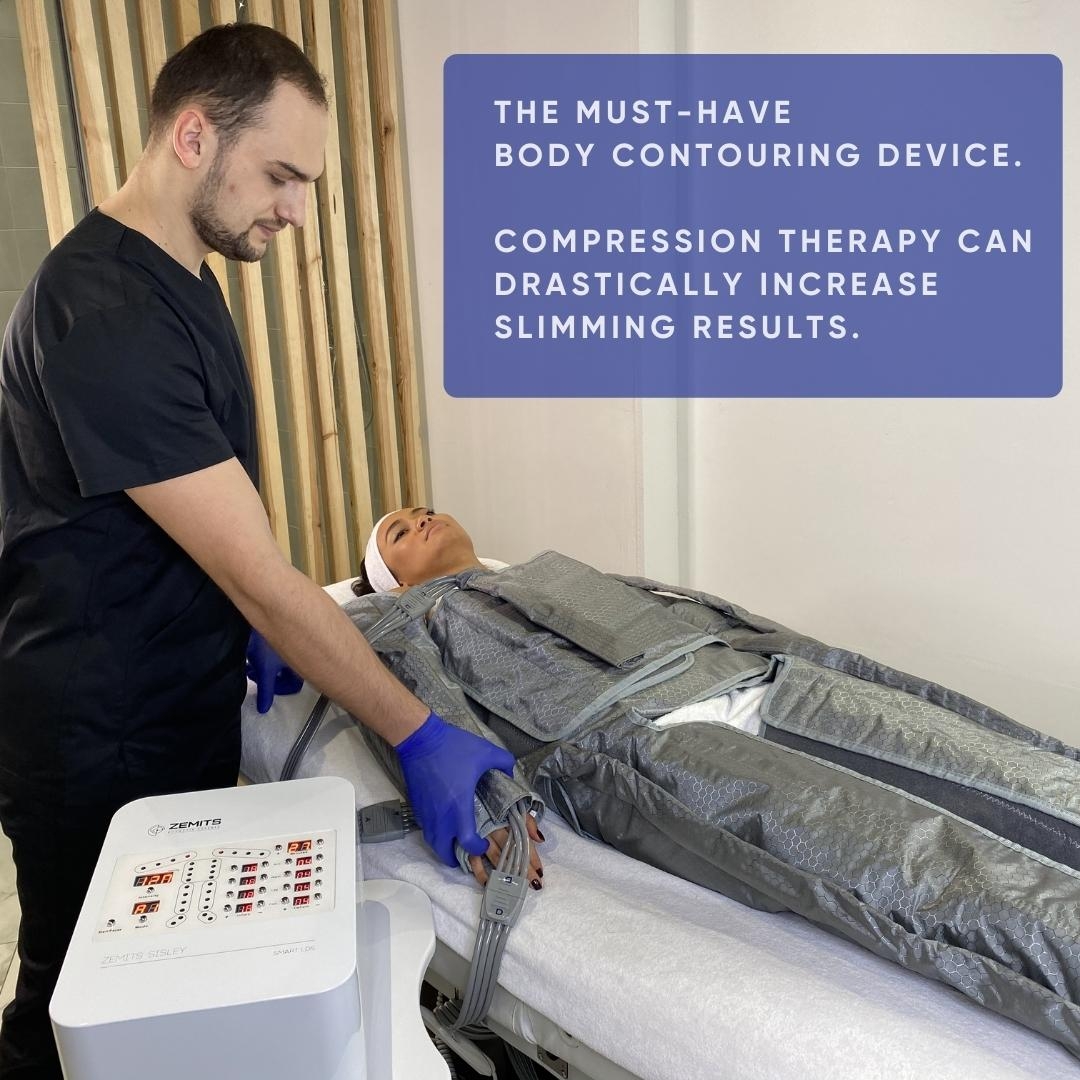 Pressotherapy is the Perfect Choice after Fat Reduction Treatment
Pressotherapy is a very popular treatment in Europe due to its high efficiency and amazing comfort during the session. 
Clients are often fall asleep during the pressotherapy treatment, while Zemits Sisley Device continues its effective body contouring massage. 
Pressotherapy is loved by professionals because it is #1 after slimming treatment on market, and it doesn't require active participance of the massage therapist. Simply set up the program and let Zemits Sisley does it magic. 
The pressotherapy treatment take in average 30-45 minutes.
---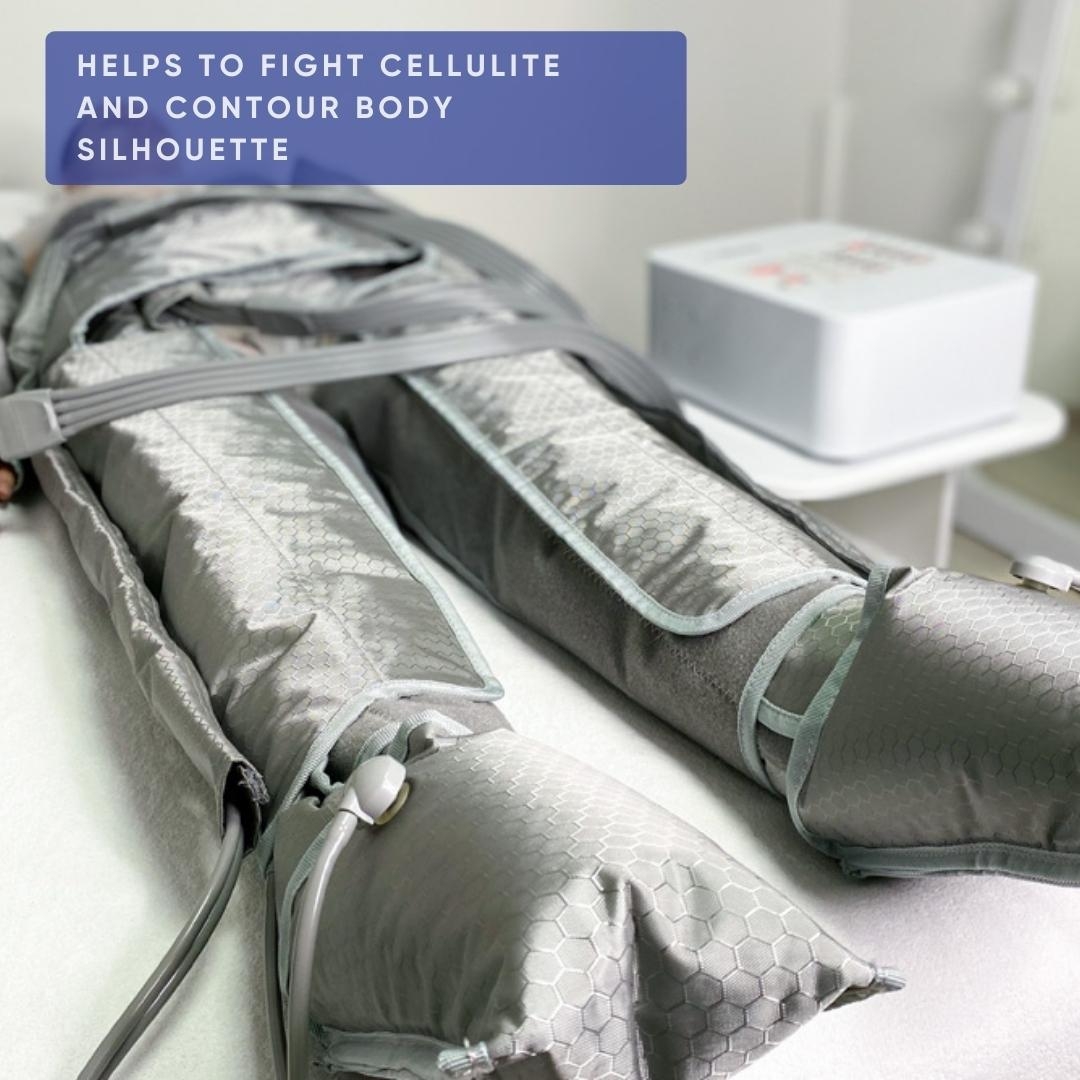 Pressotherapy Helps to Achieve Slimming Results Faster
Pressotherapy is #1 choice after cavitation, lipo-laser, or cryo slimming treatments. Aesthetic practice shows that the bundle treatments of Cavitation with Pressotherapy allow to achieve desired slimming results faster. 
It is also very popular technology to treat athletes as well as clients with oedema problems.
Dynamic air compression treatment can be used in conjunction with seaweed wraps to detoxify, firm, tone, improve circulation, and increase lymphatic drainage. 
Your Zemits Sisley Pressotherapy Machine will definitely not be idle!
---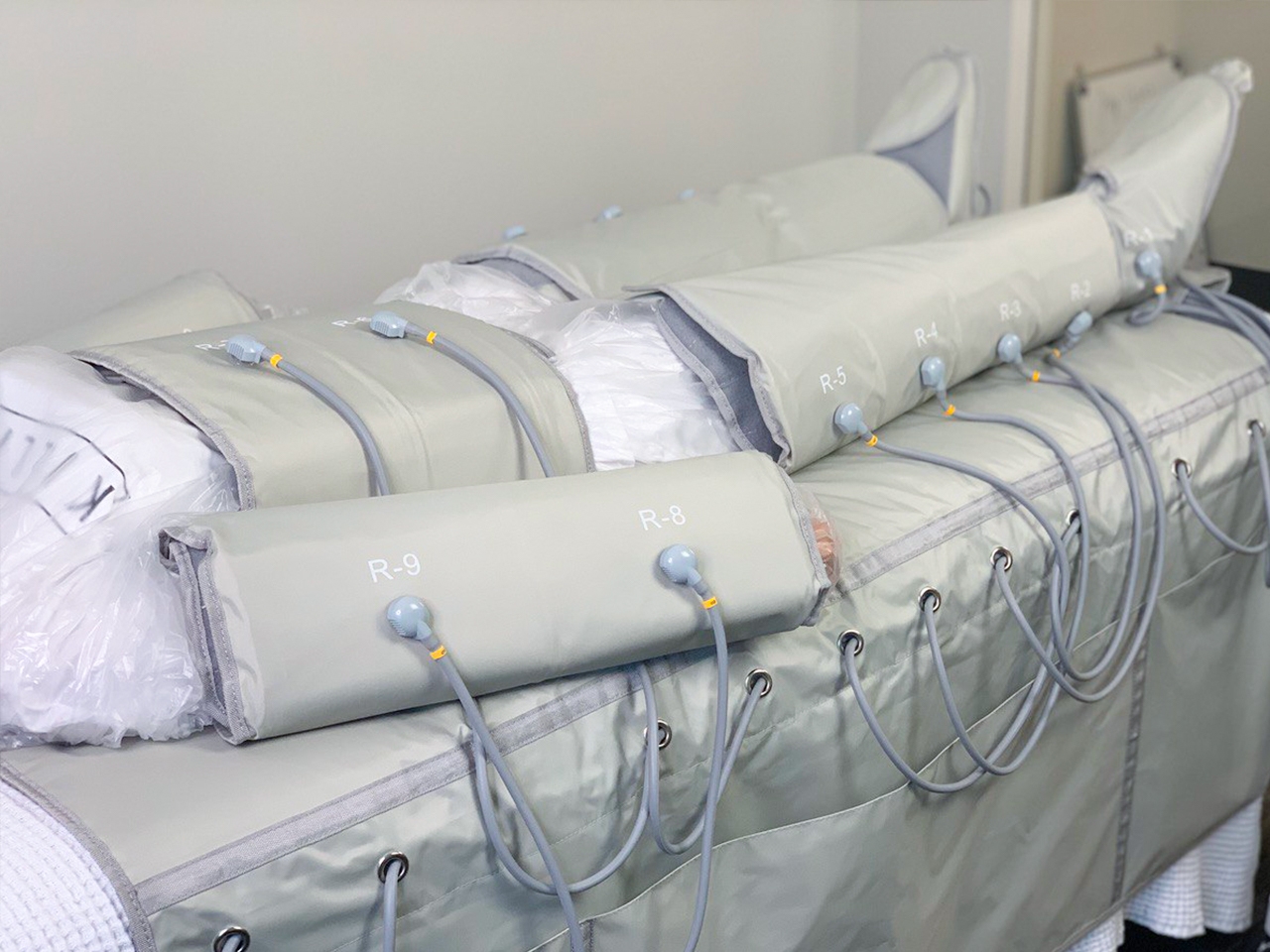 For hygienic and safe maintenance, it is strongly recommended to use pressotherapy with disposable palstic suit. Sold separately.
---
WHAT ARE THE BENEFITS OF THE ZEMITS?
Unique sleek design

Extremely powerful compression power

Intensity adjuster for each chamber
Allows for customizable treatments

1-Year Warranty

Lifetime Client Support

Free Training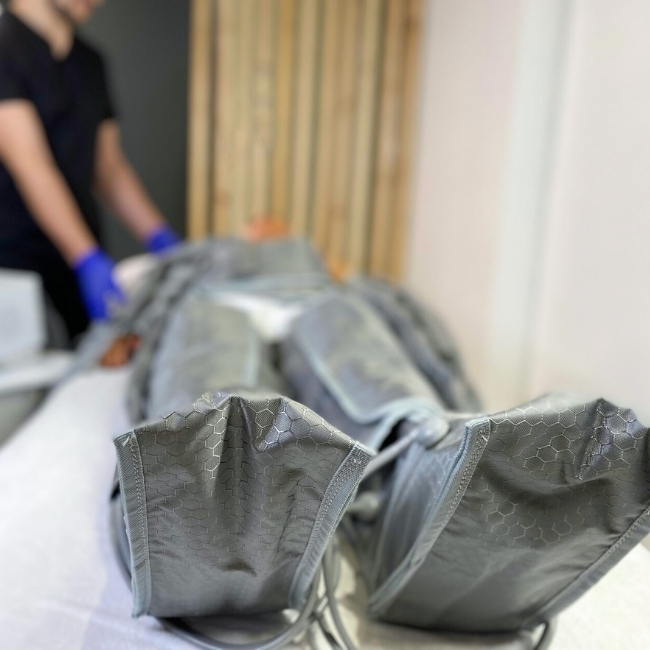 ---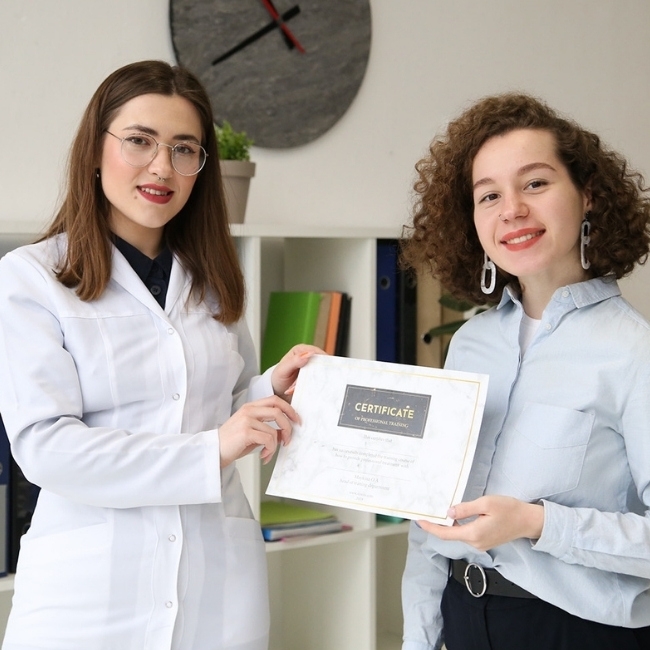 TRAINING AND USERS MANUALS
In addition to basic user manuals, we will send you treatment protocols and recommendations to enhance your experience with our equipment because we are committing to helping you succeed! We also have licensed estheticians on site for one-on-one training both in-person and over video chat.There is no hassle with getting comfortable with your equipment and learning how to maximize your profits!
---
FINANCING
Financing through Quickspark, which offers: *A low-interest plan with a hassle-free application. For more information, check out our "financing" tab or call us today!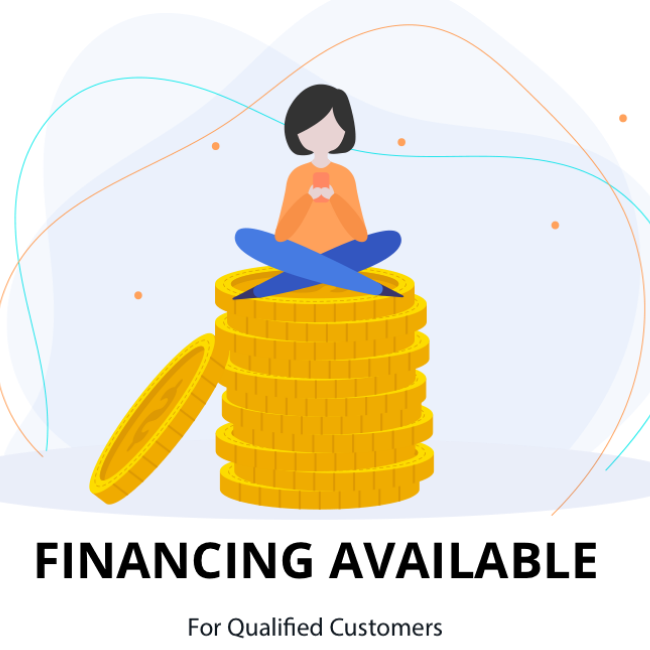 ---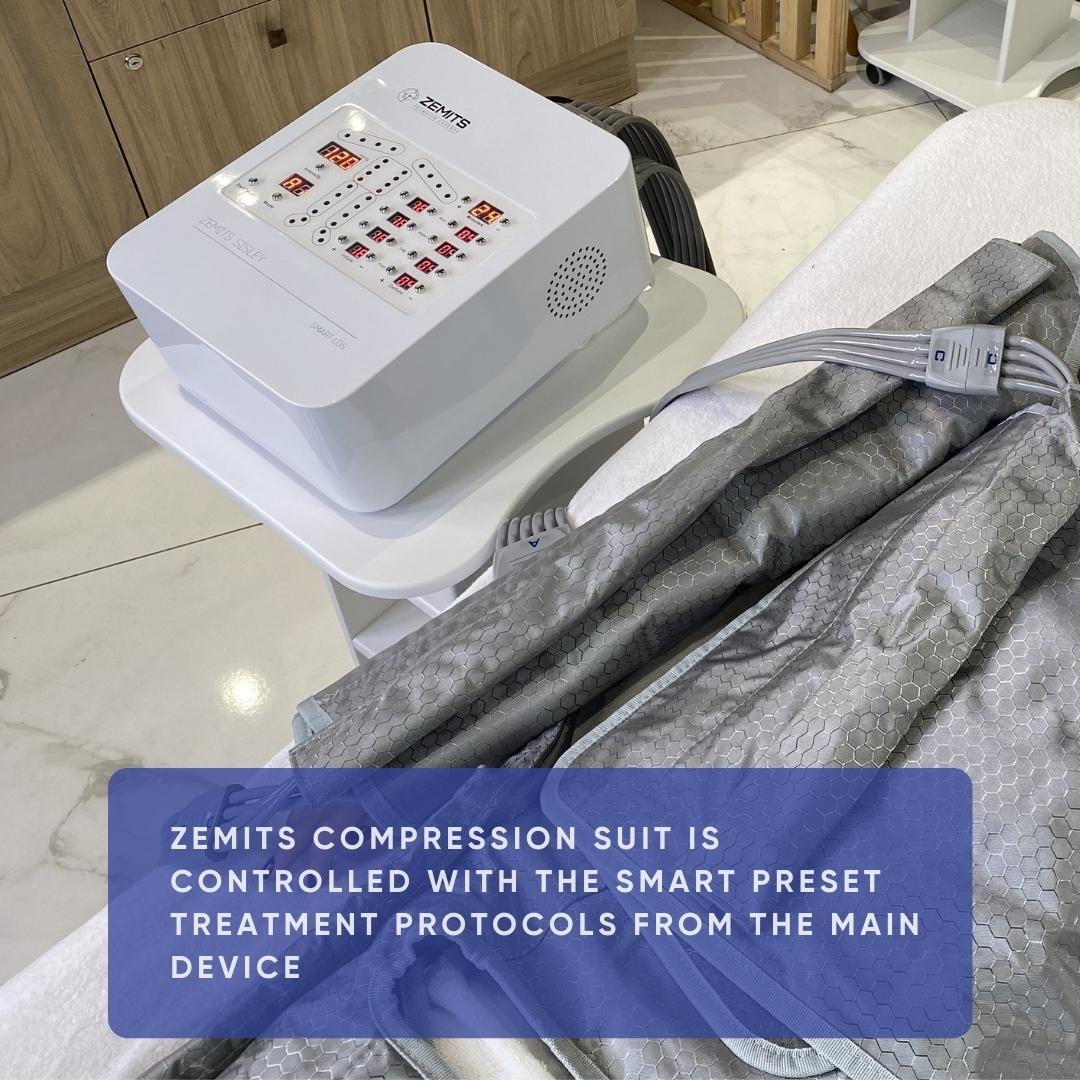 How Much Does Pressotherapy Session Cost?
Zemits Pressotherapy is a compression system that effectively stimulates blood and lymphatic flow, while simultaneously reducing the excess bodily fluids. 
Pressotherapy is performed with series of 4-10 sessions, 30-45 minutes duration, 1-2 times per week. 
Pressotherapy will range in price depending on where your spa is located and how long the appointment lasts. Generally, it will cost anywhere from $50 to $150 for a 30-minute session.
Clients can usually see the positive effects of the treatment after a single session: reduction of circumflexes due to enhanced lymphatic circulation, smoother skin and overall well being. 
---
All products at www.advance-esthetic.us website are intended for cosmetic use.
All products at www.advance-esthetic.us website are not intended to treat or diagnose any medical conditions.
Fast shipping
Guaranteed quality of aesthetic equipment
Service
Wide range of products
---
Zemits Sisley Body Contouring Lymphatic Drainage Pressotherapy Machine
17%
---
Callback
Write your details and our managers in the near future will contact you