We speak English Hablamos Español Falamos portugues Мы говорим по-русски
Showroom Visits by Appointment Only
---
Zemits VitaLuster Vitamin C Infusion Serum, 8 fl oz
5%
---
Professional Vitamin C serum for infusion that is perfect for Oxygen Facials, Non-Invasive Mesotherapy, and more.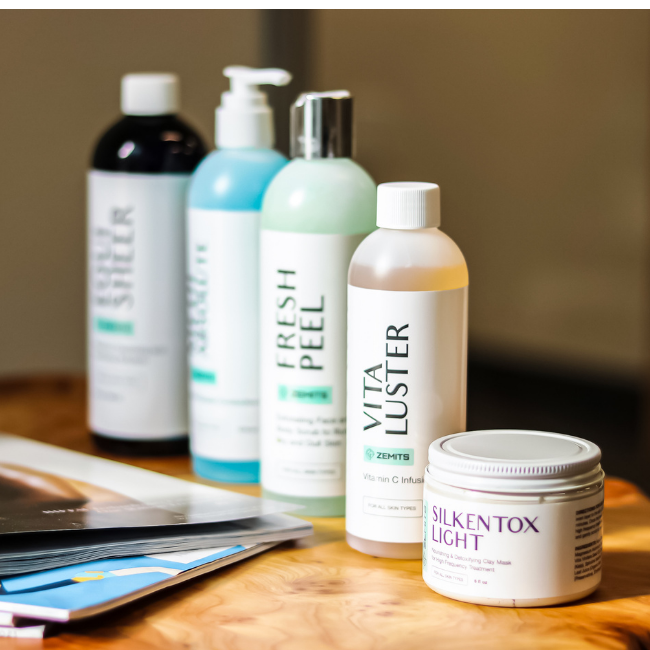 Vitamin C serums is particularly identified for its propensity to dam melanin formation, stopping undesirable pigmentation and darkish spots.
Our natural merchandise are free from alcohol, gluten, sulfates, parabens, and phthalates.
Most oxygen infusion, non-invasive mesotherapy, hydro dermabrasion, and different structures to penetrate answers deep into the epidermis are secure to apply with Zemits VitaLuster serum.
---
Vitamin C Super Serum contains a highly concentrated form of vitamin C and also a range of skin-strengthening antioxidants and regenerating chemicals.
VitaLuster Vit C Serum
Three Reasons to Love It:
For infusion treatments, it is indeed perfectly balanced. For a comprehensive facial, neck, and décolletage treatment, only 3–5ml of serum is necessary. Only the most potent chemicals and moisture-boosting ceramides are used in this formula.
Targeted Delivery:
Our Vitamin C infusion serum captures the oil in our skin. This occurrence optimizes the VitaLuster Vit C's deep infusion into the skin, where it is needed.
Vitamin C, a skin-brightening booster, is a spectacular ingredient for amplifying skin's radiance.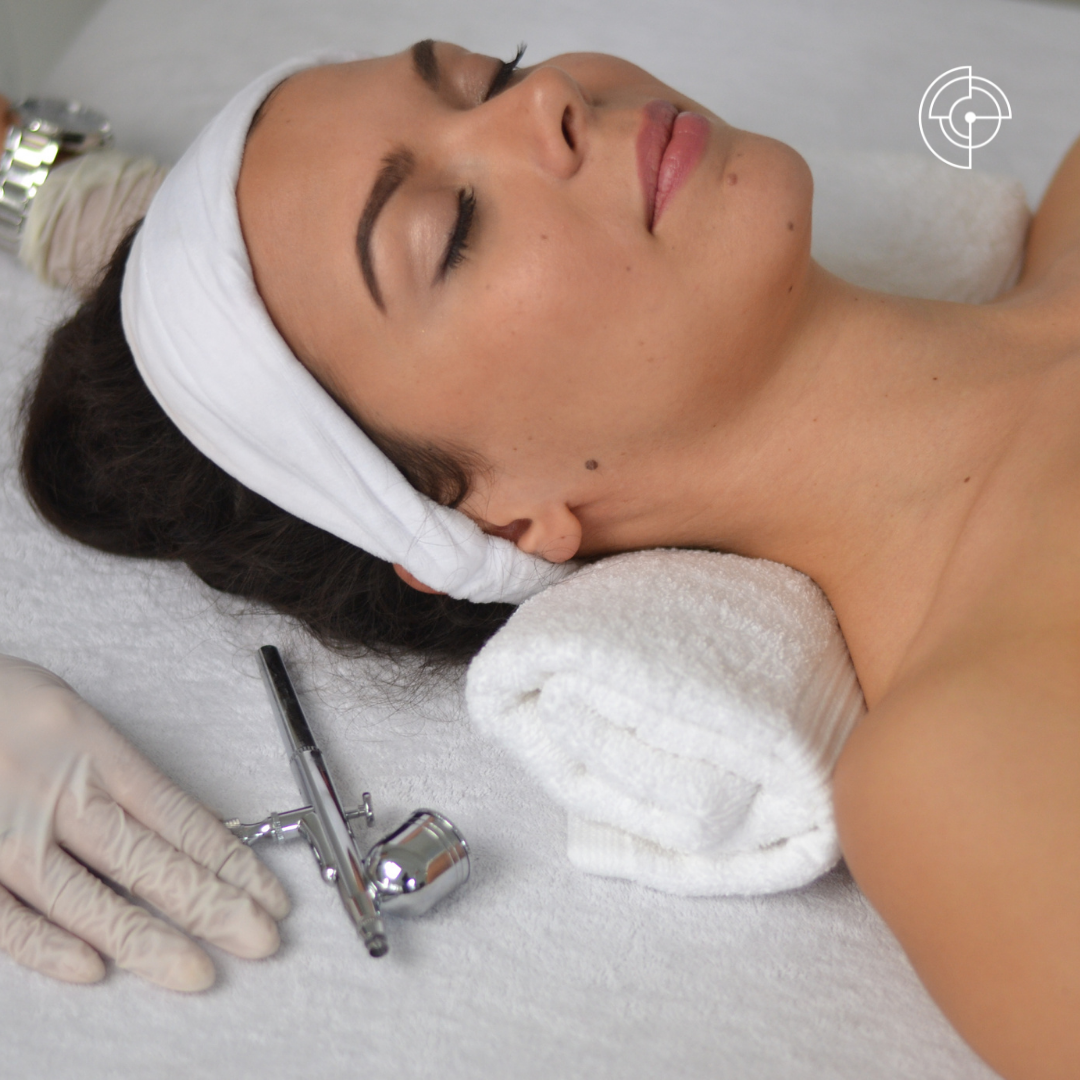 ---
A combination of Vitamin C (l-ascorbic acid) and strong antioxidants reduces obvious symptoms of aging for smoother, brighter, and firmer-feeling skin.
Key Benefits:
Nourishes the skin of uneven skin tone.

Helps get rid of dark patches and discolouration

Protects against free radical damage, which contributes to the presence of age spots.

Supports the natural collagen and elastin matrix of the skin.

Skin is illuminated.

Collagen production is augmented.

Aids in the restoration of skin cells that have been damaged.

The look of quality strains and wrinkles is reduced.

Antioxidant protection is superior.

Reduces the occurrence of dark areas

Prevents the skin from sagging.

Improves the brightness of the skin

The hyperpigmentation is reduced.

Melanin synthesis is inhibited.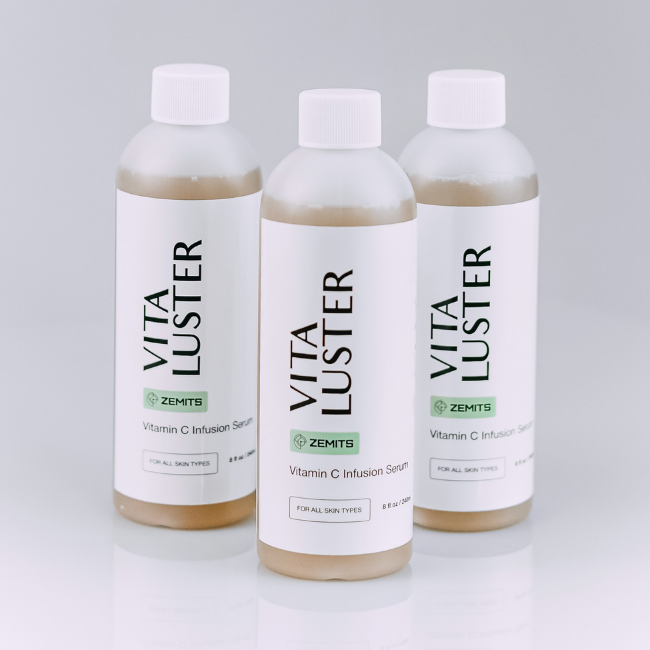 ---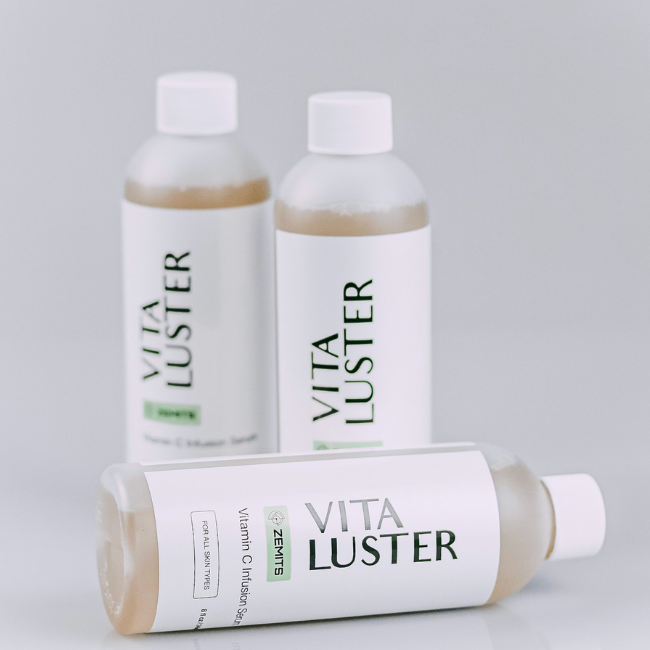 Key Ingredients
Carica Papaya (Papaya) Leaf Extract - Papain, a protein-dissolving enzyme that is found in papaya leaves, can be used topically as an exfoliant to remove dead skin cells and prevent clogged pores, ingrown hairs, and acne.
Thymus Vulgaris (Thyme) Extract - Thyme Oil possesses antifungal and antiseptic qualities, and it provides a clean surface to deter surface microorganisms. Thyme Essential Oil also fortifies the skin with its circulatory and therapeutic capabilities, so dry skin can be relieved of irritation and tightness.
Sodium Ascorbyl Phosphate - A newer, extra strong shape of Vitamin C that decreases unfastened radical damage, stimulates collagen synthesis, and lowers dryness in addition to the arrival of first-class strains and wrinkles. Excessive exposure to ultraviolet B radiation causes DNA damage, which can be reversed with sodium ascorbyl phosphate. It may additionally save you sunburn and pores and skin damage.
Rosemary Leaf Oil (Rosmarinus Officinalis) - Rosemary Oil moisturizes the pores and skin and facilitates to govern oil production. It also gives the skin an antimicrobial surface, which helps to keep acne at bay. The antibacterial qualities of rosemary oil are good to skin diseases like eczema.
Acne is produced while the sebaceous glands generate an excessive amount of oil and clog your pores. Orange (Citrus Sinensis) Oil can help. Propionibacterium acnes are the bacteria that develops as a result of it. Sweet orange oil's antimicrobial characteristics help to prevent pathogens and cure the skin.
The oil is well-known for reducing tension and anxiety, and it also has skin advantages. It will soothe your skin and aid in the reduction of redness, blotchy spots, and scars caused by acne.
The vitamin C in sugary orange oil enables to vanish darkish spots and blemishes.
Anti-aging: the oil stimulates good blood circulation and creates collagen, both of which are pivotal for anti-aging.
---
Frequently asked questions
What Are the Effects of Vitamin C Serum for Acne?
Acne-related inflammation may be reduced. Acne is caused by a combination of genetics, age, and hormones. A skin bacterium could be the source of the disease in some circumstances.
It may aid in the reduction of hyperpigmentation. Acne develops darker patches on your skin surrounding the affected area. Hyperpigmentation is the term for this. Skin damage and UV radiation are also contributors. It helps to lessen the appearance of acne scars. Your skin may take some time to heal after an acne eruption. If the wound does not heal properly, acne scars can emerge.

What Is VitaLuster C Serum and How Do I Use It?
If the client wants to get the maximum effects from vitamin C serum for acne, the client must include it in their anti-acne routine. When executing the HydroDermabrasion routine, for example, it should begin with a moderate Salicylic acid Hydro Exfoliation and then proceed to the Oxygen Infusion.

Why does Vitamin C serum occasionally tingle?
L-Ascorbic Acid or Vitamin C serums prepared at a very low pH, in particular, might induce skin irritation. They're made with a low pH and a high concentration to ensure that they can penetrate and soak into the skin, which can cause discomfort. You might want to start with a smaller dosage of Vitamin C, such as 1-2 ml.

Why do clients need a Vitamin C serum if they're already using an SPF to protect their skin?
SPF protection is not replaced by vitamin C serums! While sunscreen is the first line of defense for protecting the skin's surface from the damaging effects of UVA and UVB rays, sunscreen filters only protect the skin's surface from up to 55 percent of free radicals.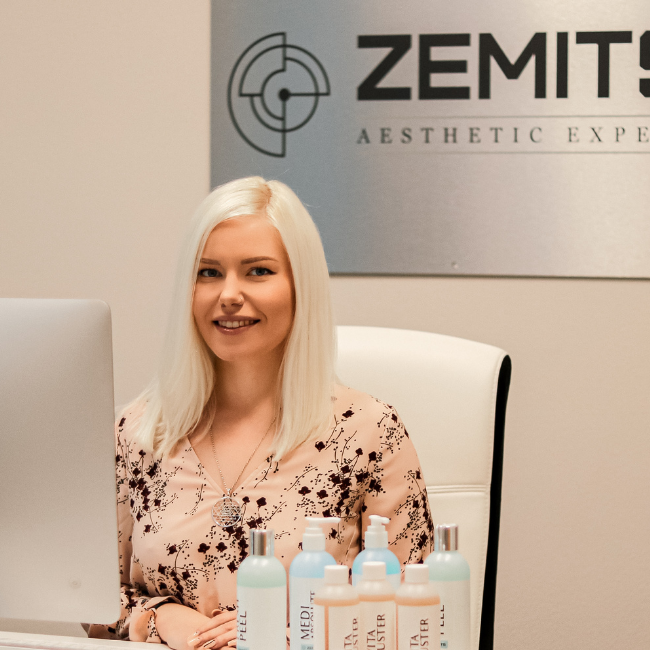 ---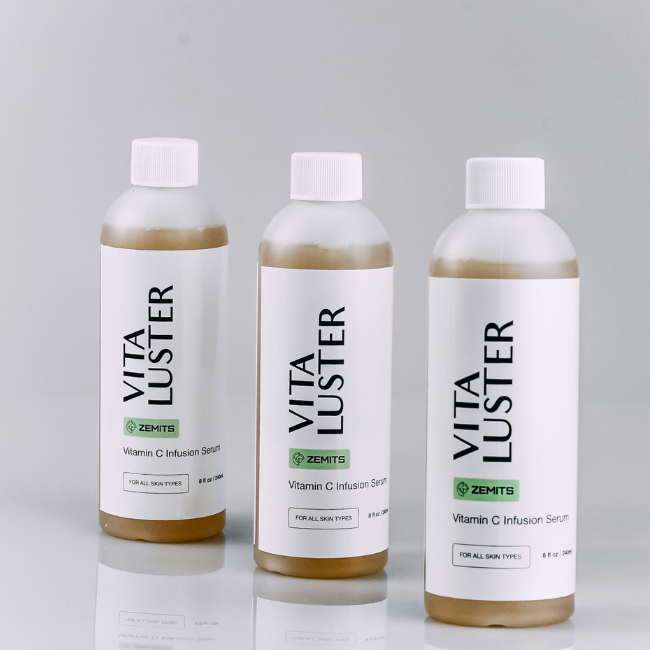 What is the Best Vitamin C Treatment for Skin?
Vitamin C is best applied to the skin in the form of a serum. Excess pigmentation can be reduced using ascorbic acid serums, which also protect the skin from sun damage, eliminate dark circles, even out skin tone, improve skin texture, and boost collagen formation.

Is there anything that shouldn't be combined with vitamin C?
Because retinol is absorbed at a pH of 5.5 to 6, it is incompatible with Vitamin C, which is absorbed at a pH of 3.5 or lower. When both substances are taken together, their efficacy is reduced.
---
INGREDIENTS:
Water (Aqua), Propanediol Polysorbate 80, Carica Papaya (Papaya) Leaf Extract, Thymus Vulgaris (Thyme) Extract, Phenoxyethanol, Ethylhexylglycerin, Sodium Ascorbyl Phosphate, Potassium Sorbate, Xanthan Gum, Rosmarinus Officinalis (Rosemary) Leaf Oil, Orange (Citrus Sinensis) Oil
---
All products at www.advance-esthetic.us website are intended for cosmetic use.
All products at www.advance-esthetic.us website are not intended to treat or diagnose any medical conditions.
Fast shipping
Guaranteed quality of aesthetic equipment
Service
Wide range of products
---
Zemits VitaLuster Vitamin C Infusion Serum, 8 fl oz
5%
---
Callback
Write your details and our managers in the near future will contact you