We speak English Hablamos Español Falamos portugues
Showroom Visits by Appointment Only
Exclusive distributor of Zemits in the US
Worldwide Shipping
---
Zemits DermeLuxx PRO Bestseller HydroDermabrasion System
9%
Free shipping
Specials for Licensed Pros
Zemits DermeLuxx - the New Generation of HydroDermabrasion 
Transform your spa menu with DermeLuxx PRO, the only device that harnesses the power of Dual Diamond HydroDermabrasion technology.
This innovative approach delivers a gentle, yet deeply effective, exfoliation and refresh for every skin type, leaving your clients with a refreshed and revitalized complexion.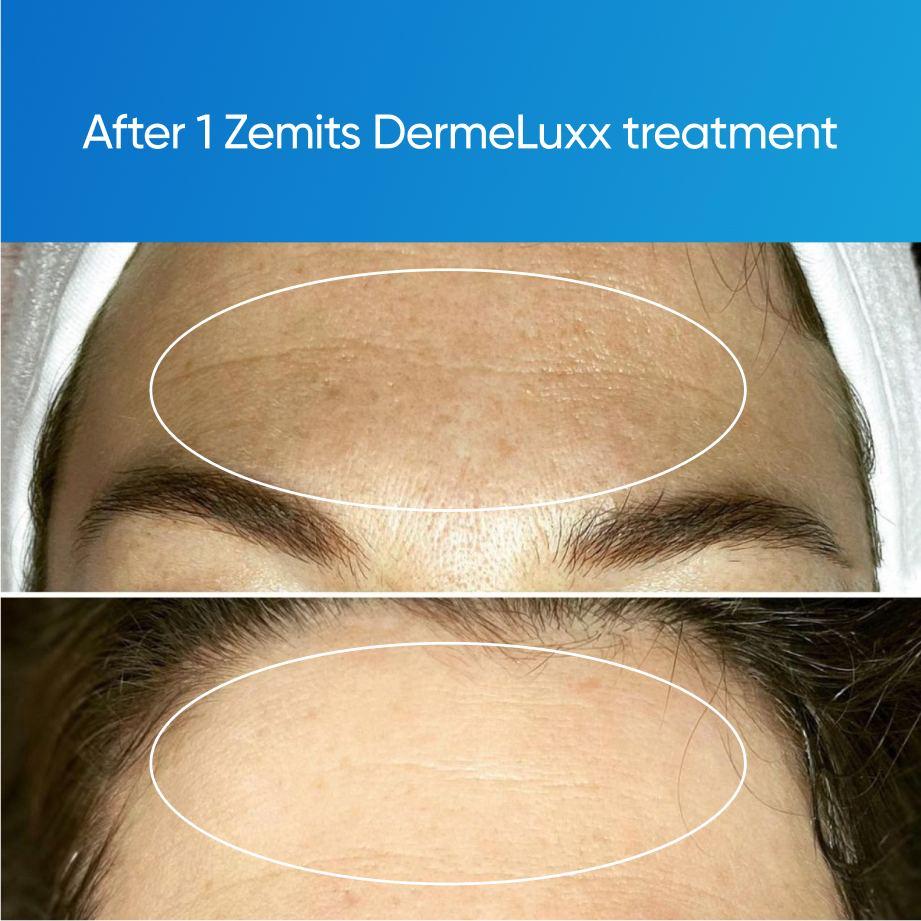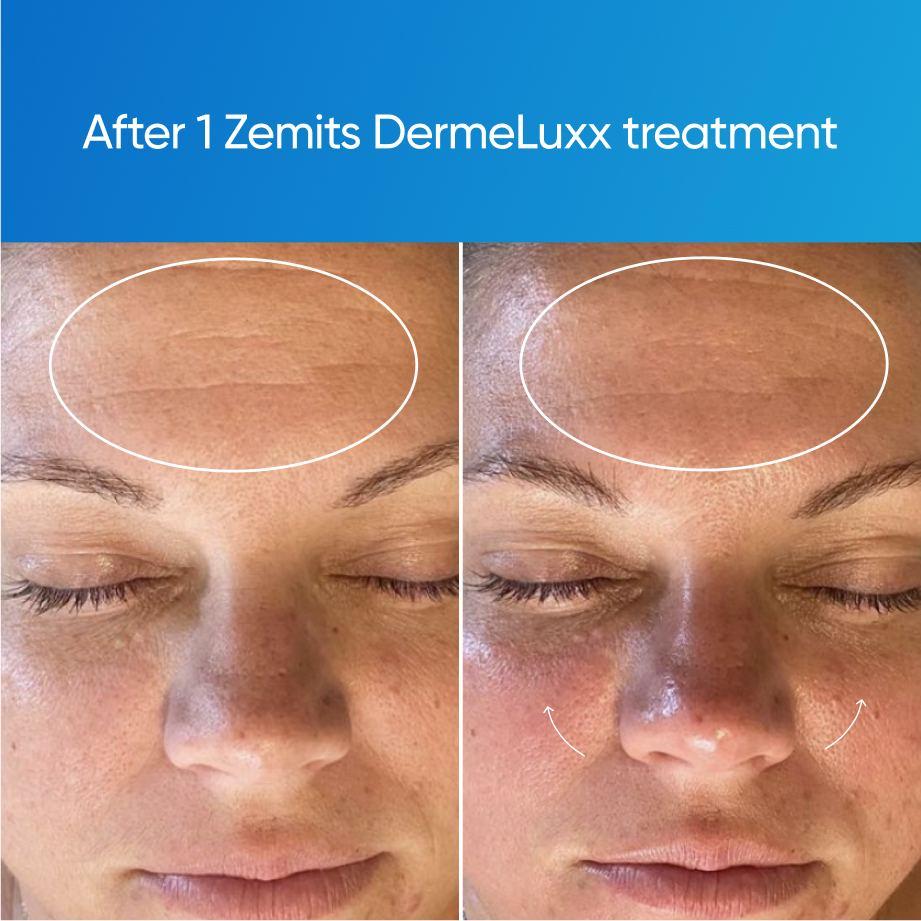 The Top-Rated HydroDermabrasion System
Meet the top-rated HydroDermabrasion system, the Zemits DermeLuxx PRO. This state-of-the-art skincare platform offers unparalleled results and has been trusted by over 500 skincare professionals in 17 countries.
DermeLuxx PRO revolutionizes skincare services with its cutting-edge technology that delivers a personalized and skin-centric treatment experience. Regardless of the skin type, be it oily and acne-prone or delicate and mature, the versatile treatment protocols, enhanced by the specially formulated Zemits HydroDermabrasion Serums, offer a gentle yet highly effective hydrodermabrasion facial.
Whether you want to upgrade your old-type hydro machine or introduce a new service to your spa menu, the Zemits DermeLuxx PRO technology is an excellent choice. With its advanced features and customizable treatment options, you can provide your clients with a unique and effective skincare experience.
Join the ranks of skincare experts who have already experienced the power of Zemits DermeLuxx PRO.
Elevate your skincare practice to the next level and achieve stunning results with every treatment.
*NOW WITH A WASTE JAR*
Discover the Advanced Benefits of Zemits DermeLuxx PRO
Fluid HydroDermabrasion:
Experience exceptional results with 3X greater efficiency compared to traditional HydroDermabrasion
Save on your skincare expenses with 10X less usage of hydrodermabrasion serum per treatment and only $4-5 in consumable costs as opposed to $20-40 with other machines
Serum Application:
Enjoy a relaxing and rejuvenating serum application that helps hydrate and nourish skin
Reveal a dewy and healthy complexion, enriched with restorative serums that leave skin looking revitalized with Crafted Zemits Serums
Cooling Application:
A perfect finishing touch after HydroDermabrasion, helps to soothe and calm the skin
Reduce redness and minimize the appearance of pores with Zemits FirmingGenius Peptide Gel
Lock in the benefits of the treatment and leave the skin feeling refreshed and revitalized
The DermeLuxx PRO is a non-invasive and gentle treatment that is suitable for all skin types.
Zemits DermeLuxx is non-invasive, non-dripping HydroDermabrasion treatment
Combining advanced HydroDermabrasion serums with Fluid Diamond Exfoliation, Zemits technology enables instantly radiant and healthy-looking skin.
With our gentle yet effective clear extraction tips, blackhead extractions become a breeze.
Topical application of specially crafted serums helps to hydrate and nourish the skin for a natural, dewy glow.
The Cooling application step of DermeLuxx PRO serves as the ultimate finishing touch, soothing and calming the skin, providing a relaxing massage, and assisting in minimizing the appearance of pores. The outcome is skin that appears energized and has a refreshed feeling.
Discover the power of Zemits synergy technology for the ultimate skincare protocols with Zemits DermeLuxx PRO.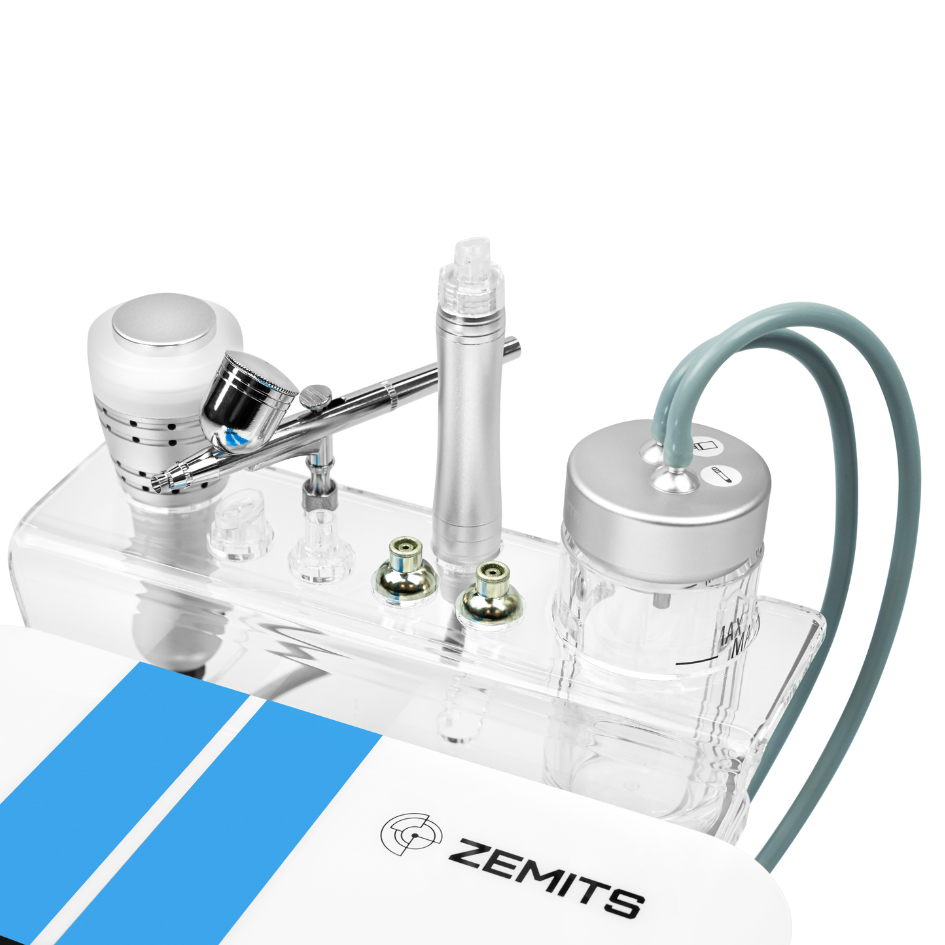 Fluid HydroDermabrasion
Experience the advanced technology of DermeLuxx Fluid HydroDermabrasion that delivers exceptional results without the use of a traditional serum jar. Instead, Zemits estheticians apply serums with a fan brush, resulting in even application of serum and less product usage. The extracted blackheads, sebum, and dry skin are collected in a convenient waste jar, ensuring a clean and effective process.
The new serum application offers several benefits over traditional methods.
Using a brush for a more controlled process, you can achieve better softening of blackheads and sebum with the HydroDermabrasion serums. Also, you'll only need 5ml of serum, as opposed to the 30-60ml (1-2 fl oz) used in the past, and one bottle of HydroDermabrasion Serum can last up to 100 treatments.
Say goodbye to dripping and leaking serums and hello to a more effective and hygienic treatment.
With DermeLuxx PRO Fluid HydroDermabrasion, you can showcase the effectiveness of the treatment by collecting all the exfoliation waste in the waste jar.
Choose the best for your clients and upgrade your skincare services with DermeLuxx PRO.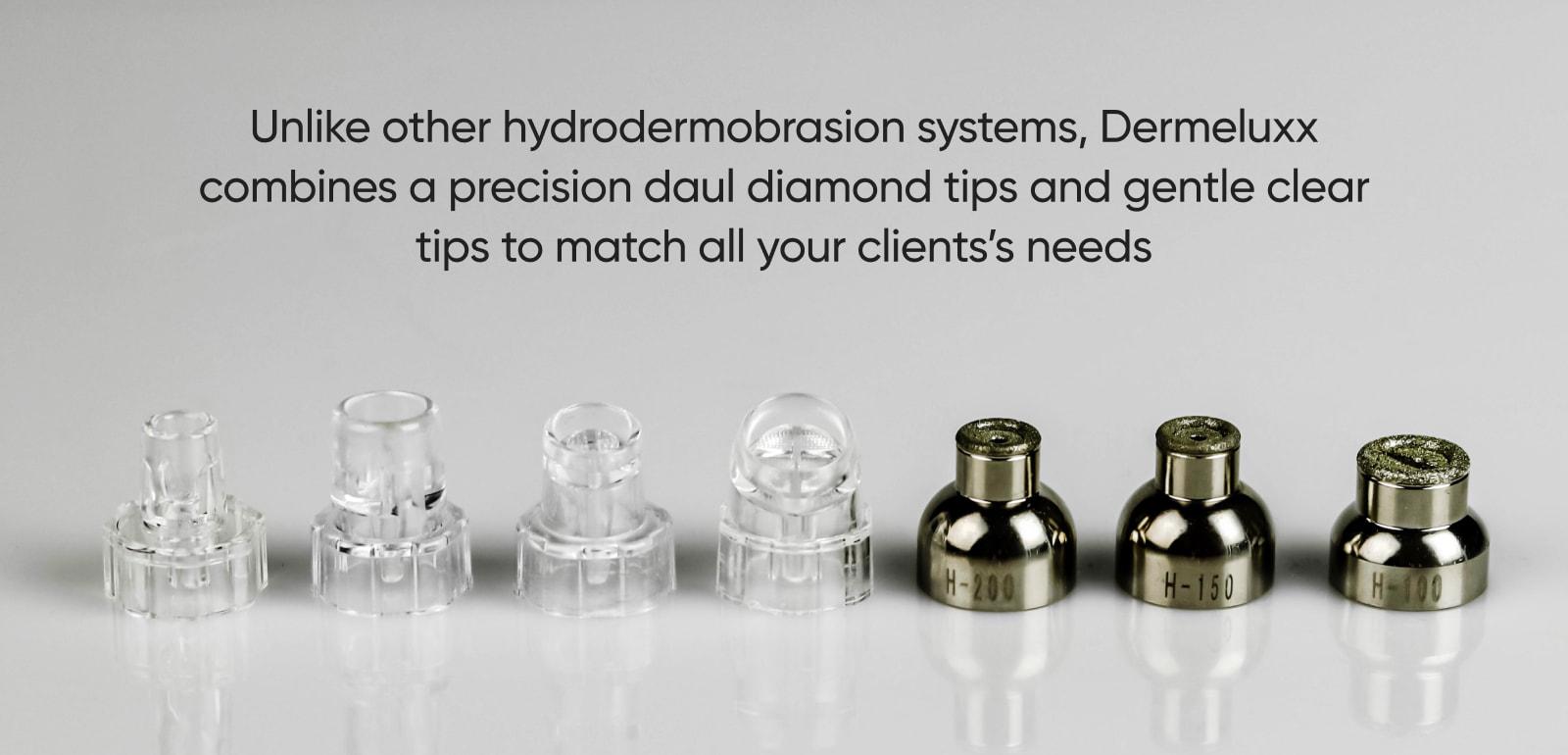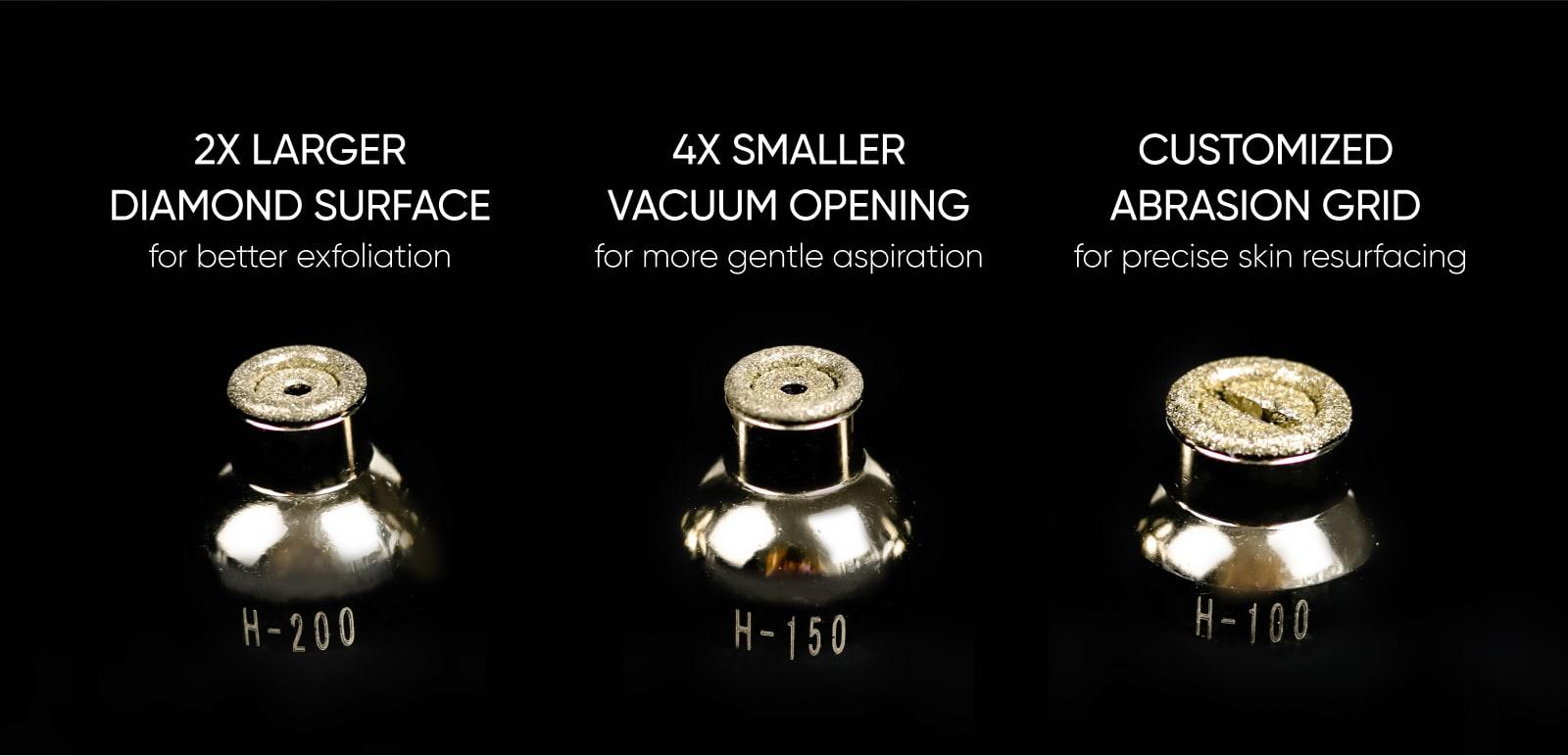 Experience superior exfoliation and gentle yet effective sebum extractions with the innovative Zemits DermeLuxx PRO Hydro Tips.
Zemits Double Diamond Hydro Tips feature a unique shape and a two-times larger abrasive surface than regular microderm tips for an enhanced exfoliation process. Additionally, these tips have a two-times smaller vacuum opening to avoid skin overstretching and any discomfort.
For sensitive and acne-prone skin, our Exfoliation Ruffle Hydro Tips offer a diamond-free and abrasion-free surface, providing gentle yet effective superficial hydro exfoliation.
Next, our Clear Extraction Hydro Tips have smooth edges and transparency for fluid gliding over open skin pores, allowing for more effective extraction of sebum without any discomfort.This step results in skin that appears clearer and brighter with a noticeable improvement in pore appearance.
Experience the benefits of our unique Zemits DermeLuxx PRO tips with exceptional HydroDermabrasion Serums for an unparalleled skincare treatment.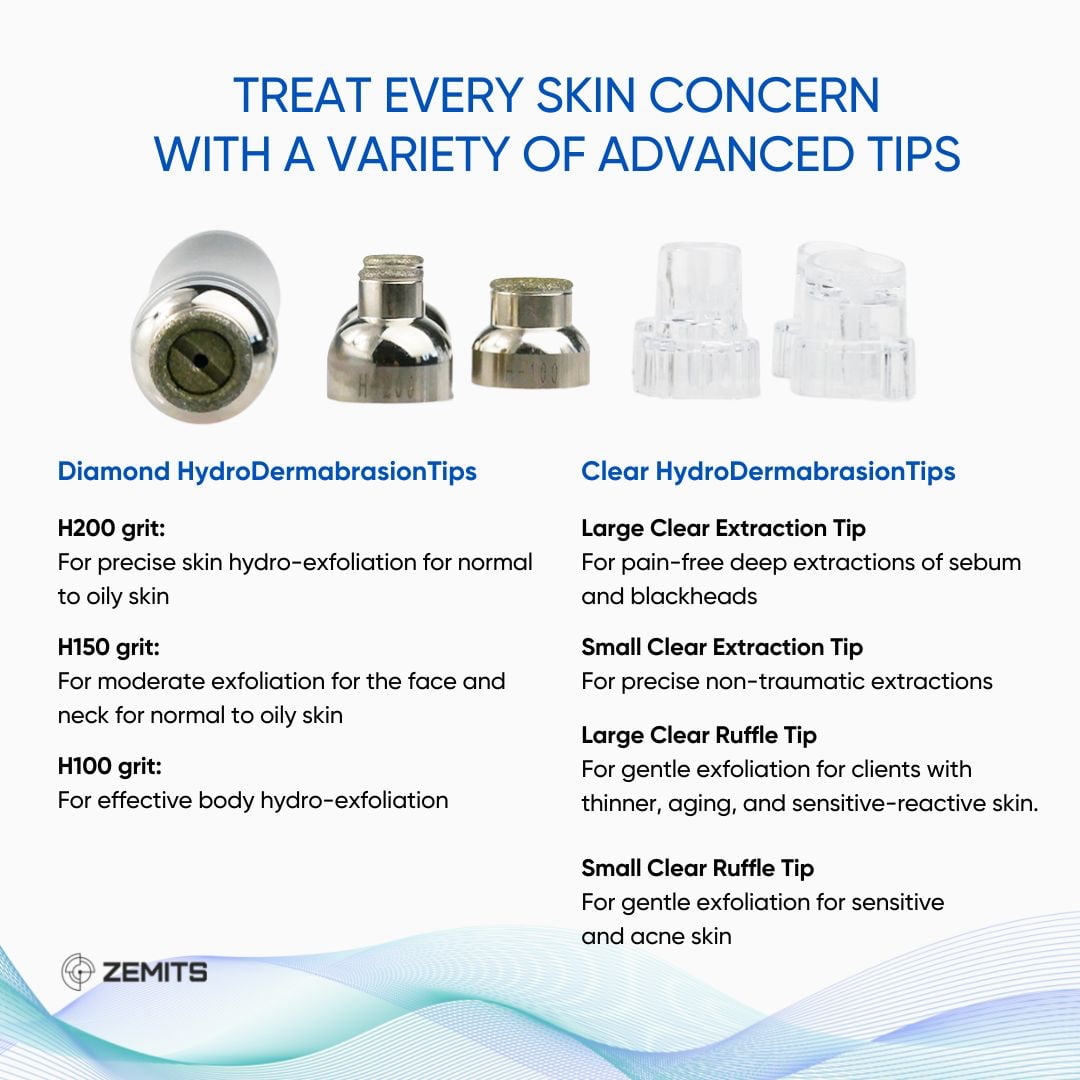 Zemits DermeLuxxPRO: The New Standard in HydroDermabrasion
As experienced professionals in the spa industry, we understand the challenges that business owners and aestheticians face. Cost-effective solutions are key to staying competitive in today's market, without sacrificing the quality of your services.
At Zemits, we've listened to your concerns and developed a groundbreaking technology that delivers superior results while reducing your consumable costs. Our engineers have created a new Hydrodermabrasion machine that requires just one-tenth of the HydroDermabrasion serum than before.
The Zemits DermeLuxx PRO is designed to help your clients achieve exceptional skin results, while increasing your client retention and cost margins. With our new machine, you can cut costs, streamline your operations, and grow your business long-term.
Choose the Zemits DermeLuxx PRO and experience the new standard in Hydrodermabrasion technology.
Skin Hydration with Serums
Serum application after hydrodermabrasion is a crucial step in nourishing and brightening the skin.
This treatment has no side effects and helps counteract the negative impacts of the environment on skin. The serum application step will leave clients' skin looking healthier, brighter, and fresher.
Zemits serums are deeply hydrating and nourishing, providing great moisture and nutrients to the skin. With a variety of serums available, Zemits providers can customize the treatment to suit each client's unique needs and concerns. 
Cooling Application
The gentle and 100% holistic cooling application is the final step in DermeLuxx PRO facial procedure, delivering multiple benefits to the skin. Performed with FirmingGenius Peptide gel for smooth gliding and superior skin hydration.
Not only does this treatment protocol helps reducing redness and skin irritation, but it also helps to soothe dark circles and puffiness around the eyes, and give a refreshing glow to dull skin.
For those with acne and oily-prone skin, this treatment step with FirmingGenius Gel can be effective in normalizing the shine often associated with oily skin and preventing breakouts. 
The DermeLuxx PRO Difference
Discover why experienced aestheticians choose Zemits DermeLuxx PRO for their clients.
With this cutting-edge system, you can offer the most popular HydroDermabrasion treatments with confidence.
Featuring unique dual diamond hydro tips and longer serum-skin contact time, DermeLuxx PRO delivers superior skin exfoliation results. With reduced consumable expenses, from $40 down to just $5 per facial, skincare professionals can now provide affordable luxury to their clients.
With DermeLuxx PRO, aestheticians can charge $180-$250 per facial, thanks to the system's 5-step skin logical and exciting protocol.
Don't settle for anything less than the best - upgrade to DermeLuxx PRO today and take your aesthetic services to the next level.
Clients' Testimonials
Zemits HydroDermabrasion Serums
Tailor your DermeLuxx PRO treatments with custom serums.
Zemits HydroDermabrasion serums address a wide range of skin concerns and have earned the love of thousands of skincare professionals and ambassadors.
Noticeable improvements have been reported by providers who have used Zemits HydroDermabrasion Serum, including:
Pore size
Elasticity
The appearance of fine lines and wrinkles
Skin texture
Hyperpigmentation
Experience the power of personalized skincare with DermeLuxx PRO and our exclusive serums.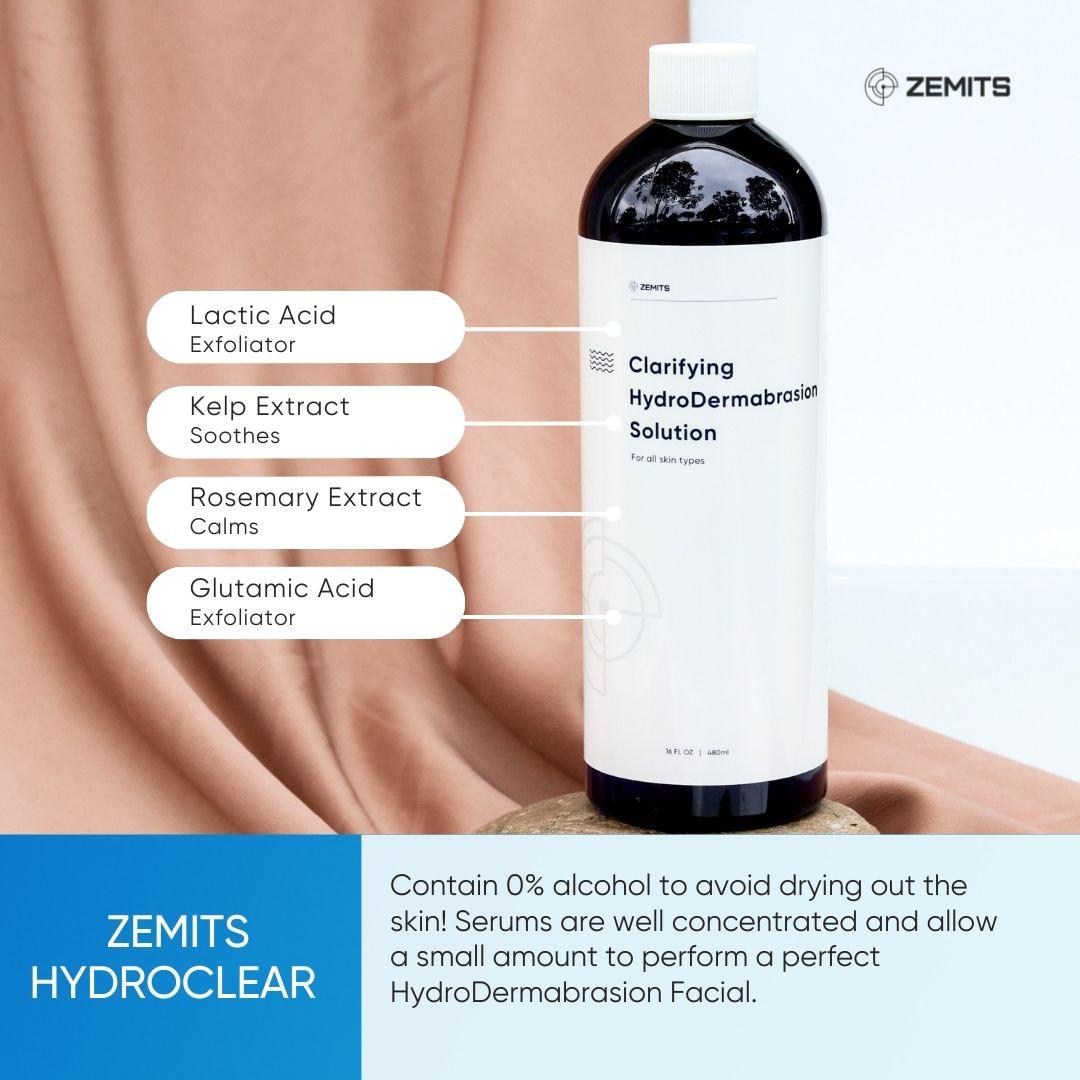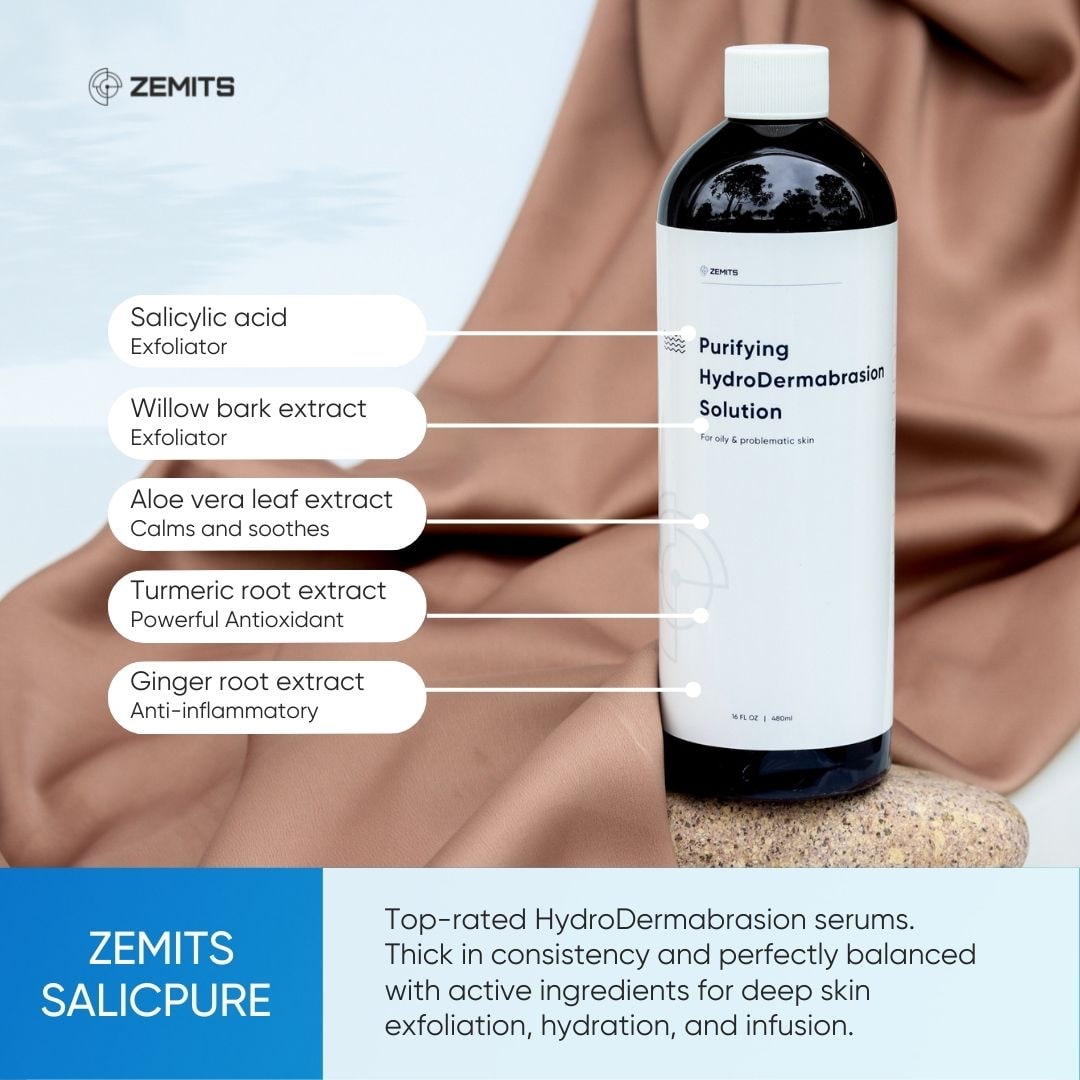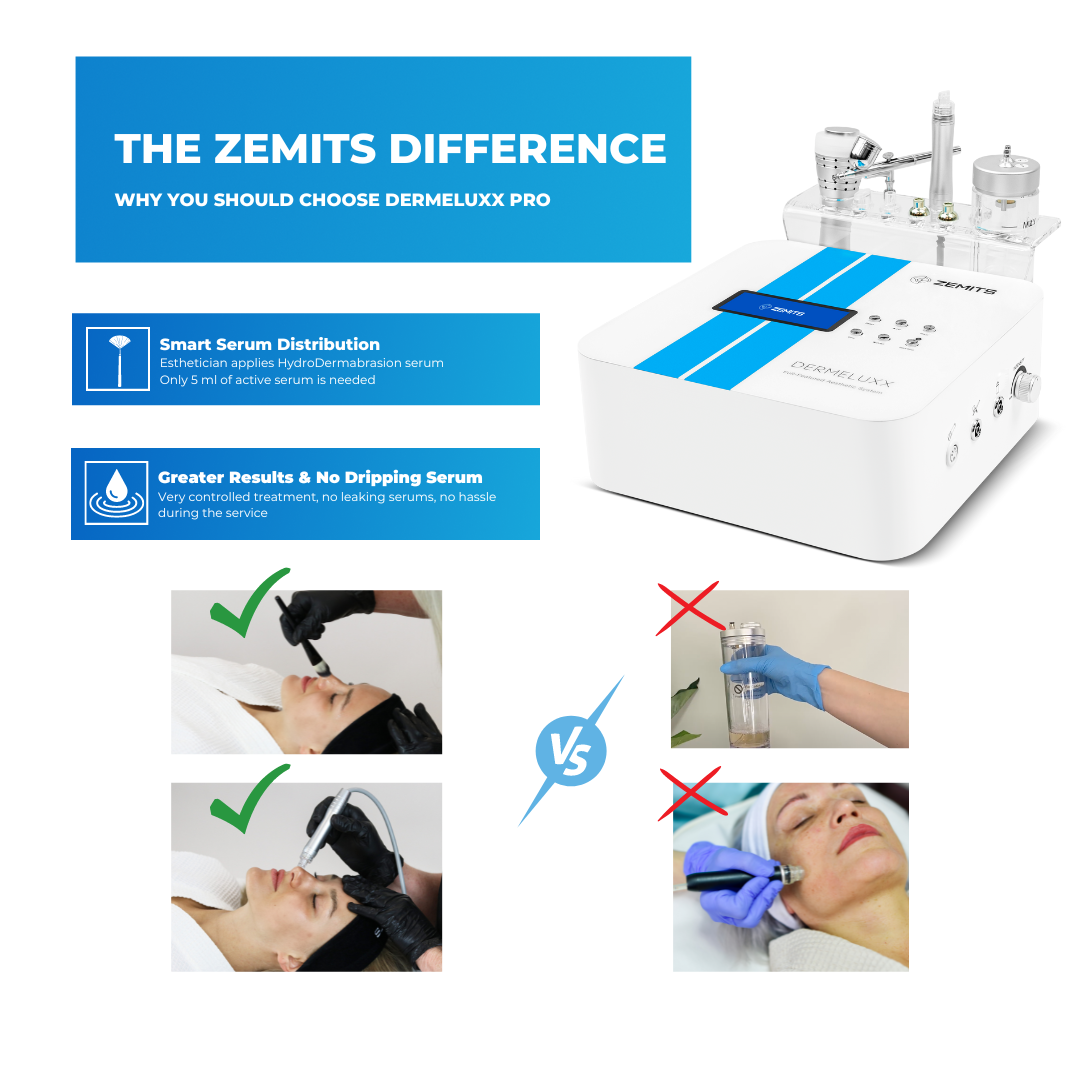 Zemits DermeLuxx PRO

Old-type HydroDermabrasion

Precise application: use of a fan brush to apply the serum.

Wastes serum by running it from a serum jar to a waste jar

This helps to prevent serum overuse.

Poor control over serum flow during the treatment.

Uses too much serum, leading to constant serum overuse.

A longer duration of serum application on the skin facilitates the softening of blackheads and impurities, leading to improved exfoliation and extraction outcomes.

Provides a very short amount of time for the serum to stay on the skin

Congestions can be softened more effectively, making it easier to remove blackheads and other impurities from the skin.

Fails to effectively soften blackheads, as the serum doesn't stay on the skin long enough

Enhanced Skin Exfoliation:

achieves save and effective exfoliation

Provides only quick, superficial skin cleansing, lacking actual exfoliation

Controlled Mechanical Exfoliation: The diamond or clear tips allow for more controlled mechanical exfoliation.

Tips are too plain and lack sufficient abrasiveness

Improved Congestion Extraction: more effectively extract congestions that have been previously softened.

Requires strong vacuum suction to perform effective extractions, which may be uncomfortable and lead to skin overstretching

May experience serum leaks and dripping during the session, causing inconvenience for both the esthetician and the client.
The new treatment protocol allows the esthetician to apply only the needed amount of serum with a fan brush, which results in very controlled treatment without any leaking serums. It requires only 5 ml of active serum, which is significantly less compared to competitors that run the serum from one jar to a waste jar, making it difficult to control the serum flow and leading to constant serum overuse.
Moreover, DermeLuxx PRO provides greater results with no dripping serum. With applied serum, it achieves better and more controlled exfoliation with diamond or clear tips, and performs more effective extractions of congestions that were previously softened. In contrast, the old-type hydro mchines provide very quick superficial skin cleansing, rather than actual exfoliation, with plain tips that do not have enough abrasiveness, making it difficult to perform effective extractions without too strong vacuum suction that can overstretch the skin. The serum also leaks and drips constantly during the session with the competitors.
Advanced Training Program
We are happy to introduce our Advanced Training Program, exclusively designed for customers who purchase Zemits Machines. Our certified educators have over 30 years of experience in the aesthetics industry, and have created the most comprehensive and advanced online training course available.
With every purchase of a Zemits Machine, you will have free access to our customized online training course, specifically tailored to the features and functions of your new machine. Our expert educators will guide you through every step of the process, ensuring that you gain the skills and knowledge you need to achieve your aesthetic goals.
In addition to the training course, you'll also have access to a Q&A session with our educators. We're here to answer any questions you have and provide you with the support you need to succeed.
Upon successful completion of your unique training course, we will provide you with a Certificate of Completion, a testament to your dedication and hard work.
Join us today and discover how Zemits and A-Esthetic's Advanced Training Program can help you take your aesthetic career to the next level.
Disclaimer
Zemits DermeLuxx PRO device is not intended to cure, mitigate, treat or prevent disease, nor does it affect the structure or function of the body.
This esthetic device is intended for cosmetic use only. It is intended to be used by trained estheticians and skincare providers.
HydroDermabrasion handpiece is intended to exfoliate the superficial skin layer.
Serum Application Handpiece is intended to dispense a measured amount of liquid skincare products.
Cooling Application Handpiece is intended to provide temporary relief for minor injuries, aches, to provide vibrating cold therapy.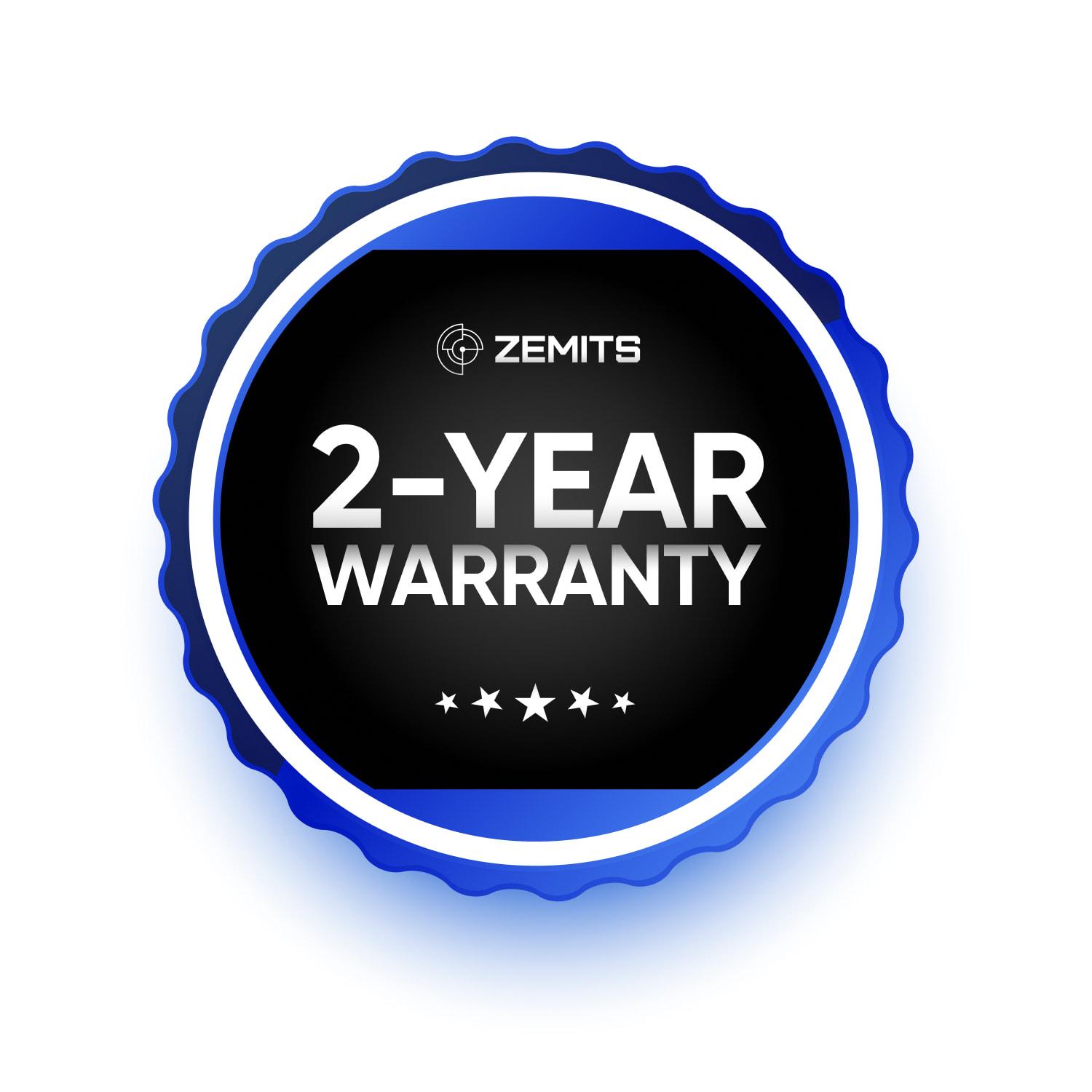 Callback
Write your details and our managers in the near future will contact you