Ultrasonic Therapy Explained
There are many ways to penetrate substances into the human body. Active methods often include penetration and assisted substance delivery, including sonophoresis. Ultrasound consists of high-frequency vibrations that cannot be heard by humans. There is a natural barrier of oils between skin cells. Ultrasound vibrations can disrupt this barrier in order to increase the effectiveness of topical skin treatments in truly being absorbed by your skin. This works with serums, vitamins, and creams. The specific method by which ultrasound therapy is used to increase absorption of products in the skin is known as sonophoresis. This is a combination of ultrasound therapy with topical drug therapy to attain certain concentrations of substances at different sites on the skin. This improves the vibrancy and look of youth on the skin as it allows for complete replenishment of the epidermis. Patients can also expect to see an improvement in pigmentation, fine lines, wrinkles, and skin texture. 
Some commonly used agents include:
Serums
Brightening agents
Retinoids (Vitamin A)
Ascorbic acid (Vitamin C) 
The Science of Ultrasound
Research has shown that ultrasound waves can penetrate up to 4 to 6 cm into tissues, with both pulsating and continuous settings. Sonophoresis is a substance delivery method where ultrasound compliments the use of topical substances like creams and serums. Ultrasound is produced when electrical energy turns into mechanical energy. These waves trigger small vibrations in the epidermis and raise the kinetic energy of molecules inside topical substances.They trigger the creation of microbubbles at the top of the stratum corneum and produce shock waves, which makes the skin highly permeable.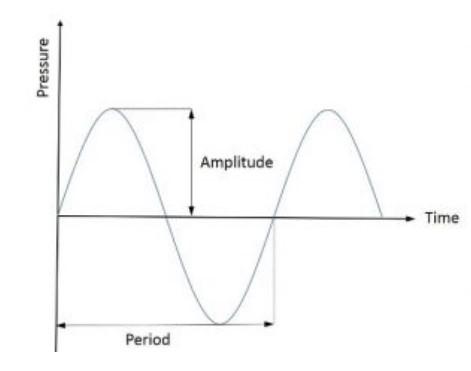 Frequency = number of cycles / second

1 Hertz (Hz) = 1 cycle per second 
As demonstrated by the figure above, a lower frequency results in a larger wavelength and thus a larger amplitude. The amplitude of a wave represents the depth it will travel into the skin, so smaller frequencies are more effective for deeper penetration of active substances. 
The Main Benefits for your Face
Depending on the active ingredient of the coupling medium, or substance applied to the skin to be a point of contact between the epidermis and ultrasound head, ultrasonic therapy can yield a variety of great benefits. This includes an improvement in wrinkle and fine line appearance, pigmentation, skin texture, and glow. Skin will become cleaner, clearer, and smoother after using ultrasound therapy with a topical beauty cream or serum. A proper ultrasonic skin care machine will deliver active substances into the dermis free of discomfort or pain while being just as effective as surgical intervention. 
In addition to nutrifying the dermis and triggering collagen production, a thermal reaction is also created through ultrasonic therapy. As the skin slowly heats up, it causes fibroblasts in your body to go into a healing state as it appears the skin has been harmed. Fibroblasts are specialized cells that function effectively when they have supple Vitamin A and Vitamin C. They are responsible for a great amount of collagen production in the skin, so it is important they remain in good health. Sonophoresis allows you to directly send these vitamins into the dermis to recharge fibroblasts, which is how collagen production is stimulated.
Benefits include better hydrated skin, alleviation of superficial redness, strengthened surface capillaries, increased collagen production, better skin tone, and increased cell turnover that smoothes skin and improves texture. 
Depending on the products used, ultrasound therapy for the use of transdermal delivery of molecules into the epidermis and dermis can effectively target issues associated with photo damage, pigmentation, poor skin texture, skin dehydration, acne, and aging.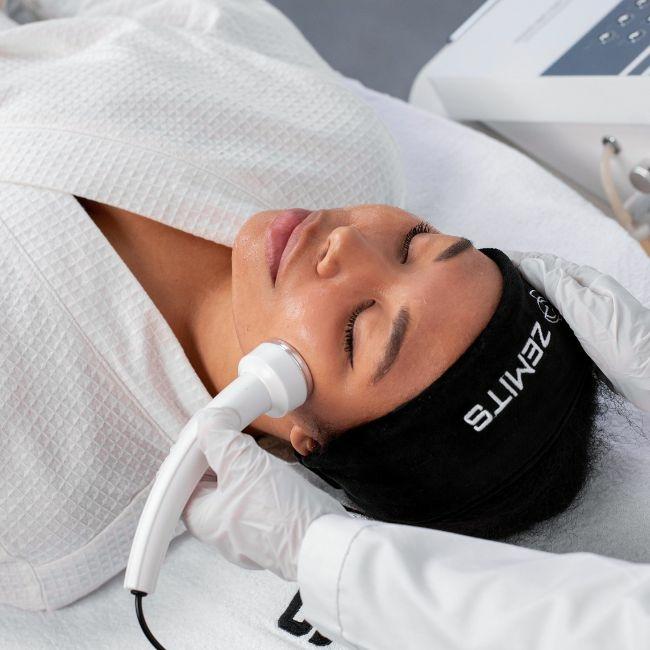 Ultrasound with other Modalities
Ultrasound therapy to aid the immersion of active ingredients and vitamins into the skin can be combined with other procedures like peeling, microdermabrasion, and LED to increase positive effects among treatments. The combination of microdermabrasion and ultrasonic therapy is especially popular among beauty providers today. Microdermabrasion deeply exfoliates the skin to stimulate cell growth, removes dead cells, and open up clogged pores, so undergoing microdermabrasion before sonophoresis (ultrasonic therapy) makes the skin perfectly prepared for the infusion of products through ultrasound waves. 
Side Effects and Contraindications
Ultrasonic therapy combined with topical substance delivery can be used on absolutely anyone in good health. Contraindications and precautions for this treatment include infection, cancer, implants (metal, silicone, or saline), heart problems, pacemakers, pregnancy, poor sensation, injury, epiphyseal areas, and areas around the eyes. 
Although side effects generally do not occur, in certain cases patients may experience mild erythema. Thermal effects are only dangerous when not monitored correctly, such as burns and epidermal detachment. Overall, this treatment has been deemed extremely safe by many researchers and medical professionals. Side effects are extremely rare and generally harmless. 
Multifunctional Facial Equipment with Ultrasound
Zemits Verstand Pro Multifunctional Facial Machine is an unbelievable piece of equipment for spa, salon, or medical office use. This beautiful ergonomic device will be highly beneficial to your practice. There is no need to invest in five different machines; this one small device offers most highly-demanded procedures: Diamond Dermabrasion, an Ultrasonic skin scrubbing, Ultrasound treatment, Cold therapy, and LED Light Treatment.
There are several treatment protocols within this machine to increase the effectiveness of treatments:
For sensitive skin, combine Ultrasonic Skin Scrubbing, Ultrasound treatment then LED Therapy. This allows you to softly scrub the skin, penetrate ingredients, then calm it.
For aging skin, combine Diamond Microdermabrasion with Ultrasound treatment or LED light and Cold therapy. This allows you to peel, treat, then soothe the skin.
For irritated skin, perform Ultrasound treatment then Cold therapy to penetrate then soothe the skin.
This is a great piece of professional equipment specifically designed with beauty salons in mind. The Diamond Microdermabrasion available is an amazing gentle approach to face peeling. It is one of the best ways to remove and vacuum away dead skin cells, leaving your skin smooth and polished. This procedure will be highly beneficial to your clients and adored among them. It cleans the skin and evens out the skin tone, accelerates blood circulation, narrows the pores, helps reduce lines and wrinkles, battles pigmentation, and stimulates skin rejuvenation. It's a safe procedure with a very short to no recovery period; it is hypoallergenic and frankly, very pleasant.
Cold therapy is responsible for the facilitation of blood circulation and the quick improvement of metabolic processes. It is great to use after a Microdermabrasion facial.
We have already discussed everything regarding Ultrasound benefits, but there is also an Ultrasonic Scrubber. And when in need of facial cleansing, the skin scrubber is your best option. This feature removes keratinized cells, bleaches pigmentation spots, and is highly effective with correction of superficial forehead lines and wrinkles. You can reduce scars' visibility, narrow pores, and improve skin elasticity. At the same time, water or any other gel applied between the handpiece and your skin can be further penetrated when using the backside of the scrubber. Simple cleanse with one side and flip the handpiece over to rejuvenate.
Another great, up-to-date treatment that is offered in most successful salons is LED light therapy, a method of treatment with light and color. There are 8 different colors with different cosmetology effects: Red renovates tone and improves the immunity of skin. Orange recharges the derma with energy and it is indicated for mature dry skin. Yellow performs detoxification functions and normalizes the secretion of oil glands (this frequency is applied to problem skin). Green normalizes cellular metabolism and solves problems typical for dry, dehydrated skin. Blue calms and is anti-bacterial so it is indicated for irritations, acne, and problem skin in general. Lilac refreshes and calms sensitive dehydrated skin, and Violet tones improve the structure and texture of skin (for mature skin).
There are different handpieces for each procedure: Handpieces included: skin scrubber spatula, Diamond microdermabrasion set, Cold therapy handpieces, 2 handpieces for ultrasound therapy, with microcurrent pins, and an acrylic holder for handpieces.
This device is FDA-Registered and includes a 2-Year-Warranty with lifetime client support. You can offer a modern range of treatments that are in high demand with this one machine. Not only will you be able to perform completely different treatments with the purchase of just one machine, but you will also be able to offer a combination of treatments at once in order to amplify results and increase revenue. By investing in one machine, you can offer 5 different treatments and various different protocols depending on your clients' needs.
With a frequency of 1.1 mHz, the ultrasound in this device is optimal for high-strength, deep penetration of active ingredients in vitamins, serums, a nd all other types of conducting fluids of creams. When the frequency on a device is too high, the process of inserting substances into the dermis is not as effective because the depth of penetration is low. That is why this device is set to operate at 1.1 mHz, gently cleaning the skin yet powerfully injecting vitamins and other molecules.
Zemits UltraGlow Revitalizing System with Ultrasound and LED Light
This device is highly effective, lightweight, and portable. Now, you can perform LED Light Therapy and Ultrasonic Therapy with just one handpiece.
LED Light Therapy is a highly effective treatment for many skin conditions, including psoriasis, vitiligo, scleroderma, and more. It works by slowing down the growth of cells and inflammation that causes skin problems. Wavelengths of colors increase circulation and encourage the production of collagen and elastin, qualities that give skin its flexibility and strength. LED modes for all skin types are available, with the option to use red, blue, or green frequencies.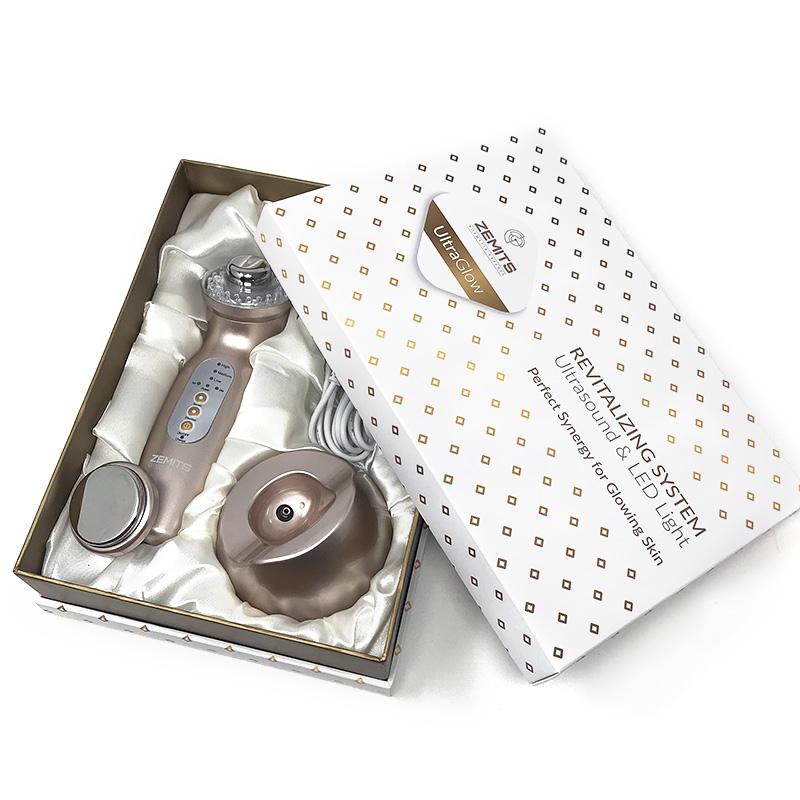 Red renovates tone and improves the immunity of skin. Blue calms so it is indicated under irritations, couperosis, and for sensitive and acne-ridden skin in general. Green normalizes cellular metabolism and solves problems typical for dry, dehydrated skin.
By combining light therapy with ultrasonic therapy, specifically sonophoresis as this device features, patients can experience renowned effects such as improvement of skin elasticity, face color, and microcirculation, tightening and lifting of forehead skin, upper cheeks, enlarged pores, and wrinkles, and moisturized, non-irritated, smooth skin.