We speak English Hablamos Español Falamos portugues Мы говорим по-русски
Showroom Visits by Appointment Only
Exclusive distributor of Zemits in the US
Worldwide Shipping
---
Zemits Quidion Diode Laser For Hair Removal
19%
Free shipping
Specials for Licensed Pros
Zemits QUIDION Next Generation QDC Technology Quick Dynamic Control ® (QDC)
is a patented technology designed to improve diode laser performance for maximum energy efficiency.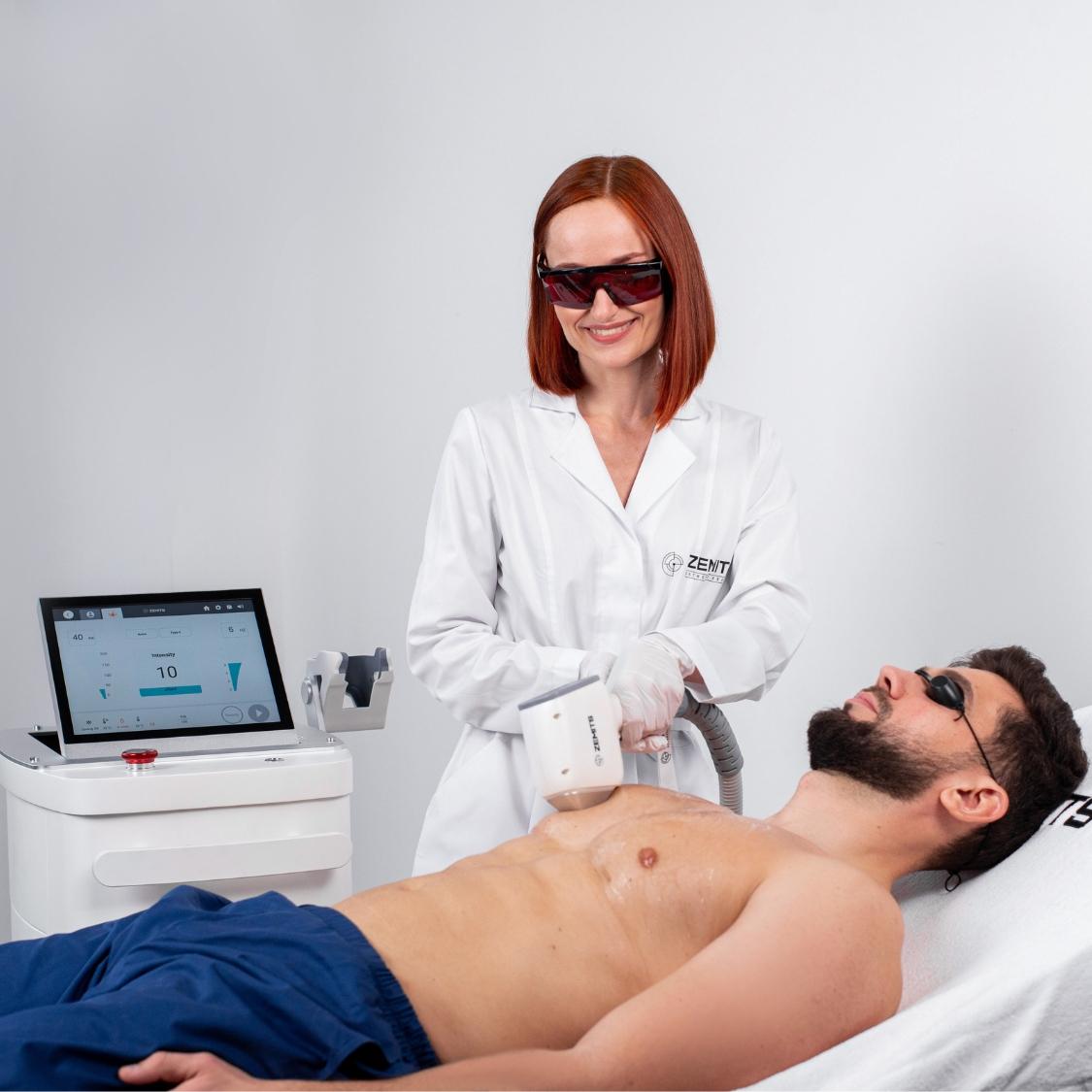 Watch the video with Zemits Quidion
TOP benefits of Zemits QuiDion
TOP benefits of Zemits QuiDion
⭐️ The latest generation of 1200W High Power diode laser from Zemits with QDC ® technology
⭐️ 808 nm wavelength
⭐️ Dual cooling system with dynamic temperature control
⭐️ Simple and convenient customer records system directly from the interface of the device. Now it's even easier to manage customer records.
⭐️ Large touch screen with manual and SMART settings with ready-made protocols. The device contains the most suitable parameters for treatment - settings are done in 2 swipes.
⭐️ Intelligent diagnostics system ZM-Save protects the system from failures and overheating.
⭐️ The Unique Diode Laser with an updated control system - greatly simplify the work with clients and improve the results after treatments.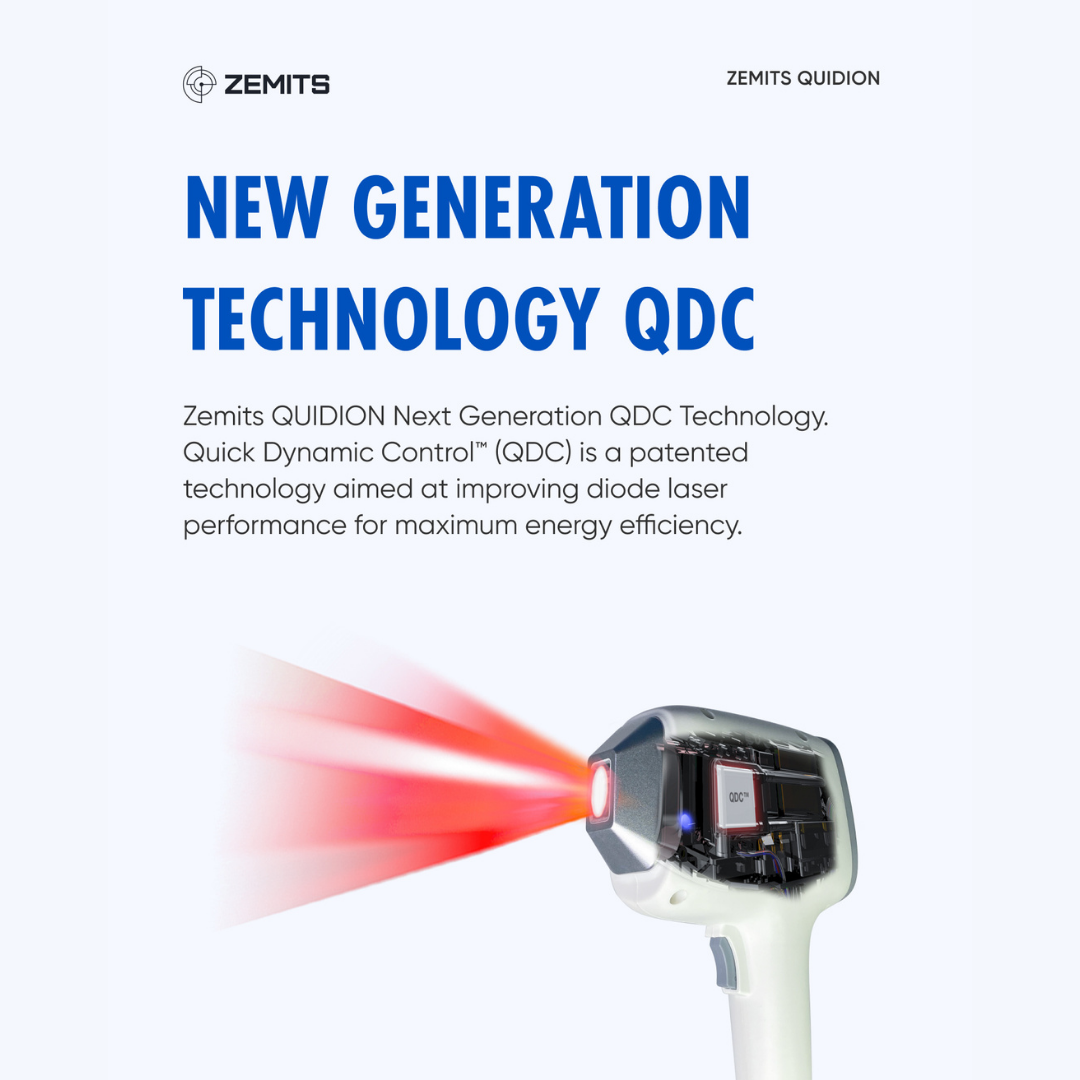 Top Active Cooling System
Top Active Cooling System The Zemits QUIDION diode laser is equipped with a system that contains a 5-level active cooling scheme, which minimizes pain during the treatment.
The cooling complex includes a double water block, reinforced TEC and air cooling, which allows you to work for a long time without overheating the device.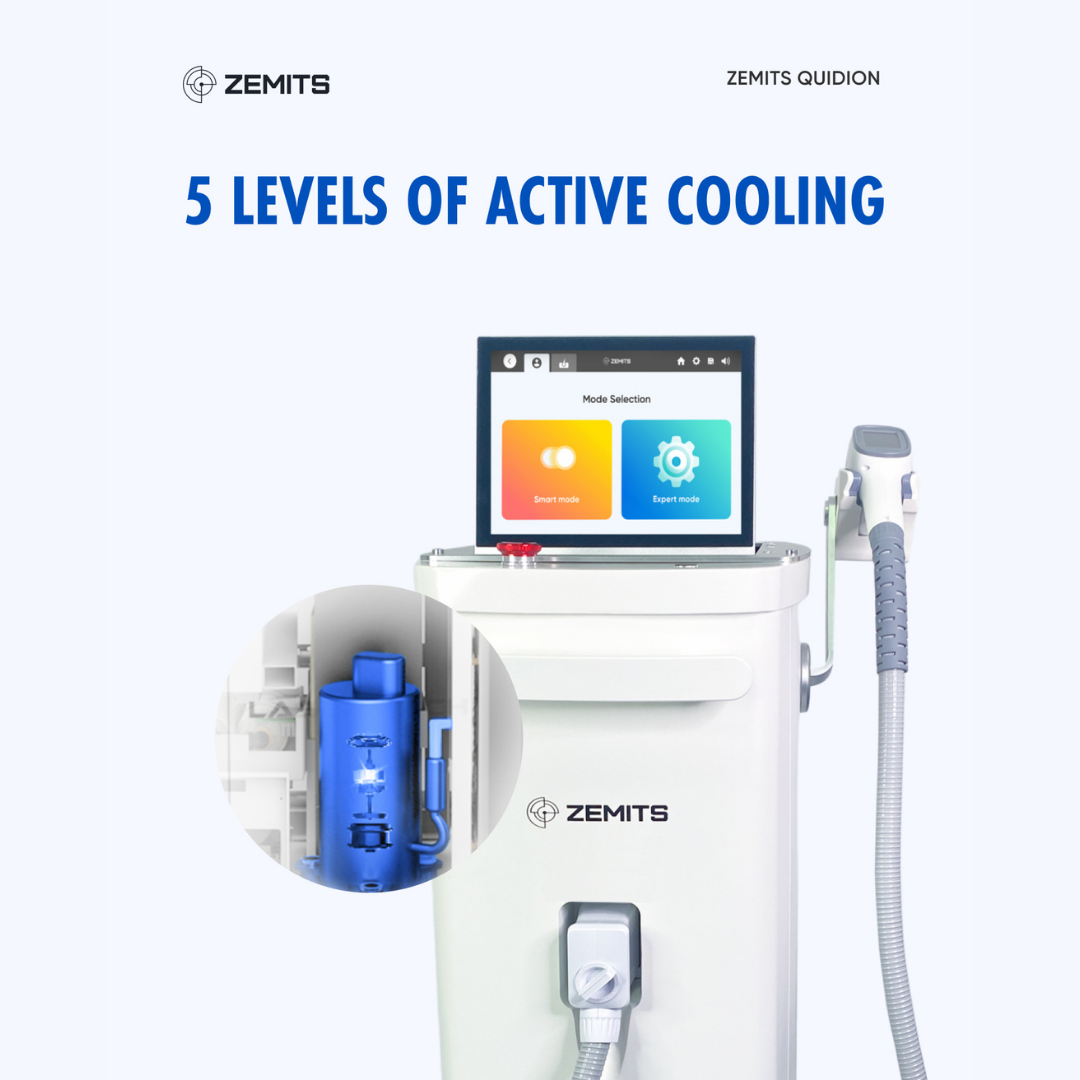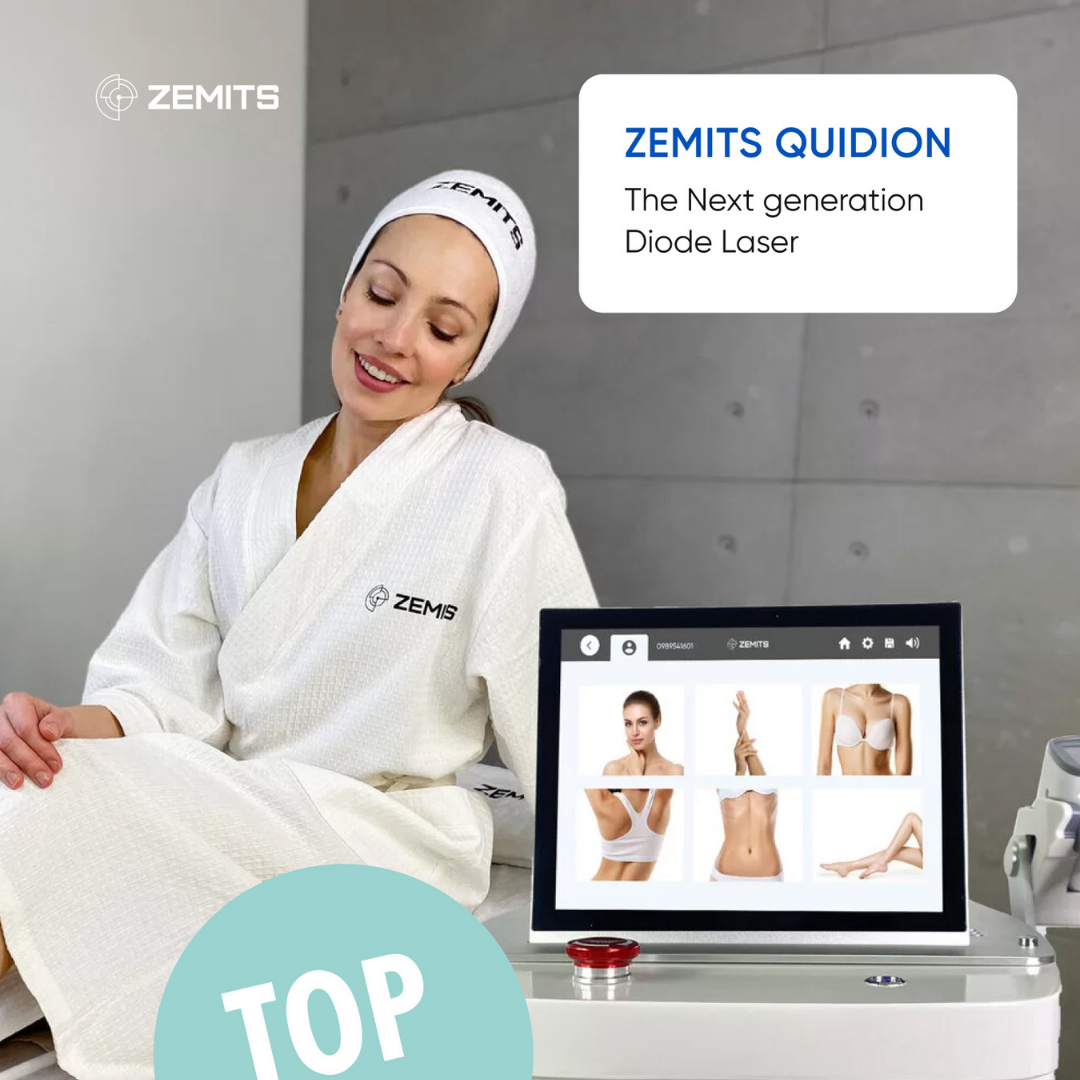 An innovative design
One of the features of the diode laser is a super convenient, touch-sensitive SMART-screen.
Zemits QuiDion menu allows you to easily adjust the necessary parameters in 2 swipes, as if you were moving on a smartphone screen.
The control of the device is based on the operating system, which contains a large number of treatment protocol templates for easy and intuitive operation.
The ergonomic working handpiece of the second generation of Zemits diode lasers allows for longer hours of operation without discomfort.
The handpiece is balanced in terms of weight, dimensions, and is equipped with an interface module for quick control of the device for prompt change of settings.
The attachment fits comfortably in the hand and glides easily over the client's skin.
The working spot size is 15mm x 40mm - these are ideal parameters for the most effective treatment of the selected area.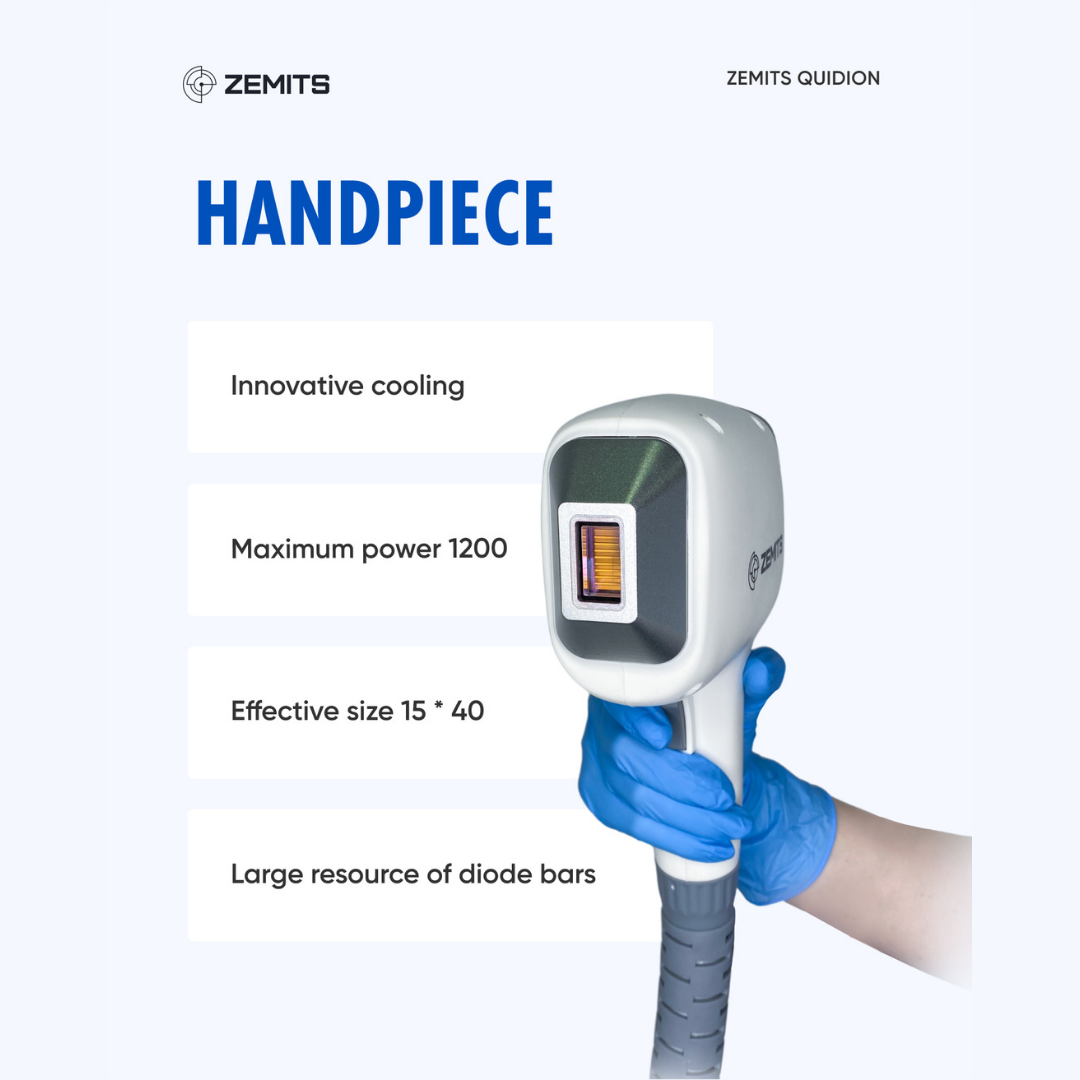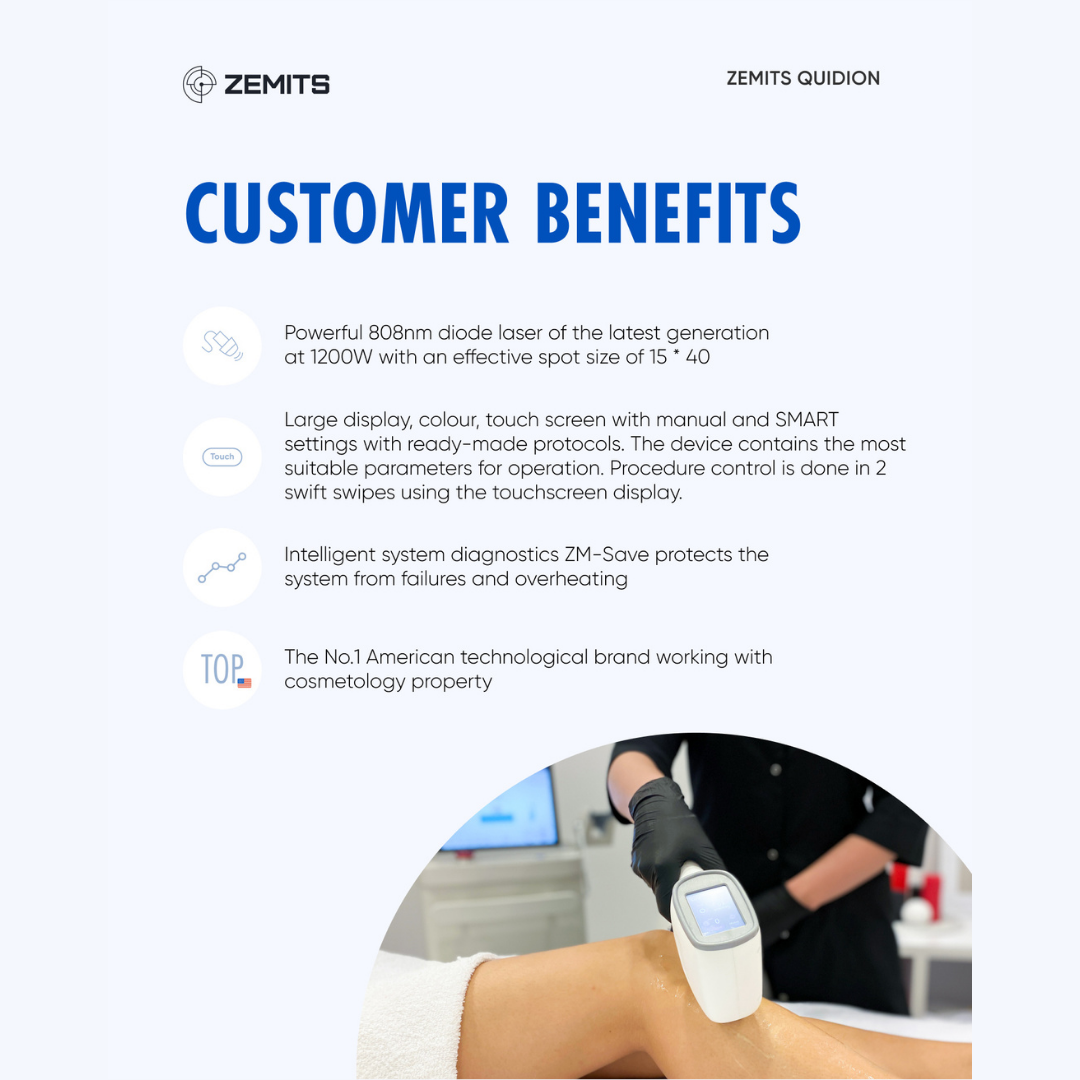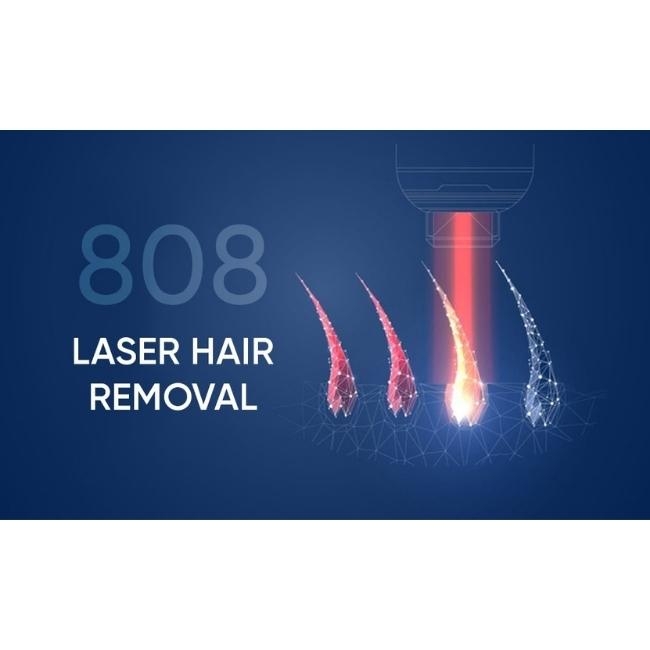 Optimal Wavelength for Hair Removal
Laser energy at 808nm, a wavelength that is selectively absorbed by the melanin pigment.
Increased absorption means better-targeted heat rise, and this gives better hair destruction results. But at the same time, such a light wave does not injure the surrounding tissues.
The system's power and efficiency are highly in demand as it reduces the number of sessions, spaced between 4 to 8 weeks.
Advanced Upgrade System
An advanced interface update system is now available to you, which optimizes the operation of the device and adds new functionality.
Thus, you always get up-to-date software. And this is the first time in the world laser market.
Results after the procedure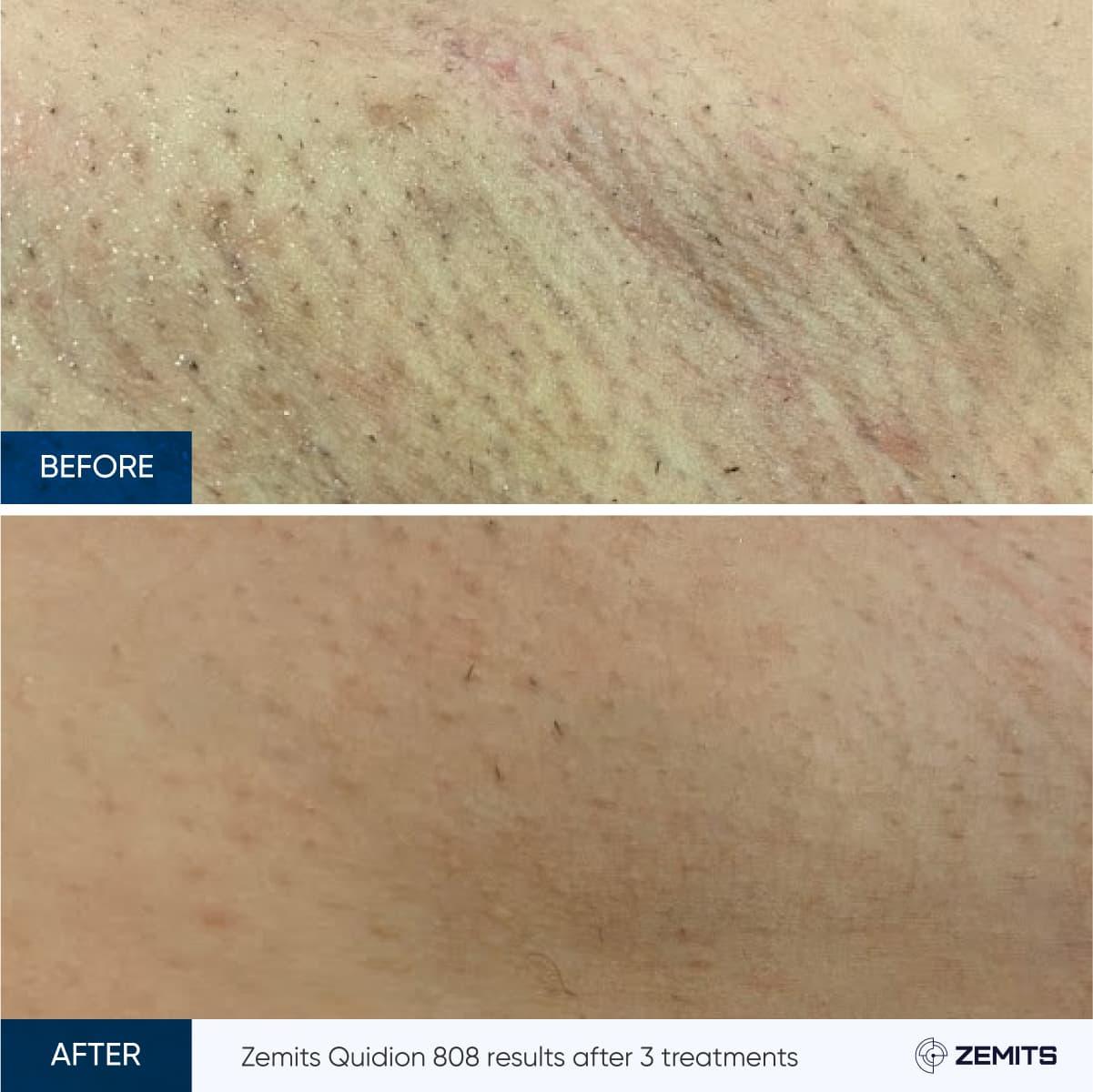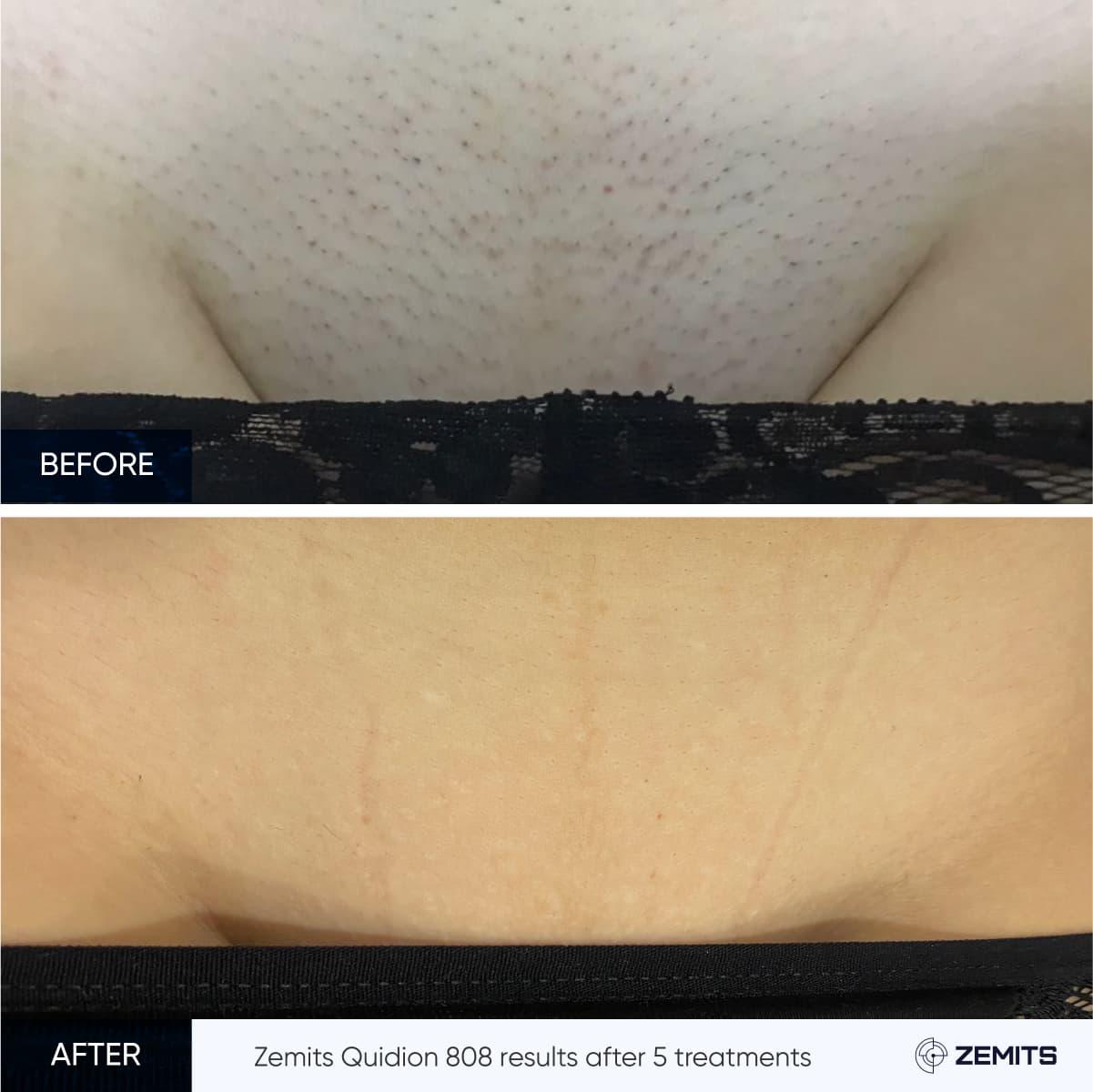 Technical Specification
Diode laser wavelength: 808 nm

Emitter working spot size: 15 * 20 mm

Emitter power: 1200 W

Frequency: 1-6Hz

Energy: 1-60 J / cm2

Pulse width: 10-200 ms

Duty ratio: 10% -20%

Working arm resource: 20,000,000-50,000,000 pulses

Cooling System: Water Cooling, Air Cooling, TEC Cooling, Sapphire

Display: 12-inch touch screen

Unit dimensions: 50.2 cm × 39 cm × 110 cm

Weight: 77 kg

Warranty period: 2 years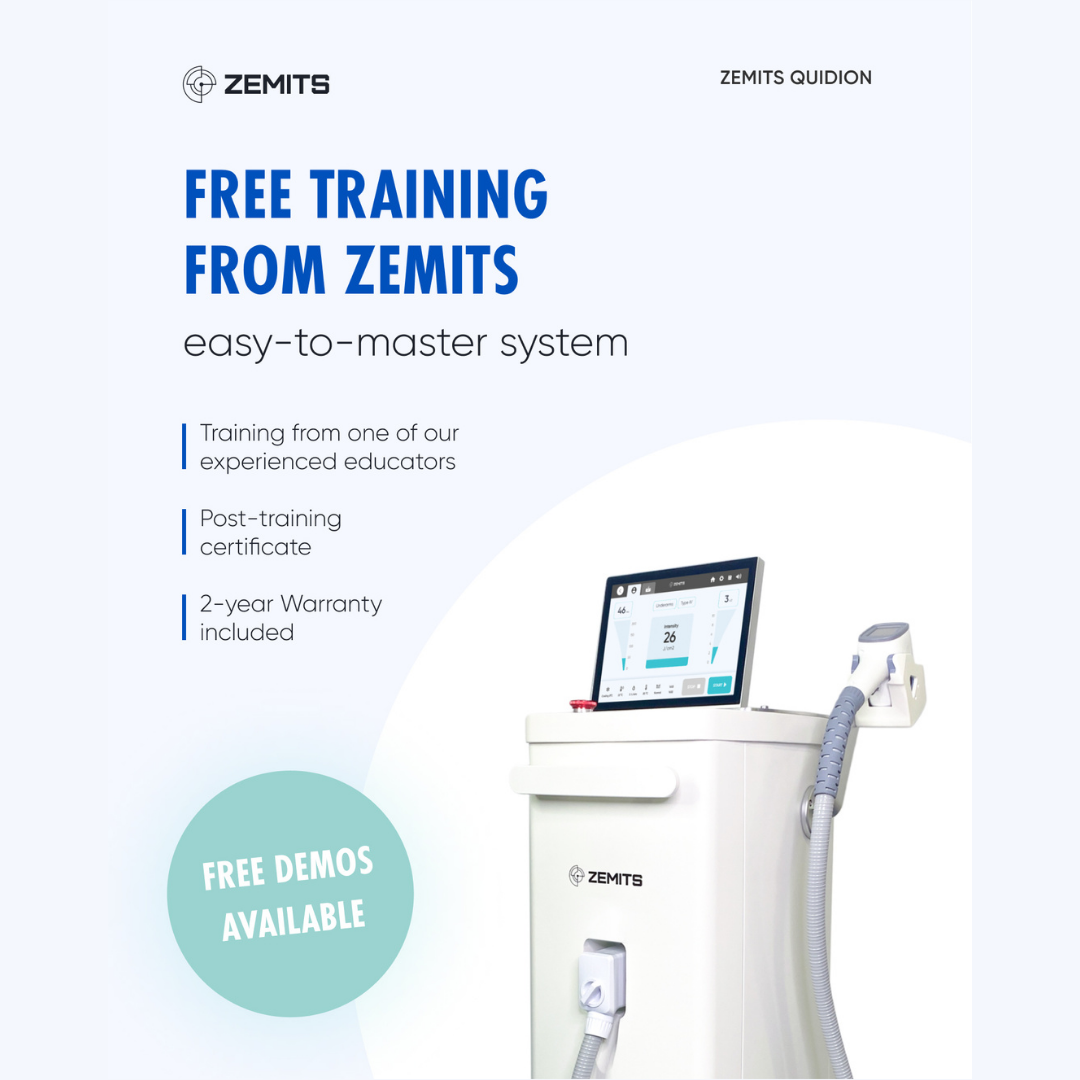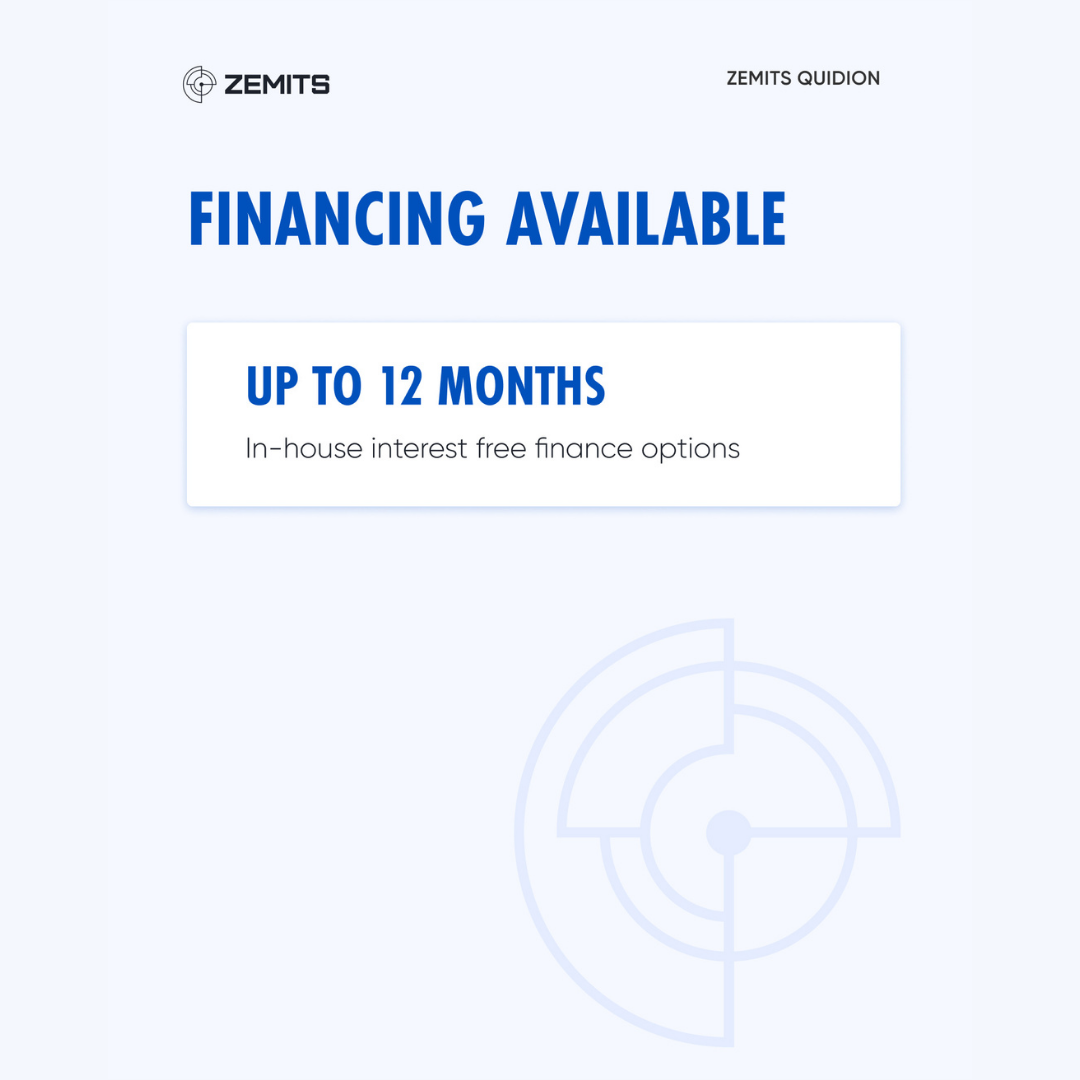 Zemits Clients
More info ›
All products at www.advance-esthetic.us website are intended for cosmetic use.
All products at www.advance-esthetic.us website are not intended to treat or diagnose any medical conditions.
Fast shipping
Guaranteed quality of aesthetic equipment
Service
Wide range of products
Zemits Quidion Diode Laser For Hair Removal
19%
Free shipping
Callback
Write your details and our managers in the near future will contact you