We speak English Hablamos Español Falamos portugues Мы говорим по-русски
7 marketing mistakes in SPA business
Get a check list of
7
marketing mistakes in SPA business
No Showroom Appointments During Pandemic
ZEMITS Adrinox 2.0 Microcurrent system
32%
32%
The Zemits Adrinox 2.0 is a microcurrent system, designed by skincare professionals and engineers for advanced and effective facial and body skin rejuvenating treatments.
This newest device on market comes with a full set of accessories and handpieces:
Disk Probes for face and neck

Globe Probes for face and eye area

Q-Tips for sensitive skin

Dynamic Gloves for advanced combined manual and microcurrent massage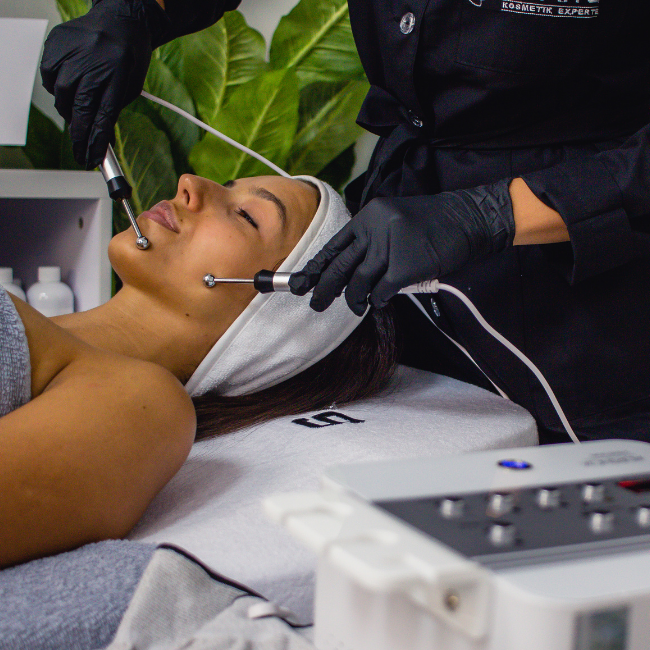 Highly Efficient and Advanced Equipment
The Zemits Adrinox 2.0 accessories set includes four types of attachments:
A pair of monopolar Q-tips for sensitive skin

A pair of Globe Probes for face and gentle eye and lip areas

A pair of Disk Probes for face, neck and decollete

Dynamic Gloves for advanced combined manual and microcurrent massage
Benefits of Zemits Adrinox 2.0
Precise Treatment for All Signs of Aging
Zemits uses gentle and safe microcurrent technology, which aims to restore productive dermal activity at the cellular level. Gentle microcurrent waves simultaneously affect all skin layers involved in the aging process.
Zemits Adrinox 2.0 combines low frequencies current with various waveforms, thus enabling to recharge the electrical potential of the muscle by stimulating the skin and muscles cell fibers.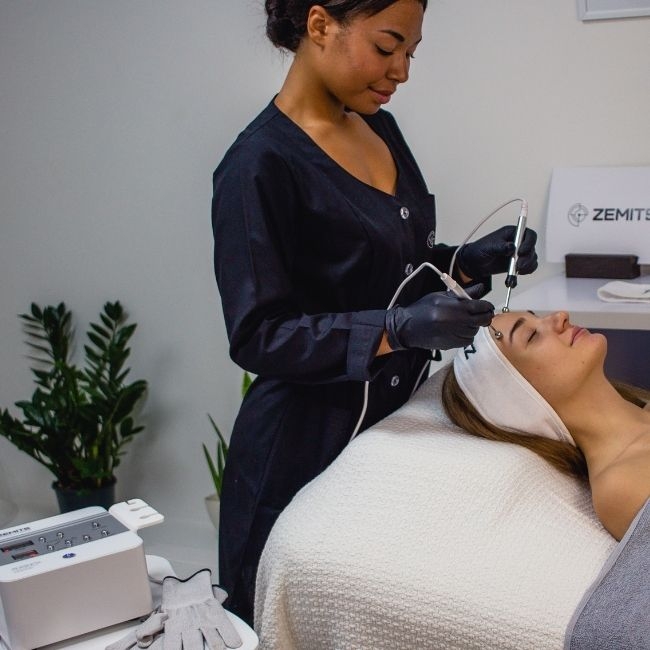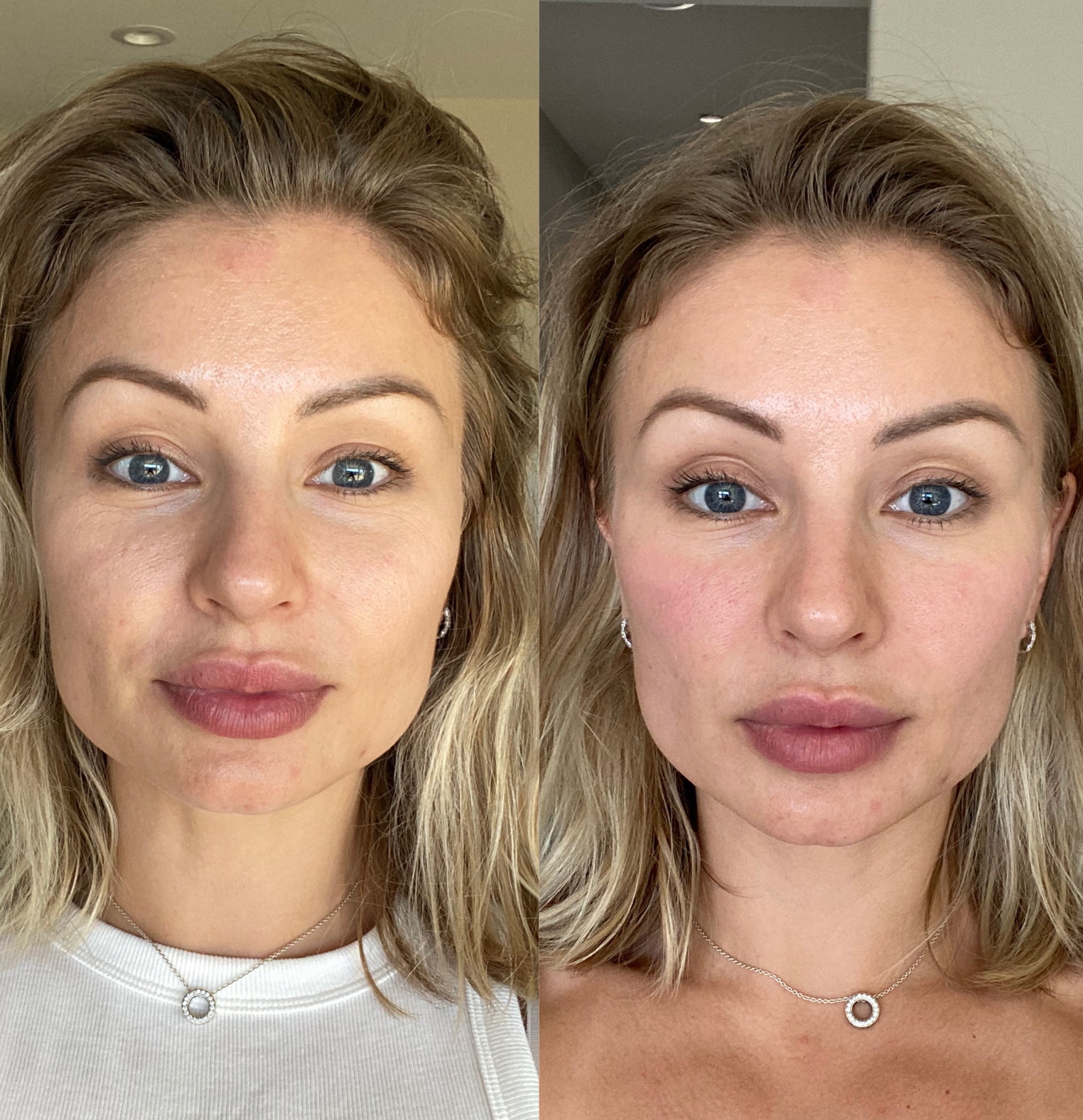 Results
Adrinox's unique combination of specific waveforms with ultra delicate electrical impulses of low frequencies work in perfect harmony with the skin, helping to tone and rejuvenate the skin.
Each Adrinox sessions enables to improve a healthy skin glow with benefits right after a treatment:
improved skin tone and diminished signs of skin sagging

improved skin hydration, and healthy more even skin color

diminished appearance of fine lines and wrinkles

reduced puffiness and oedema signs
Results after microcurrent treatment on Zemits Adrinox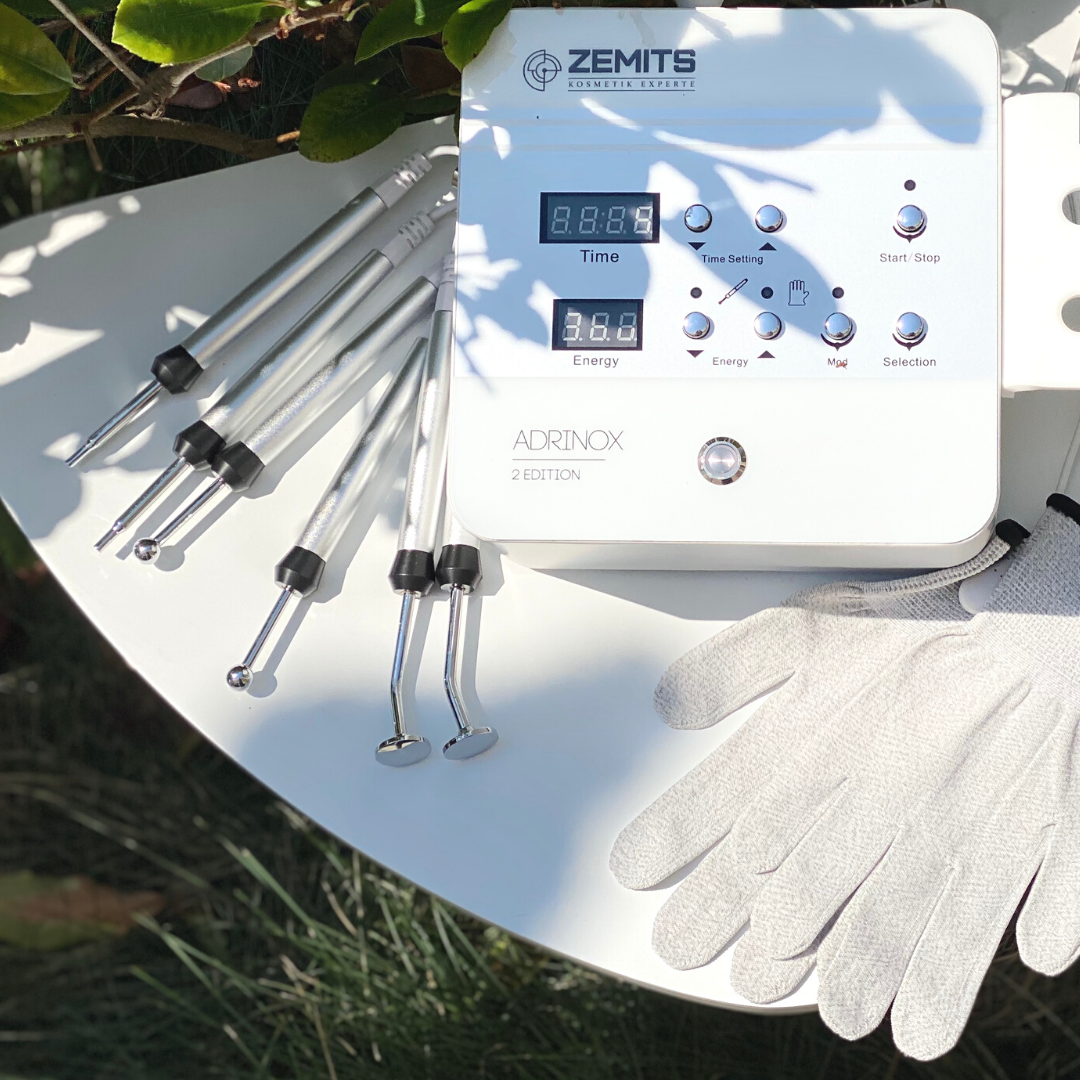 Benefits
Zemits Adrinox 2.0 has ergonomically designed hand-pieces for efficient and precise procedures.
The system utilizes special handsets, designed for maximum comfort for you as a provider and your clients.
The wide diverse of handpieces allows you to customize your services for every customer with his specific skin's needs.
Dynamic microcurrent gloves of Adrinox 2.0 are made with metal thread to conduct gentle pulses flow for safe and effective microcurrent massage with customized manual techniques, can be used for face and body treatments.
This unique technology would be a great addition to your spa services.
The most common immediate effects post treatment are:
Smoother wrinkles

Tightened facial contours

 Improved oxygenation of tissue and skin

Reduced puffiness

Improved muscle tone

Overall skin appearance improvement

Improved skin color and tone

Diminished dark circles and puffiness around the eyes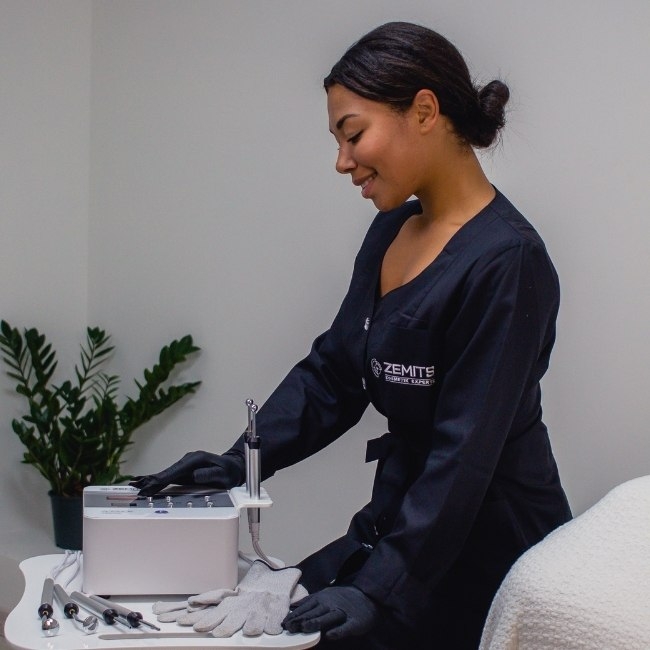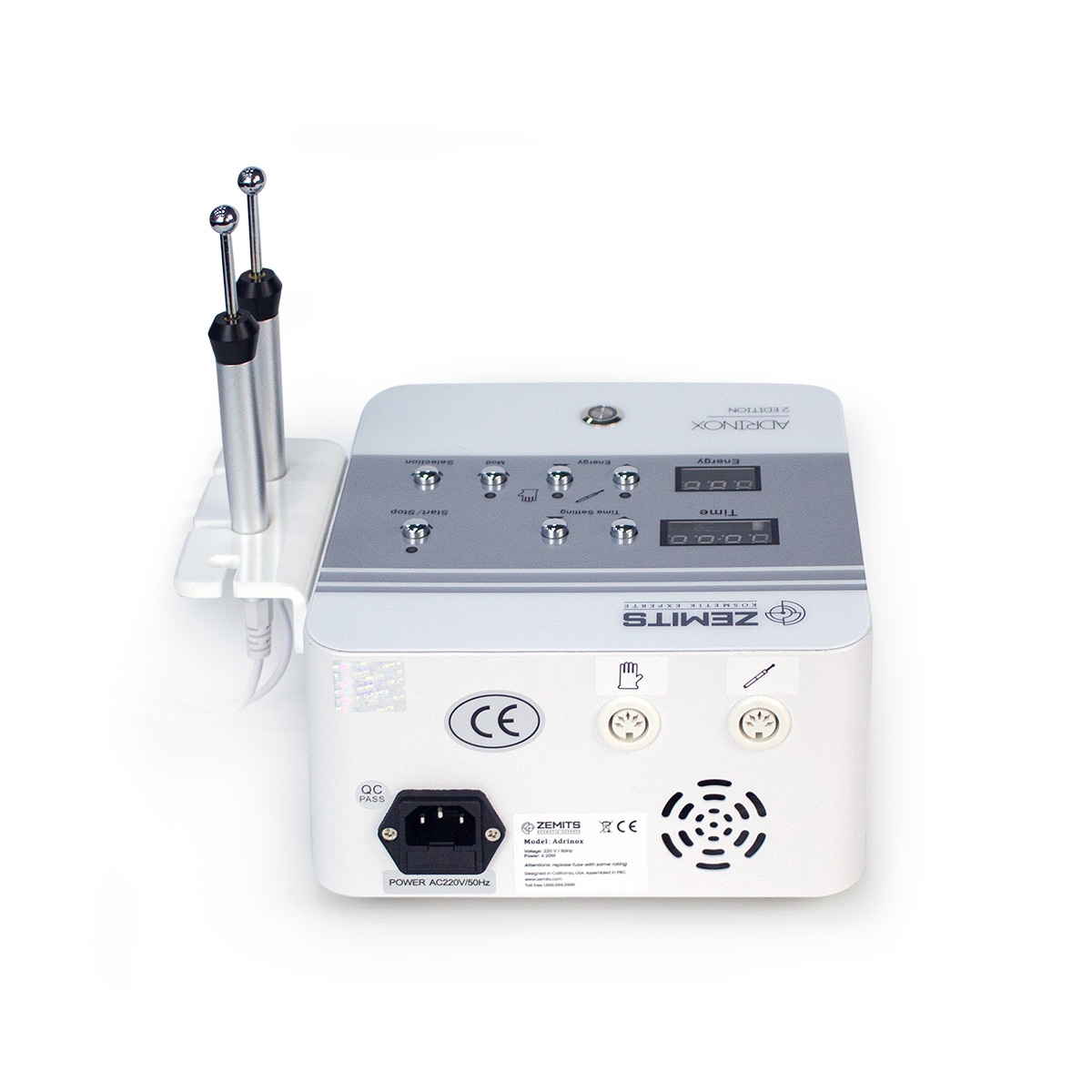 Technical Specifications
Voltage: 100 V / 110 V - 220 V / 240 V
Frequency: 50 Hz - 60 Hz
Power consumption: 15 watts
Material: Metal
Pulse frequency: 2.5-5 kHz
Microcurrent voltage: 36 V
Microcurrent therapy power: 5-15 W
Weight: 2,2 Ibs
TRAINING AND USERS MANUALS
In addition to basic user manuals, we will send you treatment protocols and recommendations to enhance your experience with our equipment because we are committing to helping you succeed! We also have licensed estheticians on site for one-on-one training both in-person and over video chat.There is no hassle with getting comfortable with your equipment and learning how to maximize your profits!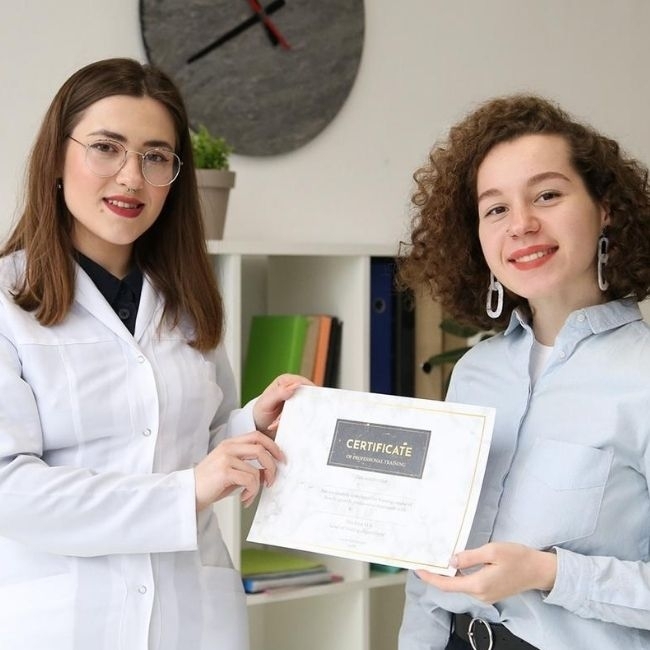 Fast shipping
Guaranteed quality of aesthetic equipment
Service
Wide range of products
ZEMITS Adrinox 2.0 Microcurrent system
32%
32%