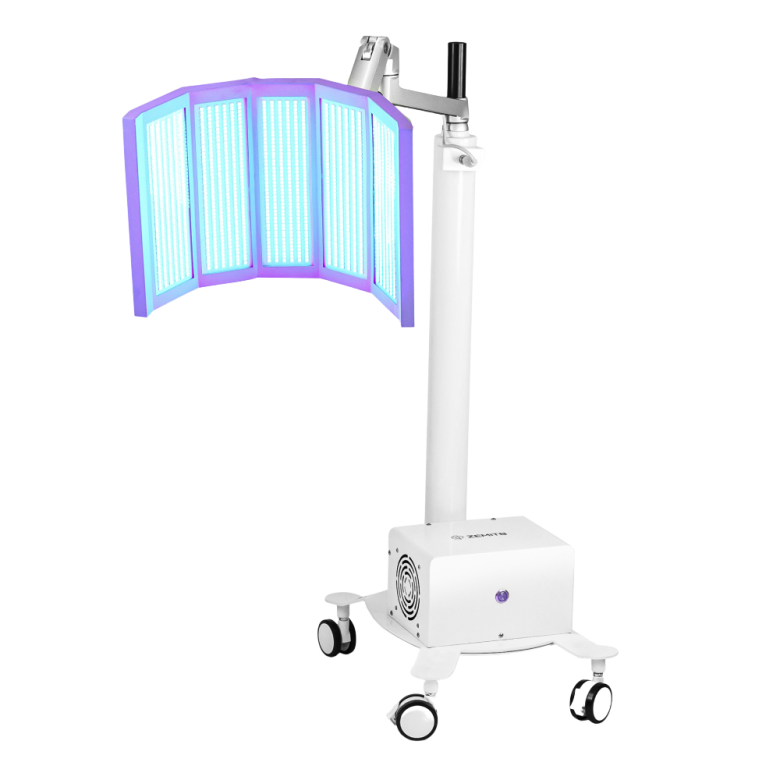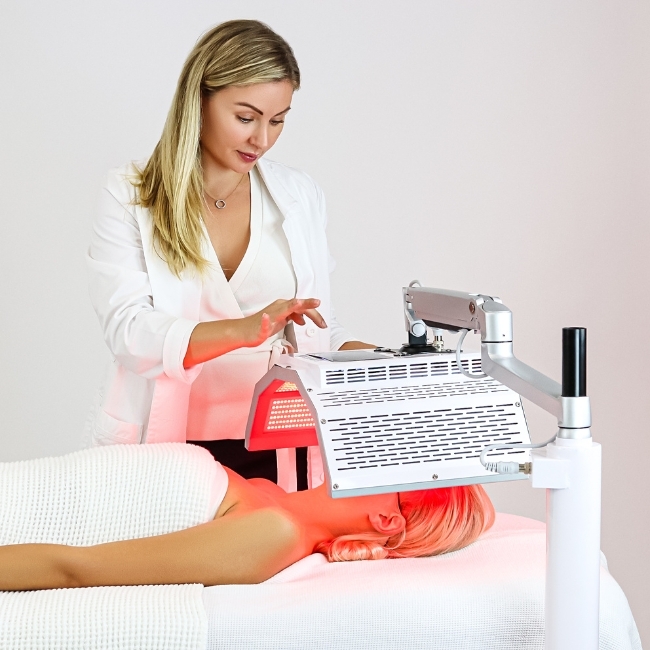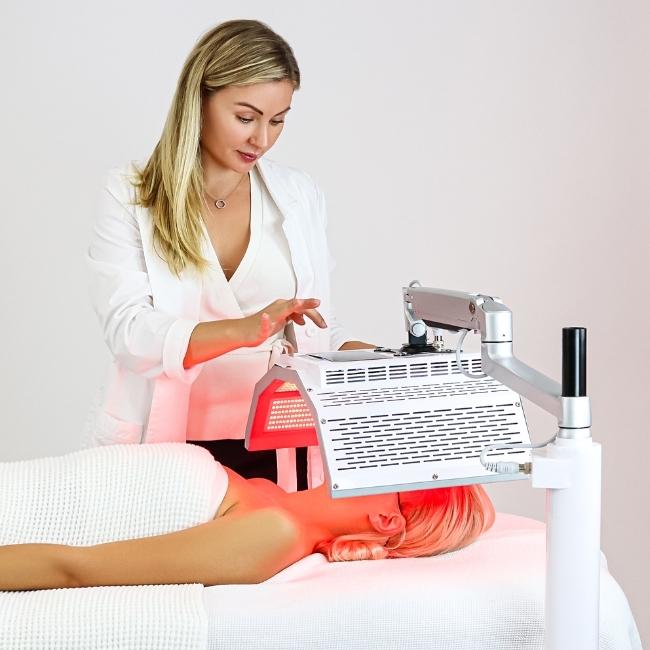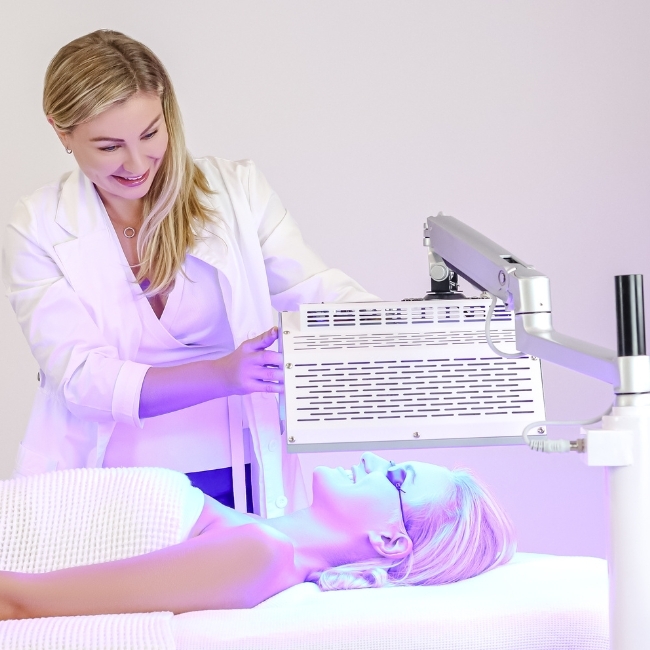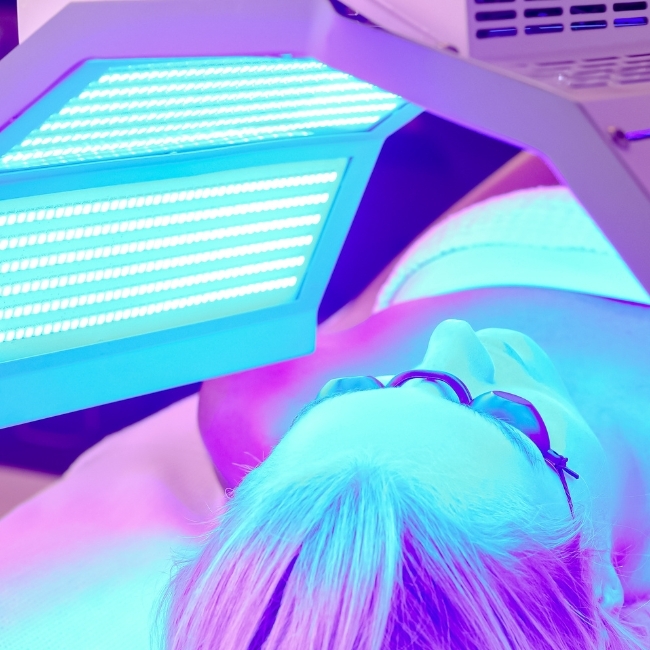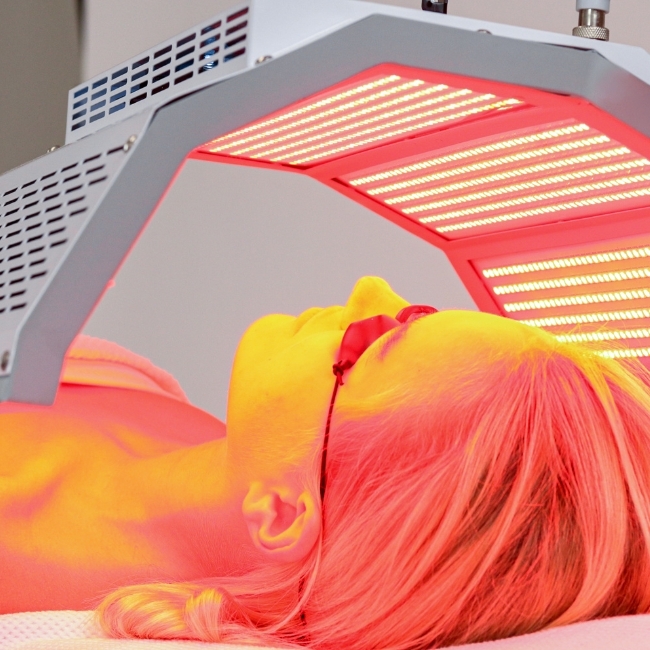 Zemits LumAktiva
Professional InfraRed LED Light Therapy System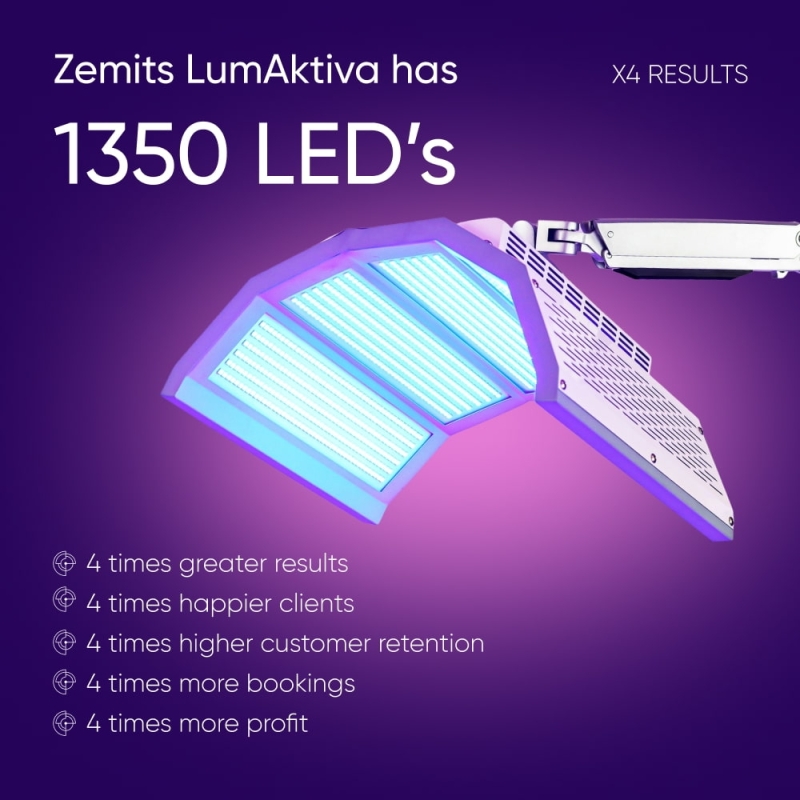 Zemits LumAktiva has 1350 LED's
It's 4 times more than average led panel on market.

This means:
4 times greater results!
4 times happier clients!
4 times higher customer retention!
4 times more bookings!
4 times more profit!
A top-of-the-line LED system featuring a touchpad interface.


LED technology is one of the most rapidly increasing treatments in the skin care business, as well as a lucrative cash generator for estheticians and day spas.
With 1350 strong LED bulbs, the Zemits LumAktiva emits wavelengths of InfraRed 850nm, Red 633nm, and Blue 417nm.
The light therapy improves the look of pigmentation and treats acne, removing redness, reducing inflammation, and improving the skin appearance.
3 Professional Modes:
Red - 633nm - Professional Anti-Aging Treatment
Blue - 417nm - Powerful Anti-Acne Treatment
Infrared - 850nm - Intradermal skin rejuvenation
Amazing option of simultaneous use of the combination use of various colors:
Red + Blue
Red + InfraRed
Blue + Infrared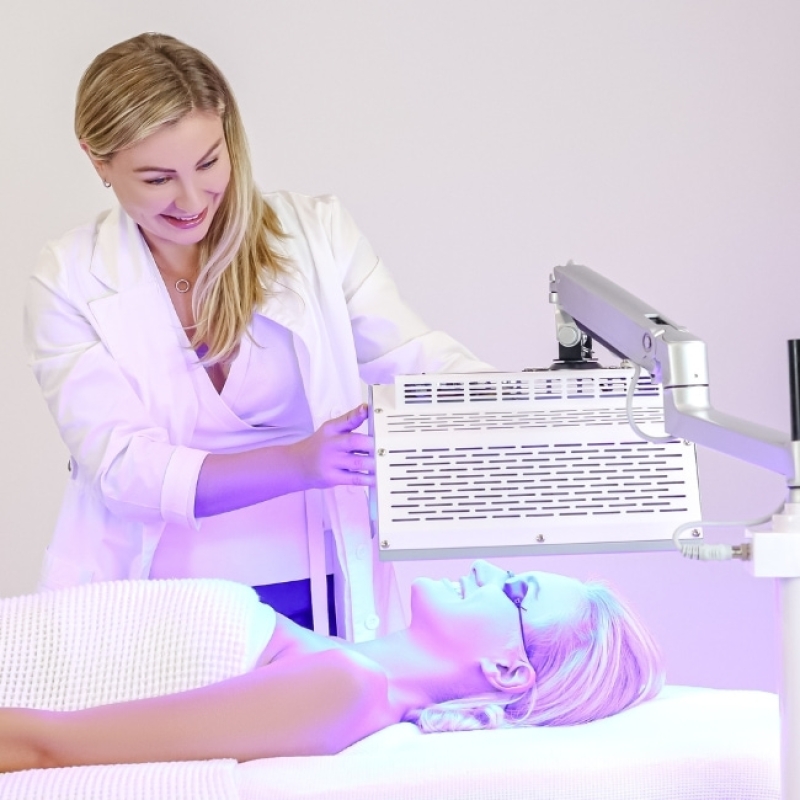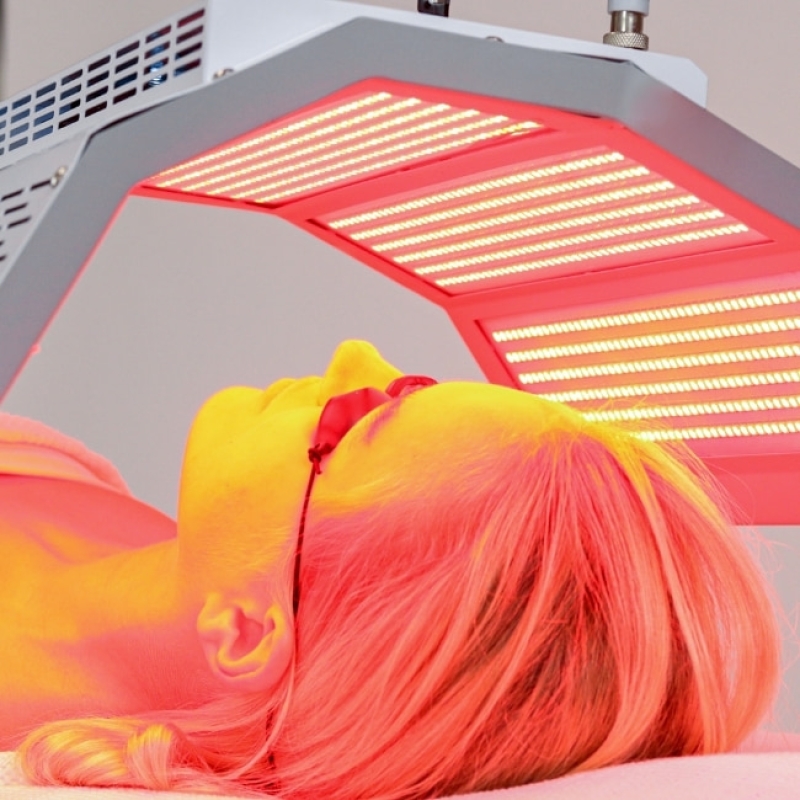 1. Treatment for All Skin Types

Regardless of skin tone or skin condition, Zemits LumAktiva LED Light Therapy is perfect for everyone. LED Light Therapy does not aim to ""cure"" a skin problem.
2. Skin Care with Little or No Touch

Zemits LumAktiva LED Light Therapy requires very little interaction between the client and the therapist. A massage therapist or esthetician can provide a treatment without ever touching the client. It's also feasible for the therapist to engage in social activities.
3. Can be used on every body and face area
Non-contact gentle LED Light treatment of the face, neck, decollete, arms, hands, abdomen, back, head, and other body areas is possible with the Zemits LumAktiva LED Light Therapy equipment. Many clients who visit an esthetician for skin treatment are also good candidates for LED Light Therapy on other body areas.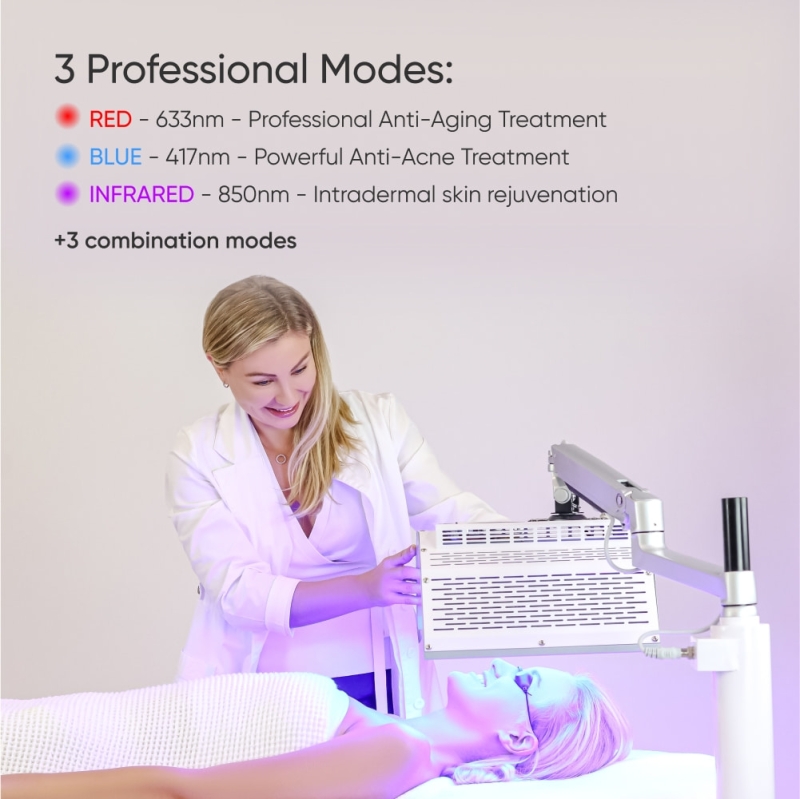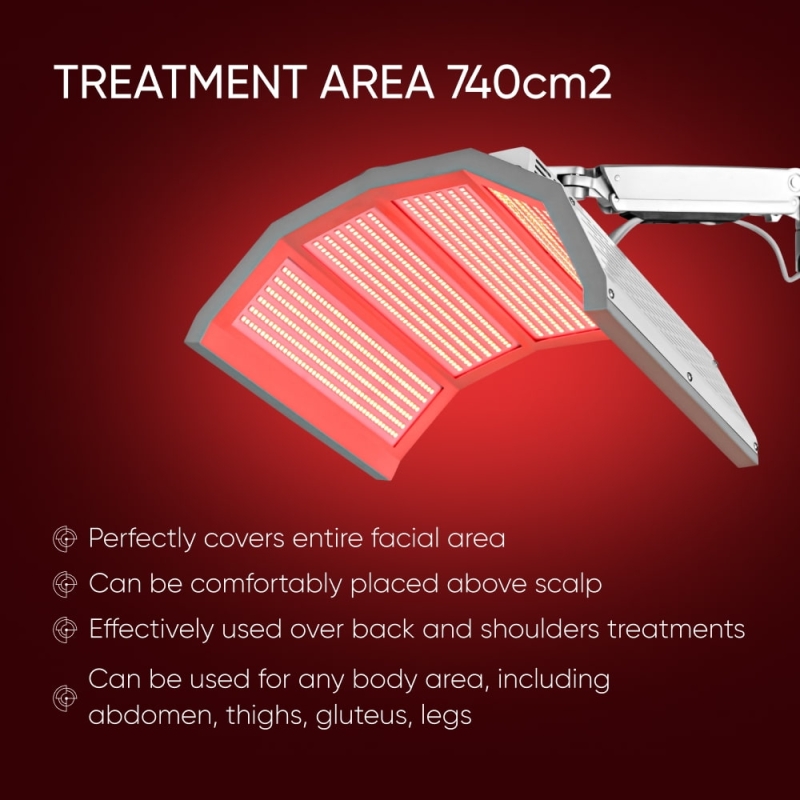 Treatment Area 740cm2
Perfectly covers entire facial area

Can be comfortably placed above scalp
Effectively used over back and shoulders treatments
Can be used for any body area, including abdomen, thighs, gluteus, legs
Benefits of treatment:
1. Calms and protects the skin from post-procedure redness.
Through aesthetic treatments (peeling, dermabrasion, fractional laser, or injection), LED lamps reduce redness, swelling, bruising, inflammation, and irritation. =
2. Peeling isn't complete without it.
A 10-minute Zemits LumAktiva LED treatment followed by a peel cuts overall remission time in half and significantly minimizes the chance of post-peel hyperpigmentation in darker skin. A peel will no longer be a source of anxiety!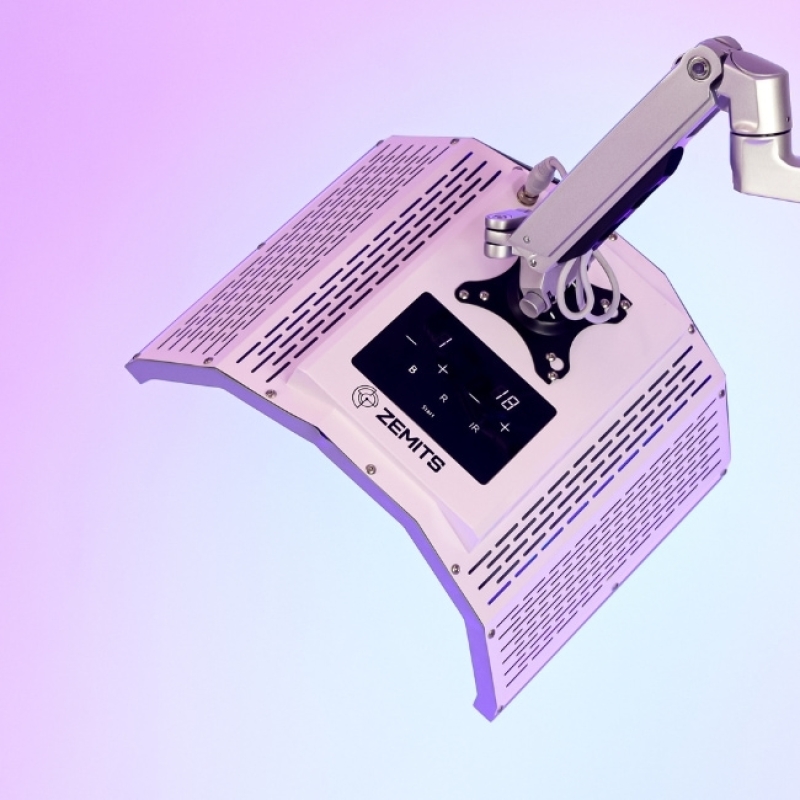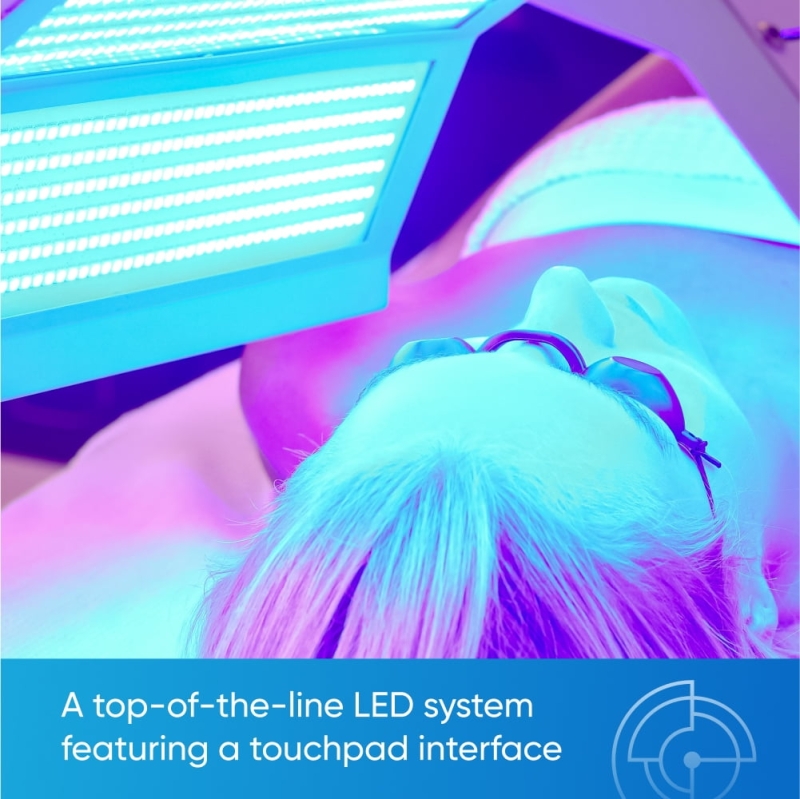 A top-of-the-line LED system featuring a touchpad interface.
LED technology is one of the most rapidly increasing treatments in the skin care business, as well as a lucrative cash generator for estheticians and day spas.
Hands-Free treatment that conquered the world
With Zemits LumAktiva you can provide 30-minutes treatment protocols:

Anti Aging Protocol
Acne Protocol
Red Light Therapy - 633nm
Red light therapy (RLT) is a controversial therapeutic technique that uses red low-level wavelengths of light to treat skin issues, such as wrinkles, scars, and persistent wounds, among other conditions.
Red light was then studied for its potential application in medicine, more specifically to find out if RLT could increase energy inside human cells. The researchers hoped that RLT could be an effective way to treat the muscle atrophy, slow wound healing, and bone density issues caused by weightlessness during space travel.
Red Light benefits:
promotes wound healing Source and tissue repair
improves hair growth in people with androgenic alopecia
help for the short-term treatment of carpal tunnel syndrome
stimulates healing of slow-healing wounds, like diabetic foot ulcers
reduces psoriasis lesions
aids with short-term relief of pain and morning stiffness in people with rheumatoid arthritis reduces some of the side effects of cancer treatments, including oral mucositis
improves skin complexion and builds collagen to diminish wrinkles
helps to mend sun damage
prevents recurring cold sores from herpes simplex virus infections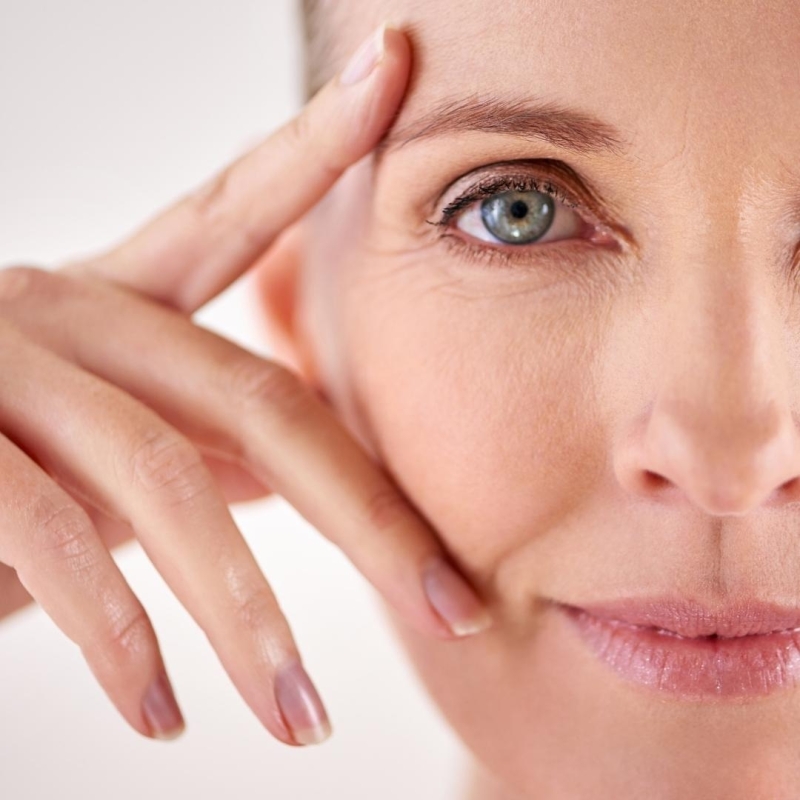 Blue Light Therapy - 417nm
Acne is a persistent medical skin condition that can affect your face, chest, back, shoulders, and arms, and although it does not necessarily impact our physical health, it can absolutely take a mental toll. Acne can make us feel ugly and self-conscious, wanting to retreat in our homes and hide from the world. And although acne is totally normal and nothing to be ashamed of, it can still place unnecessary stress on everyday life.
When a particularly extreme acne breakout happens, it can feel like nothing works fast enough to get us back in the clear. LED Light Therapy for acne is a tremendous treatment option for faster results.
Infrared light - 850nm
Infrared light offers a whole new set of medical benefits that are clinically proven to penetrate deep below the skin's surface layer to target muscle and joint pain at the source, providing much-needed relief for people who suffer from inflammation and injury.


InfraRed Light Therapy has been shown to increase the natural production of collagen, have an anti-aging effect on human skin cells and reduce the appearance of fine lines and wrinkles.


InfraRed Light Therapy has been shown to reduce inflammation. This may be (in part) why it is helpful for inflammatory skin issues such as acne.


InfraRed Light Therapy has been shown to improve wound healing and the healing of scars.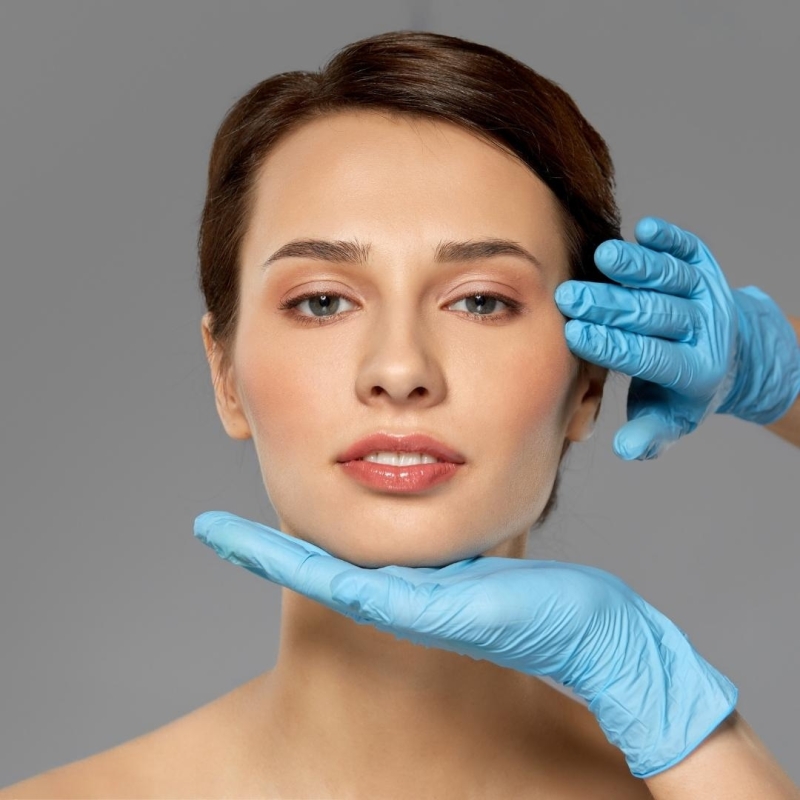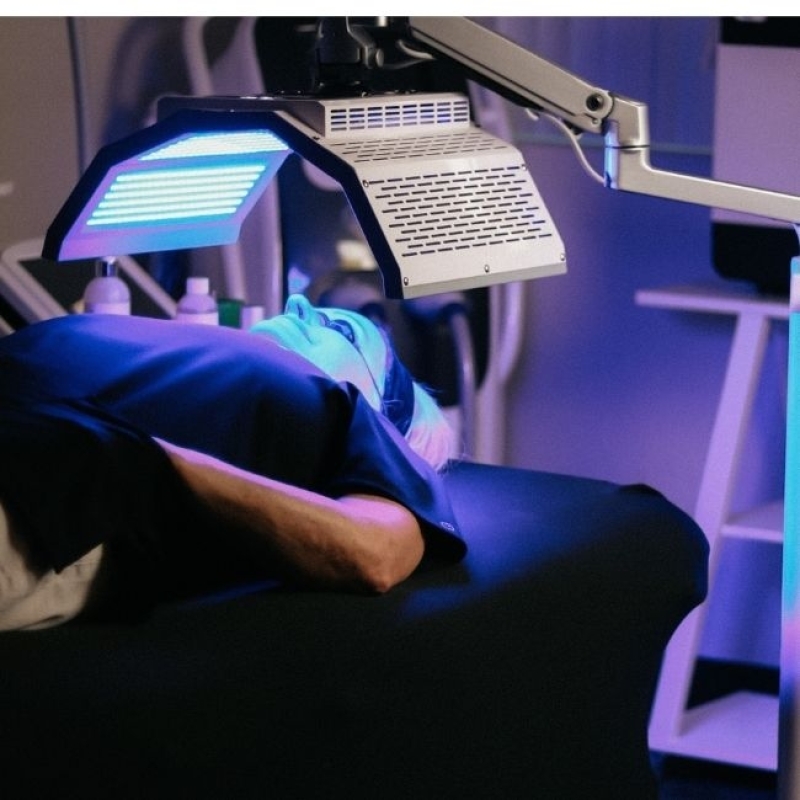 When using light therapy for acne, should clients use goggles?
Yes, clients should wear the safety eyewear for the duration of their LED light treatment session.
How long will it take for my clients to see results?
Your clients will experience effects from blue light therapy acne treatments rather rapidly. Even a single treatment can be effective in some cases. Because of the bacteria levels, the number of treatments for severe acne breakouts will increase. Users will notice an improvement in their overall skin condition, as well as fewer acne outbreaks, redness, and irritation. Your clients should use the light therapy device on a regular basis to keep acne-causing germs at bay.
Is it necessary for clients to remove their makeup before receiving light therapy?
Yes, make-up will have to be taken off. Most makeups contain SPF sunscreen, which can reduce the light therapy device's effectiveness.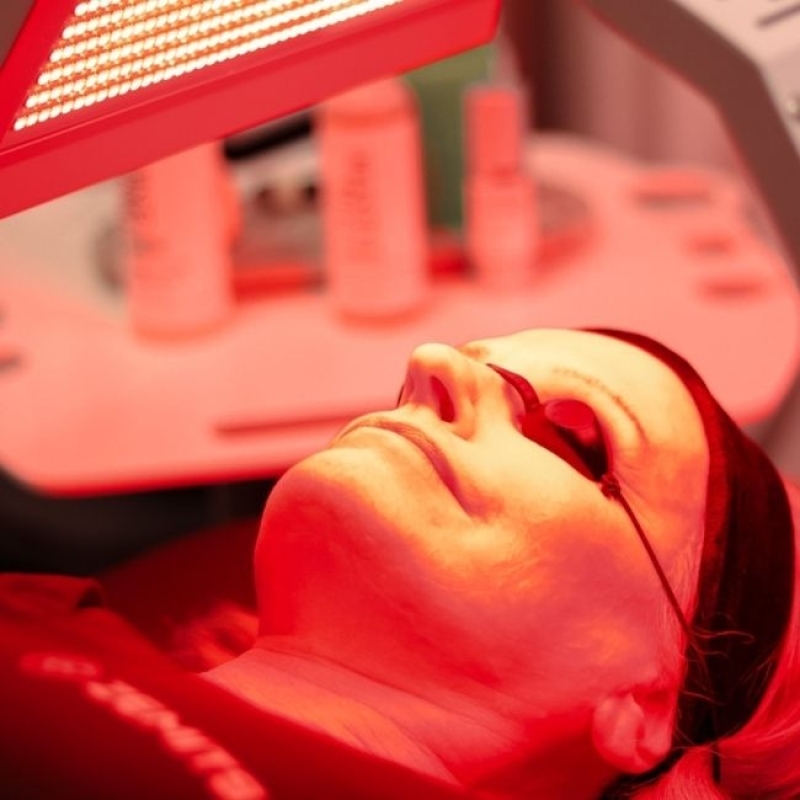 Advanced Training Program
A-Esthetic's certified educators have 30+ years of experience.
With our combined experience, we have created the most complete and advanced online training course for Zemits DermeLuxx.
You will have completely FREE access to the customized online training course and Q&A session with our educators.
We will provide you with the Certificate of Completion after you successfully complete your training course.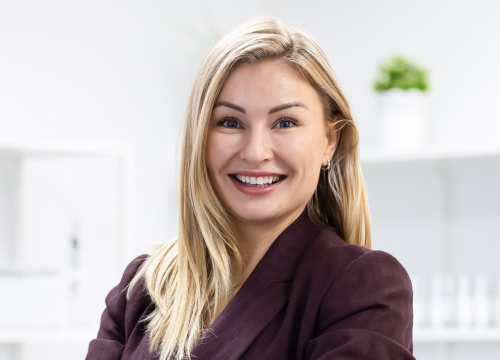 Financing Programs - More opportunities for your business
Interest-Free Financing and Flexible Payment Options. No credit, no problem!
Financing Programs

Learn More

Advanced Training Program
A-Esthetic offers the most advanced and comprehensive complimentary Advanced Online Training Course with every purchase of Zemits and Oomnex equipment..
Training Program

Learn More
Our clients Worldwide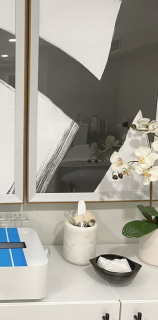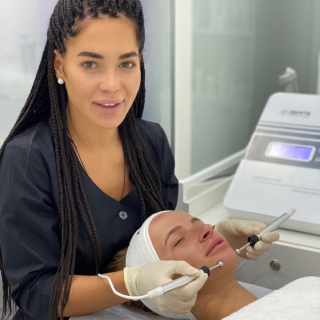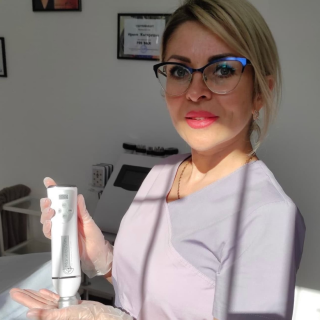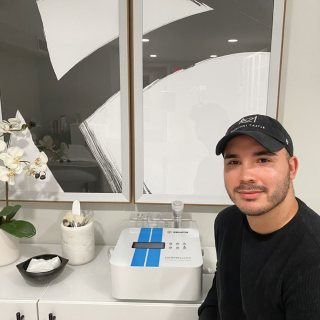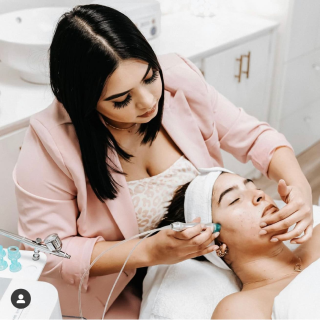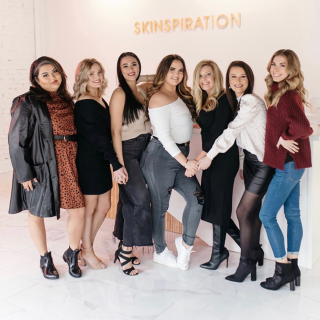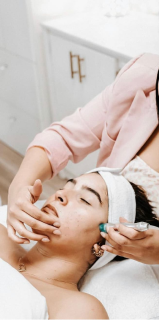 Advance-Esthetic is dedicated to providing you with the finest MedSpa Equipment to tailor a wide variety of your needs. Our mission is to support your MedSpa to boost your business with the highest quality products, outstanding customer service and a lifetime of client support.
Advance-Esthetic.us delivers to the following states: Alabama, Alaska, Arkansas, Arizona, California, Colorado, ...

Connecticut, Delaware, Florida, Georgia, Hawaii, Idaho, Illinois, Indiana, Iowa, Kansas, Kentucky, Louisiana, Maine, Maryland, Massachusetts, Michigan, Minnesota, Mississippi, Missouri, Montana, Nebraska, Nevada, New Hampshire, New Jersey, New Mexico, New York, North Carolina, North Dakota, Ohio, Oklahoma, Oregon, Pennsylvania, Rhode Island, South Carolina, South Dakota, Tennessee, Texas, Utah, Vermont, Virginia, Washington, West Virginia, Wisconsin, Wyoming
© 2021 DISCLAIMER: All information within the A-esthetic.us website and all other marketing materials are made only for informational and educational purposes. A-Esthetic products and equipment have not been tested or approved or any government entity for treatments of illnesses or diseases. Use at your own risk.
Advance-Esthetic does not accept any liability for inaccurate information on our website. It is the responsibility of the client to check the accuracy of all information provided and to confirm prior to and upon purchase of *qualifying Zemits equipment including but not limited to the conditional offer of marketing materials and other such offers for the defined brands. Zemits only. Marketing Materials are exclusively for Zemits branded machines only... Not applicable with Venus, Innocell, or other non Zemits branded equipment, ETC., Definitions: Qualified: Zemits Branded Equipment only