We speak English Hablamos Español Falamos portugues
Showroom Visits by Appointment Only
Exclusive distributor of Zemits in the US
Worldwide Shipping
---
Zemits OxiVelour Pure Oxygen Facial Machine
40%
Free shipping
Specials for Licensed Pros

The Zemits OxiVelour is a new compact Pure Oxygen System for Oxygen Infusion Facials from Zemits.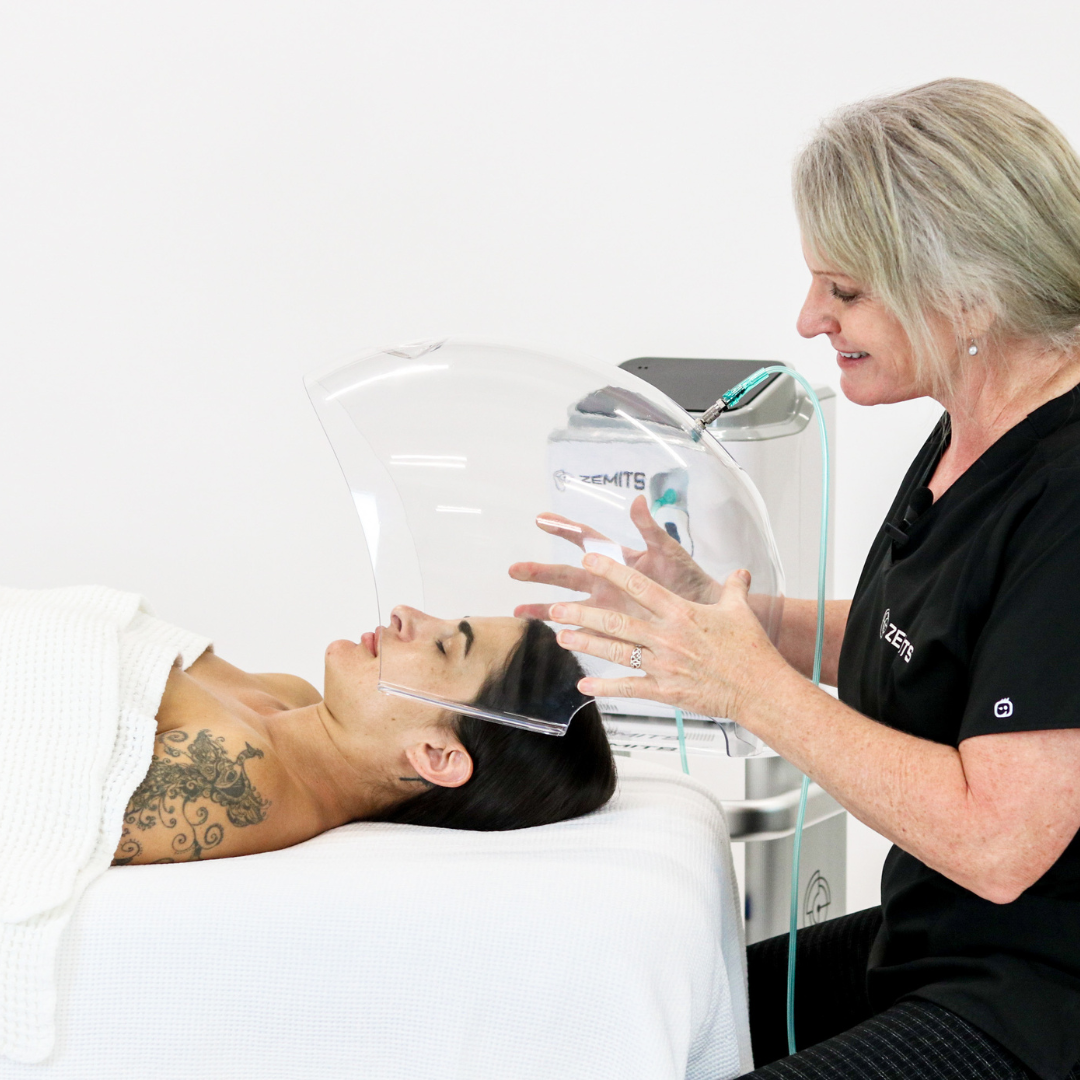 The Zemits OxiVelour pure oxygen system is a must-have for healthy, glowing skin.
Zemits OxiVelour is a professional Oxygen Concentrator system that generates 93-95% Pure Oxygen Flow from the room air.
Zemits OxiVelour is equipped with:
Serum Infusion Gun

Large Oxygen Infusion Dome
The epidermis, or top layer of our skin, serves as a protective barrier for skin. Our skin is especially vulnerable to premature aging, inflammation, and other diseases in an industrial age marked by excessive air pollution, stress, constant gadget usage, and less-than-ideal diets. That's where Zemits OxiVelour enters the picture.
This breakthrough device includes an oxygen dome and an serum infusion gun that infuses much-needed purified oxygen and vitamins into your skin to re-energize skin cells and turn back the clock on aging.
It's a must-have treatment for everyone who wants their skin to be brighter, clearer, and healthier. This treatment can be done as often as desired and can be used alone or in conjunction with any facial.
Results of Oxygen Therapy
Deep skin hydration moisturizing

Cell regeneration
Increased cells oxygenation 
Decreased signs of aging
Enhanced production of collagen and elastin fibers
Restored skin elasticity
Reduced skin irritation and swelling
Improved  microvascular activity
Replenished energy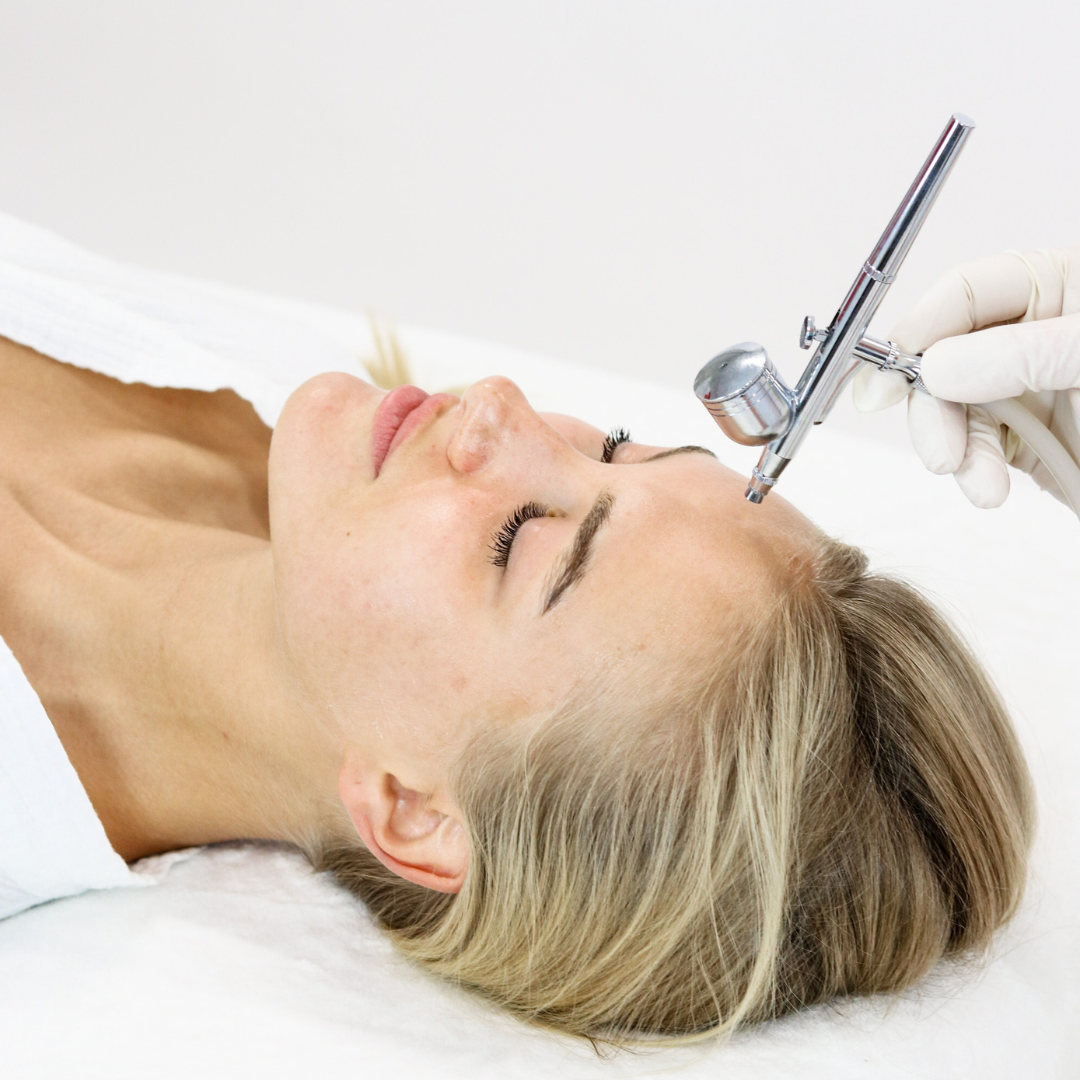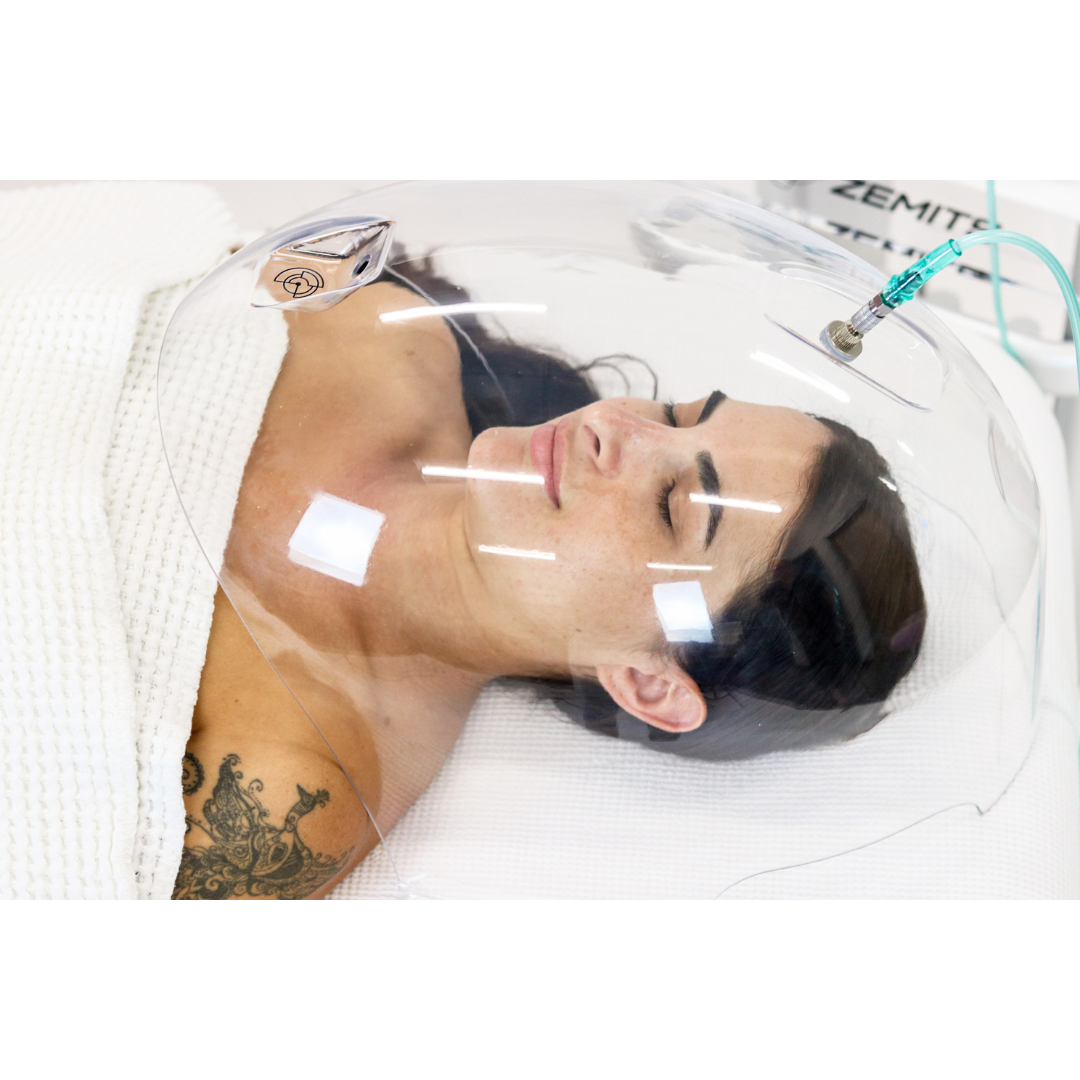 Oxygen facial benefits skin by boosting circulation capacities, reducing stress, detoxifying, improving rejuvenation, and shortening recovery time after aggressive treatment.
Pure oxygen flow can help fight acne and inflammations because true 93-95% of the oxygen molecule can play the maximum bactericidal action, such as anaerobic Propionibacterium acnes and other harmful bacteria, as well as play an anti-inflammatory role, purify the environment of skin tissue metabolism, and eliminate acne.
The Oxygen Dome is a wonderful Hands-Free Treatment.
The Best Hands-Free Treatment
Zemits OxiVelour is a 100% holistic and hands-free treatment. Combine it with your existing services for maximum outcome.
Here are top popular treatment combo protocols for your OxiVelour:
Hands-Free Protocol 1:
OxiVelour Dome Facial+ Laser Lipo on the abdomen area + Pressotherapy on legs.
Hands-Free Protocol 2:
OxiVelour Dome Facial+ EMS on the abdomen area + Laser Lipo on legs.
Face and Body Protocol 3:
OxiVelour Serum Spray Facial+ Pressotherapy and Sauna Blanket for the whole body.
Face and Body Protocol 4:
OxiVelourDome Facial+ Cavitation/ Body Contouring Massage for body.
And so much more...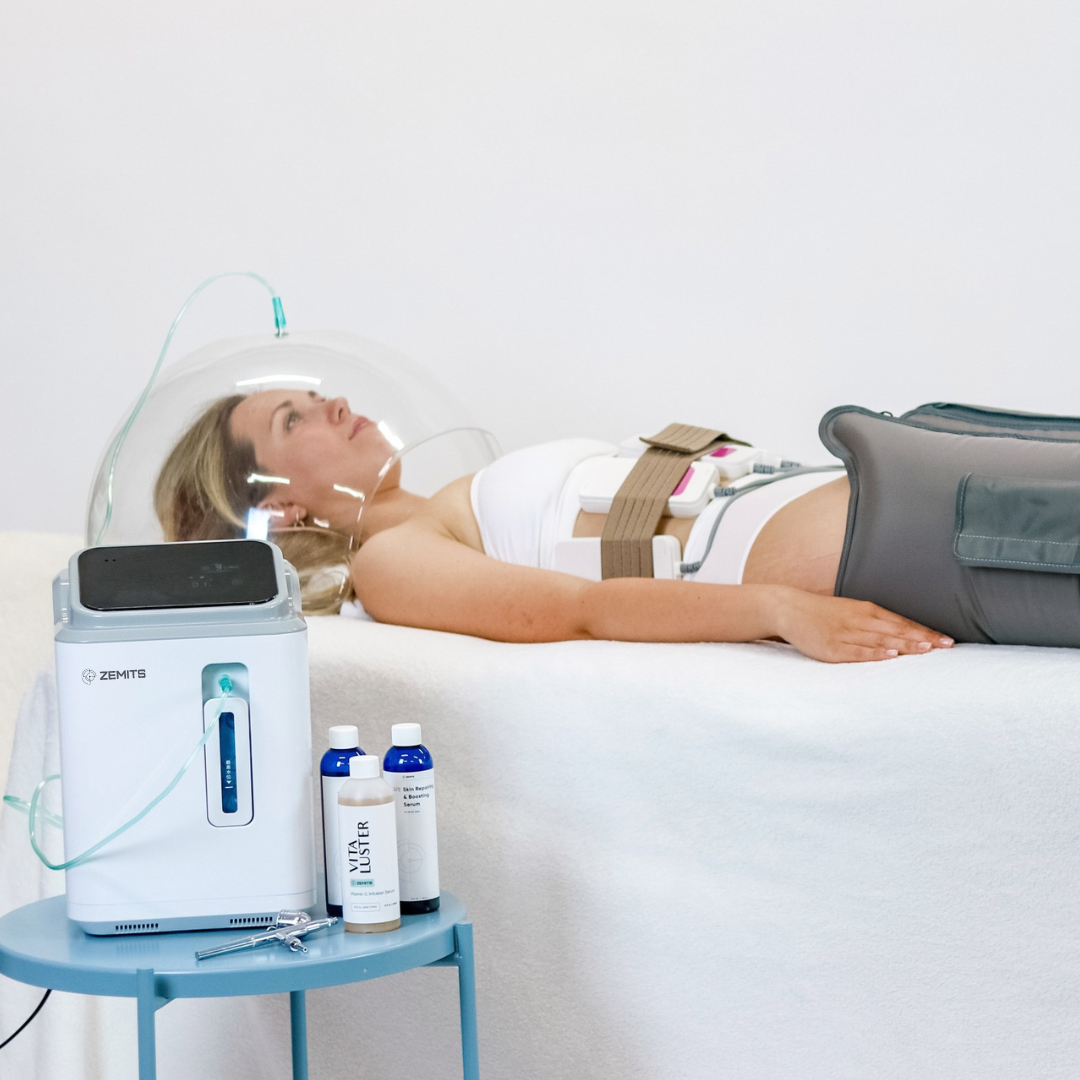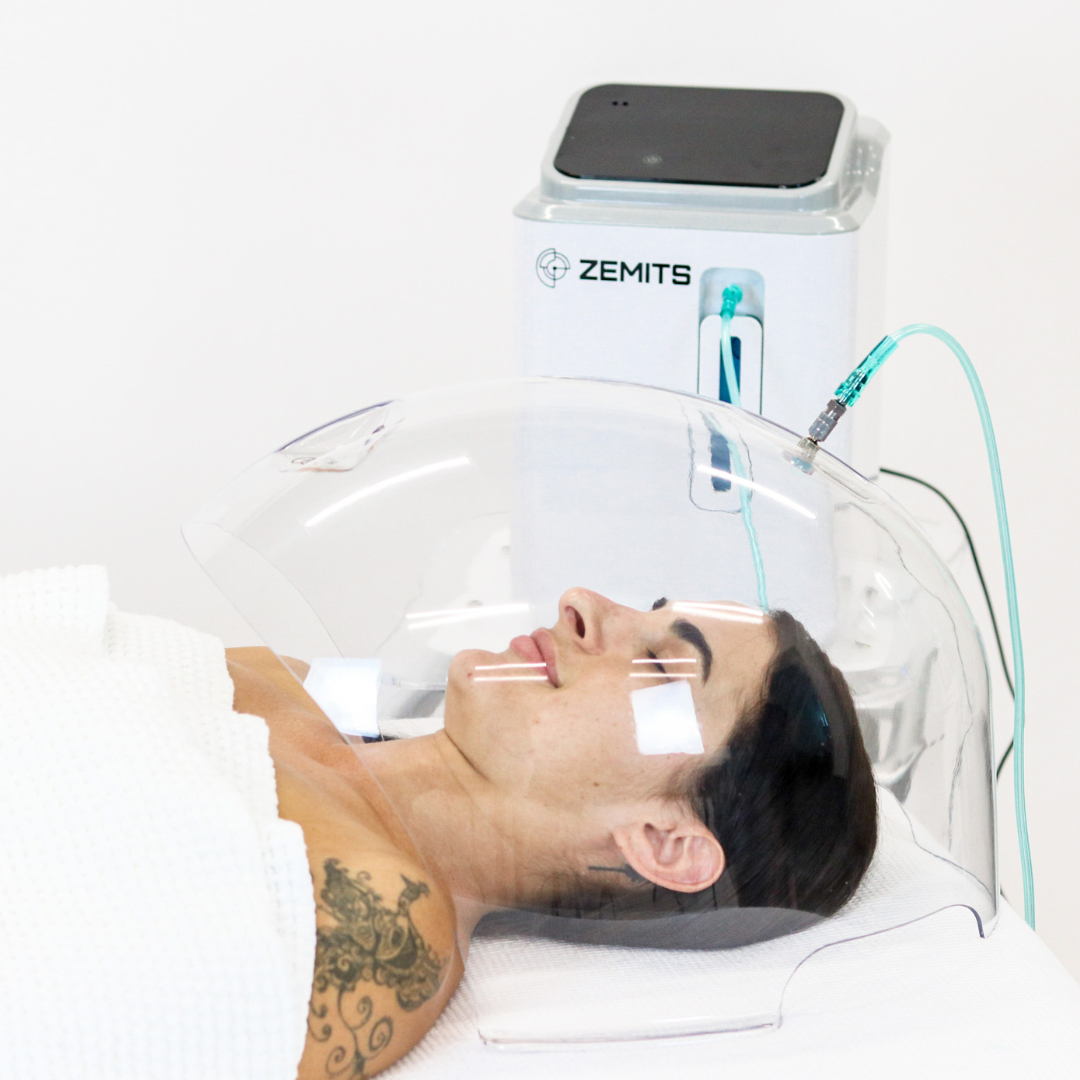 The results:
Normalization of sebum secretion

Skin detoxification

Reduction of acne and aging dark spots 

Reduction of redness and irritation

Rejuvenation and renewal of the skin
Increase production of collagen and cellular turn over

Decreased fine lines and wrinkles caused by free radical damage to the skin.
Because it uses sophisticated Oxygen Concentration filters, there is no need for an oxygen tank inside the device.
The skin renewal process is aided by Pure Oxygen Flow, which leaves the skin bright and vibrant.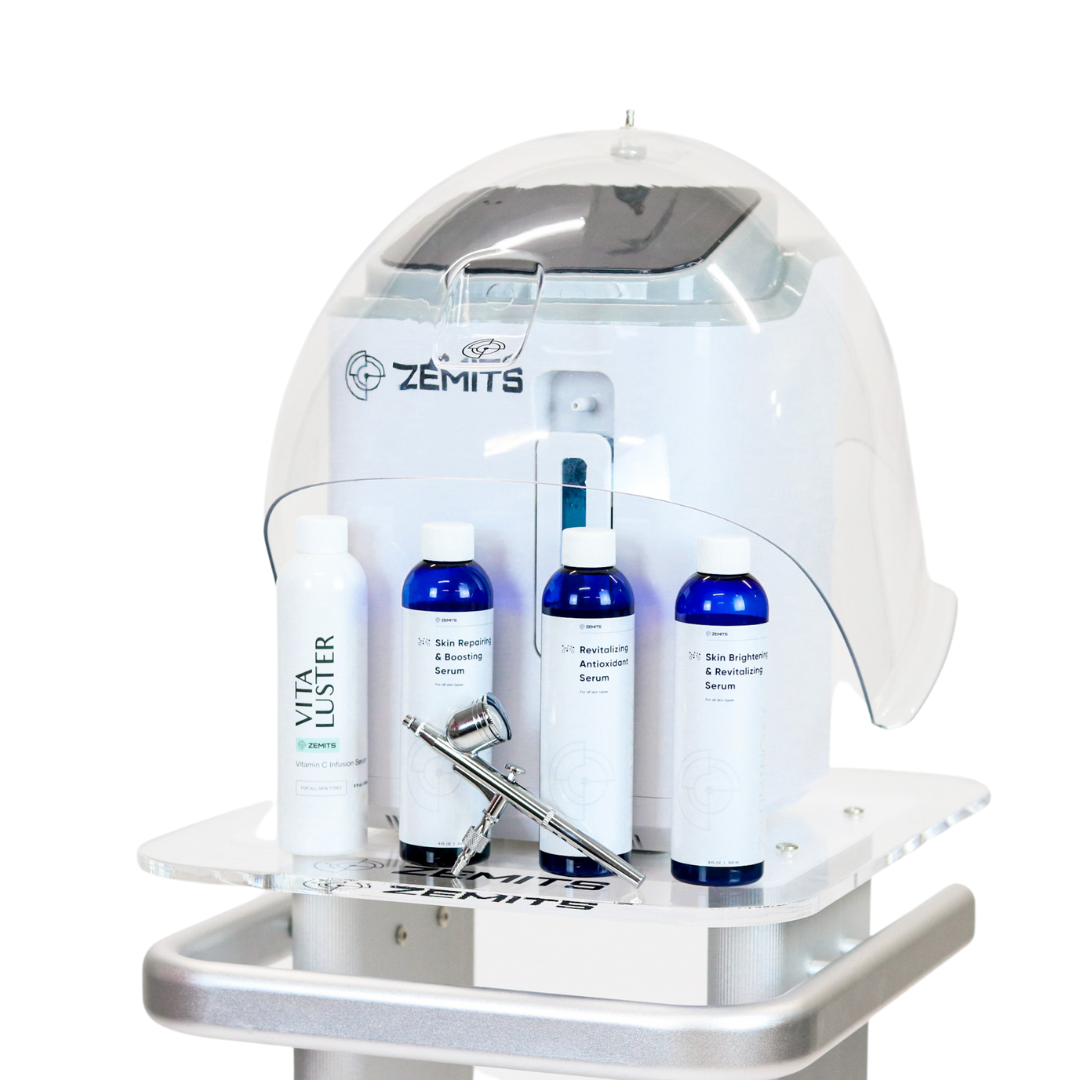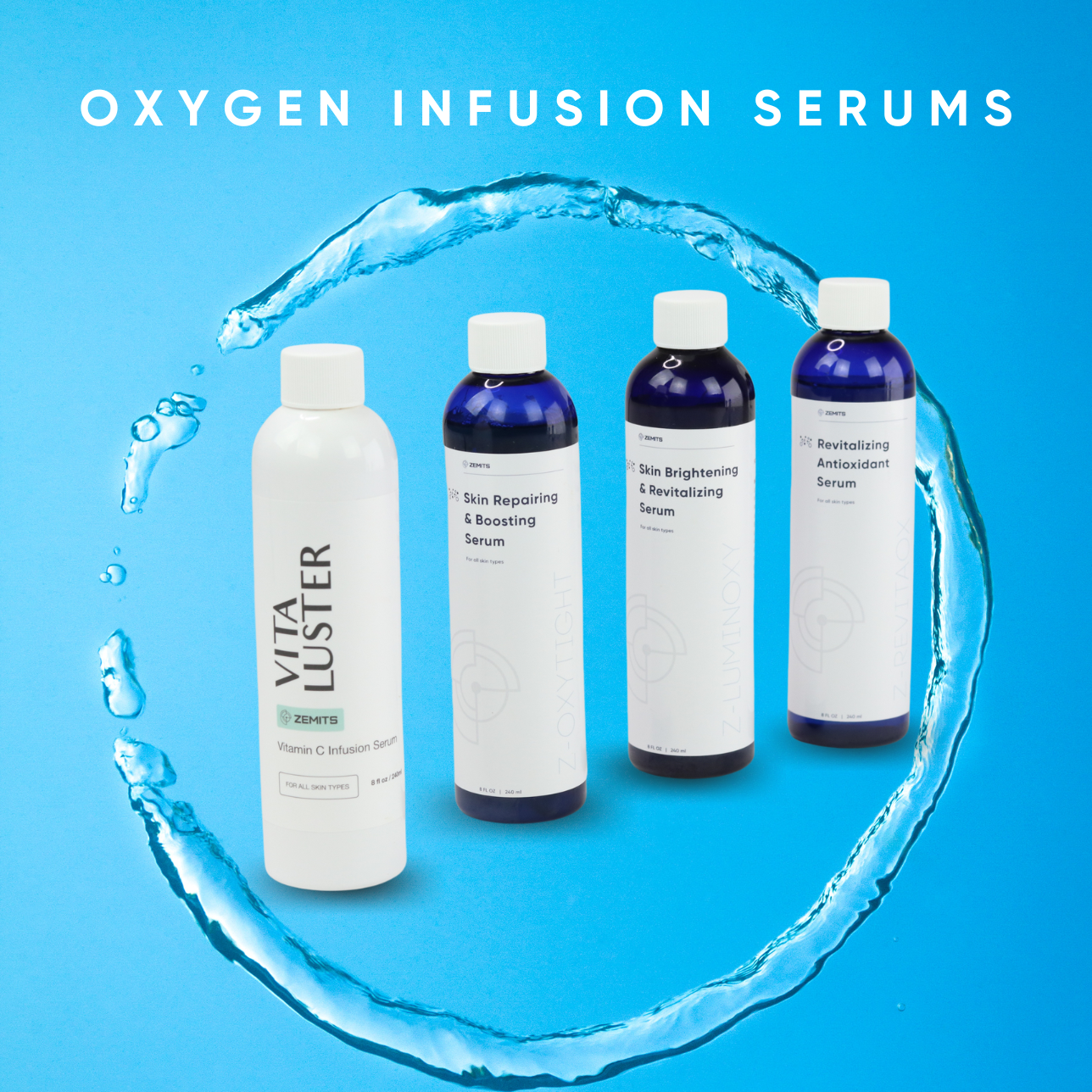 Best Oxygen Infusion Serums
A wide range of advanced Oxygen Infusion Serums that enhance the effectiveness of the treatment
Zemits offers a wide range of advanced infusion serums specifically designed to work in perfect synergy with oxygen.
For facial services, these serums can be applied to perform anti-aging, anti-acne, skin brightening and skin rejuvenation treatments.
For trichological operators it is possible to perform hair loss and purifying treatments and those for psoriasis and seborrhoea, remineralising and restructuring the hair.
The smart synergy of pure oxygen flow and infusion serums helps to significantly increase the consumption of oxygen by cells, and reduce the production of free radicals, a cause of premature ageing of the skin.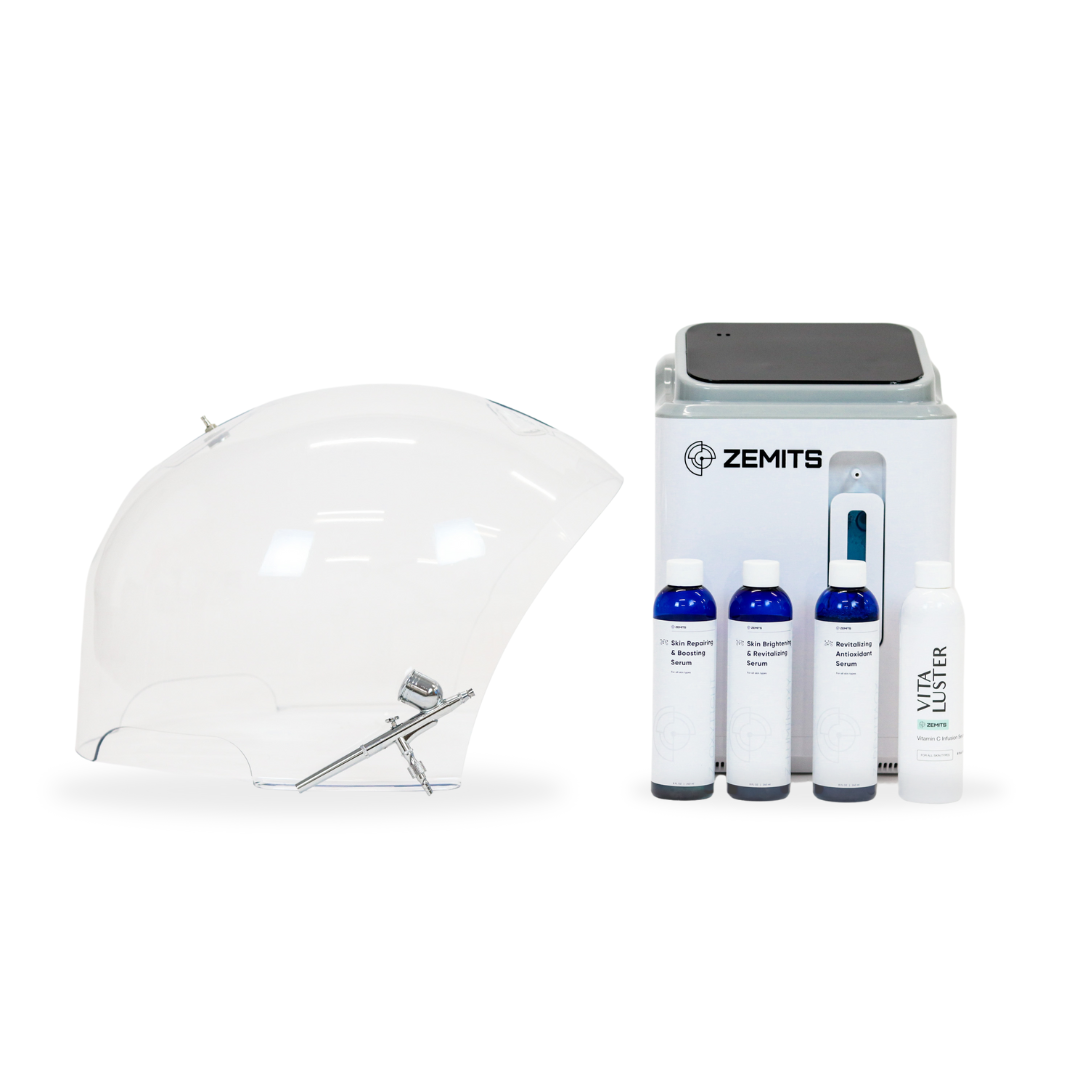 Technical Specifications
Flow range: 1-7L
When the oxygen flow is 1L, the oxygen concentration is 93- 95%
Sound exposure of the whole machine: < 60 dB (a)
Power supply: 110 V / 50 Hz
Input power: 120W
Net weight: 11.4 lbs
Device dimension: 9" x 9" x 14"
Dome dimension: 13" x 13" x 17"
What comes in set:
Oxygen Concentrator machine OxiveLour
Large Oxygen Dome
Oxygen Sprayer Gun
Tubing
Power Cord
Advanced online training course
Q&A session with Zemits trainers
A FREE set of 4 Oxygen Serums value of $179
What is an Oxygen Facial?
This treatment hydrates your skin while also stimulating the development of collagen. It entails spraying a selection of serums for your skin type with hyperbaric oxygen (or pure oxygen molecules without additional pollutants) from a machine. The serums contain a cocktail of vitamins, antioxidants, peptides, and hyaluronic acid (the same one found in your own skin) to ""feed"" the epidermis (the outer layer of your skin) as well as penetrate down to the collagen layer, providing valuable nutrients to support supple skin and maintain healthy elasticity.
What are the advantages of this treatment over a conventional facial?
An Oxygen Facial permits ""active"" substances to penetrate deeper, resulting in a faster and longer-lasting outcome. Because most facials (excluding injectables) cannot penetrate to the dermal layer, they cannot assist tightening the skin or smoothing out lines that are deeper than surface dehydration lines. Oxygen facials also assist your own collagen fibers stay strong, healthy, and resilient as you age, resulting in firmer skin. This is especially crucial as hormones and stress begin to break down collagen and cause deeper lines.
How frequently do I require an oxygen facial?
1 x month is recommended for best outcomes to promote skin turnover at its typical, youthful rate. Collagen rebuilds every three months, so if you're under 40, you can have these every three months to slow down the aging process. Collagen begins to deteriorate around the age of 40, resulting in deeper wrinkles and drooping skin. Monthly treatments are recommended to reduce this, or a course of six treatments spread out over two months can drastically improve wrinkles, texture, pore size, and firmness.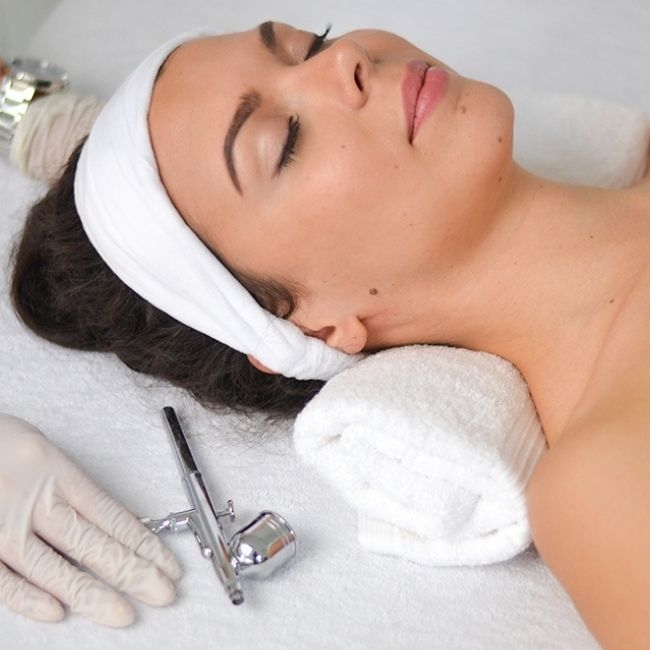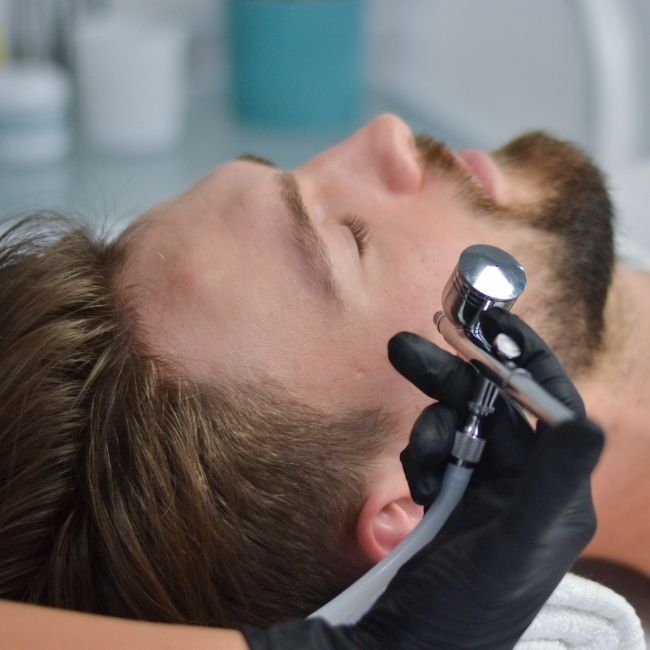 After my Oxygen Facial Treatment, what can I expect to see?
Your skin will appear plumper, fine wrinkles will be filled in and softer, and it will feel firmer to the touch. The color will be more consistent, the pore size will be more regular, and blackheads will be reduced. Deeper lines will be milder, and you will notice a firmer, more elevated jawline and brow area in most situations. The more Oxygen Facials you get on a regular basis, the firmer your skin will appear - usually after the first three facials.
What is the duration of an Oxygen Facial?
After a treatment, the Oxygen Facial continues to "work" (firm and nourish) the skin for 48 hours. When you follow a proper skincare routine at home, the effects will last from month to month (depending on stress levels, hormone changes, travel, air conditioning changes & changes in temperature).
What is the minimum number of Oxygen Facials required to see results?
Although you will see benefits after the first facial, it is recommended that you get a minimum of three facials, one each month, or a series of six facials over two months to correct, tighten, and soften deeper wrinkles.
Zemits Providers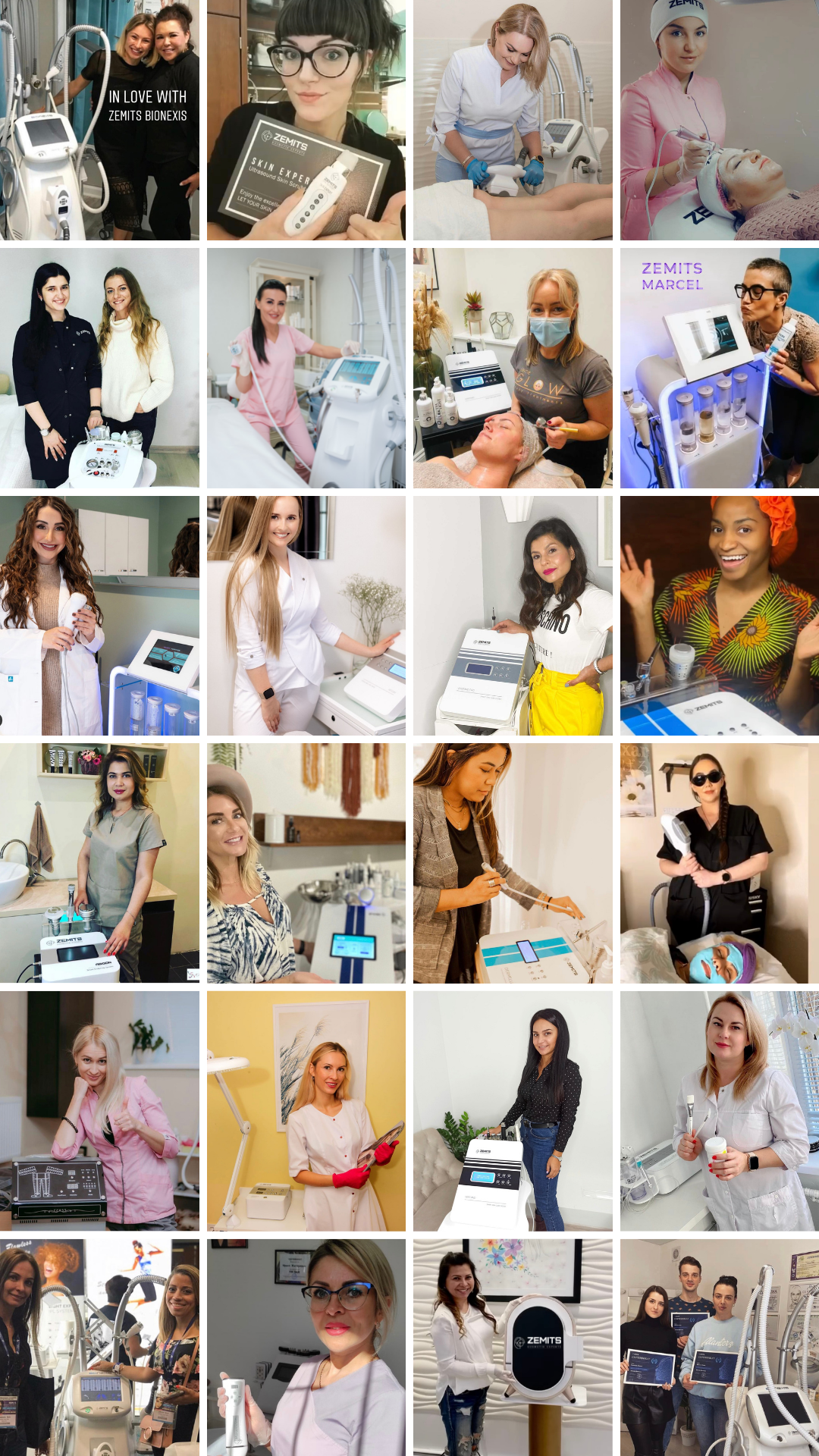 Advanced Training Program
A-Esthetic's certified educators have 30+ years of experience.
With our combined experience, we have created the most complete and advanced online training course.
You will have completely FREE access to the customized online training course and Q&A session with our educators.
We will provide you with the Certificate of Completion after you successfully complete your training course.
Zemits Clients
More info ›
All products at www.advance-esthetic.us website are intended for cosmetic use.
All products at www.advance-esthetic.us website are not intended to treat or diagnose any medical conditions.
Fast shipping
Guaranteed quality of aesthetic equipment
Service
Wide range of products
Zemits OxiVelour Pure Oxygen Facial Machine
40%
Free shipping
Disclaimer
This esthetic device is intended for cosmetic use only. This esthetic device is not intended to be used to treat or diagnose any medical condition.
This esthetic device is intended to be used by estheticians and skincare providers. This esthetic device is not intended to be used by doctors or healthcare providers.
This esthetic device is not intended to be used in medical nor surgical purposes. This esthetic device does not affect the structure of deep skin tissues.
Callback
Write your details and our managers in the near future will contact you