Magnifying lamps are quintessential for every beauty professional who needs precision in their line of work. Whether you are a contact lens person, a glasses-wearer or are blessed with 20/20 vision, you will be hooked when you start using a professional magnifying lamp! A clear view of the working area which is magnified by over 175%, an amazing shadowless light, impeccable color rendering, the ability to easily move and precisely focus on every single treated area, and the option to be able to clearly see and therefore assess even the slightest problems is a dream for every beauty professional.
With a great magnifying lamp, there is no squinting, no dark, hard-to-treat areas, no shadows, no back and neck problems, no mistakes, and lots of happy customers with just this one amazing, innovative device. Isn't that the dream?
Unfortunately, some think that all magnifiers are the same. They believe that there is nothing new to be added to theirs so they keep working with old ones. This is disappointing and could not be further from the truth. Innovations are here and they are amazing. If you haven't shopped for a new magnifier in a while, you are in for a surprise. Magnifying lamps have become significantly lighter. They are very easy to move, operate, position, and stabilize. With spinning adjustable arms, they may be positioned and re-position with a single touch and there is no need to tighten or loosen knobs to reposition lamp heads. Great hands-free equipment with cost-effective dimmable LED lamps are plentiful The innovations are endless!
How to Choose a Facial Magnifying Lamp
Magnification with lights has become an integral part of the beauty industry. Dermatologists, estheticians, and tattoo artists cannot envision their daily work without a proper magnifying lamp. Now, you cannot even find an eyebrow specialist that does brow transformations without a magnifier. If you are a waxing professional, a manicurist, or even a specialist in eyelash extensions you are in need of a well-lit magnifying lamp. And we are here to help you understand how to choose the one that works best for you.
Choosing the best device requires knowing and understanding the essential characteristics and properties of lamps, as well as following the newest innovations. So let's get informed!
The diopters. To understand what diopter lens you need, let's understand what a diopter lens is and how it works. The "diopter" of a lens is the reciprocal of the focal length of that lens and is actually a way of measuring its power. With a higher number of diopters, the lens itself is thicker and its curvature increases accordingly. The easiest way to understand how diopters work is to remember: the higher the number of diopters, the higher the lens magnification.
There are a lot of conversion tables online that convert diopters to magnification levels. But essentially the formula for converting diopters into magnification is to divide the diopter by four and add one.
It's as simple as that. For example, the most commonly used magnifiers in the beauty industry are 3 diopter magnifying lamps. These are considered to be the most comfortable and useful. With 3 diopter magnification, objects will be 175% larger than normal, the formula being: 3 divided by 4, which is 0.75 and plus 1, which equals 1.75 (or 175% magnification).
If you are looking at a 5 diopter lens than you need to divide 5 by 4, which is 1.25, and add 1. The result would be 2.25, or a 225% magnification. With this simple formula, you can quickly find out what the magnification of a lens is.
If in your daily work you use several different magnifications, then look for lamps with replaceable lenses. There are lamps with a line of different lenses that can be bought separately. If you need higher or lesser magnification, the lens can easily be changed within seconds. No instruments or assistance is needed.
The next thing you need to take into consideration is the focal length. The focal length is often referred to as the "working distance". To understand what ar focal length is or your working distance, there is also a simple calculation that must be done. It is calculated by measuring the distance from the center of the lens to the point where the light rays meet and the object appears in perfect focus.
You need to pay attention to the focal length when your work requires using tools (wands for different facials, tattoo needles, tweezers, and so on). This is an important measurement that needs to be taken into consideration because the "working distance" becomes smaller with more powerful magnification. So, for a beauty practitioner, this means there is less room available to perform work when using a magnifying lamp with a higher power.
Higher magnification, while giving you a more detailed and precise view of small details, will simultaneously decrease overall object visibility. You need to carefully assess your work to understand what exactly you need in your everyday practice.
Beauty magnification is useless without great lighting. That is a rule. Usually, there are a few available options when it comes to lights. Although less popular, halogen and fluorescent lights are most commonly used by lamp manufacturers. They able to provide a shadowless light, but are nothing compared to LED lights. LED lights are now the gold standard in beauty lighting.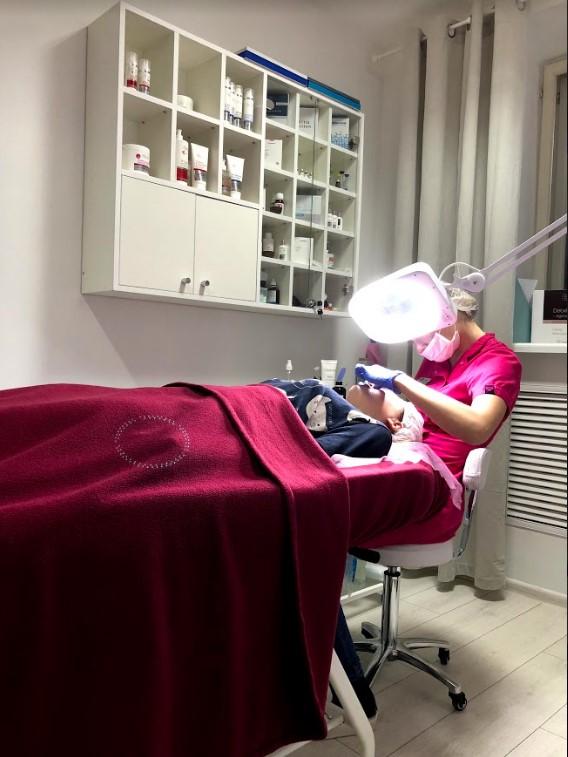 The average LED light provides exceptional color rendering. Color rendering is immensely important with any beauty treatment, as it accurately displays true color. This is a huge factor when choosing a light for your practice. In addition to providing shadowless light and amazing color rendering, the LED light lamp can literally last a lifetime. The average number of the hours of illumination for an LED light lamp is 50,000 hours, while a fluorescent bulb offers only 8,000 hours.
These are the essentials you should be looking for when choosing the best magnification equipment, but also you should pay close attention to additional perks. When choosing a magnifier, look for the "hands-free" option. Since there aren't any treatments that would only require you to use one hand, you should look for a magnifying lamp that allows you to freely work with both of your hands. The arm of the lamp should move with ease and be effortlessly adjustable with just one hand. As technology moves forward, lenses become much lighter. Lighter lenses mean the moving and positioning of lamp heads becomes smoother and uncomplicated.
Another new amazing perk is a knob-free adjustment. Remember the constant need to adjust and re-adjust a lamp head after positioning? Forget it! Because with the newest technology, there is no need to tighten or loosen nobs.
If needed, look for a lamp that can be mounted at the table-top and used with a rolling stand. Lamps are actually so inexpensive, however, that you can easily equip every working space with a great lamp. Magnifying lamps are not just a great start for any beauty treatment; they are a very necessary step. You'll be able to provide much better and more professional treatments with them.
Being essential to almost every treatment, magnifying lamps with lights are often sold as a package deal with other popular beauty machines or are included in multifunctional systems. They are also often sold together with another beauty salon staple – the facial steamer. Multifunctional machines are a great way to save money and offer a wide range of treatments to your clients.
When choosing any equipment for your business, look for a brand that symbolizes innovation and invests in new technology and research. We at Advance Esthetic represent only the strongest, most well-respected names within the beauty industry. We have over a decade of experience and can offer reliable expertise when choosing the best brands for you. Plus, look for a company with great customer service. Ours is impeccable. We are proud to offer professional consultations by licensed estheticians and provide high-quality equipment training.
We offer a wide range of magnifying lamps that are all available on our website or in our showroom.
Let's look at our final short checklist to consider when shopping for a perfect beauty magnifying lamp: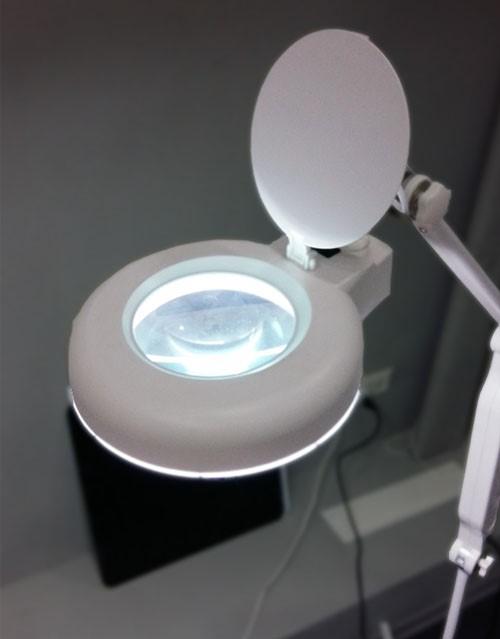 The Lens: While choosing a lamp, carefully assess what kind of lens you may need for your work. If the usual 3 diopter lamp won't do, choose a lamp with additional lenses sold separately so you'll have the option of investing in higher magnification, if needed. The one absolutely non-negotiable thing when choosing an esthetician magnifying lamp, however, is crystal clear magnification!
The Head: Look for the light easy to use head which can be easily moved and positioned with one hand.
The Light: Good lighting is a must-have in a magnifying glass lamp. Some advanced beauty treatments, not to mention a thorough skin examination, are impossible without good lighting. Look for advanced LED lamps with shadow-free magnification, good color rendering, and multiple levels of brightness. The lamp should have an automatic shut-off and if needed, dimmers.
The Body: Look for an ergonomically designed and durable unit. All-metal is definitely the way to go.
The Arm: The arm should be easy to move and use. It should be light, easily adjustable and strongly secured when positioned in place.
The Knobs: Choose the latest innovation that offers the self-tightening option.
The Portability: The lamp should be effortlessly mounted on any working service and, if needed, easily detached and moved. Ideally, you should have the option of buying a rolling stand if the need for additional portability should arise; stands are sold separately.
The Service: Look for a reliable, FDA registered company with great customer reviews.
Using the Magnifying Lamp Step-by-Step
Prior to a skin-assessment procedure or any skin care treatment, the skin should be properly cleansed and cleared of makeup or skin care products. Another common practice is to use steaming to clean, calm, and boost circulation. Facial steaming properly relaxes and calms the skin. There are Hot and Cold facials that can soothe the skin for better assessment. This cleans the pores as sweating pushes out dead skin cells, makeup, and hardened oils (blackheads). Steaming has a lot of benefits and is often essential for detailed skin assessment. There are a lot of amazing machines that offer both streaming and magnifying as they are so beneficial to clients when used in conjunction.
After you have cleaned the skin, you can begin an in-depth skin analysis with your brightly lit magnifying lamp. The lamp will allow you to clearly see the skin; you can carefully access zones that are not visible to the naked eye. You'll clearly see problematic zones, areas you need to clean, and infected regions in need of medical attention.
With proper magnification, when manually clearing the skin of blackheads and whiteheads, you are able to effectively clean and extract impurities without damaging the skin. Since the view is clear and unobstructed, and your work is precise and accurate, damage to the skin is highly minimized.
If you are analyzing the face, you must always cover the eyes of your customer with a cloth or an eye pad prior to turning on the lights. Plus, you must warn your client that you are turning lights on even if the eyes are fully covered and protected.
You should then move the lens over the face and comfortably position the lens to start the detailed skin analysis. Carefully asses every part of the face, and if needed, move the head of the magnifying lamp to view from different angles.
When assessing the skin, describe what you are seeing to your customer. Talk about the positive and the negative aspects of it and discuss future recommended treatments which are based on evaluations in the skin analysis.
If there is anything that grabs your attention, like a skin infection, irregular sensitivity and/or irritation, a mole, or anything else that you think may need additional medical attention, please refer your customer to a dermatologist or a general practitioner.
General Skin Analysis With Magnifying Lamps:
The type of skin and the skin condition: These are two very important qualities that you must base your treatment on. The first categorization of skin types took place in 1910 when the amazing beauty pioneer Helena Rubinstein introduced four types of skin: dry, oily, combination, and normal. Today, we still using Helena's categorizations in the beauty industry. Skin type needs to be determined every visit because it tends to change with some medical conditions or over time as skin becomes drier with age. Skin conditions are not simple. There are many variations and just as many treatment options. For example, there are the usual breakouts, blackheads, whiteheads, and acne. You can also diagnose damage done by the sun, dehydrated skin, and rosacea. Lines and wrinkles or sagging skin as a result of collagen and elastin deficit are also well-known skin conditions that can be clearly seen with magnification and diagnosed while examining the skin.
After an examination, you can recommend future treatment, discuss options, and schedule the next appointment.
Check out our list of the most popular facial machines:
Cryo Facial Machines
List of the most popular slimming machines:
Ultrasonic Cavitation Machines
Lasers: