We speak English Hablamos Español Falamos portugues Мы говорим по-русски
Showroom Visits by Appointment Only
Exclusive distributor of Zemits in the US
Worldwide Shipping
---
Oomnex Cuppi EOS + TonoSpier EMS Combo
27%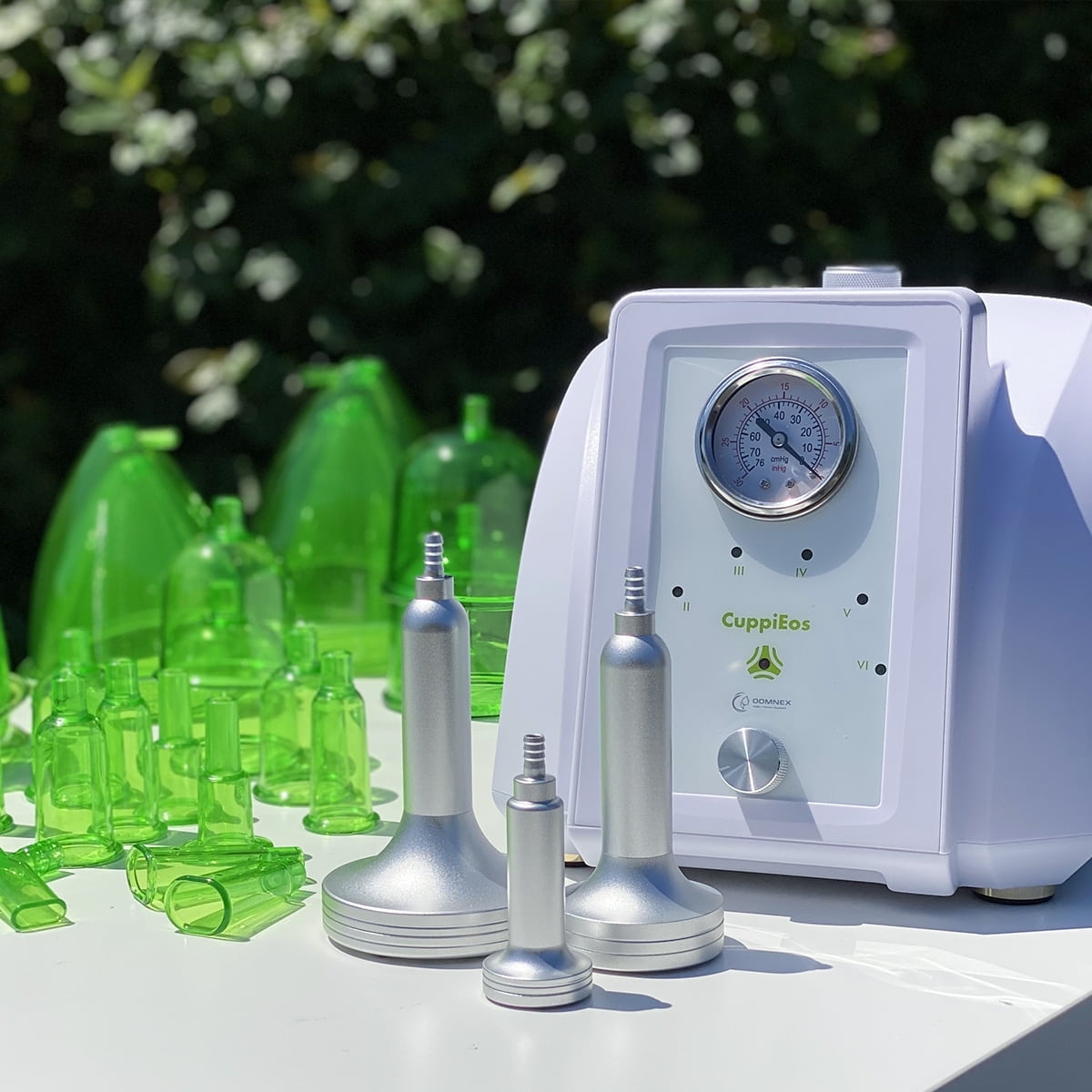 The Oomnex CuppiEos is the newest generation of holistic body sculpting, cellulite reduction, and buttocks enhancement. This professional system offers a comprehensive and powerful vacuum therapy using different sized cups to perform and treat a wide range of problems.
Oomnex CuppiEos performs the following treatments:
Lymphatic drainage

Cellulite reduction

Body contouring

Skin firming

Buttock Plumping
Vacuum cupping with the Oomnex CuppiEos improves blood circulation and reduces cellulite, but acts just like a massage; instead of creating pressure on the body, this kind of massage creates suction within cups. Vacuum Cupping gives all clients a chance to have the taut lifted buttocks they have always wanted and reduce problematic fat on many areas of the body. By combining this with regular exercise to tone muscles, results will be much greater and longer-lasting!
INTERCHANGEABLE METAL ROLLER HEADS
Large roller head: Ideal to perform cellulite treatments on the legs, abdomen, and inner thighs/under arms depending on the size of your client.
Medium roller head: Ideal to perform contouring treatments of the waist as well as more targeted treatments such as under arms or inner thighs depending on the size of your client.
Small roller head: Ideal to treat puffiness or localized fat of the jaw, decollete, and smaller areas such as edema in the legs or arms.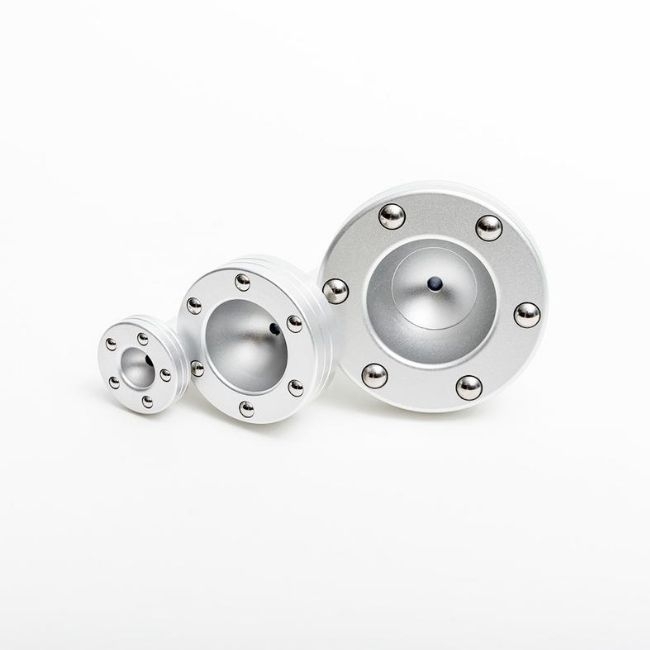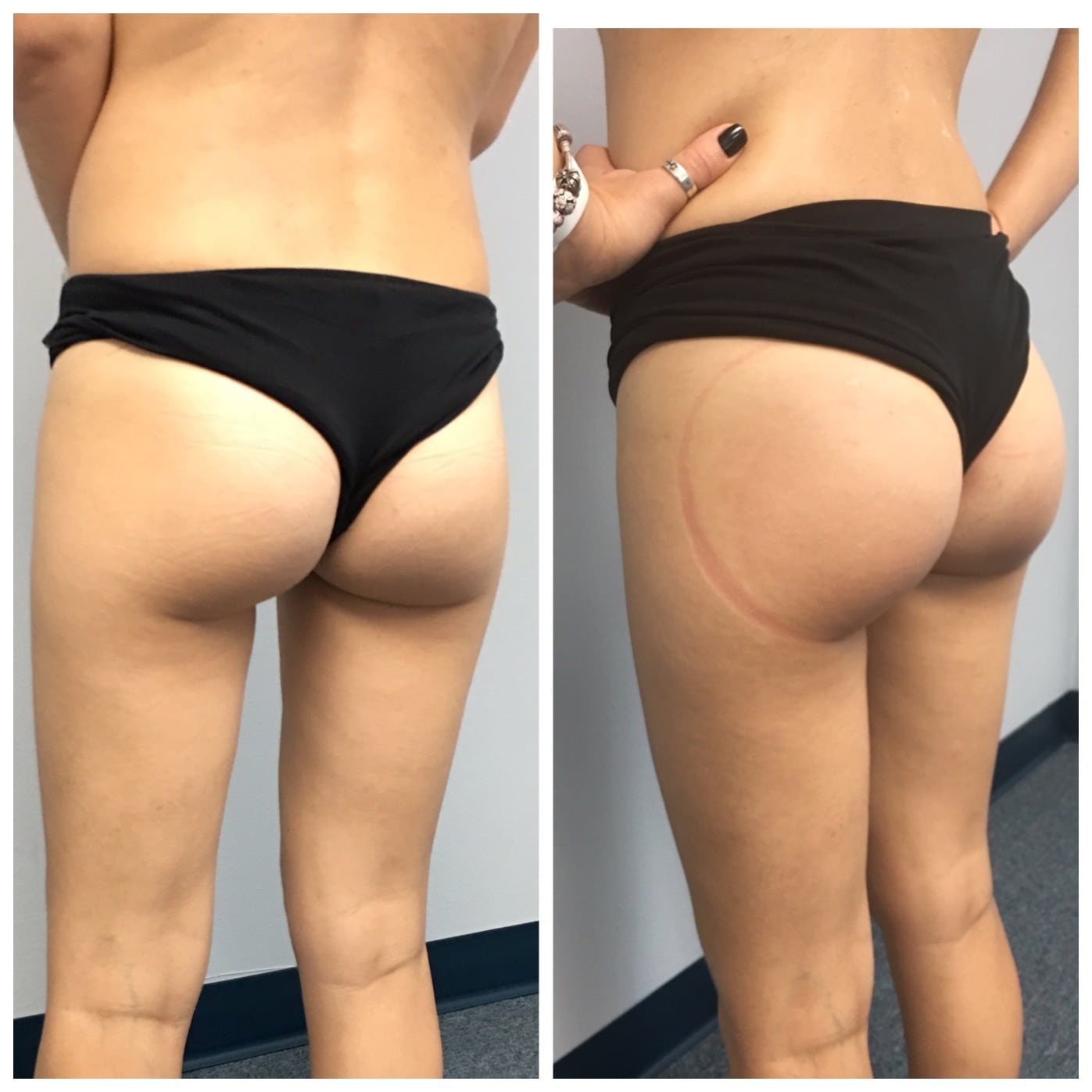 HOW DOES IT WORK?
Oomnex CuppiEos works by creating pressure inside vacuum cups, this procedure stimulates lymphatic circulation which reduces cellulite. The areas that can be treated include the top of the arms and legs, hips and stomach, and buttocks. "Orange peel" appears because of fat layers and bad liquid circulation—oxygen cannot reach the cells so connective fibers begin to form, and cellulite 'holes' form as a result. The Vacuum CuppiEos treatment helps normalize blood and lymph circulation, which subsequently reduces problematic cellulite on all areas of the body.
The user friendly operating system has 6 treatment modes ranging from a continuous vacuum treatment to systematic pulsed and rhythmic vacuum treatment:
Mode 1: Eyebrows lift and lip plumps

Mode 2: Facial lymph stimulation

Mode 3: Facial lifting

Mode 4: Body Lymph Stimulation

Mode 5: Buttocks Plumping

Mode 6: Anticellulite Mode
All modes can be accessed using the easy-to-find control knob on the front face of the system.
WHAT ARE SOME OF THE TOP BENEFITS OF THE OOMNEX CUPPIEOS?
No down-time after the treatment
A perfect add-on or stand alone treatment
A safe and effective treatment
12 pairs of cups for customizable body and face treatments
Low maintenance
Smart and user-friendly operating system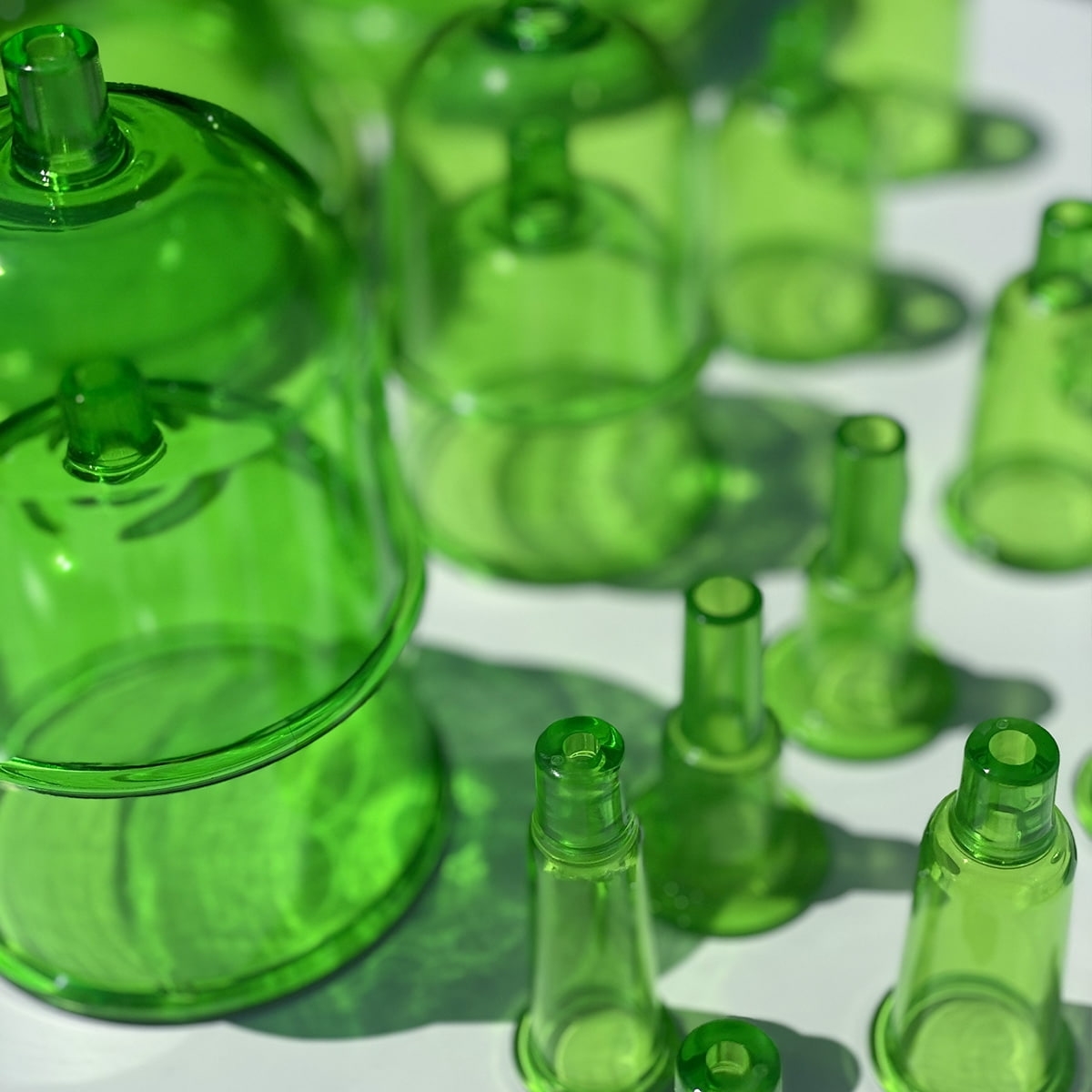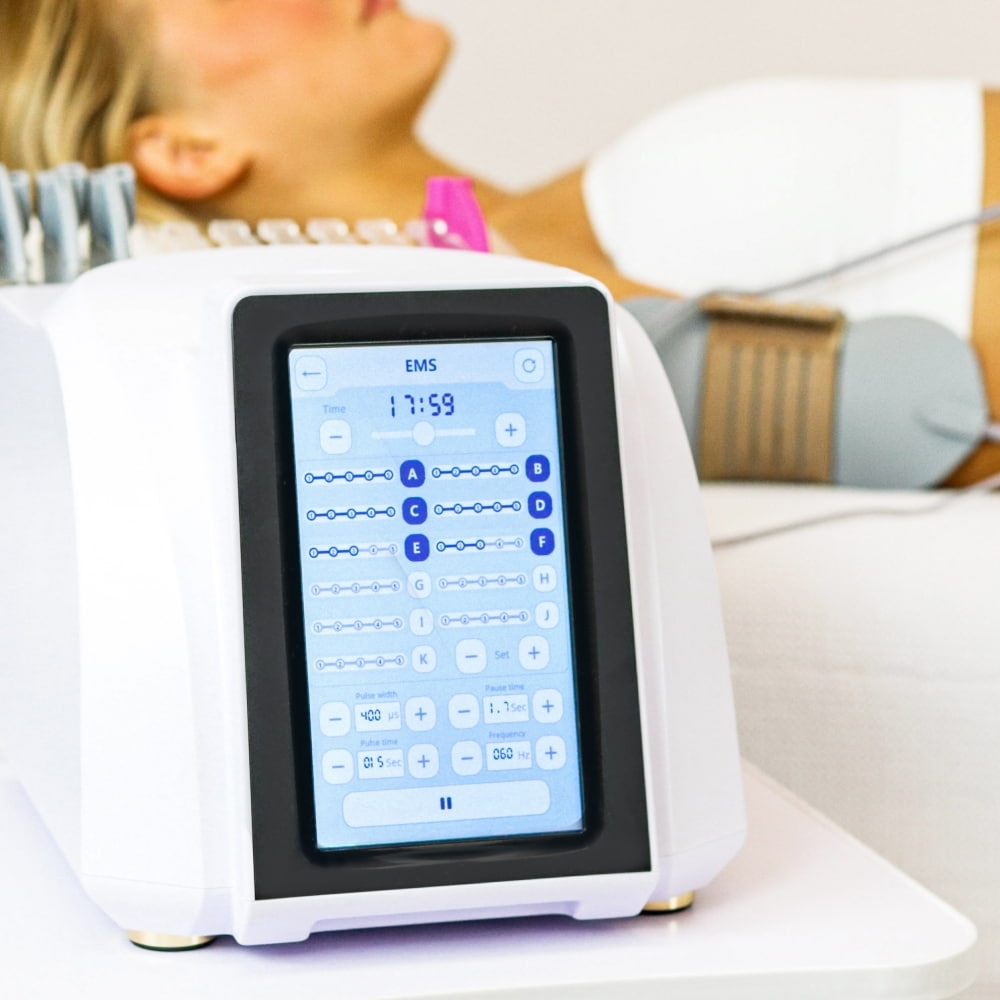 The Oomnex TonoSpier is the newest system of Electric Muscle Stimulation that uses gentle electrical current pulses in order to stimulate muscle contraction and improve skin toning. Our newest professional system offers a comprehensive, easy-to-operate interface and 11 pairs of reusable muscle stimulation pads to treat different areas of the body.

Oomnex TonoSpier performs the following treatments:
Body Slimming

Weight Loss

Muscle Training

Body remodeling and shaping

Buttocks firming and shaping
Oomnex TonoSpier operates by using electric muscle stimulation to send electric pulses through the skin in order to create muscle contractions and blood circulation improvement. Ultimately, the treatment allows for intensive muscle contractions to build and strengthen muscles in a safe and effective way. By combining this treatment with regular exercise to tone muscles, results will be even greater and long-lasting!
UNIQUE MUSCLE CONTRACTION PADS
Oomnex TonoSpier includes:
10 pairs of round stimulation pads

1 pair of C-shaped pads

4 short velcro security straps

4 long velcro security straps

2 extra long velcro security straps
The unique round stimulation pads can be used on any muscle of the body, while the C-shape pad is designed specifically for use on the pectoral and gluteus muscles. The carefully designed pads are made to be extremely easy-to-use for the operator - simply apply a conductive layer of gel to the area you wish to treat, place the pads, hold them in place using the velcro security straps, and the treatment is ready to begin.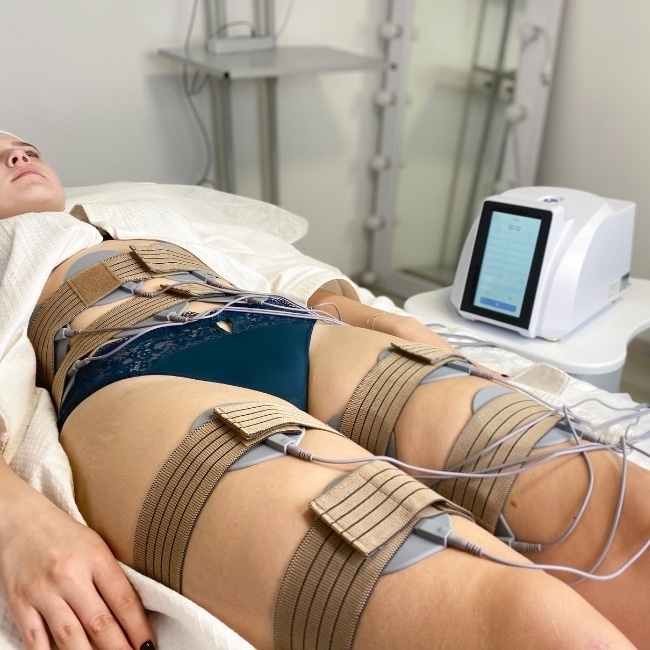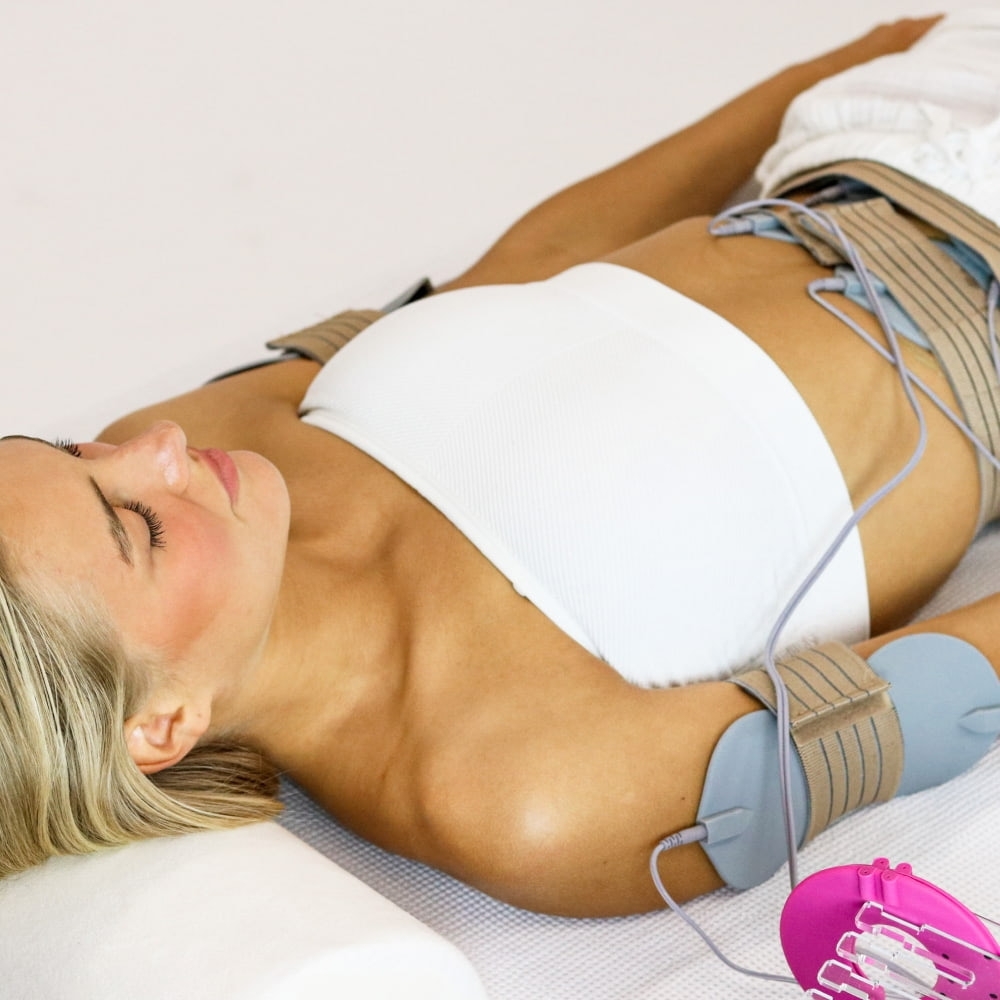 OOMNEX EMS - HOW DOES IT WORK?
EMS or Electric Muscle Stimulation uses steady impulses to stimulate the contraction of muscles. Usually, this treatment is done over a period of time to provide the most effective treatment results. Using this therapy over a period of time to strengthen and stimulate the muscle includes several benefits outside of simply growing the muscle.
Oomnex TonoSpier can provide a few thousand muscle contractions within just a 30-minute treatment window, so clients will surely experience typical muscle soreness post treatment. Imagine doing a few thousand reps at the gym in just 30 minutes!

What are the benefits?
Increase muscle strength and density

Helps to decrease the volume of local fat deposits

Increase skin elasticity and improve its tone

Improve lymphatic flow

Increase blood circulation

Helps with detoxification

Speed up muscle recovery

Helps to tone sagging skin
THE RECOMMENDED TREATMENT REGIMEN AND ITS BENEFITS
Being that Oomnex TonoSpier Muscle Toning System is using an electric current to stimulate the body's already naturally occurring muscle contractions, results will last with consistent treatments. That is why we recommend selling sessions of EMS to your clients as follows:
Sell your treatments in packages of 4-10 sessions.

Perform each session with 1-2 days in between (every other day is optimal).

Provide constant EMS stimulation for 30 minute intervals per session.

Bring clients back for at least one maintenance session per month after the initial treatment package is completed for optimal results
How long results will last: 4-6 months (depending also on at-home maintenance from the client's side)
Zemits Clients
More info ›
All products at www.advance-esthetic.us website are intended for cosmetic use.
All products at www.advance-esthetic.us website are not intended to treat or diagnose any medical conditions.
Fast shipping
Guaranteed quality of aesthetic equipment
Service
Wide range of products
Oomnex Cuppi EOS + TonoSpier EMS Combo
27%
Callback
Write your details and our managers in the near future will contact you