We speak English Hablamos Español Falamos portugues Мы говорим по-русски
Showroom Visits by Appointment Only
Exclusive distributor of Zemits in the US
Worldwide Shipping
---
Zemits Anti-Acne Ultimate Aesthetic Kit
10%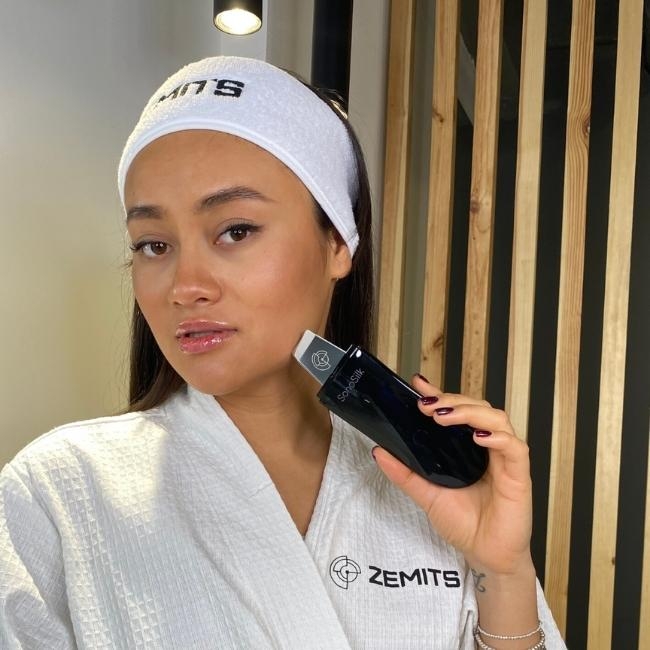 STEP 1: SKIN EXFOLIATION
WITH ZEMITS SONOSILK ADVANCED SKIN SPATULA
The Zemits SonoSilk ultrasonic skin scrubber is the newest generation of skin exfoliation and product infusion. This professional wireless device offers 4 synergetic treatments in one.

Zemits SonoSilk performs the following 4 treatments:
Extract
Exfoliate
Infuse
Rejuvenate
The smart portable system Zemits SonoSilk uses high frequency ultrasound vibrations to penetrate the skin and exfoliate the upper layer of dead skin cells.

28,000 vibrations per second create high speed oscillations, helping to extract extra sebum and blackheads from pores with no trauma. Gentle ultrasound vibrations cleanse skin thoroughly leaving skin fresh and smooth, completely prepared for product infusion.
What are the benefits of the Zemits SonoSilk?
1. Built-in Mist Sprayer for effective ultrasound exfoliation and blackheads extractions
2. Built-in blue LED Light 430 nm for acne and inflammation treatments
3. Four built-in programs for perfect skin exfoliation and rejuvenation
4. Wireless technology for maximum comfort of operation
5. A battery runs up to 8 hours from a single charge
6. Safe for sensitive skin and rosacea
7. No vacuum applied
8. No down-time after the treatment
9. A perfect exfoliation step for any facial service
10. Designed in California
11. Flawless sleek design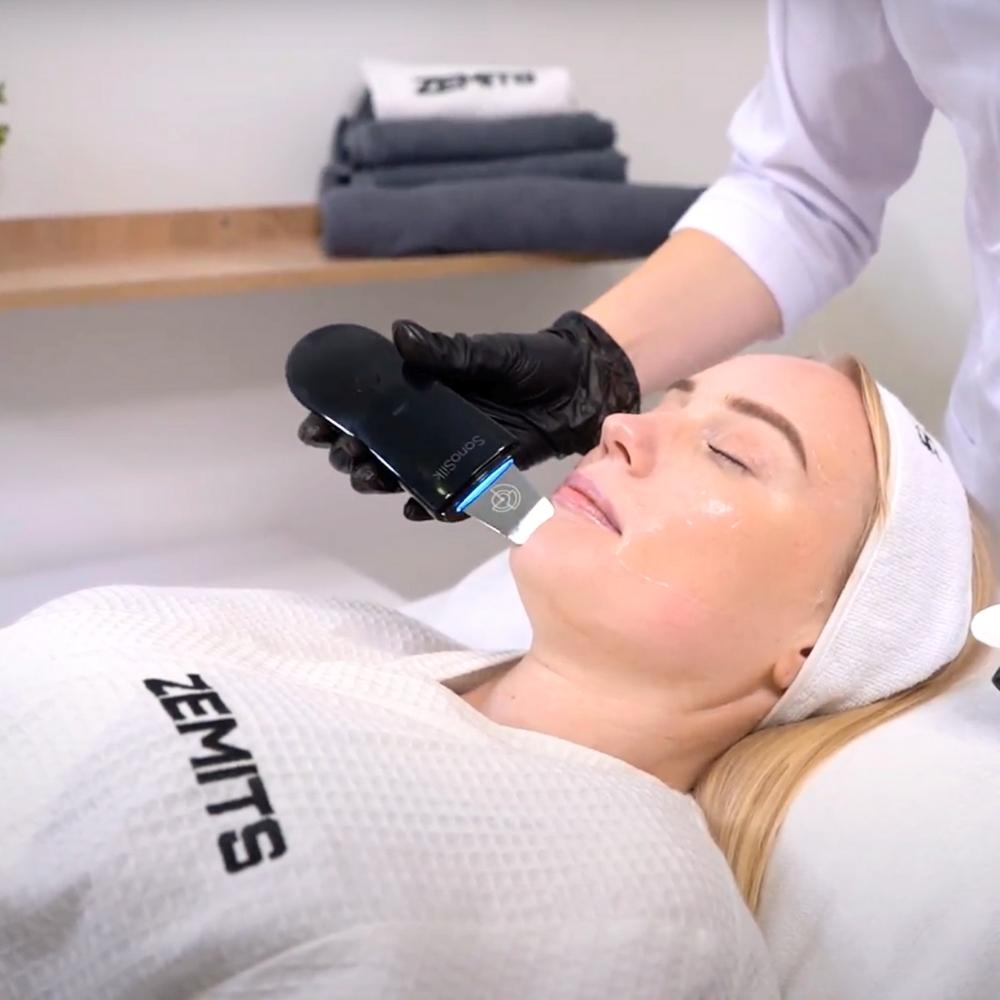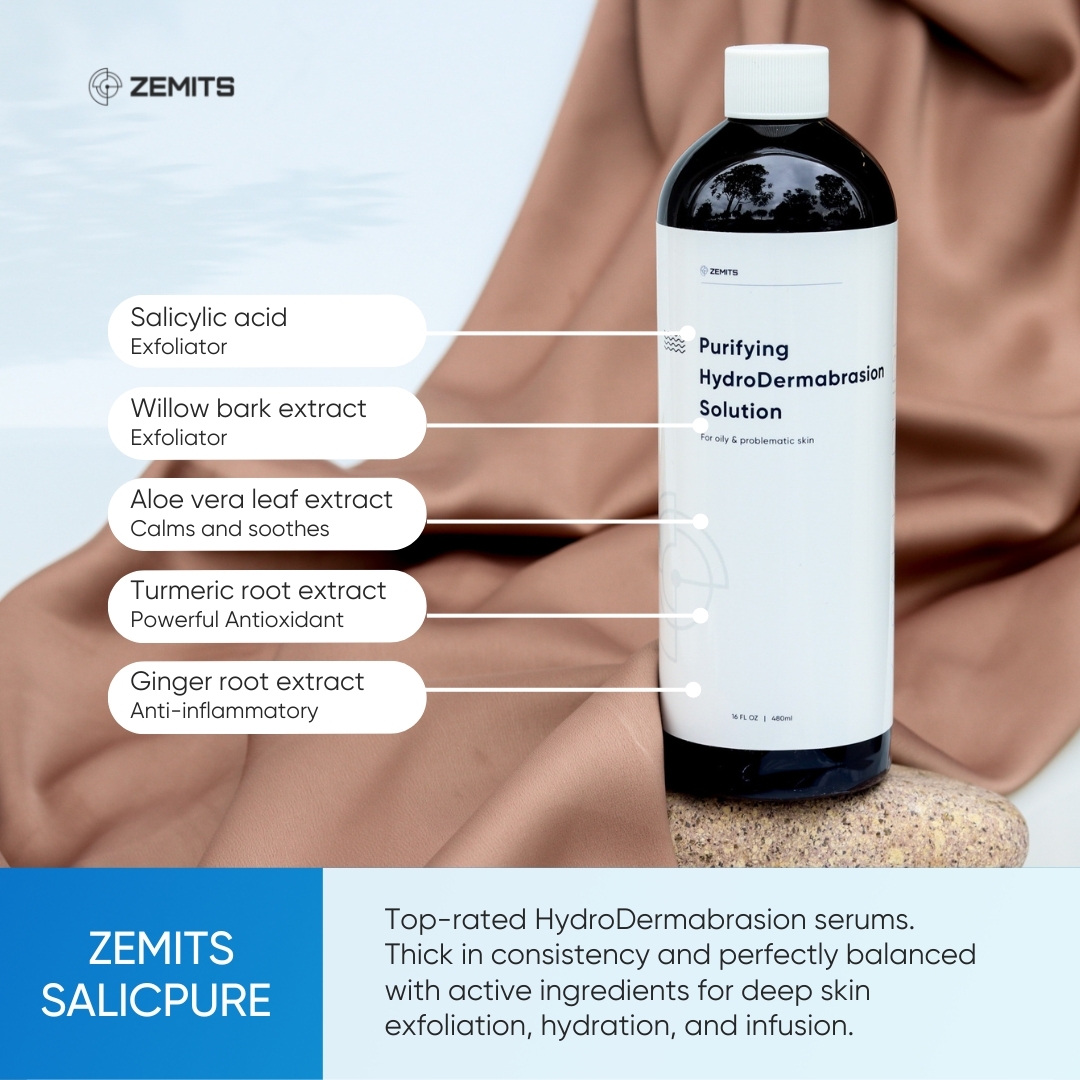 USE IT WITH
ZEMITS SALICPURE EXFOLIATING SOLUTION
Z-SalicPure is an advanced skin purifying and rejuvenating serum, loved by hundreds of estheticians all over the world.
Ideal for all skin types, but especially combination, acne-prone, oily skin, and aging skin types.
Created by skincare professionals for HydroDermabrasion Services, this proven formula is now wiledy used by estheticians as a part of hydrodermabrasion tutorials.
It is used by estheticians with any type of HydroDermabrasion Device.
STEP 2: SKIN HYDRATION
WITH ZEMITS ULTRAGLOW ULTRASOUND AND LED LIGHT THERAPY
The Zemits UltraGlow UltraSound & LED System is a great combination of technologies for every esthetician to provide advanced treatments for their clients at home.

Functions of Zemits UltraGlow Revitalizing System Ultrasound & LED Light:
Ultrasound facial nutrition and rejuvenation
LED Light Therapy for skin tightening and rejuvenation
This redesigned portable facial system uses ultrasound therapy and LED light to treat a wide range of skin concerns such as:
acne
rosacea
signs of aging
dry and sensitive skin
wrinkles
pigmentations
Wireless and handheld, the Zemits UltraGlow is a wonderful addition to any treatment room.

Gentle ultrasound vibrations help to infuse targeted products into the skin while LED light works to repair, leaving skin fresh and smooth.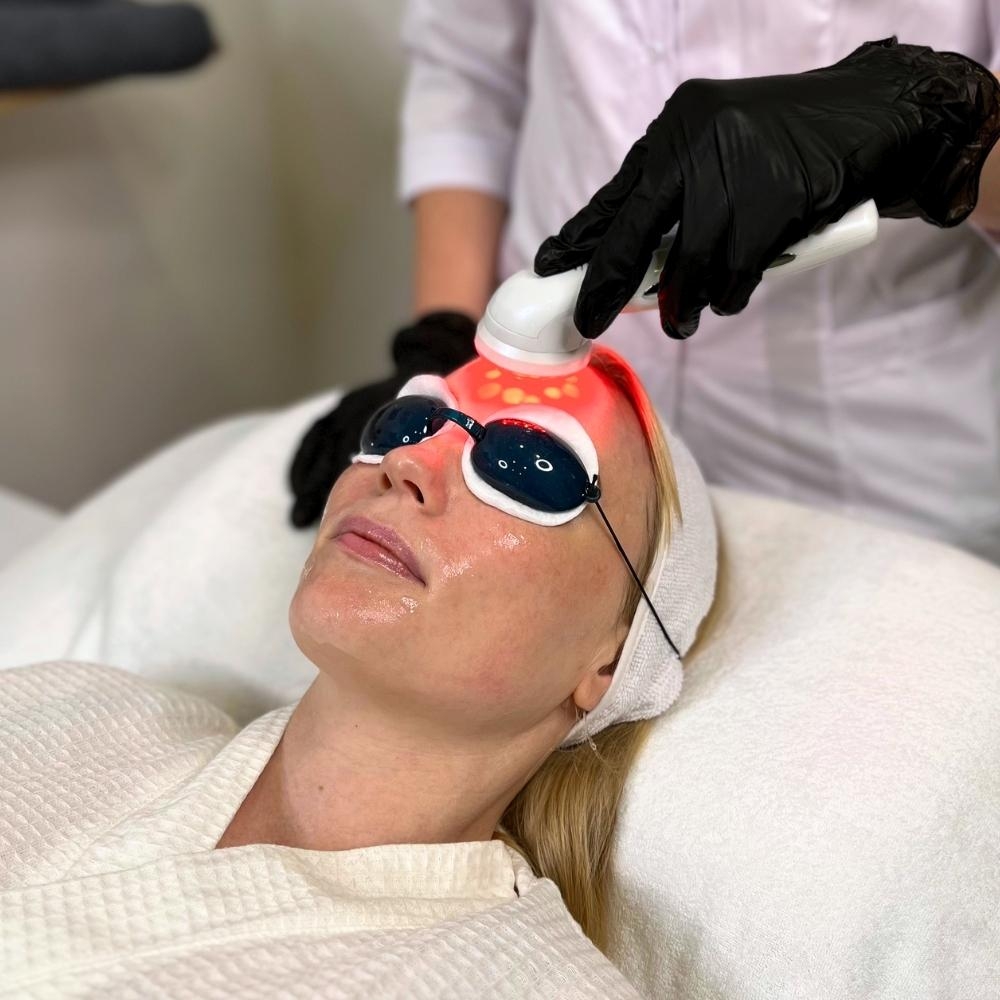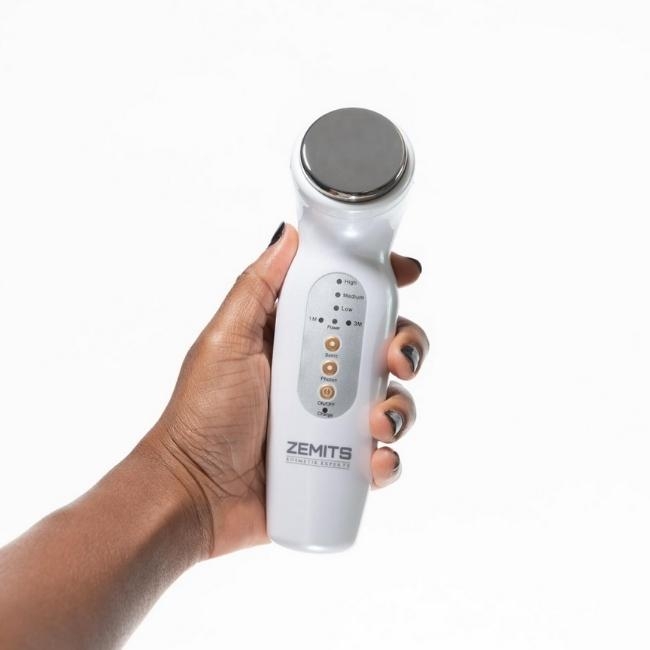 What are the benefits of the Zemits UltraGlow?
Three available LED modes for all skin types: Red, Blue, Green
Custom base to hold and charge the device
Comfortable silicone protective goggles with adjustable strap
Can even be used by sensitive skin types
Wireless technology for maximum comfort of operation
The battery runs up to 8 hours from a single charge
Designed in California
USE IT WITH
ZEMITS FIRMINGGENIUS COLLAGEN BOOSTING PEPTIDE GEL
The Zemits Firming Genius is a powerful combination of conductive and skin rejuvenative properties. The natural active ingredients make this gel a "Must Have" in every treatment room, as it is suitable for a majority of the most popular treatments and also has incredible collagen boosting features.
The Zemits Firming Genius gel is hypoallergenic, non irritating and non greasy.
It is a lightweight silky gel that deeply hydrates the skin, conducts the treatment energy and protects skin against dehydration.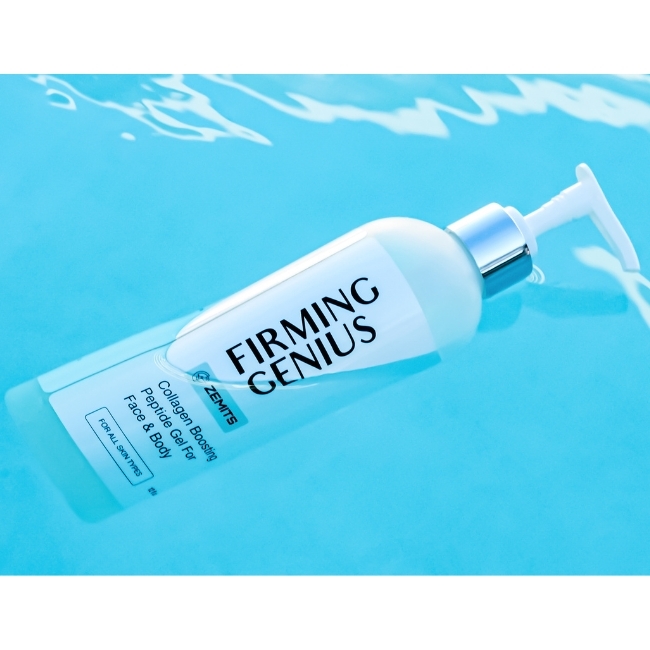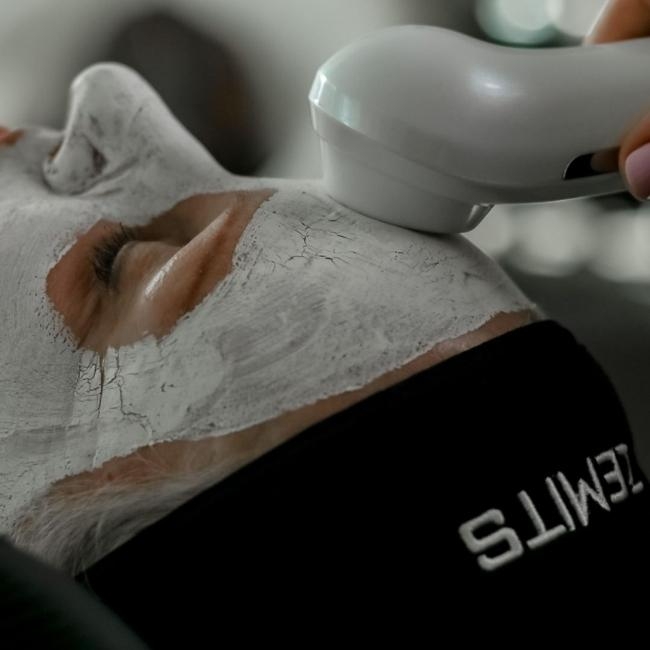 STEP 3: HIGH FREQUENCY
WITH ADVANCED COLD PLASMA DEVICE ZEMITS AKNOEVIT
Zemits AknoEvit is portable HighFrequency of the newest generation, also known as Ozone Plasma Energy Treatment
It's a cutting-edge technology that works by generating plasma energy inside an electrode and applying it directly to the skin.
High-frequency plasma flow stimulates a variety of natural skin reactions that are critical in the treatment of acne and acne-prone skin.
Benefits
Treats acne and help support healthy condition for acne prone skin
Helps to reduce pigmentation, and prevents post-acne skin pigmentation
Enhances skin regeneration and skin recovery after inflammations
Performs ultra-hydration and boosts absorption of serums, vitamins and hyaluronic acid
Boosts collagen and elastin production in the dermal skin layer
Suitable for all skin types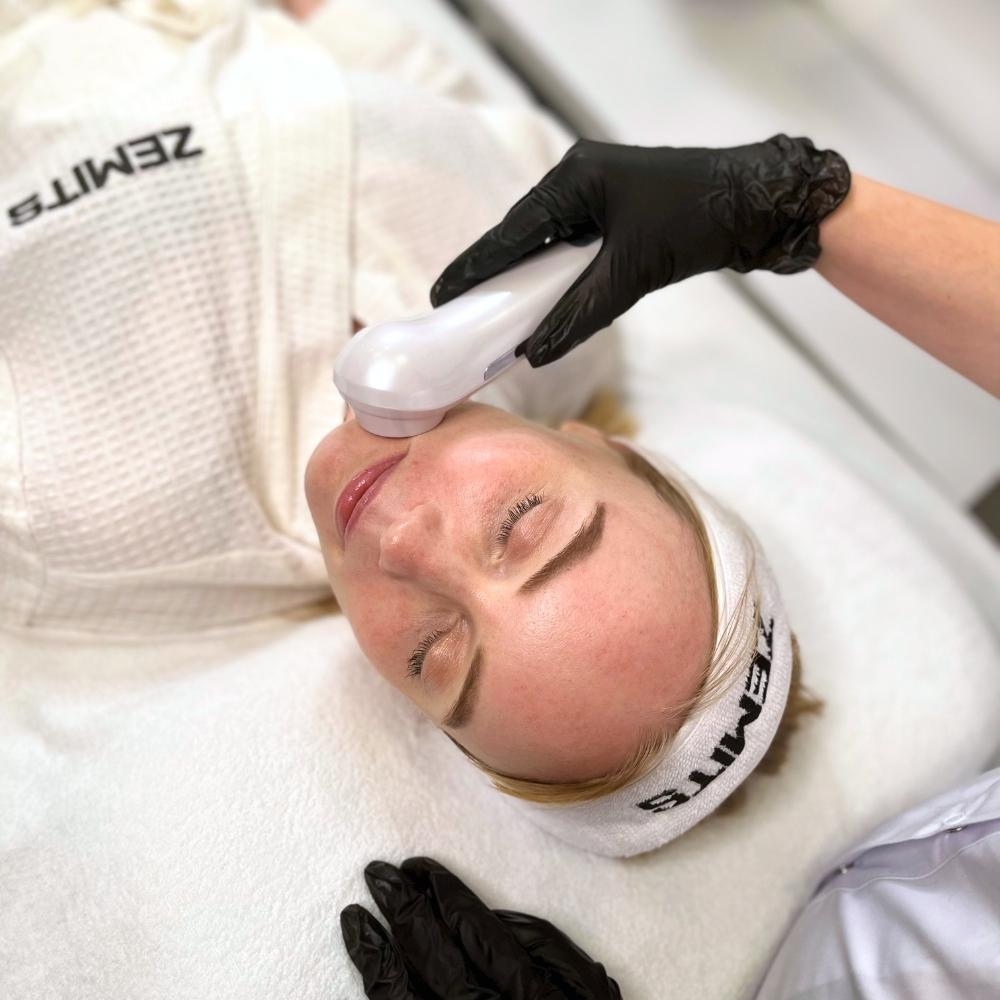 USE IT WITH
ZEMITS SILKENTOX PROFESSIONAL HIGH FREQUENCY CLAY MASK
Dead skin cells, excess oil, and other debris can clog pores, causing blackheads, whiteheads, and blemishes.
The Zemits Silkentox Clay Mask from Zemits helps to remove impurities and produce a clear, beautiful complexion.
When the Silkentox mask dries, it creates a perfect conductor layer for smooth and even penetration of the High Frequency Energy.
Zemits Clients
More info ›
All products at www.advance-esthetic.us website are intended for cosmetic use.
All products at www.advance-esthetic.us website are not intended to treat or diagnose any medical conditions.
Fast shipping
Guaranteed quality of aesthetic equipment
Service
Wide range of products
Zemits Anti-Acne Ultimate Aesthetic Kit
10%
Callback
Write your details and our managers in the near future will contact you